Everbilt has made some of the most useful and required components for households. Their variety is the reason why so many seek their products. Alongside that, they also have solutions to flooding issues. Sump pumps help to drain out the water out of your house without letting it flood your basement.
They have a wide variety of sump pumps to select from which you can pick depending on the rainfall amount and the household size. However, having such a wide range of options can also complicate things.
Therefore, as expected of Everbilt sump pump reviews, we will tell you all about the products and by the end of it you will know exactly which one you need for your place.
Top 5 Everbilt Sump Pumps by Editors
How To Choose The Best Everbilt Sump Pump
A pump is an important device to keep at your house. But sadly, people aren't properly knowledgeable about them. But if you want a sump pump for your house, there's a couple of things that you should know beforehand.
These are not products you buy everyday so when you buy one, it should be worth the expense.
Types of Sump Pump
One of the first thing about sump pumps is they're available in multiple types. And seeing all this types, if you don't know what they are for; can be confusing and overwhelming. We will discuss the main types and these are the only ones you will need.
Submersible Sump Pump
These are the most popular kind for keeping in your basement. The motor and the pump are kept in one unit. And the whole machine is submerged in the sump basin of your basement.
hese are the best if you have heavy flooding in your area. If you need a strong dependable pump, you go for these. They are available in different horsepower depending on the power you need.
The advantages of Submersibles are they don't create noise as they are under the sump basin and they clog less. However, that also means these are difficult to maintain and aren't all that durable as it is submerged in the water.
Pedestal Sump Pumps
Your other alternative is to go for pedestal versions. The motor stays in the basement and the only the pump is in the basin. They are easy to maintain as you can approach the motor when needed. However, these are also noisy as the motor is above ground.
Battery Operated Sump Pumps
They are battery driven and the biggest benefit is even if your electricity is down, they can still function as it runs on battery. Find out more sump pump battery here.
Switches
The switches of a sump pump are also of great importance. Depending on the switch its determined how efficiently it will drain water. For instance, a pressure switch senses the water pressure and turns on when water pressure raises high.
Whilst a float switch has a float that rises along the water level and then turns on at a point when the water level rises to a certain level. Pressure switches are more common in regular Pumps and they work quite well.
Horsepower
If you have to look at one feature then it has to be the horsepower. Horsepower of sump pump tells you how much power you need for your place.
If your house has regular draining issues, heavy rain occurrences every year, or if your residence is just bigger than average you need a pump with ½ HP or more. Anything less, won't be able to take the load of the water.
On the other hand, if you live in a smaller house or it doesn't rain much at your place then you can certainly make do with 1/3 HP or less. And if flooding isn't even a concern and you just want to be safe, you can't go wrong with the 1/6 HP utility pumps.
In summary, the more the HP of a sump pump the better it's for handling heavy-duty flooding issues.
Material
If you're using a submersible pump then the material is quite important to consider. Any material that corrodes or isn't durable won't be good. You need tougher material like steel or thermoplastic to last under water with strong water pressure.
That said the motor also needs to have good construction just as much as the pump housing. Often, we consider the housing material and ignore the motor but it shouldn't be the case.
Price
Here's another element that people emphasize but what should be prioritized is how often you will need the pump. Even if there is chance of heavy rainfall, you should get a ½ HP sump pump which is likely to cost you $150-$300 according to the brand.
If you go for cheaper brands then, if the sump pump fails to handle heavy flooding, you will have to incur a whole another expense.
5 Everbilt Sump Pump Reviews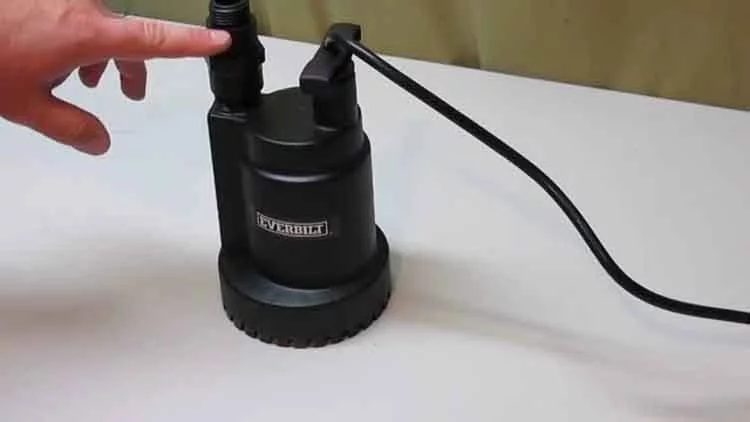 In this review we have considered the sump pumps that are best suited for average households, depending on heavy or light rainfall.
1. Everbilt 1/2 HP Submersible Sump Pump - Link
If you live in an average sized household where you have moderate rainfall, then this is the pump for you. With 1/2 HP, this is strong enough to handle heavy seepage issues during the rainy season and keep your basement and house dry as a bone.
One of the main things to love about this is that it's built to last. While submersibles are prone to last less than other types, this one has all the qualities to prove that notion wrong. With a stainless steel housing, the body is solid.
On top of that, the bearings and shafts are all lubricated to make them last long as well.
Additionally, as it stays under the house, this also won't create noise. The pump will simply do its job while you can rest at ease. To further relieve your life, the motor on this is energy efficient and will make sure your bills are in check.
What makes this a complete product is that it even has a debris filter that prevents the device from clogging up. This is a pricier product that's completely worth the money. But if flooding isn't a major issue, then you could look for cheaper options.
Pros
Has a firm construction with stainless steel build
It won't create noise as it's submerged
Includes a filter to stop clogging
With ½ HP it's a powerful device to prevent flooding
Cons

2. Everbilt SCN250-LQ 1/3 HP Pedestal Sump Pump - Link
Pedestal Sump pumps are always more durable as they don't stay in the basin. And they cost a lot less too as no added measures are needed. Also, when it comes to performance, they are just as good as any.
This Everbilt device is one of our favorites for its easy usage and durability. When you buy a sump pump you don't expect to change it often.
Therefore, you want something that's going to last you years. And this is precisely for that. With a 1/3 horsepower, this certainly isn't the strongest but if your area has average rainfall, this will be more than plenty.
Furthermore, a pedestal type is always easier to maintain and install. Installation can be done without professional help if you know how to. However, if you want the best result and don't want to spend extra on maintenance, it is best to get it done by experts.
In terms of construction this is made from a non-corrosive thermoplastic material. Therefore, it won't rust or oxidize even after spending years in your basement. It was made to be resistant to corrosion and rusting.
Pros
It's easy to install and maintain
Has a durable and resistant construction
Made from non-corrosive material
Perfect for households that have average rainfall
Cons
Can be noisy as it stays in the basement

3. Everbilt UT03301 1/3 HP Automatic Submersible Pump - Link
If you were looking for an affordable alternative to the submersible pump, this is it. While the other one was more powerful and made for heavy flood issues, this one is more suited for a typical rainfall region. It doesn't make sense to buy a heavy-duty item if you don't need it. And that's exactly where this comes in.
To start, this is made from the reliable thermoplastic that is engineered by Everbilt. The material is resistant to rust or oxidation. It's great at what it's for, removing water from under your house to prevent flooding. With a steady 1/3 horsepower this is powerful enough to efficiently run and prevent leakage.
It has automatic sensors that sense when water rises and turns the pump on. When water is drained out the pump will turn off by itself as well.
The best thing about this is once installed it won't give you any trouble. It has sensors to operate and is submerged so you won't need to hear the noise nor operate it manually. Furthermore, it can be used outdoors too. Our only suggestion would be if you do get this, try to make an expert do the installation.
Pros
Comes at a very reasonable price
Can be used both indoors and outdoors
Made to last as it's made from corrosion resisting material
Perfect for average households with average rainfall
Has automatic sensors to turn on
Cons
Not for heavy seepage issues

4. Everbilt SUP54-HD 1/6 HP Cast Iron Plastic Utility Pump - Link
Perhaps one of the most reasonable pumps that you will come across. Everbilt has done it again with their affordable pricing. And this one is perfect for those who have occasional flooding issues.
For those who don't face water leakage concerns that often and need a pump for safety, this could be exactly what they need.With 1/6 Horsepower, this isn't the most powerful but is just strong enough to run for hours without interruption.
As we have said before, this certainly isn't for handling heavy rainfall or flood issues, but more of a stand-by back up in case of water flooding. But if you think that means its performance is any less, then you'd be wrong.
It's made of a strong plastic material with a matte look. You can use this to drain water in your yard or basement. You don't need to install it into one place and can just put it out when there is draining to be done.
For instance, if you want to drain water from your yard after a rainstorm or hurricane, you simply have to place it their and set it up to do the draining.
This is a device every household should carry. It can drain out many gallons of water with ease and gives you great value for money.
Pros
Great for draining water from the basement or yard
Can be stored when not in use and brought out when there's water to be drained
Comes at a very affordable price
Doesn't need to be installed in one place
Cons
Not for regular or heavy use

5. Everbilt 1/6 HP Cast Iron Submersible Utility Pump - Link
Need a solution to sudden storms and hurricanes flooding your floors and yards? If your place is prone to sudden weather calamities, this utility pump is the perfect solution for you.
The best feature on this is it can easily drain out 1400 gallons of water with ease. And more than that, it's also submersible. Meaning you can just drop it in a water loaded pit and it will efficiently drain the place dry.
This isn't installed in a single rooted place. Therefore, it gives you the freedom to use it when needed and store it safely in other times. In terms of quality, it's pretty similar to the other Utility pump we reviewed. But it's superior in the way that it drains more efficiently and will work faster too.
What makes this a great purchase is its portability. Also, being lightweight makes it easy to carry around. So, if you have flood in two areas, you can go drain out both places one at a time. Considering the benefits, it's one of those items that you should keep at your place in all times even if you don't have flooding issues.
Pros
Easy to transport and is a lightweight device
Great for draining out water in basement, yards, window wells
Can be submerged and used without damaging the motor
Energy efficient and easy on the bills
Cons
Not the most durable construction

Everbilt vs Other Sump Pump Brands
Everbilt is a trademark The Home Depot. This is the best brands of sump pumps but you might be curious to know where it stands in comparison to other brands.
Wayne
Wayne being a high-end brand has sump pumps with greater Horsepower. But it comes at a price it, they charge considerably more. But with more money you also get more value. Here, the value is in HP and gallons.
Wayne Pump sump with ¾ HP can drain 4600 gallons of water per hour which is much greater than any Everbilt product. However, when it comes to available spare parts Everbilt is miles ahead as they can provide spares to almost any parts.
Liberty
If you're looking for variety and versatility, Liberty has it. They have different kinds of Sump pumps, and you will probably find one suitable for your conditions too. However, they too charge a hefty price. However, their products also have more features and advantages that justifies the price.
Zoeller
They are one of the only brands with cast iron pumps. The cast irons are their signature products and they are heavy-duty and durable too. But it's not as strong as it looks and charges quite a bit as well.
Finally, from inspecting other brands and Everbilt, we can't say for certain which is the best as it depends on a lot of aspects. However, if we were to look at the value for money, then certainly Everbilt stands out.
On top of that, the availability of spare parts is also promising as often with this sort of products a damaged hose or bearing are common instances. So, knowing you will find replacements easily is a great advantage.
Frequently Asked Questions
Is Everbilt sump pump good?
Everbilt sump pumps give great value for money as they have the power and the build needed fora durable and resistant product. But if you're looking for power alone, then you shouldlook for pumps with greater Horsepower. That doesn't make Everbilt any less of good, they are still good at what they promise.
Does everbilt provide warranty?
Warranty differs from product to product. While some of their products have 5 years warranty others have 1. This varies in different products and their quality.
A higher end product is likely to have more year warranty than a lower end product. With that said, you will definitely get more year warranty from Everbilt than you will from other brands.
Are Cast Iron Sump pumps better?
Cast iron pumps are sturdier and more durable. They come at a heftier price as well. In terms of functionality, there are better items with more HP and GPH. But if you want a durable product, this is the best fit. They keep the motor inside safer and have more resistance.
Who makes everbilt sump pump?
Everbilt is backed by the all reliable Home Depot. They are among the most well-known brands of residential products. They have wide range of products and are known for products in all types and price ranges. The sump pumps they make are affordable and easy to install.
How Long Does an Everbilt Sump Pump Last?
If it's used as intended an Everbilt sump pump will last for years. The products that are made from steel or thermoplastic are more durable and last longer. Whereas, inexpensive materials like plastic tend to wear out sooner. But these do come with warranties so you know these are built to last.
Final Words
We have covered everything you'd see in Everbilt sump pump reviews, and with that done, if you're still undecided with which one to go for.
Our recommendation would be to consider the Submersible Sump Pump if you're looking for reliable solution to regular or irregular flooding issues. Even if flooding isn't a major concern, with this pump you will sleep having one less thing to worry about.
On the other hand, if you are looking for an inexpensive product for occasional use, 1/6 HP Submersible Utility Pump is going to perfect for you as it is portable and easy to use.