Having the right air tools will enable you to work with ease and much more efficiently. Last thing you want is for your task to get delayed because of your tools. Having the right equipment will save you time, money and a lot more hair! Whether you are a professional or DIY person, here are the best air compressor for painting cars that we have gathered from customer feedback. The first 5 picks are 60 Gallon tanks, the latter 3 is 80 gallon tanks. Its highly recommended for the best experience to have larger tanks, especially if it something you will be using quite often.
Top Air Compressor for Painting Cars by Editors' Picks
Top 8 Best Air Compressors for Painting Cars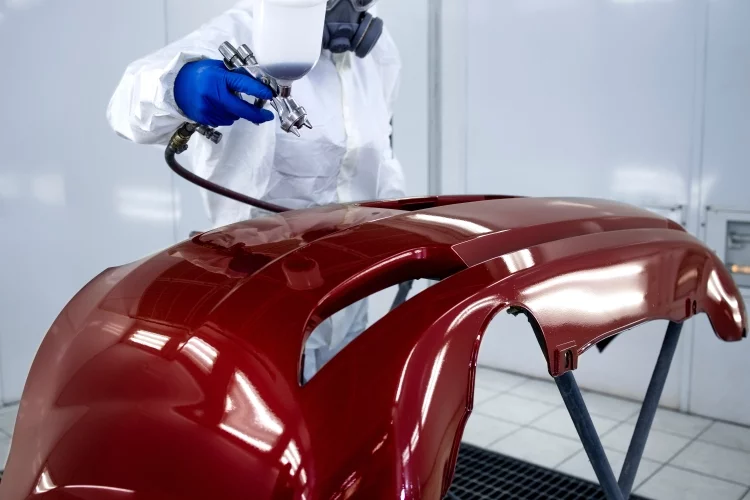 The list below includes the 8 top selling air compressors for painting cars. Hopefully, you will find one that is suitable for you. There is a buying guide at the end of the products reviews to aid you in making a selection.
1.SS5 5HP 60 Gallon Single Stage Air Compressor Review - Link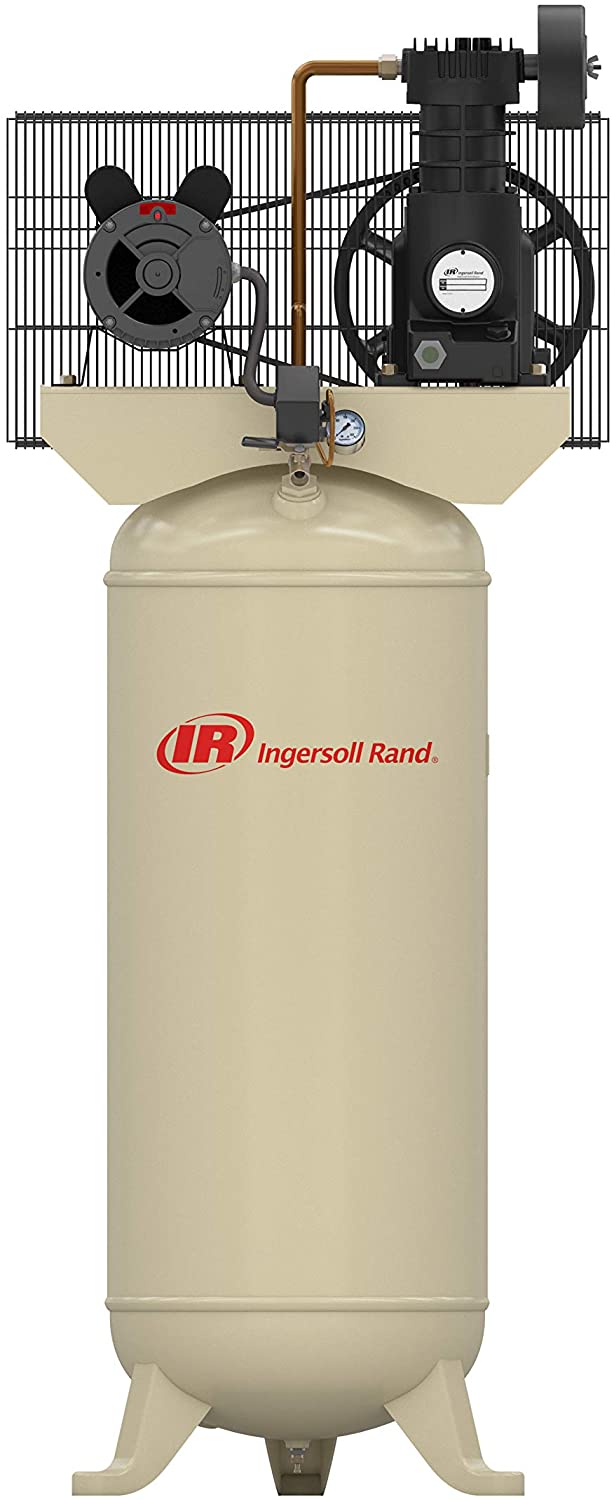 | | |
| --- | --- |
| Brand | Ingersoll Rand |
| Power Source | Corded Electric |
| Capacity | 60 Gallons |
| Voltage | |
| Air Flow Capacity | 24 Cubic Feet Per Minute |

SS5 5HP 60 is designed to work in any environment, and it's a great choice if your performance standards include maximum operating pressure, increased airflow/flow rate (CFM), and extended duty cycles. Ingersoll Rand has been known for its precision-engineered components that is reliable and heavy-duty, something that is definitely essential for an air compressor for spray painting cars.
Ingersoll Rand has been building reliable air compressors for 100 years, and this built-in-the-USA unit is no exception.
A 100% duty cycle meets the needs of both professionals and dedicated do-it-yourselfers. The cast-iron cylinders and frame are precision engineered to Ingersoll Rand's exacting standards, so your investment works for you year after year.
The SS5L5 unit puts out 18.1 CFM at 90 PSI, so it will run a wide variety of pro-grade tools like air hammers and metal cutters give unique ability and experience in car painting.
Long-Life, a durable cast iron pump system that lasts for over 5,000 hours of trouble-free use.
High performance and flexibility are at the forefront of this machine. The engine has a continuous duty rating of up to 135 PSI with an ASME receiver tank that can hold 60 gallons, giving you plenty of power for any job.
The high-pressure system is able to withstand heavy loads without sacrificing efficiency and durability, thanks in part to its 100% continuous duty maximum operating range which means it doesn't have downtime during peak hours or while under load, unlike other machines on the market.
SS5 5HP 60 is a compressor that features an automatic start/stop pressure switch control, fully assembled, and pre-wired delivery which helps you to paint your cars easily. It has easy to change filters with an oil sight gauge as well as the ability to fill oils without having any worries about spilling it on yourself or your work area.
Pros
Easy To Use
Versatile
Powerful
Cons
2. Quincy QT-54 Splash Lubricated Reciprocating Air Compressor - Link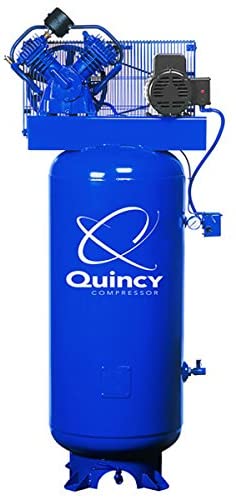 | | |
| --- | --- |
| Brand | Quincy QT-54 Splash Lubricated |
| Power Source | Electric |
| Capacity | 60 Gallons |
| Voltage | |
| Model | QT-54 |
Quincy is the leading industrial reciprocating air compressor manufacturer in North America for car painting and other uses. They proudly manufacture all of their compressors with a US-made Baldor motor that can handle any job, whether it be large or small.
Quincy reciprocating air compressors are the perfect solution for homeowners who worry about their energy bills. These units have a low operating cost and generate more compressed air at lower horsepower, reducing your monthly bill!
It uses 230 Volts(AC) with the maximum power of 5hp and weights 475 Pound, and it's quite impressive specs.
This compressor got more advantages than SS5 5HP in terms of hours; it provides more value for the pump.
Pros
Oil-free low maintenance pump
Very quiet operation
Powerful motor to handle most tasks
Provides long runtime for air tools
60-gallon tank capacity that refills quickly
Convenient pressure control gauges
Industrial-duty US-made Baldor motor
Capacitor start motor with built-in thermal overload
Less than 5 PPM oil carry-over (blow-by) rating
Cons
May require more assembly than other options.
3. Ingersoll Rand 2340L5-V 5hp 60 gal Two-Stage Compressor Review - Link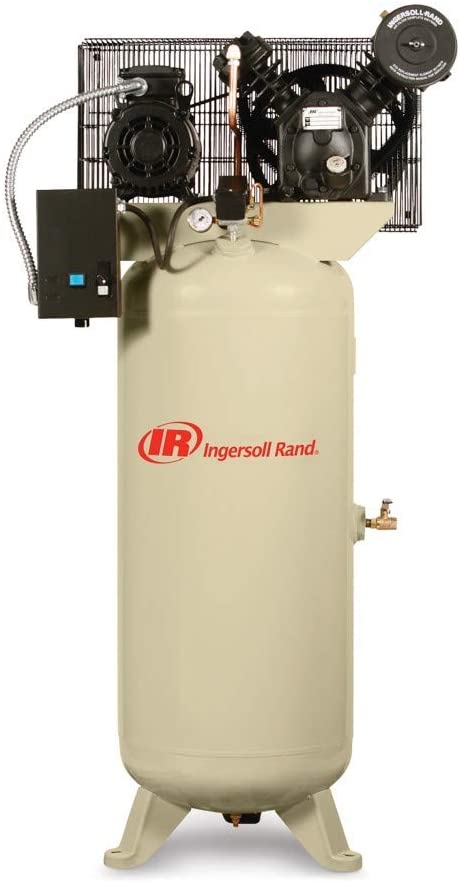 | | |
| --- | --- |
| Brand | Ingersoll Rand 2340L5-V 5hp |
| Power Source | Electric |
| Capacity | 60 Gallons |
| Voltage | |
| Model | 2340L5-V |

To suit the needs of shops or industrial settings, Ingersoll Rand offers two-stage air compressors for painting cars. They provide reliable and powerful performance for most applications, including consistent use in automotive service and body shops, fleet maintenance, machine shops production lines/manufacturing facilities, woodworking shop dry cleaners, car washes, general maintenance repair stores farms.
Combining exceptional performance and everyday reliability, the Ingersoll Rand 2340L5-V electric air compressor has been known to last a long time. This two-stage device features precision-engineered components for easy maintenance and service can deliver up to 175 psi maximum operating pressure.
The industrial-grade ODP motor ensures that you can work consistently and reliably during all seasons.
Pros
60-gallon tank
Pneumatic wheels for great mobility
Max 175 PSI ensures high air pressure flow
Dual voltage induction motor maximizes air tool performance
Easy to operate on-board controls
Cons
4. NorthStar Electric Air Compressor Car Painting- 3.7 HP, 60-Gallon Vertical Tank - Link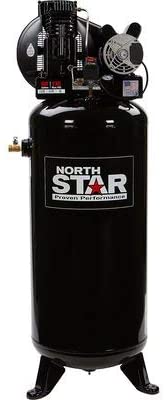 | | |
| --- | --- |
| Brand | NorthStar Electric Air Compressor |
| Power Source | Electric |
| Capacity | 60-gallon |
| Voltage | |
A serious competitor for the best air compressor for painting cars is this North Star 60 GAl. It has gotten great feedback for painting cars and its versatility all around.
This single-stage high-flowing air compressor provides a max 155 PSI a bit lower than some of the others. With 0. 7 CFM at 40PSI and 0. 5 CFM at 90PSI, you will find the unit to be reliable enough to allow the air tools for a decent amount of time.
The NorthStar 3.7 HP, 60-Gallon Electric Air Compressor is suitable for most car sizes. This heavy-duty compressor can run on either 120 VAC (standard household current) or 230V/240V with a single phase 208 to 240-volt selector switch that has been carefully designed to not generate heat within the engine and provide clean air delivery without interruptions.
The one-piece cast iron oil-lubricated pump will last you years of work depending on how often you use your equipment.
The swedes have always been renowned for their engineering. These Swedish stainless steel reed valves are built from high-quality materials developed by over 50 years of experience in designing reliable products like these just waiting to get put into action.
ASME 60-gallon air tank provides a good volume of capacity to service most cars. This compressor is highly durable and used in mechanical shops, body repair shops, livestock operations, and service truck needs with ease.
Featuring an innovative unibody casing that houses both the crankcase and valve assembly in a single piece construction from solid cast iron as well as an all-new lightweight engine head with small top hat style bearings for less wear on your machine's crankshaft, this revolutionary technology will extend the life of you're equipment while also maximizing performance.
Heavy-duty induction motor is an efficient and innovative alternative to traditional horsepower motors. With a max RPM of 3,450 for the 230V model and 920RPM max speed with 135 PSI air pressure, you'll have more than enough power at your fingertips!
Pros
60-gallon capacity
High air pressure flow at 90 PSI
Three-cylinder efficient running performance
Operates at much cooler state
Durably made with protected moving parts
Convenient tank pressure gauge and switch
Cons
Not the quietest of the lot
5. NorthStar High-Flow Electric Air Compressor - Link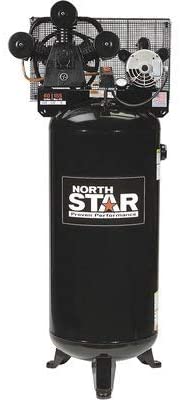 | | |
| --- | --- |
| Brand | NorthStar High-Flow Electric Air Compressor |
| Power Source | Electric |
| Capacity | 60-Gallon |
| Voltage | |
The NorthStar 4.7 HP, 60-Gallon High-Flow Electric Air Compressor for painting cars is built for long and continuous use with a heavy-duty induction motor and Swedish stainless steel flex. With 155 PSI max pressure, It can handle the most common jobs with 3,450 RPM.
The NorthStar 4.7 HP, 60-Gallon High-Flow Electric Air Compressor is built for long-lasting performance and efficiency with a heavy-duty 230V induction motor that also provides consistent cooling to keep the pump running smoothly without worry about overheating or damage like other compressors on the market today. With an ASME tank of up to sixty gallons, you can go longer between refills which means more air will be available when it's needed most - so your tools never run out!
Pros
Highly efficient motor
Long runtime for air tools
60-gallon tank capacity
Holds pressure well
Durable construction
Wheels for easy maneuverability
Cons
Not the quietest option again.
6. HP Quiet Air Compressor 80-Gallon, Industrial Plus Series Review - Link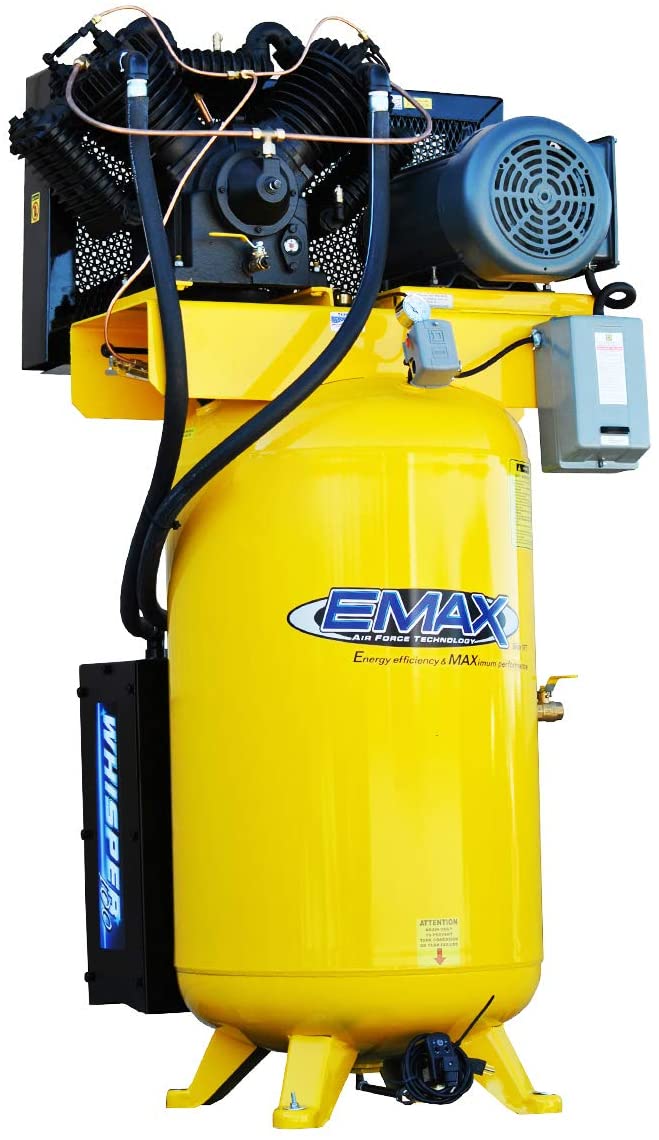 | | |
| --- | --- |
| Brand | HP Quiet Air Compressor |
| Power Source | Corded Electric |
| Capacity | 80-Gallon |
| Voltage | |

This Emax Industrial Silent 10 HP, 2-Stage, 80-Gallon Vertical Air Compressor is so quiet that it can even be used at home without disturbing the peace. It includes a unique so called Whisper 100 which is a patent-pending noise suppression system which also comes with a pre-filter media and plates to reduce decibel readings by up to 25%. This air compressor has everything you need for commercial or industrial use and expected to last 50 years if maintained properly.
If you want an air compressor for spray painting cars that can do it all without making too much noise then HP Quiet Air Compressor maybe an option for you. This unit provides professional-grade performance pumps out up to 70 CFM of airpower.
The new addition is the pressure-lubricated air compressor pumps which ensures oil flows to all critical components, resulting in less wear and tear. This unique system delivers oil at RPMs as low as 100. The big cast-iron flywheel means a smoother running process with no jerky movements that can cause damage to some systems. With easy monitoring of running oil pressure through an intelligent gauge, you will always know if your machine is safe or needs attention before it becomes too late for costly repairs from lack of maintenance.
Pros
Heavy duty
High capacity compressor with low decibels
80 Gallons Capacity
10 Horsepower Maximum
Cons
7. Ingersoll Rand Type 30 7.5-HP 80-Gallon Two-Stage Air Compressor Review - Link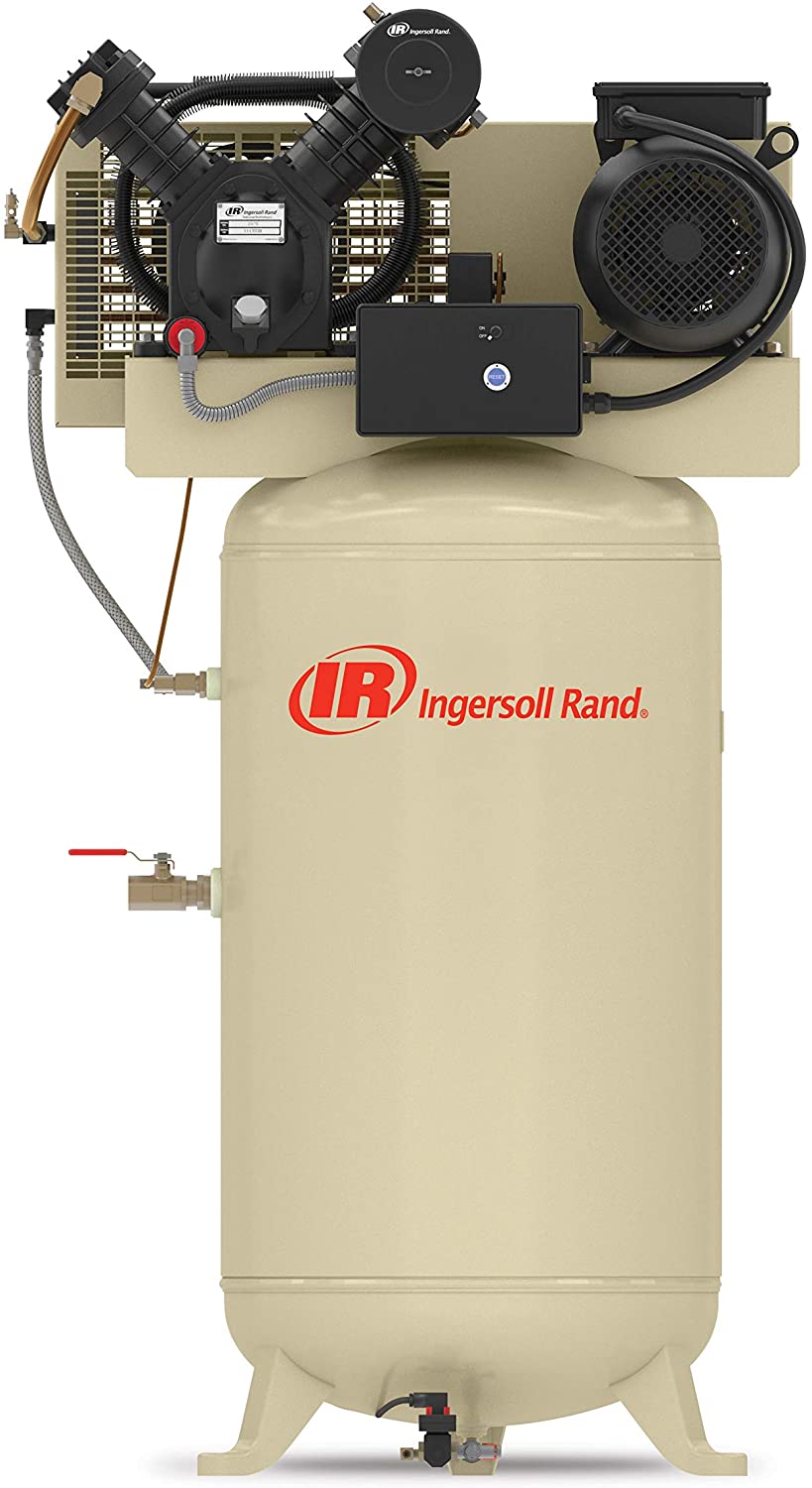 | | |
| --- | --- |
| Brand | Ingersoll Rand |
| Power Source | Corded Electric |
| Capacity | 80-Gallon |
| Voltage | |
| Air Flow Capacity | 24 Cubic Feet Per Minute |

Ingersoll Rand's 2-stage Air Compressors is an all in one unit and quite versatile, meaning they have everything you need for constant demand for a variety of use cases including painting cars. The unit includes an after cooler already mounted and piped, a low oil level shutdown switch as back up, an electric drain valve, dual control for start/stop or constant speed, and a relief valve that will discharge the air.
Ingersoll Rand's large deep-finned cylinders with oversized bearings keep your compressor running cool to ensure longevity.
Ingersoll Rand electric-driven, two-stage air compressors are built for heavy-duty work. They're used in automotive service and body shops, fleet maintenance, machine shops production and manufacturing lines, as well as woodworking shops, dry cleaners car washes general maintenance/repair shops, or farm activity.
Pros:
Heavy duty long life
Versatile
Capacity: 80 Gallon
5 or 7.5 hp two-stage air compressor
175 PSIG
Easy To Operate
Cons:
Need to be well maintained and lubricated for maximum performance.
8. HP Quiet Air Compressor, 1 PH, 2-Stage, 80-Gallon, Vertical, EMAX Yellow Review - Link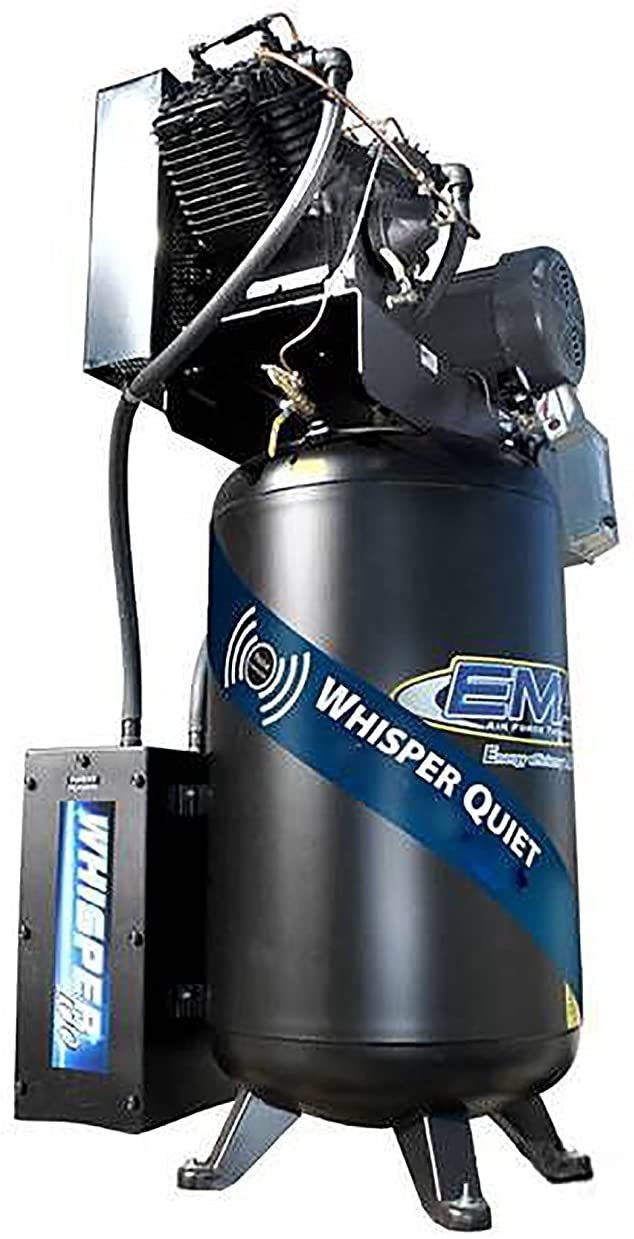 | | |
| --- | --- |
| Brand | 10 HP Quiet Air Compressor |
| Power Source | Electric |
| Capacity | |
| Voltage | |

The EMAX 80-Gallon 10 HP Quiet Air Compressor is a vertical, single-phase air compressor that can be used for a variety of applications. The 1 PH motor runs quieter and cooler, which translates to a longer life span. This unit also comes with an oil sight glass to track oil levels, as well as a pressure switch and dual-stage regulator. The EMAX 80-Gallon 10 HP Quiet Air Compressor is backed by a five-year warranty.
The new coolant system is said to provide the coolest air in the industry and will lower your operating temperature by 35% proding efficiency all around. With this cooler machine, you'll be able to reduce moisture build-up which extends pump life.
Pros:
Built-In USA
Very Quite
Versatile, Powerful & Efficient In All Areas
80 Gallon Capacity
Cons:
Can be a bit expensive for some.
How to Select the Best Air Compressor for Painting? (Buying Guide)
Before you finalize which air compressor you are getting for painting cars, there are a few things to consider to make sure the unit you get is worth spending every penny on. Undoubtedly, the tank capacity and size aren't the only things that determine how good a compressor unit is.
As the unit you are about to get is primarily for painting purposes, you need to make sure that the device can easily deliver a steady stream of paint. Be sure to check for the following aspects when you select an air compressor.
Air Pressure
All the air compressor units mention PSI (pounds per square inch) value. It determines how much air force the pressure tank can deliver. Compared to HVLP paint sprayers, airless paint sprayers require more PSI.
Therefore, if you primarily use an airless sprayer, make sure the compressor unit is able to provide a decent PSI for painting cars.
However, if you mostly use HVLP sprayers, a compressor with low PSI will do the painting quite easily.
In most cases, people also use the compressor unit to power up other air tools as well. If you are about to do the same and pre-planned to use the air pressure for a secondary tool, be sure to check the PSI requirements of that tool.
It will make sure you will be able to do multiple tasks using the same compressor without compromising much regarding the performance. Most higher capacity air compressors will be more than enough for such tasks. If you are to buy a lower capacity budget-friendly unit, make sure you select the right one for your needs.
CFM - Cubic Feet Per Minute
This particular term indicates the amount of air a compressor unit delivers at a certain pressure. The numbers and figures might seem overwhelming to you. But, you need to give importance to this aspect to get the right equipment needed for the paint job.
Compared to other air tools, paint sprayers run continuously. Thus, they need relatively higher CFM ratings than other tools to be able to paint efficiently.
Make sure the CFM rating of the compressor unit meets the required CFM of the sprayer tool. Otherwise, your car will end up having paint flowing unevenly, or the paint will be splattered out of the nozzle when you press to spray on a car.
Again, an expensive and larger compressor unit will have a higher CFM rating. But, if you are settling for a small or medium unit, make sure the CFM rating is 30-32% higher in the compressor to paint effectively. Also, for using other air tools, be sure to consider their required ratings as well.
Tank Capacity
You need to pick an air compressor of the right tank size to be able to get consistent air pressure power to paint vehicles effectively. Compared to other light-duty air tools, painting sprayers deal with more demanding jobs. Thus, a smaller capacity compressor will not get a strong ground for the paintwork.
Professionals and experts recommend getting atleast 50-gallon air compressor for spray painting cars or higher to efficiently handle the task, especially if painting cars is something that you do regularly. Even if the larger tanks are a bit more expensive you you will save a lot of time, head ache and money in the long run as a good air compressor for spray painting cars as mentioned above can last up to 50 years.
Portability
First, you need to determine whether you will move the compressor unit or not.
Smaller air compressors are very easy to lift and move from place to place. As these come with a smaller capacity, it's not your concern.
Larger capacity compressor units come with wheels or no wheels to serve specific purposes. Units with wheels are easier to move from one place to another. So, if you need to move the compressor frequently, be sure to get one that comes with wheels for easy mobility.
If you have fixed a place for a compressor in your garage or workshop, and there is no need to move the unit, you don't need a wheeled compressor. These come with huge capacity, which is too difficult to move even on wheels. Therefore, larger units are for setting on a specific place or location.
Noise
As it's about compressor machines, more or less all the air compressors produce noise. However, if noise is an issue that you cannot compromise with, be sure to get an air compressor that produces 70 dBA noise or less. It will keep the work environment a lot quieter.
If you want an air compressor for your home garage, a low noise unit will make sure the neighbors aren't annoyed by the sound.
Oil or Oil-free
The pump or motor of air compressor units requires lubrication more or less. Oil-free units come pre-lubricated, and you don't need to lubricate externally any further, thus, less hassle for maintenance.
Even though maintenance is a concern for pumps that require oil, these last much longer than oil-free ones, oil-based compressors are far less prone to wear and tear, which isn't the case with oil-free units.
Installing Air Compressor Kit with a Spray Gun
Whether you plan to DIY paint your car or you are a professional, achieving a perfect finish is what matters. Even though you get the most expensive and powerful air compressor, if the entire setup isn't good, most probably, the paint job will end up leaving 'orange peel' effects on the car.
Requirements
You will need an air compressor, filter or regulator, air hose, regulator, and obviously, the spray gun. Here I suggest using an HVLP spray gun.
Check the Compressor Unit
First, make sure the compressor unit can deliver the required PSI and CFM by spray gun. If you manage to set up the entire system, there will be no pressure drop or volume loss and imperfect coverage.
Get the Right Air Hose
The next step is to get an air hose of the right diameter and size. Pressure also drops if the hose is too long. Similarly, less air pressure is delivered if the hose is narrow.
Consider using a hose more than ¼ inch with an ID for your spray gun. As HVLP spray guns require larger volumes of air pressure, make sure you get one with more than 5/16 inch diameter. 8.5mm diameter hose can be a standard one to choose from.
Now, you need to make sure the air hose is of appropriate length. Get an air hose of 10m long. A longer hose will lose pressure, and a smaller hose can provide more air pressure than what is required.
Quick Connectors
If you attach the air hose to the gun, and there is no need to remove it frequently, it would be better not to use any quick disconnect fittings. Not using one will not affect the finish, but using unnecessary connectors can cause the pressure to drop.
But if your work requires you to use fittings, be sure to use less restrictive ones. The female portion of the connector should not be too small.
Get a Good Quality High Flow Regulator
Then, you will need an air regulator to make sure the air pressure is constant and smooth. Here again, don't use a too restrictive regulator as it can cause an excessive pressure drop. Get a wall-mounted regulator; it delivers constant air pressure to the spray gun and minimizes unwanted pressure drops.
Connect the Gun and Start Spraying
Once you are done with the rest of the setups, attach the spray gun to the regulator, and give your car a nice-looking brand new look.
Operating and Maintaining Air Compressor for Painting Projects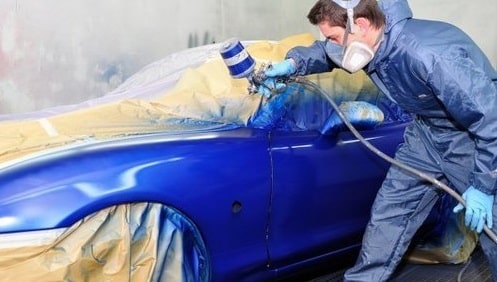 When you are all set for the paint job, know that there are two techniques to follow. Depending on your compressor configuration, specs, and your setup, you need to determine which one to go with.
Requirements
You will require 1 gallon of primer or base coat, 3 gallons of topcoat, and 2 to 3 gallons of clear coat. This is for a small or midsize vehicle. For a larger vehicle, get 1.5 gallons of primer, 4 gallons of topcoat, 3 to 4 gallons of clear coat.
Stripping or Sanding
First, you need to sand out the older clear top and base coats using a sander. For corners and crevices, you will need to use your hand for a better result. Sand the entire surface as smoothly and evenly as you can.
When it's done, use a clean rag and paint thinner to wipe dust. Then let the thinner evaporate before proceeding further.
Priming
Mix the primer and thinners according to the instructed ratio. Now, mask off surfaces you don't want to paint. Hold the paint gun six inches away from the car panel and spray in a sweeping side-to-side motion. Only hold the trigger when you move the gun.
The best is to do it from the roof down. Make sure you apply thin and even coats. You will need to give 2 to 3 coats to cover the panels. It takes about 10 minutes to apply. The primer will take 20 to 60 minutes to cure between coats. You need to smooth the powdery finish of the primer using 2000-grit wet and dry sandpaper.
Now, use a dampened rag and thinner to wipe down the cured surface. Don't use too much thinner, or it will strip out the primer.
Painting
Here comes the main part. Mix your paint and thinner, maintaining the instructed ratios. Apply the same spraying technique as you did for primer. It will require 3 to 4 coats to finish. Be sure to let the coats dry in between them.
Before proceeding to the final coat, remove powdery effects using 2000 grit wet and dry sandpaper. Wipe off the residue using a clean rag. You need to do the same after applying the clear-coat lacquer as well.
Remove the masking tape before the clear coat dries. Then, let the coat cure according to the instructed time. Once it dries, see if there is any imperfection. Suppose you find any, sand off the area using 2000 grit sandpaper and respray following the same processes.
Technique to Follow for Smaller Compressor Tank
If you have a small air compressor tank, you need to frequently drain water to be able to avoid the condensation issue. Consider draining water from the tank after every 2 passes. Draining water from a smaller tank takes only a few minutes, this patience will buy you satisfactory results and even finish.
Consider using a dry cloth or dryer to wipe out all the water from the tank.
The Benefits of Using an Air Compressor for Painting Cars
Compressed air is used in a variety of automotive painting applications. In fact, compressed air can play a key role in your car's paint job. The use of compressed air for auto painting is not new, but the benefits it provides are definitely worth taking a look at before buying an expensive painting gun or setting up a messy paint booth.
If you've ever gone to a car show, you may have seen many people offering custom paint jobs on cars. But did you know that more than likely they applied the paint with an air compressor instead of spending thousands of dollars on painting equipment? If not, then it's definitely time for you to look into the benefits of using an air compressor for painting cars.
An air compressor can be used to apply clear coats, base coats and even spot paint jobs on your car. It's a great alternative for those who don't want to spend the extra money on a high-end gun or booth. There are many benefits of using an air compressor for you next custom paint job:
No need for expensive equipment to clean and maintain
No ventilation needed (especially indoors)
Easy to carry anywhere
Saves money over buying a gun or booth
Air compressors can also be used for other tasks such as sanding and buffing your car's surface
Air compressors can also be used for other tasks such as sanding and buffing your car's surface. This will help to remove any scratches or blemishes and give it a shiny finish. Make sure to use the appropriate attachments for the job, such as a sanding disk or buffer pad. Be careful not to apply too much pressure, or you could damage the surface. If you're looking to buy an air compressor, be sure to do your research first. There are a variety of different models available, and each has its own set of features. Decide what you need the compressor for, and then find one that fits your budget and needs.
When using an air compressor, always wear safety goggles and a dust mask to protect your eyes and lungs from debris. Make sure the area you're working in is well-ventilated, and never operate the compressor indoors. If you have any questions about using an air compressor, be sure to ask a knowledgeable friend or consult the manufacturer's instructions. With a little practice, you'll be able to use your air compressor like a pro!
FAQs for Painting Car Air Compressor Buyers
What size air compressor do I need for painting cars?
The recommended size of an air compressor for painting cars using a sprayer is 50 gallons. As the spraying gun requires more PSI and CFM, smaller compressor units don't meet the requirements.
However, 30 gallons or fewer compressor units can do the task if PSI and CFM requirements of the gun meet the compressor's specs.
Can you paint a car with a 30-gallon air compressor?
Using a 30 gallon or less air compressor to paint cars is quite difficult if the PSI and CFM have a lower rating. A smaller tank will struggle to paint the entire car at once.
However, if you can adjust a few things and counter the pressure drop, only then it's possible to paint even with lower PSI and CFM ratings. I have mentioned one technique to follow for smaller compressor units in the previous section.
How many CFM do you need to paint a car?
To be able to get a smooth and evenly finished paint job on your car panel, you will need an air compressor with 12 CFM, at least. It will ensure a steady output to make sure the pressure doesn't drop and ruin the paintwork.
What PSI should I use to paint a car?
An HVLP (high volume, low pressure) sprayer gun can handle paint jobs on cars using 10 to 15 PSI without much hassle. There is no need for higher PSI to be able to do so. CFM is something that is more important and needs to be higher than PSI for painting.
Can you spray paint with a pancake compressor?
Most pancake compressor units have 6 to 7 gallons of tank capacity and come with much lower PSI and CFM. Thus, it would be tough to get a good paint job using a pancake compressor as far as painting is concerned.
How many layers of clear coat should I apply?
Applying 3 to 4 layers of clear coat will be more than enough when it's about painting cars. You need to let each of these coats dry before attempting another layer. It takes roughly an hour to cure properly, including applying time.
Buy on eBay, Walmart, or Etsy
2340L5-V 5hp 60 gal Two-Stage Compressor (230/1) - Walmart, Etsy, eBay
DeWalt DXCMLA3706056 60-Gallon Stationary Air Compressor Walmart, Etsy, eBay
Air Compressor, 30-Gallon Horizontal Tank, Portable, Single-Stage, 10.2CFM, 3.7HP, 1 Walmart, Etsy, eBay
Powermate Vx PLA4708065 80-Gallon Electric Air Compressor - Walmart, Etsy, Ebay
Industrial Air ILA3606056 60-Gallon Single Stage Cast Iron Twin Cylinder Air Compressor - Walmart, Etsy, eBay
California Air Tools CAT-60040CAD Ultra Quiet 60 Gal Compressor - Walmart, Etsy, Ebay
DEWALT DXCMV5048055 Two-Stage Cast Iron Industrial Air Compressor, 80-Gallon - Walmart, Etsy, eBay
Campbell Hausfeld 60 Gallon Vertical 2 Stage Air Compressor (XC602100) - Walmart, Etsy, eBay
Conclusion
Air compressors are a great way to get the paint job you want on your car.
By using an air compressor, you can avoid brush strokes and achieve a smooth, even finish.
An air compressor is also great for spraying primer and sealer before painting.
Make sure to use a high-quality paint spray gun to get the best results with your air compressor.
Always practice on a scrap piece of metal or wood before starting on the car itself.
In the end, if you ask me to recommend the best air compressor for painting cars, I would recommend you to go with the 2340L5-V 5hp 60 gallons Two-Stage Compressor. This particular compressor unit has a huge 60-gallon capacity with higher PSI. Also, the PSI and CFM ratings are more than enough for doing professional paint jobs.
If you are to buy a professional-grade air compressor for an automotive repair shop, this industrial-grade compressor will bring great value for your money.