Loud air compressors that make too much noise (over 90 dB) are one of the leading causes of hearing loss in America. Some air compressors are virtually impossible to operate without proper hearing protection.
But what if we told you that there are air compressors that make less noise than the noise produced in an ordinary conversation? With the best quiet air compressor, that is very possible. If that possibility intrigues you, this article is exactly what you need.
In this article, we will be taking an in-depth look at 6 of the top quiet air compressors out there. By reviewing each of them we aim to help you determine the perfect quiet air compressor that meets your needs.
Top Quiet Air Compressor 2022 by Editors' Picks
Our List of Best Quiet Air Compressors 2022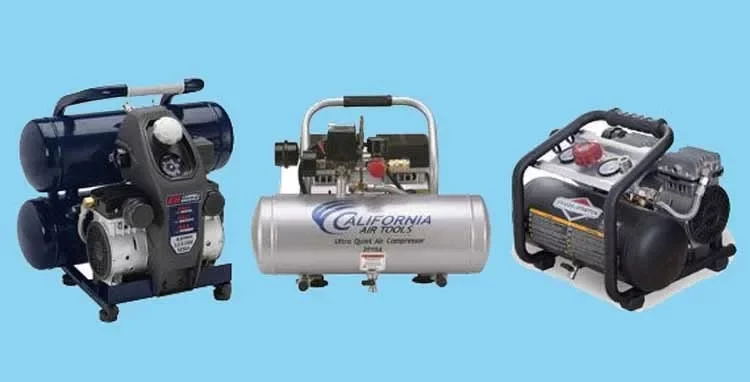 Now it is time to get to the meat and potatoes of the article. In this section, we will review the 6 selected products and look at what stands out in each of them.
The first product on the list comes from the esteemed company, California Air Tools . This company is one of the leading brands in the market of air compressors, especially the quiet versions. The CAT 1P10608 lives up to this standard set by the company in multiple aspects.
At first, let us talk about the noise level as that is one of the key aspects of a quiet air compressor. The noise level in this air compressor stands at 56 dB only. This is one of the lowest noise levels you will find in any air compressor.
Not only that, but the level of noise is also less than the amount of noise produced in a standard conversation. Besides reducing the noise to such an extent, it also excels at many other aspects.
For example, the overall lightweight frame that weighs 29 pounds makes the product very easily maneuverable. This could very well be the best portable quiet air compressor because of its lightweight.
Strong aluminum and steel construction on top of that make the product solid and durable. It also requires very little maintenance courtesy of the oil-free dual-piston motor.
However, the maximum pressure on this compressor is 120 PSI, which is more than enough to meet most of your needs. The airflow measures 3.1 CFM at 40 PSI and 1.2 CFM at 90 PSI.
If all of that wasn't enough, it also comes at a very affordable price. But the primary issue with this compressor is how small it is. Its tank capacity stands at only 1 gallon, which is much below the average tank capacity. The other flaw that has been pointed out by many is the unattractive design of the product.
Pros
Produces noise of 56 dB which is perfect for the ears
Comes with an oil-free low maintenance motor
Features a lightweight steel construction
Delivers up to 3.1 CFM at 40 PSI and 1.2 CFM at 90 PSI
Maximum pressure of 120 PSI
Very affordable
Cons
Has a very small air tank
The overall design is very underwhelming
2. DEWALT Air Compressor for Trim Review - Link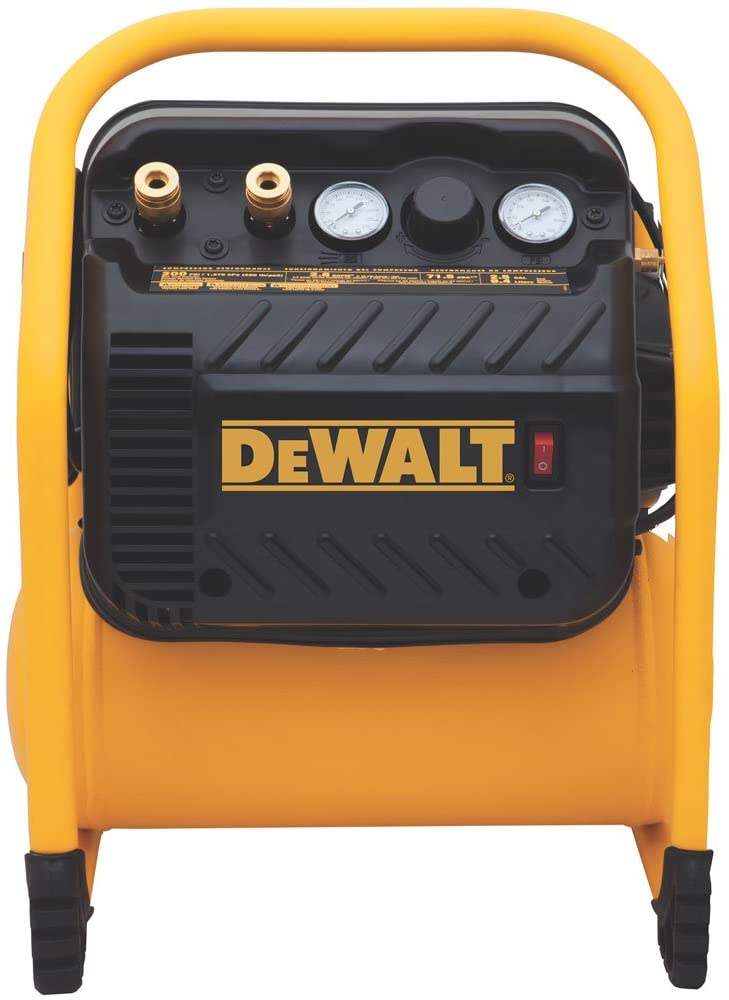 DEWALT is known for producing premium products with high quality , and this one is not so different. But it has plenty of great qualities that make up for this higher cost.
For example, this compressor has a relatively small frame but still packs a lot of power. It has quite a small air tank at 2.5 gallons, but this is good enough for most small scale DIY activities.
Even with this small frame, however, this compressor can deliver an airflow of 3.0 SCFM at 90 PSI. If that wasn't all, the maximum pressure in this compressor is 200 PSI, which will allow you to perform a wider variety of activities.
However, the noise reduction isn't exactly its strong suit. Its noise level clocks at 71.5 decibels. While this won't damage your ears, it is still quite loud and creates a noisy environment. Its 1.6 horsepower motor, however, guarantees an efficient operation despite being loud.
The design is also very thin and compact. Combining that with the strong aluminum construction, you have a model that is firm, durable, and portable at the same time.
While the construction is durable enough, the same can't be said for the performance. Many customers have complained that the compressor cannot run at over 55 PSI after a certain time.
Pros
Can deliver a great airflow of 3.0 SCFM at 90 PSI
Has a sufficiently sized air tank of 2.5 gallons
Comes with a maximum pressure of 200 PSI
Strong and lightweight construction
Comes with a 1.6 horsepower motor for more efficiency
Cons
Quite loud
Cannot run over 55 PSI after long term use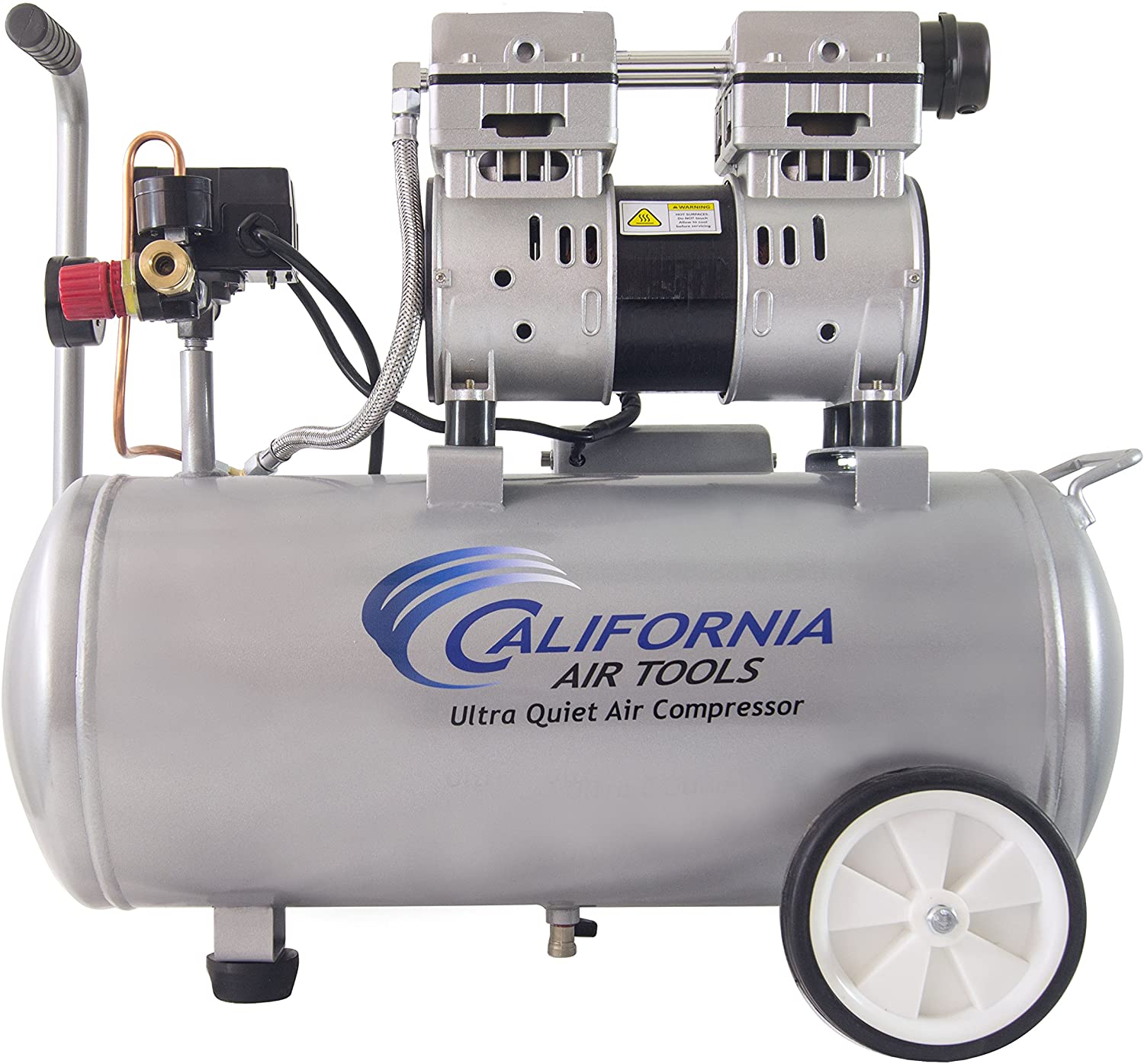 This is an air compressor that is built for heavy-duty jobs . With its 8 gallon tank, it can perform almost all the activities you would want an air compressor to do. However, the larger tank does mean that this compressor will be on the heavier side. Weighing 48 pounds, this definitely lacks in maneuverability.
If we are getting the few flaws out of the way first, let us talk about the price and design. This product is quite expensive, and that is something you should consider if you are on a budget.
Again, there wasn't much thought put into the design of this product. As a result, the design may appear as underwhelming for some.
Now let us talk about everything this product does right. Firstly, the noise level is absolutely perfect at 60 decibels, which is around the same noise level as a standard conversation.
Secondly, it comes with a 1 horsepower motor that ensures easy startups and strong performance. Thirdly, at 40 PSI it can deliver an airflow of 3.0 CFM, and at 90 PSI it can go up to 2.20 CFM. The maximum pressure stands at 120 PSI.
Lastly, it comes with an oil-free pump that requires little to no maintenance and saves you a lot of hassle.
Pros
8-gallon tank size
Comes with a 1 horsepower motor
Able to deliver an airflow of 2.20 CFM at 90 PSI which is higher than most
Has a maximum pressure of 120 PSI
Oil-free pump that requires no maintenance
Cons
Quite costly
Very heavy and lacks maneuverability
4. Campbell Hausfeld 8 Gallon Portable Quiet Air Compressor - Link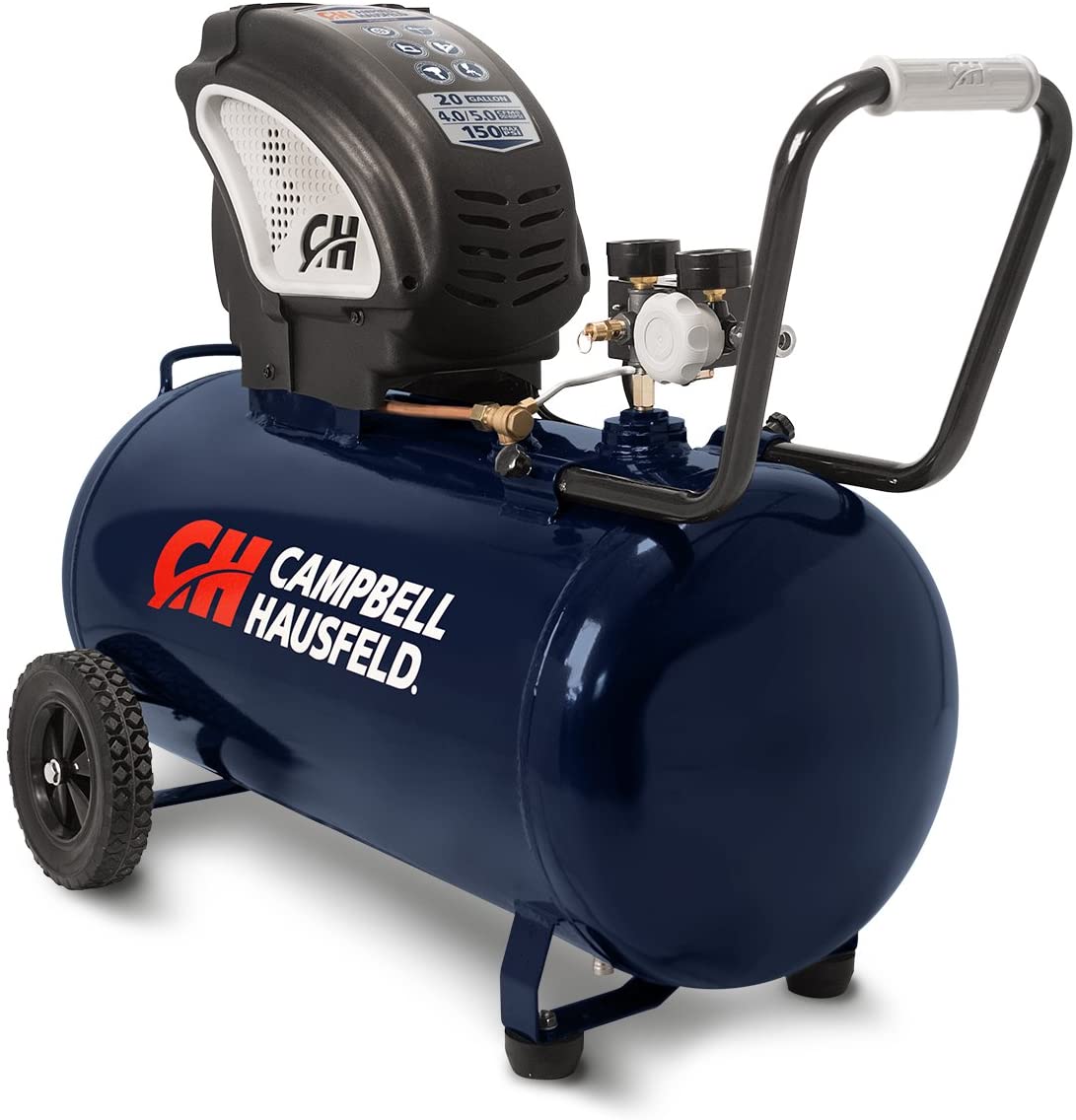 This is an portable air compressor that is primarily focused on performance. For example, it comes with a maximum pressure of 125 PSI and has fantastic airflow. Not only that, but it also has a dual-piston motor of 1 horsepower. Because of the dual piston, it can produce 25% more airflow compared to single piston motors of the same power.
While noise reduction isn't one of its highlights, it definitely does a good job at it. it runs a pretty quiet operation at 68 dB, which is only slightly louder than general conversations. But it makes half of the noise that products of the same level make.
It is supported by a sturdy construction of aluminum that makes the body of the compressor very durable. Again, it has a tank capacity of 8 gallons, and that is why it is fit for multiple activities.
But that also makes it quite heavy. Weighing 67 pounds, this compressor isn't exactly meant for portability. But the machine makes up for the excess weight by adding large wheels at the bottom. It is still quite difficult to carry around and store, and it is completely unsuitable for roofing.
It also saves you a lot of effort by being completely oil-free. So you don't need to worry about extra maintenance.
Pros
Maximum pressure of 125 PSI
Can produce 25% more airflow owing to its dual-piston motor
Completely oil-free engine
Made of high-quality aluminum
Comes with wheels at the bottom for more maneuverability
Has an 8-gallon tank
Cons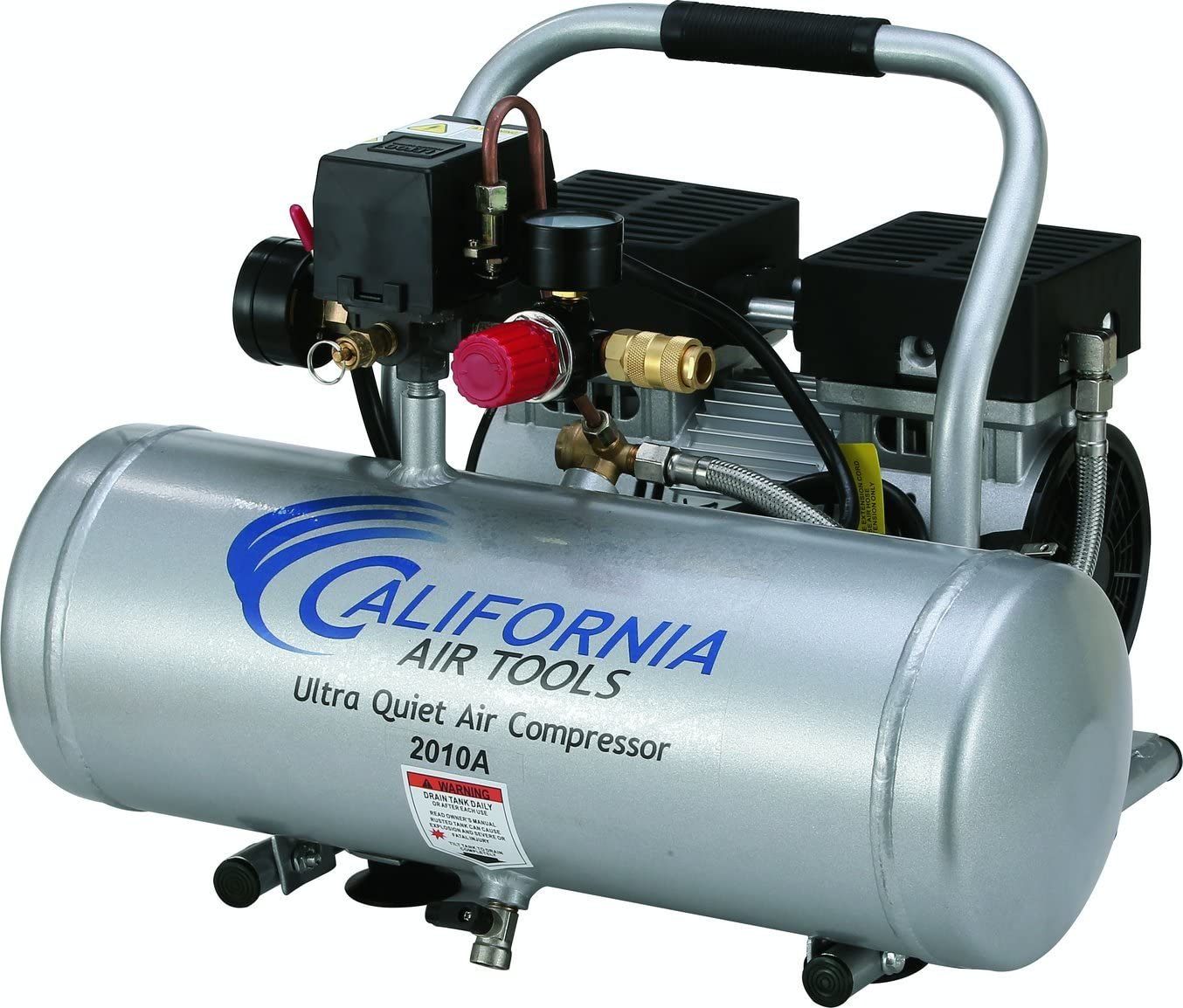 Like the first two products on the list, this is one of the smaller air compressors with a tank capacity of 2 gallons. But it manages to deliver a lot of power despite its smaller size.
The airflow in this machine clocks at 3.0 CFM at 40 PSI and 2.2 CFM at 90 PSI. Note that, the CAT 8010 delivered the same airflow, and that was an 8-gallon compressor. In fact, this air compressor might just be the best small quiet air compressor .
Fortunately, the smaller frame also makes it very lightweight at 35 pounds, and that is great for maneuverability.
Furthermore, it is also efficient in noise reduction. The noise level of this compressor measures at 60 decibels. So the sound coming from the compressor will not damage your ears in the slightest.
Moreover, the engine is completely oil-free and so requires no maintenance on your part. The makers of the compressor have guaranteed 3000 hours of top-notch performance from this compressor. And for the most part, the customer reviews support that statement.
Aside from giving a durable performance, it comes with durable aluminum construction. This is a fantastic compressor that is perfect for hobbyists who are interested in using tools like brad nailers, airbrushes, etc. But it fails to perform heavy-duty activities efficiently.
Pros
Delivers 2.2 CFM airflow at 90 PSI despite having a 2-gallon tank
Perfect for small-scale activities like airbrushing, nailing, stapling etc.
Has a noise level of 60 dB only
Completely oil-free and durable engine
Features sturdy aluminum construction
Cons
Tank capacity is quite low
Cannot perform any heavy-duty tasks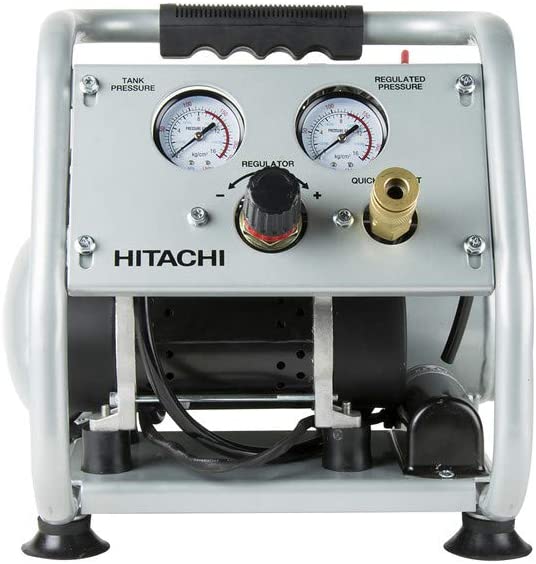 The price of the air compressor is a pleasant surprise as it is quite low compared to most Metabo products. Even at a low price, it manages to deliver a pretty good performance in multiple aspects, especially the design.
But first, let us talk about noise reduction. This product earns the name "ultra quiet air compressor" by running an extremely quiet operation of 59 decibels.
Contributing to that are the rubber feet of the compressor. The legs of the compressor are covered with rubber that reduces the vibrations of the device. This results in a lower amount of noise.
Like most Metabo products, proper care was put into the little aspects of the design as well. This compressor comes with industrial regulators and gauges. Because of this, you can make your PSI adjustments precisely.
This product also puts special emphasis on protecting the important components of the compressor. It features a steel roll cage that protects valuable components like the tank and the motor from external damage.
Speaking of the motor, this machine features a 0.5 horsepower motor, but it can be a little insufficient at times. On that note, the airflow is also quite low on this device. It can deliver an airflow of 1.3 CFM at 40 PSI and 0.8 CFM at 90 PSI; which is very low.
Pros
Very budget-friendly
Runs an extremely quiet operation of 59 dB
Comes with industry grade regulator and gauges for precise PSI adjustments
Covers the important components of the compressor with a steel roll cage
Equipped with rubber feet to reduce vibrations
Cons
Insufficiently powered motor
Low air volume
What Should I Look for When Buying a Quiet Air Compressor?
Now that you have an idea about all the viable options that you have when it comes to quiet air compressors, let us go a level deeper. In this section of the article, we will discuss the features that you need to look out for before buying the best and quietest air compressors .
Purpose of Use
This has to be the first thing that you need to consider before buying a quiet air compressor. To know the right air compressor for you, you have to determine what kind of tasks you need it to perform.
For example, if you are looking for a noiseless solution to small scale tasks like using a staple gun, brad mailer, or airbrush, then you will be fine with a pancake air compressor. It has a quiet operation and can easily handle these activities.
But if you need tasks that require more power, than you must look for a different air compressor. Furthermore, everything else that you need to consider essentially depends on what you need the compressor for. So this should be the first thing that you think of.
Noise Level
Getting a quiet solution to noisy compressors is the sole reason we are here. So the importance of the noise level goes without saying.
To understand decibels, let us look at a few things. Firstly, a normal conversation between two people usually ranges from 55-65 decibels, and the sound of a ticking watch is somewhere around 20 decibels. Secondly, an increase of 10 dB usually results in a sound twice as loud.
For most compressors, the noise level ranges from 40-90 decibels. If the noise level goes above 80 dB, then you will require hearing protection to keep your ears safe. Most products in our best quiet air compressor reviews had a noise level around 60, which is the ideal noise level.
Tank Capacity
The tank capacity is a significant feature of the air compressor. It determines whether or not the air compressor will be able to handle heavy-duty tasks.
Moreover, the tank capacity of air compressors can range from 1-30 gallons. On average, most air compressors have a 6-gallon tank, and that is usually sufficient for most works. But the right tank capacity depends on what you want to do with the compressor.
For small scale works that demand less power, a tank capacity of around 2-3 gallons can work perfectly well for you.
Maximum Pressure
The airflow of the air compressor depends on how much pressure it can exert. This is usually measured in PSI units i.e., pound per square inch. In most air compressors, the maximum pressure is usually 120-150, and that is good enough.
For using drills or sanders, the compressor needs about CMF 90 PSI pressure, but to run a spray gun, 40 PSI is good enough.
Air Volume
This is what determines the actual performance of the compressor. The better the airflow the smoother the operation is. This depends on the PSI of the compressor and is measured in CFM unit. At 90 PSI pressure, a good air compressor should be able to deliver 2-3 CFM of airflow.
Oil-Free vs. Oil Lubricated
Between these two options, the oil free option is more appealing. In an oil-free option, you don't have to maintain the compressor regularly. The compressor will not erode even if you don't oil it regularly.
But in an oil-lubricated compressor, you have to take the hassle of regularly maintaining the compressor by oiling it. This may cause it to run sooner or for a longer period of time. But the extra hassle is simply not worth it.
Furthermore, engineers today have been able to make oil free compressors just as smooth and long-lasting as the oil-lubricated ones. The oil-lubricated compressors are a thing of the past at this point and are completely unnecessary.
Cover with Rubber
Like the previous section, you can cover up the parts of the compressor with rubber here as well. That would reduce the vibration significantly. You can also place the compressor over a rubber mat to further reduce the vibration.
Get a Larger Air Hose
It will help you to put sufficient distance between you and the compressor. The size of the air hose will depend on the size of your garage, but you should try to make it as long as possible.
Cover the Intake System with a Muffler
You can find quality mufflers on amazon for this exact purpose. Covering it up will significantly reduce the noise produced by the compressor.
Which Quiet Air Compressor Is Right for You?
You have to assess your priorities and determine what you need from a compressor to determine the right one for you. If you are looking for an air compressor for small scale tasks, then the California Air Tools CAT 1P10608 is the best option for you.
If you want the best quiet air compressor for the money, the Metabo HPT Air Compressor should be your go-to. But if you need something for a bit more heavy-duty purposes, the California Air Tools 8010 will be your best bet.
FAQs

How Loud Is 60 dB?
As we have discussed before, decibel is the unit that we use to measure noise. Generally, 60 dB is the noise that is produced in a standard conversation with someone standing 3 feet away from you. Obviously, the exact value of the noise produced in a conversation may differ, but it usually ranges from 55-65 decibels.
How Can I Make My Oil-less Air Compressor Quieter?
If you have an air compressor that makes quite a bit of noise and you want to reduce the noise level, there are a few steps you can follow. But first, you need to know what actually contributes to producing noise in these compressors.
Usually, things like vibration, hollow parts on the inside, materials used for construction, intake, and exhaust systems are responsible for making noise. You can follow the following steps to reduce the noise.
Cover some parts of the air compressor with a rubber. This will greatly reduce the noise produced due to vibration.
Place it on some sort of rubber mat to further reduce the impact of vibration.
The intake system is usually the factor that is responsible for the noise. So you can reduce this noise by taking the intake component outside and relying on outside air instead.
If all of the above steps do not help, you should just look to buy a quieter air compressor.
How Can I Make My Garage Compressor Quieter?
The intake system of the air compressor is usually responsible for the noise it creates. But in a garage compressor, you do not have the liberty to take the intake component inside. So to reduce the noise, you should try to follow the steps given below.
But first, the best solution would still be to get a new air compressor that is quieter. The best quiet air compressor for the home garage will make very little noise, and it won't damage your hearing. If you cannot manage to buy a new one, then you can follow the steps below to reduce the noise as much as you can.
Buy on Etsy
California Air Tools CAT-1P1060S Light & Quiet Portable Air Compressor, Silver - Etsy Link
Rolair JC10 Plus 2.5 Gal Electric Air Compressor - Etsy Link
California Air Tools CAT-4610A Ultra Quiet and Oil-Free 1.0 Hp 4.6-Gallon Aluminum Twin - Etsy Link
DEWALT Air Compressor for Trim, 200-PSI Max, Quiet Operation (DWFP55130) - Etsy Link
DEWALT Air Compressor, 135-PSI Max, 1 Gallon (D55140) , Yellow - Etsy Link
Campbell Hausfeld 6 Gallon Portable Quiet Air Compressor (DC060500) - Etsy Link
DEWALT Pancake Air Compressor, 6 Gallon, 165 PSI (DWFP55126) - Etsy Link
Buy on eBay
California Air Tools CAT-1P1060S Light & Quiet Portable Air Compressor, Silver - eBay Link
Rolair JC10 Plus 2.5 Gal Electric Air Compressor - eBay Link
California Air Tools CAT-4610A Ultra Quiet and Oil-Free 1.0 Hp 4.6-Gallon Aluminum Twin - eBay Link
DEWALT Air Compressor for Trim, 200-PSI Max, Quiet Operation (DWFP55130) - eBay Link
DEWALT Air Compressor, 135-PSI Max, 1 Gallon (D55140) , Yellow - eBay Link
Campbell Hausfeld 6 Gallon Portable Quiet Air Compressor (DC060500) - eBay Link
DEWALT Pancake Air Compressor, 6 Gallon, 165 PSI (DWFP55126) - eBay Link
Conclusion
A quiet compressor is something that is desired by many. After all, it is the solution to one of the biggest issues associated with air compressors in general, i.e.,the unbearable noise. By eliminating the issue, you can enjoy a quiet environment and still get your required work done.
Get the best quiet air compressor today and enjoy all the perks and benefits that come along with it. Be sure that you are aware of the things you need from the compressor and buy the one that fulfills all your requirements properly.