All pumps are meant for pumping water. A great pump's job is to produce the clearest water possible. Many types of pumps aren't capable of pumping debris. Trash pumps are designed to handle large pieces of solid material such as sand, leaves or even trash. Trash pumps are the best solution to pumping even the most polluted water.
Choosing the best trash pump can be difficult. This is because of the variety of pumps and the amount of wonderful products out there. With a few steps this process can be simple and the right trash pump will be an easy choice.
Editors' Picks: Top Trash Pumps
Learn About Trash Pumps
To understand what a trash pump is, first you need to know what a pump is. A pump is a device used to move liquids from one place to another. Pumps produce clear and clean water. Trash pumps are heavy-duty devices that pump water containing solid debris. Debris can include sludge, sand, twigs, leaves, and other trash.
Trash pumps are able to pump thousands of gallons of water per minute. Made from steel or cast iron, these pumps use centrifugal force to move fluids through the system.
Best Trash Pumps of 2023

1. Champion Gas-Powered Trash Water Pump - Link
Complete with everything you need for setup, the Champion Gas-Powered Trash Water Pump is an excellent pump. It includes a 12-foot intake hose, 20-foot discharge hose, coupler, intake strainer, clamps, fittings and adapters. The only thing you will need to supply is oil and gas.
This is a semi-trash pump. It is capable of pumping solid debris up to 9/16" in diameter. The Champion pump has a 196cc engine.
It can pump 158 gallons per minute. This amazing trash pump has convenient features. A durable steel frame and sturdy handle keeps this trash pump running great. It also has tires that will never go flat. The wheels make it easy to transport to new projects.
The durable design and high amount of power guarantee results. This pump can clear out muck from heavily polluted bodies of water. The pump is high quality and runs quietly. It can run for longs periods of time without having to be cleaned. This pump is a great piece of equipment for an affordable price.
Champion also features amazing lifetime technical support. With a 2-year warranty, the buyer can rest easy while putting this pump to the test.
Pros:
Complete setup with all parts included
Powerful 196cc engine
Pumps 158 gallons per minute
Durable steel frame and handles
Cons:
Semi-trash pumps pump smaller pieces of trash

2. Tsurumi HS2.4S; Submersible Trash Pump - Link
The Tsurumi HS2.4S pump is a great compact semi-trash pump. This pump has a beautiful and vibrant blue body. Attractiveness is not the only thing this pump has.
It also has a 53 gallon per minute capacity. With a weight of under 30 pounds and a height of just over a foot, this compact pump is easy to transport from job to job.
The Tsurumi submersible pump is made of an extremely high-quality die cast aluminum. It is great for heavy duty projects because the aluminum is very sturdy. This pump is a semi-vortex submersible trash pump with agitator. The agitator feature of this pump keeps it low maintenance because it avoids clogging. The vortex provides maximum durability and high performance.
To prolong the operational life of this pump, it features a double inside mechanical seal. This seal protects from harmful debris. The Tsurumi pump runs on electricity and has a 20-foot cable. This avoids the need to use gas for the motor. The use of electricity is much more environmentally friendly. It is also just as powerful as a gas pump. This is a high quality and affordable trash pump.
Pros:
Lightweight and attractive design
53 gallon per minute capacity
Composed of sturdy aluminum
Agitator prevents clogging
Does not need gas to run
Cons:

3. Multiquip Electric Submersible Trash Pump - Link
If you're looking for a high-powered electric trash pump, the Multiquip will meet your expectations. This pump is compact and attractive, but extremely powerful. It is a 16" pump with a 1 horsepower motor.
That makes this pump powerful enough to move 79 gallons per minute. It uses 115V of electricity. Electric pumps are great for the environment. They are convenient and do not need gas to run.
Multiquip is made of incredibly durable cast iron. The impeller inside is made of cast iron as well. Cast iron is a powerful material that is tough against abrasive debris. This pump is equipped with an internal thermal overload protection. It also has dual shaft seals and sealed impeller.
The Multiquip pump has a handle for convenient carrying. It has a 25' power cord. This pump can be completely submersed, but avoid submersion of the power plug. This is a tough pump and is very efficient for pumping waste from water. This pump has a 2" suction and discharge hose. This pump can be used for pools, ponds, or any body of water.
Pros:
1 Horsepower motor
Moves 79 gallons per minute
Made of incredibly durable cast iron
Runs on electricity, no need for gas
2" suction and discharge hoses
Cons:

4. Amazon Commercial 1/3 HP Thermoplastic Submersible - Link
Much like the Tsurumi HS2.4S, this model is a semi-vortex submersible trash pump. The HSZ2.4S also has an agitator to avoid clogging. The agitator feature is great for keeping this pump clog-free.
The HSZ2.4S has vortex technology that protects the inside of the machine from being damaged by large pieces of debris.
This is an electric trash pump. It includes as 20' cable. It also features a 2" discharge hose. This trash is made of an extraordinarily high-quality die cast aluminum. The strong aluminum will prolong this trash pumps life extensively. The vortex feature keeps the pump's performance high. This pump is extremely powerful and dependable with a ½ horsepower motor.
This pump is fully submersible. Because it runs on electricity, this pump can run 24/7. What this model of Tsurumi pump has to offer is an attached float switch. Float switches can be purchased for a trash pump separately. This pump saves you money by including the float switch. The float switch is used for automatic operation. It will start or stop at the appropriate water level.
Pros:
Added float switch for automatic operation
20' electrical cable
½ Horsepower motor
Powerful enough to run 24/7
Quiet yet powerful
Cons:
Float switch sometimes makes operation difficult

5. Red Lion OHV Engine Driven Semi-Trash Pump - Link
The Red Lion engine driven trash pump is a powerful and durable pump. This pump runs on an OHV engine. An OHV engine is an overhead valve engine.
OHV engines are well known for long lasting and persistent power. This is the only trash pump on the list that features such a powerful engine.
This pump has a capacity of 9,480 gallons per hour. It is made of heavy-duty cast iron. Although this pump is high powered and durable, it has a compact design. This makes it convenient for transporting to any job. This product is very easy to use and setup. This pump runs on gas. This is an affordable and dependable pump. Red Lion does not disappoint in performance.
The Red Lion is powerful enough to be used for irrigation. Because of its high-powered engine, it can move heavy debris. It can transfer water containing sand, pebbles, and suspended solids up to 1/2". Imported from China, these trash pumps have consistent quality.
The many great features of this pump make it a terrific purchase. It has all the specifications needed to remove harmful debris from water. The Red Lion pump is even Environmental Protection Agency (EPA) certified. This pump has a 2-year warranty. That is more than enough time to put it to the most rigorous tests.
Pros:
High powered OHV engine
Moves 9,480 gallons per hour
Durable cast iron
No power cord for better portability
Easy installation and use
Cons:
Hose must be purchased separately

How to Use a Trash Pump
1. Use Caution and Be Safe
Working with any equipment can be dangerous. Before you begin using your perfect pump, take safety precautions. You will want to wear safety goggles and work gloves. It is also important to protect your hearing with earplugs or headphones.
Do not pump chemicals or toxic substances
Do not open pump housing while unit is in use
Do not block the flow from the discharge line
2. Prime Your Pump
Before using your pump, it should be primed. Trash pumps are designed to handle liquid. To prime your pump, all you need to do is open the plug and fill the pump with water. Be sure the pump is always full of water before use.


3. Attach Hoses
Check the gasket on the suction hose to be sure there is no air leak. Then, attach the suction hose firmly to the pump and tighten the clamps. Attach the strainer to the end of the suction hose. Position the strainer to remain completely underwater.
Attach the discharge hose in the same way. Position the discharge hose as far away as possible. Straighten out the hose, getting rid of any kinks.
4. Start the Pump
Open your pumps fuel valve. Then, turn the engine switch on. Open the throttle. Pull the started rope similar to the way you would pull a starter rope on a law mower. When the engine starts your pump should be running successfully.
5. Turn off the Pump
When finished, turn the throttle to idle. Turn the engine switch off and close the fuel valve. After the engine is cooled off, detach the hoses. Be sure to remove any large debris from the strainer. Remove the drain plugs and drain as much fluid as possible.

How to Pick the Perfect Trash Pump
Selecting the Right One
Dewatering clogged and polluted bodies of water is important to the environment. Pipelines often need to be dewatered because of clogging and contamination. Many construction sites also need the pump to make their job easier. Semi-trash pumps are great options for personal use or construction sites. Consider your personal application before selecting the best trash pump for your project.
Types of Trash Pump
Trash pumps are used for many applications. These powerful machines are used for flooded basements, dewatering lakes or pools, moving liquid to a new location, and much more. The most common use for a semi-trash pump is removing filthy water. Semi-trash pumps produce wonderful, clear water.
Traditional Trash pump
You will want to consider what it will be used for before purchasing a trash pump. An extremely polluted lake or river with large pieces of debris will need a regular trash pump. A traditional pump is designed to handle large, heavy amounts of debris.
Semi-Trash Pump
To clean a muddy or sandy body of water, a semi-trash pump will be great. Semi-trash pumps cannot handle extremely large pieces of debris. This does not mean they are not as high powered. These pumps are most often just as powerful as regular pumps. Semi-trash pumps are great to use for pools and backyard lakes.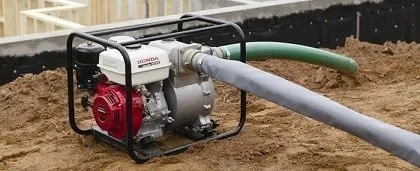 Semi-Trash Pump
Electric Submersible Trash Pump
Electric submersible trash pumps are weaker than semi-trash and trash pumps. They run on electricity and can be very convenient. Electric trash pumps are great for removing water from flooded homes.
They can also move water will smaller debris such as sand or leaves. Electric submersible pumps work well for home use. They need to stay plugged in. Keeping the pump near an electrical source is necessary.
A Submersible Pump
Choose the Amount of Power Needed
Trash pumps come in a variety of shapes and sizes. They also vary in power level. When considering what type of trash pump is right for your use, there are a few things to consider. The amount of power will be based on the use. If you have a large cavity with thousands of gallons of heavily polluted water, you will need to choose a higher-powered engine.
A great specification to look for is the capacity. This is measured in gallons per hour or gallons per minute. This feature can give you an accurate idea of the best pump for you based on how much water you need moved.
The engine or motor also plays an important role. The higher powered the engine is, the better the suction power is. For any heavy-duty job, look for a high-power engine. For smaller jobs, like flooded basements or pools, a less powerful engine is great.
How Large is the Debris?
If you are using your pump for a heavily polluted body of water, you will need a model with a larger hose. This is so the large debris can pass through the pump. The standard hose size is 2" in diameter, but many trash pumps have larger or smaller hoses.
Additionally, if the debris is extremely large, you will need a regular trash pump. A semi-trash pump can handle large amounts of debris if it is not exceedingly large.
Other Things to Consider
There are many factors to consider when purchasing the perfect trash pump. Price is an important factor. Be sure to explore all options available to you. Pick the pump that does not sacrifice quality for price. Be sure to choose a pump that fits into your budget. High quality materials are important when choosing a trash pump. To ensure the longevity of your product, choose a cast iron, steel, or aluminum pump.
FAQ
What is the difference between a trash pump and a water pump?
Trash pumps and water transfer pumps are both centrifugal pumps. This means they use centrifugal force to move fluids from one place to another. They are different because trash pumps have an impeller that is designed to handle solid materials. Water pumps do not handle solid material.
How does a trash water pump work?
A trash pump works by using an impeller to create centrifugal force. An impeller is part of the pump that rotates at high speed to increase pressure or flow rate. The impeller creates pressure that suctions liquid. Solid material is then filtered out and the clean water is ejected from a discharge hose.
Will a trash pump pump mud?
Trash pumps, semi-trash pumps, and electric submersible pumps will all pump mud. These pumps are well equipped to handle water containing solids such as mud, sand, sludge and more.
How do you prime a trash water pump?
Priming a trash water pump is extremely important. Trash water pumps need fluid to operate, so not priming it can damage the pump. To prime a trash water pump, you will need to fill the pump with water. Place the suction hose in the water to be pumped. Then, start the engine.
Can you use a trash pump to dredge?
Dredging is the removal of sediment from lakes or rivers. A pump can be used effectively to dredge if the distance is very short. A suction nozzle is also recommended if using a trash pump to dredge.
How does a suction dredge work?
Suction dredges work by using a high-pressure gasoline water pump. This pump sucks up water and other materials, ejecting the solid material into a sluice. A sluice will retain any gold found in the gravel and eject the worthless materials.
What is a gas powered water pump?
Gas powered water pumps are pumps that run with gas. They are large and powerful and they can process hefty amounts of solid debris. They are used for moving massive amounts of water quickly.
Final Verdict
The winner trash pump is the Red Lion OHV Engine driven semi-trash pump. This pump outshines the others on the list in power. If you are looking for a reliable and powerful trash pump this is the one. An OHV engine is far superior in power to other pump engines. It is also durable and portable. You can't go wrong with the Red Lion pump.