Air compressors are not only for industrial uses, many DIY enthusiasts prefer one to have in their garage to make the best out of their tools and machines. For most people, it seems overwhelming to have one; but, the
best air compressor for home garage
will get your work done more efficiently using air tools.
Whether you frequently have to use air wrenches, ratchet, hammers, brad nailers, grinders, etc, operating them will become easier to do. It's worth spending on such a thing to work more efficiently.
If you don't know much about an air compressor and are confused about which one to get, this article comes with the top 8 suggestions. Also, there will be some useful information that you need to know before you get one. If you are interested in an air compressor for painting cars then you will need a larger size which you will not find below.
Top Air Compressor for Home Garage by Editors' Picks
List of 8 Best Air Compressor for Home Garage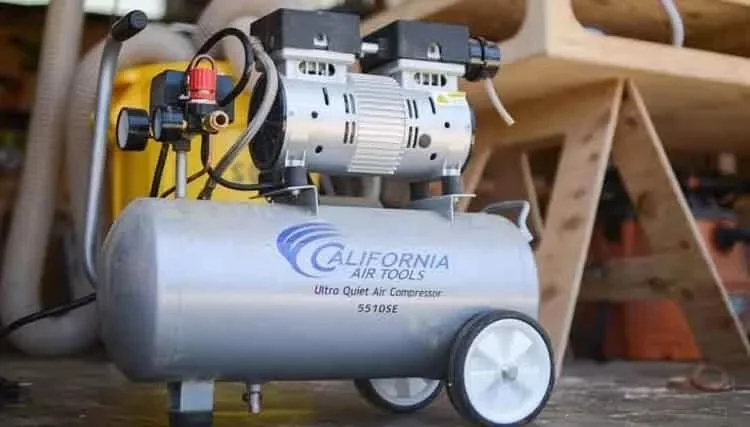 Whether it's about performance, portability, functions, reliability, you can easily pick any of these products considering your needs.
1.BOSTITCH Air Compressor Combo Kit - Link
If you have to do a lot of interior and exterior trimmings and finishing projects on applications such as cabinets, furniture, staircases, etc., this deal from Bostitch seems very appealing. You will get a pancake air compressor, a brad nailer, crown stapler, and finish nailer to add versatility to your DIY projects.
The high efficient motor of this garage air compressor can deliver 2.6 SCFM at 150 PSI, which is more than enough for most home improvement DIY projects. Even though the tank has a 6-gallon capacity, you cannot complain much as there are three tools included with the package.
This model doesn't require any oil, which means you don't have to be concerned with its maintenance at all. Your workplace will have no stains and oily surfaces due to the machine. Also, with a noise level of 80 dBA, you don't have to feel embarrassed to the neighbors as it doesn't produce that much disturbing noise.
You can assure the maximum performance of the tools that you will operate using this air compressor. The 18-gauge brad nailer, 16-gauge finish nailer, and heavy-duty crown stapler will provide you with a high-flow regulator to do your projects quite efficiently.
This cordless machine also includes a 15-foot PVC air hose with fittings for easy maneuverability.

Pros
Cordless compressor allows easy maneuverability
High-efficiency motor
6-gallon capacity
Includes quality brad nailer, finish nailer, and crown stapler
Low noise
Oil-free operation and low maintenance machine
Cons
Finish nailer often misfires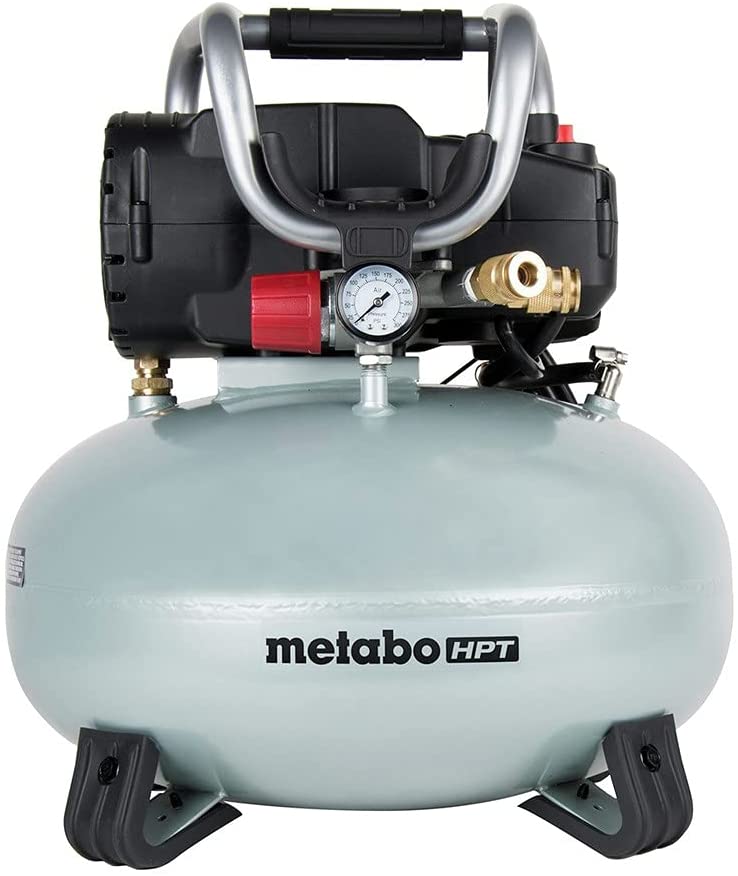 Conventional air compressor make it difficult to get the engine started due to cold weather in most cases. But, this issue doesn't happen with compressor machines like this one. Craftsman created this unit to make home improvement and molding projects a lot easier without requiring much effort from the user.
The powerful motor of the model can deliver a maximum of 150 PSI to provide adequate cut-in pressure for a wide variety of applications. Also, the motor provides 2.6 SCFM at 90 PSI for a convenient and quick recovery time.
For most DIY home projects, you will find its 6-gallon capacity to be more than enough. It also makes the pancake-shaped air compressor a portable air compressor to maneuver easily wherever you need. It weighs only 30 lbs. That also allows you to carry it from one place to another, conveniently.
Moreover, its oil-free operation ensures longevity and takes away the hassles of maintenance from your shoulders. The motor is powerful enough to fill the tank quickly, so you will not have many regrets compared to oil-powered air compressor.
If you have an assistant for small home projects, its 2 couplers allow two users to power two air tools to get the work done within less time.
As it produces 78.5 dBA of noise, you can consider this one as a low noise machine to have in your garage or garden.

Pros
Efficient motor with max 150 PSI and 90 PSI
Easy to use and start during cold days
Lightweight and easy to move
Oil-free operation ensures low maintenance
Quiet performance
2 couplers to connect two air tools
Cons
Pressure doesn't stay consistent sometimes
The hose smells like burnt rubber
Not great for sprinklers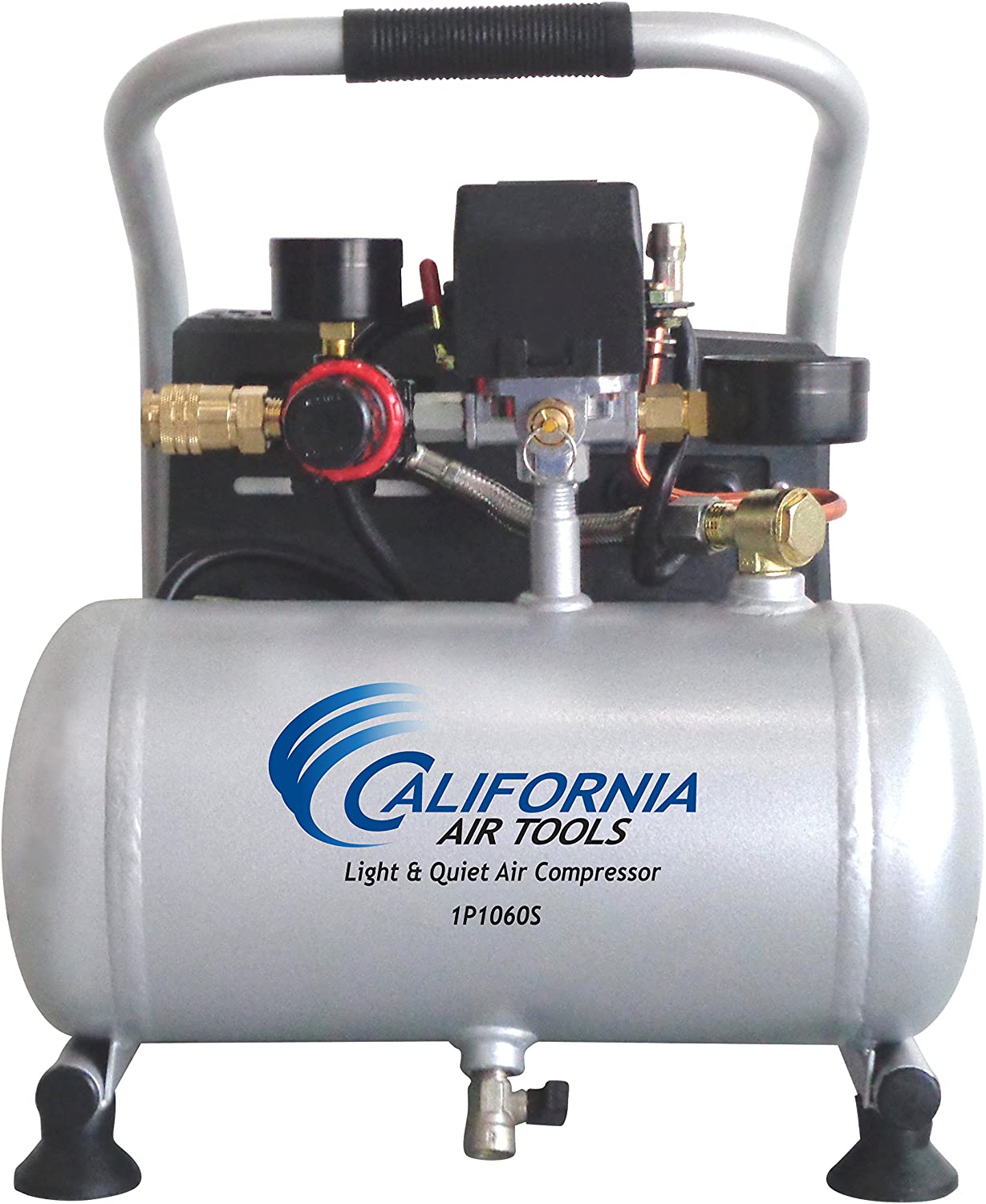 If you are looking for a very quiet, high tank capacity, and powerful air compressor to power up your air tools to execute home improvement projects, take a look at this model from California Air Tools.
The compressor features a powerful 1 HP motor that delivers 1680 RPM while maintaining low and quiet noise. With a max PSI of 120, the motor can provide 3 CFM at 40 PSI and 2.2 CFM at 90 PSI to handle most air tools that are available in the market.
If you don't want to hear any complaints from the neighbors, this ultra-quiet air tool is made just for you. With a low 60 decibels of noise, it's one of the quietest air compressors on this list. It will make sure you work in a quiet place.
The product also ensures you don't have to compromise with the tank capacity to get a portable machine to use. It comes with an 8-gallon tank, which is more than enough for air tools that require more air pressure. However, you can still maneuver this unit easily as it sports a wheel kit for convenience.
Due to its oil-free operation, you don't need to worry much about its maintenance. Thus, using it in extremely cold temperatures will be much more convenient for sure.

Pros
Ultra quiet air compressor
Powerful 1 HP motor to handle most tasks
8-gallon capacity
Lightweight and has wheel kit for moving easily
Oil-free operation requires low maintenance
Up to 3000 hours of life cycles
Cons
Not quite a fast compressor
Quickly runs out of air
4.Craftsman Air Compressor - Link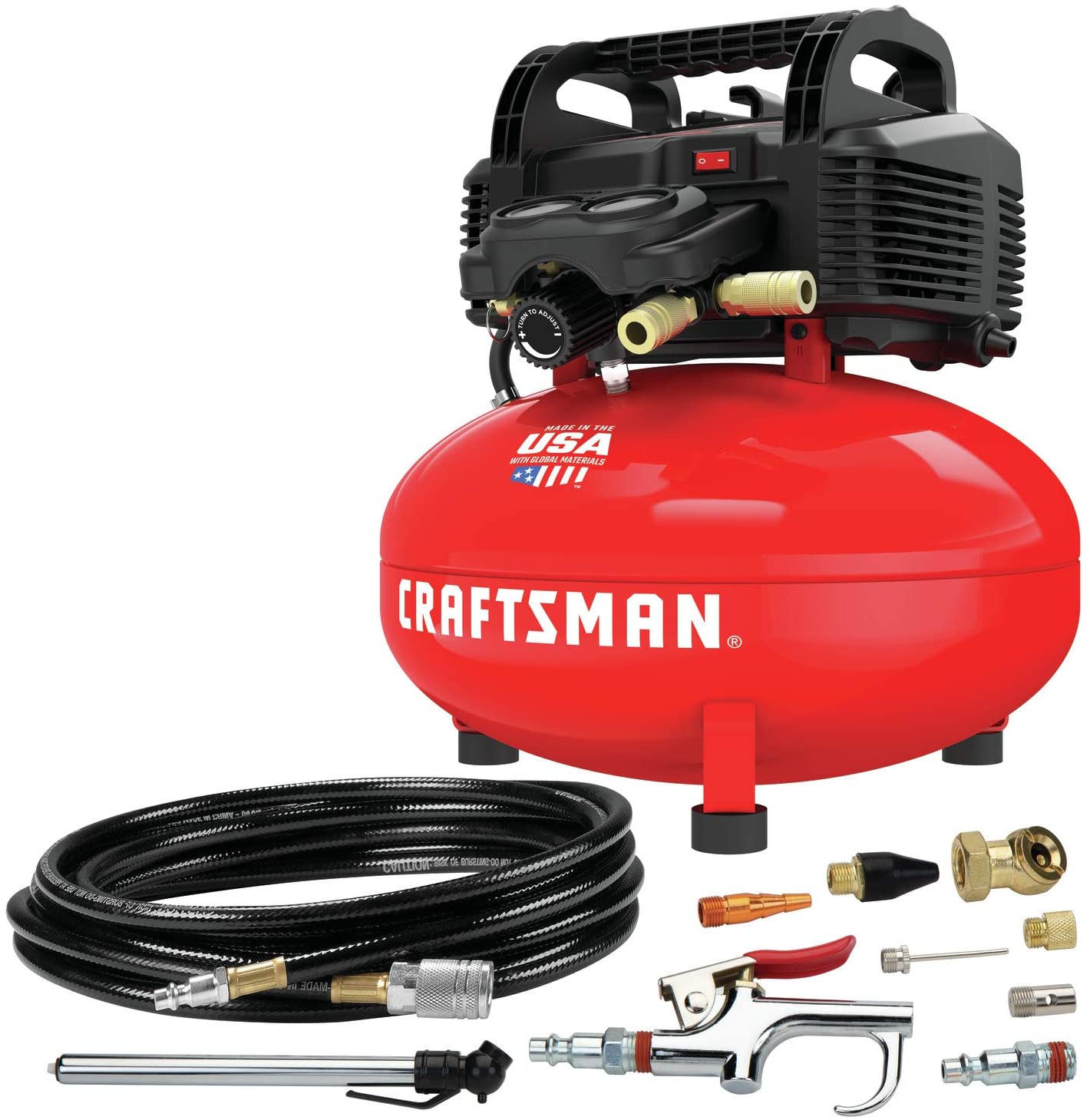 ThisCraftsman Air Compressor compressor unit can be a great addition to your garage tools and machines. Compared to others, pancake air compressors are well-familiar for stable and optimal performance regardless of the place you use it.
Its low-amp 120V motor will not make it difficult for you to start it in cold weather. Also, your tools can have longer run times with its max 150 PSI tank pressure. For ensuring a quick compressor recovery time, it provides 2.6 SCFM at 90 PSI.
Unlike conventional air compressors, there will be no pressure drop when you use this one. It features 120 PSI cut-in pressure to provide a high flowing air regulator to protect against pressure droppings. The provided high-flow regulator, along with couplers, will enhance your tools using experience.
Its air delivery performance allows you to use 4 finish nailers at once to finish DIY projects conveniently and efficiently.
Like most smaller air compressor, this one also comes with a tank capacity of 6 gallons. It allows you to carry the compressor more easily without much effort. You don't have to worry about its maintenance as it doesn't require oil to make it run smoothly. Its air coupler and plug come pre-installed to prevent leaks.

Pros
Longer air tool performance runtime
90 PSI for quick compressor recovery
6-gallon tank capacity
Great portability
Oil-free pump extends longevity
Cons
Very noisy
No specific break-in procedure
Doesn't hold pressure well at idle state
5.BILT HARD Air Compressor, 6 Gallon, 150 PSI 1.5HP, Oil Free: Review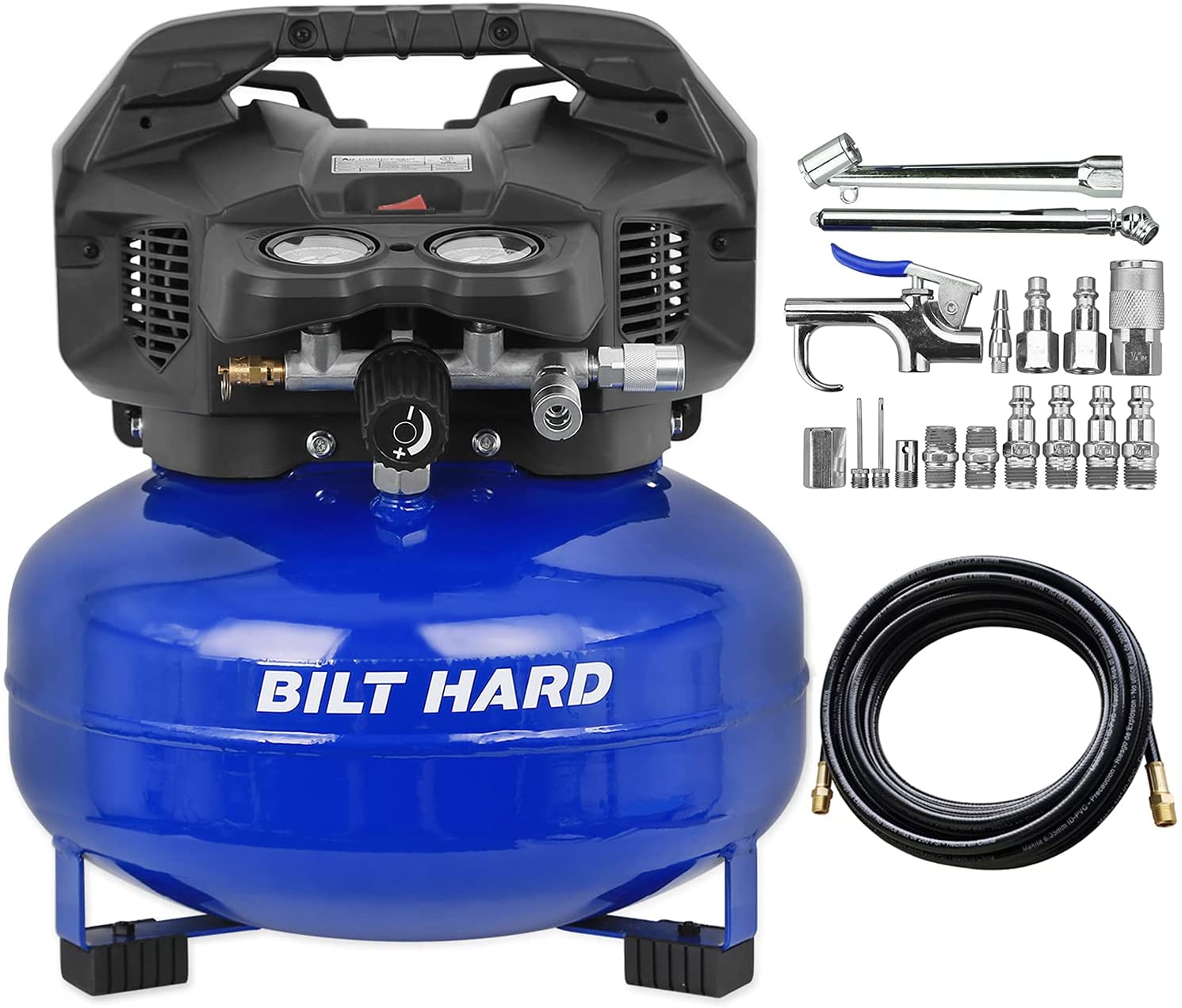 When it's about tools and machinery, Dewalt is a well-reputable name among professionals and DIYers. If you are looking for a highly efficient motor to enhance the performance of your air tools, you can consider getting this compressor.
With a max 165 PSI, this compressor allows the air tools to work up to their full potential. Also, its 90 PSI pump helps a lot to quickly recover compressor air for convenience and bigger projects.
Unlike conventional ones, the noise of this compressor doesn't wake the dead out of the grave. With a noise level of 75.5 dBA, this assures you of a moderately quiet work environment. Furthermore, as the pump doesn't require oil, there will be zero to minimum maintenance, which is something you prefer the most.
The motor is highly efficient in starting and functioning even in cold weather. Its high flow regulator teamed with couplers will surely maximize your air tools performance. The couplers allow two users to run their tools to get the work done within a shorter time.
You can easily carry and transport this 30 lbs. air compressor to wherever you want. There are protective rubber legs to prevent vibrations and marring while working. It has a console cover that protects the controls that give you quick access for repairing purposes when needed.
Pros
High efficient motor to start the compressor in cold weather
150 PSI for efficient air pressure performance
90 PSI for a quick compressor recovery
High-flow regulator to increase tools performance
Low noise
Oil-free pump
Cons
Air leaks fast at idle state
The regulator isn't consistent
6. Makita MAC2400 Big Bore 2.5 HP Air Compressor For House - Link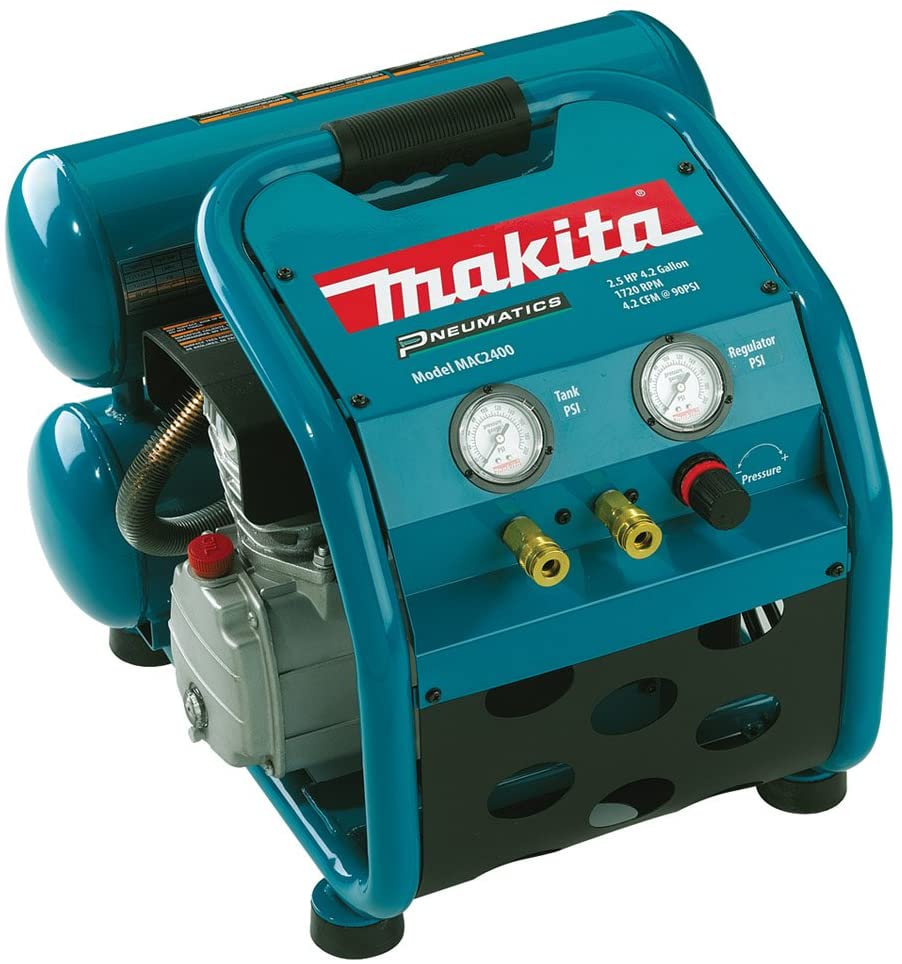 If you need a more powerful garage air compressor to bring the most out of your air tools, take a look at this one from Makita. This unit sports a 2.5 HP 4 pole motor to enhance the efficiency of your DIY or professional projects.
The motor can provide 4.2 CFM at 90 PSI for increased productivity, and quick compressor recovery time. Also, its cast-iron pump, piston, and big bore cylinder aid in getting a faster recovery time for enhanced performance.
Its twin-stack tank provides pressure at 130 PSI and 40 PSI to let the tools run for longer. You can operate your tools for a prolonged time without much compromise.
As this one has a powerful motor, the pump requires oil to make it lubricated enough for maintaining a cool temperature while reducing wear. There is built-in thermal overload protection for convenience.
You can take this heavy-duty air compressor at job sites. It got a roll cage construction to protect it against extreme outdoor conditions.
Even though it requires oiling, the cylinder is removable for easy maintenance. The motor spins at a much lower RPM, which makes pretty low noise. While running at 1730 RPM, it only produces 79 dB - making sure the compressor doesn't cause any disturbance to the neighbors.

Pros
Heavy-duty motor for intensive works
Two large gallons
Durable construction
Ensures longer tools runtime
Great recovery time
Low noise
Easy to use
Cons
Paint chips off
Heavy to move
Tank surface rusts due to humid weather
7.Campbell Hausfeld Horizontal Air Compressor for Garage Review - Link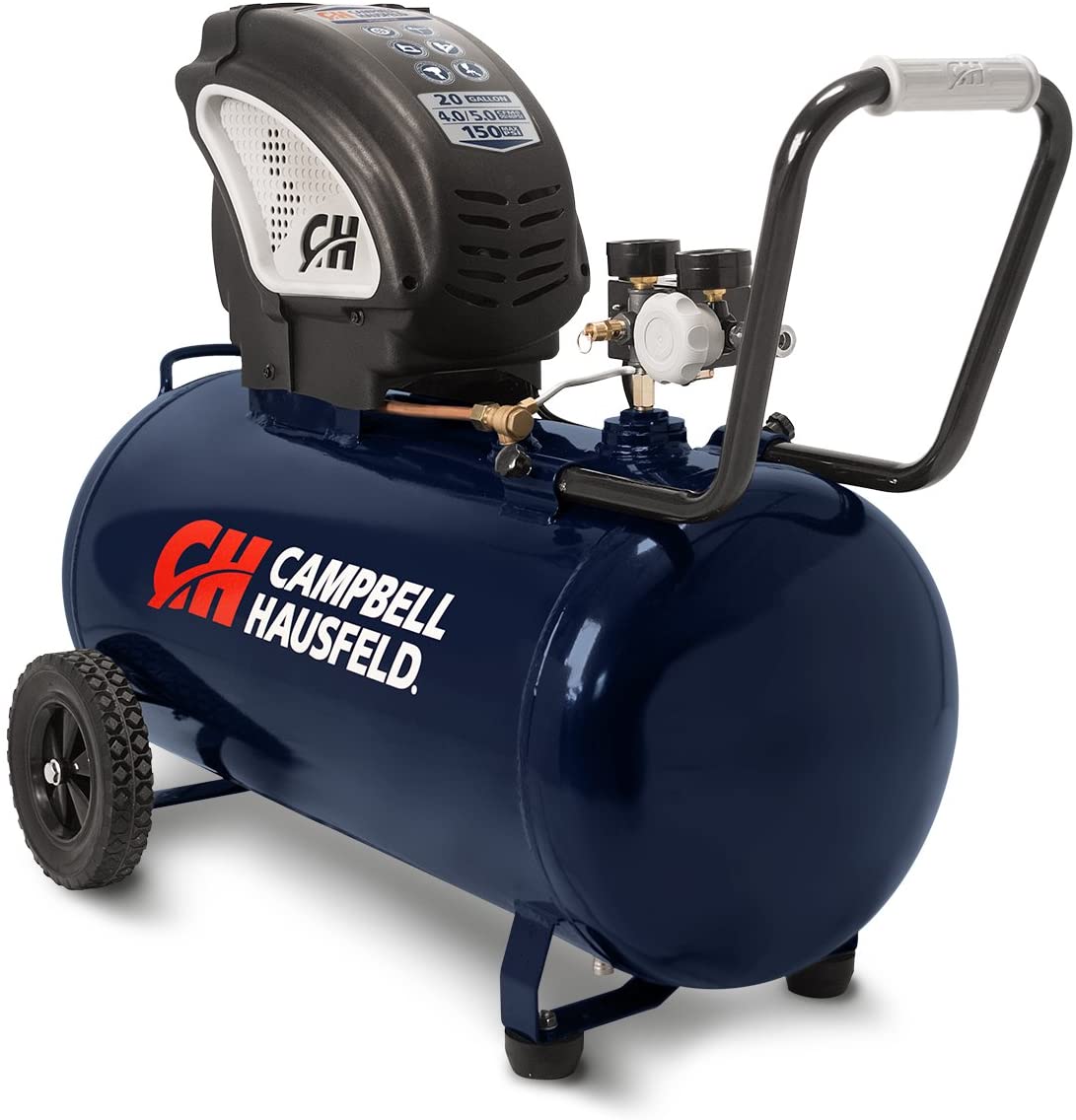 With its 125 PSI, you will be able to power up a wide range of air tools related to automotive repairing. If you regularly have to repair engines, tires and take care of the maintenance part of your car, this model from Campbell can make things a lot easier for you.
The compressor is designed for powering air tools such as nailers, ratchets, staplers, impact wrenches, spray guns, inflators, and more. If there aren't some professional works that you are involved in, this air compressor will be more than enough for small purposes.
Now, you should know that the pump requires oil to increase its longevity and durability while reducing wear.
Additionally, the motor can provide 3.7 CFM at 90 PSI to make it quickly recover to continue working on your projects. It features an 8-gallon horizontal tank, which is more than enough to handle professional projects. Unlike conventional compressors, it will not provide inconsistent pressure whatsoever.
Even though the tank capacity is quite big, its rear wheels and the handle makes it easier to transport it from one place to another without doing much hassle.

Pros
Efficient 1.3 HP motor boosts the air tools performance
Horizontally designed compressor
Rear wheels for easy transportation
Oil-lubricated pump for a longer lifespan
Great for automotive repair, inflation, and engine repair
Cons
Makes loud noise
The overall construction is questionable
Doesn't hold pressure for a long time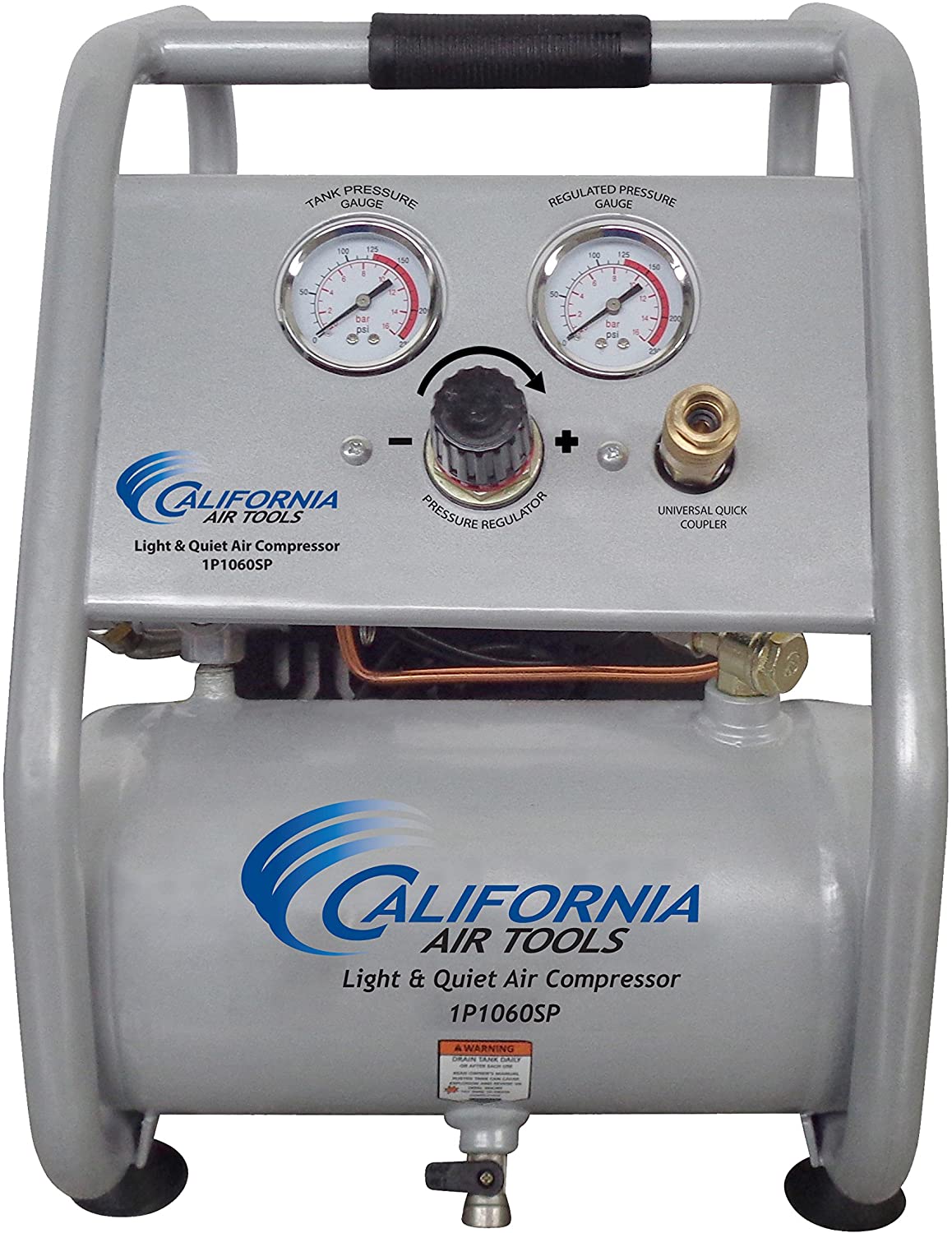 Manufacturers claim their air compressors operates quietly, but people disagree with such claims in most cases. But, this is one of those air compressors that are extremely quiet, and users didn't have any disagreement regarding this matter.
So, if you are looking for an ultra-quiet compressor to power up your tools, this is the one to get. It comes with a 6 HP powerful motor, which spins at 1680 RPM while producing fairly less noise compared to other compressors on the list.
For your convenience, the pump is oil-free; thus, much easier to maintain. Before it wears, you can expect to get about more than 3000 hours of operation, whereas most conventional ones only provide 250 hours or even less. Due to its oil-free operation, there will be no issue with the start in extremely cold days.
The air compressor features a 1-gallon air tank, which is highly portable air compressor and lightweight as well. Its 34 lbs. weight will not create any hassle while moving it from one place to another.
Even though the tank capacity is small, for inflating most tires, sports balls, beds, toys, and fulfilling small household needs, this capacity will be more than enough. Why would you spend more on a larger tank which you don't even need for such small necessities? It also features an easy to read control panel for your convenience.

Pros
Powerful 6 HP motor to handle most small tasks
Ultra-quiet operation
1 gallon, lightweight, and easy-to-carry tank
Oil-free pump runs flawlessly even in cold days
Easy to use and read gauges
Cons
How to Choose the Best Air Compressors for Your Home Garage?
Air compressors come in different specs and sizes . You need to determine the reason why you need a compressor and then look for one that meets those requirements the most. To help you figure it out, here are a few things you need to consider before you get the compressor machine.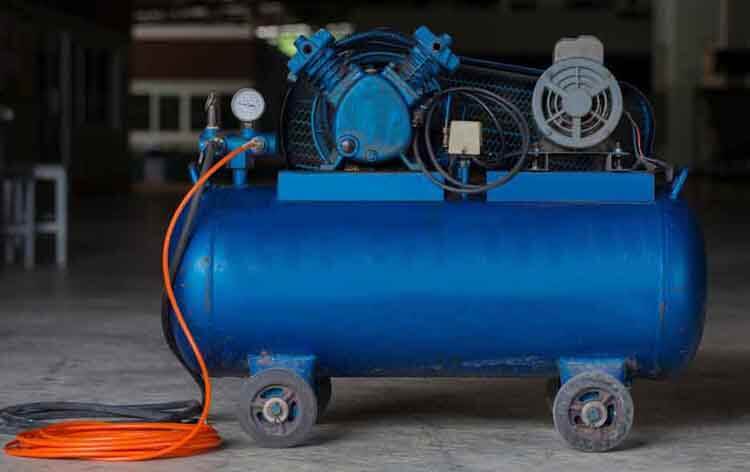 Size and Shape
If you have already read the review section , you saw that air compressors are of different types and shapes. There are both smaller and bigger tank versions for specific purposes. The available space in your garage should also come into consideration before you make the final purchase.
Air compressors come in 3 shapes -
Pancake
These are the smallest ones and ideal for small garage and home uses. Structure-wise, these tanks are round and flat. The capacity is 1-5 gallons depending on the size.
If airbrushing is something you deal with the most, one of these compressor will be more than enough for filling sports balls, tires, and DIY projects.
Hot Dog
Its cylinders have a shape of hot dogs with four legs. Here, the tank size varies model to model. Portability makes these models easily fit in the corner of garages and homes.
Wheelbarrow
Lastly, these compressors come with larger tank capacity and bigger sizes. These models have both legs and wheels for convenient transportation. Even though these are quite large, wheels make them very portable and allow the user to move it from one place to another easily.
Capacity varies from 7 to 39 gallons. If you need a large compressor, which also has great portability, get one of these if the garage has enough space.
Purpose of Use
If you are planning to bring an air compressor primarily to use air tools such as pump sander, nailer, finisher, painting car, etc. airbrushing or cut off tools, then make sure you get a larger tank capacity with more power to work in your projects. These are also good air compressor for home or automotive projects.
For filling sports balls, tires, and light-duty air filling works, a smaller compressor will be more than enough to get these works done. You can also use it as maintenance and regular upkeep tool.
Power Source
For most air compressors, normal power sockets provide enough output to function properly. However, if you get a larger and more powerful one, you will need a power socket with more output current.
120V output is enough for smaller models. Be sure to install a 240V socket by a technician if you are about to use the compressor for larger appliances.
Rating
If you are a noob, all the technical specifications might seem a bit overwhelming. You must know about PSI, CFM, and SCFM before you decide to buy an compressor. I'm going to keep things simple and make you understand to look for specific things.
PSI is the measurement of the force that comes out of the air tank. Here, the higher the pressure, the more densely packed the air is. This tells you about the efficiency of an air compressor machine.
CFM is the volume of air that comes out of the air compressor. The higher the CFM, the longer your air tools can be operated in projects. All the tools come with specific CFM requirements.
To determine the correct amount, add all the CFM requirements of your air tools, and look for an compressor that offers 30% more CFM.
Noise
More or less, all air compressors make a sound. Loud compressors are more powerful; however, you can manage to find the sweet spot between power and less noise while buying.
If you don't want your neighbors to wake up or disturb them by the noise of your air compressor, be sure to get one that produces less noise. There are ultra-quiet compressors that I have reviewed in this article. Anything that makes less than 60 dB of noise is considered as low noise machines.
Oil or Oil-Free Pump
There are both oil and oil-free air compressor pumps. Oil-free ones are easier for maintenance as there is no need to lubricate the machine. There is a pre-lubricated matter inside the pump.
However, even though compressor that require oil also require you to do hassle for maintenance, these are more long-lasting. Compared to oil-free ones, these models take relatively less wear.
So, it's up to you which one you would like to go with.
Speed Drives
Most modern and upgraded models come with trendy drive systems to control the airspeed. This feature comes quite handy to control the motor of a compressor. You can deliver the right amount of air pressure, switch between AC and DC power for convenience.
Types of Air Compressors
Apart from the shapes and sizes, air compressors are of three types based on their way of increasing and decreasing pressure volume.
Reciprocating Air Compressor
When you decrease the air volume in a reciprocating air compressor, it will increase the pressure. Increasing air volume results in decreased air pressure. Reciprocating compressors are widely available, low cost, and require higher maintenance costs.
The air volume is controlled with a piston inside the cylinder. Due to the simple design, these compressors are easier to install.
Rotary Screw Air Compressor
As the name goes, these units include two rotors inside the casing. Similar to the reciprocating ones, rotary air compressors are positive displacement ones without any valves.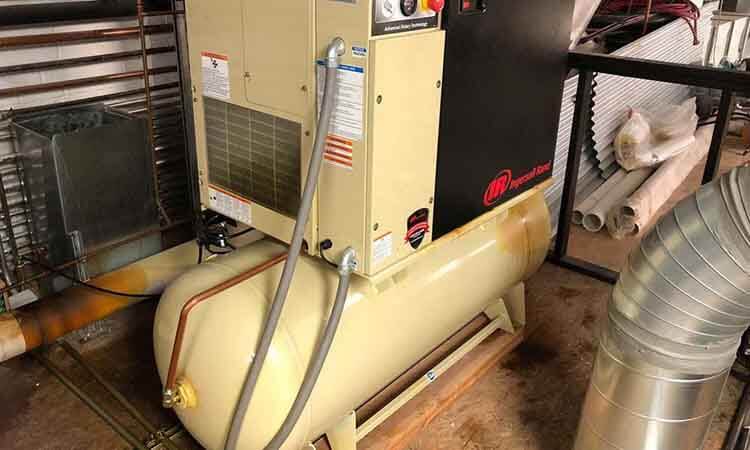 Two rotors compress a considerable amount of air. Due to less moving parts, these units don't cost much for maintenance and are also affordable as well. You can work with one of these compressors for a long period without much issue.
The coils inside the compressor can be cooled by water or air coolers. That's the reason why these can be operated for a long time without overheating hassles. These compressors are ideal for operating pneumatic tools and more complex ones that require higher air pressure.
Centrifugal Air Compressors
A rotating impeller regulates and transfers airflow to generate motion in the compressor. Centrifugal air compressors are designed to provide continuous airflow through it. Thus, these are higher capacity compressors.
The angular momentum of the impeller generates a higher pressure discharge through this mechanism. Being an oil-free compressor, here, maintenance is hassle-free. The shaft seals isolate the gear that requires lubrication from the air.
However, the initial cost is quite expensive. These compressors can create air pressure 1200 PSI or more.
How to Set Up an Air Compressor in Your Garage?
Once you bring the air compressor in your garage , the next step is to set it up in a suitable place. Be sure to leave enough space around the unit to work without hassle.
Find a Suitable Location
Locating a perfect place is important because if there is too much distance between the compressor and the workplace, it will cause the CFM and PSI strength to drop significantly. Don't try to hang or stick the compressor to a wall.
First thing first, find a suitable spot to place it. For your garage, any of the corners would be an ideal spot to place the compressor. Be sure to leave enough space behind it for airflow. You should have enough space inside the garage to work comfortably after placing the compressor.
Setting a Large Compressor Unit
If it's a larger one, you may need to connect a pipe to be able to reach a longer distance while keeping the air compressor away from your workspace. Be sure to choose the right piping; the diameter of the pipe also affects the air pressure.
Setting a Smaller Compressor Unit
You don't need any piping if you get a smaller and portable air compressor. However, you will need a hose to connect with the air compressor. Make sure the hose isn't too long, or it will cause loss of air pressure. A shorter hose will provide the right air pressure to get your work done efficiently.
Prevent Overheating
Some people prefer placing their compressor in an enclosed space to reduce the noise that comes out of the machine. It might work to lower the noise, but the air compressor will generate a lot of heat if there is a limited space for the air to flow. Thus, for the sake of its long-term performance, be sure to place it in an open spot.
Maintaining a Garage Air Compressor
Even if you purchase an oil-free air compressor , you will still need to do some regular maintenance. If you want to use the unit for a longer period without much hassle, you need to make sure that you take good care of it. Follow the given instructions below to keep the compressor in good condition.
Almost everyone doesn't take much care of the literature and instructions that come with the air compressor. The manufacturer provides useful information regarding what to do and what not to do while using the unit.
Your compressor tank will take more or less moisture, depending on the humidity of where you live. Periodically drain the air and then the water to drain the tank properly.
Vibration makes the nuts, bolts, and screws loosen over time. Be sure to check the fasteners and fasten them if necessary.
The compressor oil and cooling agent also need to be changed after a certain period. Follow the manufacturer's instructions regarding this matter.
Make sure the intake vents are cleaned. Dirt and dust make the compressor work harder; thus, the unit overheats easily.
As the air pressure passes through the hose, you need to check if the hose has any cracks or corrosion on it. If there are stains in the hose, it will also affect your air power tools as well as their performance.
You also need to take care of the fuel tank and clean it regularly to keep it in its best condition. Cleaning the tank is a necessity to make sure that the compressor can run-up to its full potential.
Cleaning the heat exchanger is also important as this component is responsible for reducing operating temperature. It also makes the air compressor to work for a longer period. Don't let any residue buildup in the heat exchanger to make it run optimally.
Frequently Asked Questions
When it comes to using an air compressor primarily for air tools to use in smaller projects and tasks, a 5-gallon capacity smaller compressor will be more than enough.
However, for heavy-duty projects, you will need to buy a larger one to handle the projects efficiently. For sharp cutting or sandblasting, go for a more substantial air compressor size.
What's a good size air compressor for home use?
For most home requirements and projects, you don't need to buy a larger size air compressor. That will be a waste of money if you bring one. A compressor with 5 to 6-gallon tank capacity will suffice your needs whether you use the air tools for small home improvement projects or inflating tires and sports balls.
What is a good air compressor for impact wrenches?
Impact wrenches aren't used continuously for a long time, unlike die grinders and sandblasters. So, this particular tool doesn't require much air pressure to be able to run it. However, the air pressure requirement for impact wrenches is higher than nail guns.
Get a compressor with a tank capacity of 6 gallons with 4 CFM, at least. Anything lower can make you struggle to use the tool. For ½ to 1-inch impact wrench, make sure the CFM is between 5 to 16.
Does air compressor tank size matter?
Air compressor size matters depending on the type of work you typically deal with. If it's for regular tasks, inflating tires and sports balls, using low impact air tools such as nailers, finishers, staplers, etc., a small tank will suffice the needs in most cases.
However, if your projects or tasks require you to use air tools for a long period, then a larger tank size will be a much efficient option to go with.
How big of a compressor do I need for spray painting?
If you are about to use the compressor only for professional spray painting, aim for a compressor unit with a capacity of at least 30 gallons for efficient performance. A lower capacity air compressor can also handle the task well if you follow some techniques. However, don't go below 20 gallons capacity even if it's for home use.
How can I make my garage compressor quieter?
You can try covering some parts of the air compressor with a rubber. It will reduce vibrations and make the device relatively quieter, even the motor also. Consider covering the ground with a rubber mat where the compressor typically stands. Modifying the intake and exhaust system also works great to reduce noise.
But, most important of all, if noise is really an issue for you, consider buying an air compressor that are quieter to stop the issue from happening in the first place.
What is the advantage of a twin tank air compressor?
Double tank compressors run cooler, more efficiently, and deliver much higher CFM than its single tank counterparts. It requires less work to perform to provide the needed air pressure, which lowers the operational cost as well. Also, the moisture buildup is comparatively less than single tank air compressor.
How big of an air compressor do I need to fill car tires?
For filling car tires, you don't need a powerful or big compressor. You'll require around 35 PSI, so get the one that delivers 2 to 3 CFM at 90 PSI. These specs are more than enough for car tires.
Final Words
Suggesting the best air compressor for home garage is quite difficult as people have different requirements and preferences. For great performance and ease of use, Makita MAC2400 will be the right one to purchase if you are to use heavy-duty air tools.
However, if you are looking for one to do regular light-duty tasks, California Air Tools 8010 would bring great value for the money. Also, this model is very quiet while running.
If ultra quietness is something that you want for regular inflation and light-duty air tools, go for California 56DB compressor as it's the quietest one on the list.
Buy on Etsy
CRAFTSMAN Air Compressor, 20 Gallon, 1.8 HP, Oil-Free Air Tools, Max 175 PSI Pressure, 2 - Etsy Link
Bostitch Air Compressor Combo Kit, 3-Tool (BTFP3KIT) 21.1 x 19.5 x 18 inches - Etsy Link
Ingersoll-Rand SS3F2-GM Garage Mate 15 Amp 2 Horsepower 30 Gallon Oiled Wheeled Single - Etsy Link
Quiet Air Compressor, Lightweight, 4.6 Gallon, Half the Noise and Weight, 4X Life, All - Etsy Link
VIAIR 85P Portable Air Compressor , Black - Etsy Link
CRAFTSMAN Air Compressor, 6 Gallon, Pancake, Oil-Free with 13 Piece Accessory Kit - Etsy Link
Stealth 20 Gallon Ultra Quiet Air Compressor,1.8 HP Oil-Free Peak 150 PSI 68 Decibel Air - Etsy Link
Makita MAC700 2.0 HP* Big Bore™ Air Compressor - Etsy Link
California Air Tools 8010 Steel Tank Air Compressor | Ultra Quiet, Oil-Free, 1.0 hp, 8 gal - Etsy Link
Makita MAC210Q Quiet Series, 1 HP, 2 Gallon, Oil-Free, Electric Air Compressor - Etsy Link
Ingersoll Rand SS5 5HP 60 Gallon Single Stage Air Compressor (230V, Single Phase) - Etsy Link
Buy on eBay
CRAFTSMAN Air Compressor, 20 Gallon, 1.8 HP, Oil-Free Air Tools, Max 175 PSI Pressure, 2 - eBay Link
Bostitch Air Compressor Combo Kit, 3-Tool (BTFP3KIT) 21.1 x 19.5 x 18 inches - eBay Link
Ingersoll-Rand SS3F2-GM Garage Mate 15 Amp 2 Horsepower 30 Gallon Oiled Wheeled Single - eBay Link
Quiet Air Compressor, Lightweight, 4.6 Gallon, Half the Noise and Weight, 4X Life, All - eBay Link
VIAIR 85P Portable Air Compressor , Black - eBay Link
CRAFTSMAN Air Compressor, 6 Gallon, Pancake, Oil-Free with 13 Piece Accessory Kit - eBay Link
Stealth 20 Gallon Ultra Quiet Air Compressor,1.8 HP Oil-Free Peak 150 PSI 68 Decibel Air - eBay Link
Makita MAC700 2.0 HP* Big Bore™ Air Compressor - eBay Link
California Air Tools 8010 Steel Tank Air Compressor | Ultra Quiet, Oil-Free, 1.0 hp, 8 gal - eBay Link
Makita MAC210Q Quiet Series, 1 HP, 2 Gallon, Oil-Free, Electric Air Compressor - eBay Link
Ingersoll Rand SS5 5HP 60 Gallon Single Stage Air Compressor (230V, Single Phase) - eBay Link