Electric power tools, as popular as they are, cannot provide an uncomplicated service like their new, air-powered substitutes.
The fact that your hand tools will no longer be tethered to a wall outlet is all the more reason to look for air compressors right now!
Not all air compressors will deliver your desired pressure and volume, and some are hard to squeeze into your budget.
You need an air compressor that effortlessly runs all the power tools you frequently use and maximizes their performance. And we think Bostitch is a great place to start looking for such an air compressor!
We heard a lot about the Bostitch BTFP02012 air compressor , a one-of-a-kind air compressor that drives your power tools to glory. Let's see if any of them are true.
Overview of the Bostitch BTFP02012
To begin with, the Bostitch BTFP02012 is a pancake air compressor that fits your budget. It comes with a 6 gal or 22.7L tank that goes well with common air tools such as nailers, spray guns, staplers, air ratchets, and so on.
Additionally, it delivers a 2.6 SCFM flow rate at 90 PSI air pressure, which, again, is quite enough for household to mid-range professional applications.
This oil-free air compressor features two couplers for supporting two users at a time. As for its finely-engineered motor, it has a quick recovery time that allows you to use the compressor for a long period. It performs wonderfully in cold weather, whereas many struggle to provide consistent air pressure.
Overall, BTFP02012 is as good as a budget-friendly air compressor can get. You might not be able to drive an orbital sander or an angle grinder with this pancake. But when it comes to installing baseboards and trim moldings, woodworking to spray painting, BTFP02012 makes it a walk in the park!
Key Features
This Bostitch air compressor packs a lot of handy features in a compact 29lbs construction. Anyway, the fact that it's going for less than a hundred dollars at present, prompted us to share this masterpiece with you. Without further ado, let's find out what makes BTFP02012 so special!
Air Pressure
If you are going to consider one thing before settling on a compressor, it has to be the air pressure and flow rate as a whole. The sole point of having an air compressor is to get an air pressure high enough to power pneumatic tools.
While the supported air pressure level is undoubtedly important, you need to consider the flow rate at the same time. The higher the flow rate, the better your compressor runs the air tools.
An ideal pressure to drive most handheld power tools is between 70 to 90 pounds per square inch. The good news is that the Bostitch air compressor amps it up to a maximum of 150 PSI. It allows you to use power tools for a long time with a sense of safety.
Moreover, you can share the air pressure with another user via a second coupler. The regulator is there to help you adjust the PSI levels as per the requirements of your tool.
You might be tempted to try out every pneumatic tool you have close at hand once the air compressor arrives. It's only natural because BTFP02012 is one of Bostitch's masterworks. But you have to keep in mind that this one is strictly for residential use.
However, you can use it to power up nailers for upholstering living room furniture, cushions, and padded furnishings alike.
Since brad nailers and frame nailers will require anything between 0.3 to 2.2 cubic feet per minute (CFM) at 90 PSI, this air compressor can deliver that without an issue.
We loved the fact that Bostitch kept this air compressor simple. It's fairly easy to use, and there is no risk involved. Although its motor provides a decent amount of air pressure and flow rate, they are not high enough to blow seals or cause bearing failures and anvil breakages to your sensitive power tools.
Motor & Hardware Quality
We have mentioned it a few times already- the motor of BTFP02012 is one of the coolest ones we got to try out. It neither leaks air below the hood nor loses pressure from dipstick failures. You also wouldn't have to scour the internet for a replacement capacitor after a few months.
This air compressor is made of high-quality materials from top to bottom. And it's reflected on the impeccable motor health even after months of regular use.
While some compressors will trip the breaker every now and then, BTFP02012 proved its worth with a hassle-free performance from day one.
Not to mention, it has become our go-to air compressor for embellishing the house with new baseboards. In case you were wondering, the finish nailer is also from Bostitch!
User-friendly Specs
Pancake air compressors are many things, but they are certainly not a pain in the back. In fact, air compressors for residential use are the easiest to catch up with.
Take the Bostitch BTFP02012, for example. It doesn't require a single drop of oil to run. As a result, there is no greasy mess inside nor outside of the product.
Moreover, it weighs roughly thirty pounds so that you can carry it at the back of your car and attend to house calls. Even if you're not a professional, dragging the compressor from one room to another for spray painting takes only a pair of hands.
That's not all; BTFP02012 features not one but two outlets for powering up to two power tools simultaneously. Each outlet is sealed by default and only opens when you plug in a power tool. This way, there's absolutely no chance of pressure loss even when one outlet remains inactive.
Tank Capacity
What many people don't understand is that tank capacity matters, but it's not too big of a deal unless you focus on painting, hammering, or sanding.
These jobs call for an uninterrupted airflow and pressure to keep the tools active. Unlike nail guns and ratchets, spray guns are used for a much, much longer time. In order to support their runtime, the air compressor needs to have a generous tank size.
Now, BTFP02012 has a 6-gallon tank that hardly cuts the deal in professional painting or carpentry applications. Then again, it was not made for these purposes in the first place. But if you did plan on giving DIY spray painting a go, you will not be disappointed!
This air compressor might have a tiny tank, but it rebuilds the full pressure inside the container in a crazy short time. Simply plug in the empty compressor, and have a fully refilled tank in less than three minutes!
Durability
Moving on, we didn't notice any significant pressure loss while checking the pressure gauge at frequent intervals. There wasn't a leak in the free coupling as the two outlets seal automatically. It's not the quietest air compressor we have seen so far, but it's definitely not loud.
Pros and Cons For BOSTITCH BTFP02012 Air Compressor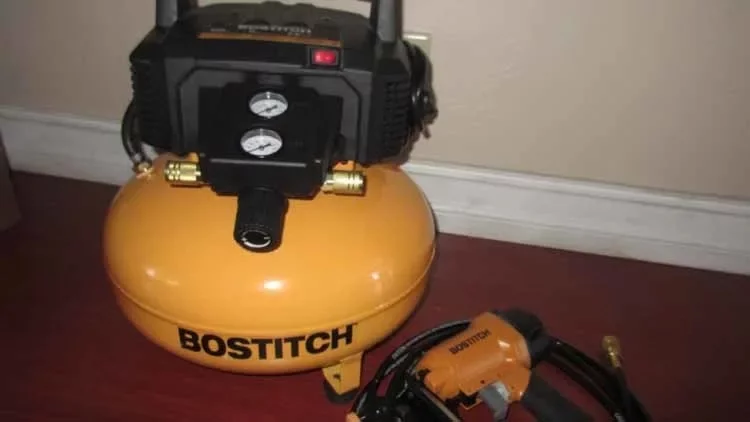 Pros
Ideal for powering nail guns, spray guns, riveters, ratchets, and light pneumatic tools
Refills the 6-gallon tank under 3 minutes
The airflow rate is 2.6 SCFM at 90 PSI, and the maximum is 150 PSI
Weighs only 29 pounds
Comes with 2 outlets for simultaneous use
Doesn't require maintenance with oil
The motor works great in all seasons, with a top-notch recovery time
Cons
Some will find the 78.5 dBA noise level a bit loud
The regulator readings might slightly vary with a pressure gauge
Frequently Asked Questions
A typical 6-gallon air compressor provides 2.6 SCFM at 90 PSI. The numbers are enough to safely power up a brad nailer, finish nailer, air nibbler and ratchet, airbrush, pneumatic riveter, spray gun, and handheld tools alike.
Only some high-end air compressors can deliver pressure levels as high as 150 PSI to run pneumatic tools at their optimum torque. They ensure a flawless trim installation, high coverage and even spraying, tight fastening, and so on.
Do pancake air compressors leak?
Anything that involves air might leak over time if the materials are sub-par, to begin with. And compressors are no different. Loose tube fittings, a damaged check valve, or a broken plate seal are three common reasons why your air compressor is leaking so much.
Although air compressors don't need frequent maintenance, we suggest that you completely empty the compressor each time after use. Check the pressure levels with a pressure gauge to see if the regulator is working accurately.
Can a 6-gallon air compressor handle home applications?
Tank size determines how long the compressor can support a power tool at a stretch without a running motor. Most household applications normally require a few nailing, trimming, painting, and fastening jobs.
Among these options, only painting with an airbrush requires consistent airflow; and thus, a bigger tank maybe better. But quality air compressors can refill the tank from zero to a hundred in a couple of minutes- allowing you to settle for a lightweight air compressor.
So, if a compressor of your choice has a 6-gallon tank, you should definitely go for it.
Verdict
Although this Bostitch air compressor falls short in powering up sanders and heavy pneumatic tools, don't lose hope! You can get a lot of nailing done around the house for upholstering, cabinetmaking, and DIY crafts alike.
BTFP02012 comfortably drives a brad nailer, stapler, grease gun, air ratchet, and a rivet to make their applications the easiest! Plus, it requires no routine maintenance so that you can use the compressor anytime you like.
We loved how flawlessly its motor starts in cold weather- putting no extra pressure on the starter. Not to mention, the super low noise was a cherry on top.
Bostitch BTFP02012 air compressor gets the ball rolling with a spray paint gun- allowing you to indulge in the pleasure of painting your own home.
Lastly, its dual couplers allow two people to use the compressor simultaneously, which is great for small workshops.