An air compressor is a very helpful tool that can come in handy in many ways. It helps you to do a lot of tasks very easily, whether it is spray painting for repairs or inflating a paddling pool. It is a machine that compresses air into a tank, and then the pre-pressed air can be release when wanted.
There are many different air compressors in the market with many different features and types. It can be really intimidating to find the right one for the right use. Therefore, to help you find the best 20-gallon air compressor, we have listed the top air compressors in the market.
So if you want to know more about how this tool works and what you could use it for, just keep on reading.
Top 20-gallon Air Compressor by Editors' Picks
List of 6 Best 20-Gallon Air Compressors
We have reviewed some of the top 20-gallon air compressors in the market to help make the right choice. There is no need to go through thousands of reviews; we've compiled the best 6 for you.
1. DEWALT DXCMPA1982054 20-Gallon Portable Air Compressor - Link
This model is one of the most convenient tools in the market. It's on top of our list for a reason.
Dewalt has made its air compressors with brilliant airflow. More specifically, it has a CFM of 7.0 at 40 PSI, and at 90 PSI CFM, it has a 5.7. This kind of feature is exactly what makes this the best-rated 20-gallon air compressor on our list.
With that, the air compressor has a maximum pressure capacity of 155 PSI. Dual voltage induction motors are also a plus point that you get with this tool. This allows the motor, which is connected to a 120 volt converted to fit application will 240 volts.
Thanks to this superb feature, you can use the air compressor with a variety of other tools without any issues. Set this air compressor up with paint guns or nail guns for more efficient work.
Though this air compressor is a bit heavy, you won't face any problem with portability. The thing comes with attached pneumatic tires.
Pros
The model has a very good build quality and leak-proof design
It does not make any noise even at 76 decibels
The regulator helps provide more power for heavy tasks
The attached pneumatic wheels help a lot to move it to a preferred location
The front handle helps with portability
Cons
For it to work properly, it requires a lot of power, preferably 15 A circuits
Heavier than other air compressors on the list
2. WEN 2202 20-Gallon Oil-Lubricated Portable Vertical Air Compressor - Link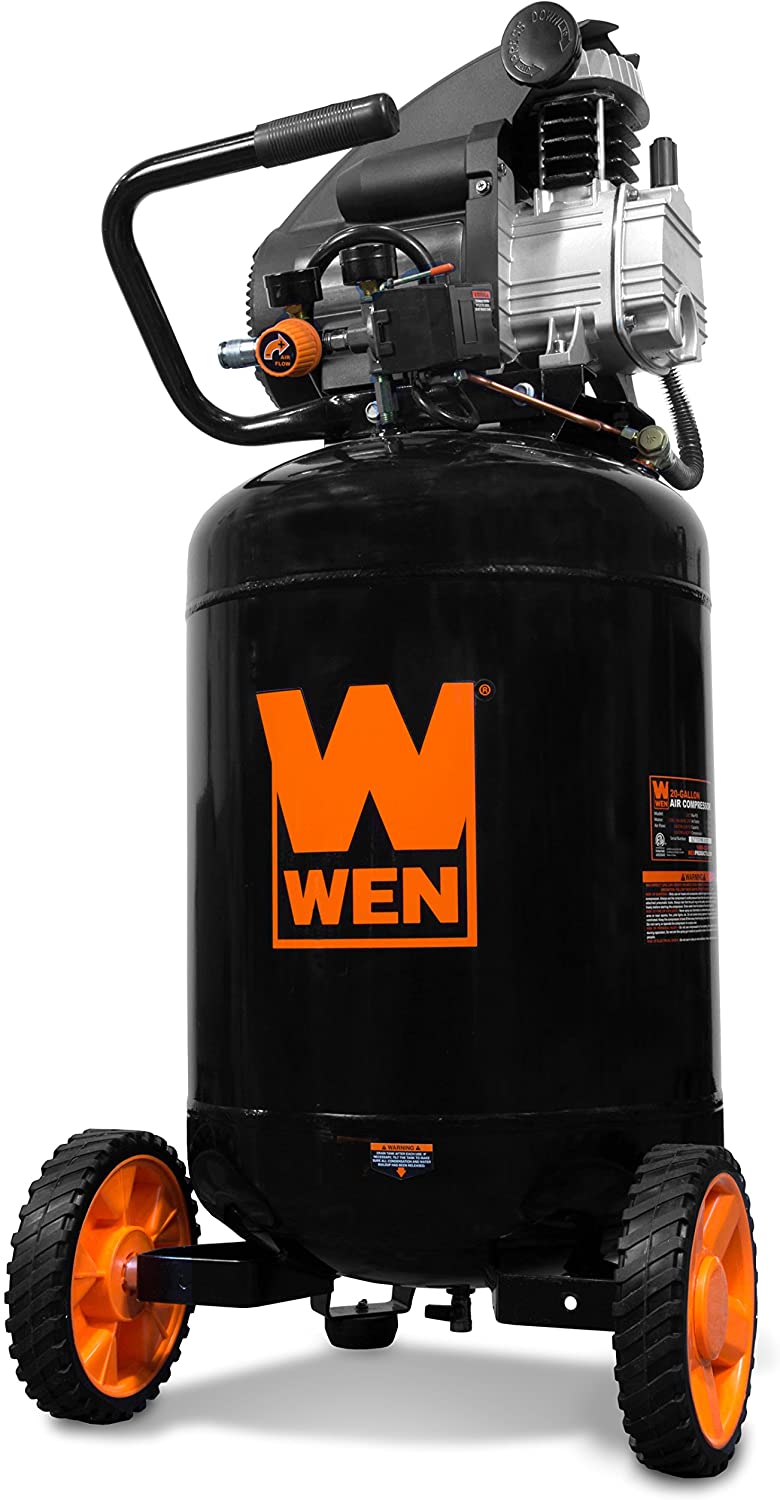 Are you tired of air compressors getting ruined due to high-pressure issues? Well, this one from WEN 20-gallon air compressor comes with an auto shut-down feature. Meaning, it will automatically shut down the entire compressor when it reaches the maximum pressure capacity.
Not only does this help save your air compressor, but it also helps prevent any short circuits. The feature is very helpful for the user's safety and makes the compressor one of the most reliable ones to purchase.
The maximum capacity of this air compressor is 135 PSI. And the inflating speed of the model is 5 CFM at 40 PSI and 3.8 CFM at 90 PSI. Two pressure gauges have been added so that you can keep an eye on the airflow. One pressure gauge is for checking the airflow rate, and the other one is for checking the pressure of the air tank.
There is a quick drainage valve, which helps with keeping the tanks clean. Keeping the tanks clean and dry helps prevent rust and so increases the lifetime of the air compressor.
You can change the hose on this tool very fast with the help of a ¼ inch NPT coupler. This will be very useful when you have to switch from one tool to another.
Portability is not an issue with this tool as it comes with attached wheels and a handle as well. This helps the user to take the compressor to any desired location very easily.
Pros
Shut-off automatically after reaching the maximum PSI
Two pressure gauges, one for checking the tank's pressure and one for flow rate
Has a valve for a quick drain, which is very easily accessible so that excess pressure can be released
Added1/4-inch quick NPT coupler for faster hose changing
Cons
The airflow rate is low compared to other similar models
The airflow rate is low compared to other similar models
3. Briggs & Stratton Vertical 20-Gallon Air Compressor - Link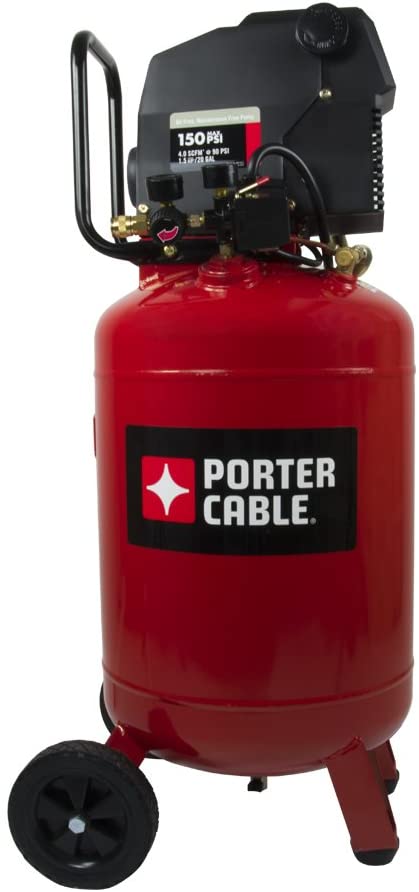 If you are someone who is looking for a good quality 20-gallon air compressor for a low price, then this the perfect choice for you. The low price and the quality make it the best 20 gallon air compressor for the buck on this list.
It has a maximum pressure capacity of 150 PSI and 120 volts. The inflating speed is 3.7 CFM at 90 PSI and 4.8 CFM at 40 PSI. With that, you get an induction motor that has a horsepower of 1.5 and a vertical tank as well.
There is a oil free pump, which requires little to no maintenance. Both the pump and the motor is fully covered, which gives it better protection and also reduces noise. So you can use this at home without disturbing the neighbors or waking anyone up.
The handle is very cleverly built around the motor. This two-in-one handle works both as a handle and a protector for the motor. And this part has been designed with a tough rubber wheel, which makes moving the compressor a fairly easy task.
You will rarely have to change the rubber wheels on this tool. They need little to no maintenance and last a long time before showing any signs of wear.
Pros
Relatively cheap
Vertical design reduces the space it occupies
No-oil pump which is very easy to maintain
The pump and the motor is fully covered for lower noise and protection
Easy mobility thanks to the tough rubber wheels and handles
Cons
The inflating speed is comparatively slow
4. Campbell Hausfeld DC200000 20 Gallon Air Compressor - Link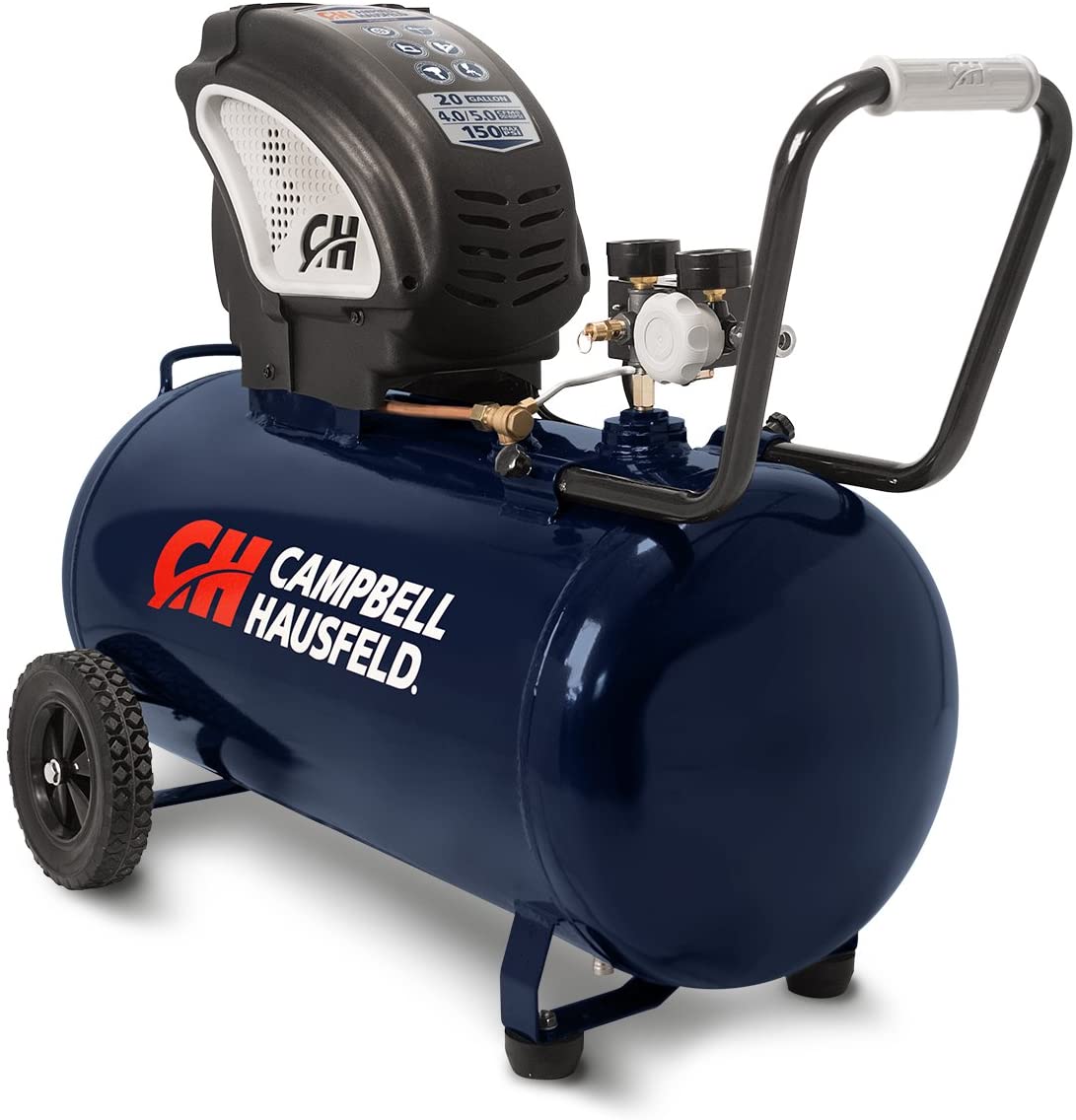 If you're looking for a 20-gallon air compressor that is beginner-friendly, this is the one to get.
The model has a very high-quality induction motor and is very user-friendly. Therefore, almost anyone can use this air compressor at home with ease-no need to flip through hundreds of pages on the instruction manual. You'll need just about an hour to understand how this thing operates.
This high-power motor has a horsepower of 1.3, and it requires 120 volts. You get an inflating speed of 4.0 at 90 PSI. Also, the maximum pressure capacity is 150 PSI. Because the motor is so high quality, it can be used for both industrial and personal use.
And the oil-free design is a very good feature that has been added to the model, which makes it low maintenance. For added stability, this air tank is also set in a horizontal position.
A well-located control panel on the compressor is very easy to read. Therefore the user doesn't have to face any problem adjusting the speed or power on this tool. On top of all the features, the model is designed in a way that makes it very easy to move. Handles and the large wheels help to move the device easier.
Pros
The tanks get filled up very fast
Does not cause additional noise pollution
Maintenance is easy because of the no oil pump and motor
The model is has a strong built quality and is durable, making it very reliable and safe too
Comparatively cheap yet delivers a good service
Cons
The compressor has low horsepower
5. Porter-Cable PXCMF220VW 20-Gallon Portable Air Compressor - Link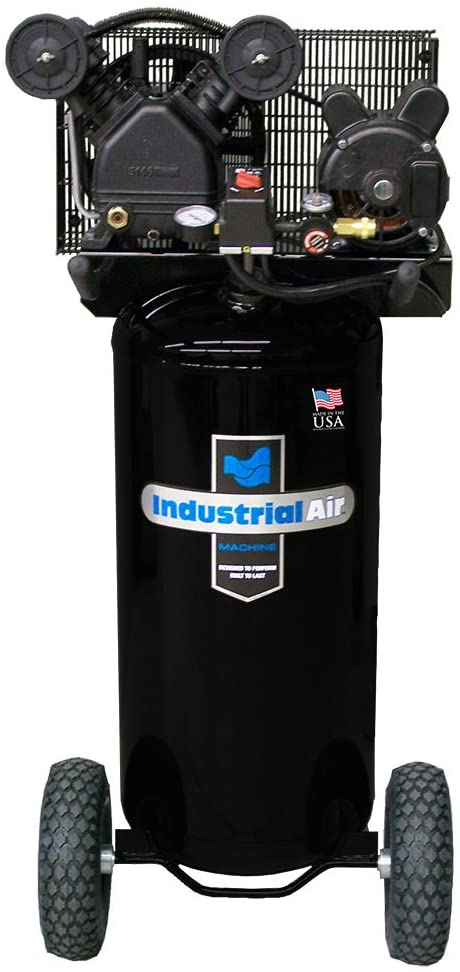 Looking for an air compressor with a powerful motor but on a budget? Check out the Porter-Cable air compressor. Made with premium quality material, this tool will last you a long time as well. So if you want to get your money's worth, we highly suggest this one.
It can be used to work with various air tools and can run very efficiently with only 15 amp of power. Low voltage is what makes this 20-gallon air compressor so popular amongst the crowd.
The inflating speed of this model is 4.0 CFM at 90 PSI and 5.0 CFM at 40 PSI. All this, combined with a motor with a horsepower of 1.5, makes this quite suitable for both DIY and professional work. A motor with such horsepower runs much smoother.
So you can work more efficiently as you'll need to make fewer adjustments. Because this is an oil-free design, this tool is very low maintenance. You won't have to go out and spend money buying oil for the compressor, so it's quite cost-effective as well. Oil-free air compressor models also tend to last for a longer time.
Pros
Has gauges, regulators, and a faster connect coupler
Oil-free design makes it very long-lasting and low maintenance
The wheels increase the portability of the compressor
Certified by CSA and ASME
It is very versatile; it can be used with different tools
Cons
It is loud, so you might need ear protection is needed
6. Industrial Air IL1682066.MN 20-Gallon Air Compressor - Link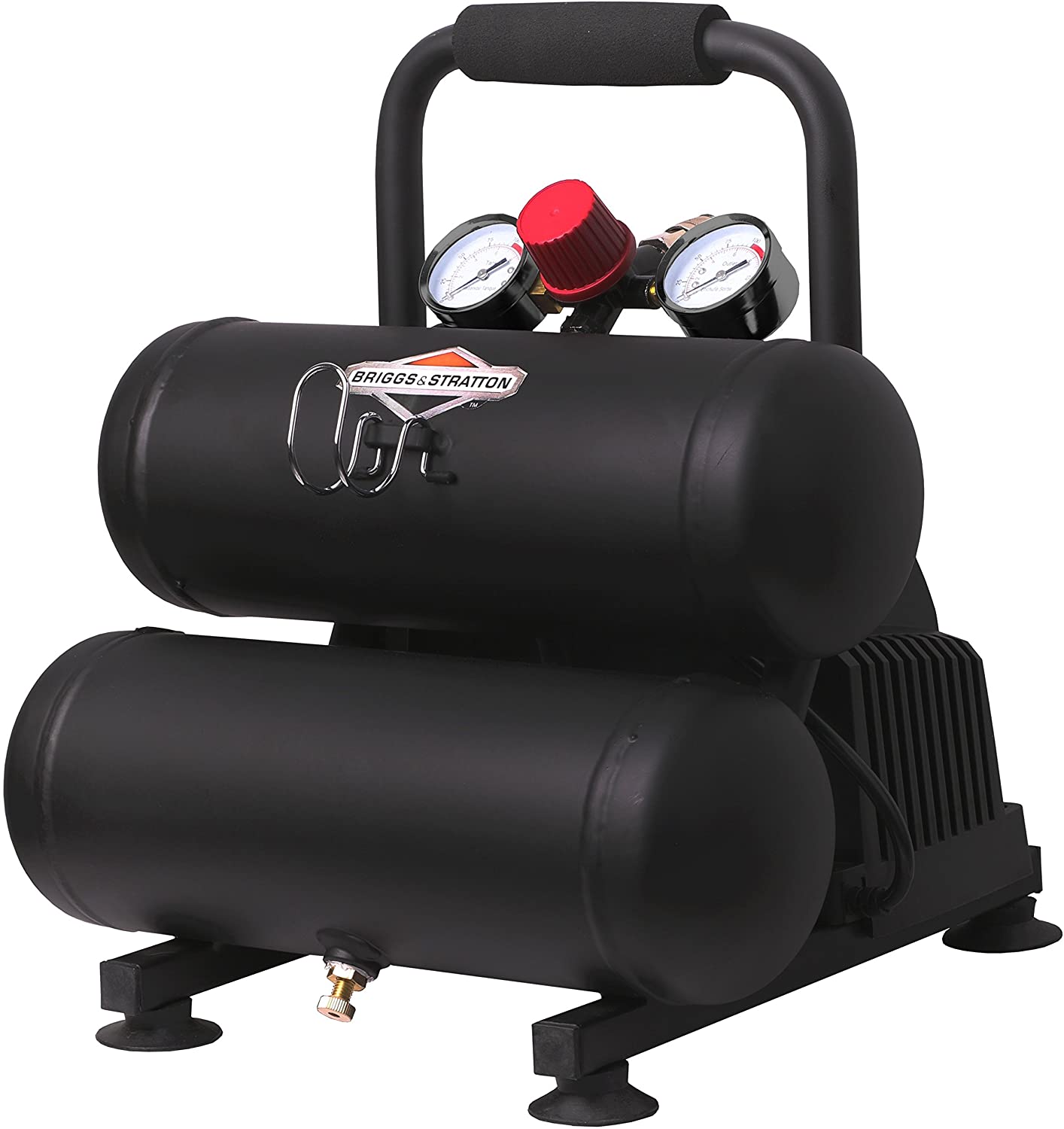 This industrial air compressor is made for heavy-duty work. So if you're looking for a 20-gallon air compressor for professional work, this is the one. Heavy-duty cycles on this tool make it stand out among its competitors. It can handle both professional and at-home DIY work very easily.
Although this tool is not the most lightweight air compressor on the market, portability is not an issue. This is because you get pneumatic tires on this model that roll smoothly and also last a long time. You won't have to replace these wheels any time soon. Also, the front handles on this tool make moving the tool a lot easier.
The model delivers 6.2 CFM at 40 psi and 5.3 CFM at 90 PSI and has a maximum capacity of 135 PSI. It has cast iron and V-shaped twin cylinders, which help keep it cool and also increases its durability. You also get a powerful 120-volt motor, which can be converted into 240 volts, doubling its power capacity.
Pros
Dual voltage motor allows the air compressor to be used with a lot of different tools
Can be used for both at-home DIY and industrial work
Very easy to operate and is very user friendly
A capacity of 135 psi maximum airflow is more than enough for a smooth and efficient workflow
Has ASME certified cast iron tank
Cons
Is a bit heavy compared to other similar products
Buying Guide of The Right 20-Gallon Air Compressor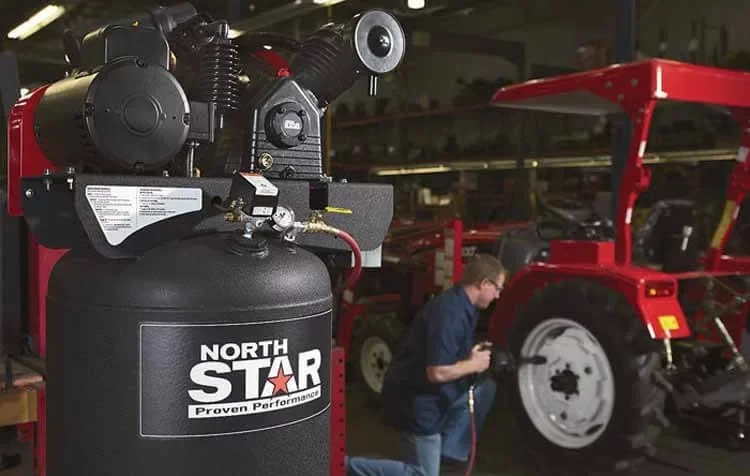 To find the most suited 20-gallon air compressor for your needs, you need to consider some points or features. These points will help give a better understanding of what kind of work you want to do with the air compressor and the type of machine you need in order to achieve it.
Types of Air Compressor
Firstly let us look at the different types of air compressor out there:
Single-Stage Air Compressors
This one is the best choice for light work. It has a cylinder that pumps the pressured air into the tanks has a 120 psi.
Two-Stage Air Compressors
This kind of air compressor is best for heavy-duty. These have 2 cylinders and 90 psi. The tanks handle up to 175 psi.
Tank Capacity
The air tank capacity is an important point that should be looked into. You need to choose this capacity, depending on the load or level of work you are attempting. Smaller tanks are suitable for light work, while a frequent user will need a larger air tank.
A 20-gallon air compressor should be able to hold more compressed air, but how long the air will last in the tank is mainly decided by the pneumatic tools.
CFM Rating
CFM stands for Cubic feet per meter. Every model of air compressor has a CFM rating. This rating is very important in judging the quality of the compressor. The CFM rating defines the amount of air that will come out of the air compressor. And the pressure is higher when the PSI is lower and vice versa.
Maximum Air Pressure
The air pressure is measured by PSI. And the PSI of the air compressor is very important as it defines the amount of pressure it can handle. Especially if you are someone who needs a high-pressure air compressor, this is something that you should definitely consider to avoid any inconvenience.
Motor Power
The motor has the role of keeping the air in the tanks. If the tank is very big in size, filling it up with high air pressure can be a lengthy process. This will slow down your work. However, if the power of the motor is high, then it can quickly refill the tank, making it ready to use within seconds.
Duty Cycle
The duty cycle of the compressor defines the amount of time it runs over a 10 min duration. A below-average compressor has a 50% duty cycle, which means it runs for 5 minutes out of 10 minutes. And a good quality compressor has at least a 75% to 100% duty cycle.
Power Source
They usually have two types of power supply:
Gas-Powered Air Compressors
These are the best option if portability is an issue. You can use them anywhere without any source of electricity. Therefore, you do not need to worry about finding an electricity supply if you have to travel for work.
However, it can be dangerous to use where there is less ventilation as they can emit fumes that are harmful to your health.
Electric Air Compressors
These models are less suitable for industrial work as they require an electric outlet to be present nearby to function. Due to being run on electricity, the portability of these models is an issue.
However, they do not make any noise at all and are quite cheap as well. So if you're looking for the best 20-gallon air compressor for the money, an electric compressor will be the way to go.
Power Requirements
A 20 gallon air compressors require much more power compared to other portable air compressors as they have much bigger motors. Most of the models require a minimum of 120v of power.
In order for it to function properly, you will need a 20A circuit. If the circuit requirement is not met, then the fluctuation of the power supply can cause a short circuit. This fluctuation can also shorten the lifetime of the motor.
Oil Filling or Oil-Free
The feature of the air compressor is a very crucial one. There are two types in the market oiled and oil-free. The oil-free one is quite new in the market. Teflon is used instead of oil to count the inner part. It slowly wears off with usage and eventually stops working.
And the oil-less models are ideal for light work. These models are usually popular for low price, being lighter, and having a low maintenance cost. At the same time, the oiled models are for industrial use and are made for heavy-duty. They don't make noise and are more durable and cool.
Why Do We Need 20-Gallon Air Compressor?
A 20-gallon air compressor is a very useful tool that will help you do a lot of hard tasks with ease. It can be a bit difficult to learn how to use it. Setting up the line and meaning of the gauges is not so easy to do, but once you get the hang of it, it'll take you just a few minutes to set this thing up.
This can be a complementary tool with other air tools, such as a nail gun. If you are someone who has to work with nails guns, then an air compressor can help you out a lot.
No need to spend on expensive battery-operated nail guns. Instead, you can use pneumatic nail guns with an air compressor.
Lightweight
Mostly people prefer it as it is because of the lightweight factor. This makes it easy to handle, and it can be used for a longer period of time. Air pressure lasts longer than the charged battery.
Can Use with Spray Gun
You can also make your own spray gun with it. Painting can be much easier and fun with an air compressor. It will be very cost-efficient and will give a professional touch to your work as well.
Great for Industrial Use
Air compressors have a lot of industrial use. The 20-gallon allows it to store a lot of compressed air; therefore, it can run for a long time without stopping. This means it is also efficient to work with.
Ideal for DIY Projects
If you are a DIY enthusiast, then you will love this tool. Usually, people who do their own repairs struggle with removing bolts from tight space or if it has rusted. But if you use an air ratchet tool with an air compressor, this work can be done within minutes.
Apart from these, an air compressor can be used with many other tools. You can use it for cleaning stuff or use it as a leaf blower. The air pressure is much more long-lasting. Therefore using tools with an air compressor will last longer than battery-operated tools.
To conclude, the 20-gallon air compressor is a brilliant tool that you need to get! The best part about this tool is that you can use it for multiple purposes. So this means you will have one tool but can do multiple tasks. This is money spent wisely!
Frequently Asked Questions
If you're still confused about any aspects of an air compressor, here are a few commonly asked questions that we have answered for you.
Does air compressor tank size matter?
The size of the air tank obviously matters as it determines the amount of air that can be stored and also the pressure it can take. If the air tank is small, then it means the motor has to work more, putting a lot more pressure on the motor. Constant refilling will also take time. Therefore, for industrial use, make sure to get a large air tank.
What can I do with a 20-gallon air compressor?
It is ideal for industrial use. Unlike smaller air compressors, it won't stop and slow the process of work. The 20 gallon air compressor can produce a lot of air pressure as well. If you're a DIY enthusiast, you can also use it on smaller painting or nailing projects.
Can a 20-gallon air compressor run an impact wrench?
It is more ideal for inflating tires. This machine is simply not made for running an impact wrench. However, an impact wrench of 1/2 inch can be run with a tool like this. 3/4th and even bigger can be run, but you need to get the full power of the 20 gallon air compressors.
How long does a 20-gallon air compressor tank last?
Depending on the maintenance, 1 gallon of the compressed air will last approximately a year in the tank. So accordingly, a 20 gallon tank will last 20 years. But obviously, it has to be properly maintained. Make sure it does not rust and to drain the tanks once in a while.
Do air compressor tanks expire?
The tanks do not specifically have an expiry date, but they do go off after a while. That is why the tanks should be maintained and monitored as often as possible. If the tanks are not properly maintained, then it will form rusts. Therefore, the tanks should be drained to keep it dry, which increases the tank's lifetime.
Final Words
We hope the article has provided useful information and helped you get enough knowledge to help you make the decision to choose the best 20 gallon air compressor.
Buy on Etsy
DEWALT DXCMPA1982054 20-Gallon Portable Air Compressor - Etsy Link
Briggs & Stratton 20-Gallon Air Compressor, Vertical 074064-00,Black - Etsy Link
Industrial Air IL1682066.MN 20-Gallon Belt Driven Air Compressor with V-Twin Cylinder - Etsy Link
WEN 2202 20-Gallon Oil-Lubricated Portable Vertical Air Compressor - Etsy Link
Air Compressor, Portable, Horizontal, 20 Gallon, Oil-Free, 4 CFM @ 90 PSI, 150 PSI - Etsy Link
PORTER CABLE PXCMF220VW 20-Gallon Portable Air Compressor - Etsy Link
CRAFTSMAN Air Compressor, 20 Gallon, 1.8 HP, Oil-Free Air Tools, Max 175 PSI Pressure, 2 - Etsy Link
Buy on eBay
DEWALT DXCMPA1982054 20-Gallon Portable Air Compressor - eBay Link
Briggs & Stratton 20-Gallon Air Compressor, Vertical 074064-00,Black - eBay Link
Industrial Air IL1682066.MN 20-Gallon Belt Driven Air Compressor with V-Twin Cylinder - eBay Link
WEN 2202 20-Gallon Oil-Lubricated Portable Vertical Air Compressor - eBay Link
Air Compressor, Portable, Horizontal, 20 Gallon, Oil-Free, 4 CFM @ 90 PSI, 150 PSI - eBay Link
PORTER CABLE PXCMF220VW 20-Gallon Portable Air Compressor - eBay Link
CRAFTSMAN Air Compressor, 20 Gallon, 1.8 HP, Oil-Free Air Tools, Max 175 PSI Pressure, 2 - eBay Link