Air compressors are what we call the epitome of versatility. It has tons of completely unrelated uses to one another, and the best part is that you don't have to be a pro at this. Be it a noob Do-it-yourself enthusiast or a professional DIY artist, everyone can avail the best of this wonderful machine.
From spray painters to nail guns to changing fuel filters, the best air compressor will come as a blessing in disguise.
With just an air tank and a compressor pump, this machine can do wonders in several work sectors. Who would have thought simply pumping compressed air into a tank could be such a helpful thing to happen!
Top Air Compressors by Editors
List of 7 Best Air Compressor Reviews 2022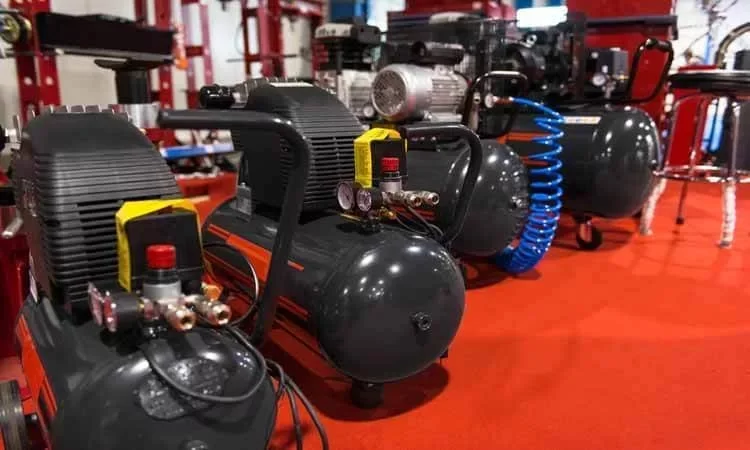 We've shortlisted seven reliable air compressors of different types, uses and price points to help you make a decision!
1. CRAFTSMAN Air Compressor with Accessory Kit - Link
While an air compressor is a must-have in any automotive industry or construction site, this 6-gallon air compressor packs the best features in a compact size.
It also comes with an accessory kit, which includes a tire chuck, 25″ ×1/4″ PVC air hose with coupler, blowgun, and inflator adaptors- basically, all you need to get the job done!
This machines' oil-free pump is a durable one. It requires little to no maintenance at all and makes sure that you get your money's worth. In order to offer you adequate pressure for running various air-powered tools, the compressor will deliver the highest 150 PSI.
To be fairly honest, it falls short of being a full-fledged industrial air compressor. But running small-scale garage works, pressure washers, and farming tools will be a piece of cake for this mid-range air compressor.
Additionally, a 2.6 SCFM air flow rate at 90 PSI pressure is more than just decent for a pancake air compressor. It starts in cold weather pretty easily as well. What we truly liked about this specific product is its excellent flow rate and portability.
The compressor is only 16.5-inch long and stands 17.8-inch tall. It's an excellent compressor for powering up hand tools at home and garage. And the fact that it weighs only 32.5 pounds is a cherry on top.
Two couplers are there so that two users can simultaneously use it. On top of that, the noise level is at an agreeable 78.5 decibels- it will give you a much quieter experience compared to other forms of motor-run electronics.
Pros
Oil-free pump ensures better longevity
Two couplers for supporting two users at a time
Consistent flow rate at 90 PSI
Suitable for inflating tires
Comes with a well-equipped accessory kit for ease of use
Cons
Average air tank capacity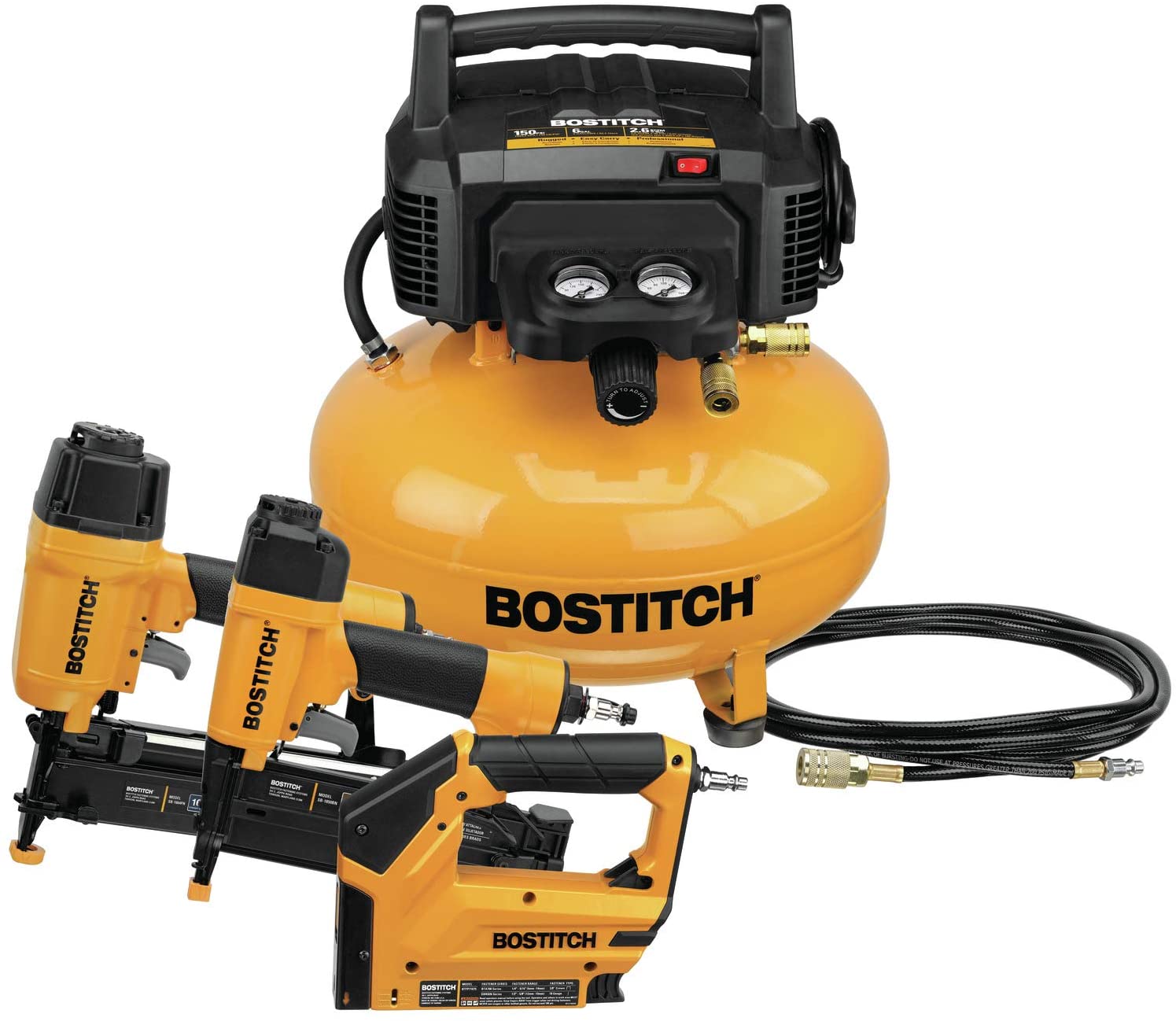 When it comes to running a roofing gun or a framing nailer, BOSTITCH BTFP3KIT air compressor is a tried, tested and loved brand for the best pancake compressor. This one runs pneumatic hand tools for construction, woodworking, and more projects that are right up your alley!
To begin with, this cordless air compressor is best suited for driving small to medium air-powered machines.
For example, it drives ⅝" to 2″ 18-gauge Brad nails for an assortment of carpentry tasks. These thin-gauged nails are ideal for cabinet-making, moldings, and trims. Most nail guns will require an air compressor that provides consistent pressure without burning out.
Apart from driving Brad nail guns for your woodworking venture, this air compressor will help you operate straight finish nailers with ease. Driving 1-¼" to 2-½" 16-gauge finish nails will undoubtedly feel more comfortable once you have this workhorse of a compressor!
Moreover, transfixing two heavy pieces of hardwood calls for something bigger than a nail gun. Yes, you've guessed it right! You need a Crown Stapler to finish off a gorgeous piece of furniture.
Luckily for you, the BOSTITCH BTFP3KIT air compressor successfully runs any heavy-duty Crown Stapler that secure staples from ¼" to 9/16″. And finally, a 15 feet PVC air hose gives you plenty of room to move around your project without lifting up the compressor. It's of the perfect length for maneuvering your power tool to places!
Pros
Suitable for driving heavy-duty Crown Stapler, Straight Finish nailer, and Brad nail guns
Comes with a 15 feet PVC air hose with necessary fittings
High-performing motor with moderate noise levels
Excellent durability for professional use
Cons
The pressure adjustment knob is slow to respond
No nozzle included
3. DEWALT DWFP55126 Best Pancake Air Compressor - Link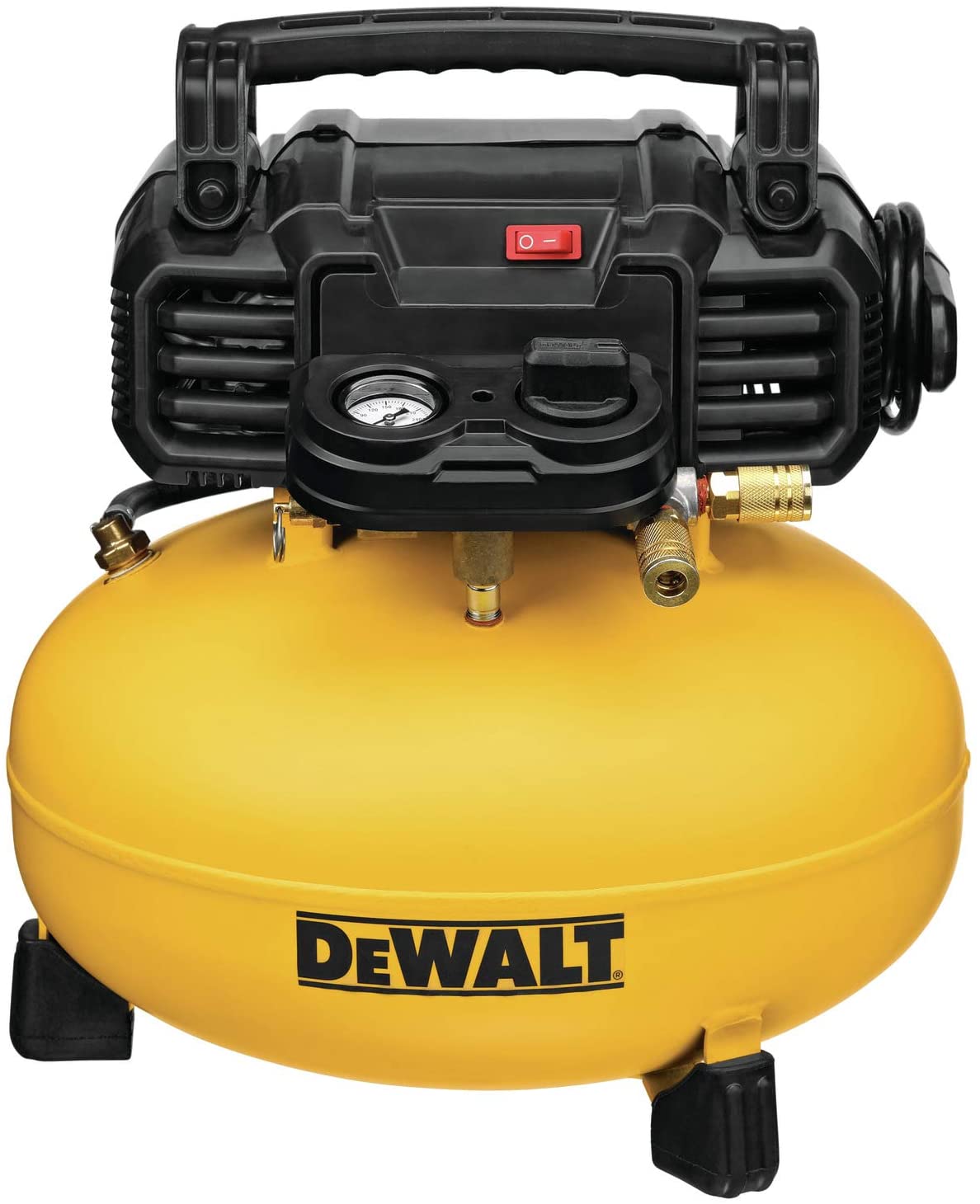 DEWALT makes some of the very best hand tools for professionals. So, we were more than happy to try it out when we came across their new air compressor.
Turns out- it is way better than we thought it to be! Its high-efficiency regulator, leak-proof air tank, and double couplers make it so easy to drive pneumatic gadgets at the workshop!
To begin with, we'll discuss its motor in detail. Its robust motor is of 120V and 10amps with a frequency of 60Hz. Now, you'll see that most motors are of 50Hz, which are less speedy compared to a mighty 60Hz motor.
Since a motor's frequency is proportional to its RPM, you can expect this air compressor to deliver an incredible speed. The tank also fills up in no time and allows you to power up your pneumatic tool as fast as possible.
Nail guns, impact wrench, Crown stapler, and an air hammer are common pneumatic tools that require an air compressor. Similarly, it is a prerequisite for inflating bicycle tires or getting your paint gun started at home.
And as for its premium features, the air compressor has rubberized legs to prevent sliding and marring. Its controls are protected by a console cover for a durable experience. Draining the tank is also a breeze- thanks to its smart ball-drain valve.
Up next, we have its pressure level to talk about. It can drive up the air pressure up to 165 PSI. Truth be told, this compressor performed slightly better than the Craftsman compressor in terms of pressure deliverance.
Cold weather is not a problem for this durable product. It will start up nicely, and for what it's worth, the compressor also supports the usage of an extension cord! You can comfortably cover an area of 50 feet with the same stellar output!
Pros
Rerouted outlet tube for avoiding any inconvenience
Extension cord supported design
Lightweight air compressor
Quieter work environment
Oil-free pump for easy maintenance
Cons
Unable to hold the pressurized air for longer periods of time
4. BOSTITCH BTFP02012 Pancake Air Compressor, Oil-Free - Link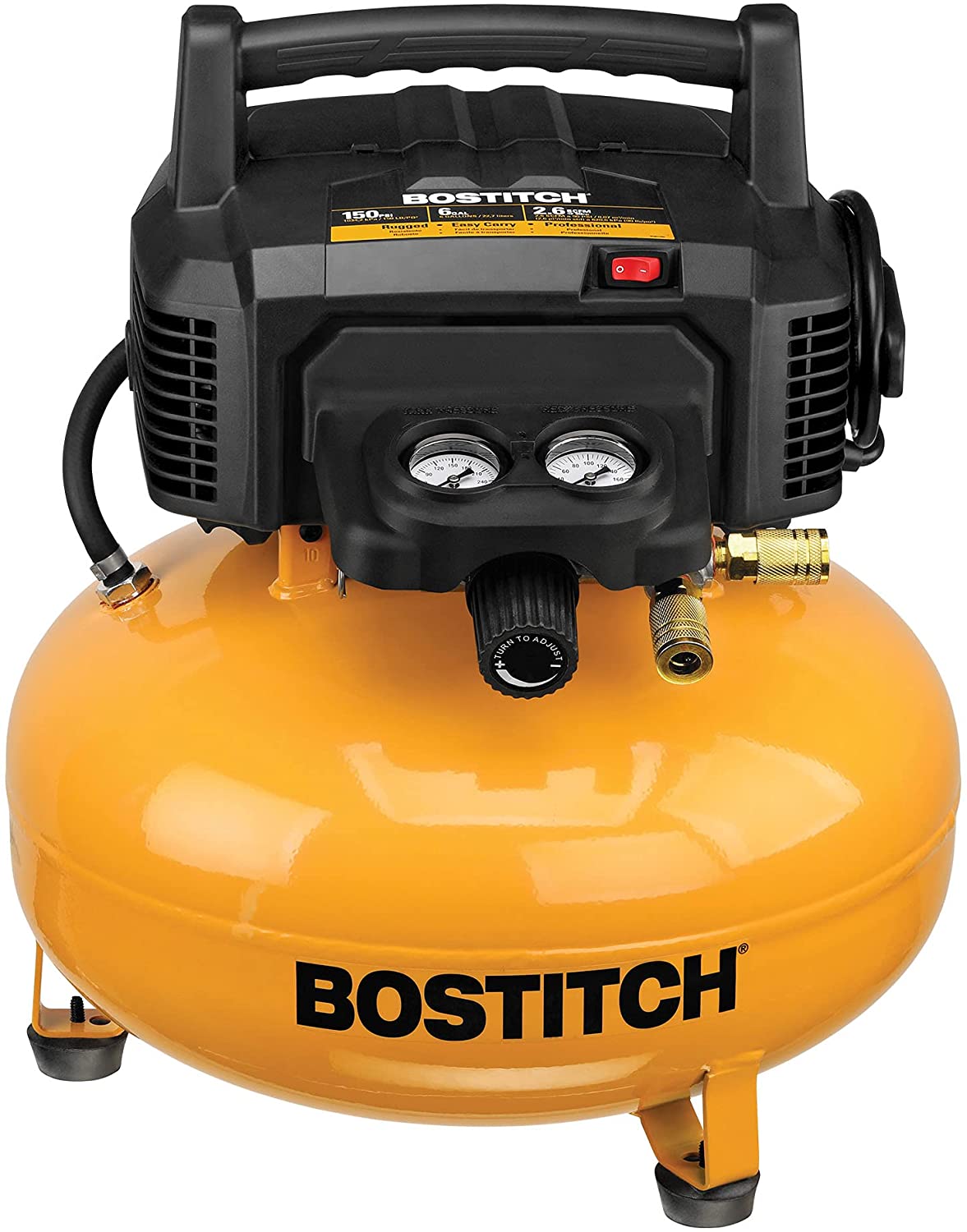 Oil-free motors cut down any sort of maintenance from your end. They also help you avoid a greasy situation at your working nook. And when your pancake air compressor takes on this feature, reaching new hands with your old air tools is only a matter of time!
It's safe to say that BOSTITCH's pancake air compressor is tailored to cover all areas and give you the best experience. For example, when you're painting your interior all by yourself, your partner can also join with the help of its twin coupler!
The flow regulator was incredibly responsive. We were ecstatic to see how fast we could adjust the air pressure after going through some unfortunate cases of flow valve mishaps somewhere else.
Also, the dimensions of this specific compressor were satisfactory. Once seated on the floor, it will only take up 17 inches in both the length and the width. There's no doubt about the fact that it will maintain a low profile while you indulge in carpentry or a metalworking project.
You can drive up the pressure up to 150 PSI and get super dense and pressurized air for your pneumatic tools. We also loved how BOSTITCH BTFP02012 could pack some high-end specs in a 29-pound compressor. It's incredibly lightweight yet powerful- a dream come true for construction workers and repairmen alike!
Pros
Maximizes pneumatic tool performance
Long run time with fast recovery
No maintenance is needed
Reaches the max pressure in less than three minutes
Sturdy and durable workmanship
Cons
Loud operation
The compressor has to remain plugged-in for use
5. PORTER-CABLE C2002 WK Oil-Free Pancake Compressor - Link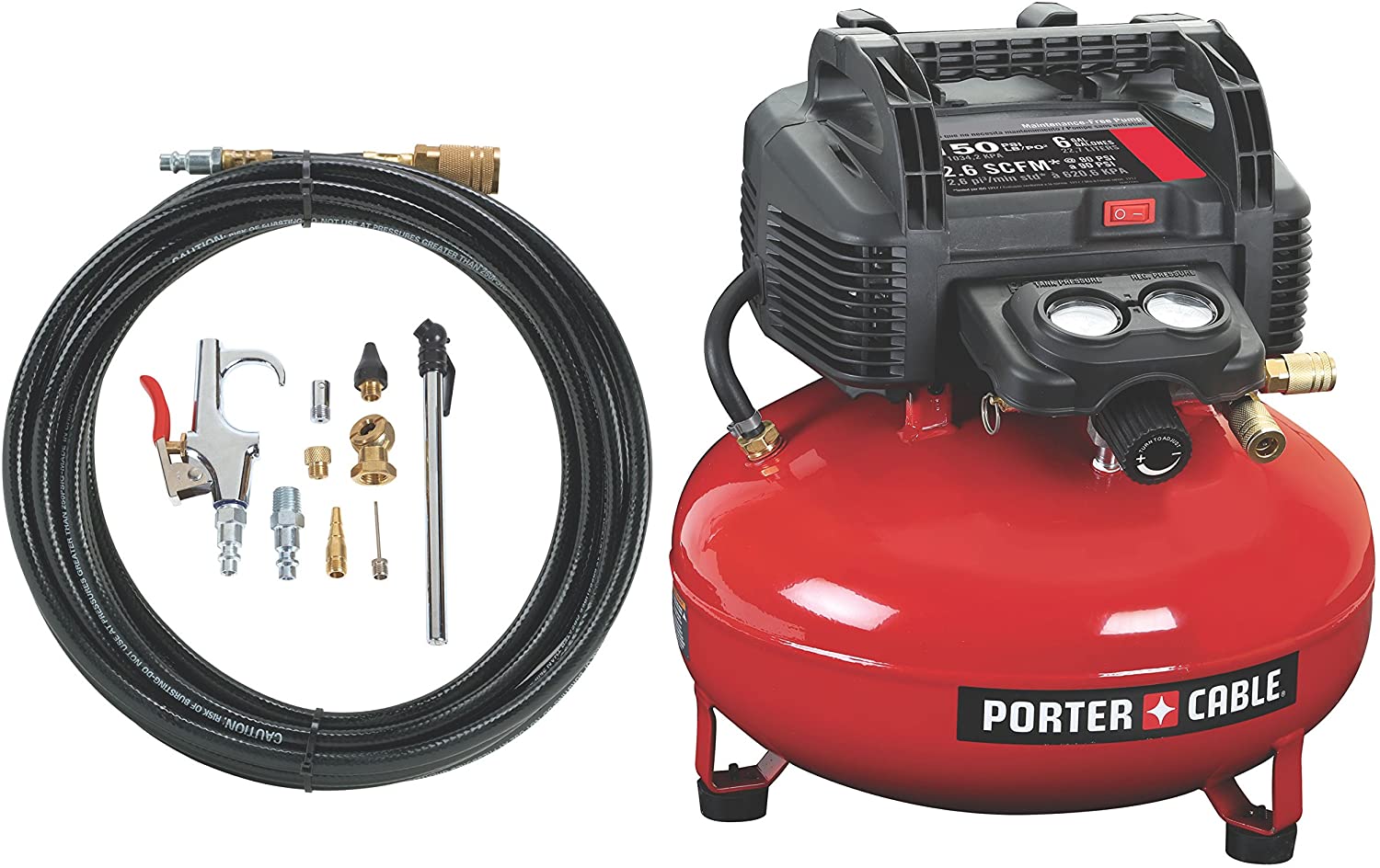 If you're looking for a pancake air compressor to shoot staples and nails into your woodworking masterpiece, Porter-Cable has something you would love! The C2002-WK compressor is a steal considering its powerful motor, vigorous performance, and exceptionally well-built tank!
In order to save extra labor on your end, the plug and the air couplers will come factory-installed. That said, you can use the compressor right out of the box. The tank fills up within a short time, so you don't have to wait much before getting started.
Its quick recovery time is another selling point of this affordable pancake style compressor. Missing out on an industrial-grade air tank and precise flow rate regulation, the Porter Cable C2002-WK quickly lifted our spirits with its all-in-one air compressor accessory kit.
Believe it or not, the compressor comes with a 13-piece accessory kit. It included a hefty 20-foot nylon hose, tire gauge, tire chuck, blow gun, multiple plugs, and attachments alongside a quick coupler.
Moreover, its heavy-duty induction motor features a soft start and an oil-free pump. The 120V motor is in for the long haul- thanks to its replaceable brushes and impeccable workmanship.
Its run time is also generous, considering the fact that you can drive two power-hungry hand tools simultaneously. Besides, it sports a 120 PSI flow-rate with an additional 30 PSI pressure to avoid sudden pressure drop. Moreover, it produces minimum noise when you turn up the knob- it won't make your eardrums pop.
Pros
30 PSI Bonus air with High-Flo regulator
Runs on regular household circuits
Operates at a whopping 3.5 SCFM for fast fill-ups
Features a water drain valve, console cover, and rubber feet
Cons
The user manual is not easy to follow
Might require extra fittings to attach water intake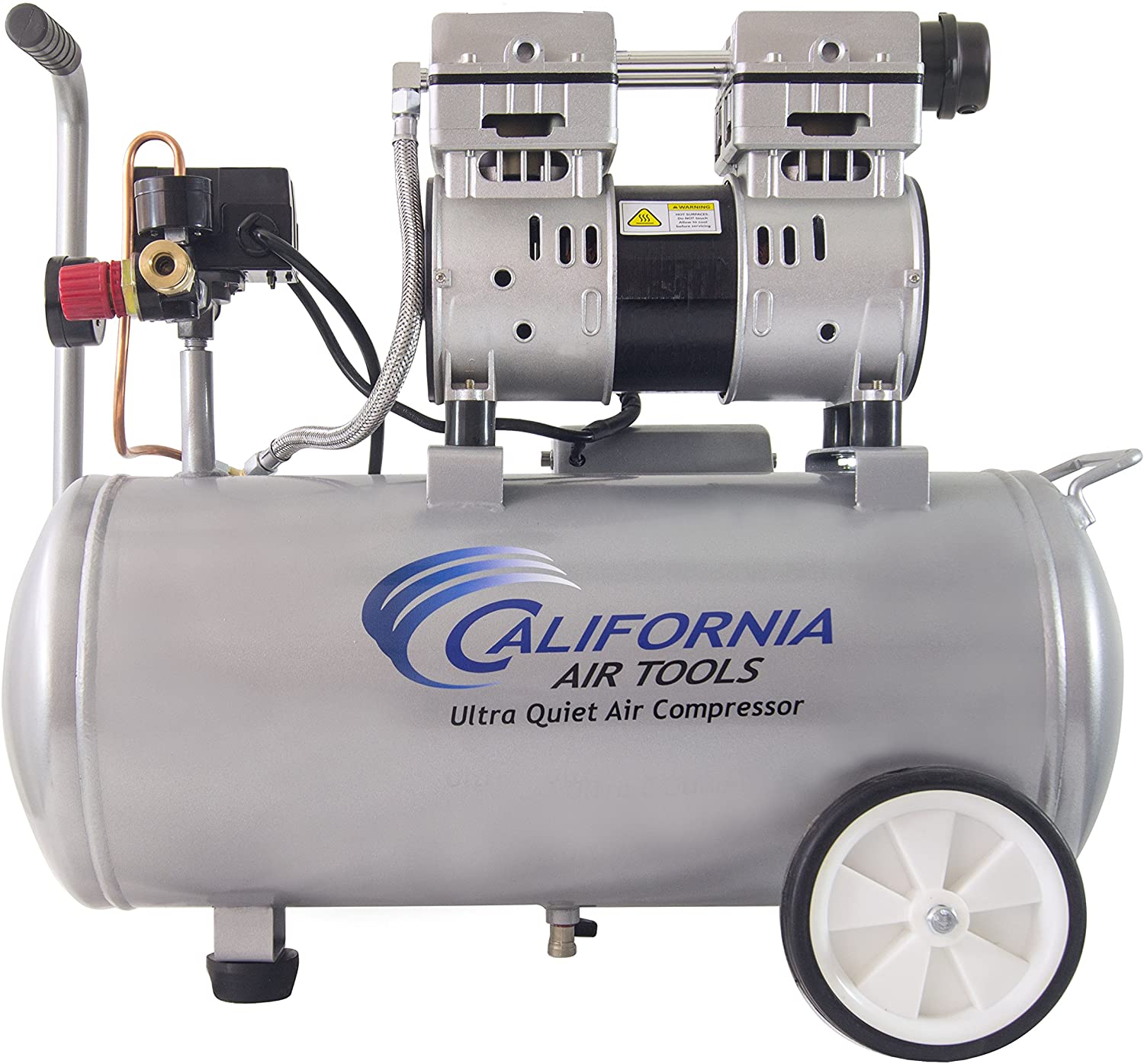 An 8-gallon oil-free air compressor is all you need to drive a serious power drill, air hammer, compactor, and pneumatic monsters alike. If you have an insane workload just around the corner, consider buying this robust compressor to lend you a hand!
For starters, this is the first air compressor on our list that features a wheel kit. No more dragging a hefty tool across the yard- simply roll it along wherever you go! You will need an industrial-grade male connector or a ¼" Universal connector to attach a hose.
Unfortunately, it doesn't come with the hose. But California Air Tools sure made up for it with a powerful motor. It can reach up to 2 HP for powering up pneumatic tools you would never imagine driving with a pancake style air compressor.
The 110V 60Hz motor does justice to the air compressor without a doubt. It provides a seamless run time, which can last for an hour. You can expect at least half an hour run time, even with the most challenging environmental conditions, which affect the pressure and SCFM levels.
It requires a minimum of 2500 running watts, so you might not be able to power it up with an inverter generator. Looking on the bright side, the noise level is delightfully low. The motor's 1680 RPM also amounts to less wear and less noise.
Additionally, the pump is projected to last a total of 3000 hours or more before picking up on wear signs. That said, you already know the dual piston pump is going to be worth a shot.
Pros
Ultra-quiet 8 Gal. air compressor with a robust 1 HP motor
Dual-piston, oil-free pump for the best performance
Runs at 1680 RPM for minimum wear and noise
Easy to transport
Cons
Not suitable for users on a budget
Average weld quality on the aluminum tank
7. WEN 2289 10-Gallon Oil-Free Vertical Air Compressor - Link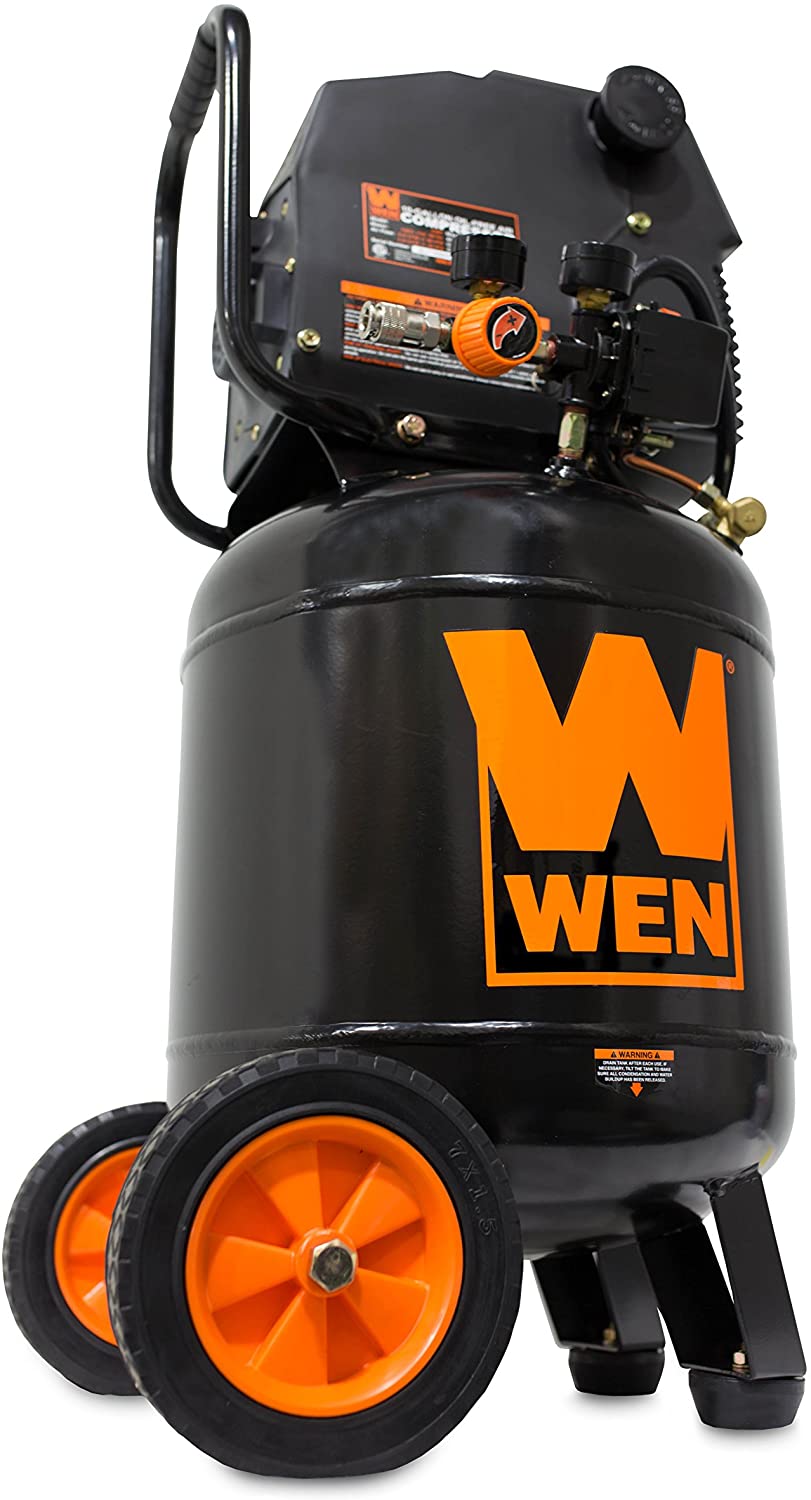 Choosing a 10-Gallon air compressor is a no brainer because you can rock any paint gun use at home. Besides firing nails and staples to a handmade cabinet, you can comfortably pressure wash your whole condo on a Sunday afternoon without running out of power!
For starters, the WEN 2289 air compressor is made of reinforced steel. It is set to reach 150 PSI at max.
You might be thinking that 150 PSI is standard for an entry-level pancake. But the truth is- its airflow rate is impressively high compared to similar budget-friendly air compressors. At 90 PSI air pressure, it delivers 4 CFM volume of dense, pressurized air, whereas an average pancake delivers 2.6 SCFM to 3.2 SCFM at best.
The 10 gallon tank won't run out as soon as you pick up a power tool from your workshop. This air compressor includes two pressure gauges- one for monitoring the tank's internal pressure and the other for regulating airflow rates.
Needless to say, the product is very safe to use. Its easy-to-reach drain valve and a ¼" NPT coupler were equally lucrative. This machines' 15 Amp 1.5 HP motor is a reliable one. It will run the compressor smoothly for 90 minutes to 120 minutes at a stretch.
Finally, the rubberized handle and the two 7″ wheels come together for effortless transportation.
Pros
A dependable 1.5 HP motor for driving mid-range power tools
90 to 120-minute duty cycle
Never-flat 7″ wheels for easy maneuverability
4 CFM flow rate at 90 PSI pressure
Adjustable airflow regulator and two gauges
Cons
You have to work with ear muffs to withstand loud noise
How to Pick the Quality Air Compressor?
With the world gradually knowing about the best air compressors' never-ending usage, one common question is in the air. That is, what exactly are the criteria to select a decent one? Worry not; we're here to help.
Air Pressure
You're working with the air here; it's only natural that checking the air pressure is mandatory for you before selecting one of these machines. There is a standard for measuring pressure, commonly known as the PSI. Generally, you need at least 90 PSI for an air compressor to work properly.
More pressure, the better might not always be the case here, but if your tool has two stages where the first one can build up to a PSI of 90 and the second one can build up to 175- you're all okay with the pressure.
Just be sure to check if there are obstacles in the hose- because that can be a major issue in your compressor reaching its full potential.
Horsepower
Depending on your preference and usage, you can determine exactly how strong your air compressor should be. Unfortunately, many of the manufacturers often overstate the horsepower while advertising their products. But we have an extensive process that can help you measure the horsepower accurately.
All you have to do is check how much electricity it consumes. For example, a basic five horsepower motor is supposed to consume up to 24 amps or 220 volts of electricity. That should be more than enough for you to do basic household or DIY works.
However, if you prefer to do more, you can always pick air compressors with more capacity.
Oil-free
This here is a very common debate between people working with air compressors. Both Oil-free and Oil-lubricated ones have their advantages and disadvantages, and it all depends on your jurisdiction at the end of the day. All we can do is put in the pros and cons of both the types; the rest is all up to you.
Oil-free air compressors are a fantastic companion for someone who cares about the environment or someone who doesn't want to spend a lot on these tools. Moreover, oil-free ones are cheaper, easy maintenance, and definitely environment friendly-no risk of oil spills on the inside of the air dryer, no extra expenses.
However, Oil-lubricated air compressors are relatively expensive, work quietly, and are able to do the work much more efficiently. It's faster and quieter, but at the same time, the oil can cause all the trouble in the world, as aforementioned.
Size of Tank
Let's be honest with this; tank size doesn't really matter much when it comes to air compressors, mostly because nobody stores air inside the compressor; it is for instant actions mostly. Having said that, the tank size of your tank will be essential if you want to consider the costing. Bigger tanks cost more than the smaller ones.
Bigger tanks can hold on to a lot of compressed air, but unless you need a lot, lot of compressed air for massive initiatives, you don't really have to spend that extra buck for a big tank. However, sometimes smaller tanks might stop midway; this is never the case with big ones.
Portability
The larger the compressor, the lesser the portability. While this is a very common thing to understand, the issue isn't as big as it seems. Unless you're using one of those gigantic 80-gallon compressors, most of the relatively smaller ones come with wheels and pneumatic tires.
Starting from 3 gallons, we can safely say that 30 or 20 gallon air compressors are easily portable, be it with wheels or some other mediums. Some of these tools also come with handles, so portability is often not a big deal with them. However, make sure the size of your machine actually reflects on the usage.
Noise
Like we've said before, noise can be a major issue if you're living in any neighborhood, and you tend to use the compressor on a regular basis. If your tool is an Oil-free single state one, it will indeed cause many sounds, and your surroundings won't really be happy.
Now you can take care of it in a couple of effective ways. One, you can opt for the much quieter, Oiled compressors. But they're expensive, so another choice for you might be to find a bigger place that will muffle the sound.
Your garage can be a brilliant option here. Do understand that bigger compressors make more sounds- so you should keep that in check.
How to Install an Air Compressor?
Air compressors work by receiving natural air and shrinking its volume so that the air becomes highly pressurized. You have to proceed with caution because a simple malfunction on your part might start you off the wrong foot.
Accurately installing your air compressor is a step in the right direction. Today we are here to answer your question, "How to set up an air compressor in the right way?"
Select the Spot
Firstly, you have to determine the adequate room needed for your air compressor to cool off. If it doesn't have enough room to vent, the compressor will run hot. Ensuring more space for the machine goes a long way. Allow the compressor to exhaust, so it doesn't trap hot air within the frame.
Place It Near a Power Outlet
Air compressors need to run on electricity, and it's important that a power outlet is near the workspace. Make sure that you don't give the compressor too much amperage, which might lead to a failure. 6 Gallon pancake-style compressors are compatible with regular household sockets.
Choose the Right Hose Length
If you invest in a long air hose for use in your garage, there's always a chance of pressure loss. Your compressor might deliver the right PSI level, but going through a long hose will create less pressure on the tooltip and decrease pneumatic tools' efficiency. A 50 feet hose for a home garage is of the perfect length.
Add Filters and Separators
Eliminating moisture in between the tank, inlet valves, and pistons call for a good filtration process.
Since oil can reach the tank from the motor and create an imbalance, we advise you to install a filter to the air outlet. It will stop lubricants from affecting your workpiece. Moreover, sanding, blowing, and spray painting will be of premium quality.
Electric vs. Gas Air Compressors
To be very honest, if you consider performances or efficiency, there isn't much difference between the electric and gas air compressors.
But you're not looking for an average compressor that will 'just do' the job, right? You're looking for the best option available, and this is why you need to know the differences between Electric and Gas air compressors.
Gas Air Compressor
Stating the obvious to start with- these tools are run by gasoline. While it is true that with the resurgence of electricity, spending bucks on a machine that runs on gas sounds a bit ridiculous, but there are tons of positive aspects to it.
First things first, electricity might be scarce in places, and without a proper electrical hookup, the electric ones would cease to exist.
Technology might have advanced a lot, but at some point, one might have to get back to the analog way, and when there's no electricity, a gas compressor might be your savior.
These tools work with unloader valves that depend on the pressure inside, unlike the automatic system. This means it can work on a continuous basis- thereby being a good option for larger projects.
However, there's one catch to this otherwise useful air compressor. They can't be used indoors. The fumes, the noise, and the overall hassle are just too much for indoors.
Inhaling these toxic fumes can prove to be dangerous, and working with highly flammable gasoline indoors is always risky. These machines aren't quite portable either.
Electric Air Compressor
It's no surprise that electric compressors are more available on the market, mostly because they're much, much easier to use with a minimum amount of hassle. A convenient and cost-effective tool, electric compressors are widely popular because electricity is more than available now in urban and suburban areas.
Contrary to the bulkier gas air compressors, the electric ones are portable, lightweight, and highly versatile. Coming with different designs and shapes, the compressor looks lucrative as well.
There's this start-stop automatic switch in it that can shut the motor down if the pressure reaches its limit. The same will occur if the pressure drops below a certain value.
A very common issue with these electric machines is that extension cords won't work with them. This is why if you consider outdoor works, it's not very feasible.
It doesn't matter how powerful the air compressor is; it is useless without a plug-in place. For heavy-duty jobs that require constant pressure, these electric devices tend to underperform.
The following discussion comes to one conclusion- there are no clear winners here, but you. It all depends on where you want to use it. For heavy outdoor compression tasks, gas-based air compressors are a must. And for basic indoor work, you choose the electric one-no in-between.
Air Compressor Cleaning and Maintenance
Keeping an air compressor for running air-powered tools at the garage is not a luxury. If Brad Nailers, angle grinders, nail guns, air ratchets, and hammers are in your daily vocabulary, you need an air compressor to drive these hand tools.
As for the construction crews, this pneumatic machine will help you run jackhammers, impact wrenches, sanders, and many more.
You have to run frequent maintenance checks on your air compressor to prevent clogs, over-heating, corrosion, and pressure drops. Catch up on our air compressor maintenance tips right now!
Check for Leaks
Detecting air leaks is difficult because there is no smell to it. You can listen for a sound or use soapy water to condensate traps and hoses. If you see bubbles form, it means that there's a leak. Oil leaks will be visible.
You can grind the leaky spots, which are most likely to occur around the drain and connection points. Up next, you may use a brazing torch and patch it up.
Monitor the PSI Output
The pressure (PSI) level that you get on the tooltip should be exactly what you chose on the regulator knob. If you see lower PSI levels on your pneumatic tool, checking for leaks and worn out filters is an excellent place to start.
Too high of an incoming voltage and amperage is also not something your air compressor wants. Don't forget to test the cooler qualityfor long-lasting performance and an impressive duty cycle.
Unclog Intake Vents
You have to replace hoses, intake vents, and attachments when they have corroded. If not, there will be leaks that can stress the motor. We will also suggest that you keep the connection points free of dirt and grease.
Change the Pump Oil
Excessive grime, sludge, dirt, and discoloration of the pump oil sample means that it's time for an oil change. It will help you avoid many device failures at crucial times. After you've exceeded several hundred service hours, fully replace the pump oil. It keeps the motor healthy.
Oil vs. Oilless Air Compressors
This here is a very tricky debate with no clear winners. As discussed before, even though Oil and Oilless- both have similar tasks, the way they do it is quite different. To put things into simpler measures, the work of compressing air is done by a piston chamber, and to keep it work smoothly and efficiently; it needs constant lubrication.
Moreover, this lubrication is done in different ways in the two types. For Oiled compressors, they lubricate the piston with oil directly, whereas, for the Oilless ones, permanent lubricants like Teflon are used. Both these processes have their positive and negative aspects, time to discuss them.
Oiled Compressors
If you want a smooth, quiet business, this should be your pick. Oiled compressors are high-maintenance, expensive, and efficient tools that you can use for a long, long time.
Is it less portable? Yes. Is it more complicated than the oil-free ones? Yes. But at the same time, it is way more durable due to the continuous maintenance and provides you premium service.
Oil-less Compressors
If you want a compressor that is cheap, portable, and very low maintenance, then you really should give this one a go. These compressors are lightweight machines with very few complications and easy usage.
However, it's not that good in the long run. The sound is very loud, and at some point, the working particles might wear off. Still, it is a feasible option for irregular users.
Our suggestion for you is that if you need the compressor for daily use, then the Oil lubricated one would be a more peaceful option for you and your neighbors. However, if your goal is to use the tool very, very occasionally, in that case, a simple, inexpensive Oil-Free compression would make a good option.
Frequently Asked Questions
CFM is the volume of air that your air compressor delivers at a fixed PSI level. Air tools such as paint sprayers, nail guns, and crown staplers don't require more than 4 CFM.
For driving pneumatic tools for home use, a pancake compressor suffices. But when it comes to industrial applications, you may need 30-150 CFM depending on your power tool.
How do I increase the CFM of my air compressor?
The most effective way to increase the CFM of an air compressor is to dial its regulator down. You have to remember that the airflow rate and the pressure are negatively proportional. It means that when you have less pressure in the air tank, the CFM will increase accordingly. So, the lower the pressure, the higher the CFM.
How can I make my garage compressor quieter?
To make your air compressor quiet, you can install noise blankets or noise barriers. This way, you don't have to change the motor. You can also try putting the machine in an enclosed area or put concrete blocks around it.
Installing a decent muffler on its intake port also decreases the noise level of an air compressor. If you have an extension cord, transfer the machine far from your workspace.
How often should I change the oil in my air compressor?
You must change your air compressor oil, or else it will lose its optimum viscosity levels. Changing the compressor oil once a year is what we generally advise. But if you use an industrial air compressor, you might need to change it more frequently.
How long should an air compressor last?
Good air compressors are very durable, and their average life expectancy is higher than any motor-powered electronics. An oil-free compressor will last approximately 40,000 hours. Provided that you ensure proper maintenance, your air compressor should give 10 to 15 years of service.
Can a pancake compressor run a framing nailer?
Yes, any pancake style compressor that delivers at least 2.6 SCFM and has 150 PSI pressure can run a framing nailer for both home and semi-professional use. Any 4 to 6-gallon BOSTITCH or DEWALT pancake air compressors are suitable for framing nailers.
Do air compressor tanks explode?
Air compressor tanks can explode for a few reasons. Manufacturing defects are hardly the cause. The most common reason why air compressor tanks explode is the build-up of rust inside the tank. It happens when you don't drain the tank daily after use.
Is a two-stage air compressor better than a single-stage?
Two-stage compressors are best for industrial applications and construction processes. They are better than the single-stage alternatives and efficiently run at a higher CFM.
Are air compressors dangerous?
Air compressors run hot and produce high noise levels. Apart from that, air compressors are safe to use. You have to drain the tank daily and pay attention to its duty cycle.
Buy on Etsy
CRAFTSMAN Air Compressor, 6 Gallon, Pancake, Oil-Free with 13 Piece Accessory Kit - Etsy Link
California Air Tools CAT-1P1060S Light & Quiet Portable Air Compressor, Silver - Etsy Link
EPAuto 12V DC Portable Air Compressor Pump, Digital Tire Inflator - Etsy Link
Bostitch Air Compressor Combo Kit, 3-Tool (BTFP3KIT) 21.1 x 19.5 x 18 inches - Etsy Link
California Air Tools 10020C Ultra Quiet Oil-Free and Powerful Air Compressor, 2 HP - Etsy Link
DEWALT Pancake Air Compressor, 6 Gallon, 165 PSI (DWFP55126) - Etsy Link
Quincy QT-54 Splash Lubricated Reciprocating Air Compressor - 5 HP, 230 Volt, 1 Phase, - Etsy Link
Buy on eBay
CRAFTSMAN Air Compressor, 6 Gallon, Pancake, Oil-Free with 13 Piece Accessory Kit - eBay Link
California Air Tools CAT-1P1060S Light & Quiet Portable Air Compressor, Silver - eBay Link
EPAuto 12V DC Portable Air Compressor Pump, Digital Tire Inflator - eBay Link
Bostitch Air Compressor Combo Kit, 3-Tool (BTFP3KIT) 21.1 x 19.5 x 18 inches - eBay Link
California Air Tools 10020C Ultra Quiet Oil-Free and Powerful Air Compressor, 2 HP - eBay Link
DEWALT Pancake Air Compressor, 6 Gallon, 165 PSI (DWFP55126) - eBay Link
Quincy QT-54 Splash Lubricated Reciprocating Air Compressor - 5 HP, 230 Volt, 1 Phase, - eBay Link
Conclusion
From driving an impact wrench to firing a nail gun, the uses of an air compressor are plenty. However, choosing the best air compressor was an easy task. Its flow rate, duty cycle, motor quality, and ultra-quiet operation set it apart from the rest.
We are talking about the WEN 2289 10-Gallon air compressor. It delivers 4 CFM at 90 PSI, offers an extended duty cycle up to 120 minutes, and is equipped with a powerful 1.5 HP motor.
Porter-Cable Oil-Free UMC Compressor is our second favorite. Although its flow rate is slightly lower than that of the Wen compressor, it offers an additional 30 PSI Bonus air to avoid pressure drops. It provides 3.5 CFM at 90 PSI, which is pretty close to our winner.