An air compressor is an essential piece of equipment that pulls and stores air into its tank, then keeps the air compressed and under pressure inside it. After that, the stored air is released via vagarious pneumatic tools like paint sprayers or nail guns. As you can see, air compressors are necessary for powering your pneumatic tools.
Any good-quality air compressor will be handy for running various devices. It will allow you to complete a wide range of tasks like construction, woodworking, aviation, automotive, etc.
If you're looking for a lightweight and powerful tool on a budget, then California Air Tools CAT-1P1060S is the ideal choice for you! It's a high-functioning and durable air compressor that you can easily carry around.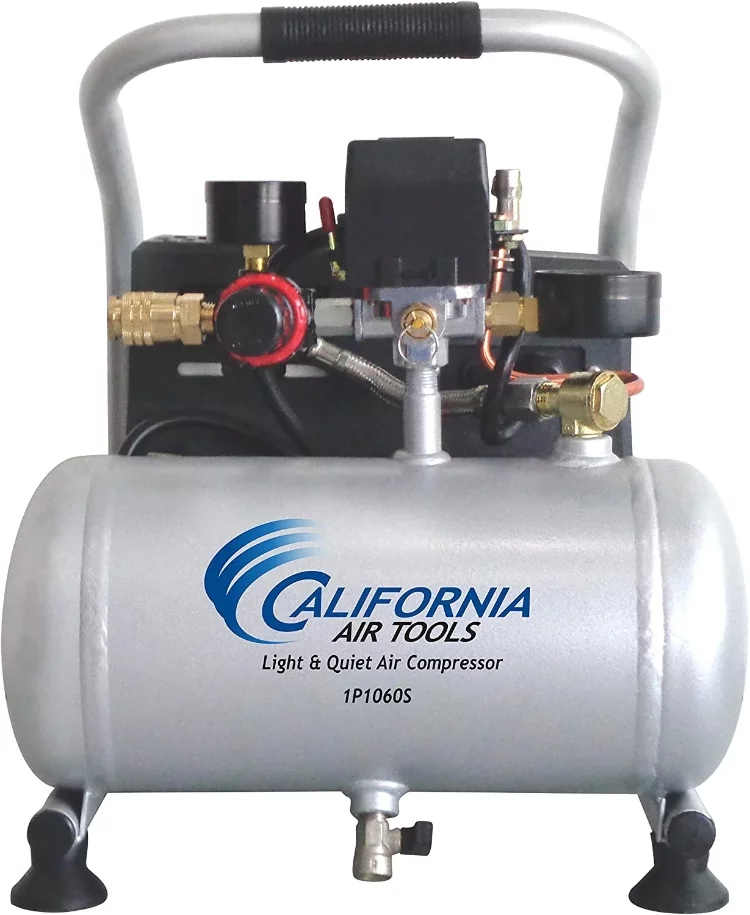 California Air Tools is known for producing top-grade air compressors that come equipped with modern technology and features. It's been around for over a decade, and many skilled engineers lend their extensive knowledge to manufacture some of the most efficient air compressors on the market.
The CAT-1P1060S is easily one of the best portable pneumatic devices. Its ability to run ultra-quiet will leave you stunned for sure. In fact, it's actually one of the quietest in the industry!
Thanks to the superb.6 HP motor, this equipment manages to offer high performance and superior durability. The oil-free pump comes with a higher life cycle to take the durability to the next level! Furthermore, it can handle the roughness of extreme weather, be it cold or hot.
Weighing only 29 pounds, you will be able to transport it wherever you want without running into any trouble. This unit is the most suitable for home and garage use where a noisy operation can be troublesome. You can use it to power a wide array of pneumatic tools like nail guns, blowguns, airbrushes, etc.
Besides, it will be super-useful for cleaning and inflating projects. The best thing is, you won't have to spend too much money to get this one as it's highly affordable.

Ultra-Quiet Operation
As we've mentioned before, the CAT-1P1060S is among the market's quietest air compressors. It generates no more than 56 decibels of noise, which is almost the same as a normal conversation. Most users found the noise level to be within the acceptable range.
So, you can feel free to rely on this one for working inside your home or garage without worrying about annoying your family members or the neighbors.
Super-Durable
In addition to creating less noise, the powerful.6 HP motor is capable of resisting wear as well. The sturdy steel tank isn't likely to get damaged easily either. Moreover, it features a rugged single-piston pump that's significantly stronger than the competitors.
The pump comes with over 3000 hours of life cycle, which is incredible! Whether it's scorching hot or chilling cold outside, you can still feel free to use the pump without any issue, thanks to its fantastic durability.
It's designed to dissipate the heat to prevent overheating. There is even a thermal overload protection.
Great Pressure
This model is capable of putting out 1.2 CFM of air at 90 PSI. That's enough for powering light to medium pneumatic tools like framing nailers, brad nailers, staple guns, airbrushes, etc. Additionally, you can use it for cleaning various objects or inflating tires easily.
However, you can't expect it to run heavy-duty tools. Regardless, its CFM rating is comparatively better than the products of its caliber.
Decent Capacity
The steel tank that comes with this pneumatic device offers 1 gallon of capacity. This is to be expected from a portable air compressor. It's not a lot, but more than enough for providing powerful short bursts.
You won't have to wait too long for the tank to be refilled as it takes less than a minute. So, you'll be able to return to work quickly.
Excellent Portability
This tool is equipped with a relatively portable tank weighing only 20 pounds. The entire device amasses at 29 pounds. That's extremely lightweight for an air compressor. So, you'd be able to carry it around whenever you need without facing any issue.
If your projects require you to work with portable tools, then this one can be a fantastic choice. As it's remarkably compact, you will have no trouble storing it inconvenient places.
Easy Maintenance
You'll never have to deal with oiling the pump as it features an oil-free design. So, you won't need much maintenance work. Since it doesn't require oiling, you'll be saving money as well. Just make sure the pump doesn't collect too much dust.
Pros
Comes with a lightweight steel tank that offers decent capacity
Fitted with a rugged motor that operates with less wear for durability
The single-piston pump offers an enhanced life cycle of 3000 hours
Designed to be one of the quietest air compressors on the market
Features an oil-free pump design for offering easy maintenance
Comes with a heat dissipation system for reducing the heat
Surprisingly compact and lightweight for allowing easy transport
Can be used under any temperature, hot or cold
Cons
Equipped with only a 1-gallon tank which can be a deal breaker for some people
Producing 1.2 CFM of air isn't enough for powering heavy-duty tools

Frequently Asked Questions
California Air Tools is actually a leading brand in the quiet air compression industry. It's reputed for producing top-grade pneumatic devices. Each of its products is produced by diligent engineers with outstanding skills. You can expect great performance and quality from this brand's manufactured tools.
Does it come with the accessories?
Nope, you only get the air compressor. Other tools like the hose need to be bought separately. Finding the necessary accessories shouldn't be that hard anyway. They should be available in your local hardware stores.
Does it feature an automatic on/off system?
Yes, it does! This compressor will turn off automatically as soon as the tank is full and start pumping again by itself whenever it's completely depleted.
Is it really that quiet?
As a matter of fact, yes! It runs with surprising quietness. You won't find it annoying at all so you can safely use it indoors. Rather than a loud buzz, the noise will seem more like a low rumble. Many users consider it to be the quietest they've used. So, yes, it is that quiet!
Is this good enough for spray painting?
Nope, it isn't. Although this air compressor is quite decent, its air pumping is still too slow for spray painting. It's not worth the trouble. So, if you want to do spray painting, it's recommended that you get a more powerful tool.
Verdict
This air compressor is guaranteed to offer fantastic performance when you use it to complete the task sit's designed for. There are so many things you can do with this device. It's astoundingly durable, fast, and highly functional. You get all of that for a rather small price!
So, the California Air Tools CAT-1P1060S can definitely be the perfect portable air compressor for you!