Anyone who is looking to build a workspace at home will definitely need an air compressor. Whether you're operating on wood, precision painting, or even working on your own car, an air compressor is a necessity for you.
It will make your task very efficient by saving time and effort. And, this particular model is an excellent starter pack for beginners and woodworking enthusiasts.
Now, there are a lot of great brands that manufacture excellent air compressors. And, Bostitch is certainly on the top of the list. From this amazing company, we have chosen Bostitch BTFP3KIT, which includes three other tools that will enhance whatever task you aim to do.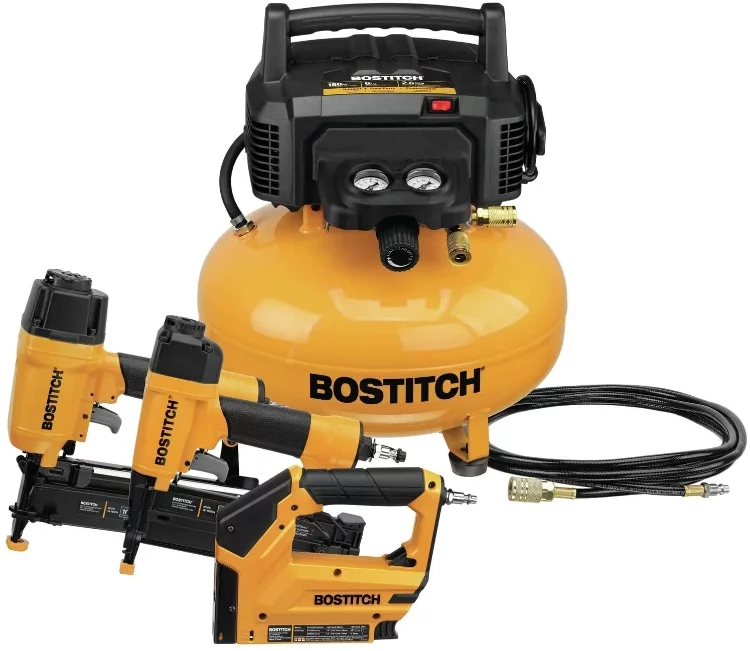 Being around for over a century, Bostitch has specialized in manufacturing numerous household tools and accessories like staplers, nailers, staples, screws, and more.
In this article, we are discussing one of the core offerings from the brand, the Bostitch air compressor combo kit. This is one of the most popular and extremely efficient tools from them, which serves as a great starter pack for beginners or home users.

While most home users are much more acquainted with electrical and battery-run equipment including drills and power tools, these air compressors offer the prospect of using numerous different tools like nailers and staplers.
In this kit, you will find a pancake air compressor that has a maximum psi of 150, which explains the pressure capacity of the machine.
Apart from the cordless air compressor, you will obtain three other types of tools in this combo kit. Among them, two of them are nailers - a brad nailer and a straight finish nailer, one is a robust crown stapler, and the last one is a 15-foot air hose. And, the air hose provides great coverage.
Design
With 6-gallon capacity, the Bostitch BTFP3KIT compressor comes in a bright yellow design. It also has a highly powerful motor. Having an impeccable design and great strength, these 6-gallon compressors can be used to operate on household tasks.
Overall Performance
As for performance, the air compressor functions extremely well, thanks to its high functioning motor. It takes very little time to fill up.
In just a matter of 5 to 6 minutes, the compressor can go from 0 to 140 psi. And from there, a different pressure output sensor can be used to generate the necessary pressure as defined for each unit.
If you keep the compressor plugged into the socket, you will be able to use it for all kinds of tasks extremely effectively.
Now, if you're wondering about the other tools mentioned in the combo kit, let's take a look at them. Each of these tools is just as easy to operate. If you have used other gun-like fastener tools before, you will have no problem working with these.
All three included tools, the two nailers and the stapler need synchronized pressure on the nozzle of the device to activate fire action, which is a safety measure that restricts the risk of accidental fire.
Even if this is your first time using a device like this, you will learn how to operate it in a couple of days. The overall mechanism of the tools is very intuitive.
Transportability
Like most air tools, these are somewhat difficult to carry around. Weighing about 30 pounds, they are not too heavy. And, you can use an extension cord with these.
Noise
The machines produce a lot of noise due to the heavy-duty motor. While that can be a bit annoying at times, it is a by-product of using highly powerful machines like this. You can drown out the sound of the machine by using earmuffs or noise-canceling earphones.
Although it sounds like a drawback, the overall effectiveness of the compressors and the final results will make it well worth the noise.
Pros and Cons For BOSTITCH BTFP3KIT Air Compressor Combo Kit

Pros
Includes necessary parts and components to use the compressor effectively
Saves a lot of time and is very easy to use
Thoroughly maintains power in an effective manner
Serves as a great starting package for air tools
Cons
Produces excessive noise
Doesn't include basic accessories like a blower gun, and adapters

Frequently Asked Questions
Are Bostitch air compressors any good?
While there are many great brands that manufacture air tools, Bostitch provides the best quality air compressors you can find in the market. Not only do they have a great design which makes them very easy to operate, but they also provide optimum performance and effectiveness.
What size air compressor do I need for a nail gun?
Regular nail guns, like pneumatic nail guns, don't need a constant flow of air as they are intermittent power tools. With these tools, you need a quick burst of airflow to bring nails to wood.
For cases like these, you will need air compressors that have a capacity between two to six gallons.
What is the ideal psi for an air compressor?
For average use, the air compressor takes between 70 to 90 psi. However, for larger tools attached to stationary devices, the specifications typically reach 10 cfm at 100 to 120 psi.
And this model from Bostitch provides a maximum of 150 psi, which makes it a great air compressor.
Is a 6-gallon air compressor enough?
There are air compressors with varying air tanks. And, air compressors that have big tanks usually use up too much space. So, if you've got a small room to operate, you should make sure that you don't get an air compressor that doesn't fit.
In most cases, a 6-gallon pancake compressor suits almost every workspace, but a 30-gallon unit does not.
Verdict
Now, the BostitchBTFP3KIT air compressor combo kit includes a pancake compressor with three other tools and an air hose.
By powering the attached tools using this compressor, you can work on several different tasks around the home. All in all, this kit is an inexpensive solution for beginners and home users.