An air compressor can be an incredibly useful tool to have in your garage or workshop. It's capable of serving a wide range of purposes including automotive, woodworking, construction works, etc.
However, finding the best air compressor can feel like trying to find a needle in a haystack. That's because there are so many options to choose from. We've rummaged through the market and tested every product we could get our hands on to find the right one so that you don't have to!
During our research, the DEWALT DWFP55126 air compressor managed to pique our interest the most. It's a piece of portable equipment that offers efficient performance in powering your pneumatic tools. Let's find out more about it!
Overview of DEWALT DWFP55126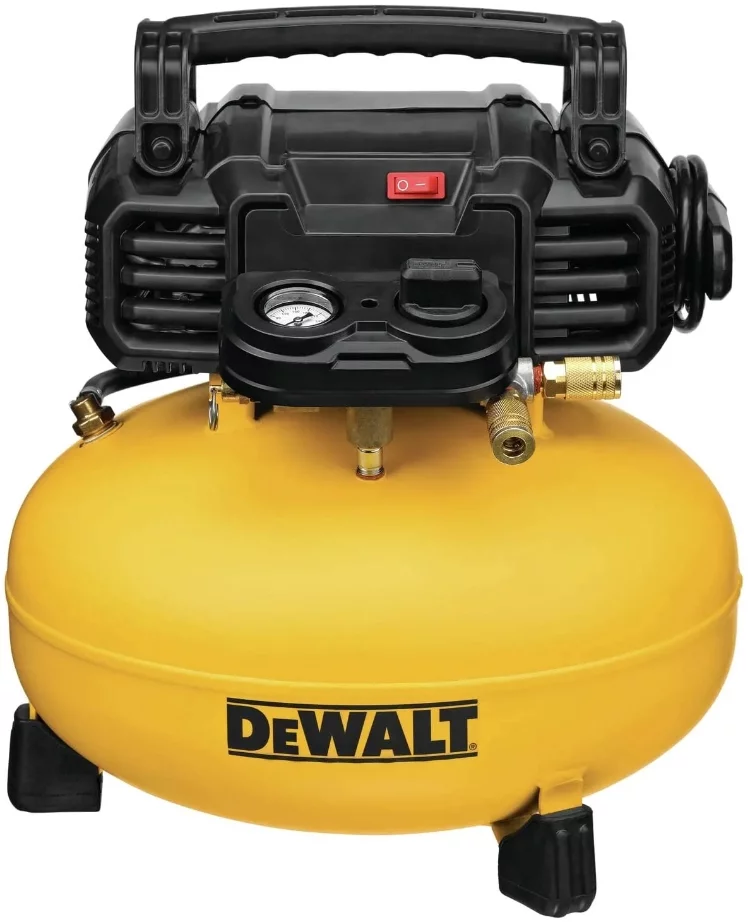 DeWalt is one of the most prominent power tool manufacturers in the world. Its DWFP55126 air compressor is designed by the expert engineers of the company, meeting the standards of high-profile power tools. Thanks to its portable design, it's suitable for both professional and home use.
The first thing to capture your attention would be its pancake-shaped body. As a result, it manages to offer a hefty 6-gallon storage capacity, while remaining light enough for easy carry. If you're a DIY enthusiast, you'll instantly take a liking to it!
However, this thing is not powerful enough for industrial applications; but that's to be expected from a smaller and portable tool. Aided by the larger tank, you can get a lot more done compared to small compressors.
Another fantastic thing about this equipment is that it offers a maximum pressure of 165 PSI. That's more than enough for most powered tools. Coupled with an air delivery rate of 2.6 SCFM @90 PSI, it excels at delivering high pressure in short bursts.
You can run 2 power tools simultaneously with this one, as it features dual universal couplers. The high-efficiency motor ensures smooth operation in any season. As it's equipped with a high flow regulator, you'll always have maximized performance.
This unit runs surprisingly quietly. For streamlining the maintenance, it comes with an oil-free pump along with a ball drain valve. Best of all, it's highly affordable. Buying high-quality air compressors from reputed brands is no longer expensive!
Feel free to go for this model if you want an efficient portable air compressor without spending a fortune.
Efficient Motor
Housed inside this bad boy is a high-efficiency motor that keeps the air compressor operating with buttery smoothness. It won't fail to start even when the weather gets extremely cold, or during extended cord applications. Rather, it will always run with superior consistency.
High Pressure
This unit offers remarkable pressure, rated for 165 max PSI. On top of that, the maximum air delivery is about 2.6 SCFM at a 90 PSI pump. This allows it to provide lots of air pressure, so long as you're using it only for short bursts. You will be able to power a wide range of pneumatic tools with this thing easily.
From tire inflation to air cleaning, it's suitable for most applications. The addition of a high-flow regulator allows it to offer maximum performance.
However, this one is not capable of powering industrial tools like sandblasters, angle grinders, large impact wrenches, etc. You'd need something more powerful for those.
High-Capacity Tank
The 6-gallon tank is comparatively larger than other small compressors of this caliber. So, you get more storage capacity from this thing. That means you'll be enjoying longer runtime before it needs to pump air.
You'll be able to finish a lot of work before the tank is empty, which is a massive convenience and a great advantage over other products. Within just 3 minutes, the tank will be refilled so that you can get back into the action.
Amazingly Portable
Although this model boasts a larger-than-usual tank, it still manages to be light and portable. Thanks to the pancake shape, it doesn't look that big. You will find this one to have a smaller footprint as well. Weighing only 30 pounds, it's one of the lightest options out there.
So, you will have an easier time carrying this around. You can store it in your home or carry it with you to your workplace without any issue. It won't take up much space when stored. Besides, the pancake-shaped design makes it look rather cute and not menacing like other products.
Durable Design
Like other DeWalt products, this model is impressively sturdy. Built with high-quality materials, it's one of the most durable air compressors out there. The rubber feet on the bottom prevent marring. For safe carrying, it comes with an exceptionally sturdy handle.
With the console cover, you'll be able to keep the dust away from the machine, increasing the overall lifespan.
Easy Maintenance
You'd love how low-maintenance this tool is! The pump comes with an oil-free design, which significantly reduces the need for maintenance. All you have to do is keep it free of dust, and you'd be good.
Furthermore, you can easily remove all the moisture that slowly accumulates inside simply by draining the tank. It can be easily done by using the ball drain valve. The cover is designed to be easily removable for streamlining any repair job.
Quiet Operation
Even though this equipment delivers high pressure, the noise it produces is relatively mild. The noise level is about 75.5 dBA, which is pretty quiet compared to other products. You won't have to put up with annoying noise or wear an earmuff every time you operate this thing.
Pros and Cons For DEWALT DWFP55126 Air Compressor

Pros
Equipped with a relatively large tank to allow the tools to run longer
Boasts top-grade construction for durability
Designed to run quieter than most other products in the market
Comes with both male and female connectors
Surprisingly portable and easy to carry, even with a large tank
Features zero maintenance oil-free pump design
Fitted with high flow regulators to maximize the performance
Ahigh-efficiency motor ensures hassle-free operation
Cons
Limited application and not suitable for industrial tools
Not fit for any sort of large spraying application
The small ball bearings in the default hoses can cause air to leak out
Frequently Asked Questions
Can this air compressor be used in cold temperatures?
Yup, the compressor should work even under cold weather conditions. That's because the motor is powerful enough to ensure that the machine starts up efficiently every time under any temperature.
Does the tank come with a drain?
Fortunately, it does. You can bleed the tank 100% and get rid of everything in a jiffy. It allows you to prevent the buildup of moisture inside. And it's a great feature to have.
Can I use it for spray painting?
Unfortunately, no. Its air pumping operation is too slow for that. You will have to spend a lot of time just painting over a small area. So, you better get something more powerful for spray painting.
What's a good tank size?
The tank size determines how much air the compressor will be able to store. So, with larger tanks, you'll be able to run tools longer. The size that you should go for depends on your projects and the tools you're planning to use.
How long does it usually take for the tank to fill up?
The tank of this compressor should be filled up within 3 minutes. Most of the time, it will take even less time than that.
Does this compressor arrive with a hose?
Nope, it doesn't. You'll have to buy the necessary hoses and other accessories separately. Just make sure to find the right hose before buying. Otherwise, you won't be able to use this compressor to do your projects.
Verdict
One thing is for sure, the DWFP55126 is an air compressor that offers lots of benefits. It's a tough one to complain about. As you can buy this one for an extremely affordable price, it's definitely a bang for the buck!
This model offers an incredible combination of capacity, portability, versatility, and performance. You will get to run the tools longer with it. Carrying it around will feel super easy. Thanks to its low maintenance, you won't have to spend much time or effort on keeping it safe.
Overall, the DEWALT DWFP55126 air compressor is one of the best products in the market. It has everything you need, unless you're planning to power industrial-grade tools.
Related posts