Air compressors come in several different styles, and this particular model has a common 'hotdog' style approach that makes it incredibly convenient to carry around and use.
Whether you're interested in a compressor for home renovation and maintenance work or just because it seems intriguing, the S encoPC1010 air compressor is the perfect solution. This is the ideal starter pack for beginners for home tasks.
In this article, you will find all you need to know about this compressor. This product not only meets all the expected criteria for a compressor but also has a lot more to offer.
If you're looking for a compressor that makes minimum noise, keep on reading!
Senco PC1010 Review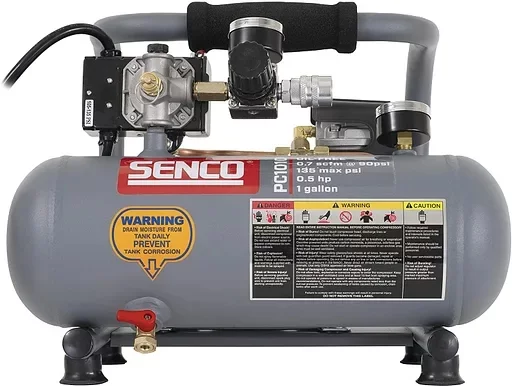 Senco is a well-reputed brand for manufacturing top-quality tools and accessories, ranging from nail guns and staplers to nails, screws, and more. From this renowned brand, we present you with this compressor that is an excellent option for small tasks and activities around the house.
If you're interested in light-duty tasks like nailing, cleaning, or inflating different substances, this is a great option for you. This compressor has quite a lot of excellent features and functionalities that make it exceptionally well designed.
For instance, it is one of the only compressors that produce minimum noise. But at the same time, it doesn't compromise in power or efficiency.
Included Accessories
In the kit, you will find most of the necessary parts. Apart from the main regulator, you will get an air filter, a quarter-inch quick connect, and pressure gauges. If you have an air hose, you will be able to use this compressor with any of your power tools.
And to make your learning process easier, there is a user manual included in the package. With the help of the instructions included in the manual, you will be able to use your tools very easily.
Quality
Built of stainless steel and aluminum parts, this device is highly durable and robust. Not just that, due to the aluminum components, it is also very lightweight and well-constructed. And in terms of looks, it is quite classy in its grey form.
Power
If you get this compressor, you will be able to get about 20 and 44 drives per minute on one go. But it also depends on the kind of air tool you want to use with this.
In terms of power, it provides a 1/2 horsepower drive pump that can reach a maximum of 1 horsepower. And it has a fast recovery time that allows you to use it for a long period.
As for pressure capacity, it offers a maximum of 125 psi, which is more than sufficient for small tasks. Basically, you can use it for all sorts of household work, like the ones involving air inflation.
And lastly, it has a small tank with a capacity of 1 gallon. So, it can fit in very small spaces.
Usage
As mentioned earlier, you can use this device for several activities.
Firstly, you can use it for nailing jobs. With small nail guns and different types of trims, you can do all kinds of small finishing works at home. Secondly, you can use it for airbrushing. Although you can't use it for poster work or big airbrushing pieces, you can use it for small tasks.
And lastly, you can use it for cleaning purposes. With the air pressure from this compressor, you can blow out dust from electronics of all kinds. But bigger electronics will take more time.
As long as your task doesn't require too much power, it will function remarkably and provide you with quality results.
Performance
As long as you don't want to use these compressors for heavy-duty projects, you will be thoroughly pleased with the results. These compressors may not have a high-functioning motor or big tanks, but they are perfectly sized for small tasks.
Whether you want to use them for small airbrushing work or cleaning equipment, these will make your work highly efficient. It will save you a lot of time. And you won't have to put in too much effort either.
Noise Level
If you have used air compressors before, you know that they are usually quite loud. However, with this one, you will find no such issue.
While it does produce some level of sound, it is still a lot quieter than other pancake compressors from other brands. This is due to the rubber feet on the compressor, which minimizes the number of vibrations. And not just that, it also ensures that your floor remains free of scratches.
Lack of Oil Usage
Based on lubrication, air compressors can be divided into many different types. Among them, most are air compressors need oil-based lubrication.
This one, on the other hand, requires a form of lubrication without oil. And that makes it better in many ways. For instance, it is easier to manage, as changing the oil can prove to be a lot of work and sometimes result in a lot of mess.
In addition to the basic features, you will obtain some exclusive features in this device. One of which is the air filter. It is included in the package, and you can use it to serve dry and purified air straight to the pump.
And if the filter becomes dirty, you can take it out and clean it before setting it in the compressor again. It also has a drain valve, which you can use if there is a build-up of moisture within the main compressor.
Pros and Cons For Senco PC1010 Air Compressor

Pros
Holds steady when functioning on a flat surface
Ensures maximum strength and durability as it is made from high-quality stainless steel and aluminum
Comes in a relatively light structure due to the aluminum parts
Provides excellent performance, especially for the price
Acts as a perfect compressor for small household projects
Cons
Cannot be used for heavy-duty work because of the small tank
Can overheat when used continuously for a long time
Frequently Asked Questions
Are Senco air compressors good?
Senco is a quite well-known brand that makes different kinds of tools and accessories. From Senco, you will find quality tools.
Their air compressors are just as great. And the Senco PC1010 is not any different.
Where are the Senco compressors made?
Senco is a widely known company that sells compressors built and assembled in the USA. However, certain components may be obtained from foreign markets.
How many gallons of capacity in an air compressor do I need?
There are different kinds of compressors with different ranges of tank sizes. If you search properly, you will see that there are hundreds of options out there, ranging from 1 gallon to 60 gallons, and beyond.
Now, what size of tank you need depends on your intended use. If you're looking to do small household tasks, such as home renovations and repairs, a 1-gallon tank is all you need. For cases like this, this Senco model is perfect.
What are the uses of the Senco PC1010 compressor?
Designed for small duty workloads, this Senco compressor can be used for all sorts of small home tasks. You can use it for basic home repair and renovating tasks, starting from airbrushing projects and nailing to cleaning projects around the house.
What is the quietest compressor for home projects?
As air compressors require powerful motors, they are usually very loud, which can sometimes make work dreadful. But from this particular model of compressor, you will get very little noise.
This is certainly one of the quietest compressors you can find. And it is definitely the most suitable for lightweight tasks.
Verdict
Apart from basic features expected from great quality air compressors, the S encoPC1010 air compressor provides a range of exceptional features too.
This is one of the very few compressors that make very little noise when operating. Besides, it is also very robust yet lightweight. It also has a fast recovery time, which makes it enjoyable to use.