Hanging a picture on the wall enhances the aesthetics of the room. It also gives onlookers a glimpse of your elegance. But hanging a massive picture on a simple nail and screw might not be a good idea. Simply banging in a pin on the wall and putting up the picture won't ensure sturdiness either. The picture might fall off at any moment.
Therefore, what you will need is a heavy duty picture hanger, which will reinforce the picture's placement. To help you with this, we have listed down the ten best heavy duty picture hangers. Stick around to read our comprehensive reviews provided below!
Editors' Picks for Top Heavy Duty Picture Hangers
Top 10 Heavy Duty Picture Hangers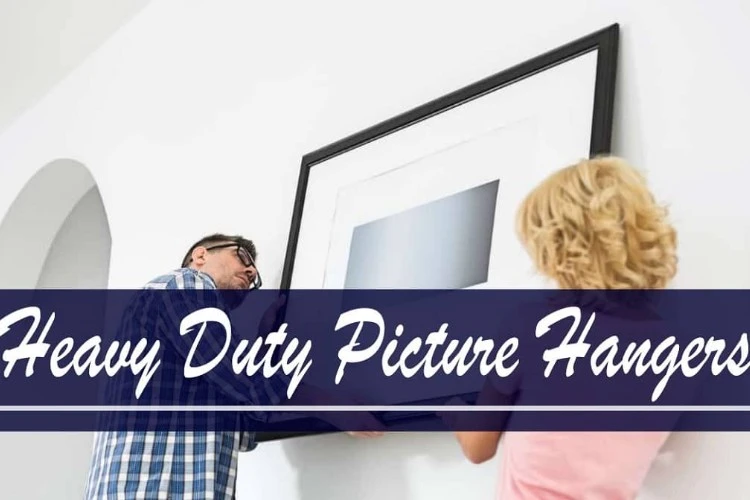 We have given a detailed review of each of our picks along with their top features. Read on below to find out more:
1. Command Picture Hanging Strips Review
When you hear about heavy duty picture hangers, you might picture a sturdy looking nail or a hook. However, our first pick is nothing like that. It is more of a white-colored hanging strip that needs to be stuck on the frame's backside to attach a painting on the wall.
Each packet comes with a set of 14 pairs of strips, and four teams can support a frame size of 24 by 36 inches. And the best thing about these strips is, once you take them off, they won't leave any marks on the wall. You will also be able to install it easily without the help of any tool.
Features
White-colored strips, available in a pack of 14 pairs
Does not leave any marks on the wall
Capable of supporting frames of 24 inches x 36 inches
It can be used on a variety of surfaces, including walls, metal, glass, etc.

2. Command Universal Frame Hanger Review
Our second pick is also manufactured by Command Universal, just like the first one. This one is quite similar to the previous selection, but comes in a smaller pack. If you don't require 14 pairs of strips at once, you can opt for this option, which contains three hangers along with eight strips.
These strips can be attached to the backside of a frame and then can be used to hand the picture on the wall. It has a maximum weight holding capacity of 8 pounds. Moreover, you won't have to drill a hole in your wall to use this.
Features
Won't leave any spots or marks on your wall
Provides durable support
Smaller pack containing 3 hangers and 8 strips
Compatible with different types of surfaces like wall, metal etc.

3. Hangman Z-Hanger Heavy Duty Mirror Review
Unlike the previous two picks, this one comes in the form of a physical hanger that is made of aluminum. Manufactured by the brand Hangman, the dimensions of this hanger is 13.5 x 3.3 x 0.8 inches in terms of its length, breadth and height. Not just pictures, but you can also use it to hang mirrors and heavier frames.
Installing this hanger is very simple. All you have to do is install wall brackets where you can adjust the hanger. This hanger is capable of supporting up to 100 lbs and is equipped with interlocked brackets.
Features
Made of aluminum
Capable of carrying up to 100 lbs.
Easy to install
Extremely secured and strong

4. ANCIRS Picture Frame Hangers Hooks Review
If you want something more durable and sturdy that can support heavy mirrors and wall paintings, then our 4th pick will be a great choice for you. This one comes in a pack of 10, where each pack contains 3 stainless steel hanging nails. These hangers can support a frame weighing 100 pounds easily.
The nails are made of steel and protected against rust. And installing it is also not that difficult. All you will need is a hammer to stick it in the wall. And if you are worried about damaging your wall, then let us relieve you because it will only leave a small pin hole once removed.
Features
Available in a pack of 10
Each pack contains 3 hangers made of stainless steel
Capable of supporting 100 pounds
The nails are protected against rust

5. Command Heavy Duty Strips Picture Hanging Material Review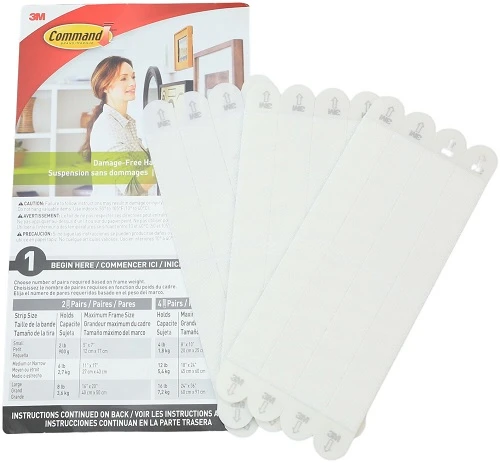 If you don't like banging your wall with a hammer to put up metal made hangers, then these easy to install strips are the best choice for you. Command Universal is the best in making such strips, which are durable. These also provide sufficient sturdiness to a frames measuring up to 24 x 36 inches.
These strips will only need a minute or two to install. All you have to do is stick 4 pairs on the back of the frame for maximum stability. Removing it is also simple, and it will leave no marks on the wall.
Features
Does not damage the wall
Easy to install and remove
14 pairs available in a single pack
Capable of supporting a maximum frame size of 24×36 inches
6. Hangman Heavy-Duty Mirror and Picture Hanger Review
Till now, we have mentioned hangers which are capable of supporting frames having a maximum weight of 100 pounds. However, the sixth pick on our list is a lot stronger, and has a capacity of supporting 300 pound frames. Thus, if you are planning on hanging huge wall paintings at your home, you can opt for this one.
These hangers are made of aluminum brackets, and you will get all the necessary equipment needed for installing this unit. Its screws are anchorless, which saves you from additional hassle as well.
Features
Hangers made of heavy-duty aluminum
Can easily support 300 pounds
All the required installation equipment are provided
Comes with a bubble level which can be removed

7. Heavy Duty D-Ring Picture Hangers Review
This hanger is suitable for pictures that are a bit lighter, weighing up to 40 pounds. Each pack comes with 50 hangers along with necessary number of screws to install it on the wall. Moreover, the hangers are made of steel which ensures durability and sturdiness. The dimensions of each hanger is 5 x 2 x 9 inches.
Each hanger contains two holes where you can put on the screws to install it on the wall. It follows a D-ring design and is equipped with a heavy strap. However, you should not hang anything too heavy with it.
Features
Comes with two holes to install screws
Best for small sized frames weighing up to 40 pounds
Made of steel
Follows a D-ring design

8. Assorted Picture Hanging Kit Review
If you are a DIY enthusiast, who loves to do everything by hand, then our 8th pick is surely going to be loved by you. It is an assorted set of picture hanging equipment that contains various type of accessories like hangers, nails, hooks etc. You can choose from this collection the ones you deem to be the most suitable.
Each kit comes with 220 pieces of hardware and can be used to hang a maximum number of 85 frames. Not only this, each nail comes with a matching hook which reduces the hassle of wasting time looking for the matches.
Features
Assorted kit with 220 pieces of hardware
Capable of holding 85 picture frames
Can support a variety of picture frames weighing up to 75 lbs.
Each nail comes with a matching hook

9. Heavy Duty Picture Hangers with Nails Review
Our 9th pick is also a kit, which contains a lesser number of items than the previous pick. Each pack contains 20 pieces of hangers, along with supportive nails and hooks. You can hang a variety of items like picture frames, mirrors, canvas etc. with it. Moreover, it supports a weight of 100 lbs.
The best part about this hanger is its ability to be recycled. It can be removed and used elsewhere quite easily. And to install it, all you will need is a hammer. Once you remove the hanger, there won't be a visible damage on the wall as it only leaves a small pin hole mark.
Features
Each set contains 20 pieces of hangers
Easily supports weight up to 100 lbs.
Only leaves a small pin hole on the wall upon removal
Cannot be used on concrete or ceramic wall

10. Coologin Professional Photo Frame Hooks Review
Made of carbon steel, our last pick on this list is highly durable and sturdy. Each pack contains a set of 120 pieces of hooks, which can be used to hang heavy picture frames weighing up to 100 lbs. You can also hang smaller frames quite easily with this hanger.
In order to install it, you will have to nail it with a hammer on the wall. And removing it will only leave a small pin hole, which won't be very noticeable. Therefore, you can rest your worries about damaging your wall.
Features
The nails can be reused
Each set contains 120 pieces of hooks
Can support a maximum weight of 100 lbs.
Does not cause much damage to the wall and only leaves a small pinhole

Verdict
This list mentions a wide range of heavy duty picture hangers starting from simple strips to steel made hardware. We have made sure to include every type to provide you with maximum number of choices for flexibility and convenience.
By following our list, you can hang up any wall painting or picture frame without any worries. We hope the list will be helpful for you in making your decision.
Buy on Etsy
10Pcs Heavy Duty Picture Hangers with Nails, Kinxuanda Professional Picture Hanging Hooks - Walmart Link
Picture Hangers, Coologin 120 Pieces Professional Photo Frame Hooks, Heavy Duty Picture - Walmart Link
Pickily Premium 225 Piece Picture Hanging Kit, Assorted Picture Hangers Includes Nails, - Walmart Link
Heavy Duty Picture Hangers 100 lbs - 10 Pack - Plaster Wall Picture Hangers - OOK Picture - Walmart Link
2 Pack Heavy Duty Picture Hanging Wire kit for Mirror Wall Picture/Light Lamp, 2m - Walmart Link
HJ Garden 5PCS Picture Frame Hanger Heavy-Duty Metal Hanger Fasteners for Picture Frames - Walmart Link
Super Heavy Duty Sawtooth Hanger - 10 Pack - Pallet Hanger - Heavy Sawtooth Picture - Walmart Link
Buy on eBay
10Pcs Heavy Duty Picture Hangers with Nails, Kinxuanda Professional Picture Hanging Hooks - eBay Link
Picture Hangers, Coologin 120 Pieces Professional Photo Frame Hooks, Heavy Duty Picture - eBay Link
Pickily Premium 225 Piece Picture Hanging Kit, Assorted Picture Hangers Includes Nails, - eBay Link
Heavy Duty Picture Hangers 100 lbs - 10 Pack - Plaster Wall Picture Hangers - OOK Picture - eBay Link
2 Pack Heavy Duty Picture Hanging Wire kit for Mirror Wall Picture/Light Lamp, 2m - eBay Link
HJ Garden 5PCS Picture Frame Hanger Heavy-Duty Metal Hanger Fasteners for Picture Frames - eBay Link
Super Heavy Duty Sawtooth Hanger - 10 Pack - Pallet Hanger - Heavy Sawtooth Picture - eBay Link