Drill pumps are useful in many ways. They can help you when you have small flooding or if you need to drain a pool or even transferring oil.
The kind of drill pump you'll need will depend on what you will want to use it for. There are many factors that go into deciding on which pump to buy.
This can be a difficult task for those who aren't sure what features they should look for.
Not only did we do an in-depth guide on what you need to consider before buying a pump, but we also reviewed the top 5 drill pumps. If you are looking to buy a pump, read on to see our choice of the best drill pump.
Editor's Recommendation: Top Drill Pumps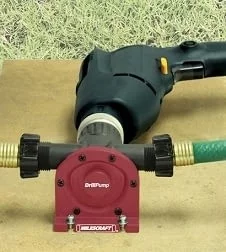 Drill pumps are commonly used to pump liquids. The pumps aren't equipped with internal motors, so they powered by hand drills to move the liquids. The drill will move the impeller to pull the liquids through the inlet hose and expels it through the output hose.
While you may be able to drain small pools, flooded basements, and small ponds, it's not meant to be used in place of a standard pump if you have a large amount of liquid to move.
List of our 5 Best Drill Pump
1.WaterAce WA62UP Drill Pump Review - Link
The WaterAce is the best option for those that are looking for an affordable pump that drain and transfer liquids.
It works great when it comes to draining oil from engine sumps, draining water tanks, sinks, flooded basements, pools, and aquariums. It comes with a 2 and 1/2in suction hose and a 3in discharge hose.
This pump has quite a few desirable features. It's a bit pricier than the other pumps we reviewed but for good reasons. It can do both medium size projects and small projects. It can drain up to a 30-gallon tank and can lift up to 8ft maximum. It does work as promised and is easy to use.
It does come with a few flaws though. It needs to be primed before every use which does add an extra step to the process. The other issue it has is that it pumps water slowly based on the type of drill you are using due to it not being able to handle higher-powered drills. It also doesn't have steel internal parts which makes it susceptible to wear and tear much faster.

Pros
Easy to use
Can drain pools and smaller projects unlike other pumps
Comes with hoses, making it cheaper and more convenient
Will work as promised

Cons:
Not self-priming
Pumps really slow compared to others

2.Milescraft 1314 DrillPump750 - Link
The Milescraft 131pump is ideal for those that are looking for a pump that can transfer and drain water and is able to be powered by both corded and cordless electric drills.
You can use this pump with electricdrills that output 350W and higher. This pump has many great features. It has a plastic body but a stainless-steel internal parts that will help prevent corrosion.
While it works with both cordless and corded electric drills, it will also fit most electric drills. It can transfer light liquids like oil, insecticides, and water. It will work with draining water out of small ponds, fountains, water heaters, and basement flooding. The other plus is that it's self-priming.
The only gripe we have about this pump is that it won't stay in your hand when using more high-powered drills. It will need to be mounted down to avoid it spinning.

Pros:
It's self-priming
Can be used with corded and cordless electric drills
It can transfer and drain liquids
Has stainless steel internal parts to avoid corrosion

Cons:
Will have to be mounted when using high-powered drills

3. Dupeakya Multipurpose Drill Pump Review - Link
The Dupeakya is the best choice for those that not only want to drain water but to transfer it as well. It can transfer sea water, light liquids, oil, insecticides, and liquid fertilizers. It's big enough to drain sinks, aquariums, water tanks, and basement flooding.
It's made of plastic, but it has stainless steel internal parts that help prevent corrosion. This pump is designed to work with electric drills, and it will drain the liquid based on the speed of your drill.
What we like about this pump is that it will work on small projects but if you want to do large projects like pools, it's not recommended. It does come self-primed so that is a plus. The pump had holes to be mounted if you are using a higher-powered drill.
However, there are some flaws with this pump. While it claims to be self-priming, for some reason it will not work unless you prime it yourself. It also has problems with the suction, making the pump unusable in those instances.
Pros:
Works great on smaller projects
Can be mounted
Comes self-primed
Has stainless steel internal parts to prevent corrosion

Cons:
The self-primer doesn't always work
It has suction problems which makes the pump unusable at times

4. WaterAce WA63UP Drill Pump Review - Link
The WaterAce pump is an option for those who need a smaller pump for small projects like water heaters, sinks, or tubs.
The pump fits the standard 1/4in and 1/2in drills and can drain 300 gallons per hour. It has a corrosion resistant thermoplastic construction and inlets and outlets marked for use with a garden hose.
What we like about this pump is that it will drain water out for small areas like a sink or fountain no problem, but if you need a bigger area drained, we wouldn't recommend using it. It's small enough that you don't need to mount this and can even hold it in your hand.
One of the problems we had with the pump is that it isn't self-priming. This makes it have that extra step over ones that do come self-primed. It also doesn't have much pumping power to drain larger areas of water like pools so if you are looking to drain lots of water, keep that in mind.
The instructions need to be downloaded, this can be a problem if you're someone who is using this kind of device for the first time or if you like to have instructions in front of you.

Pros:
Affordable
Works great for small water draining projects
You can keep it handheld when in use
It's small in size

Cons:
It's not self-priming
Can't drain larger areas

5. Milescraft 1314 Drill Pump 750 Review - Link
The Milescraftis a good option for those who are needing a pump but don't want to spend an arm and leg for it. This pump can work with most electrical drills that have a speed of 2,800RPM. The pump can drain fish tanks, flooded basements, and small pools and ponds.
It will work with most garden hoses because the connection is 3/4in. It can pump 750 gallons per hour and self-primes up to 12 feet. The shank is 3/8in and it will fit common chucks that are on most drills.
What we liked about the pump is that is works just as well as the more expensive brands of pumps for a fraction of the cost. It does pump water out fairly fast which is impressive given its size. It has slots so you can even mount your pump, which we do recommend because it can start to spin due to the drill.
The pump does have some problems that we aren't too fond of. One problem is that it tends to leak a bit around the piston housing which isn't a huge deal but can be annoying. Another issue is the instructions are lacking so if you aren't familiar with drill pumps it can be difficult to use. One more issue is the self-priming sometimes doesn't work.

Pros:
Affordable
Does drain water quickly
Comes with mount slots
Works well for the cost and size

Cons:
Self-priming doesn't always work
Some leaking around the piston housing

Drill Pump Buying Guide
Buying the best drill pump isn't as simple as it sounds. There are quite a few things that you should consider before purchasing one.
You should consider what you will need it for and if it can even do what you want, the size, if you want a submersible one or one that goes above water, if you'd rather a handheld one or one that can be mounted or both, the kind of drill it can be used with, and the cost.
Today we will go in depth for the things that should be considered before purchasing.
What Size Pump Should I Buy?
This will all depend on what you are using it for. For example, if you are emptying an aquarium, you wouldn't need an extremely powerful pump and would be better suited with a drill pump over a standard pump. If you are looking to rapidly remove a lot of water from a flood, then you would be better off using a self-powered pump over a drill one.
This doesn't mean you can't use a drill pump for a flooded basement, but there are conditions to this like how much water you need to remove and of course, the time. It also should be noted that the type of drill and the pump that accompanies it can make a difference too with your smaller projects and draining liquids.
Why Should I Use Drill Pumps?
They do have some advantages over standard pumps if they will fit the project you are working on. They are significantly cheaper than standard pumps because they are smaller and can do less than standard ones. Overall, they do have quality mechanical performance when used correctly.
They tend to be largely based on your hoses and drill that you use. This is because if you use a higher-powered drill than it can handle, you can cause damage to it. The opposite effect is if you use a lowered-powered drill then it could take longer to drain the liquid. Using proper hoses that fit will also make a difference when it comes to leaks.
Drill pumps are also quieter on average because of their size and it's the drill making the noise. Due to the drill being the power, it also reduces pollution. The size of the pumps is responsible in making them portable and compactible compared to other types of pumps.
For the most part, they are more user-friendly and geared towards inexperienced users while also being safer than the standard pumps.
What are Drill Pumps Used for?
Drill pumps can be used for a variety of things. They are ideal for small draining projects like clearing clogs, draining tanks, pumping water out of wells, clearing small flooding, and even changing oil.
How to Use a Drill Pump
There are two ways to use a drill pump. This process will differ depending on if you are pumping water or oil. The first step that is essential to either method is by putting on safety glasses before getting to work. Then you will want to observe your pump.
Be sure to note where the oil tube is, the pump itself, the hose area, and the adapter tube. If you are going to be pumping oil, then you will want to follow the following method.
If You Are Pumping Oil
Pumping oil is a bit of a different process than if you were to pump water. Below are the following steps to pump oil.
1. The first thing you will want to do is remove the dipstick from where the oil is going to be removed.
2. Next you will need to make a cut on the end of the tube. You'll want this cut to be roughly 60 degrees.
3. On that very end, you'll cut the tube to be 1 and 1/2in longer than the dipstick you removed earlier.
4. The other end of the tube should be inserted 1in into the adapter.
5. Next, you will want to prime the impeller if it's not a self-priming pump. This will lubricate it and allow the pump to function properly, so it's not a step you want to miss. If you need to prime your machine, vegetable or mineral oil are the recommended oils to use.
6. Once you are primed, insert the adapter tube into the inlet.
7. Take the cut part of the tube and put it into the original place you took the dipstick out of.
8. Connect the garden hose to the port, the pump to the tubes, and the hose to the drill.
9. Start the drill slowly.
Pumping Water Using a Drill Pump
If you are draining water, the steps are much shorter because the process isn't as complex.
1. The first thing you'll want to do is check if the hose and washer are in good shape.
2. Next, you're going to prime the impeller with vegetable oil or mineral oil.
3. Connect the hoses to the inlet and the outlet.
4. Then, connect the drill pump to the hoses and the drill.
5. Supply the power.
Keep in mind that you will always want to check your equipment ahead of time, especially making sure the lines are kept clear so you can get the liquid through either end.
Final Verdict
Overall, we reviewed some of the high quality drill pumps . They each had their strengths and weaknesses but there is one that stands out over all the rest. The Coerni Multipurpose Drill Powered Pump takes the number one spot as the best position. It has various features that are better than the competition.
It can be used with higher-powered drills, cutting your pump time down. It can also use both corded and cordless electric drills. Another thing that makes it stand out is that it can drain pools and is self-priming. While this is a feature another pump has, it comes with more flaws than the Coerni.