The Black & Decker LST136W is an exceptional string trimmer for homeowners, loved by millions of people for many reasons. To gauge the quality of a tool, it is advisable to check how it performs over the years. Most tools perform well for a few days but fail in weeks or months, costing people millions in losses. With the LST136W, you get a dependable battery-powered weed eater that excels on gardens or lawns.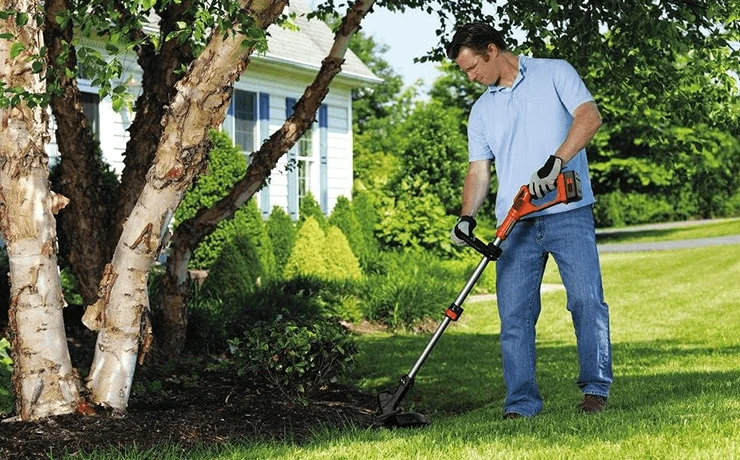 If you need a new string trimmer, the LST136W should be top of your list – I will tell you why.
First, you should know that a string trimmer goes by many other names, including weed eater, weed whacker, weed whip, whipper snipper, edge trimmer, strimmer, and line trimmer. Yes, it might take up a bit of time to name them all and you to remember them all. In this article, I will use my most preferred name — a string trimmer.
Many customers do not seem to appreciate the freedom that using tools offer people while handling household chores. In my childhood and teen years, battery-powered tools were non-existent – my parents did not own one. The tools in my father's yard used electricity or gas. I also have memories of using a string trimmer to manicure the lawn while always cursing the damn tool every time I have to move its extension cord. Fortunately, we now have many other better options to use.
The Black & Decker LST136W has an excellent balance between affordability, performance, power, battery life, and effectiveness. Thus, with the LST136W at home, you can handle most grass trimming jobs like a professional, assuming that your backyard is not so bushy that it cannot penetrate. You can also convert it to an edger in a few seconds via inbuilt attachments and trim the grass on walkways and sidewalks.
Here is a recent video of the trimmer in action. The video shows how the 36-volt model – identical to the newer 40-volt model – performs. You can interchange the 40V LST136W model's batteries with the discontinued 36V LST136 model without significant issues.
I love the
Power+ Command dial
of the string trimmer as it enables you to adjust power and therefore get the best out of this 40V lithium-ion battery. While trimming overgrowth or thick weeds, use the maximum power to breeze through such tough jobs. However, while doing light yard work, use the low settings to save power and minimize stress to the device, prolonging its life. This design feature is excellent as it gives you more control and power as you are working at home.
Let me add that these variable power dials are in other brands of string trimmers, such as the GreenWorks 21242 GMAX (40V) and the Toro 51488 (48V), which we have reviewed later on. You will notice several other comparable features. However, what matters is how the parts are in a cohesive package. LST136W is an excellent all-round product.
It is also good to know that the product has a telescopic handle for adjusting its length to your preferred specifications. For some reason, most people who have reviewed the product ignore this novel feature.
LST136W 40V Battery System
The battery of this product has real-time LEDs that show the power level of the battery. If you are a follower of this journal, you might know what I will say next – buy a second battery! This is very important. By making this decision, the thought of your battery running out amid your mowing or cutting job will be a non-issue for you. The only con of this renowned battery powered string trimmer is its low battery life.
At full capacity, you can get around 30 minutes of work time at its highest setting. At the lowest setting, you can get approximately one hour from the battery, give and take a few minutes. These specifications from the manufacturer give you an idea of what to expect from this tool. No matter the yard job you are doing, you will get one hour (at most) of battery power. That is why it might be a good idea to order a powerful second battery such as LBXR2036, as it is superior to the stock one. It comes in handy while grooming large yards with weeds or overgrowth.
Luckily, the LST136W has a fast charger that can recharge its stock battery in less than two hours. Although it is quite fast, make sure you have a backup 40V battery (LBXR2036) to handle demanding jobs.
The LST136W Trimmer Has Great Design Features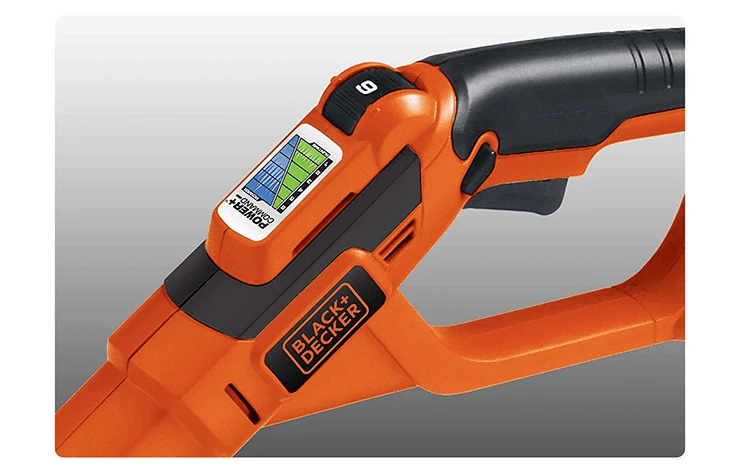 The Black & Decker LST136W has many other notable attributes that we will touch on. The proprietary transmission, or "PowerDrive," of Black & Decker amplifies power from its motor to boost its cutting string's torque, enabling it to handle most cutting and grooming jobs.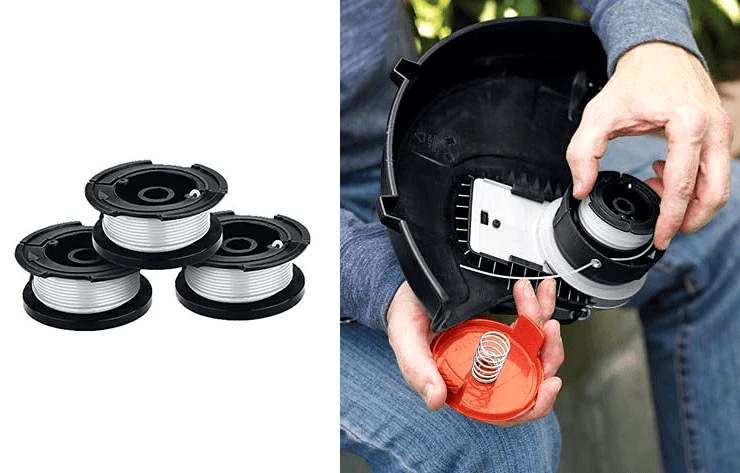 The LST136W also has an automated feeding spool that feeds its trimmer line whenever you are cutting grass or brush. Such little things make a huge difference whenever you are using a string trimmer, as it saves you the stress of having to stop and then adjust the string before resuming work. It will streamline your workflow while grooming lawns.
The Black & Decker LST136W has a premium string that offers outstanding results at a small fee. Its high torque design can cut most species of grass around your home. You also get a built-in edger that you can use to shape the perimeter of walkways to maintain a lush lawn.
However, like other models, the LST136W has an Achilles heel – battery life. You get up to an hour run time from a fully charged battery pack, depending on the power setting that you are using. Therefore, if you have a large lawn or need more than an hour of juice to finish your jobs, you should buy an extra battery. If you do not like carrying a spare battery around, I suggest you buy these powerful string trimmers.
Budget Gas: Poulan Pro PP25CFA 17-Inch 25cc.
Best Gas: Husqvarna 128DJx 17-Inch 28cc.
Corded Electric: GreenWorks 21212 10-Amp 13-Inch.
Either way, you will not go wrong with the Black & Decker LST136W string trimmer. It is a perfect choice for most homeowners, judging by the array of positive customer reviews they have attracted over the years. The LST136W is currently the best string trimmers for keeping the garden, yard, or the edges of your lawn looking clean and nice.
Make sure that you have an extra string. It will come in handy during summer and spring when grasses grow at a higher rate.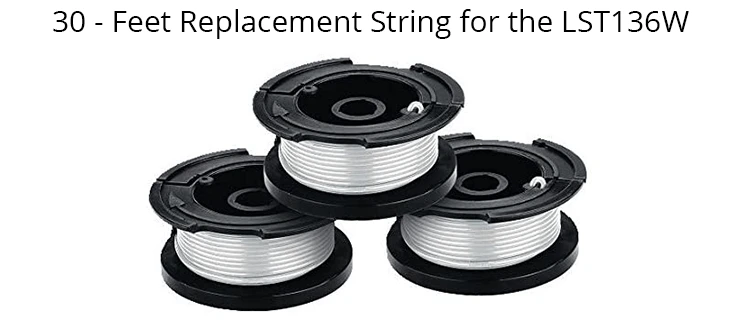 You can view or download the manual to learn more about this product. The LST136 and LST136W models use the same manual. They are virtually identical.
Included: LST136W trimmer/edger, LCS36 fast charger, LBXR36 40-volt MAX lithium-ion battery guard, and one AF-100 spool
Features:
Limited three-year warranty.
Robust 40-Volt battery (lithium-ion).
Adjustable power settings: Choose the best to extend battery life.
PowerDrive transmission boosts power from its motor.
Automatic line feed spool.
Easy to start and super quiet.
Convertible to an edger by turning its shaft.
It weighs around 8 pounds with the battery.
More Battery Powered Weed Eater Options
If you are not sure if the Black & Decker LST136W weed eater will benefit you, it would be good to know that other excellent alternatives exist. I try to give readers options to help them make better decisions.
I recommend the LST136W string trimmer because of its superior build quality, maneuverability, ergonomics, and battery-powered system. You do not wrestle with power cables while using this novel string trimmer.
It is always good to know that you have options while shopping for lawn care accessories such as string trimmers. Therefore, let us look at other battery-powered string trimmers (two) that do an excellent job on gardens and lawns without further ado.
GreenWorks 21242 G-MAX | 40V String Trimmer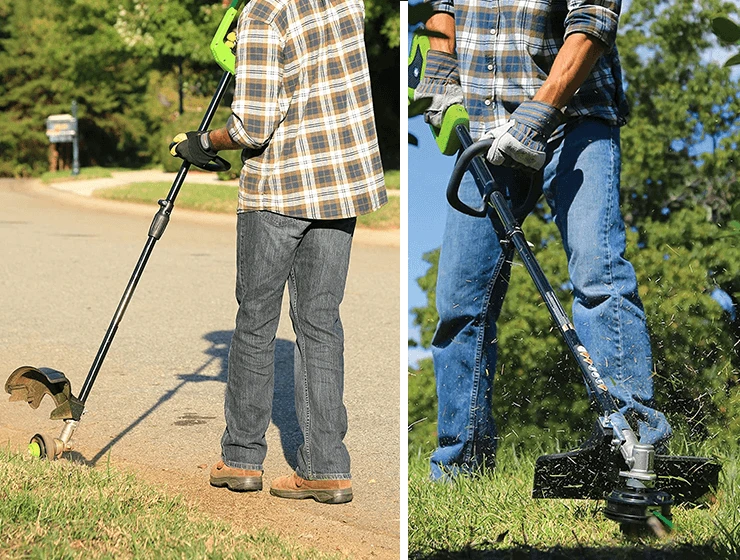 The GreenWorks GMAX 40V (21242) is a cordless Trimmer/Edger (Lithium-ion), perfect for homeowners. Its swiveling head works in multiple positions while trimming and cutting. It also has a trigger (variable speed) and an edger (built-in) for trimming walkways/corners.
As you can see, this string trimmer is similar to the Black & Decker LST136W and GreenWorks trimmer.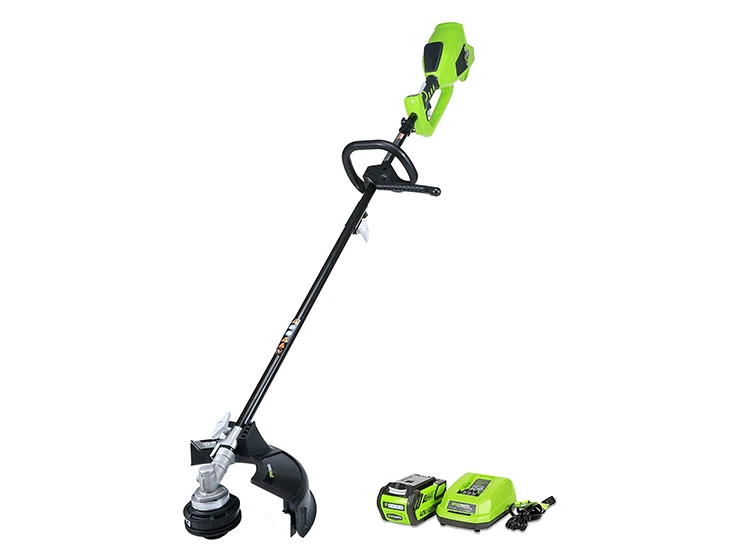 It has a 4Ah lithium-ion battery that lasts for approximately 50 minutes at full capacity. It also has a single feed line (automatic) that can cut between 10-inches and 13-inches of space per pass.
GreenWorks is home to multiple premium power tools for personal and commercial use. We are happy to tell you that the 40-volt GreenWorks GMAX 21242 model has a 4-year warranty on services and parts. It is always a good sign when a company stands by its product by offering such a long warranty. Its Li-ion battery comes with a two-year warranty.
Includes: String Trimmer, GMAX 40V 4AH Battery, Starter Spool, Owner's Manual, and Charger.
Here are more features that you might appreciate:
Convertible from a trimmer to an edger as it has wheels.
Has a flower guard for safely trimming around sensitive areas such as flowerbeds without causing harm.
Its ergonomic design boosts user comfort. It has an adjustable shaft that you can extend to 67-inches to maximize user comfort.
Weighs around 59 pounds.
It has a powerful lithium-ion battery (40 volts) that does not fade after charging.
Pivoting head (three positions) that supports many trimming angles.
Rotating head (90 degrees) with an edging wheel.
Compatible Only with 40-volt G-MAX 29462 and 29472 batteries.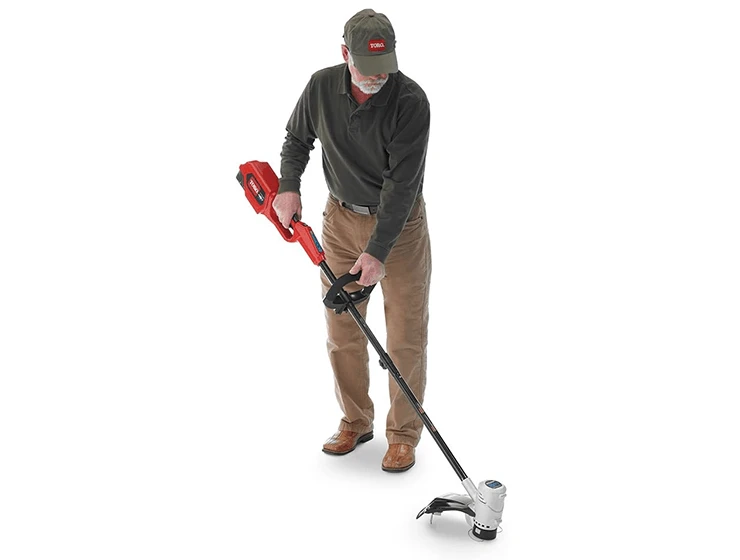 The Toro 51488 uses a powerful 48V lithium-ion battery pack, making it the most robust string trimmer in this review. Therefore, to get a powerful trimmer with a clean-running system, this is one of the best.
One thing that we have not talked about here yet is that you will never deal with nasty gas with a battery-powered weed eater at home. They are also quieter, eco-friendly, and therefore fun to use in communal settings. You will not irritate neighbors if you decide to trim your lawn at 8 am.
Battery-powered string trimmers offer people the freedom to move around while cutting the grass, but that is not all. Many other reasons make battery-powered string trimmers the best choice for homes, including: first, most models can handle light weeding or grooming jobs well. However, for heavy-duty weeding or trimming, use a gas string trimmer. For the best results, match your tool to the job, not the other way round.
This dual-line trimmer can trim weeds and grass better than other similar products in the market. Even though it is heavy (9.2 pounds), most people can use the trimmer effortlessly for an hour or two.
If you need a robust string trimmer, add this product to your list as it has a powerful battery (40 volts) and a powerful, dual trimmer. With Toro 51488, you get sufficient power for handling demanding jobs on yards.
Learn more at Amazon.
Features:
Three-year warranty.
Weighs around 2 pounds.
Has a battery charger with a Storage Mode. This keeps your battery at 40% charge while in storage.
Adjustable and well balanced handle with a soft foam grip.
Has a long-lasting Cast Aluminum Head.
Variable Speed Control maximizes battery life.
Adjustable, automated dual-feed trim line (13-inches).