Are human brains equipped to remember all the passcodes, security codes, and passwords? We don't think so. But writing down passwords just slows you down and that's not an option either in this fast-paced era.
So, what can be the solution? Where you can keep your stuff safe in a less complex way? We present to you, the best fingerprint padlocks.
As you don't have to memorize your fingerprint and it's unalterable, you can access your possessions by swiping your fingers and keep them protected at the same time.
Check out our top picks to find your own padlock.
Top Biometric Fingerprint Padlocks by Editors' Picks
A Buyer's Guide To The Best Fingerprint Padlock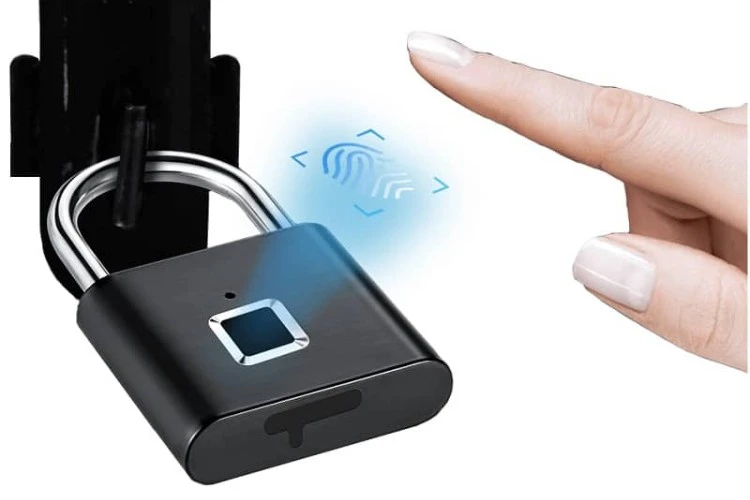 Before we go into the reviews, you would like to know what you need to look for in a fingerprint padlock. To some people, being picky about a padlock might seem silly. However, once you go through our buying guide, you will know why it's important to be aware of the features.
Size
If you are purchasing the lock for your backpack or locker, we don't recommend opting for a heavy and large padlock. This will make your bag heavier and also inconvenient to open the lock itself.
But if you're purchasing the lock for your bicycle or any other larger objects, feel free to opt for a bigger lock.
Access
Many locks can be operated using a wireless connection and you can give access to other people as well. This is excellent if the whole family or siblings are using the same bicycle or backpack.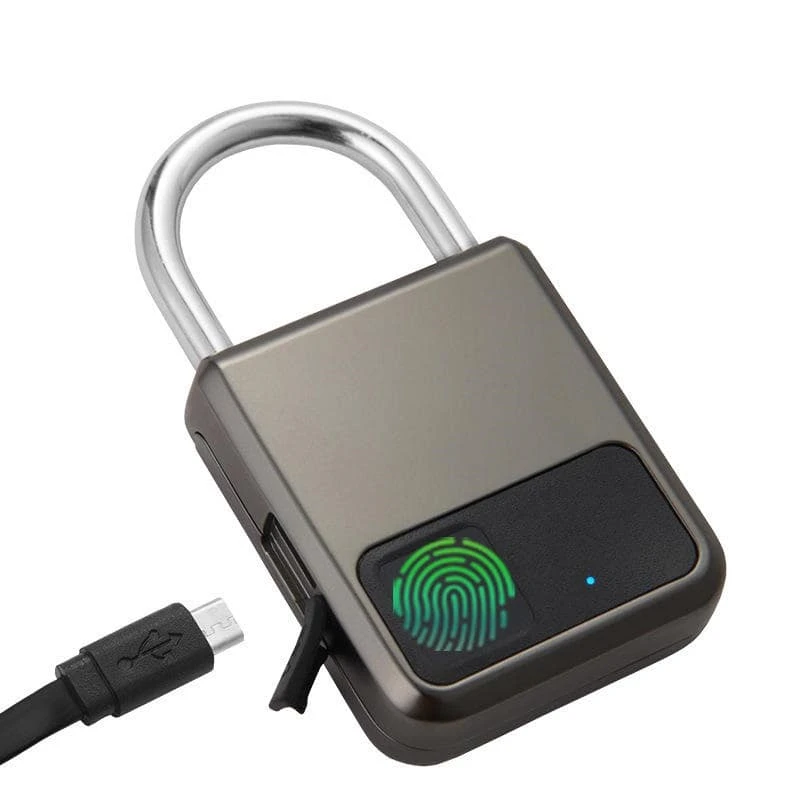 On the other hand, if you're using the padlock alone, there's no point in sharing access and it can be dangerous if you do. Hence, some apps allow you to revoke access, and that way you can have a more secure lock.
Material
Your lock must be made of a strong, durable material that's not easy to break. In that sense, whatever you buy, don't purchase a hollow lock. Check the quality of the lock by tapping on it.
We recommend steel or iron made locks as these materials are very hard to break.
Weather Resistance
The padlock you're using must be weather resistant. If it's made of steel, it shouldn't form rust when it gets soaked in the rain. At the same time, if it's made of any other metal, it shouldn't melt in high temperatures.
Besides, fingerprint locks aren't cheap. So you need to make sure that they don't require any extra care. Go for the ones that come with weather-resistance and can be used for a long time.
Information Safety
Whenever you are using the wireless fingertip padlocks, you are giving your fingertips info to other people. Many might use it with bad intentions and that can be fatal for you. So purchase your product from a reputed company that won't misuse your information.
Top 10 Best Fingerprint Padlock Reviews
Below we have presented the reviews you have been waiting for. Check them out thoroughly to make the best purchase.
1. eGeeTouch Outdoor Smart Padlock 3rd Gen Review
Our first pick is the most updated, coolest, and easiest to use padlock you will come across. The lock is completely frozen proof, waterproof, and resistant to corrosion. It's ideal for travelers and people who love camping.
Apart from that, accessing the padlock doesn't require you to remember any digits at all. You can use your smartwatch, smartphone, or tag/fob for accessing this smart padlock. The device also passed the Salt-test of 6 ASTM. This means it's ideal for outdoor usage in adverse weather.
Accordingly, the eGeeTouch Manager App makes it easier for customers to use the padlock. You can assign, share, revoke, and track access to your padlock using this application.
It also comes with an AUDIT TRAIL which keeps a record of everyone who has accessed the padlock. The audit trail shows the time, place, and name of the person who has accessed the padlock.
So, you can use the paid app for giving access to a huge number of people. This is basically designed for schools and companies. Thus, the Intelligent Access Management Software lets you assign, manage, revoke, and audit who has accessed the padlock.
Pros
Rechargeable battery
Easy usage
Accessible by 20 people
2 in a pack
Sturdy
Cons
Not weatherproof
Dries very quickly

2. Fingerprint Padlock, Alldio Gym Lock Review
If you're looking for an original padlock that relies on only fingertips, this is the one for you. As the padlock doesn't use an app, it doesn't have smart applications either. But one padlock can be shared among 10 users as the device comes with a memory.
Unlike other models, opening the lock is simple; just keep your fingers under the pad for 0.5 seconds to open. The lock is perfect for a wide range of things because of its lightweight and compact design. It weighs only 3.5oz so you won't even feel the lock if it's hung from your backpack.
Moreover, charging the lock once will provide 3,500 unlocks which can last for 6 months give or take. If the battery dies suddenly, you can recharge this lock for 8 seconds using any portable battery pack to activate the fingertip reader.
Therefore, thieves won't be able to cut the shackles or lock either. The shackles are made of high-quality stainless steel and its body is made of alloy. Many people don't like using apps as their data is accessible to the company. So this one operates offline so that your data stays with you.
Pros
Safe to use
Made of alloy
Stainless-steel shackles
Emergency 8-sec recharge
0.5-sec opening
Cons
Difficult to operate
Flimsy

3. Fingerprint Smart Padlock with Keyless Biometric Review
Looking for something that charges fast but works for longer? If yes, then this one is just the right one for you. The lock runs on a 150MAH lithium battery and one charge gets it through 2500 unlocks or standby time of 6 months.
Similarly, charging the battery is simple as well; you can connect it to a USB for a quick or full charge. The pad remains locked when it dies. A beam of the padlock is made of stainless steel giving it a sturdy and strong structure. It also comes with IP65 weatherproof protection which ensures that water or dust doesn't get into the system.
The device comes with an app. So simply register there using your fingertips and that will allow you to authorize users; check who has accessed the lock including other activities.
Furthermore, its compact design makes the lock ideal to be carried anywhere and it is most suitable for indoor use. You can use it outdoor as well but be careful not to do so regularly as it might damage the lock.
Pros
Integrated app
Easy to use
The charge stays for a long time
Sturdy
IP65 weatherproof protection
Cons
Not for outdoors
Not ideal for many users

4. BESDERSEC Fingerprint Padlock Review
This device unlocks in only 1.5 seconds, giving you easy yet safe access to your valuables. The padlock purely depends on fingerprints and it's the only key you need to rely on and guess what? You won't even forget to bring this particular key with you.
30 people can use this padlock at the same time, which is great for shared lockers, rent bikes, cars, etc. There can be 2 admins who will give and revoke access to other users. However, to be an admin user, you will have to register your fingertip in the first two tries.
Only an hour and a half's charging will allow you to use the padlock 3000 times. This is more than most other padlocks we have reviewed here. Moreover, you don't need a specific charger for this device; users can use a power bank, USB port of a computer, USB ports of phones, and anything else that's 5V 0.5A.
The device is smaller than an ATM card, light as a feather, and slimmer than 14mm. It comes with IP65 Waterproof properties which allow users to take it outdoors.
Pros
Compact design
Easy to use
Can be used by 30 people
Waterproof
2 admins options
Cons
Fingertip needs to dry for usage
Too small

5. Senxi Intelligent Fingerprint Padlock Keyless Review
Opening quickly in 0.5 seconds, this padlock is perfect for busy people who don't have any seconds to waste. Thus, you need to set a fingerprint right after you have bought the device as it'll unlock to any fingers otherwise.
The shackle rotates in 360 degrees making it ideal for any place. You can use it to lock one or two objects together. Maximum 10 people can use the lock at once; this means you can have 10 fingerprints registered in the padlock.
Like the previous lock, this one also allows users to have 2 admins and the first two fingerprints recorded are of the 2 admins automatically. Admins can revoke, delete, and provide access to other users.
Likewise, you can charge the battery using a USB port of 0.5V 0.5 A; which means you can use the USB port of PC or a power bank. Only 1.5 hours of charge can last the batteries for 3000 unlocks.
Same as the previous lock, this one also comes with IP65 Waterproof properties. It's also made of zinc alloy which makes it stronger and more durable.
Pros
Made of zinc alloy
Allows two admins
Can be used by 10 people
Unlocks in 0.5 seconds
Rotates in 360 degrees
Cons
Unlocks to anything
Instruction in Chinese

6. Fingerprint Padlock Uervoton Gym Lock Review
Do you often forget passwords and lose codes? Then this fingerprint padlock is definitely ideal for you. Many of us are paranoid about companies accessing our private info, which is why this one doesn't use an app and you have complete control over what you're sharing.
The best thing about this particular lock is that it's ideal for kids as well. Many locks aren't user-friendly to kids but this one is easy enough for any kid. Besides, the body of the lock is made of zinc alloy which gives it a lightweight yet sturdy structure ensuring that it's not easy to break.
Accordingly, the shackle of the lock is made of steel wire and there's no gap ensuring that it's unbreakable. Being an IP65 waterproof property, this is ideal to be used outdoors. It's also protected from dust, erosion, corrosion, and water.
Weighing only 90gms and being only3x1.8×0.51inches in dimensions, this lock is highly versatile. You can use it for your backpack, bikes, locker, or even your door.
Pros
Lightweight
Ideal size for a wide range of material
Steel wire shackles
Comes with IP65 waterproof property
Doesn't store info in the app
Cons
Doesn't record past usage
Breaks easily

7. Fingerprint Padlock Keyless Smart Lock Review
Using this padlock, thieves can have access to your password but they'll never have access to your fingertips. This is why people love fingerprint padlocks and this is fairly popular among users.
Like the previous locks we have reviewed, this one also allows you to have 2 admins with the same level of power and can be used by 10 people. If you are a gym coach, you should definitely get this padlock so that the players can share it.
The instruction manual gives thorough direction on how to set up this device. Registering your fingertip takes 1-2 minutes, just test it once, and then you're done. It unlocks in only 0.5 seconds and can be unlocked by anyone if you don't register your fingerprint. So, do that right after the purchase to be safe.
It also comes with IP66 waterproof property and makes sure that the device can get soaked in rain without any damages. The lock uses a 300mAh lithium battery which can support the device for 2 years in standby. Thus, one full charge will allow you to unlock the device 2000 times.
Pros
Quiet
2 years of standby time
Made of zinc alloy
Waterproof
Easy set-up
Cons
Lengthy registration
Cumbersome

8. WGCC Fingerprint Padlock Review
Anyone familiar with metals knows that aluminum is one of the strongest yet lightest metals in the world. This particular lock is made of aluminum, which makes it very strong yet light.
Sometimes, thieves tend to cut the shackles of a lock. They won't be able to do so if you're using this lock because it comes with cut resistance. Stainless steel made shackle of this device is completely different from others. It offers superior protection to your belongings.
Do you often travel and go camping? If you're traveling with unknown people, it's wise to keep a lock on your belongings. But most locks cannot withstand the outdoor temperature. Don't worry, this lock is manufactured keeping travelers in mind. It comes with IP65 waterproof property and keeps itself dry even during adverse weather.
Similarly, the device uses rechargeable batteries which you can charge using a USB cable. It's shareable between 15 people and can be integrated into an app. The OKLOK app lets you unlock this padlock from afar.
Pros
Comes with OKLOK app
Runs on rechargeable batteries
Ideal for outdoors
Shackle has cut resistance
Aluminum body
Cons
System fails sometimes
Vague instructions

9. Fingerprint Padlock Thumbprint Bluetooth Lock Review
Manufactured by the OMaggie company, this padlock is suitable for people of all ages. It comes with a rechargeable battery that can be charged using any USB ports and Bluetooth.
The Bluetooth services can be used if you install the company's app. It's a widely used product and can be used for bicycle, outdoor and indoor places, gym lockers, suitcases, handbags, golf bags, furniture, school lockers, wardrobes, and other belongings. You can choose between two beautiful colors, blue and black.
Besides, charging the 300mAh lithium battery is simple; just use a USB port for charging them. You can use the one in your PC or phone. A full charge allows you to use the padlock for 3 months and its service life is 2 years.
Protected with the IP65 system, this padlock can be used outdoor without any issues. Thus, you can take it camping or use it in the snow without worry.
Moreover, 15 people can use padlock at the same time. It's a compact yet sturdy structure that allows users to lock anything with this padlock. You can use it on doors, bicycles, lockers, and anything else.
Pros
Waterproof
Accessible by 15 people
Compact
Runs on 300mAh lithium battery
Versatile
Cons
Users must install the app
Not smooth operation

10. Master Lock Fingerprint Lock Review
Last but definitely not the least, this padlock is one of the coolest looking devices in our list. The lock is designed especially for outdoor use. It comes with protection against the elements and can retain its state even in adverse situations.
The weather cover of this lock is one of the best features offered here. Where most locks tend to break under pressure or get jammed after rain, this one keeps your doors locked even during rain and it'll be good as new in the morning.
On the other hand, the system doesn't require you to use an app but offers the same level of convenience. It alerts you when the battery is low and notifies when a fingerprint is accepted. Thus, it runs on a CR2 battery and you can replace it quickly when the battery dies.
Along with the weather cover, its boron alloy made shackle give you the ultimate protection from thieves. The shackle isn't easy to cut and doesn't rust easily.
At the same time, 10 people can use this padlock. It also offers backup access which you can use with the directional code on the keypad of the lock. Hence, it's a good choice for families and school team players who can share one padlock.
Pros
Seamless operation
Weather cover
10 multi-user
Backup access
Low battery alerts
Cons
Non-rechargeable batteries
Shackles are too long

Frequently Asked Questions On Best Biometric Fingerprint Padlock
Q. Do all padlocks store my fingerprint info?
Answer : Yes, to identify your fingerprints, the padlocks need to store this info. But the info isn't shared with other companies and is solely used for unlocking the device.
Q. Does my padlock have to be waterproof?
Answer : If you are going to use the padlock outside, then yes. Many people just use fingerprint padlock on lockers and home cupboards. They don't need the device to be waterproof. Others who use it outside must use a waterproof device.
Q. Is IP66 better than IP65? Why?
Answer : Yes, the IP66 system is better than the IP65 system. Both of them protect your device from dust and water even if they're sprayed on the device. But IP66 can provide more security when it comes to how much force the water is sprayed with.
Q. How does a fingerprint padlock work?
Answer : The scanner of the padlock converts your fingerprint to a number. As every one of us has different fingerprints, every print gets a different combination of numbers.
Q. Can anyone hack my padlock?
Answer : Yes, if you're using an app on your phone, chances of your padlock getting hacked rises. Therefore, use a high-quality lock to avoid this.
Final Verdict
Now that you have gone through the reviews and buying guide, you will be able to make a well-thought decision and choose the best fingerprint padlock easily.
These locks aren't cheap so you need to be picky and check out every feature before you make the purchase. We recommend you to come up with a budget and list out your needs first so that you know exactly what you're looking for.
Taking care of your lock is also important. Keep it as dry as possible and don't use wet fingers on the scanner; that'll make it efficient, durable, and long-lasting.
Buy on Etsy
Fingerprint Padlock, Bluetooth Lock, Mobile APP, MEGAFEIS Smart Padlock with Keyless - Walmart Link
Fingerprint Padlock,Large Size Smart Padlock,Outdoor Bluetooth Fingerprint Lock with - Walmart Link
Fingerprint Padlock eLinkSmart Digital Padlock Locker Lock Metal Keyless Thumbprint Lock - Walmart Link
Fingerprint Lock, TSA Approved Smart Digital Locker Lock for Gym, Luggage, Travel, House - Walmart Link
eLinkSmart Fingerprint App Padlock, Fingerprint or Remote Authorized Unlock, Keyless Big - Walmart Link
Fingerprint Padlock, MEGAFEIS Smart Padlock, Bluetooth Lock, Mobile APP, IP66 , Biometric - Walmart Link
Metal Time Padlock - 99 Hours Max with LCD Display Micro USB Rechargeable (Black) - Walmart Link
Buy on eBay
Fingerprint Padlock, Bluetooth Lock, Mobile APP, MEGAFEIS Smart Padlock with Keyless - eBay Link
Fingerprint Padlock,Large Size Smart Padlock,Outdoor Bluetooth Fingerprint Lock with - eBay Link
Fingerprint Padlock eLinkSmart Digital Padlock Locker Lock Metal Keyless Thumbprint Lock - eBay Link
Fingerprint Lock, TSA Approved Smart Digital Locker Lock for Gym, Luggage, Travel, House - eBay Link
eLinkSmart Fingerprint App Padlock, Fingerprint or Remote Authorized Unlock, Keyless Big - eBay Link
Fingerprint Padlock, MEGAFEIS Smart Padlock, Bluetooth Lock, Mobile APP, IP66 , Biometric - eBay Link
Metal Time Padlock - 99 Hours Max with LCD Display Micro USB Rechargeable (Black) - eBay Link