We all love the idea of having our own dream house someday. After all that efforts that you have put into building it, you'd do anything in your power to protect it, right? The last thing you want is to see your lovely basement drowning in a pool of water after a storm, downpour, or winter.
Surely you wouldn't have a sound sleep at night thinking that there's heaps of water lurking beneath your floor. This will devalue your home just like that. And I know the hassle of finding the best sump pump to protect your beautiful house.
A sump pump takes the burden off of your shoulders. But with all the different sizes and capacities, buying a sump pump that'll suit you best is such a drag. How can you choose the right sump pump for you? Fret not, here I am to the rescue!
Editor's Recommendation: Top Sump Pumps
Types of Sump Pumps
Take note, guys; the lectures are about to drop hard; you should know which sump pumps you need to buy before you jump online to order. I will try to explain it as simply as I can.
Traditional and Sewage
You normally buy sump pumps for your basement or pool. That requires a pump that can pull a huge amount of the water out in no time. The traditional sump pumps do just that.
These are made for clearing reservoirs. When a flood or a cyclone brings tons of water in your basement, this sump pump gets to work right away. They are masters of pumping clear water fast but not so fit to handle solids.
The powerful pumps can pass them up, but there's always the risk of dirt or mud getting stuck in the passageway.
If you need to pump wastewater or sludge, you need a sewage pump. They are built to withstand a load of water with a high content of suspended solids and colloids. They are increasingly used in municipal wastewater plants and septic tanks. However, they can play the role of traditional sump pumps perfectly.
Pedestal vs Submersible
You can identify the pedestal pump by its long appearance. That's because the pump has to stay above the water level. It's designed that way to evade the shock of solid particles. The float switch is required to operate it.
The operation of this sump pump is a bit noisy, and it's not as efficient as the submersible counterpart, but it's long-lasting. Since it is not dipped in water and doesn't need to handle the incoming solid particles, you don't have to worry much about clogging and rust. On top of that, it doesn't take much of your basement space.
By design, submersible sump pumps can be placed underwater. That's how it got the name. Its big advantage is it can be submerged in water. Hence, there's little or no noise while it's running. Since it has to be immersed underwater, it's made with durable corrosion-resistant metal.
Also, it's a champ when it comes to dealing with solids. So, it won't clog easily. Another reason why it's chosen over any pedestal pump is that it's more efficient. You can learn more about pedestal vs submersible here.
Electricity vs Battery-Powered
To run, sump pumps need power. Electricity powered sump pumps run on the direct AC current supplied to each house by the national grid. It's the most common form of power usage in pumps. You need to plug the pump. But what happens when there's a power outage? The electricity-powered pump is useless when there's no power.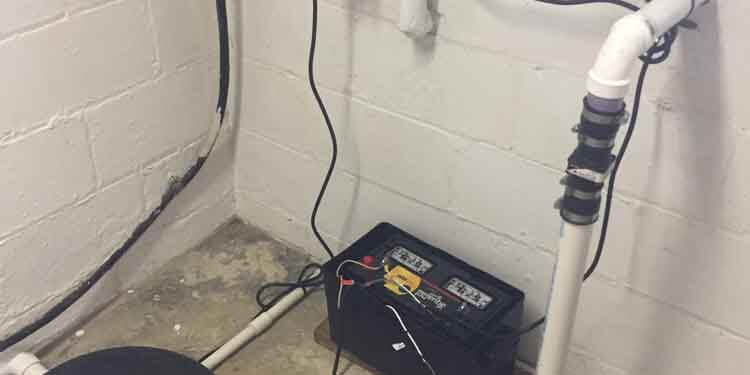 Battery Powered Sump Pump
But battery-powered sump pumps system will run whenever you need it. It runs on a DC power supply, commonly, a battery, which needs to be checked frequently and replaced when it's depleted. By the looks of it, you can imagine how costly that sounds.
That's why now the AC pump has evolved. Everybody loves the combination sump pump. The base pump is connected to the AC power source, and when there's a power outage, the battery backup pump running on DC current will take its place. It may be costly, but it will save your basement more than you can count.
List of 8 Best Sump Pumps in 2022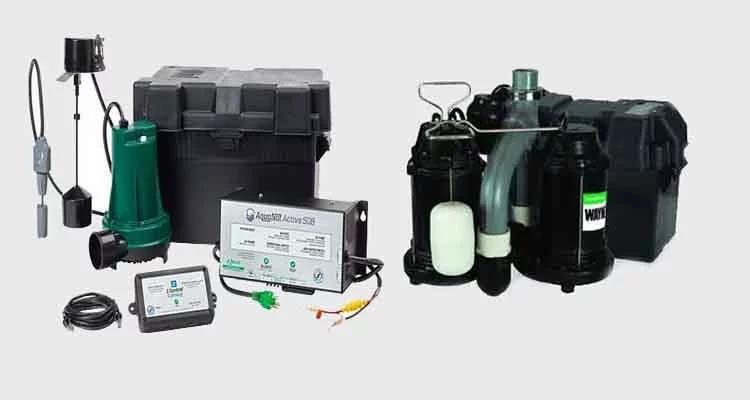 If you are looking for the perfect sump pump to guard your basement and are starting from scratch, look no further. I have listed the best sump pumps you can get today in 2022.
1. WAYNE CDU980E 3/4 HP - Link
Imagine this, after a storm, you go to the basement to assess the situation. And you find yourself knee-deep sunk in water. The sump pump that you had installed a few months ago had died because of mud getting stuck in the impeller. Horrific!
This is a common story, but what's not common is a pump that lasts. This one in the list, the WAYNE CDU980E, is a pump that's here to stay. When your relations might get rusty, this baby here will not. Because of the galvanized steel, of course, and there's also a cast iron base for all the water that it's going to tackle.
The top suction design will prevent clogging and airlocks. Why do you need that, you ask? Clogging is one of the main causes of failures for sump pumps. This pump handles debris that forms clogs. No airlocks mean no gurgling noises!
Moreover, this sump pump is like a tank when it comes to handling water flow. With a ¾ horsepower strength and a discharge pump opening of 1-1/2 inch, this is a pump for the rainy days, literally. Wayne CDY980E can lift a whopping 4600 GPH (gallons per hour) with a 10 ft lift at discharge.
When the float switch (the dangling thing in front) goes up, the sump pump starts, and it stops when the opposite happens. How many times do you expect this cycle to repeat in its lifetime? Well, how about a million?! That's how many times it was tested in the lab. Impressive? I know.
For the title of the best quality sump pump, this is surely one of the top contenders.
Pros
Made from corrosion-resistant and durable material
Top-notch suction that prevents clogging
Makes little to no sound
Low maintenance but high performance
4600 GPH lift with a 10 ft lift at discharge
Cons
It needs a wide sump basin to operate

2. Wayne WSS30VN Upgraded - Link
If you are looking for the best home sump pump, you got to give this one a try. And if you have nightmares of your newly installed pump failing, sleep soundly while Wayne WSS30VN is on the job.
It has a powerful 5100 GPH pump that can be trusted. Yet to aid your trust issues, they gave a 12VDC battery backup sump pump with 2900 GPH lift that will act as a last line of defense. Its power is lesser than the main pump, but it will get the job done. It also comes with an alarm system to let you know when the battery backup pump is running.
Wayne makes some of the most reliable sump pumps and this one's no different. It has not compromised anything. Like the first one on the list, it's also made from corrosion-resistant stainless-steel casing and cast-iron base coated with epoxy powder. It will also resist rust and live for a long time.
Also, this one comes with a top-notch suction designed to prevent clogging and airlocks. So, you don't have to worry about sump pump failure due to clogging. And it's super quiet, so you won't even notice it running! Best part? The float switch was tested a million times to aid you from any worries.
It's so easy to install. Just remember to run to the local store for the best check valve. The pump needs it to run, and the valve doesn't come with the package.
Pros
Comes with a backup 12V DC powered pump
Durable and long-lasting material made
Easy to install and comes pre-assembled for extra ease
Makes little noise
Float switch was tested a million times
Cons
Does not come with a check valve

3. Zoeller M53 Mighty-mate - Link
For a lazy bum like me, frequently cleaning the pump or impeller is a pain! I am quite sure you can relate. But there are no two ways about it, and if you want your pump to last, you got to take out the junk. However, you can do it for less amount of time. How? With the amazing Zoeller M53 Mighty-mate.
If you had used a submersible sump pump before, how many times did you have to unclog the impeller after a storm before it could function again? Well, Mighty-mate has been tested for commercial and domestic wastewater. It can deal with spherical solids of ½ inch of diameter! Simply put, it won't give in to solids without a fight!
You'd want this guy by your side against any inclement weather for many years. Mighty-mate was built to oblige that wish. Its stainless-steel fasteners and a unique epoxy coated cast iron finish. These specified materials make it crazy durable, yet it runs without making a noise.
This submersible sump pump operates at a 3/10 HP and can lift 2580 gallons per hour. Although this may not be as powerful as some other submersible sump pumps but compared to its price, it's an absolute steal! Honestly, the numbers don't do the pump justice as it works efficiently for many years.
The pump can be used in a sewer or septic tanks, and it can pump out clear water like a dream. No wonder why it has some of the best sump pumps review !
Pros
Has super powerful 3/10 Horsepower
Can pass up to half-inch spherical solids
Silent operation is its superpower
Ability to lift 2580 Gallons of water per hour
Doesn't clog easily
Cons
The float switch is not adjustable

4. Superior 92341 Submersible - Link
The Superior Pump has been suggested by a lot of plumbers, saying that it's the best quality pump in the market. With a slick, black casing, it certainly breaks the attractiveness scale. But wait, it's not all looks, you know!
This sump pump was built to last forever. With a quality cast iron base construction, this will resist rusting and will effectively pump away the water without you even knowing! It comes with a vertical float switch that will activate the sump pump when the water rises above 6 inches and will not stop until it sinks below the 2-inch mark.
With 1/3HP, Superior pump 92341 will stand strong against any storm! And don't think that the torrent will blow it away, it is heavy. So, if you plant it to a sump pit, it will stay there. You can place it in your basement, pool, or in any other reservoir. It will still pump away the water up to 25 ft at a 2760 gallons of water per hour rate.
We all hate cleaning the pump frequently. But with Superior 92341 sump pump, you don't have to! It comes with a stainless screen placed on the intake of the pump that will deny the access of incoming junk. You can replace the screen if it smothers the intake pipe. Even if mud or anything small does enter, the pump is super easy to clean!
With all these amazing features, you have to agree it does its name justice! Surely, it is superior pump to a lot of units out there in the market.
Pros
Fantastic performance
Won't break your pocket
Vertical float switch automatically operates it
Quite durable and upscale material made
Pumps water up to 25 ft at 2760 GPH
Cons
The casing might rust early

5. WAYNE WWB WaterBUG - Link
The sump pump, the legend which can be found in the history chapters of sump pump books, WAYNE is the name. It's like one of those packages in which good things come in!
Before you start to underestimate it, you got to remember that it's a Wayne. So, it's got Wayne's trademark durability and longevity. Hailing from parts of both foreign and domestic origin, this little guy will last years. And it's the plastic case that is perfect for preventing the formation of rust.
But we are not all here to dry our basements only. What if you need to draw empty a well or water the plants? This is where the WaterBUGs' multi-flow technology comes in. You can use the top discharge to squeeze water out of tight spaces, and the bottom one to remove water from flat surfaces like pools or basements.
With its size, its capacity has not shrunken even a bit. In no way is this submersible sump pump weak! This guy will start pumping when the water rises above 3/16 inch and won't stop until it drops the level down below 1/16.
Furthermore, this little cadet will run the surface dry, and when it's finished, you won't hear any squelch when you walk down the basement!
It can lift 1257 gallons to 30 feet in an hour. I used it to dry my pool, water my garden, and my basement with this pump, and now you know why this sump pump has made in this list of the best home sump pump.
Pros
Multipurpose pump
Corrosion-resistant parts with tethered cap seals
Comes with a suction strainer that minimizes clogs
'Multi-flow' technology to suck out water
Goes as high as 1257 GPH
Cons
It has to be stopped manually

6. Liberty Pumps 257 1/3-Horse - Link
An all-American A-lister, builtfrom American parts, it shows the legendary American resilience. And the Americans made their love heard by giving it some of the best sump pumps. Introducing the Liberty Pump.
Liberty 257 may have an appearance that gives off a vibe your old grandpa might love (if your grandpa loves brown, which they generally do), but it can sure pack a punch! With a flow rate of 50 gallons of water per minute, it can lift water up to 21 feet. That's impressive for a pump.
The company is confident that this submersible sump pump has got your back for at least 3 years, and there's a very good reason for that. It has a cast iron casing with an epoxy powder coat finish. That will keep away those nagging rust from ever forming.
It's Vertical Magnetic Float (VMF) switch has a range of 4 inches. Why does that help you ask? Well, with such a narrow range, this sump pump works like a train. It won't let water build up in your basement!
Now, you might be wondering, won't that cause it to overheat and damage the innards? Wrong! The pumping machinery is thermally protected. The power loss due to abrasion will come to a minimum and will save you a lot of money because the machinery is permanently lubricated.
You are welcome, and Yes! You can buy me a drink later for referring to this! It's sturdy, yet silent as a ninja. Just plug it, hit back, and let it run.
Pros
Powerful and efficient in the long run
Long-lasting with solid materials
No noise would come out of this
Easy installation is offered
Corrosion-resistant casing
Cons
Might come with a bad switch

7. Basement Watchdog BWSP 1730 - Link
Where the guys with small, cute basements at? If you need a rugged and powerful sump pump that doesn't take most of the space, why not get a Watchdog?
All it requires is a narrow 7 feet pit. The Watchdog can lift water at a rate of 4400 gallons per hour. It will drain the water so fast; you'd want to show it off to your neighbors! It also comes with a 10 feet long power cord so you can place it anywhere. Space isn't an issue with this one.
Its split capacity motor draws less electricity than other sump pumps in the market. With the extra cash, take your 'significant other' out on a date! And don't worry about what's happening in the basement. If the main pump fails due to a power outage, a battery-powered backup sump pump system will take over for a smooth sail.
The control panel is user friendly. A sensor will monitor the battery fluid level. The control panel will buzz an alarm when the battery backup pump is operating, so you can take care of the base one. It will even let you know what the problem is. Phew! It's a lifesaver.
Also, the control panel is so easy to calibrate, even your grandma will get the hang of it easily. It's an energy-efficient, high capacity sump pump. Above all, it's a smart purchase. You need to buy the battery, though, that doesn't come with the package.
Pros
Energy efficient with a 100V battery
Has a sensor to monitor battery fluid level
The base requires a small pit
A user-friendly control panel
4400 GPH water can be sucked out
Cons
The intake needs frequent cleaning of debris

How to Pick the Best Sump Pump?
When I walked into the local hardware store to buy my first sump pump, I didn't have much idea about them. The expert was there to help me choose one, but then he started to ask me about my preferred horsepower, lift, flow rates, etc.
I was so puzzled! I took a bow and returned home. You see, the salesman can only help with the specification; you have to choose which is the right one for you. But now I did my research to help you! Here are a few factors you should consider before buying a sump pump.
Horsepower
When you live in a region governed by extreme weather, the last thing you want happening to your pump is the failure to draw out the water in the middle of a chaotic storm. That's what happens when the pump can't pull the water fast and hard enough; in other words, when it lacks power.
The shops are filled with strong and powerful sump pumps. But which one will suit you? You can consult the neighbors since they face similar weather, or consult the local hardware shop after measuring the parameters of the basement. This is the right way to go instead of a trial and error approach.
So, get one that has a higher HP, aka the powerful motored one.
Available Space and a Long Power Cord Matter
The pump is not the only one that will be in your basement. You have to leave enough space for your teenage son to move in (and pray that he doesn't!). When you don't have enough space to host a powerful sump pump, buy a smaller one. They will not demand such a huge space.
But small sump pumps don't usually mean that it's weak. There are small ones that are efficient too. If you have a large basement, space might not be an issue. In both cases, make sure the pump package includes a long power cord so that you can place it anywhere you want.
How High the Water Needs to Be Lifted?
This is an important consideration if you're supplying water in apartments, or simply emptying a well. The best sump pumps in our list all present impressive lifting rates at a considerable height. But you have to remember that the gallons per hour rate will fall as the height increases.
For example, the WAYNE WaterBUG will pump 1257 GPH water to a height of 30 feet, but the flow rate will fall to 900 if it has to lift the water 10 feet. If you are choosing a pump for a basement, the height doesn't make much difference.
So, ask yourself the intended purpose first.
Clogging Tendency
Removing rainwater from your basement is a piece of cake for these sump pumps mentioned above, mainly because rain brings in freshwater. But storms or floods drag in some unpleasant stuff like twigs, pebbles, or sludge.
If they get stuck in the impeller or intake, they can drastically diminish the performance and cut short its shelf-life.
And if you don't want to spend most of your day cleaning them, you need a sump pump that can prevent clogging. Some sump pumps have vortex impellers that can handle solids better, some have removable strainers that keep the sludge out.
Material of Constructions
One of the most common reasons for pump failure is corrosion. Wet iron is always vulnerable to air. That's why most sump pumps come with the instruction, 'Don't let the pump run dry.' And that's how rusting occurs. Rust damages the pump and cuts its life short.
However, there are some sump pumps made of corrosion-resistant materials and are durable. If the pump comes in a plastic casing, it will not catch rust outside. But the reason why powerful pumps don't have plastic casing is that plastic can't handle the extra vibration.
If you're looking for a strong pump, make sure the metal casing or body is corrosion-resistant, like stainless steel. Trust me on this one, it will save you a lot of trouble.
Switches
Almost all best sump pumps come with a float switch. When the water lifts the float, this activates the pump, and the opposite deactivates it. It's a simple mechanism that automates the pump and saves a lot of effort.
There are two types of float switches, vertical and tethered. The vertical switch needs a pole or axis to travel up and down. This requires a small space as the float just hangs in the pole like a shish kabob.
The tethered float is connected to the sensor with a cord. When the water lifts up the float, the sump pump starts sensing its elevation and vice-versa. It requires more space to operate and is common with pumps that require a large sump pit.
So, which switches you need mostly comes down to the space you have available. But most sump pumps on the list have a vertical space switch regardless of the base space requirement.
Budget
You can't put a price on reliability. If you want a sump pump that will be at your service for a decade, you need luck and a little bit of extra cash.
But then again, you know your necessity better than anyone. If you just want to water the plants or empty the reservoir, a small pump will suffice. There are quite a number of budget-friendly sump pumps like the Waterbug or BWSP. They may cost less, but they'll shine when you need them to.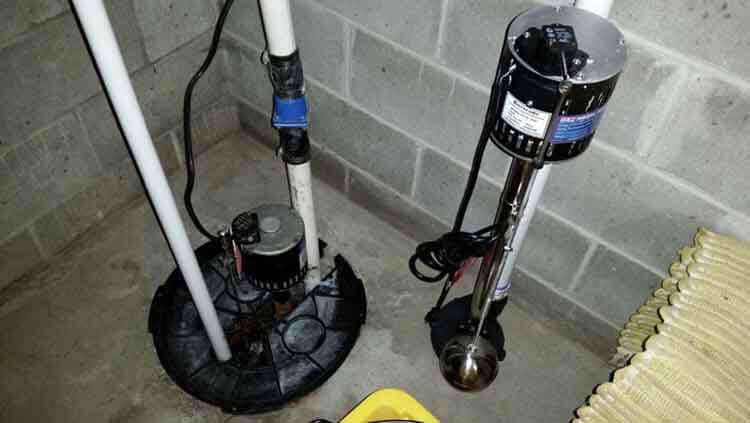 Pedestal Sump Pump
Water Powered Backup VS Battery Backup
Let's turn our attention on battery backup sump pumps for a minute. You need them. When there's no electricity and all hopes are lost, they'll rise to the occasion. But there are different types of backup pumps, which one should you go for? Let's compare two of the most common backup system sump pumps.
Water-Powered
In the absence of the base pump, the DC pump will take over. But what if the battery is dead and you forgot to replace it? In such dire circumstances, you need to have a pump that will run on the energy from an alternate source. How about the raging current of water?
That's right! This pump only uses the water pressure to initiate and pump. To put it simply, when the water pressure rises above 40 psi (per square inch), this sump pump will activate. It will only draw 1/3 of the water supply to start its own machinery.
But water powered pumps will work relentlessly until the pressure drops.
So, you can say this pump doesn't need any external source of power. If that sounds absurd, let me explain. It simply borrows the energy stored in the water. It's an environmentally friendly pump, and it doesn't require electricity. However, it's not fit to pump water out of a well.
You can only see these kinds of sump pumps in municipal water supply, and there's a very good reason for that. A water-powered pump can relentlessly work when there's enough pressure.
So, the municipality, which needs to maintain the water flow regularly, uses it to reduce the constant supply of electricity. Quite clever, don't you think?
However, there's a downside to this pump. Although it is brilliant to draw power from water, it doesn't do that effectively. So, these sump pumps can only pump at a rate of 600-800 gallons per hour. You don't want to go into a war with a monstrous cyclone with a measly rate like that! That's why it's less preferred for the basement.
It's slow and can't fully dry out your basement. That defeats the purpose of having a pump in the first place.
Battery Powered
The engineers built this sump pump only for emergencies, yet it's still a powerful pump. A good example of this is the Wayne WSS30VN Upgraded Combination. The base pump will show the rate of 5100 gallons of water per hour, whereas the battery backup sump pump system has a rate of almost half of that.
If you're using it in any industry, this precautionary secondary pump will save millions of lives, preventing a major industrial accident. Even in case of an unexpected shutdown, this pump will work fast until the power comes back up again.
That's why you need to check the battery frequently. Better safe than sorry, after all! The DC battery will ensure it will get a continuous supply of water all the time. So, right from the start, it will maintain its best speed.
Although the frequent battery replacements and the cost may push you back a bit, you can't compromise on safety, can you?
Benefits of Having Sump Pump
While I went on and on about different brands, there pros and cons, I left the most basic question for last. Why will you buy a sump pump in the first place? Well, here are some benefits.
Germ Protection
The basement is the most ignored place in the house. You use it to dump your old furniture. But admit it, we all have plans for the basement. I always wanted my basement to connect to a nether realm but am too lazy to do that…
The last thing you want is to turn that lovely peace of our dream turn into a cesspool of germs and disease. That's what happens when you keep the water that forced in during the last flood and stays stagnant in there for long.
It will attract bugs, grow germs, and invite mildew; after all, it's breeding heaven for them! You need to install a pump to carry the water away. That's why most homeowners of America have it.
Keeping the Walls from Getting Ruined
Let's say you're an art lover. You have precious pieces of art hanging on the wall. You recently had a rainfall in your area, which flooded your basement as it always does. Do you want the water in your basement to climb up the walls, totally ruining your precious artworks? Consider a sump pump as a necessity, nothing less.
Preventing Possible Damage
But that's not all, you want your underground agent to inform you when a catastrophe had occurred.
The sump pumps come with an alarm system to let you know if the water level is rising, when the pump has failed to start, or when the power has gone off switching it to the battery backup system power supply. You need to come prepared next time.
Keeping the Base of the House Safe
Also, the basement is connected to the very soil your house stands on. The deposition of water will weaken the base as well. Property damage is a major loss that you might want to avoid at any cost. The removal of that water will stabilize the soil. That's another good reason to get a sump pump.
No Flooded Basement
Eww! Can you smell that? That's the stink coming from the basement because of the sewage line leaks. If you think that you're safe from a flooding basement because it hardly rains, you'll never see this coming.
Apart from that not-so-aesthetic sight, this will pose even a bigger health hazard than a basement flooding with fresh rainwater. On top of that, your property value and your image will take a serious punch in the gut. A pump doesn't seem so unnecessary now, does it?
Taking the water out of the basement is not the only thing your pump can do. You can take a portable pump anywhere in the house, drain out the leaking water. Also, connect it to a hose and water your plants or fill up your pool. Plus, you can draw water from a well and irrigate your land on a hot summer day.
Finally, if you want a dry, healthy basement to add value to your home, what are you waiting for?!
Frequently Asked Questions
Let's take a look at some additional questions and their answers -
What horsepower sump pump do I need?
It depends on your requirements. If your basement fills with water fast, then you need a sump pump with more HP. The same applies to a pump for the sewage system of your home. For gardening purposes, you don't need such a powerful pump. Usually, a higher HP means it can pump water faster.
How often should you clean your sump pump?
Some pumps can resist clogging effectively. Those sump pumps don't need regular cleaning. Also, the clogging frequency depends on the water it's pumping. Rainwater containing sludge or sewage water will clog the pump. Fresh rainwater will not test it much. Cleaning it after two or three storms should be good enough.
Is it easy to Install?
Normally, sump pumps are easy to install. They even come up with an instruction manual. You should assemble the pump perfectly if you stick to the manual to the letter. Some pump even comes pre-assembled. But if you don't have any prior experience with a pump, I recommend you consult with a plumber.
Is it OK for a sump pump to run constantly?
No. You might hear from companies that their pump can withstand thousands or millions of cycles, but they shouldn't run constantly. Sump pumps should stop as soon as the water level drops. You need the pump to stop, so it doesn't overexert itself. If your pump is running without a break, check for leaks in the basement.
Is it easy to replace a sump pump?
Easier than choosing the right pump. If you have connected a pump before,
replacing the old one
is a walk in the park. Make sure you have the appropriate parameters of the pump, such as the right sump pit depth parameters, discharge pipe diameter, horsepower requirements, etc. These things have to match.
Why does my sump pump keep filling up?
This can happen for multiple reasons. If your pump is overwhelmed and can't keep up with the influx of rainwater, then it will fill up. The same will happen if the pump passageway is clogged or frozen. Also, check whether the impeller is spinning with its usual speed or slower.
How many years does a sump pump last?
On average, a decade or more. But it comes down to how much you can take care of it. If you buy a no-clog pump, it won't require regular maintenance. The flow of air or bubble formation in the flow will result in corrosion. So, the pump has to be primed before running. These cautions will let your pump last longer.
Why do basements have sump pumps?
The basement is the lowest part of the home. Usually, that's where the water runs to when it rains or storms. If this water remains stagnant for long, it will attract bugs, mildew, etc. You don't want them to stay, do you? A sump pump in the basement will suck this water away. That's why most homeowners have one.
Final Words
If your last pump suddenly died after running smoothly for years, what should you do? Hold a funeral? Sure! Doing it all over again and picking the best sump pump is a scary task, to say the least. There are a lot of factors to consider.
Wayne always makes some of the most durable and powerful sump pumps. Take the first two, for example. But they will cost more and require more space. The Waterbug is an exception in this list. It's a small, less powerful pump but highly efficient and cost-friendly.
In terms of longevity and durability, Superior 92341 and Liberty 257 areclose contenders of the Wayne sump pumps. Lastly, BWSP 1730 is a budget pump-less powerful than most on the list but still considerable because of its energy-saving capability.
You see, it comes down to your needs. So, my advice is to go for the one that checks most boxes in your requirement list. I'm sure you can do it!