Note: The Porta Source brand markets and sells Earthquake generators. I am not sure whether Porta Source purchased the product or if the company that manufactured it rebranded by changing its name. Either way, what we know is that the IG800W has remained a reliable, top-grade product with Porta Source as it was in the past. We have updated the product links accordingly to help you to access and buy them online.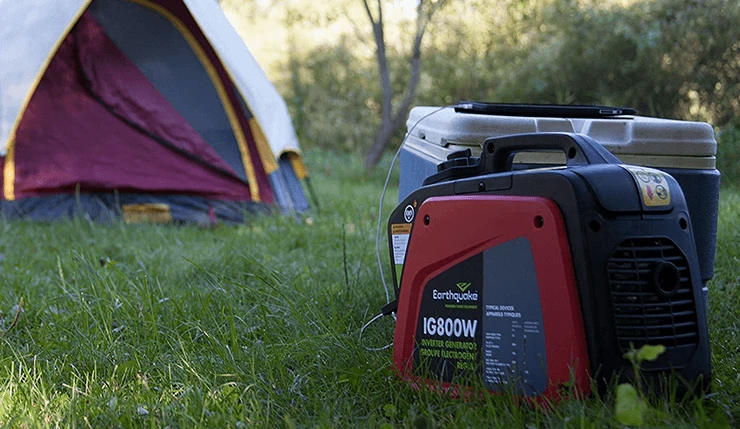 You can find and purchase the original Earthquake IG800W generator from this link. It is currently in stores so spare time and check it out.
Update: It appears that Earthquake is currently selling the IG800W inverter generator, which is confusing to me. For the best results, I would advise you to look for the Earthquake model instead. If you have more information about these generators that we have not talked about herein, contact us at any time so that we can update the article.
Before we share the details of the generators we intend to review today, we have a newer article, The Best Inverter Generator (Buying Guide), that you should consider checking out. It is very comprehensive, insightful, and provides important information about the best inverter generators in the market for people of all cadres. We also provide a detailed buying guide that will help you to make a smart buying decision.
With this out of the way, let us carry on with our article about the Earthquake/Porta Source IG800W.
Let me start this product review by highlighting that the Porta Source IG800W Inverter Generator is an affordable product that delivers memorable results. For a few dollars, you will receive a dependable portable generator that will satisfy your needs. The product is not "cheap" but inexpensive, as its system and functionality compare favorably with most expensive and higher-end inverter generators in the market, including the Yamaha EF2000iS, which we have reviewed.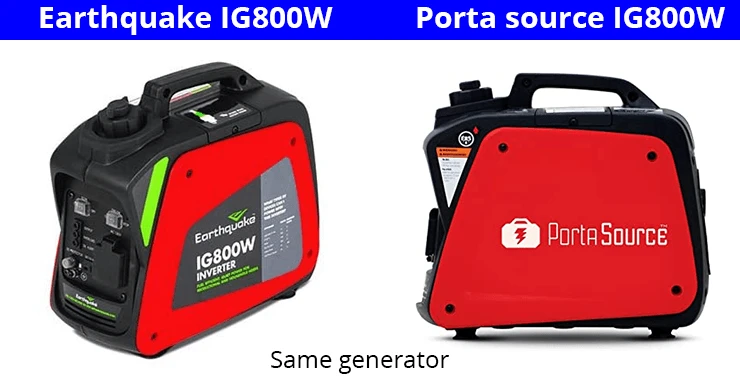 The Earthquake IG800W has a super quiet (58 dB) 800-Watt inverter generator that will satisfy your needs whenever you need an inverter generator for your home or camping site. It has quickly become one of the most popular brands in the market due to its versatility and the quality of the product on offer. Its portable design, for instance, is perfect for camping. You can also use it for fieldwork, to power tools in remote job sites, and as an emergency backup generator. It supports almost all activities that require a power source on the go.
The Earthquake IG800W uses a CARB Compliant 4-cycle 40cc OHV Viper Engine to generate power. Loved for its dependability, the engine has a dependable solid-state ignition that starts seamlessly in all weather. It also has robust roller bearings, a cast-iron cylinder bore, and a heavy-duty crankshaft that works seamlessly for years. You are getting an efficient product that starts easily works well in all settings.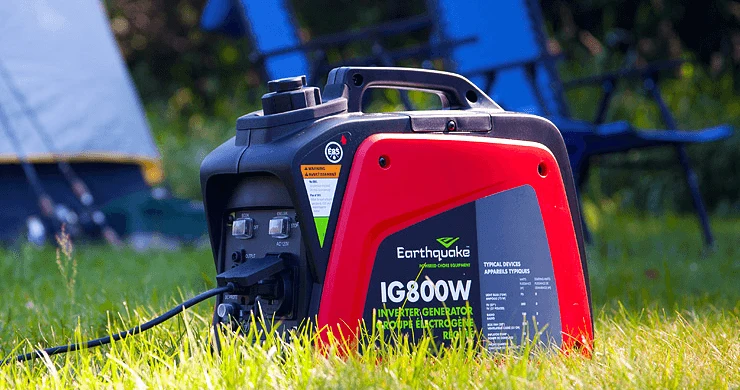 The Earthquake IG800W has well-engineered electrical parts that deliver power to its sensitive electronics safely. While in use, it creates a 'pure sine wave' that enables you to charge sensitive devices such as laptops, phones, and tablets quickly without damage. Thus, if you travel often and use such items on the road, consider buying yours now. Unlike less sophisticated generators that deliver choppy power or have power surges, this model eliminates such issues, which is amazing.
Other reputable generator types that you will come across online are models that use modified sine waves. Even though cheaper than other brands that we have reviewed herein, their applications are quite limited, which is a bummer. Pure sine wave inverters deliver clean power to most electrical devices without distortion, noise, or damage to electronics. They are also very quiet – like the Earthquake IG800W – and are easy to use as they start in one go. This is not the case with modified sine wave inverter generators, which are not appropriate for charging/ powering some devices. They are not ideal for homeowners.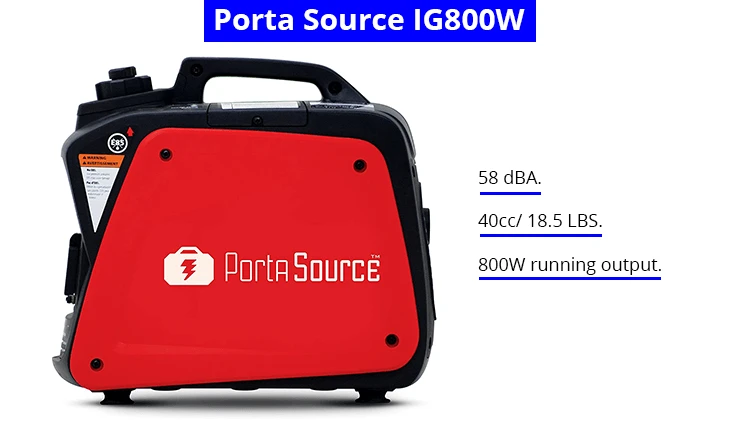 The Honda EU1000i is another reputable inverter generator. Like the Earthquake generator, it is quiet – like a normal conversation. Also, it is a fraction of the price of the original Earthquake IG800W. if you love discovering new affordable products like me, this is one of the best brands for you. The flowery customer reviews are a testament to the quality and the value of the product that you get for a few dollars. In my opinion, the Earthquake IG800W is one of the best products in this niche and is among many reasons why I created the Chainsaw journal.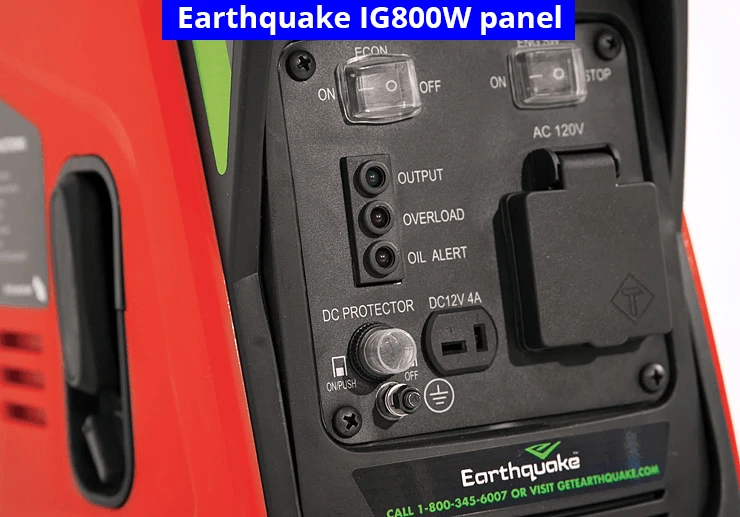 With the Earthquake IG800W, expect a fuel-efficient inverter generator that runs for approximately 14 hours per full gallon of fuel. For the best results, use at least 87 octane gasoline, as it burns cleanly. According to the manufacturer, you should avoid using gas with Ethanol at all costs.
Apart from its great features, the Earthquake IG800W is a popular inverter generator because of its portability. It weighs just 21 pounds, making it effortless to haul anywhere without breaking your back. It also has superior engineering and therefore can withstand a lot of abuse during transportation. The product will satisfy your needs.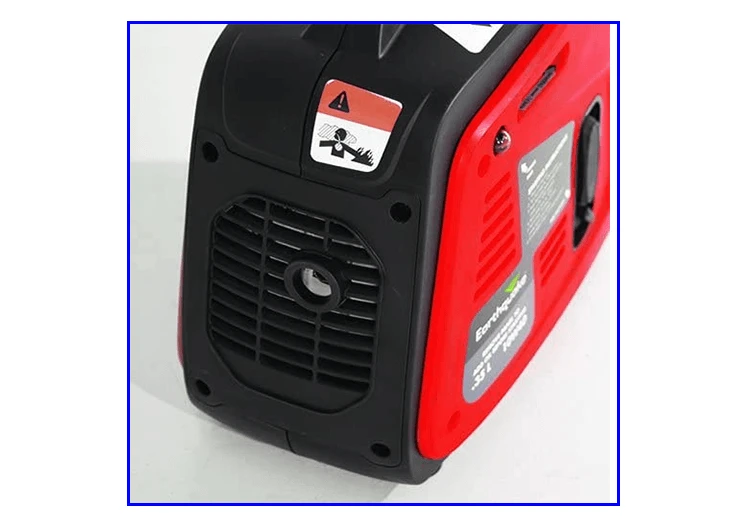 You do not have to position the Earthquake IG800W inverter generator far from your worksite as it is quiet. The product is long lasting and fitted with a noise suppressing housing that lowers noise output.
Watch this superb video of the features of the Earthquake IG800W.
When you look at the many good things you get with an Earthquake IG800W inverter generator, you will be a fool not to order a new one for your home today. The Earthquake (now Porta Source) has grown in popularity over the years and is currently one of the most sought-after tools in the garden and lawn-care products niche. While it is not a high-profile brand, you are getting a well-engineered product that will never let you down when you need power at home or on a camping site.
Download or View the Earthquake IG800W inverter generator's MANUAL to learn more about this product. I highly recommend that you go through this document to have a good idea of the type of product that you will be getting for the money.
Perfect for powering smartphones, laptops, televisions, incandescent lights, fluorescent lights, and sewing machines with microprocessor controls, medical equipment, photocopiers, laser printers, and power tools with variable speed controls or "solid-state" power systems, to name a few. Its versatile design satisfies the needs of most people.
Order your Earthquake IG800W from Amazon.
We have more images of this product at the end of the review.
Features:
Lighter than comparable generators by up to 25 percent.
Has overload protection and a circuit breaker (instant reset) for safety.
Its fuel-efficient design can run for 14 hours per gallon of gas.
Shuts off automatically whenever the level of oil is low.
Lightweight and portable design makes the generator effortless to transport.
Housing has a noise suppressor for a whisper-quiet experience.
Safe for powering or charging sensitive electronics, such as laptops, iPad, smartphones, and tablets, to name a few.
Specifications:
Engine Brand: Viper.
Engine Type: 4-cycle OHV.
Engine Displacement: 40cc.
Max AC Output: 800 watts.
Running AC Output: 700 watts.
Run Time: 8.2 hours at 25% load.
Gas Tank Capacity: 0.60 gallons.
Operating Noise Level: 58 decibels (dB) from seven meters.
Weight: 21 pounds.
Here are a few photos of the Earthquake IG800W 800-Watt Portable Inverter Generator: