The Vipukirves LeverAxe is an innovative wood splitting axe that will make your job effortless. For decades now, millions of people have depended on axes to split wood, build homes, or other personal and commercial chores. Recently scientists discovered the earliest known axe in Australia aged around 49,000 years. Yes, it seems far-fetched but humans have been splitting wood for over 49,000 years to date.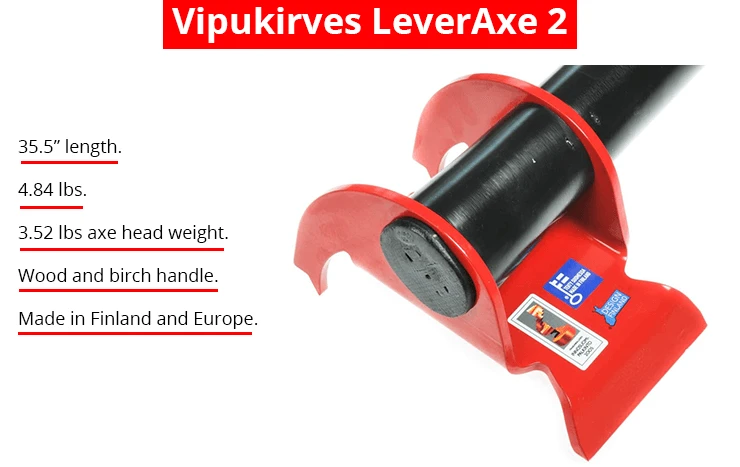 Splitting logs/wood with a big axe makes people look manly in movies. However, in real life, they are among the most popular and most used tools because of their efficacy. They are affordable too and easy to use.
Unlike in the past when axe heads were stone or wood, modern axes are a hundred times better in terms of design and efficacy. The Vipukirves LeverAxe, for instance, is a top-rated brand whose design's quality is top-notch. However, a few questions still linger. What are the benefits of using an axe?
Vipukires LeverAxe
Before we look at the details, watch this video, which provides an excellent overview of the traditional axe and Vipukires Leveraxe.
Vipukires LeverAxe 2 is a 21st Century Axe
The product has a robust stainless steel structure (Duplex), which is twice as strong as austenitics.
Benefits of An Axe
Many homeowners opt for log splitters because of their ease of use and their high-capacity designs. However, there are many benefits of owning an axe at home at well. There is no doubt that log splitters are beneficial – we will talk about them in a while. However, axes are equally beneficial.
Here are a few pros that set it apart from its arch-nemesis:
Expect What You Have Paid For
Effortless to Transport
You Do Not Have to Set UP Anything
Can Split Most Wood
Gives You Control While Chopping Wood
Space Saving Accessory
You Get What You Pay For
Compared to the ancient relics that humans used in the past, modern axes are technologically advanced accessories that offer value for cash. Made from hardened steel, they split most wood types on contact with a bit of brute force. They are also cheaper than log splitters and do not require frequent maintenance to work, unlike log splitters. For instance, gas-powered log splitters require gas to work, which costs a fortune on the end. Electric models, on the hand, are not only expensive but also require access to power or a rechargeable battery to work. With an axe, there are no add-on or hidden costs. The only thing that you will lose while using an axe is the extra pounds of fat that weigh you down.
It is Easy to Transport
Have you watched Friday the 13th movie? It bet thinking about Jason dragging a log splitter around still gives you the chills. Even though most models have wheels for moving them around the yard or garden, it is a lot easier to carry and use an axe at home or on the road. They also make splitting wood easy as you toss the splinters to the side or a wheelbarrow. While splitting with an axe requires a bit of effort, using a wood splitter is even harder, especially if you must move it around.
Video | Leveraxe: The Smart Axe
You Do Not Set Anything
This complements other points that we have talked about herein since the beginning of this article. Whenever you are using an axe, you will have an easy time chopping wood as you do not have to set up anything. If you have a sharp knife at home, all you do is pick it up and chop wood when needed. With an electric wood splitter, you must find a socket and plug it in, which can be frustrating if you do not have an extension cord. With a gas-fired wood splitter, you will deal with the stench of gas and have spare parts in handy as it can break down without any warning. While they chop wood quicker, set up is long and somewhat frustrating.
Can Handle Any Wood
As you probably know, different species of trees provide different types of wood. The best wood splitters can accommodate and cut most species that you load in their systems. However, cheaper/poorly engineered ones tend to struggle with hardwoods and/or large chunks of softwoods. They are also prone to breaking down if you cut hardwoods such as oak often. If you are healthy and can swing a hand axe, you can cut wood all day, especially if you own a premium brand such as Vipukirves Leveraxe.
Control Over What You Chop
Axes are perfect cutting or giving hardwoods and softwoods a quick trim as they are sharp and efficient. They can also chop/cut branches of all shapes and sizes, unlike log splitters that require wood of specific sizes and shapes to work well. Whenever you are grooming your lawn, you will be able to tidy up trees or shrubs quickly without breaking the back. You can also handle projects that are too large for log splitters.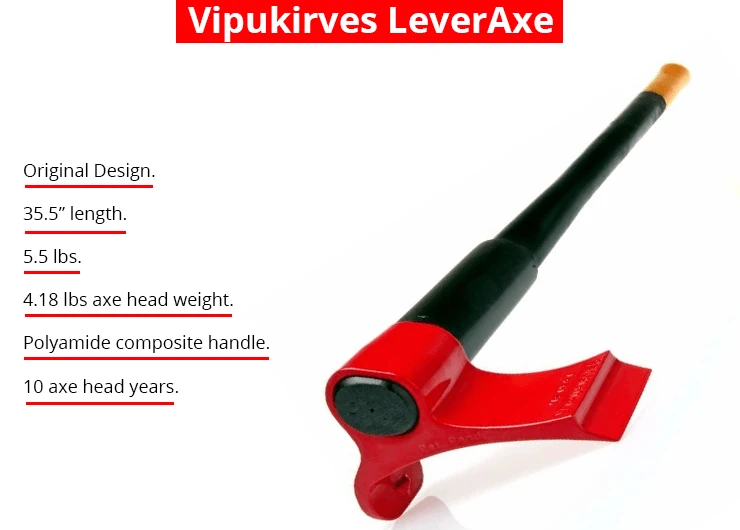 They Take Up Far Less Space
Unless you live in the frozen Arctic Circle, you might not need a large amount of wood to get through winter. If you are healthy, own a Vipukirves LeverAxe, are willing to do the legwork, you can prepare enough wood in a few hours at home. Wood splitters are faster but often a waste to use while handling small wood. They also take up a lot more space than the best wood axes often do. Because of their big and bulky designs, make sure that you have enough space to store one before you order. This is not the case with an axe as it is small and easy to store.
The Vipukirves LeverAxe's Unique Design
The Vipukirves LeverAxe has grown in popularity all over the world because of its superior design and performance. In most home and/or workspaces, it is the official axe for a majority, as it satisfies most needs. Invented in Finland by a retired air controller this is a robust axe. Check out the videos of it shared online to appreciate is an amazing power.
While the LeverAxe 1 and LeverAxe 2 look odd and out of this world, they have diverse features that make handing wood fun. Let us check out a few ones that stand out from other models and boost their performance.
Requires less power
Can tackle larger logs
Safe to use everywhere
Does not stick in the wood
Comfortable to use
Requires Less Power
The unique position of this product's axe head is one of its strengths. Unlike traditional axes whose heads sit on the front, this one sits on the side, altering its centre of gravity. Therefore, whenever you are striking wood, you should relax your grip to allow the axe to turn to the side automatically and cut wood. The process is very easy after a few tries.
By doing this, you force the axe to split the wood as opposed to traditional axe heads that dig into the wood. You strike the wood gently for it to split. Moreover, you do not have to hack wood two or three times for it to split. The offset gravity not only saves you time but also effort.
Tackles Large Logs
As we elucidated earlier, the best log splitters struggle with large logs. Moreover, while traditional axes can handle larger logs, you must cut several times for them to work, which requires a lot of effort and time.
The unique design of the Vipukirves LeverAxe eliminates such issues. The product will improve how you split wood at home and make your life easier and more fun. For the best results, start from the outside where the log is easier to cut and edge slowly to the centre.
Stay Safe Always
The Vipukirves LeverAxe has a premium design that will keep you safe while splitting wood. For instance, measuring over 35 inches, the axe is long and therefore suitable for most people. Whether you are short or tall you can use it safely at home without worrying about head strikes and/or injuries. The Leveraxe 1 is also light (7 pounds), while the LeverAxe 2 is even lighter at <5 pounds. As such, both models are very easy to use.
The Vipukirves LeverAxe is safe to use as it rests snug on the log that you are splitting. It does not bounce at full force nor deflects on wood. You can use it on most surfaces safely without wearing down the axe.
Different Views of a Vipukirves LeverAxe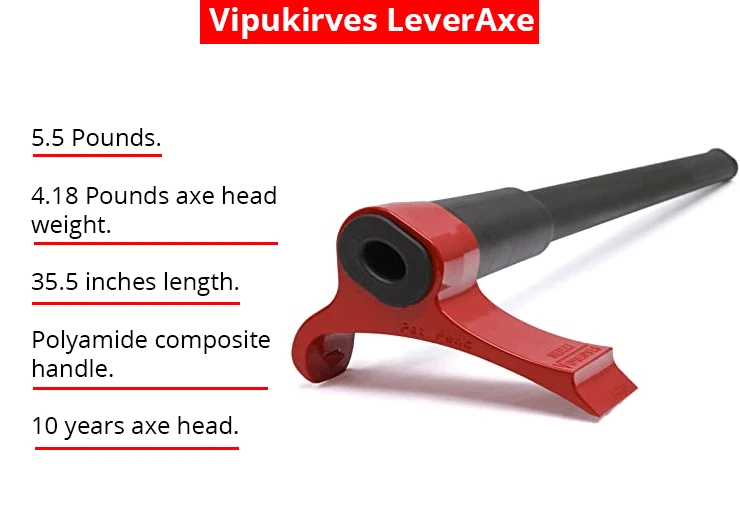 Does Not Stick in Wood
If you check the head of a traditional axe, you will notice that it is thin and streamlined. If it was thick and clunky, you would not be able to split wood no matter how strong you are. Unfortunately, the thin edge also has its share of cons. The risk of it sticking in wood with each strike is high, which is equally frustrating. You also spend a lot of effort pulling and pushing the axe from side to side to eject it from wood, which will never be the case with the Vipukirves LeverAxe wood axe.
While the initial cost of buying this axe is high, it will save you a lot of time and money in the end, if you split wood often. With the Leveraxe, you will be able to split wood as fast as a log splitter does but without the added running costs. You do not set it up to work, which is also ideal.
Very Comfortable to Use
The unique design of the Vipukirves LeverAxe makes it comfortable to use. Unlike traditional axes that require a lot of effort to use, you only use require minimal force for this one to split wood. Therefore, you do not exert as much effort as you would have done while using an old axe. The rotational spin and lever action of this axe saves you a lot of energy.
The handle of this axe is a combination of birch and ash wood, which are durable and shock absorbing. Therefore, whenever you strike hard wood, the axe will not hurt your wrist or palm. The material is also warm during cold weather and has an ergonomic design that users love.
Vipukirves GripRock Splitting Block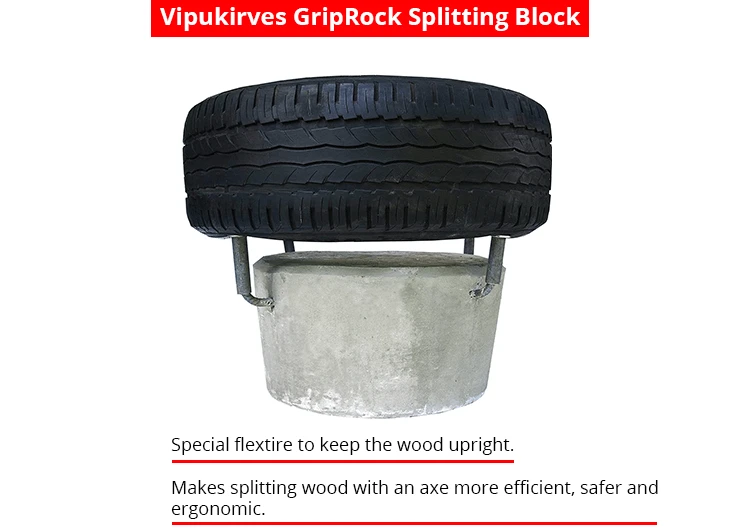 Features (GripRock):
10-inch base height
75-inch inner tire diameter
185-pound total weight w/concrete
Splits up to 14-inch-thick wood
One year parts guarantee
Shipping package: (20x17x12-inches) weighing 28 pounds
Made in the USA
Minimal customer assembly
Does not include:2-80lbs concrete bags for casting its base.
Fiskars Video | How to Select the Right Size Axe
Excellent Vipukirves LeverAxe Alternatives
The Vipukirves LeverAxe is currently one of the most popular axe types in the market. However, several excellent alternatives exist offline and online, particularly from two companies. We have a rundown of the top features that some of these products offer. While all are traditional axes, for instance, their old school designs work seamlessly in most settings.
The Fiskars Series
Fiskars has produced many top-grossing splitting axes for homeowners, camper, and survivalists for many years now. If you are one of them and need a top-rated product that will never let you down, today is your lucky day. Here is a collection of some of the most dependable models:
Fiskars X27 | 36-Inch Splitting Axe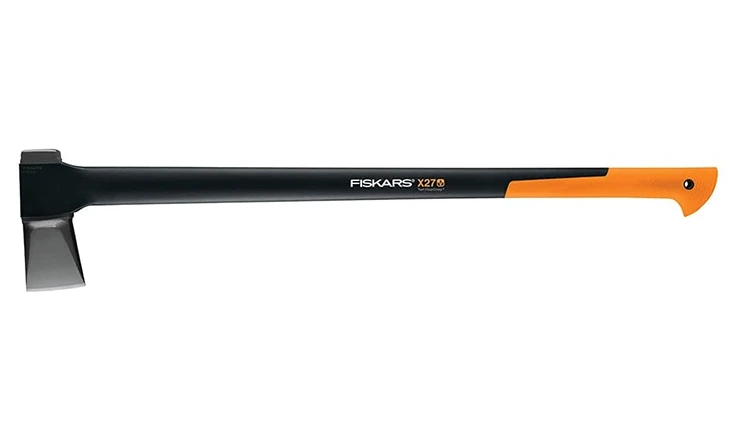 Features:
36 inches long.
Ideal for tall people who want to split medium-to-large-sized logs.
Splits wood in one stroke.
Comfortable power-weight ratio boosts power and swing speed.
Convex blade technology boosts not only boosts cutting power but is also easy to remove from wood.
Maintains a sharp edge via a proprietary Fiskars blade-grinding technique. The system improves contact to deliver a clean cut.
Hardened steel blade (forged) stays sharp longer than traditional axes do.
The coated blade has low friction, while ensures seamless cutting of wood. The system also prevents the head from sticking in the wood.
The molded head is snug and less prone to overstrike breakage.
FiberComp handle is lighter and durable than steel.
Non-slip grip (textured) is comfortable in hand and easy to use.
Designed in the Billnäs building in Finland.
Has a protective sheath.
Lifetime factory warranty.
Fiskars X25 | 28-Inch Splitting Axe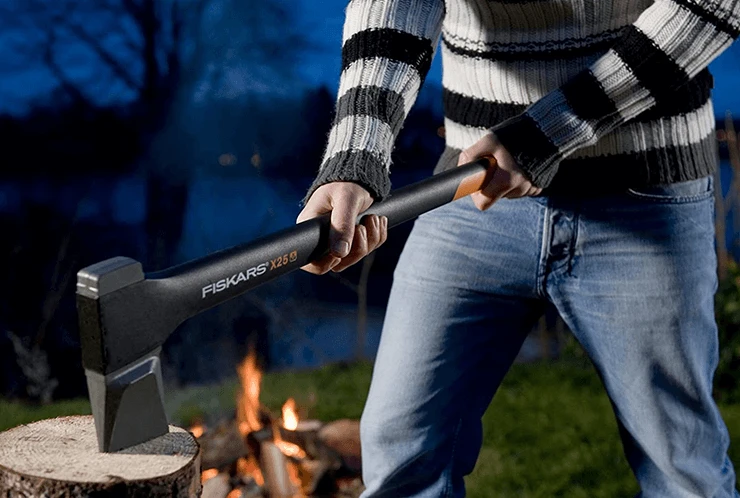 Features (Comparable to the Fiskars X27 model reviewed above):
28 inches long
Splits medium to large logs.
Fiskars X17 | 23.5-Inch Splitting Axe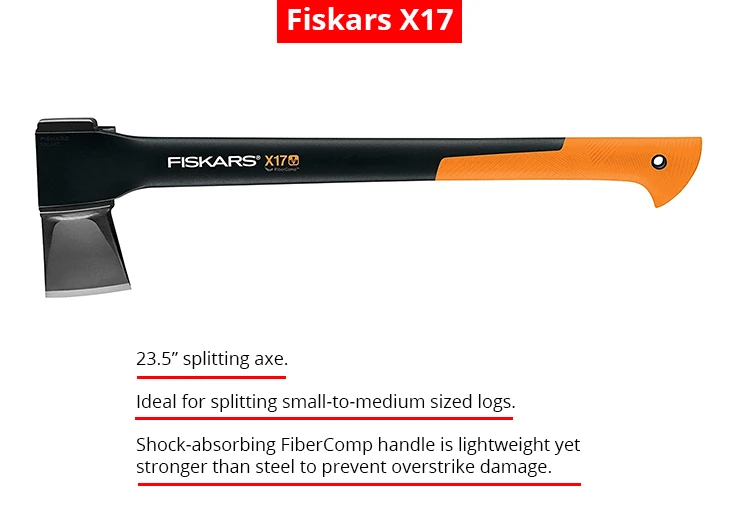 *Same features other Fiskar splitting axes. They only differ in terms of weight and length.
This model is 23.5 inches long.
Fiskars X11 | 17-Inch | Splitting Axe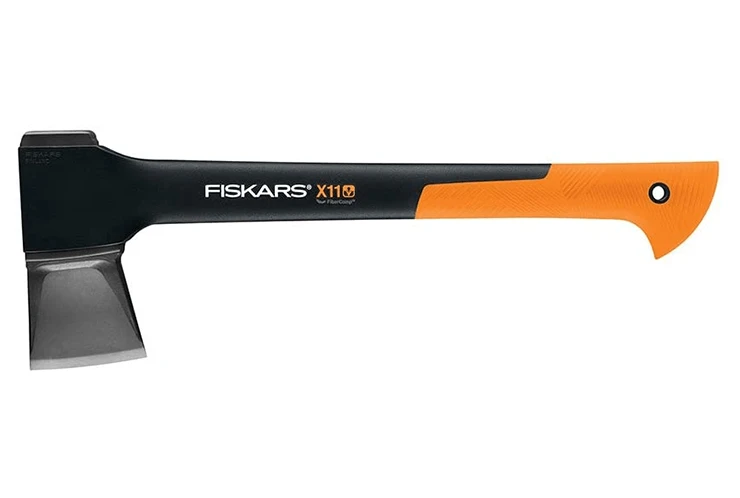 Features:
17 inches long.
One-handed design.
Splits small-medium logs.
Comfortable one-handed design, suitable for splitting small logs.
Perfect secondary axe for handling most jobs.
Works Better than Traditional Splitting Axes…
Traditional axes have remained relevant for centuries now because of their efficacy. However, modern log splitters offer the best results as they are faster and can handle large batches of wood. Moreover, because they handle the legwork for users, they require little effort to use while preparing wood for winters. Here are the best brands: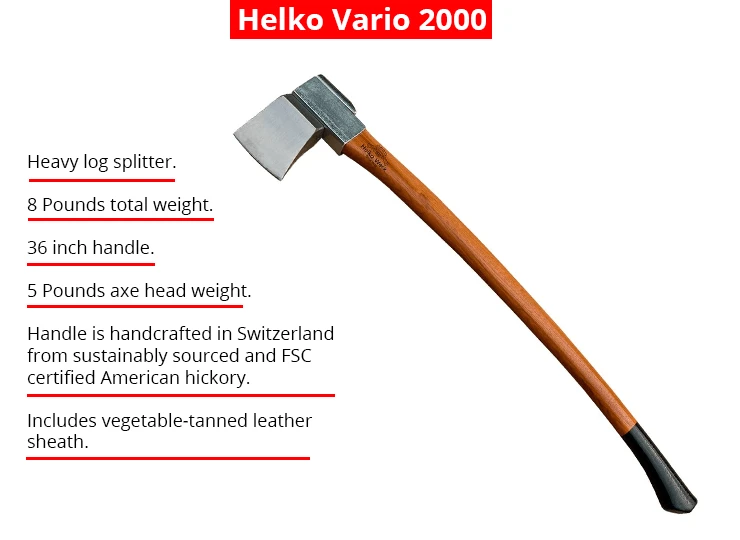 Best for splitting large logs, tree trunks, and heavy firewood.
Features:
German-made C45 carbon steel.
Hand-crafted Swiss-made handle using economically sourced and FSC-certified American hickory wood.
Individually selected handles have good density and stylish grain orientation.
Its lightly lacquered handle has a dipped black grip.
Steel blade has over-strike protection.
The ergonomic and curved handle has a perfect balance.
Heat-treated, drop forged, and oil-hardened steel.
Includes: free Axe-Guard protective oil (one ounce) and leather sheath (vegetable-tanned).
Model: 10058.
Head Weight: 5 pounds.
Total Weight: 9 pounds.
Handle Length: 36 inches.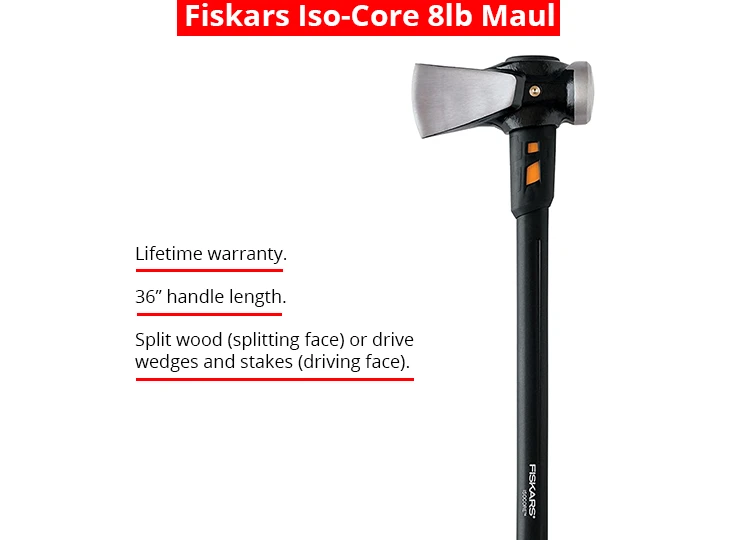 Features:
Splits wood (splitting face) or drive stakes/wedges (driving face).
Eff blade geometry splits wood efficiently by boosting penetration.
Absorbs strike vibrations and shock via a Patented IsoCore Shock Control System to protect your hands from injuries. The material transfers 2X less vibration and shock than wood handles
An insulated sleeve traps and dissipates the initial strike shock of the axe before it hurts your hand.
The handle (dual-layer) is a combination of insulating materials that dampen lingering vibrations further.
Secure head (riveted) does not snap off not slides off the hand whenever you sing it with maximum force.
You can stick other tools in its driving face to boost splitting force.
The flared handle fits snug in hand while swinging.
The sculpted soft-grip handle fits the natural shape of hands.
Strategic, patent-pending design has textured dimples that boosts its grip and a finger rest that prevents blisters while in use for long.
Heat-treated steel (forged) has a protective, rust-resistant coating.
Exceeds international and ISO standards for tool durability.
Length: 36-inches.
Weight: 8 pounds.
Full lifetime warranty.
Why You Should Use Log Splitters
Even if you have found the best axe for your cutting/splitting wood, you will be foolish to dismiss the best log splitters. They have their unique pros, which you should keep in mind, whenever you are shopping for the best log splitter for your home. To help you to make the best decision, we have compared the two and reviewed the benefits of the best log splitters. Afterwards, we have reviewed some of the most popular models in this niche, their features, and why the products are special.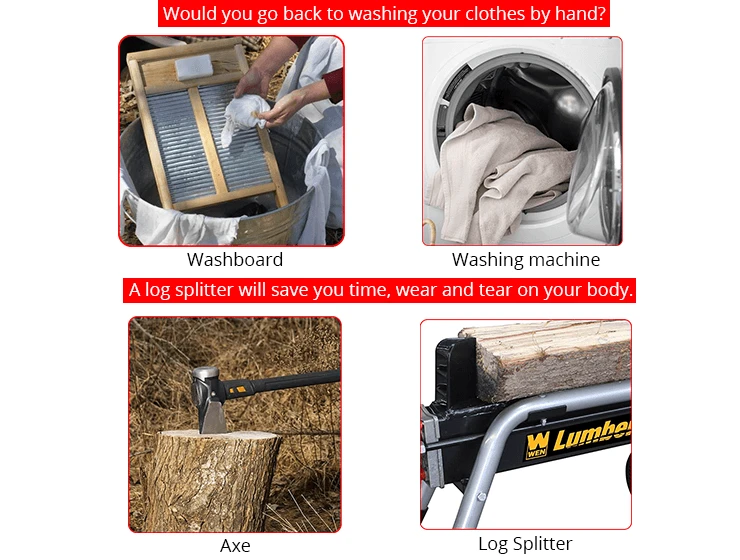 Points we will cover:
They are Very Easy to Use
Suitable for Average Home
Quicker to use Under Most Conditions
Less Likely to Injure You
Cost-Effective Products
They are Very Easy to Use
Like most machinery, you can figure out how to use an axe by simply reading the instruction manual. The best log splitters are not as complex as some people think. It requires a bit of effort to use such products well.
Whenever you are using an axe, the experience that you will have or the quality of the results you will get is dependent on your skill. The best log splitters are different as they do the work for you. They are fast and safe to use if you wear protective gear and follow the instructions accurately.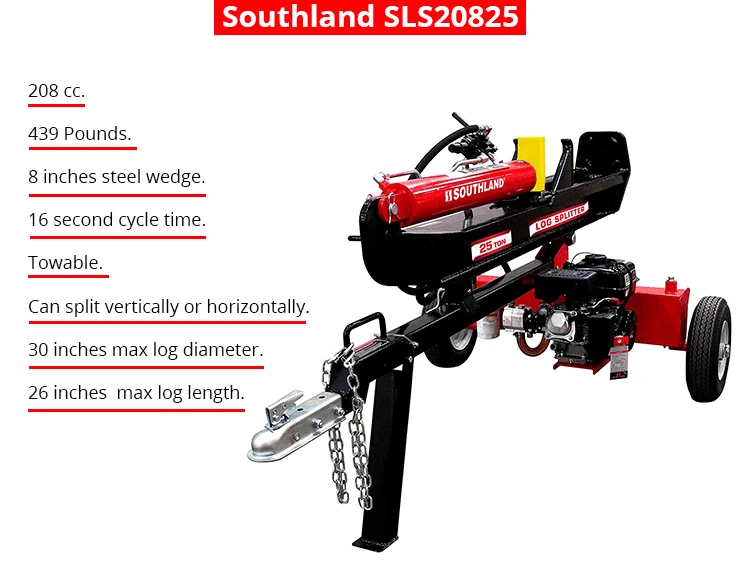 Suitable for Average Homes
You probably do not have an advanced log splitter at home as you only need a small amount of wood to keep you warm all through winter. Most average machines can prepare enough wood with a little effort.
Electric log splitters have compact and eco-friendly designs that do not release toxic fumes nor harm users. You can use them in enclosed areas such as garages without choking on smoke or irritation, which his ideal. Why should you chop wood manually when such safe, powerful, and efficient alternatives are available in web and brick and mortar stores?
Quicker to use Under Most Conditions
When it comes to speed, log splitters do not always beat axes. The two are neck in neck in most scenarios and different in others. If you are at home in a cold night and want to chop a few pieces of wood to stay warm, you will have the best results with a Vipukirves LeverAxe.
However, whenever you need to chop large amounts of wood, the situation is different. To create a huge collection of wood that you can use in most fireplaces on demand, a log splitter will serve you the best. They are faster than axes, are easy to use, and split woods of all sizes.
Less Likely to Injure You
Most individuals are concerned about log splitters hurting them while splitting wood. Unless you are not wearing gloves while cutting wood, the risk of this happening is relatively low. The situation is different whenever you are using an axe, including the Vipukirves Leveraxe.
After using an axe for a long time, most people develop chronic back problems. Those with underlying back problems can aggravate the issue and make it worse. While there is no guarantee that an axe will injure you while splitting wood, it is a possibility so you should always take care. You will not be able to stay warm if you injure yourself chopping wood.
They are Cost-Effective Products
A few years ago, only a few people with a lot of money could afford a log splitter for personal use at home. However, times have now changed. The machines are nowadays cheap enough that most people can afford one for personal use. Head out to your local store and check available options.
Axes, on the other hand, have started to increase in price with the recent advancement in their technologies. In time, axes will cost as much as log splitters do, which is a bummer for people with deep pockets. Do not hesitate to buy one while they are cheap as their prices will soar soon.
Some of The Best Log Splitters
Log splitters are diverse. Therefore, while shopping for a new one for day-to-day use, you might have a hard time reviewing the available options to find the best. By narrowing down your choices, you will be able to handle this process stress-free. We have reviewed a few models that will serve you well. Check out their reviews and the comments left by previous customers to learn more. If you are not interested in the Vipukirves LeverAxe, we have reviewed other models you might like.
WEN 56206 | 6-Ton Electric Log Splitter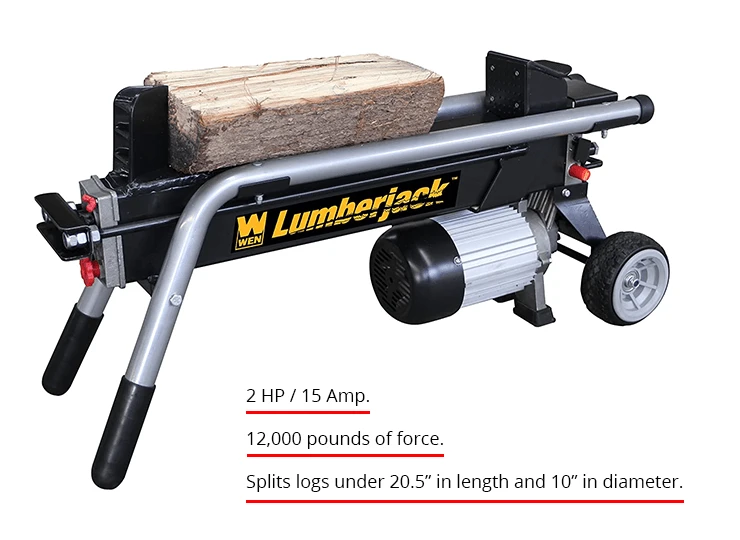 Features:
The 2 HP electric motor works with typical house sockets.
Quiet, affordable, and safe to use indoors – no toxic fumes.
You need two hands to clear the ram.
Secure guide/log cradle secures the logs on a track.
Splits up to10-inch-thick logs up to 20.5-inches length.
Portable log splitter with 6-inch tires and comfortable handles.
CSA approved designs has a two-year WEN warranty.
Download or View the WEN 56206's MANUAL.
You can count on WEN tools such as the 56206 electric log splitter to generate sufficient power while in use. Even though is cost-effective and light, you can split 10-inch logs up to 20.5-inch log with this product without exerting a lot of effort. They have a cradle that guides logs to the blade for a perfect cut. It also lasts longer and requires little skill to use.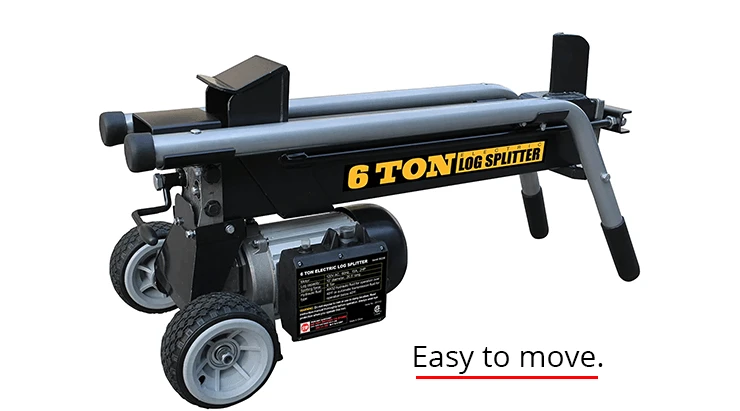 This electricity-powered device is a little underpowered. However, the pros are diverse, making it a suitable product for most people. For instance, it never fails to start, unlike some gas-powered models that fail to work when the weather is cold. Furthermore, its electricity-powered system is super quiet while in use, which is another good reason it is popular online. For easy transport, Wen has fitted large wheels (6-inches) on this item. You can move it outdoors or to another room easily.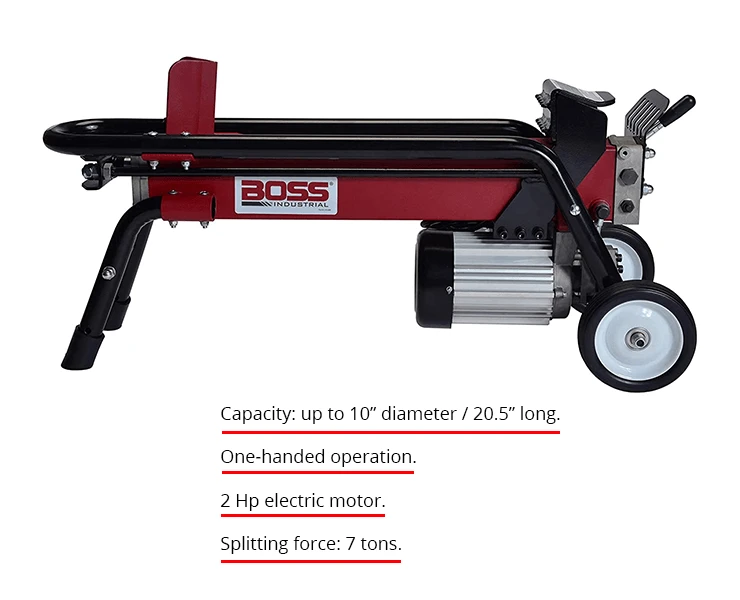 Features:
Generates seven ton of splitting force via a 3,500 PSI hydraulic pressure system.
Can split 20.5-inch-long wood up to 10-inches thick.
One-hand operation.
Need 15-amp circuit and a standard 3 prong electric outlet to work.
Automatic ram return.
Light and portable design.
Strong tube legs and log trays.
High-quality motor (2 HP).
No assembly needed.
Download or View the Boss ES7T20's MANUAL.
The Boss Industrial ES7T20 is comparable to other log splitters that we have reviewed but has several advanced features. For instance, this model has an easier to use one-handed design. You will have the other hand free to do other stuff. This is possible mainly due to an advanced magnetic lift system that enables to push logs into the blade effortlessly. It also has a ram return (automatic) that simplifies the process further.
Video | Boss Industrial ES7T20
From the instruction manual, this product can handle up to 10-inch-thick logs measuring up to 20.5 inches long. However, many users testify that it can handle even bigger logs, even though the company cautions people from doing this. The 2 HP electric motor that it uses is like that of WEN 56206. It starts seamlessly with the push of a button. Even in cold weather, you will have an easy time starting and using the product.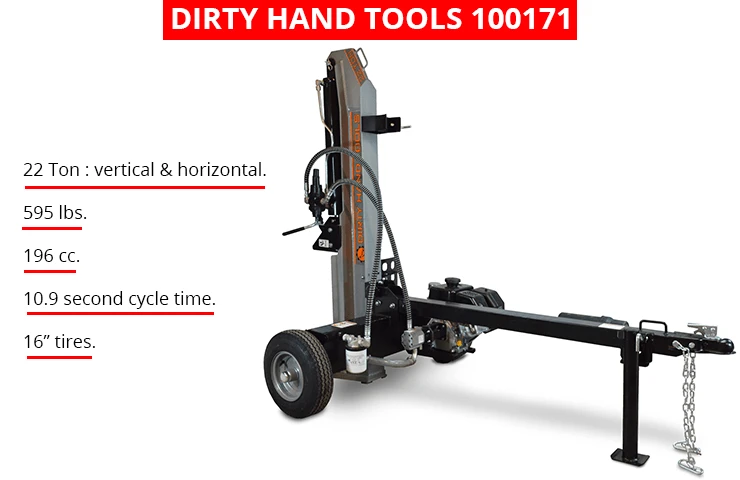 Features:
This 22-tonne gas log splitter has a 196 cc 6.5 HP Koehler engine.
Supports vertical and horizontal splitting.
Down and back cycle time of around 10.9 seconds.
The 24-inch cylinder has a 4-inch diameter.
13-GPM 2 stage pump.
Has a 2-inch ball, DOT approved safety chain and 16-inch tires.
Long footplate (8 inches) with removable stripper plates.
Auto adjustment and detent plate.
Download and View the Dirty Hand Tools 10017's MANUAL.
The Dirty Hand Tools 100171 is a robust gas-powered product that can satisfy the needs of most people. Compared to other models that we have reviewed herein, it by far is one of the most powerful products in stores with a 6.5 HP 196cc Kohler engine. The blade takes about 10 seconds to move back and forth. It can also handle most logs in a vertical or horizontal position. Finally, while in use, it secures the logs for you.
This product is more than able to secure and secure and cut most logs measuring over 30 inches thick. It has a powerful 4-way blade that does a good job always, even though it is very heavy at around 600 pounds. Therefore, while it can boost your workflow tremendously, you will need a helping hand to operate it safely at home. This "monster" of a log cutter is exceptional. If you can afford gas and own a vehicle that you can use to tow it around your office, expect a memorable experience.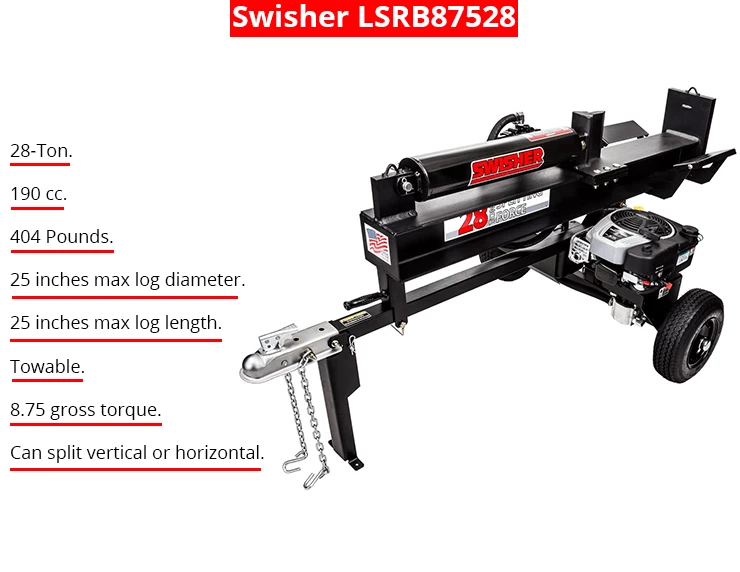 Features:
Briggs & Stratton Engine with 8.75 Gross Torque.
28 Ton splitting force horizontally or vertically. Accommodates and splits most species of wood.
Wide (25 inches) opening.
Two-stage pump boosts cycle time.
The direct drive system has a few moving parts.
Large (2.5 gallons) poly hydraulic tank is resistant to rust.
Machined compound wedge measuring 1-inches ensures efficient log splitting.
Road Towable design is easy to transport everywhere.
Removable Log Cradles eases the log spitting experience of users.
Vertical Beam Lock boosts security in the vertical position.
Made in the USA.
Download and View the Swisher LSRB87528's MANUAL.
Are You Ready to Test Out the Greatest Axe Ever?
The Vipukirves LeverAxe is no doubt one of the best axes that you will come across offline or online. While axes have been around for decades, the significant improvements made to this tool have improved how people split wood at home. Therefore, if you have had a bad experience with an axe in the past, do not give up on this versatile tool. The LeverAxe is significantly different from the available options in the past. Buy one, test it out, and see what this innovative product has to offer.
If your relationship with axes is irreparable, you can wave goodbye to them altogether. The price of log splitters has dropped significantly, making them a sensible buy for people who handle large batches of wood often. However, because of the diversity in stores, choosing the best model might be a tough call. Research the available options to identify the best products and then choose the best of the bunch.