If you are a homeowner, a flooded basement is a horror you never want to come across. The extensive structural damage caused by it and the endless repair costs are nothing short of a nightmare.
That is why we always recommend investing in a backup that would step in and take over your primary pumps during emergencies. Reserves, like Wayne ESP25 battery backup sump pump, are lifesavers when it comes to unprecedented situations.
So, if you're stuck away in a terrible storm, you can finally stop imagining your home collapsing like a house of cards!
Check out our review of the Wayne ESP 25 Battery backup system down below, with detailed key features and pros and cons that we know you'll appreciate.
Wayne ESP25 Battery Backup Sump Pump Review
If you have asked around about the best additional backup sump pumps, then chances are you have heard about the Wayne ESP 25 a lot. And if not, then you have no idea what you would have been missing out on.
It can stand in as the backup of any pump, regardless of manufacturer, and can be uncomplicated to install. You must place it alongside the primary AC sump pump, but there is no need to establish any kind of control circuitry between them.
The separate float switch that it operates on activates the device when the situation asks for it. One thing you need to be careful about is placing the switch vertically, or it won't work.
So, if your primary AC pump stops working or just needs a little additional help to discharge sufficient water, this DC-powered backup sump pump automatically assists your device. The water level just needs to be high enough to trigger the float switch on.
Now, you do not have to go down to a creepy and dark basement in the middle of a power outage to turn it on manually. You can also be at peace and concentrate on safely getting home if you are stuck somewhere else.
This 1/3-HP sump pump is one of the best in the market. The durable thermoplastic housing makes it completely waterproof and self-priming. Its new upgrade has an epoxy steel body and cast-iron base that looks to be extremely corrosion resistant. No more flimsy plastic casing to deal with!
And if you hate loud thumping noises reverberating through the entire house, you will love how quiet this is. You won't hear any sound unless you are standing a few feet away.
While it works great, unfortunately, there are some design flaws to it. Such as, the instruction manual suggests using 3' check valves, but it allows 3' of water to return to the pit and cause valve thumping.
You can instead use a 2' check valve. The bottom of the pump also does not sit properly, and you need to make several adjustments. Just a few tweaks here and there but don't fret, it's nothing too troublesome.

Excellent Water Discharge Rate
The Wayne ESP 25 features a 3,300 gallons per hour water discharge rate at 0 feet. You can remove up to 10,000 gallons of water on a single charge!
However, the water discharge rate can drop down to 2,300 gallons per hour at 10 feet and zero down at 20 feet.
Audible Alarm Systems
You will be notified with a small alarm when your backup sump pump is activated. It is not loud enough to ring through the entire house, but you can hear it if you are on level one; this is great because it would be bothersome if it started ringing in the middle of the night.
There is also another alarm to let the homeowner know if there any problems with the device.
Compatible with Most Batteries
This DC-powered sump pump needs a 12-volt motor to operate. It also requires a 40-amp hour or 75-amp battery. You can easily use any deep cycle or marine cycle battery from around the world.
The original packaging includes a tough battery case made of polyethylene to contain the battery securely. There is also an LED display indicating the battery level percentage.
Easy to Install
The instructions are not helpful, but if you do a lot of DIYs, you will not have much trouble with it. You will know what to do from the very beginning and can assemble it within 45 minutes.
Longer Product Lifetime
This product has been built to last a lifetime! The corrosion-resistant thermoplastic impeller used ensures that you will have no trouble for many years. It is also completely water-resistant and can easily work in any sink basin larger than a 14-inch diameter. Get more information from the manufacturer company.
Great Value for Price
The price of the Wayne ESP 25 can be one of its biggest drawbacks. It is expensive enough to confuse people, but you will find the device worth the investment when compared to other battery-powered backup systems. With all the great features incorporated, it makes the price entirely justifiable.
Pros and Cons for Wayne ESP25 Battery Backup Sump Pump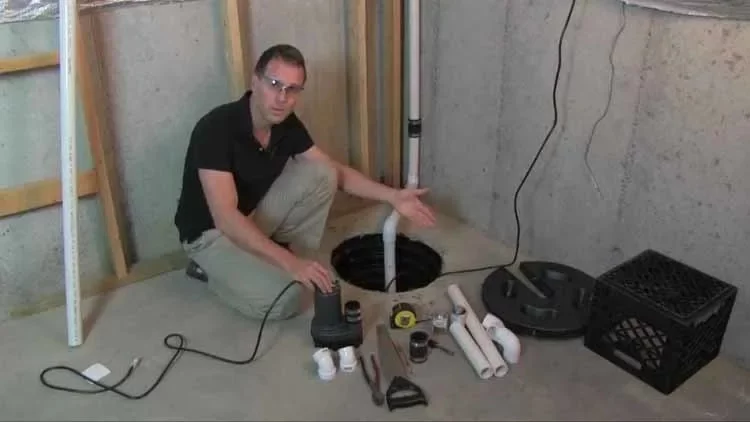 Pros
Acts as a booster pumper for the primary sump pump and increase the draining process.
Although it cannot be used as a standalone, it starts working as one when there is a power cut and the primary pump sump is out of order.
The battery is maintenance-free and can run 2-4 days from a single charge.
Audible alarm system quickly alerts and reminds the homeowner to check and ensure if the device is properly working.
The system is very quiet and empties the pit quickly and without any sound.
Cons
The backup sump pump is inoperative in a narrow sump pit or a sink basin having less than 14-inches of diameter.
Can only be used for personal use due to the lack of horsepower to drain a large amount of water.
It is a little expensive compared to other pumps.
The battery is not included in the packaging and needs to be purchased additionally.
Frequently Asked Questions
Do I need to fit the pump in the sump?
If you are out of space in the sump, you can place it at floor level. Due to its bottom-suction design, it can pick the standing water up to 1/8-inches off the ground.
What battery should I use?
While Wayne suggests getting an SLA battery, a deep cycle Marine battery is more recommended. It will provide longer power and won't burn itself out. Also, make sure the battery is sealed to prevent any gassing.
What check valves should I use?
You may need to get a different sized valve than what the instruction manual suggested. Since the box does not include any check valves, you can get any good quality ones from your local shops.
Is it noisy like other systems?
They are almost silent, and you can barely hear them from the second level of your house.
How long is the float switch set?
It travels short for about 15 seconds. You need to wait the entire time it takes to complete a set.
Verdict
Backup sump pumps are lifesavers and money savers, especially if you live in an area with frequent power cuts.
You may be confused if you should invest so much in an extra device when you could just get another primary device. But the features of the Wayne ESP25 battery backup sump pump will hopefully change your mind.
It will be a great addition to your current pumping system, and you won't have to worry about your basement flooding for a very long time.