Have you ever had your basement or crawlspace flooded? Then you understand how much of a dreadful experience it can be. Flooding doesn't just make the area inaccessible; the water causes immeasurable damage to everything that's down there, including the overall structure!
The most effective way of preventing water from filling your basement is by installing the best water powered sump pump. It will sit at the very bottom and turn on automatically as soon as it detects flooding, even when there is a power outage. Unlike your main sump pump, it doesn't require electricity to run.
Our reviews will introduce you to several incredible water-powered sump pumps on the market that can easily pump out gallons of water!
Top Water Powered Sump Pump by Editors' Picks
4 Best Water Powered Sump Pump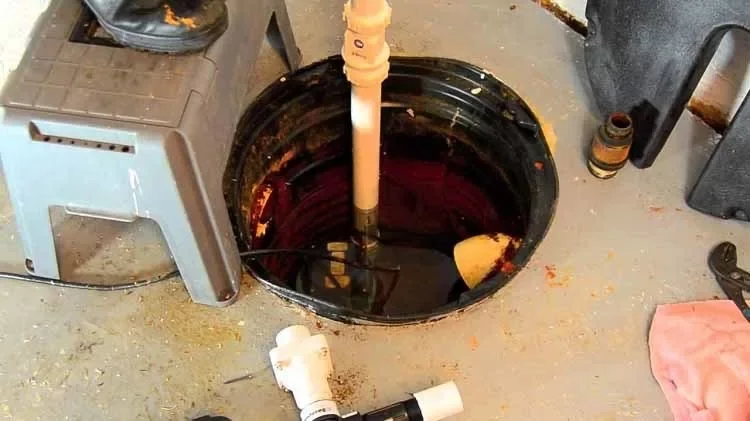 Here you will find 4 amazing water-driven sump pumps that will make sure your house never gets flooded, even in the face of heavy rain or melting snow!
1. Liberty Pumps SJ10 Sump Jet Water Powered Back-Up Pump - Link
For driving out tons of water within a short period, the Liberty Pumps SJ10 is an excellent choice. At a reasonable price, this model provides remarkable water pumping performance, surpassing many of its competitors with ease.
This American-made high-quality backup sump pump takes on a sleek and compact design so that you don't face any issues during installation.
Thanks to its ability to accept up to 100 PSI of pressure, it can move out as much as 1,185 gallons of water per hour. That's more than enough to get you through the stormy seasons!
When the power goes out and you lose access to electricity, your main sump pump won't be able to operate at all. That's when this thing will come in handy as it gets its power from the municipal water supply instead of electricity. You can count on it to keep your basement dry all the time!
This unit doesn't require any manual operation as it's fully automated. So, you can sit back, relax, and let the device do the job for you! It comes assembled with adjustable hose clamps for easy installation. The instructions manual will guide you through the entire process so there is nothing to worry about!
Pros
Constructed with sturdy PVC for offering a longer lifespan
Boasts an efficient design for cutting down your water bills
Comes completely assembled for streamlining the installation process
Pumps out a large amount of water per hour
Cons
Produces loud noise during operation

2. Basepump HB1000-PRO Water Powered Backup Sump Pump - Link
The Basepump HB1000-PRO offers outstanding water pumping performance without requiring any electricity, battery, or charger. Featuring incredibly high pumping rates, it's easily one of the most powerful backup sump pumps on the market.
If you're struggling with main sump pump failure and high water inflows, this unit will save the day as it can move up to 1,400 gallons an hour! Not many models come close to its pumping rates. Thanks to the brilliant hydraulic float system, it can completely drain out the sump whenever it runs.
Installing this compact and lightweight model is surprisingly simple. You will love how it offers overhead installation, making it suitable even for sump pits with irregular shapes and sizes. The easy-to-use push-in pipe fittings are included with the product for convenience.
Aided by the brass shut-off valve and dual-check backflow preventer, this thing is capable of staying in operation for a pretty long time! It's even fitted with a loud battery-powered alarm system that will make sure to let you know whenever there is flooding. All in all, this is a fantastic solution to basement flooding.
Pros
Discharges large volume of water within a short time
Comes fitted with amazing features for enhancing the durability
Surprisingly easy to install, nothing a do-it-yourself plumber can't handle
Equipped with a loud alarm system for giving flood alert
Offers overhead installation for convenience
Cons
Kind of an expensive option
Connecting to copper piping will require extra spending

3. Zoeller 540-0005 FLEX Water-Powered Back-Up Sump Pump - Link
The Zoeller 540-0005 FLEX can be a highly reliable emergency backup pump for eliminating any chance of getting your basement filled with water. This is a hydraulic-powered sump pump that requires no electricity or battery to operate, making it perfect for situations when the power goes out.
Boasting both horizontal and vertical installation capability, this model will give you a lot of installation flexibility. It's likely to be suitable for most sump applications. You can even set this thing up in the rafters to keep the water line safe. Moreover, the compact profile will make things even easier for you.
As long as you ensure an uninterrupted water supply, this unit will stay on guard 24/7 to discharge any water to prevent flooding. It will use 1 gallon of water to get rid of 2 gallons, allowing it to offer faster pumping.
With the ability to operate at 40 to 80 PSI of pressure, you will never have to worry about water filling up your basement.
The float mechanism of this device is quite brilliant as it ensures complete sump drainage. Thanks to the push-to-connect supply fitting, you will find it to be easier to operate than others you may have used. Overall, this is an impressive model!
Pros
Designed to fit almost any sump pump brand
Offers horizontal and vertical installation for flexibility
Built with non-corrosive materials for longer service
Operates flawlessly without needing any electricity
Cons
Doesn't feature any backflow prevention

4. Basepump RB750 Water Powered Backup Sump Pump - Link
The Basepump RB750 makes for a fantastic backup sump pump, coming with the brand's superior quality and features at an affordable price. This model works with Radon sealed systems and swings into action automatically the moment flooding is detected in your basement.
Just like its bigger brother, the HB1000-PRO, the RB750 is designed for mounting up on the ceiling, which keeps it nice and dry all the time. Installing this thing isn't all that tough, as anyone with a little bit of experience will be able to get the job done with ease.
Being a hydraulic-powered device, all it needs is an uninterrupted water supply to run. It will be extremely useful when the power goes out which isn't all that uncommon during the stormy seasons. There is an amazing alarm system to alert you whenever there is a rise in water level.
This unit can pump out up to 900 gallons of water per hour. While that's a bit lower than others, it's more than enough for houses with small basements.Even when you're out on a vacation, there won't be any reason to worry as it will prevent water from damaging your basement.
Pros
Designed to be easy and convenient to install
Offers strong pumping performance for smaller basements
Constructed with high-quality Polypropylene for durability
Automatically gets to work after detecting flooding
Cons
Doesn't work efficiently without medium water pressure

Things to Consider Before Buying the Right Water Powered Sump Pump
You obviously want the best flood protection for your basement because flooding is no joke! There is no way you can do it without studying the market and considering a few of the important aspects. So, we've put together a list of the most important things to consider that will help you get the best water-powered sump pump.
Size of Your Basement and Sump Pit
While water-driven sump pumps are usually lightweight and compact, there is still quite a lot of difference in weight and size of various models. The pumps that are designed for high-place installation need to be extra-light and compact.
Understanding the size of your basement and pit will help you decide in choosing the right product.
Estimated Water Amount
Naturally, size isn't the only thing that makes the water-powered sump pumps different from each other. They come with different water handling capabilities. Some can handle more water per hour than others. You should be able to find this piece of information by checking the package.
Before buying, you should make an estimation of how much water you will have to discharge and buy one that can offer exactly that or more.
Consider the Water Pressure
Hydraulic-powered sump pumps require a minimum level of water pressure to pump out the extra water. If they don't get enough pressure, they won't be able to do anything. Most of them can work with only 20 PSI, but some require even more pressure.
So, it's imperative to check if your city water supply can provide the minimum pressure before buying.
Gallons Per Hour (GPH)
The efficacy of a water-powered sump pump can be determined by checking how many gallons of water it can move out in an hour. In other words, the flow rate tells you how powerful your unit is.
This is crucial information because you want to get a product that offers enough flow rate to get rid of the expected amount of water.
As a rule of thumb, you should choose a product that comes with at least 2:1 flow rate ratio.
Water Source
If your water comes from the town well, then a water-generated sump pump won't do you any good. That's because it won't be able to get the required water pressure to drive out the water. It only works if you're hooked up to a municipal water line.
Efficiency
If you don't want your water bills to skyrocket, you must get an efficient model. Fortunately, most of them are quite efficient. You can find out the efficiency rate by considering the GPH. So before purchasing, compare various models and pick the one that works with the most efficiency.
Ease of Installation
Although backup sump pumps are advertised as super-easy to install, there is still a certain degree of complexity because these are not your average house tools. If you want to do the installation yourself, you should have at least a little bit of plumbing experience. Otherwise, you will find it to be too difficult.
Fortunately, most of the high-quality models come pre-assembled, requiring minimal installation process. They also come with easy-to-follow installation manuals for allowing non-professionals to install by themselves.
Drainage
Let's say your backup suction pipe is doing a great job of removing the water but where will the discharged water go? Well, that's entirely up to you.
There are two ways of sending the discharged water outside. You can either set the new pump to the discharge pipe that you already have installed. Or, you can install a new discharge pipe dedicated to the new pump.
The first method is easier to implement but puts a lot of pressure on the existing pipe. If you want a safer option, you should go with the second method which will make the installation process longer and more difficult.
Noise Level
You have the option of getting either a loud or a quiet water-powered sump pump. While the quiet models are usually the better choice, some people prefer the loud ones because they want to know when their pump is in operation.
Some products are smart as they come with alarm systems to let the users be aware of any rise in the water.
Cost
Just like any other product, backup sump pumps come with a wide range of price tags. The prices usually range from a little over a hundred dollars to a few hundred dollars. While the expensive ones generally offer more quality and features, there are many cheaper options that provide reliable performance.
It is also worth considering the installation cost of water-powered sump pumps.
Benefit of Water Powered Sump Pump
Water-powered sump pumps come with heaps of benefits that make them must-haves. Let's find out what makes them so great and why you should get them even if you've got a fully functional main sump pump.
An Excellent Backup System
Your main sump pump is great and all but what would you do when it fails. What if there is a power outage during a heavy storm? Should you just accept your fate and count your losses? Not if you've got a water-powered sump pump because it kicks into action when your main equipment becomes useless.
If you're living in a flood-prone area, having a backup system is mandatory and you can completely rely on a water-driven sump pump.
Runs Indefinitely
The best thing about this equipment is that it doesn't require any electricity to run. It will remain in operation whether you've got power or not. It taps into the municipal water supply to discharge the excess water. So, as long as there is a supply of water, it won't stop working.
Reduced Maintenance
Unlike the main sump pump, a hydraulic-powered sump pump doesn't have as many moving parts. You won't have to change the battery or deal with annoying cables. They can last for decades without needing frequent maintenance. Just make sure to perform the minimal maintenance suggested in the user manual.
Zero Cost Until It Runs
You won't have to count any extra electricity or water bills for keeping a water-driven sump pumpon-duty 24/7. It doesn't use any power or water until it comes into action, that's only when your main sump pump fails to work, which isn't all that often.
So, you will always have a reliable backup at the ready without having to pay any extra money.
Automated System
Water-powered sump pumps are fully automated so you won't have to deal with any manual operation. It will start removing the water whenever it detects flooding even if you don't notice anything.
Water Powered Vs. Battery Backup Sump Pump
Both water-powered and battery-powered backup sump pumps are highly useful in times of need. They have pros and cons of their own. So, understanding the differences will help you decide on which type of backup sump pump you should go for.
Power System
The obvious difference between the two systems is how they are powered. Water-powered units run without electricity or battery because they rely on the city water line to get rid of the excess water. They can remain in operation indefinitely as long as there is a constant supply of water from the municipal water line.
Battery-operated systems, on the other hand, get the needed power from batteries. They are comparatively more powerful than their water-powered counterparts as they don't have to rely on water pressure, offering up to 3,000 GPH of flow rate. However, the batteries need to be recharged when they run out.
Installation
Installing a water-powered sump pump can be a bit complex since they connect to the city water line. You would have to install it correctly, often with the help of professional plumbers. Battery-operated units are easier to install as they're more portable.
Versatility
Water-powered sump pumps are only useful for homes that have access to city water lines. You won't be able to use them without a constant supply of water. Battery-powered systems are more versatile as they can be installed and used anywhere.
Maintenance
Battery-powered sump pumps need to be recharged regularly. The batteries also need to be replaced after a couple of years. So, they are comparatively high maintenance. Water-powered ones don't need nearly as much maintenance as others.
How Does a Water Powered Sump Pump Work?
It should be clear by now that a water-powered sump pump can be exceptionally beneficial. But how does it actually work? We are going to explain in detail so stick with us!
Let's think of a scenario where there is a heavy storm outside your house, and the electricity got cut off. As a result, your main sump pump is failing to discharge the rainwater that is pouring into your basement.
But you're not panicking because you've got a reliable water-powered sump pump installed. It will come into action as soon as the water level reaches the float switch and start working its magic of discharging water.
The switch will cause a valve to open and allow the water from your municipal line to enter into the pump ejector. As the water flows through the ejector, a powerful suction is created. This suction will remove the water from thesump pit and send it outside via a discharge pipe.
This entire cycle is repeated whenever the float switch detects any rise in the water level. The science behind the operation of a water-powered sump pump is known as the "Venturi Effect."
The device relies on the pressure of water generated by your municipal water supply. That's exactly why it cannot work without a minimum level of pressure. If you connect it to an uninterrupted supply of water, a water-powered sump pump will stay in operation indefinitely.
Frequently Asked Questions
How much does it cost to install a water-powered backup sump pump?
While installing the main sump pump is often quite expensive, requiring over thousands of dollars, the backup sump pump doesn't cost nearly as much. It may require $100-500 dollars depending on several factors like the type of your basement, size, drainage system, plumber charge, etc.
Can the water operated suction pipe be installed by myself?
Yup, you should be able to install it by yourself if you're familiar with plumbing. Most of them come with easy-to-follow installation manuals that will help you set it up without requiring professional assistance.
Do water-powered sump pumps really work?
If you hook it up to an uninterrupted source of water like the city water line that offers enough water pressure, then it will definitely work. It will get rid of a large volume of water with ease. However, you shouldn't expect it to be as powerful as your main sump pump.
Will the water-powered backup affect your water bill?
As the water-powered backup sump pump uses municipal water to discharge the excess water in the basement, it will definitely affect your water bills. That's why it's important to choose an efficient product.
How can I pump water without electricity?
Well, a sump pump that doesn't require electricity to run will help you pump water out without electricity. We're talking about water-powered or battery-powered sump pumps. They remain in operation even when the power isn't available.
Final Words
If you're living in an area with access to a municipal water supply, then there is no reason not to go for a water-powered sump pump to keep the basement dry. It can be an impressive backup system that will make sure you never have to deal with any flooding, even without electricity.
Finding the best water-powered sump pump can be a difficult task because there are way too many inferior products out there. That's why we've presented some of the most effective models on the market with all the necessary information to help you make a better decision.
Buy on Etsy
Liberty Pumps SJ10 SumpJet Water Powered Back-Up Pump, Gray - Etsy Link
Zoeller 503-0005 Homeguard Max Water Powered Emergency Backup Pump System - Etsy Link
Basepump HB1000 Water Powered Backup Sump Pump - Etsy Link
Basepump RB750 Water Powered Backup Sump Pump with Water Alarm - Etsy Link
Buy on eBay
Liberty Pumps SJ10 SumpJet Water Powered Back-Up Pump, Gray - eBay Link
Zoeller 503-0005 Homeguard Max Water Powered Emergency Backup Pump System - eBay Link
Basepump HB1000 Water Powered Backup Sump Pump - eBay Link
Basepump RB750 Water Powered Backup Sump Pump with Water Alarm - eBay Link