Floods are no fun, especially when your house is down-river, you never know when the water level soars up and ruins your otherwise perfect weekend.
You need to keep your tidy basement away from dirty groundwater, even when the electricity is out, and your primary sump pump is rendered powerless.
The best sump pump battery will run your pump a whole day and rapidly move water for the driest basement in the neighborhood.
You won't experience the flood while staying amidst it. And that's the power of a quality sump pump battery!
Top Sump Pump Battery by Editors' Picks
Types of Sump Pump Battery

While sump pumps themselves are available in a few variations, their backup batteries are no different! There are three most common types of sump pump batteries that you can buy for dewatering your basement during a power outage.

Deep Cycle Flooded Battery
This type of battery is commonly used in old sump pumps, UPS, and cars. It's not an ideal choice for marine devices such as boats and canoes because you don't need to use these vessels every day.
A flooded battery requires frequent water changes to function at optimum levels and still have a battery life that is half as long as gel cell or AGM batteries. But these batteries are cost-effective and give your money's worth before burning out.
AGM Battery
A deep-cycle flooded battery is rated at 50% depth-of-discharge whereas an AGM battery drives it up to a satisfying 80%.
A longer lifespan and a lower self-discharge are two reasons why AGM batteries are running so popular lately. Servicing your AGM battery once in a while and maintaining it with a trickle charger can last it up to a decade.
AGM batteries have an internal resistance which is low enough to provide high amperage on demand. They are thoroughly reliable during constant or intermittent pumping functions.
The good news isvalve-regulated lead-acid (VRLA) batteries are now here to put a stop to all leakage problems. They incorporate a high-quality, durable EPDM rubber that prevents leakages entirely.
Lastly, it's true that maintenance-free AGM batteries cost more. And the Wayne ESP25 is no exception. However, not having to check the battery water level every once in a while is the luxury you pay for.
What's more, AGM batteries are technologically a lot more efficient than those deep cycle marines!
Gel Cell Battery
These batteries are naturally great for backup sump pumps because they run less hot, and do not require a water change. Additionally, they sport a neat, sealed construction that is impossible to leak. It's because of the formula of their electrolytes.
Gel cell batteries are not only expensive but also quite sensitive. If you overcharge it or powerit with a wrong charger, there's a little possibility that the battery will bounce back from the damage.
List of 5 Best Sump Pump Battery Reviews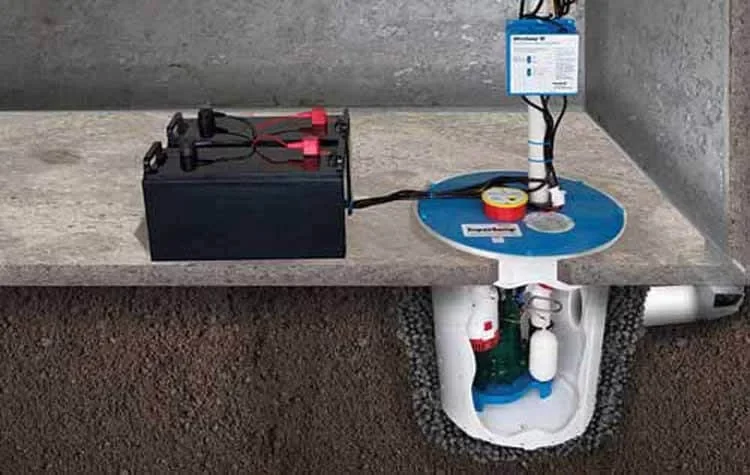 Got a flood and a power outage happening at the same time? Don't worry! You need a rechargeable battery for your sump pump, and this is where you find it!

1. Weize 12V 35AH Battery Rechargeable SLA Deep Cycle - Link
Sporting the lowest internal resistance and a crazy-high service life, this AGM battery by Weize might just be the only thing that saves your basement from flooding.
Let's face it; power outages during floods have become more common than we would like. Given that your sump pump is viable as long as the power is on is all the more reason to buy a rechargeable battery.
In that case, this deep-cycle AGM battery's fool-proof design and valve-regulated engineering make it a reliable choice. The best thing about the Weize battery is that you can use it in both open and enclosed places. The unit won't leak; nor will it require any maintenance to run flawlessly.
This 12 Volt lead-acid battery is ready to be used out of the box. It's satisfyingly resistant to leakage over the entire battery cycle. Thanks to its anti-overheating case, a long blackout won't leave you with a fried battery. You only need a smart charger of 4A or less to recharge the battery as soon as the power comes back.
Other than a sump pump, you may use this rechargeable battery for a canoe, boat, scooter, RV, power tools, or a secondary power supply for your CPU. However, since most electric wheelchairs require 24V, you need two of these batteries to keep one going!
Pros
A maintenance-free, 12V AGM battery for running back-up sump pumps
Comes fully charged for using the battery upfront
Also suitable for canoes, wheelchairs, solar panels, mobility scooters
Works well for cyclic and float switch applications
Cons
The battery drains a bit quicker when the backup sump pump runs at full throttle

2. Universal Power Group 12V 100Ah Solar Wind - Link
A maintenance-free, spill-proof battery is just what you need to pass the coming floods this year. This rechargeable battery by Universal Power Group provided quite the performance in both continuous and intermittent pumping. Under 200 bucks, this is a brilliant sump pump battery that delivers.
To begin with, the spill-proof AGM battery is a piece of cake to install. You can mount it in any position. Whereas most sump pump batteries will max out at 75 ampere-hours, this one is rated 100 AH for an unbelievable runtime and vertical lift.
For example, if you do the math, you get 3.75 amps per hour for twenty hours. Provided that your primary pump's flow rate is about fifteen gallons per minute, you get roughly 9 to 10 hours of uninterrupted floodwater protection from this battery.
While buying a battery with a high AH rating is a rule of thumb, this backup unit exceeded our expectations in terms of flow rate, vertical lift, and duration.
If we are to name one drawback of this outstanding battery, it would be its weight. Although, this will hardly be a problem since you don't have to carry it around like an icebox.
Like every other thing in your home, this durable lead-acid battery will also begin to hold less charge in a span of time. But it's a long way before that happens, and you're bound to get your money's worth before you move to the next.
Pros
A non-spill able 12V 100 AH battery
Resists vibrations and shocks
Lasts for days on intermittent pumping mode
Supports an excellent vertical lift
Also works with standard automotive battery terminals
Cons
The battery might not deliver the said Amp Hour rating after consistent use

3. Wayne ESP25 Upgraded 12-Volt Battery Backup - Link
Featuring a high-tech pumping action and superior suction design, Wayne ESP25 is a reliable backup unit for the most flood-prone areas in the USA. In fact, it sports some distinctive specs that put primary sump pumps to shame!
When a total blackout hits the neighborhood, you need a secondary sump pump to keep things afloat. That said, Wayne ESP25 is an excellent backup unit for your main sump pump. It has a built-in alarm that notifies you as soon as the backup system jumps to action.
This secondary unit, or backup unit, is so efficient that it overpowers many primary sump pumps. For example, it pulls nearly three thousand gallons per hour from the base. It also pumps groundwater up to twenty feet which is shockingly similar to a high-powered pedestal pump for residential use.
Additionally, this one is an updated epoxy steel model that performs splendidly in the long run. Even if your battery does form lead sulfate, using a desulfurizing charge will readily bring its old glory back.
We also noticed how this backup unit sports a thermoplastic battery box. The installation is as simple as it can get! Connect a 3-foot 1.5-inch PVC pipe to the top of the pump and use a 1.5-inch rubber coupler with steel clamps to attach it to the drainpipe.
Pros
Easily pumps 10 thousand gallons straight on a single charge
A cast-iron base and an epoxy steel construction
2700 gallons per hour at 0 feet and up to 600 GPH at 15 feet
Thermoplastic, corrosion-resistant battery casing
Comes with an LED display and a built-in audible alarm
Cons
The included charger might overcharge the unit and weaken its deep cycle capacity

4. THE BASEMENT WATCHDOG 30HDC140S Standby Battery - Link
Compatible with all Basement Watchdog backup sump pump systems, this heavy-duty battery outruns even the longest power outage. Once fully charged, it intermittently pumps for a few days at a time!
This is one of the very few sump pump batteries you can find for under 150 bucks. It's largely because this battery is not of the AGM type. And therefore, it needs a tad bit of maintenance from your end. But this is a small inconvenience that is overcompensated by its generous 12-hour runtime.
That's right; this backup battery will protect your basement from flooding for twelve continuous hours. Although, you specifically need the Basement Watchdog Emergency System for that.
However, once you set your pump on the intermittent mode instead of continuous, the battery can last up to several days before it runs out of charge. As for its modern, user-friendly technology, the standby battery sounds an alarm that warns you when its water needs a change.
If you're familiar with old sump pump or UPS batteries, you'll know the diverse effects a low fluid level has on the device. Thankfully enough, The Basement Watchdog will give you no trouble of this sort!
Pros
Runs for 12 hours at a time on a full charge
Changing the battery fluid is fairly easy
Rings an alarm for distilled water refills
Supports both intermittent and continuous pumping
Cons
The battery doesn't come with the 6 quarts of acid that it requires to run

5. Superior Pump 92900 12V Battery Back - Link
If you want a decent sump pump backup for recurring basement flooding problems, check out the Superior Pump 92900 battery. This budget-friendly pump accessory packs a lot of punch for a 12lbs. battery.
First of all, we were surprised to see how brilliantly it handled flood water removal during a seemingly endless power outage. Its heat-resistant, 16.5"L× 9.5"W× 11.5"H battery box is ready to accommodate nearly any deep-cycle AGM battery pack you can get your hands on.
Moving on, this is a 12V backup sump pump with a tethered float switch. Due to its unique configuration, common float switch fails can be easily avoided. In the backup kit, you get a battery box, charger, mounting hardware, an alarm, and a control panel.
Additionally, there is a low battery indicator and an intake screen that filters out solid to semi-solid debris. It keeps the impeller running smoothly.
The 1-½-inch NPT discharge pipe is wide enough to remove flood water out of your basement within a short period. And the size goes hand in hand with the flow rate too.
The latest Superior Pump models feature a thermoplastic construction for eliminating overheating problems. And this backup model is no exception. It supports the pump to lift water up to 25 feet. The pump lifts the largest volume of water- 1380 GPH at 0' which is not bad for a backup unit if you ask us.
Pros
Comes with a built-in AC charger
Lifts water up to 25 feet and discharges it via a 1-½-inch NPT pipe
Its tethered float switch has an impeccable sensor for pumping out excess water
An easy-to-read control panel and a manual pump test option
Sounds an alarm when the voltage is low, or the battery is incorrectly inserted
Cons
The maximum GPH is not high enough for extremely flood-prone areas

How to Pick the Best Battery For Your Pump?
A sump pump is more of a necessity than a luxury when the floodwater is rising by the hour. This is when a backup sump pump battery comes into play.
However, deciding on a standby battery is as complicated as choosing the pump itself. In the detailed sump pump battery buying guide below, we tried to make this process easier for you.
The Right Battery for Your Backup Unit
Gel cell batteries are leak-proof because they do not use liquid electrolytes. Rather, they use a paste-like conductor that is more sustainable in the long run.
In terms of stability and performance, deep-cycle AGM batteries are the next favorite choice for powering up sump pumps during a blackout. Unlike gel cell batteries, they use liquid conductors and are slightly infamous for running hot on continuous use.
Then there are deep-cycle flooded batteries. With a lower energy density and plenty of overcharging issues, these traditional batteries are less expensive than the modern AGM and gel cells. That said, these batteries are good options for homeowners who do not experience flooding on a regular basis.
Understanding the AH Ratings
Almost every sump pump battery review will throw in a snippet of AH ratings somewhere. So, what is AH and what does it have to do with your sump pump? AH is the ampere-hour rating that identifies how long and how well the battery can support your pump on a single charge.
You need to check if the battery box of your sump pump allows the product because a higher AH count means that the battery will be bigger.
Cheap batteries might display a duplicitous AH-rating which can be realized when the charge drains sooner than usual. That is why it's important to buy high-quality batteries from trusted companies.
Lifespan of the Battery
On average, gel cell and AGM batteries last no less than six years. You have to follow all the maintenance tips to make it work, of course.
Gel cell batteries are the easiest to deal with because they practically don't run as hot nor leak all over the place. But they are the most sensitive batteries, and one small mistake can render the whole unit completely useless.
AGM batteries, although burdened with liquid electrolytes, surprisingly require zero maintenance. Thanks to their sealed lead-acid construction, regular AGM batteries are projected to last somewhere between 6 to 10 years.
However, flooded batteries can die much sooner if you pay no heed to the fluid alarm. In a similar way, you can also make a flooded sump pump battery last for half a decade.
A small battery hack you're gonna thank us for- use a trickle charger to maintain your AGM battery if it's going to remain unused for a long time e.g., the winter season.
When a battery sits idly for months, it self-drains and sulfates- none of which you can completely get rid of no matter how much maintenance you perform afterward.
Continuous Vs. Intermittent Operation
A good sump pump battery is one that is equally reliable in intermittent and continuous pumping. When it comes to pumping without a stop for a long period, both the pump and the battery are susceptible to overheating. A sump pump battery, as it delivers power to your pump, will gradually decrease in voltage.
The question is how soon. If you want a heavy-duty performance, high voltage and more AH is the way to go. There is a noticeable difference between the two sump pump batteries with various ampere-hour ratings.
For example, the Weize 12V 35AH deep cycle AGM battery will max out around three hours on steady usage. On the other hand, a similar 12V deep cycle VRLA battery rated 100AH can go for nine hours at a stretch. If that's the kind of action you're looking for, check out the UB121000 by Universal Power Group.
Overheat Protection
It's no news that batteries get overheated when they're used long enough. However, when the negligible level is crossed, a heated battery can make a dent in its overall performance. It can cause the battery to lose its charge-holding capacity which you want to avoid at all costs.
You can charge AGM battery packs up to 14.4V without boiling up the fluid. The trick is to use only the manufacturer recommended charger every time a battery cycle is complete. Surprisingly, flooded cell batteries are stronger, and they can take more hits in this area than the sensitive AGM batteries.
Installation
Here comes the dreadful part which is setting up the battery. Although, having a closer look into the whole process will prove just how easy it is to install a sump pump battery!
Now, you can add a battery to run your primary sump pump or buy a secondary, standalone sump pump unit. Then again, not all sump pump batteries are to be placed in the same spot.
For example, there are wall-mount batteries and those which sit in the sump basin. A backup sump pump unit will come with a battery box to save you the trouble. But installing a standby pump is a different story altogether.
If you want to get to the bottom of this, there are plenty of YouTube tutorials on how to install a sump pump battery in the easiest way.
Head on to Royal Work Corp. where plumbing expert Richard Tretheway shows you an easy battery-powered sump pump installation from scratch for free!
A Charger for Your Backup Unit
While some backup units will come with their own charger, some won't. And it's important that you pick the right kind of charger that maintains a consistent pulse current. Some 5-amp chargers can detect a battery defect and implement a multi-step charging method to eliminate the risks of overcharging.
It's safe to get a charger that is compatible with most maintenance-free deep cycle AGM battery models. Use a 4-step charger that optimizes power, one that is reverse polarity protected and monitors the whole charging process for sustaining battery health.
Our personal favorite is a smart battery charger and a maintainer combo- one that acts as a battery desulfator and a trickle charger. This type of smart charger counters overcharging in the summer and prevent undercharging as the temperature begins to drop.
Sump Pump Battery Maintenance
There's hardly a sump pump battery that comes in less than a hundred dollars. So, you obviously expect the backup battery to last for a couple of years. Here we will brief you about the most basic sump pump battery maintenance hacks that go a long way!
Check the Battery Voltage
The first step is to calculate the battery voltage once when it's off and once again when it is under load. For starters, you have to bring the sump pump battery to a full charge, and then remove the charger. Now, take the positive and negative terminals of the battery and measure their static voltage.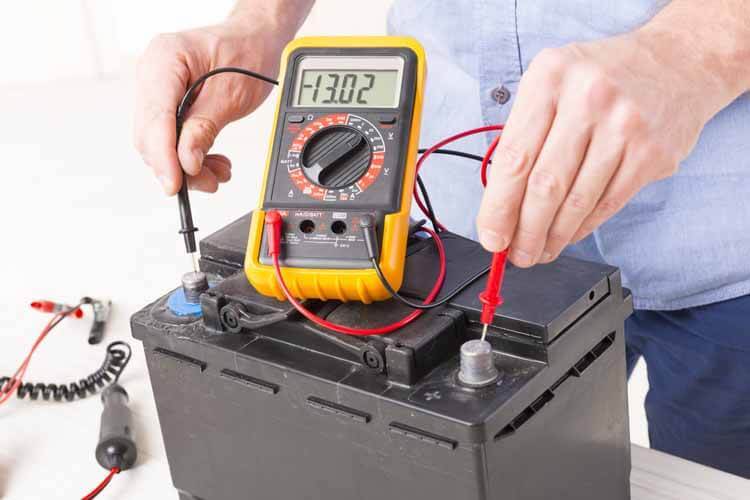 Checking The Battery Voltage
You can measure the accurate voltage readings via a volt-ohm (VOM) or a voltmeter. While taking the static voltage reading, anything higher than 12-volt is perfectly acceptable. It shows that the battery is still going strong.
A drop from 12V when the battery is sitting idly indicates that it is gradually losing the ability to contain the charge.
For the next step, you have to take the measurements while the pump is running. The battery should be on a full charge for this experiment.
Let the water inside the sump pit rise till the secondary sump pump or the backup unit jumps into action. While this backup unit is under load, measure the voltage in the said process.
The reading, again, should be above twelve volts. If the VOM shows a reading of less than 11.6V, the battery is not running as good as new.
Do Not Overcharge the Unit
Overcharging the unit is fatal to the battery since it dramatically reduces its charge-holding capacity. Know the amount of time it takes to fully recharge the backup battery and put away the charger.
You should also be careful not to discharge your battery to a level that it cannot receive charge the next time.
Sulfation & Overheating Protection
It's important that you store the battery in a well-ventilated place because batteries, regardless of their type, are prone to overheating. On top of that, if you make the battery sit for long enough, a substance called lead sulfatewill form around the negative plate.
It drains the battery sooner than its initial cycle. Use a battery desulfator to rejuvenate the old unit and it should be okay. Invest in a quality charger if you want your backup unit to run seamlessly.
We strongly recommend using a smart 4-step charger for a complete battery protection against overcharging, undercharging, reverse polarity, and so on.
Frequently Asked Questions
What kind of battery do I need for my sump pump?
If your sump pump unit is a heavy-duty one, you should get a battery with a higher AH rating to match its power. Before that, you need to settle on a suitable battery type.
We recommend deep-cycle AGM batteries because they are durable, maintenance-free, and leakproof. Moreover, you can easily find compatible chargers that promote a healthy battery in the long run.
How long do sump pump batteries last?
Unlike a flooded battery that burns out in a couple of years, an AGM battery will last for six to ten years. A gel cell, on the other hand, might just last longer if you stick to the maintenance instructions.
You must check the battery fluid levels on your deep-cycle flooded battery and refill them accordingly. AGM and gel cell batteries are maintenance-free.
How long will a 12V battery run a sump pump?
It depends on not only the ampere-hour rating but also the pumping mode your backup unit is on. Naturally, a 12V AGM battery will last up to 3 hours or a bit more on continuous pumping. When sump pumps are run intermittently, they stay on about four to five minutes at a time and then go off again.
If your backup unit is on intermittent mode, a fully charged 12V deep cycle battery can last for a few days.
Are battery backup sump pumps worth it?
Battery-powered backup sump pumps are worth it because a pump that is connected to a wall power outlet will be useless during a power outage.
It's not feasible to run a sump pump on a generator because you have other devices to power up. Only a dedicated secondary unit can provide consistent dewatering for your basement and prevent it from flooding.
Can I use a marine battery for a sump pump?
You can use a deep cycle marine battery for a sump pump. For a long time, marine batteries were the only option to deliver backup power to primary sump pumps.
Their internal machinery provides low resistance which makes it possible for the unit to recharge in a short time. Moreover, energy loss is significantly reduced in these battery models- making them the top choice for long, uninterrupted service.
How do you add water to a sump pump battery?
Flooded sump pump batteries require distilled water to function. There should be caps on each individual battery cell which you have to remove beforehand. You will notice a ring around each cell; it denotes the optimum fluid level.
Now, fill each cell with distilled water so as to not cross the ring. Keep the fluid level just below to be safe and put the caps back on. Lastly, remember to wear rubber gloves for safety before you change the water.
Buy on Etsy
Wayne WSS30VN Upgraded Combination 1/2 HP and 12-Volt Battery Back Up System , Black - Etsy Link
PumpSpy PS2000 WiFi Battery Backup Sump Pump System with Internet Monitoring & Alerts - Etsy Link
WAYNE BGSP50 Guardian Premium Wi-Fi Connected Total Basement Protection System - Etsy Link
Wayne ESP25 Upgraded 12-Volt Battery Backup System, Black - Etsy Link
Zoeller 508-0006 Aquanot 508 ProPak53 Preassembled Sump Pump System with Battery Back-Up - Etsy Link
Zoeller 508-0005 Aquanot 508 Battery Back-Up System - Etsy Link
Zoeller 507-0005 Basement Sentry Battery Backup Pump - Etsy Link
Buy on eBay
Wayne WSS30VN Upgraded Combination 1/2 HP and 12-Volt Battery Back Up System , Black - eBay Link
PumpSpy PS2000 WiFi Battery Backup Sump Pump System with Internet Monitoring & Alerts - eBay Link
WAYNE BGSP50 Guardian Premium Wi-Fi Connected Total Basement Protection System - eBay Link
Wayne ESP25 Upgraded 12-Volt Battery Backup System, Black - eBay Link
Zoeller 508-0006 Aquanot 508 ProPak53 Preassembled Sump Pump System with Battery Back-Up - eBay Link
Zoeller 508-0005 Aquanot 508 Battery Back-Up System - eBay Link
Zoeller 507-0005 Basement Sentry Battery Backup Pump - eBay Link
Conclusion
While shortlisting our top 5 sump pump batteries, we researched enough gel cells, AGM, and marine batteries to declare UB121000 by Universal Power Group the winner!
This is the best sump pump battery and weighs twice as much as your average backup unit, but it pays off with an outstanding runtime on both continuous and intermittent pumping modes.
The Wayne ESP25 is our second favorite because it's a standalone backup unit with an incredible 2700 GPH flow rate.
Finally, the Basement Watchdog is the good old flooded battery that toppled some AGMs with its exceptional runtime and long standby period!