The best chainsaw in the market is…Contrary to the common belief that a single all-around chainsaw exists, there is nothing like the best singular chainsaw on the market. Sorry, but it is no easy to find one, so have that at the back of your mind as you read this buying guide. If you are shopping for a product for light pruning of bushes or trees in your garden or yard, a portable, battery-powered chainsaw such as BLACK+DECKER LCS1240 will be perfect for you. However, if your job entails felling 34-inch trees regularly, this chainsaw might be of little help to you. I would recommend that you order something larger and more powerful such as the Makita EA7900PRZ1 chainsaw.
While shopping for the best chainsaws, make sure that you understand the process for selecting the right product(s) from your favorite store(s). For instance, do not be one of those who make impulse choices without factoring in their budget or the kind of job they will be doing. This article will help you make informed and smart decisions whenever you are shopping offline or on the Internet. We hope that it will help you to shop for tools like a professional.
Top Chainsaws in the Market by Editors' Picks
Top 5 Best Chainsaws in the Market Reviews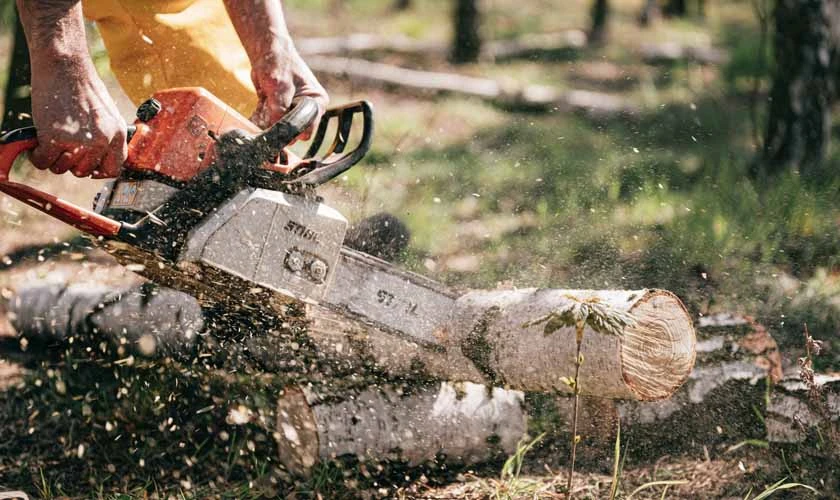 Chainsaws are powerful handheld accessories with versatile designs that handle a plethora of jobs seamlessly. They come in various sizes and designs that use either gasoline or electricity as a source of power. We have reviewed some of the best types in stores and discussed each model's cons and pros to help you make the best decision. We will help you identify the best chainsaw for your job through the reviews and buying guide shared herein. For instance, if you live in a farm, we will help you find a powerful chainsaw for cutting down trees for your yearly firewood supply. Moreover, if you are a D.I.Y. enthusiast, we will help you find a smaller yet powerful chainsaw for chopping 2×4's for your projects. Finally, if you are an average homeowner who struggles to prune bushes and trees, we can help you find an electric saw to handle such jobs as a professional.
While standard electric saws lack the brute power of larger 65cc models, they are lighter and easier to use. Another benefit of buying electric chainsaws is their eco-friendly designs, requiring little to no maintenance to work. You will find two models online - cordless and corded electric chainsaws - each with its merits and demerits that we have talked about in detail later on. While choosing a cordless model, one of your major considerations should be the battery. What type of battery do you get? What is its amp-hour rating or voltage? However, while choosing a corded model, make sure that you get a long power cord and that you have compatible outlets around your home.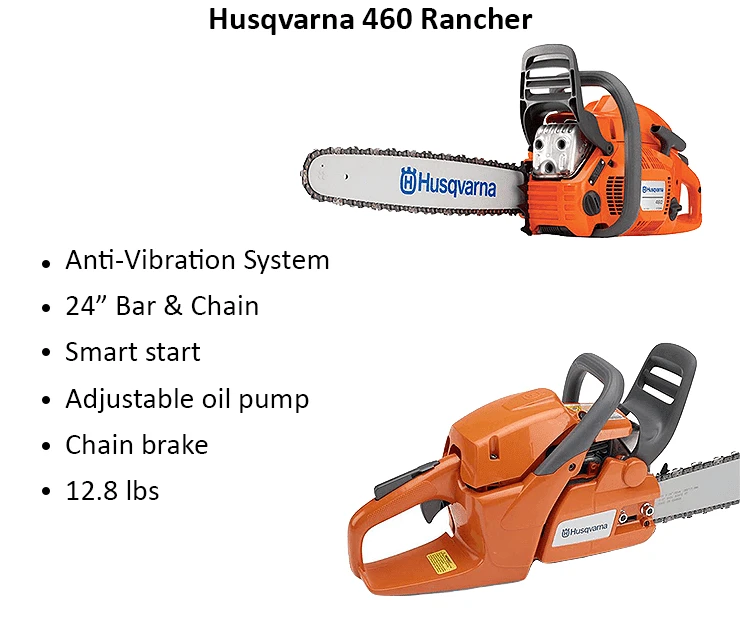 Modern cordless tools have advanced designs with universal batteries that work in several models of the same tool. For instance, apart from powering the chainsaw, you can use the battery to power a hedge trimmer or a blower as well. Therefore, instead of buying numerous individual batteries for tools, you get one that powers your entire collection of power tools, including drills and hedge trimmers, to name a few. We have also covered its safety and maintenance tips in detail.
From our discussions, you will have a good idea of minimizing or preventing kickback while sawing, how to start a troublesome gas-powered chainsaw and the critical role of chainsaw chaps. First, let us learns more about the best chainsaws that you can find online today. We have shared detailed reviews of the best cordless, electric, and gas models to select a suitable model for the type of project you are doing.

6-inch Oregon bar and chain, 60V M.A.X. Brushless Chainsaw.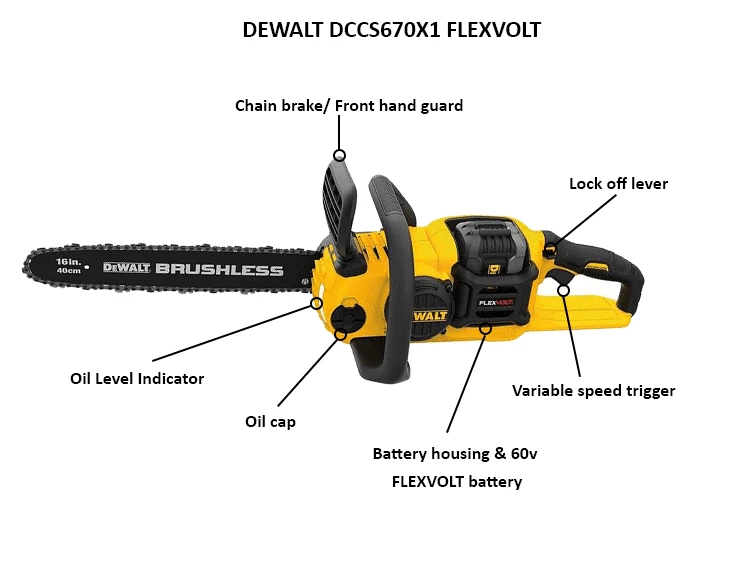 Features :
Low Kick Back 16-inch Oregon Bar and Chain that support heavy cutting and construction jobs.
Tool-Free chain-tensioning system and a bar tightening knob for adjusting clamping force.
Auto-oiling system for continuous lubrication.
Quick refills via a quarter-turn oil cap.
Chain brake that prevents/lowers kickback.
Cuts 6×6-inch pressure-treated pine up to 70 times.
0 Amp Hours (A.H.).
16-inch bar length.
60V M.A.X. power output.
Weighs 12.2 pounds.
Overview
If you require a compact, quiet, and powerful chainsaw for hunting, trimming, and doing light construction, check out the new DeWalt DCCS670X1 model. You will receive an electric chainsaw, meaning that cold starts will never be an issue for you. Moreover, it does not use carburetors, spark plugs, air filters, and chokes, making it a low maintenance product. While planning a job, you will never worry about any of these - engage the saw's safety trigger, disengage its chain brake, and press a trigger to cut. A worrying limitation of the saw is its trigger's safety (requires in all chain saw to maximize safety). While it is responsive and easy to reach/operate for right-handed people, you might struggle to engage it while starting the chainsaw if you are left-handed.
Apart from this minor design flaw, other attributes are perfect. A new one cannot replace the heavy-duty chainsaw of lumberjack, saw that you use at home or work, but expect a memorable experience from one. Because of its superior design and vast technological advancements, the DeWalt's 40V cordless chainsaw is more powerful than the 60-volt DeWalt. From our experience and research, we believe that the higher number of cells in the chainsaw's 40V M.A.X. lithium-ion battery pack contributes to its superiority by allowing it to generate more amperes than the 60V M.A.X. lithium-ion battery. Overall, the 60V max battery has the DCCS670X1 system that churns out 3.0AH in 60-volt mode, while the 40V M.A.X. battery has the DCCS690X1 system that churns out 7.5Ah.
VIDEO | Here is the DEWALT 60V FLEXVOLT in action.
In battery terminology, Ah refers to Ampere Hours, which indicates the amount of current that a battery can generate continuously for up to an hour before running out of charge. A high Ah battery is more powerful than a low Ah model and can support heavy cutting and drilling jobs better. The 60V M.A.X. lithium-ion, for instance, not only powers chain saws but also other DeWalt power tools that support the FLEXVOLT technology and old tools that lack the FLEXVOLT. Its technologically advanced system can automatically detect different tools and adjust its voltage appropriately to maximize its performance and prevent damage. In the 20-volt mode, for example, the battery can generate around 9 amperes per hour.
The 60V M.A.X. battery has a fast charge system that you can recharge from 0-100% in less than 45 minutes, which enables you to do high-throughput chopping and cutting jobs for the whole day with just two battery packs. Moreover, you can swap it with another one instantly and charge it as the other one is in use. According to DeWalt, the chainsaw can cut a 6×6-inch pressure-treated pine wood up to 75 times without running out of charge, which is desirable. Therefore, if you are a Jobsite professional or a D.I.Y. enthusiast who cuts poles, 4×4 beams, and wood often, this chainsaw will serve you the best. You can also use it to fell medium-size and small trees or shrubs with good results. For safety, do not use this chainsaw to cut 12-14 inch logs due to its underpowered system and a plastic bucking spike that could snap.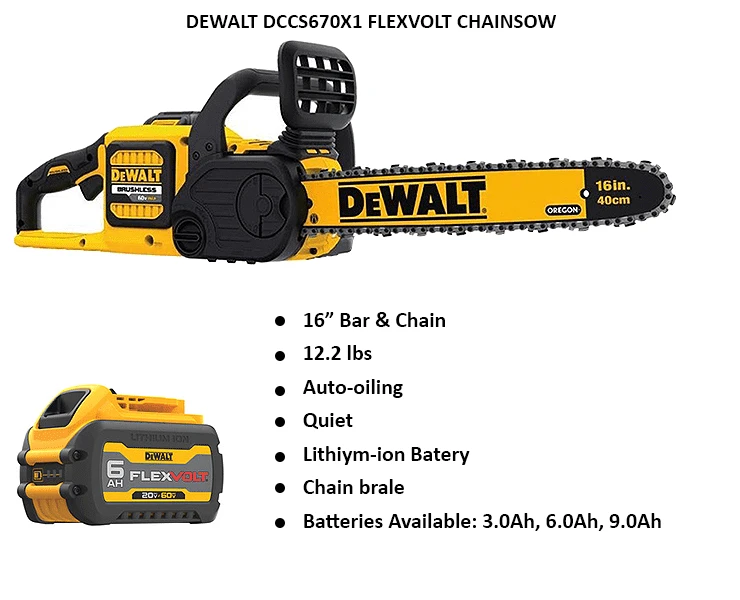 This saw comes with a plastic bucking spike, which some people do not like or find unnecessary. However, for a compact and cordless chainsaw like this one, the plastic dogs are handy as they alleviate pressure from the chain while splitting logs to prevent the tool from triggering overload protection prematurely or channeling a lot of power to its brushless D.C. motor. While you will appreciate the bar adjustment and free chain tensioner in this chainsaw, make it a habit to check the chain's tension every two hours or after every cut to know when the chain has expanded. New chains tend to expand, which can cause issues.
Finally, keep the DCCS670X1 automatic bar oiler working seamlessly, using thicker 15W-40 engine oil or something similar in this chainsaw. Thinner oils overheat quickly and tend to leak quicker than thick oil does, predisposing the chain to physical or mechanical damage in the end. To cut this story short, you should not use vegetable oil or thin motor oil in this chainsaw if you want it to last for long. Spend a bit more money on high-quality chainsaw oil to maximize its performance.

This brushes 40V M.A.X. Lithium-ion chainsaw has a 14-inch bar and chain. Its battery-powered design has a 2.5 Ah battery and a charger.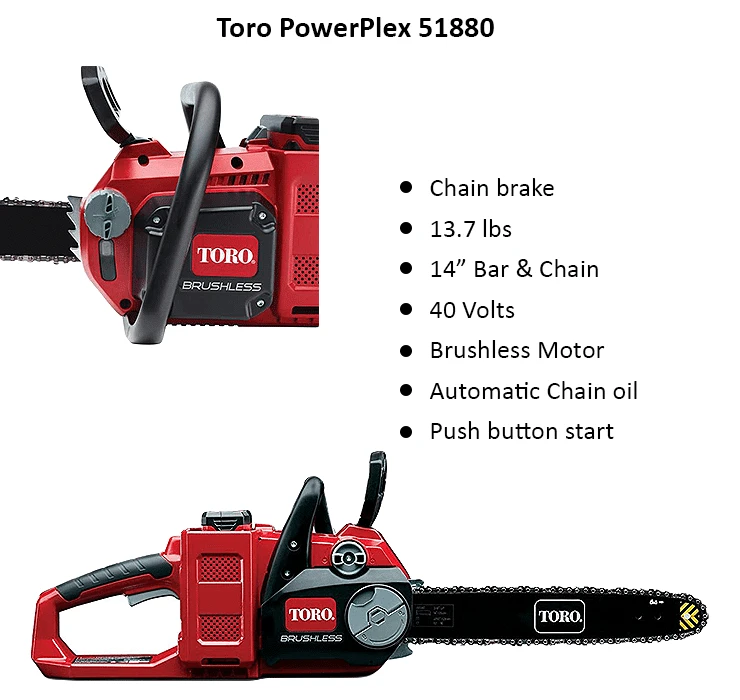 Features :
A long-lasting brushless D.C. Motor provide more run time and power.
Push-button start (No pull system).
Low Kickback - Chain, chain brake, bar tip indicator, and metal bucking teeth.
Easy to use tool tensioning and automatic chain oil with an oil level indicator.
Download or view the Toro PowerPlex 51880's MANUAL.
Overview
We bring you a cost-effective 14-inch chainsaw (cordless) that generates sufficient power for cutting limbs and light trimming all day long. The product has a Toro PowerPlex T90 lithium-ion battery rated at 36V (40V Max) and around 2.4Ah. If you multiply the amp hours with the voltage, you get the watt-hours of the battery. For the T90, this should be 2.5 by 36, which is equal to 90 watt-hours, reflected on the battery's name - T90. This PowerPlex battery has a cool-looking charge indicator L.E.D.s (integrated) that show the remaining power in the battery while in use in the tool. Overall, assuming you are cutting 6×6-inch lumber, you can get up to 40 cuts at full power before its charge runs out.
VIDEO | Learn More about the Toro PowerPlex chainsaw
Using the provided Toro Quick Charger (model 88542) charger, you can charge the T90 in less than 60 minutes. While this is significantly faster than older cordless chainless models had, the charge speed is sub-par compared to some Makita and DeWalt cordless chainsaws that charge from 0-100% in under 45 minutes.
However, if you order an original PowerPlex 51880 chainsaw kit and use it to handle light-duty jobs, you will never have an issue with one. Remember that I have talked about the PowerPlex 51880 chainsaw kit - not the saw only. This because some stores sell the PowerPlex 51880 chainsaw separately as the PowerPlex "51880T", with the T indicating that you are purchasing the tool without a charger and a battery.
If you need a high-powered battery that can prolong your work time, check out the T180 battery, as it has twice the capacity of the T90 battery. Even though it is a 36-volt battery, it delivers more amp hours, enabling you to work longer. The T180 battery also has an L.E.D. flashlight built-in and a comfortable top handle (foldable) that enables you to carry it around effortlessly. Unfortunately, the battery takes significantly longer to charge - approximately 2 hours or 120 minutes.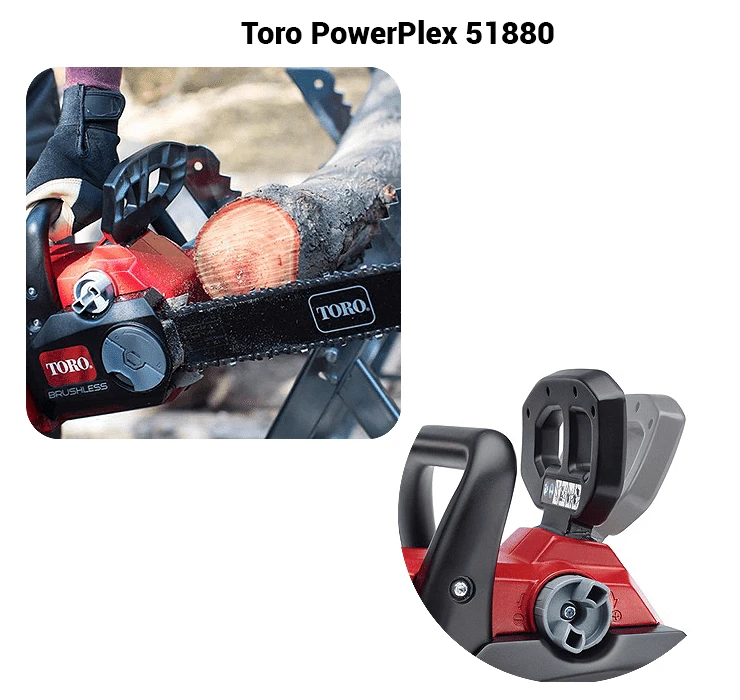 All other attributes of the PowerPlex 51880 chainsaw mimic those of mid-range cordless chainsaws. These include a bar/chain adjustment (tool-less), a low kickback chain, and an oil tank with a window for monitoring oil levels. Moreover, as the DeWalt DCCS670X1 chainsaw reviewed prior, you get a cordless chainsaw with an efficient D.C. motor (brushless) that runs smoothly while in use. You get a wall hook under the handle that you can use to hang it on a garage wall after use. To prevent damage, drain the oil and remove the battery before hanging. You can also hang the quick charger on a wall without damaging it.

A 12-inch Chainsaw Kit with a 5.0Ah lithium‑ion battery and charger.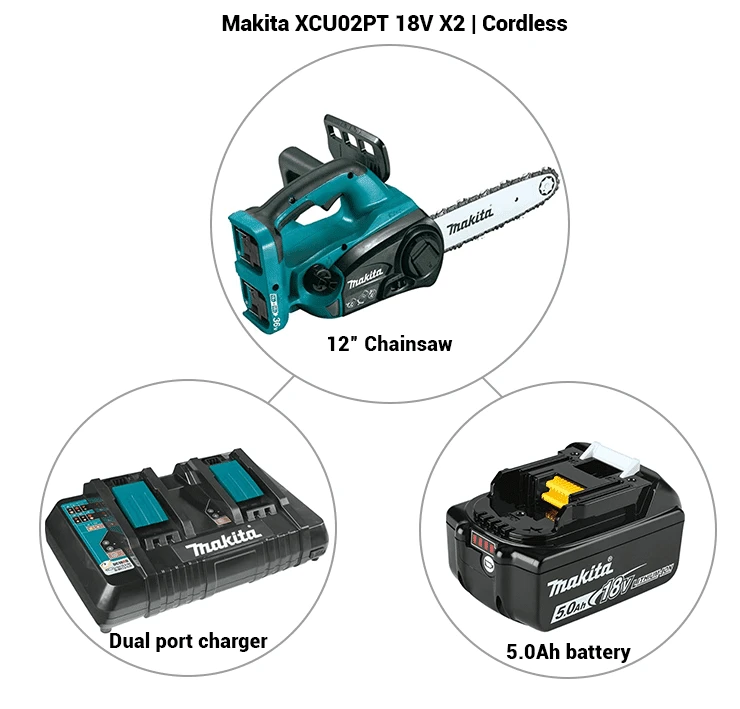 Features :
Powerful Makita motor and a 1,650 FPM chain speed ensure faster cutting.
"Tool-less" chain adjustment that eases its use and maintenance.
Low maintenance cordless design; no need to change spark plugs, air filter, and engine oil or drain fuel during storage.
Chain brake actuated by a handguard when needed.
High capacity guide bar (12 inches).
A quiet system (87 dB (A)) with zero emissions is comfortable to operate.
Weighs 10.1 pounds with a light battery that lowers operator fatigue.
Two 18V L.X.T. lithium-ion batteries deliver seamless power.
Extreme Protection Technology (X.P.T.) that provides water and dust resistance in challenging sites or environments.
Comfortable top handle (soft grip) that eases its operation.
Instant start-up via two 18V L.X.T. batteries.
Highly productive electric brake.
Automatic chain lubrication (automatic) with a reservoir for oil.
Large oil filling port with viewing window for checking capacity, adding fresh oil quickly.
E.D. battery indicators on the 18V L.X.T. batteries show charge level.
0Ah 18V LXT BL1850B Lithium-Ion battery with a charge level indicator.
0Ah 18V LXT BL1850B Lithium-Ion battery has 65% more run time than the 3.0Ah BL1830 battery per charge.
0Ah 18V LXT BL1850B Lithium-Ion battery charges in about 45 minutes.
Dual Port Charger for the two-18V L.X.T. lithium-ion batteries.
Dual Port Charger has a USB port that supports most portable electronic devices.
Optimizes charge process via a chip in the Makita Rapid Optimum Charger, prolonging battery life by optimizing temperature, voltage, and current.
A powerful fan keeps the battery cool by circulating cool air on it whenever it is charging.
The battery, tool, and charger have a three-year limited warranty.
Download or view Makita XCU02PT's MANUAL.
Overview
There are two kinds of power tools that most people love - Makita cordless chainsaws and Honda inverter generators. If you can afford both of these tools, you can go through any hurricane, storm, or home improvement project without breaking a sweat. The XCU02PT has two L.X.T. (18C lithium-ion batteries, which rank among the best rechargeable L.X.T. batteries in the consumer power tools niche. They have a durable and fast charging design that makes them suitable for powering diverse families of cordless tools found on the Internet. For instance, apart from powering the XCU02PT chainsaw, you can use an 18C L.X.T. battery to power a Makita XSH03Z circular saw and a Makita XAG09Z brushless angle grinder, among many other 18-volt cordless tools found in the Makita L.X.T. family.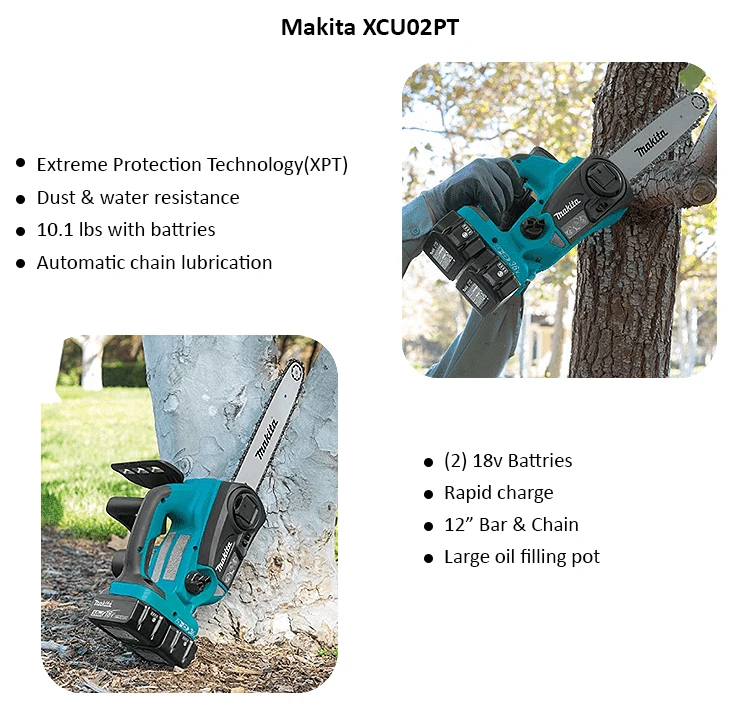 This cordless Makita Chainsaw is a unique chainsaw that differs from the Toro and DeWalt cordless models regarding the handle's layout. Its sturdy top handle design is as sturdy as the models preferred by professional foresters and arborists. While you can use one to trim storm-damaged trees or chop firewood, please do not use it on the tree because you lack the required certification and the skill to operate one. Even though its compact design (12-inches) supports single-handed use, do not try to look cool by operating the chainsaw one-handed if you do not have the requisite skill. This way, you are brewing a recipe for accidents, serious injury, and or a long trip to the emergency room (E.R.).
This chainsaw packs serious power, thanks to its dual rechargeable 18V/ 5.0Ah batteries even though cordless. The guide bar measures just 12-inches long, making the chainsaw a top pick for cutting thick logs (up to 10 inches). Moreover, its consistent power output can cut most woods, from Fir to Cedar and Mahogany or Walnut. You will also love the rapid-charge battery that comes with this chainsaw. In just 45 minutes, you can charge the 5Ah battery pack from 0-100%, which is admirable for its size. For reference, the DeWalt battery delivers 3Ah but requires 45 minutes to charge fully, while the 2.5Ah Toro battery requires about one hour (two hours for the 5A model). Its superior performance results from its Rapid Optimum Dual-Port charger (model DC18RD) and its star battery protection and monitoring system.

Fitted with four heavy-duty batteries (5Ah), you can work with this chain saw all day with good results. It handles a plethora of jobs, including cutting wood. All you have to do is make sure the two batteries have enough power to have such demanding jobs like a charm. Either way, you are getting one of the best chainsaws in 2023. Makita products have durable and dependable designs. Each product comes with a rapid charger that can power the two-5Ah batteries in less than 45 minutes.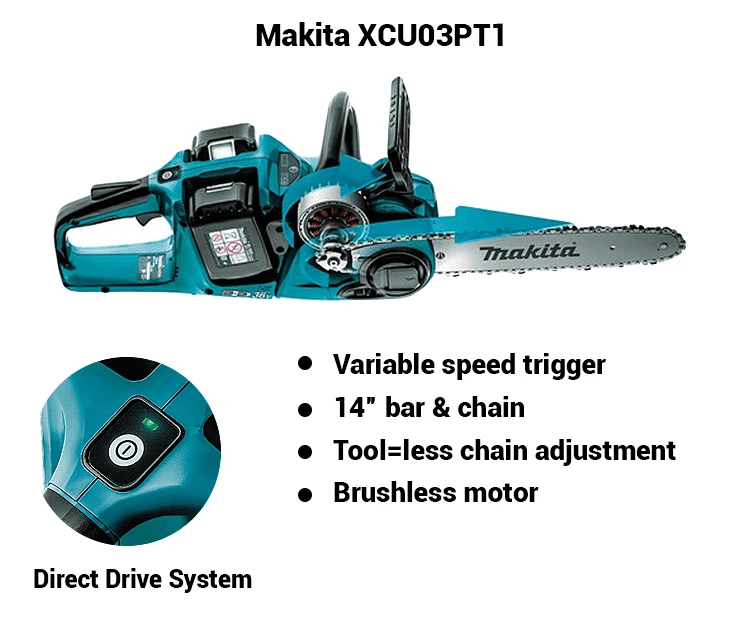 Note: If you need a chainsaw with a 16-inch bar and chain and two high capacity batteries, Makita XCU04PT is the best.
Features :
Makita's direct-drive Brushless Outer Rotor B.L. Motor is efficient, powerful, and works better than 32cc gas chainsaws do.
Fast chain (0-3,940 FPM) with a trigger for maximizing its cutting, chopping, or splitting performance.
Low maintenance (Tool-less) chain adjustment system.
Lock-off lever (built-in) prevents accidental engagement of the chain.
Built-in L.E.D with an auto power-off function and an on/off switch shuts off automatically after a long duration of inactivity.
Dual L.X.T. Lithium-ion batteries (18V) provides reliable and consistent power while the chainsaw is in use.
A front handguard actuated the chain brake efficiently and safely.
High capacity guide bar (14 inches).
Zero emissions and low noise level makes it safe for the environment and humans.
Weighs about11.5 pounds (including the battery), which lowers operator fatigue.
Extreme Protection Technology (X.P.T.) boosts water and dust resistance while in use in harsh environments.
High-performance electric brake system.
Comfortable top handle with rubberized grip boosts its performance.
Large oil reservoir with a refill port (large) and a window for checking the level of oil.
Auto chain lubrication (plus large oil reservoir) minimizes friction.
Battery indicators (L.E.D.) showing the capacity/charge of batteries.
The BL1850B 18V L.X.T. Lithium-Ion battery (5.0Ah) has a charge level indicator (L.E.D.).
The BL1850B 18V L.X.T. Lithium-Ion battery (5.0Ah) works up to 65% longer than the BL1830 3.0Ah battery.
The BL1850B 18V L.X.T. Lithium-Ion battery (5.0Ah) recharges in 45 minutes.
The BL1850B 18V L.X.T. Lithium-Ion battery (5.0Ah) charger can recharge two batteries at once.
High-speed USB ports for recharging other electrical devices.
The Makita Rapid Optimum Charger adjusts capacity automatically to suit battery type.
A built-in fan keeps the battery cool as it charges.
Limited three-year warranty on charger, battery, and tool.
Overview
The XCU03PT1 is not only more powerful than the XCU02PT model reviewed herein but also has a longer bar. Like the XCU02PT model, it comes as a versatile chainsaw kit that includes four 5.0Ah L.X.T. lithium-ion batteries, a low kickback chain, Rapid Optimum Dual Port charger (DC18RD), chain cover, and a 14-inch guide bar. However, with the XCU02PT kit, you get an XCU03Z chainsaw that differs from XCU02Z.
How do the XCU03Z and XCU02Z chainsaws differ? First, let us have a look at their similarities. Both models have Makita's-built Outer Rotor - a brushless D.C. motor best liked for its durable and efficient design. Moreover, both models require two 5.0Ah L.X.T. (18V) rechargeable batteries to work and come with a free tool for adjusting the bar's height and the tension of the chain. That is all as far as similarities go.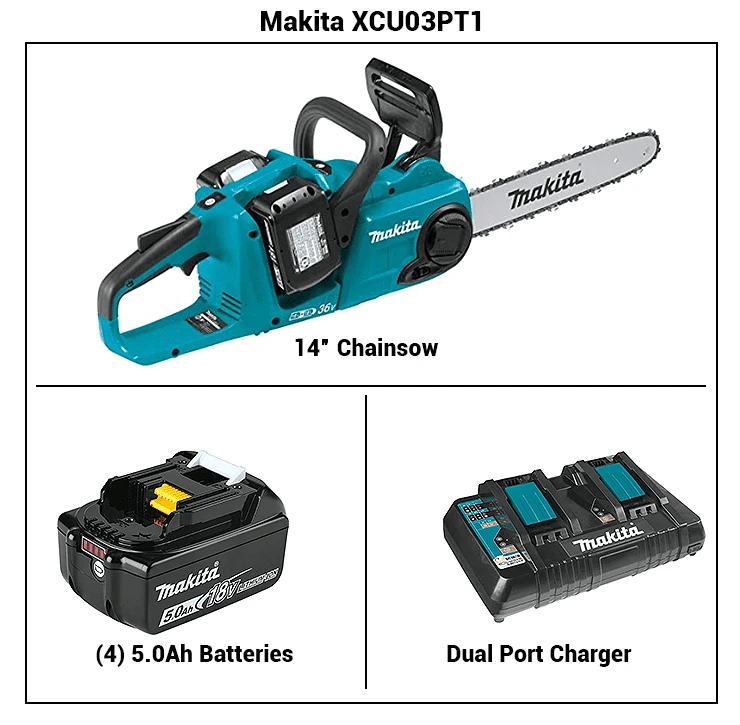 The XCU02Z has two handles that play many roles. Whereas the top handle is compact and therefore suitable for trimming gardens and branches, it has a thicker rear handle for cutting large chunks of wood measuring between 10-12 inches thick and 6×5-inch pieces of lumber, to name a few. It comes with a 14-inch bar, which you can upgrade to 16 inches following Makita's guidelines. Moreover, it packs a significant punch because of its longer bar and heavier chain, making it suitable for heavy-duty cutting jobs. The high throughput motor in the XCU03Z spins the low kickback chain at speeds of up to 3940 feet per minute (F.P.M., which is more than double the speed of the XCU02Z model of 1650 FPM.
Another distinguishing attribute is the variable speed control offered. With the XCU02Z model, you get 16050 FPM at once whenever you press the trigger. There is no way to adjust its speed or customize its performance, as is the case with most gas-powered chainsaws. This puts a lot of strain on the motor, even while handling low throughput jobs.
VIDEO | Here is how the Makita XCU03 Chainsaw cuts.
The XCU03Z is different, as you cannot maintain its full power for long with the motor spinning at full power (10 minutes for the two-18V 5.0Ah batteries). To counter this problem, the manufacturer added a variable speed trigger that you can use to control energy consumption and maximize this kind of saw's battery life. Unfortunately, even with this system, the XCU03Z still has a significantly shorter battery life compared to the XCU02Z model, which is why the extra batteries (two 18V) in the package are handy. Use the Dual-port Rapid Optimum charger in the kit to charge two batteries as the other two are in use.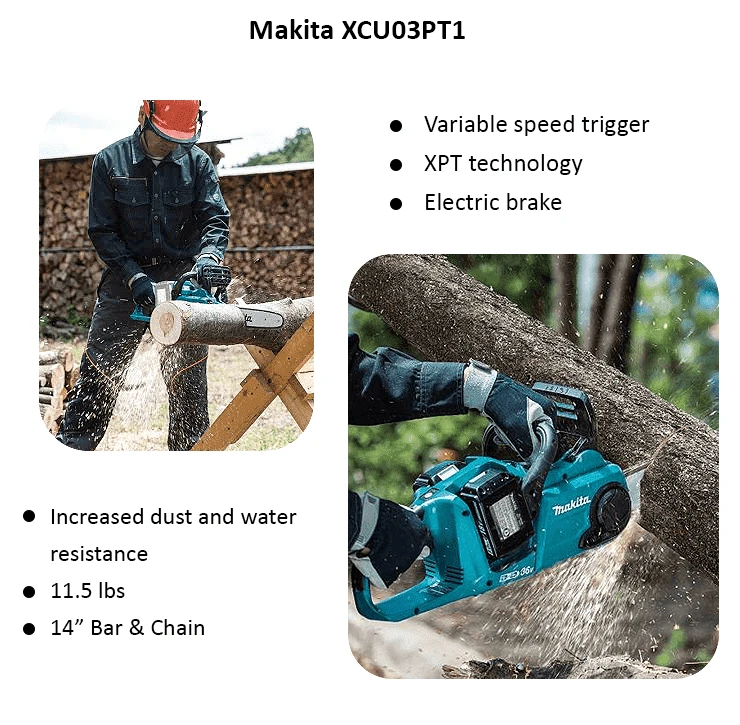 In comparison, you receive two Li-batteries with the XCU02PT kit. One feature of the XCU03Z chainsaw that annoys its users is the L.E.D. power ON/ OFF switch with the tendency to cut off power automatically after four seconds of inactivity. Most of its users consider it an oversight during the design phase as four seconds is relatively short whenever you are transitioning between cuts. Furthermore, if you are working on a demanding job and wearing a pair of thick gloves for safety, turning the switch on and off can frustrate you in the end.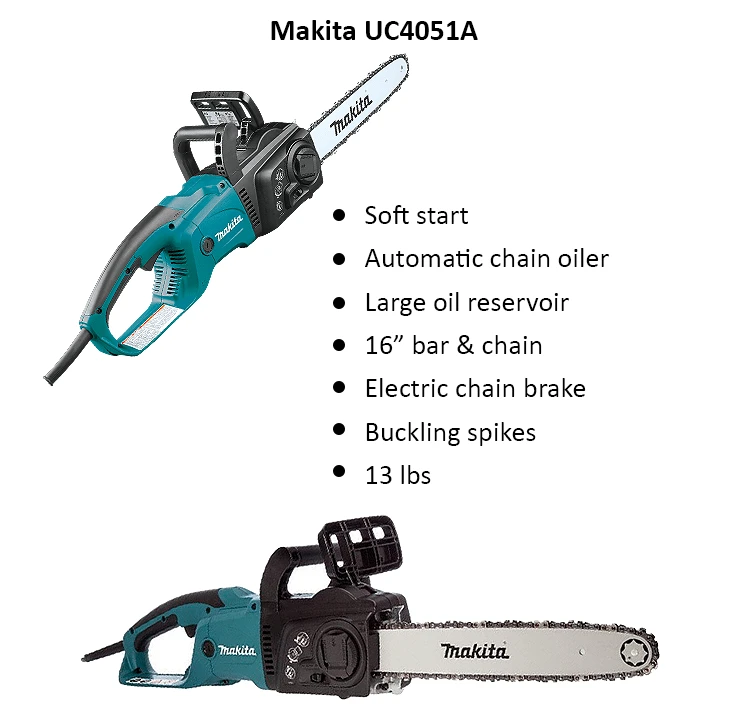 Features :
Tool-free chain and blade adjustment ease its maintenance.
Ergonomic handles have a comfortable rubber grip.
Soft/smooth start-ups via a large trigger switch.
A current limiter lowers the power of the motor to prevent burnout.
Large oil reservoir with a window for checking the bar oil level.
Auto chain oiler supports heavy cutting jobs.
Electric chain brake boosts safety and productivity.
Low maintenance design with zero emissions.
Overview
You are getting a simple, corded chainsaw (electric) with a few standout features that we can review. However, because it does an excellent job always, expect value for your money whenever you order an original from a good store. Unlike most cordless chainsaws with limited "juice," this model can work consistently four hours issue-free. All you need is a 120-volt outlet to power it and work for the whole day if you wish without limitations. However, remember to take breaks between jobs, as its motor is prone to overheating when in use for long. Its powerful 16-inch design is one of the best models for cutting giant logs and handling heavy duty trimming or cutting hardwoods and softwoods.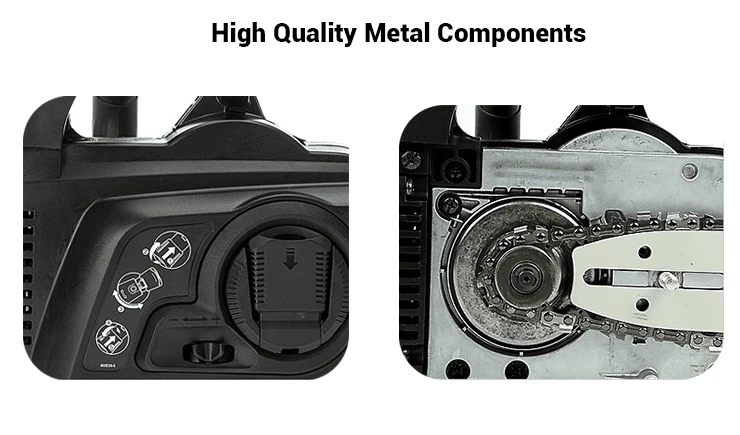 The XCU03Z cordless chainsaw does not have a trigger for controlling its speed. Instead, it spins the chain at top speed (2900 FPM) under load and no load. Therefore, whenever you switch it on, expect maximum power from the motor, which could be beneficial or a hindrance. Whenever you are cutting thick lumbar (6×6 inches) or slicing firewood, the system might be beneficial as you are maximizing torque, but it could be dangerous on old or recycled wood that often has wires and nails from previous construction projects.
Furthermore, because the speed is beyond your control, you will have a harder time controlling the kickback of this chainsaw whenever you strike a wire, nail, or a hard knot in the wood. Fortunately, this is never an issue for most people as the saw has a sturdy and well-padded handle (rubberized) that absorbs shock, protects the hands from injuries, and eases its control. The electric chain brake also kicks into action almost instantly to stop the motor, while the throttle interlock lever on the rear handle boosts safety. This electric chainsaw has many convenient features such as an automatic bar oiler, tool-less tension adjustment, low kickback chain, and a large reservoir with a view window.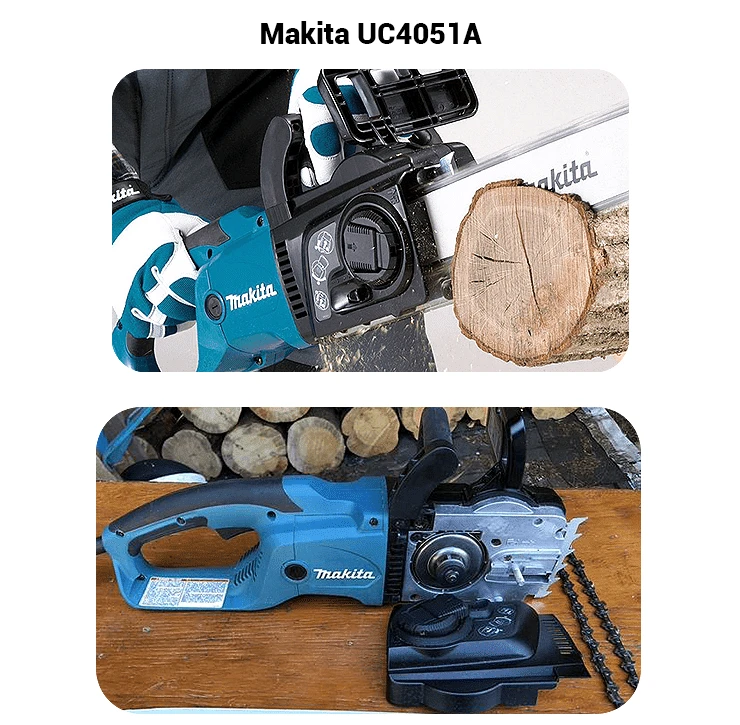 Funnily enough, this corded and relatively simple electric chainsaw has metal bucking spikes, which are tougher and more efficient, unlike some expensive and highly advanced cordless models that use a tiny plastic dog that mimics plastic toys. It is a good chainsaw, even with its limitations.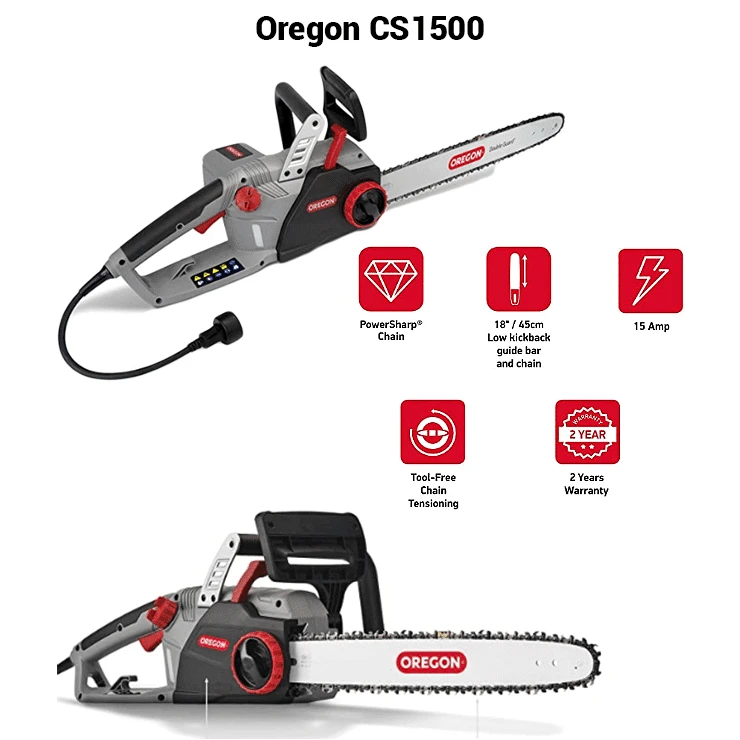 Features :
The PowerSharp self-sharpening technology (exclusive).
High-powered (15 amperes) motor with an 18-inch cutting deck and am upgraded bar and chain (low kickback).
The tensioning system is tool-free.
Light, well-balanced, and ergonomic design with a low vibration over-mold handle.
Safe chain brake technology.
Low-maintenance chainsaw with a 1-year professional and 2-year customer warranty.
Long bar (18 inches).
Low profile design (3/8 inches) with a PowerSharp chain and a 0.05-inch gauge.
Automatic oiler with a clear viewing window.
A powerful battery (15 amp rated).
120 Volt ~ 60 Hz.
2888 FPM No load chain speed.
Weighs 5.85kg (12.9 pounds).
Instant start technology: no warm-up, pull cords, emission, and gas-oil mixing.
Low noise motor (quiet between cuts).
Overview
From the 18-inc bar fitted on this product, it is evident that you are getting more than a standard electric chainsaw. Most comparable electric models have a maximum bar length of approximately 16 inches. Only a few manufacturers integrate 20 or 18-inch bars but often fail to provide sufficient power for the larger bars. As such, most of such scaled up chainsaws overheat quickly and or bog users down while working on heavy-duty cutting/ wood splitting projects or while felling trees (I guess that you have heard of the Poulan Pro).
The Oregon CS1500 delivers better results but is somewhat loud and heavy. However, you are getting the second most powerful motor among the corded electric chainsaws we have discussed herein.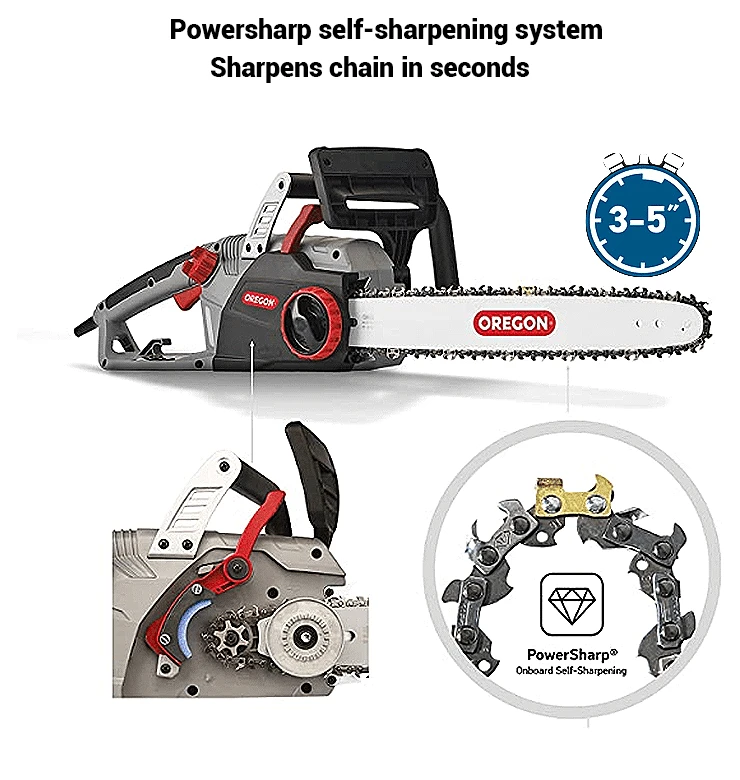 What makes this electric chainsaw so powerful? Well, with the Oregon chainsaw, you get a solidly built 15-ampere motor and a robust chassis. The motor generates 2400 watts, translating to about 3.22 horsepower. Moreover, while its chain's speed is low at around 1600 feet per minute, the CS1500 chainsaw generates sufficient torque for cutting up to 16-inch hardwood tree trunks/logs or construction poles without issues. The premium chain assembly (low kickback) is easy to handle, while its tool-less chain adjustment enables you to customize its performance.
VIDEO | See how easy the CS1500 is to use
From our review, this chainsaw's tool-less tension adjustment system seems to be the best in this industry. However, wait - with a new CS1500 chainsaw in your toolbox, you should expect many more goodies. The corded chainsaw has a robust design with a built-in chain sharpener for keeping the chain sharp. To use it, all you do is hold down the throttle and the chain brake for about three seconds and let it do the work for you. The feature is handy in job sites as it enables you to work for long issue free. Whenever you hit a nail or a rock, you can remove it, sharpen, and resume work without a dip in its performance.

Worx WG304.1 | 18-inch 15 Amp Electric Chainsaw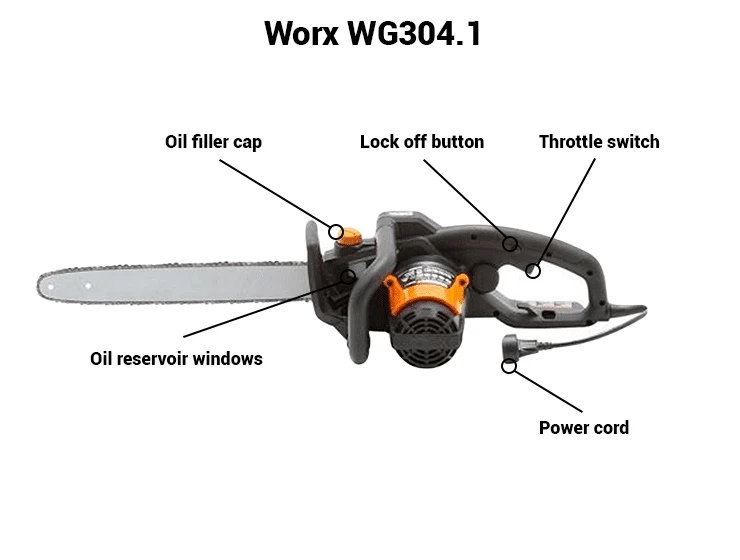 Features :
Robust motor (15 Amp) with a high -performance system.
Auto tension system (patented) the maintains the right chain tightness.
Safe chain brake technology.
Oil level (with a clear window) and auto oil lubrication.
Overview
Do you remember when we elucidated that Oregon CS1500 is by far the second most powerful electric chainsaws in the market? This model fills the number one spot on our list. With the WORX WG304.1, expect an 11.2-pound chainsaw with a robust plastic shell and a four horsepower motor. While its powerful design is popular with most people, you will love its ease of use as well. Moreover, it is light, easy to maneuver, and is one of the best brands for novices or beginners. Its refined ergonomics and auto chain tensioner are other good features.
A 16-inch 14.5A Chainsaw - WORX WG303.1!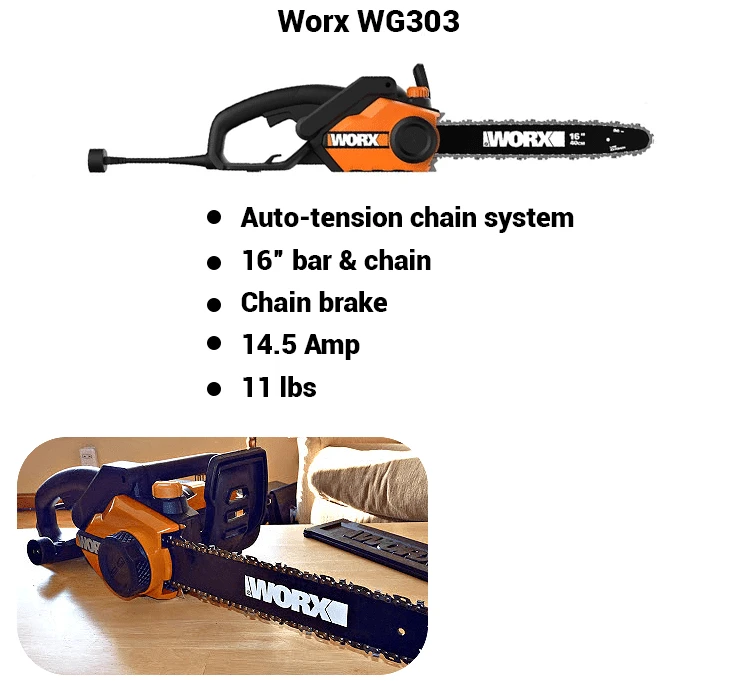 With WG304, expect a well-balanced and rugged chainsaw that excels at most jobs. Therefore, if you are shopping for a premium model for day-to-day use, it is one of the best. It features an electric chain brake for safety, a translucent oil tank, and an automatic oiler that keeps parts lubricated and working seamlessly. The oil tank has a transparent window for checking the oil's capacity without opening the cap. Adding oil to this chainsaw is also a piece of cake. Because the oil cap is large, you do not have to fiddle with the chainsaw or tilt it around to open the cap. Moreover, conveniently placed on the top of the saw close to the chain brake, you can access and open easily while wearing gloves.
The front of this chainsaw has metal bucking spikes that come in handy whenever you are cutting large logs measuring over 36 inches as
is doing with the Worx WG304.1 Yes, the log that he is cutting with this electric saw measures around three feet wide! From this evidence, you can have an idea of this power tool's value whenever we say that it is one of the most robust/powerful chainsaws in the market.
VIDEO | The Worx WG304.1 cutting/chopping a log
From our review, it is evident that WORK produces some of the most valuable chainsaws. The power that the manufacturer has packaged in this product is jaw-dropping. Also, because the company sells millions of these batteries every month, it can sell them at an affordable cost to its clientele. Do not let the price tag fool you as you are getting one of the best electric chainsaws in the market.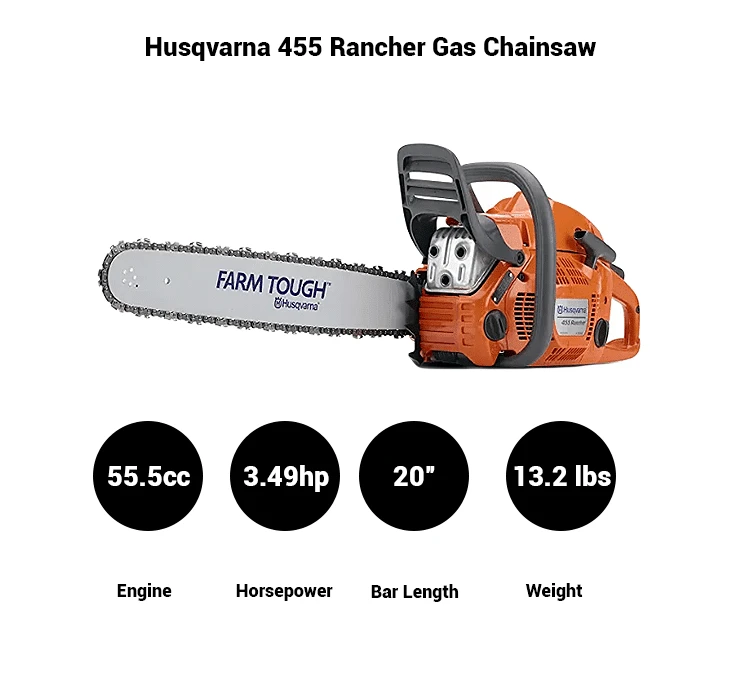 Features :
5 horsepower 55.5cc engine (20 inches).
Weighs just 12.8 pounds (excluding the chain and bar).
An eco-friendly X-Torq engine is power efficient and gentle on the environment. Watch video.
A quick-release air filter that is easy to replace and clean when dirty.
Intricate choke/stop system supports easy starting while preventing your engine from flooding.
Centrifugal air cleaning system (air injected) that keeps off debris and dust particles from the engine to enhance engine life.
Chain tensioning system (side-mounted) is easy to access and use.
Heavy-duty crankshaft (three-piece).
Comfortable from handles (ergonomic) prevents slipping or fatigue.
LowVib System reduces vibration to minimize injuries and or fatigue.
Adjustable oil pump streamlines the lubrication of the chain to boost its performance.
Precise felling marks come in handy while felling trees.
Smart Start technology ensures the Husqvarna 455 Rancher starts quickly and with little effort always.
Air Purge system flushes air from the carburetor to ensure a fast start.
Chain brake has an inertia-activated system that lowers kickback to boost safety.
CARB compliant electric chainsaw.
Overview
Even though the Worx WG304.m and Oregon CS1500 are incredibly powerful chainsaws, you can compare them with a new Husqvarna 455 Rancher. The gas-powered engine has a 55.5cc engine (two-stroke) that handles high throughput jobs seamlessly. Moreover, while the motor of the WG304.1 delivers an extra 0.5 horsepower, it has a smaller bar (18 inches) compared to the 20-inch model of the 455 Rancher chainsaw.
At full power, a 455 Rancher chainsaw engine can generate over 3.2-newton meters (Nm) of torque at 9000 rpm, higher than the power output of most superbikes and supercars. While you will need fuel for this saw to work, it mixes with air in the carbonator to generate explosive power without costing you a lot of money or harming the environment. For the price charged, you get value for your money.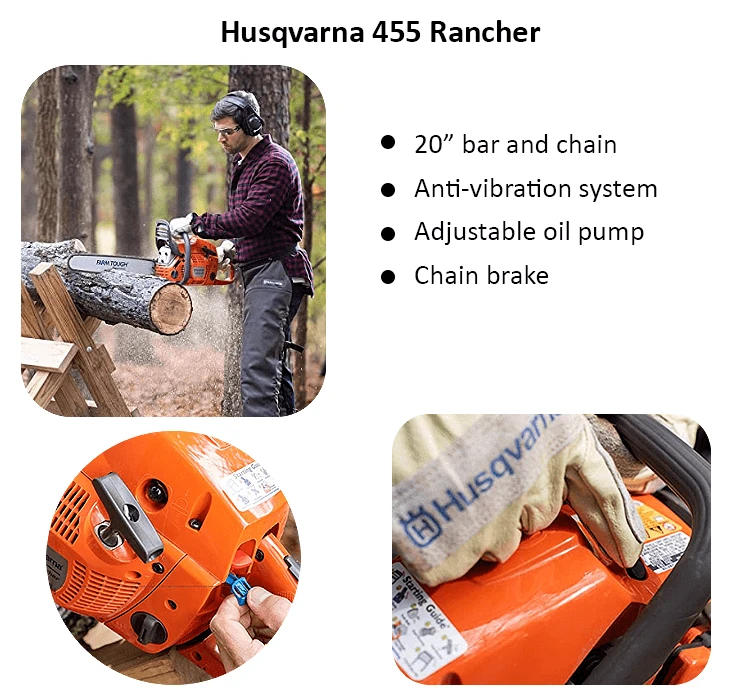 The 455 Rancher does not have a tool-less chain tensioning system found in many comparable has-powered chainsaws. Therefore, it might not be the best brand for cutting 4×4-inch logs or pruning trees in yards or gardens. However, if you want a saw for felling medium-sized trees and or buckling logs measuring up to 40-inches thick, it is one of the best brands to use. The prosumer grade chainsaw is also beneficial to arborists, farmers, and firefighters, to name a few. Finally, if you cut firewood or clear fallen or dead trees often, this chainsaw will never let you down. If you need a modest chainsaw that you can use twice or once per year, consider buying an electric model instead, as they do not take up a lot of storage space, do not require fuel to work, and start right up every time, even during the cold winter months.

You are getting a powerful, 18-inch gas chainsaw. This versatile saw can handle a plethora of cutting and trimming jobs in yards or lawns.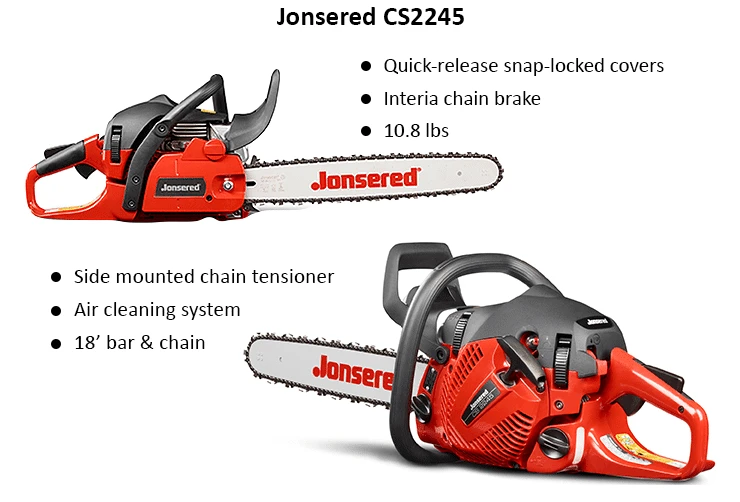 Features :
Clean power engine technology is fuel efficient (20%) and has less harmful exhaust fumes (up to 75%) than comparable brands - boosting raw power at low speed.
Turbo intake air cleaner creates a centrifugal force that picks up and removes over 97% of dust particles and sawdust.
The chainsaw has heavy-duty springs on handles that dampen vibrations to minimize irritation, lower operator fatigue, and boost the comfort of users during long workdays.
Tool-free chain tensioner (side-mounted) ensures fast and convenient chain adjustments.
The snap locked cylinder has a quick-release cover that eases access to spark plugs and air filter during maintenance; there is no need to remove screws.
Overview
Are you in need of a light chainsaw for light cutting instead of the heavier Husqvarna 455 Rancher? You will enjoy using the Jonsered CS2245 model. Like Husqvarna, Jonsered is a reputable Swedish brand known for manufacturing some of the best gas-powered chainsaws that excel in reliability and performance. Who can benefit from the CS2245 chainsaw? The product has a 45.7cc engine and an 18-inch bar that make it a nifty tool for cutting branches, firewood, and small logs on lawns and gardens. You can also use it to complete simple D.I.Y. projects at home as it is lighter (2.4 pounds) and maneuverable than the 455 Rancher and has a more powerful 55.5cc gas engine.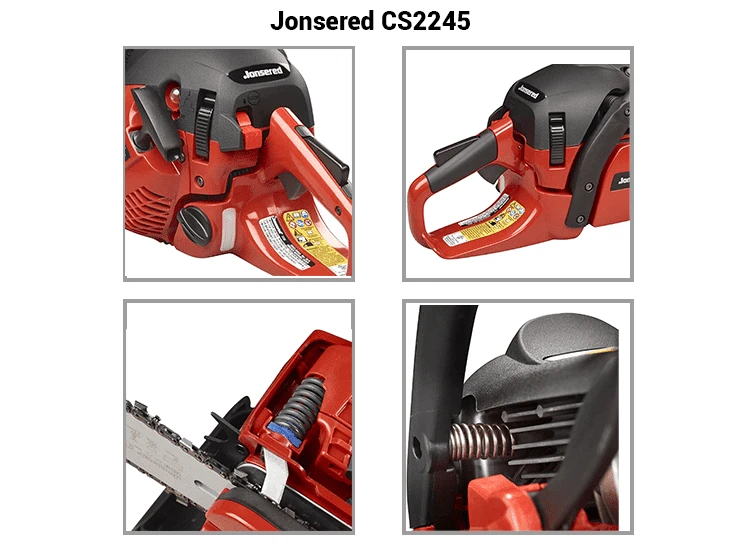 According to Jonsered, the CS2245 can fit and use up to 18-inch bars, making it suitable for chopping buck logs and medium-size logs up to two feet wide. Like the Husqvarna 455 Rancher, Jonsered CS2245 features an upgraded air intake system that clears dust and other large debris from the air before distribution on the filter. Moreover, if you cut trees or logs often, you will love the chainsaw's snap-on engine cover as it eases access to the air filter and spark plug without requiring tools. To maintain its system, remove the plastic latch and remove the cover to create ample working space. You can also monitor the bar oil via a transparent window on the reservoir and refill with oil when needed.
For more information, we have an in-depth review of the Jonsered CS2245 gas chainsaw.

This 64 cc 20-inch gas chainsaw can handle most heavy-duty cutting jobs. It is one of the best professional-grade chainsaws in stores.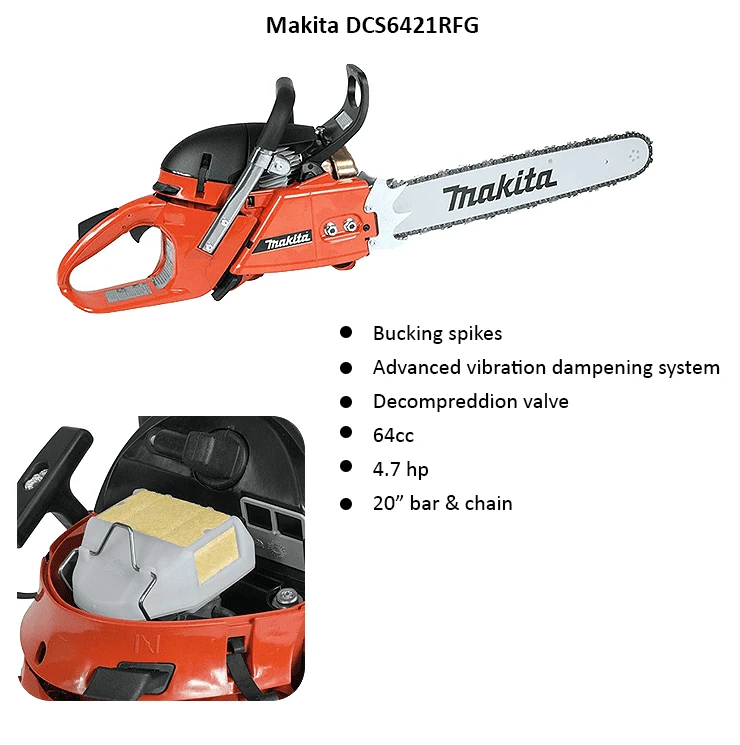 Features :
Auto half throttle lock eases starts.
Easy to clean chain compartment that is easy to access.
Slide-out baffle works well in hot and cold weather.
Large metal spike bar boosts its productivity.
Durable dual point mechanical/inertia chain brake.
A decompression valve requires little force to start.
The power-to-weight ratio is very high: weighs just 13.9 pounds plus chain.
The engine spins at up to 13,500 RPM.
Easy and quick chain adjustment via lateral chain tensioning.
Superior vibration dampening that lowers vibration while in use.
Overview
The chainsaw has a lightweight 13.9-pound design with a two-stroke 64cc engine with a top speed of around 13,500 rpm and the ability to chop down up to 100-foot tall trees. The Makita DCS6421RFG has a standout design but with a complicated and somewhat uninspiring name. What should you expect from this 20-inch gas chainsaw? First, it can cut pine, mahogany, and oak logs as large as 40-inches and trim down 6×6-inch lumbar effortlessly due to its power and maneuverability. If you are working on a new bench, table, or a wood deck, the Makita DCS6421RFG can help you handle such D.I.Y. jobs like a professional.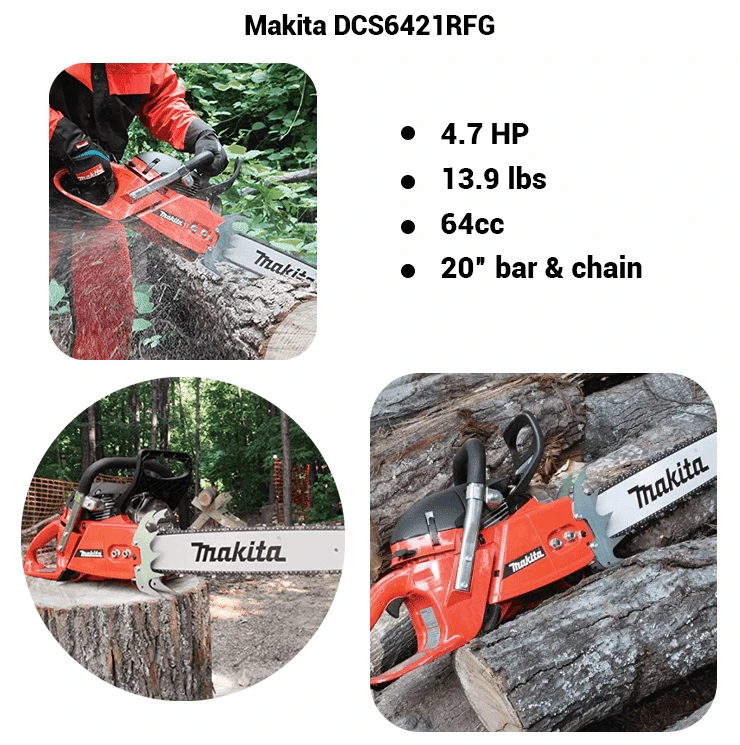 While using this saw to chop firewood or limb branches might be overkill, you will have an easy time handling such jobs, as it is light and easy to maneuver. Moreover, starting the Makita DCS6421RFG is a piece of cake via the spring-assisted recoil starter that comes built-in. The starter coil has a low Rpm design that requires up to 30% less force to fire up using the provided pull cord. The Makita chainsaw is a beginner-friendly product with foresters in mind, as it has heavy-duty bucking spikes (metal).
What are the Different Types of Chainsaws?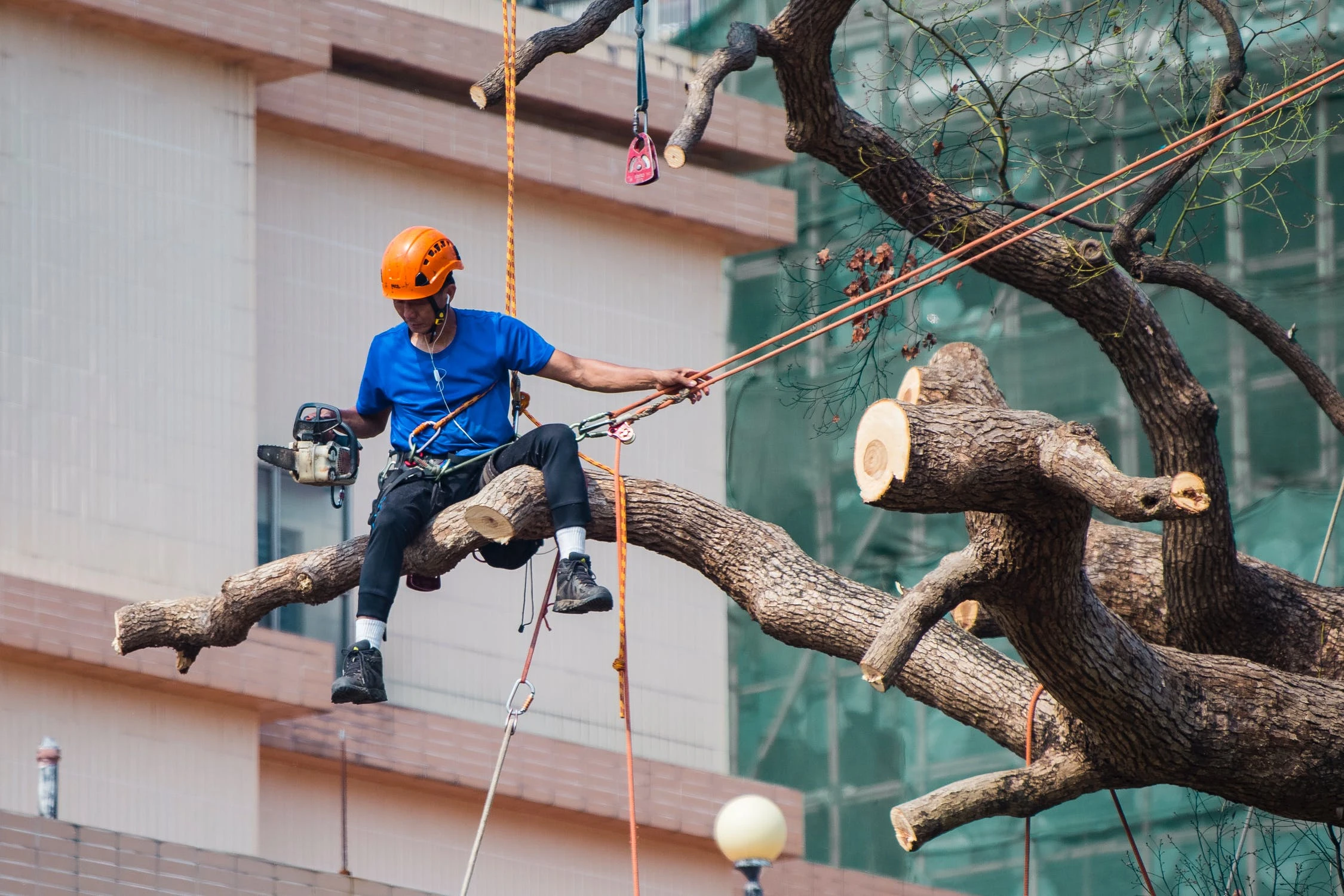 Gas Chainsaws
Gas chainsaws are by far the commonest in the market. They are also dependable, mainly during the great balance of weight and power that most models have compared to the best cordless/electric models. Finally, if you live in a rural area with a limited electricity supply, a gas chainsaw will serve you better as it does not require electricity to work. Gas is available everywhere so you can keep yours working all day long. Most loggers who spend days in the forest felling trees prefer gas chainsaws due to their superior power. The best cordless models from reputable brands such as Makita or DeWalt cannot match these products.
Data from a 2007 survey conducted by the Canadian Office of Energy Efficiency showed that almost 25% of households who did not live in an apartment owned a chainsaw. Moreover, from the data, the proportion of gas users compared to electric chainsaw users was interesting. In most urban settings, 75% of chainsaw owners owned gas-powered models, while only 25% had either electric chainsaws or both electric and gas. The proportion increased to 95% compared to 8% in rural areas, hinting at the popularity of gas chainsaws in both settings. Why do a majority of rural dwellers prefer using gas-powered chainsaws to electric ones? Noise and the availability of fuel are among the key attributes that could explain this association.
In urban areas, people have multiple avenues for keeping cordless, electric chainsaws powered while batteries are readily available in most stores if the stock one fails. Furthermore, urban dwellers, compared to rural dwellers, prefer to use electric chainsaws because of the restrictions around emissions and noise in urban communities and parks, to name a few. Household associations also have multiple rules on noise pollution at dawn and dusk. Therefore, to avoid friction with neighbors, D.I.Y. enthusiasts cannot rev up their saws in the morning to work on a project, which is frustrating. On average, a standard gas saw can generate over 100 decibels of sound/noise, which is comparable to the noise level at the front row seat of a concert or a jet taking off from an airport.
However, when you live on a farm or a private piece of land off-grid, things are different. Whenever you venture into the woods to fell a tree or two, you never worry about noise pollution as you rev your electric or gas-powered chainsaw. Therefore, buying a large gas-powered chainsaw and a small electric one on the side is the best option as you can use one to debark or fell trees, prune, limb, and or chop fallen trees. Unless you have a portable generator in such settings, finding an electric outlet for charging your corded chainsaw can be a pain in the rear.
Cordless Chainsaws
Gas chainsaws have been around for longer than electric chainsaws and make up the bulk of the saws in the market, but electric models are catching up every year, with more people starting to appreciate the major benefits of owning a new one. Electric saws are of two broad types, cordless and corded, the former attracting our interest. After all, if you spend a lot of time in the woods chopping trees, you will not be able to walk around with a corded one, unlike you have a portable generator. Moreover, instead of spending more money on a gas-powered generator, most lumberjacks opt to buy a gas-powered chainsaw instead, as it does not need a power outlet to work.
However, the best cordless chainsaw can offer you the benefits of a gas-powered model, at times, even better. They also deliver the benefits of the best corded models, including smooth torque delivery, clean power, and easy maintenance, to name a few, with little setbacks. Even though beneficial, you must keep the pricing in mind whenever you consider ordering a technologically advanced model for an upcoming project. Cordless chainsaws cost significantly more money than wired models do, mostly because of their motors and their batteries' design. Moreover, in the past, these battery-powered items were slightly heavier because of their batteries, but this has since changed with lithium-ion batteries' development, lower their overall weight without sacrificing their cutting power and or performance in any way.
The only major con (perhaps the main one) of cordless chainsaws is their short run-time. If you own a quality chainsaw, all you have to do is top up its fuel whenever it runs low to keep working. Cordless saws, on the other hand, draw power from a battery that you have to recharge from time to time. Manufactures have shortened the charge duration by developing advanced batteries and fast charge systems, which have helped a great deal. However, it will take you 45 minutes to recharge a battery from 0-100%, even with a quick charger. Unfortunately, if your battery does not support a fast charge, you might have to wait as long as two hours for it to charge before resuming work. To solve this problem, you should carry three to four fully charged batteries while falling trees or doing demanding cutting jobs.
This way, whenever one battery is "flat," you can swap with a fully charged one in seconds and continue working. All cordless chainsaws come with a battery level indicator that can help you check charge levels in real-time and switch batteries when the one you are using is close to running out of power. This way, you will never end up with a dead chainsaw while falling a tree and handling important cuts.
Whenever you are handling light-duty jobs such as pruning a garden or making a D.I.Y. table or bench, you might not need two to three batteries to get the best results from your saw for one major reason. Nowadays, chainsaws have fast-charging batteries with a charge time that is comparable to their run-time. Therefore, as the plugged battery is running out of juice, another is on the charger getting ready to use. This is not possible in the woods, though, unless you have access to a 120-volt socket somewhere. As such, whenever you are venturing deep into the forest with an electric saw, do not forget to carry three to four batteries to be able to work unhindered the whole day barking or felling hardwood trees. It is not a good idea to carry a portable generator to charge your chainsaw. Unless you are traveling with and using other power tools that need electricity, do not spend money on a portable generator. Instead of burning gas and making noise with a portable generator, you will be better off with the best gas chainsaw.
Electric Chainsaws
Technically speaking, electric and cordless chainsaws are more or less similar, apart from the former using a power cable and the latter a battery pack. Why do some individuals refer to corded chainsaws as electric? This was by coincidence as most manufacturers preferred to market both cordless and corded chainsaws as electric ones. This is also the case for inverter generators, commonly referred to as "inverters," even though a generator and an inverter are different accessories.
To help solve this dilemma, we have discussed how cordless chainsaws differ from electric ones. From our research, one of the major differences between the two tools is that one draws power from a cord while the other uses a rechargeable battery. To use an electric, corded chainsaw, you must plug it into a compatible electric outlet to work. Even though corded chainsaws are lighter than cordless models due to lack of a battery, you should factor in the cord as well. They are lighter than cordless and gas models, but maneuvering a heavy and lengthy power cord behind you makes them inconvenient to use while handling a professional job. Another major challenge of using a chainsaw with a 50-foot power cord is the risk of pets and kids tripping on it and injuring themselves as you work on your lawn and or garden.
Despite their plethora of drawbacks, the popularity of electric chainsaws is high among D.I.Y. enthusiasts and gardeners for many reasons. First, compared to cordless and gas models, corded chainsaws are cheaper. Moreover, most models are easy to use, as you do not worry about mixing fuel (as gas chainsaws require) or charge batteries (as cordless chainsaws require). To work, all you have to do is plug it into a compatible power outlet, and you will be ready to go. Unfortunately, their plug and use design can be a major detriment during a blackout or if the power goes off while you are cutting trees. If you do not have a backup power source such as a portable generator, your chainsaw will be useless and bother you. If this happens during a storm, you will not be able to clear fallen trees or branches or escape from your mangled homes once a storm passes.
Well, two things that we can learn from corded chainsaws are that they have a limited range and mobility and require a constant supply of 120-volt power (A.C.) to run. With these two demerits in mind, who do you think could benefit from a corded electric chainsaw? Well, if you do not care about mobility, buying a corded chainsaw might be the best decision. Moreover, if you have a small lawn or work in a small garage at home, you might benefit from a corded chainsaw as well. Finally, if you are shopping for a chainsaw for doing light pruning or cutting jobs on a small property or yard, consider buying a corded chainsaw too.
Here is another scenario where a corded chainsaw will come in handy. You have felled a tree deep in the forest using a gas chainsaw and cut it into small logs that you load on your truck and drive home. Now, instead of disturbing your neighbor's peace with a loud gas chainsaw while making firewood, use a smaller corded chainsaw (14 inches) instead to make logs while maintaining a good relationship with your neighbors. Not only are smaller and lighter chainsaws maneuverable, but they are also suitable for slicing and limbing logs and are generally quieter. Finally, as they are eco-friendly, it will fill a home with exhaust fumes or smoke.
Types of Chainsaw Batteries
Before we talk more about chainsaws, let us look at the evolution of the batteries for cordless tools. Most modern cordless tools nowadays use lithium-ion batteries, unlike older drills and chainsaws that used nickel-metal hydride and nickel-cadmium batteries. The improvement in battery technology has seen an improvement in power and reliability, enabling cordless chainsaws to rival gas-powered ones.
Nickel Cadmium (NiCad) batteries
These rechargeable batteries have metallic cadmium electrodes and nickel oxide hydroxide anodes. Until the mid-90s, most rechargeable batteries found in homes and commercial settings were nickel-cadmium-based. These batteries were in most smart devices, including drills, cordless chainsaws, kids' toys, and even cameras. Moreover, Nickel Cadmium batteries powered satellites that were orbiting the earth and the International Space Station (NASA has since upgraded these batteries). Why did NiCad batteries die out? While the reasons are diverse, their propensity to develop the "memory effect" put a nail in their coffin. Whenever you recharge and discharge a NiCad battery to the same charge state, usually within a margin of 2%, the battery remembers a point during which the charge cycle starts. Therefore, while in use, it drops the voltage to this point as if the power had run out.
In some devices powered with NiCad batteries, manufacturers engineered their systems to override the voltage drop until the battery started to work normally. However, a majority of devices could die suddenly whenever the memory effect was in force. However, this is not the only reason why NiCad batteries feel out of favor with most manufacturers. It can be harmful to the environment, as well. The batteries have cadmium electrodes, which is a toxic heavy metal. This material forms about 6% of industrial NiCad batteries, which its volume in commercial batteries can reach 18%. The intake of cadmium by humans causes a variety of liver problems and increases cancer risk.
Pros
Resilient to physical damage and heat.
Rechargeable up to 1000 times problem-free.
Supports high current flow.
You can store it safely while in deep discharge.
A low-cost option to comparable battery types.
Cons
The heaviest in this niche compared to lithium-ion and nickel-metal hydride.
Low capacity batteries.
Longevity deeply affected whenever the charge drops below 70%.
Requires a cool-down period before recharge.
Need a complete discharge at least once a month (deep discharge) to prevent the development of the memory effect.
High cadmium content makes them unsafe for the environment.
Lithium-Ion (Li-Ion) Batteries
Most cordless tools in the market today come with powerful lithium-ion batteries. This is the newest and by far the most popular technology in the rechargeable batteries nice, which is more beneficial than its predecessors - NiMH and NiCad - are. One of the major reasons Li-ion batteries are suitable for corded chainsaws is their relatively short charge times compared to NiMH and NiCad batteries.
Paired with a rapid charger, you can charge them from 0-100% in the same time it takes to discharge them. Therefore, if you buy two batteries and charge to capacity, you can cut firewood all day long without running out of charge. In addition, the best lithium-ion batteries have a high energy density, meaning that you can use one for longer than a NiMH and NiCad battery per charge cycle. The Li-ion technology is constantly evolving and therefore has fewer cons than similar types. The major limitations of Li-ion batteries are its sensitivity to high heat while charging and its high cost.
Pros
Higher energy density than other battery types.
Come in many shapes and sizes.
Less sensitive to the col than NiMH batteries.
Less susceptible to the memory effect.
Negligible self - discharge rates of 1.5 to 2 percent per month.
The lightest battery type in this niche.
Safe for the environment, humans, and pets.
Cons
Costs significantly more than other battery types.
Susceptible/sensitive to high heat and this prone to catching on fire.
Differences in lifespan although an average Li-Ion battery loose capacity in approximately 1000 cycles.
Features to look for when Buying a Chainsaw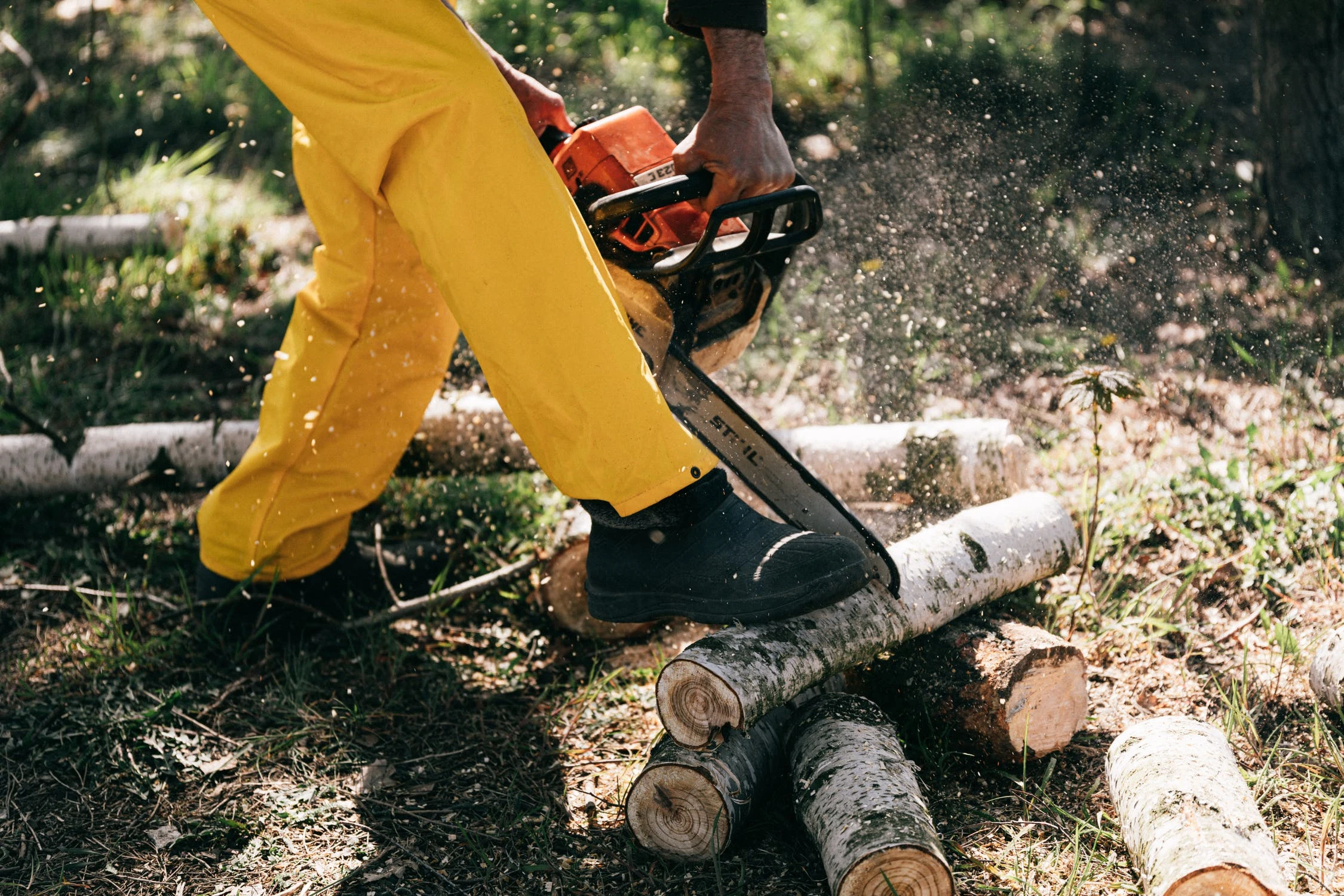 Anti-kickback chain brake: This is THE most important feature of modern chainsaws and a requirement by law to maximize users' safety. How does the Inertia Chain Brake system work? The system consists of a spring-loaded metal band on a clutch drum under cover of chainsaws. To activate this system, push a lever, which connects the clutch to the metal band and stops the spinning blade. Moreover, because the clutch drum spins a sprocket, which in turn spins the chain of the saw, stopping the drum will stop the chain as well. The system activates and works in a hundredth of a second, making the saw safer.
Stop control: The stop control is a critical safety component that enables you to stop the chain and the engine whenever you have an emergency. The system cuts off electricity to the spark plug, quenching ignition and shutting off the engine almost immediately.
Stop control: This system cuts off electricity to chainsaws' sparkplugs, effectively stopping the engine and the blade immediately.
Throttle interlock: This refers to a top-mounted lever on the rear handles of chainsaws, which you press simultaneously with the trigger to start the chainsaw. While operating chainsaws, it doubles as a useful security feature that prevents you from activating the throttle of the saw accidentally. With this system, you can use a saw safely even if you are a novice.
Low kickback bar and chain: This refers to special cutters with modified tie straps and less aggressive cutting angles, and taller depth gauges around the tip of the bar. The low kickback chain provides a good bite on materials such as wood. Most bars have covered screws.
Anti-vibration system : Did you know that holding and operating a vibrating saw for long can induce medical problems such as nerve damage or numbness in the extremities. Furthermore, overly vibrating saws can compromise blood flow to your hands, which has its share of cons. To avoid such issues, look for a chainsaw with an anti-vibration suspension system that separates the frame from the engine. While the chainsaw is in use, the system dampens vibrations on the frame, lowering the risk of nerve damage or disruption of blood flow, to name a few.
Tool-free chain tensioning : Are you tired of pulling out a wrench or screwdriver every time you have to adjust the tension of your saw chain while handling a demanding project? Look for a technologically advanced model with a tool-less bar adjustment and tensioning system. For the system to work, all you have to do is twist a knob back and forth to decrease or increase your chain's tension. Tool-free chain tensioning is common in medium and light-duty electric chainsaws with a bar length of less than 16-inches. Unfortunately, most large and professional-grade chainsaws do not have this innovative feature.
Tool-free access to the air filter and spark plug : To keep your saw working seamlessly for long, you should often service spark plugs and air filters. To ease the process, look for a premium gas chainsaw with a removable top cover that grants you easy access to spark plugs, air filters, and other key components whenever you are maintaining your chainsaw.
Bucking Spikes: The powerheads of most chainsaws have a set of metal spikes on the front, often next to the bar. The spikes are of different sizes and shapes and dig into the wood to boost the chainsaws' stability while felling trees or bucking wood. With a new set, controlling saws is easy.
Chain catcher: The Chain catcher is a small pin often positioned on the rear of a chainsaw where the bar meets the powerhead. Whenever a chain breaks while your saw is working, the system wraps itself on the chain, preventing it from flying off and injuring the operator.
Heated carburetor and handle: These are common features of expensive gas chainsaws, typically professional-grade models with 65 or 70cc engines. During winter, chainsaws with heated carburetors are less prone to freezing. They also work seamlessly at high altitudes and have heated handles that warm the hand, enabling you to work for long.
Your Chainsaw has a Chain, not a Blade
If you are reading this article, you should understand that chainsaws do not have blades anywhere, ever. Therefore, while shopping for a replacement chain for your machine, call up a dealer and state that you want a replacement blade. They will know that they are dealing with an amateur. Here is how chains work on chainsaws. Most models have cutters (or teeth) separated by drive links on a drive sprocket. Ti straps secure each side of the drive links. Before ordering a chainsaw for personal or professional use, you need to improve your understanding of three key chain measurements - the number of links, Gauge, and Pitch. Before you visit a dealer to order a replacement chain or visit an online store to buy one, make sure your knowledge of these factors is optimal.
Pitch : If you check your chainsaw's tie straps, you will notice that it has several components held together with rivets. The pitch of a chain shows the difference between links. Here is how to measure pitch. First, measure the distance between three rivets (consecutive) and then divide the distance by two to get the pitch of your chainsaw. Ideally, the number should match the pitch of the bar nose sprocket (in saws with the feature) and the drive sprocket's pitch. While chainsaws have a standardized pitch, the commonest are 0.325-inches, 3/8-inches (0.375), and 0.404-inches.
Gauge: The drive links of chainsaws are two-part accessories - a top that connects their cutters and a lower section between the bar rails. Because the lower section of the drive link is often slimmer, make sure that it the correct thickness, referring to its bar's gauge. If the drive links of your chainsaw have a higher gauge than recommended, it will not fit. Alternatively, if the gauge is too low, the chain will bobble inside the bar and eventually derail as you are felling a tree or cutting wood - leading to a serious injury. Most chainsaws have a gauge of about 0.050-inches (1.3 mm), 0.058-inches (1.5 mm), and 0.063-inches (1.6 mm).
Number of links: This measurement should be easy to understand even if you are a novice since you do not require a measuring device to compute it. To know the number of links of your chainsaw, all you do is count the drive links to get your chainsaw length. Chainsaws with longer bars require a longer chain (which will have many drive links) to work, which is the same for taller ones. When we refer to the bar of a chainsaw as being taller, we are talking about the sprocket's diameter, which tends to be large in taller saws. Bars have three dimensions - thickness, height, and length. The height and length determine the number of links in the chain, while its gap or thickness refers to the distance between the chain's gauge and the rail controls of the bar.
To check out these parameters, you do not have to whip out a measuring tape and take manual measurements since most chainsaws have them printed or stamped on the right side of the bar. However, to access this crucial piece of information, you will have to remove the clutch cover (or side plate). Normally, they are on the furthest end of the bar to keep them safe from wood and other materials that you will be cutting with a saw. However, if your chainsaw's bar lacks such information, you can find the drive link, gauge, and pitch on the chain. Check both sides of the bar before inspecting the chain as most people flip the bar around during each maintenance cycle to ensure that both sides of the bar's rail have equal wear and therefore minimize bias while the saw is in use.
Chainsaw Kickback
What is it?
A kickback occurs when the tip or nose of the guide bar of your chain saw sticks to an immovable object, causing the saw to recoil back violently towards you. Whenever this happens, people have suffered debilitating injuries, at times fatal, while felling trees or handling D.I.Y. projects. Whenever the saw hits the head or slices the face or neck, death is often the outcome. Do not think that you are immune to this problem because you consider yourself a professional - a kickback can occur at any time, even to the best of us, with disastrous consequences. Chainsaw kickback does not provide people a lot of time to react or move out of the way whenever it happens. Most of the time, it happens within a fraction of a second and does damage before you know.
Types of Chainsaw Kickback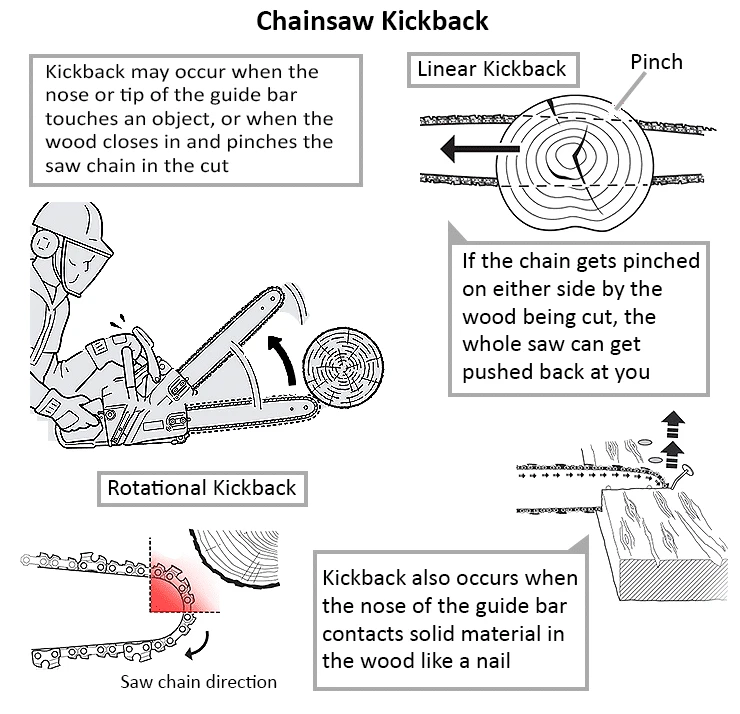 Why does it happen?
The powerhead of chainsaws consists of a gas or electric motor that spins the chain at speeds over 50 miles per hour (M.P.H.). As this happens, each cutter on the chain spins along the bar at over 73 feet per second. At this speed, the cutters are traveling so fast that they can cover an entire football field in less than five seconds. There are enormous momentum and force on the spinning chain at this point.
What happens whenever something hard is in the way of the chain, and the cutters cannot slice through it or dislodge it? The chain's momentum will swing back at the person operating the chainsaw, leading to serious injuries and even death. Moreover, because the engine will be spinning and the clutch engaged, the amount of recoil you will have depends on the throttle you had applied when it hit an immovable object.
The chain suddenly stops for two main reasons:
Bar tip dig-in : the best chainsaws use a small cutter to shave and slice hard materials such as wood. The cutters are on a chain that spins on a bar and has a sharp cutting edge that slices materials at a rate dictated by the edge's depth gauge and design. While spinning on the nose or the chainsaw's tip, the cutters have the most aggressive angle.
Normally, the cutters of a chainsaw spin in a straight line while cutting but assume a different cutting angle at the bar's nose, dictated by the size of the sprocket. Therefore, when a chainsaw's nose is in contact with a material such as wood, the cutters are at their most aggressive angle and produce the deepest cut. At that angle and speed, the risk of the cutters sticking on your material is relatively low. Now, whenever something stops the chain abruptly, it causes a sudden shift in momentum that causes the saw to sing back dangerously. While most kickbacks are dangerous, the most dangerous ones occur when the bar's tip digs into a material such as a metal nail in the wood, amplifying the chain's kickback.
VIDEO | See How to Avoid Chainsaw Kickback
Chain pinching: While cutting wood from the bottom, the bottom gets wider than the, causing instability. As the top of the bar of your saw makes its way to the top, the two halves of the log or tree can buckle inwards, pinching the saw on both sides and causing a kickback. Whenever this occurs, the chainsaw does not jerk upwards but shoots back towards the users in a straight line, like firing a powerful gun. Therefore, unlike in a bar tip dig-in where the saw pivots and jumps upwards, the saw jumps out, throws you off your footing, and increases the risk of you falling face-first on a fast-spinning chainsaw.
How can you prevent chainsaw kickback?
To control kickback and work safely with a chainsaw, you need to check your bar nose's position always as you cut. If the tip is out of sight as you work, create a mental image of its position, and decide how to maneuver the saw to prevent its tip from jamming into the material you are cutting. Overall, operating a saw is more like driving a motor vehicle. For the best results, you should concentrate on the job at hand, monitor your environment or surroundings, and make an informed decision to prevent accidents or injuries. For instance, check the movements of the log as you cut to prevent pinching the chain.
Second, before cutting into wooden boards, stumps, and logs, you should always check their structure and make sure that it is sound. For instance, how old are the logs? What is the type of wood of the logs? Is the wood rotten? Finally, has somebody previously used them in construction projects such as houses and wooden cabins? If yes, always check for nails. If you do not have a chain specially designed for cutting metal, your chainsaw will stop instantly, recoil, and hurt you badly.
Third, always select the correct saw for the job and always use both hands on a chainsaw to mitigate kickback whenever it happens. Also, whenever you are working on suspect wood, your body should be out of the line of sight of the chainsaw. This way, whenever it jumps back after recoil, the probability of hitting and harming you is relatively low. Monitor your environment constantly and keep your footwork solid. Do not stand on a ladder or loose objects. Finally, make sure that you saw has anti-kickback brakes on top. While preparing for a job, check if the brake works as required before firing up your chainsaw to cut wood.
Whenever you are doing a renovation project or felling trees in the wood, always wear chaps, eye protection, and hearing protection. Also, make sure that your chainsaw has a sharp chain. A dull chain is more dangerous than a sharp one. Therefore, avoid one at all costs if you are conscious about your life or well-being. If the chain is not sharp, its risk of sticking in wood or wood pinching it is high, causing a kickback.
My gas chainsaw will not start. What should I do?
Poor maintenance is one of the major causes of performance issues, such as failure to start. Chainsaws are power tools with an engine and many spinning parts that need frequent maintenance to work optimally. The best models are easier to maintain than car engines are (and are cheaper too) but still require regular checkups and maintenance or replacement of worn-out parts. The failure of a gas-powered chainsaw to start might be a result of several issues. If it is a new chainsaw, you might have over choked it system or primed its system too many times unknowingly.
A recoil starter of a Honda EU2200i generator.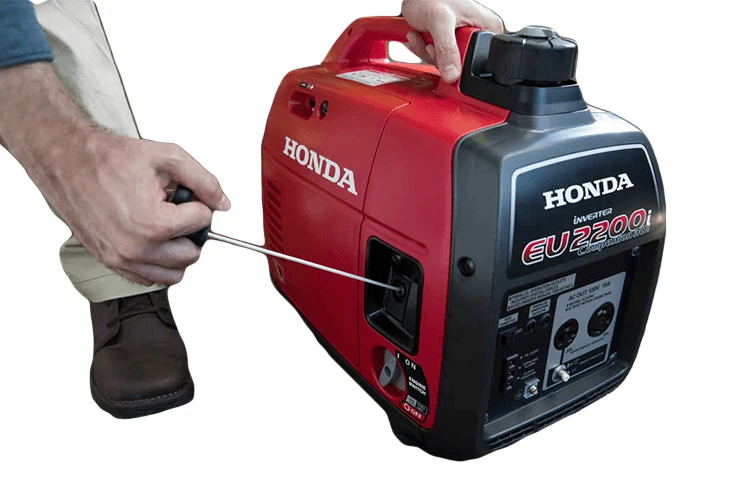 The choke is required during a cold start but can hurt a warm engine as it unnecessarily floods the cylinders and spark plugs of two-cylinder engines. Whenever this happens, the spark does not ignite the fuel. Instead, it can fire up a vapor mixture of air and gasoline. Therefore, if you have a flooded engine, the fuel will not ignite no matter the number of times you try or pull the cord. Your engine will have little air while your spark plugs will fail to have contact with fuel.
In extreme conditions, the whole cylinder can flood with fuel to the extent that the piston jams and the recoil starter fails to work. Because gasoline is a liquid that does not compress, the piston is unable to move up and down and run the saw - a chainsaw problem better known as a "hydro locked engine." To solve this problem without using tools, yank the starter cord hard to push excess fuel into the space between cylinder walls and the piston. The space is somewhat small. Therefore, the first few pulls might be hard and frustrating. The reports of people breaking the pull cords are also common, making the tool-less method unsuitable.
However, once the problem eases, pulling the cord will become easier. Then, set the choke's position to "run," open and hold down the throttle, and press and hold down the trigger. Finally, secure the saw to the ground with your knee and yank the starter rope with your left-hand firm on the trigger and the throttle wide open. You will have to pull between 10 and 15 times before seeing the engine start to smoke, sputter, and eventually start to run normally. Within the 10-15 pulls, the muffler will discharge exhaust fumes rich in fuel and un-burnt particles.
If your generator does not start, check these three things (from Generac)
One of the easiest ways to un-flood a chainsaw is by using a scrunch to remove its sparkplug, turn it upside down, and let gravity drain the excess oil from its top cylinder. Then, let the spark plug dry, screw it back into the cylinder, and your chainsaw will be ready to use. Apart from flooding, your chainsaw can develop various other problems that can prevent it from starting. For instance, check if your saw has sparkplugs that are generating a spark. Use the scrench to remove the sparkplug. For safety, you should disconnect the spark plug's wires before removal and reconnect all wires once the sparkplug is out of the cylinder. In addition, remember to rest the spark plug on a metal component of the chainsaw to discharge static and residual charge.
Whatever you do, do not touch it with any body part, and make sure that there is no flammable material or fuel close to the spark plug before proceeding to the next step. If all is well, check if the sparkplug works by yanking the starter rope as if you are trying to start up the chainsaw. If the magnet and induction coil of the flywheel is working normally, your plug should spark. If nothing happens, use a metal brush to clean the tip of the sparkplug and try again. If it still does not work, it would be a good decision to replace your spark plug, as they might be dead. If your new sparkplugs do not work as well, the induction coil might have a problem.
During routine maintenance of your chainsaw, you should check the spark arrestor and the air filter. While in use, chainsaws produce large amounts of fine wood fiber that can clog the air filter over time, thus preventing the engine from breathing and working well. Moreover, the fine wood chips can also clog the spark arrestor located in the engine's muffler. Some chainsaws do not use two-stroke engines that use a mix of engine oil and gasoline. In most chainsaws, the ideal mix of engine oil to gasoline should be 1:50, even though some manufacturers recommend an oil to gas mix ratio of approximately 1:40 or as low as 1:35.
Whenever the oil to fuel ratio is high, thick oil can clog your spark arrestor due to incomplete combustion in the chamber. Oil tends to burn at a higher temperature than gas. Thus, as the engine discharges waste, it discharges unburnt oil that sticks to the spark arrestor. To eliminate this effect, remove the muffler, inspect the spark arrestor, and clean debris from its surface. If the spark arrestor is clean, you should see through it, as it is mostly metal wires and a simple mesh.
Top Handle vs. Rear Handle Chainsaw
The discussion of whether to buy a chainsaw with a rear handle or top handle should not concern you are not a professional arborist who spends a lot of time climbing and cutting trees single-handedly. Before you order a chainsaw, you must produce a certificate of competence to the manufacturer or dealer. Therefore, we are sure that you will not order one accidentally anytime soon, as chainsaws are a major safety hazard for novices. Unlike conventional models with throttle control at the foregrip and the back, top handles models have throttle controls on the side, instead of the top and foregrip.
The balancing of their weight also varies slightly from those of top handled chainsaws, as their overall length is much shorter due to the handle's position. You also get a loon on the back you can use to sling to a rope or a work belt while climbing trees. The compact design translates to low weight, making them easier to maneuver in tight quarters. Unfortunately, top-handed chainsaws' desirable characteristics also make kickback stronger more dangerous because of the shorter distance between the body and the chain of the saw. Whenever a kickback occurs, you have a short time to react to the saw and avert injury.
How do Chainsaw Chaps protect you?
A powerful can help you to rip through large and heavy logs like butter. However, in most videos and articles on chainsaws shared online, many people reiterate the need for aprons called chaps. If metal and wood cannot stop a chainsaw, how can an apron or simple cloth protect your legs from injuries? Well, chaps are not ordinary clothes, unlike what some people think. It consists of multi-layered synthetic and mesh fibers, with Kevlar being one of its most abundant materials. Armor manufacturers used it to stop bullets and knife attacks or protect the occupants of vehicles from I.E.D. attacks in war zones such as Afghanistan. Yeah, Kevlar is one of the toughest materials around.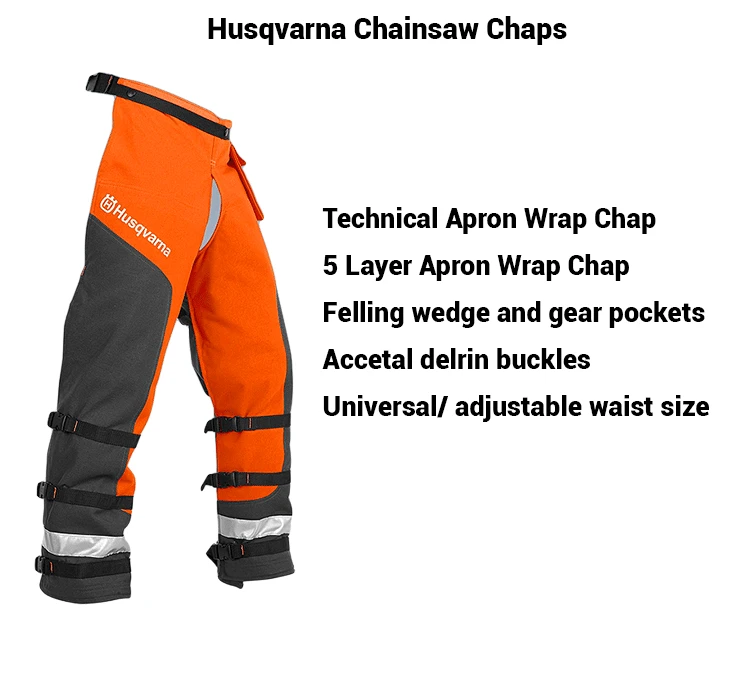 Even so, a chap does not create an impermeable layer that a chainsaw cannot cut. You could do that, but the risk of the chainsaw kicking back and hurting another area of your body is high. To prevent this issue, the outer fibers are lighter and therefore enable the chainsaw to cut through. The deeper layers, however, contain thick Kevlar fibers that jam the cutter, drive sprocket, and clutch to slow down the blade and prevent kickback. This stalls the engine and stops the chain before it penetrates the chap and cuts vital parts such as quadriceps and knees.
It would help if you understood that the quality of chaps differs depending on the quality of materials used to make them and the number of layers of materials in the fabric. For instance, a chap designed to shield you from a 30cc chainsaw might not be able to protect you from a 65cc heavy-duty lumberjack saw. Therefore, while selecting one factor in the power of the chainsaw, you will be using it. Remember that chaps might not be effective against electric saw for one major reason. Unlike gas-powered saws with a restricted power band, electric power saws do not have this system, which makes engines hard to stop.
The best electric motors also reach maximum torque quickly and are less likely to stop when entangled with Kevlar fibers. Moreover, unlike most gas saws with clutches that entangle with Kevlar, electric chainsaws do not have a clutch, which makes stopping them harder. Instead, they use electric brakes to shut down motors when needed.
Gas engines lose power as the motor slows and eventually stops. However, electric motors generate maximum torque even when the engine has stopped spinning. Unlike gas engines that need air to produce power, they work in a vacuum. Therefore, while chaps can protect you from a gas chainsaw, you will barely have enough time to shut off an electric chainsaw, as the motor will keep spinning. This should not be a concern, though, as manufacturers have developed chaps for electric chainsaws. Most people prefer using extended chainsaw chaps that protect the back and front of the legs. If a chainsaw gets in contact with this chap and spins on the back of your leg, this chap will protect you from injury better than an ordinary chap would. To maximize protection, you will be better off with an extended chap.