If your house has a basement, you already know about the risk you run of water seeping through the walls. Thanks to advances in modern technology, sump pumps can now be installed to monitor the water levels.
On the days when the water level does rise above the set limit, an alarm goes off to warn you. This will prevent water from seeping through your walls and creating mold.
But you must know, the large number of brands claiming to have the best sump pump alarm in the market can make the decision-making process quite overwhelming.
So today, we will be reviewing our top picks to help you choose the right pump alarm for your home.
Editor's Recommendation: Top Sump Pump Alarm Top 5 Picks
Types of Sump Pump Alarms
The different kinds of alarms available might put you into a dilemma. Here are the 4 main types of sump pump alarms that you are most likely to come across.
The Standard Sump Pump Alarm
This is the most basic alarm that does the bare minimum most alarms should be doing. They come at very affordable prices, so they are easily accessible.
They can cut down on costs by providing a limited set of features. However, certain features like auto-dialer and Wi-Fi can be quite useful depending on your lifestyle.
Wi-Fi accessible Sump Pump Alarm
Yes, it is exactly what it sounds like. These alarms have Wi-Fi capabilities that let them connect to your phone. Once the water levels of your home start acting up, it will make a VOIP (voice over internet protocol) call on your phone. It uses the internet connection to place the call.
Some of the devices can be programmed to sound/send notifications through emails. This is a useful feature to have when you're away on vacation.
Cellular Sump Pump Alarm
These are similar to Wi-Fi capable alarms, but instead, they use your cellular network as a medium to notify you. This specific type of alarm will send you programmed texts on your phone to alert you of emergencies.
Auto-dialer Sump Pump Alarm
Like the cellular alarm models, the auto-dialer uses the cellular network to send you notifications. Instead of texting you, it initiates a call to your mobile. This does, however, require you to set up a phone line for the device.
Top 5 Best Sump Pump Alarm Reviews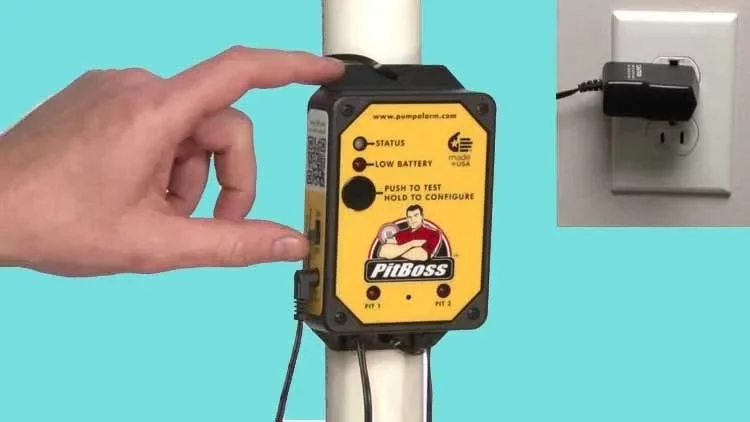 After much consideration and hours put into our research, we have been able to shortlist 5 of the best alarms in the market. Let's take a look!

The first product on our list is the 92060 sump alarm from Superior Pump. Packed with a decent sounding alarm and all the basic functions a sump pump alarm should have, this is a good option to consider for any household.
For starters, the alarm comes with LED light indicators that give you a visual queue of its status. This is quite useful as the pump may be placed in tight spaces where it may be hard to constantly look out.
The LED lights will indicate whether the alarm is running (green light) and tell you when there might be something wrong (red light).
Next, we need to place emphasis on the long power cord that comes with an alarm. Having an overall length of 6 feet, the power cord is long enough to reach any nearby electrical socket. This is a major advantage as a short cord would need you to create a separate connection for the pump only.
No electricity? No problem. The 92060 sump pump alarm comes with a 9V battery tucked into the body. It automatically switches to the backup power source to keep your alarm running in case of any power failure.
Pros
LED light indicators make it easy to check the status
9V battery backup in case of power outages
6-feet long extension cord comes in handy
Non-corrosive and completely safe for indoor use
Cons
Installing the system can be quite time consuming

2. In/Outdoor High Water Alarm w/Pilot Light and Horn - Link

Sump pump alarms can come in handy for tons of other applications. This next alarm from Sump Alarm comes in 4 different variants. You can choose between 10, 16, 33, and 95 feet floats depending on the purpose you need it for.
To begin with, the sound on this alarm is bound to catch your attention no matter what. Clocking a high count of 90 decibels, you should be able to hear the alarm from within or outside the house.
At the end of the day, the main reason you're installing an alarm is to warn you. If it can't grab your attention, then there's no point.
What's more, this device has been tested for both indoor and outdoor use. Most alarms aren't well suited to withstand the wear and tear mother nature would put them through, but not this one. Featuring a weatherproof construction, this will last you for years to come.
Pros
10 feet float switch cord gives you a higher range
Can be used in both indoor and outdoor settings
Easy to install
Loud 90 dB alarm sound
LED pilot life shows status visually
Cons
The device does not have a battery backup in case of emergencies

3. Level Sense PRO- Wi-Fi Enabled Sump Pump Alarm - Link

This next alarm from Level Sense is a key example of what modern alarms should be like. Featuring wireless capabilities with the newest innovations, this device offers more than one way to notify you about rising water levels.
To begin with, the alarm doesn't need to be connected to your electrical line in order to run. This not only saves you extra hassle when installing but also keeps you protected from power outages. The device has packs an internal battery, which is sufficient enough to run it for long years.
Moreover, you receive multiple options when choosing a specific notification method. This device can send you texts, emails, or sound its loud alarm; you take your pick. The manufacturers are rolling out an app for both Android and iOS devices, which will make it even easier for you.
Furthermore, it does more than just monitoring water levels for your home. Level Sense has built-in humidity and temperature sensors that notify you when they reach alarming levels. High humidity levels can cause mold to grow, and so if you're alerted beforehand, it can be easily avoided.
Pros
Runs on its own internal battery power
Multiple notification methods
Humidity sensors to monitor safe levels of humidity
Temperature sensors keep the water temperature in check
The device can identify leaks and notify you
Cons
Wi-Fi connectivity is limited to a 10 feet range
Doesn't support Wi-Fi passwords with special characters within them

4. Zoeller 10-4011 Sump Pump Alarm System - Link

If you're looking for a basic sump pump alarm that will do the bare minimum, the 10-4011 from Zoellershould be a right fit. Even if it doesn't come with flashy features, it does the job right.
Starting off, the alarm comes with two LED indicators that indicate how well the pump is running. One of the LEDs tells you when the water level has gone above the safety level, while the other will notify you when the battery is running low.
Furthermore, the alarm uses 2 AA batteries to power itself. These batteries are easily accessible, almost anywhere around you, which makes it convenient. Also, the device is well optimized to use battery power efficiently. This gives you extended battery life over long months and years.
Pros
2 Meter long power cord
Works with 2 AA batteries, which are readily available
Low battery LED indicator tells you when your batteries need a change
High water level LED and alarm work together to notify you
Cons
Does not feature wireless capabilities or other notification methods
No exceptional features such as humidity or temperature sensors

5. Reliance Controls THP205 Reliance Sump Pump Alarm - Link

Finishing off our list is this battery-powered water sensor from Reliance Controls. The brand has been in the business since 1909, and it shows in the quality of each of their products. The THP205 is a great all-round water sensor that gives you more than enough satisfactory features.
This easy-to-install sump pump alarm has by far the simplest yet aesthetic appearance. All you need to do is mount it to a wall or any non-porous surface you can find. Once installed, the system will begin monitoring water levels as closely as possible.
Moreover, the device comes with a 26-inch power cord to reach any electrical outlet that might be around. Finding a power source near your sump pump can be quite difficult, and often people have required professional help to establish a power line.
But with the THP205, you can easily use the long cord and plug it into your nearest socket.
Pros
Loud 150 dB alarm
Alarm can be changed to musical tones
26-inch power cord connects to any nearby outlet
Reading can be switched between amps and watts
Cons
Occasionally alarm can go off, which is misleading

How to Choose the Best Alarm ?
With differences in models and types, choosing the best sump pump alarm can be quite difficult. Here are some of the criteria you should consider when making your choice.
Easy Installation
The first thing to consider when you purchase your sump pump alarm is the installation process. In most cases, installing the sump pump alarm system should take you a couple of minutes. But there are some alarms that can be quite tricky to install, which would require you to seek professional help.
In addition, you need to be able to maintain it at regular intervals. Having to pay for servicing can become costly in the long run as they require professionals.
One good tip is to always read the instructions for the installation process. This will give you an idea of how complicated it might be.
Wireless Capabilities
Some well-known sump pump alarms have wireless capabilities that allow them to notify you on your phone. This can be very handy for those of you who are always on the run.
You must know that this isn't really necessary if you spend most of your time at home. Choose an alarm that is loud enough to catch your attention. In any case, you should schedule service intervals to make sure the alarm is running fine.
Alternatively, there are pump alarms that can send you a text or place an auto-dialed call to your phone. On the days you aren't connected to the internet, this can prove to be a very useful feature.
Power Reserves
Many areas face frequent power outages, in which case, only a sump pump with sufficient power backups can notify you of your flooding basement. There are models without battery backups, which may cost less. We would advise against them because the backup is a good precaution for emergencies.
There are certain alarms that can entirely run on their own batteries too! But that would require you to buy replacement batteries, which can become costly in the long run.
Sound
The sound is probably one of the key ingredients that make an alarm. If you can't hear the sound from outside the house, then it shouldn't make your list. Loud sump pump alarms should catch your attention whether you're outside or inside the house.
If you're not going to be around the house for a long time, we suggest you to purchase an alarm that can notify you on your phone.
Price
Whenever you're investing in anything, you always need to consider the price. The listed cost of the alarm would have to fit into your set budget. You should always remember that the alarm is an add-on to the sump pump.
And so, if you're looking into alarms that cost nearly as much, if not more than the pump itself, then look away, now.
These little devices shouldn't break the bank for you as they are easily accessible and often have discounts. To be precise, if you're buying it from certified stores.
Advantages & Disadvantages of Sump Pump Alarm Systems
It is important to have a clear concept of the benefits and costs of installing a sump pump alarm in your basement. This will give you a better understanding of the services you will receive.
Advantages
Constant monitoring of your water levels
This is probably the core advantage of having a sump pump alarm system installed. The pump is configured to sound an alarm every time the water level crosses a set amount. This is why it needs to be on at all times, and it needs to be able to sound the alarm at the right time.
Acts as a precautionary measure
Houses that have a sump pump alarm installed are more likely to survive or make you notified of rising water levels than houses that don't. Your basement is at risk of flooding, or water may be soaked into your walls, ultimately damaging them.
Keeping a fully functioning alarm acts as a preventive measure, as it notifies you right on time. This gives you ample time to check your sump pump or take actions to lower the water levels.
Easy to maintain
One of the best things about a sump pump alarm is that it is very easy to maintain. As we have mentioned before, you should invest in a pump that is easy to service. Generally, most pumps can be maintained without professional help. This saves cost and keeps your pump running just how it should be.
Multiple notification options
Due to the advancements in technology, sump pump alarms come with various ways to notify you other than only sounding an alarm. If you invest in an alarm with Wi-Fi capabilities, it can use your internet to ping your phone. Some alarms can use a phone line to send you an automated call to warn you of rising water levels.
Disadvantages
Electricity connection
Once you have installed your alarm, it needs to be connected to your electrical lines to run 24/7. In areas that face frequent power outages, this can be a big issue. However, there are pump alarms with backup batteries that use their reserves when the mainline fails.
Alarm loudness
It is hard to find alarms that are loud enough to catch your attention when you're outside the house. A minimum of 85 decibels is ideal for an alarm tone. Anything lower than that, and you'll have your basement flooded before you even notice the alarm.
Frequently Asked Questions
Does a sump pump have an alarm?
No. Sump pumps do not usually come with alarms, which is why you will require third party alarms like the ones we've listed above.
What do you do when your sump pump alarm goes off?
When a sump pump alarm goes off, it can usually mean either of the two things, high water levels or low battery. If your pump has an LED, that should tell you why the pump went off in the first place.
How do I reset my sump pump alarm?
Look for a reset switch on the body of the alarm. If you can't locate one, you can turn the device off and then turn the alarm back on again. Alternatively, you can unplug it from the electrical socket.
How do I get my alarm to stop beeping?
For the cases when your alarm beeps for no possible reason, it might indicate that it is time to get your pump changed. In other cases, you can reset the alarm or install new batteries to get it to stop beeping.
What does it mean when the sump pump beeps?
When a sump pump alarm starts beeping, it usually indicates high water levels. Another reason that might set it off is when the battery level drops and you need to replace them.
Buy on Etsy
Zoeller 10-0623 A-Pak Indoor/Outdoor Alarm System - Etsy Link
Control Products FreezeAlarm Homesitter Temperature, Water, Power Alarm HS-700 with voice - Etsy Link
Superior Pump 92060 Sump Alarm System with 15-Foot Tethered Float Switch - Etsy Link
THE BASEMENT WATCHDOG Model BWD-HWA 110 dB Battery Operated Water Alarm - Etsy Link
Sump Alarm Water Sensor, Sump Pump Alarm with 10ft Float Switch for Indoor & Outdoor Use, - Etsy Link
MySpool Water Detector with Text Message and Email Notifications (AST01) - Etsy Link
Zoeller M53 Mighty-mate Submersible Sump Pump, 1/3 Hp - Etsy Link
Zoeller 10-4011 High Water Alarm with battery - Etsy Link
Buy on eBay
Zoeller 10-0623 A-Pak Indoor/Outdoor Alarm System - eBay Link
Control Products FreezeAlarm Homesitter Temperature, Water, Power Alarm HS-700 with voice - eBay Link
Superior Pump 92060 Sump Alarm System with 15-Foot Tethered Float Switch - eBay Link
THE BASEMENT WATCHDOG Model BWD-HWA 110 dB Battery Operated Water Alarm - eBay Link
Sump Alarm Water Sensor, Sump Pump Alarm with 10ft Float Switch for Indoor & Outdoor Use, - eBay Link
MySpool Water Detector with Text Message and Email Notifications (AST01) - eBay Link
Zoeller M53 Mighty-mate Submersible Sump Pump, 1/3 Hp - eBay Link
Zoeller 10-4011 High Water Alarm with battery - eBay Link
Conclusion
Choosing the best sump pump alarm can be a perplexing situation given the wide variety of models and types available. Before deciding on a specific alarm, you need to first set aside your set of requirements.
We don't usually pick out favorites, given the fact that all the products listed above are the best at what they do. However, if we were to choose one, it would be the Level Sense Pro. This device features wireless capabilities while being very easy to install.
In any case, we hope this review has helped you clear your concept and choose one that suits you best.