Which are the best tankless water heaters for homes in 2022? Well, while different brands have different unique strengths, we will review the EcoSmart Eco and Stiebel Eltron Tempra Plus electric tankless water heaters in detail to help you to select the best. However, let me lay down the groundwork first to help you to define what you will need and budget for your upcoming purchase.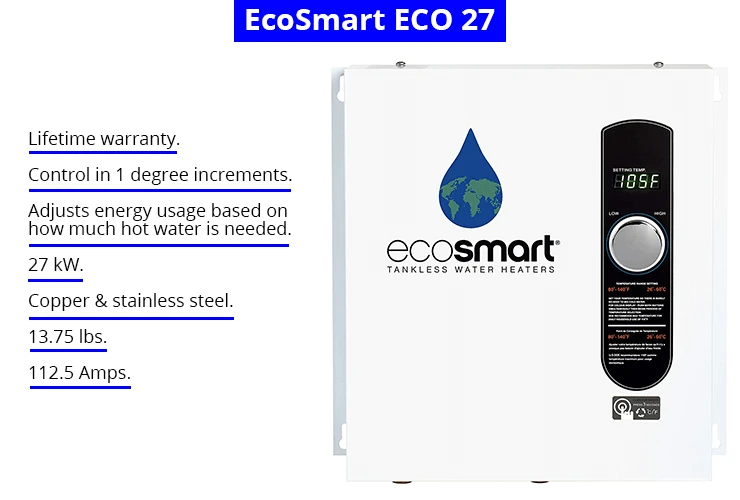 While shopping for the best tankless water heaters, people make different decisions based on a unique set of circumstances. To help you to make an informed and the best decision, we have provided options and alternatives that you should keep in mind before making this leap. Most of the time, we cannot afford the 'best of' something – and that is fine. However, by visiting this website and reading this article to the end, I assume that you are trying to compare the available options in the tankless water heaters niche to find the best model. Am I correct?
Throughout childhood, we use a traditional tanked water heater at home. Most people did also, and to be frank, millions of people all over the world still do. Even though better options exist, people are at times slow to adopt new and better technologies, which is a bummer. For instance, it took decades for people to ditch their horse-drawn carriages for automobiles, though the latter was fast and comfortable.
There is no doubt that the best tankless water heaters are superior compared to the best-tanked water heaters. By highlighting their pros and standout features, I intend to enlighten readers about the best power equipment and tools on offer to help them to make smarter and informed decisions. If you are reading this, yes, I am talking to you.
Did you know that the EcoSmart tankless water heaters (electric) are smaller than tanked water heaters by approximately 90%? Therefore, installing, storing, and using them anywhere at home is relatively easy. Allowing you to easily find a space for them anywhere in your house.
Best Electric Whole House Tankless Water Heater
Tankless water heaters are sought-after globally for their ability to provide hot water continuously in homes. Unlike in the past when people had to boil water on wood stoves or pay hefty amounts for using a tanked water heater, things have changed for the better. A new one will save you large sums of money every year. They are also easy to set up, take up little space, and saves valuable time in the morning while preparing for work. You get hot water on demand, which is cool.
Hot water is invaluable in homes, especially in kitchens and bathrooms. If you struggle to clean greasy utensils, for instance, hot water always does the trick. It can cut through grime and grease and lift dirt without ruining your utensils, unlike some harsh detergents that people use at home. If you have children with heavily soiled laundry, you will benefit from a hot water faucet as well. Paired with the best detergent, it lifts grime and stain without ruining the fabric of your t-shirts or trousers. Finally, during chilly mornings, hot water provides a soothing bath. It will make your morning and evening showers fun, which is invaluable.
Let us Check Out the Stiebel Eltron Tempra Plus 24 | 24 kW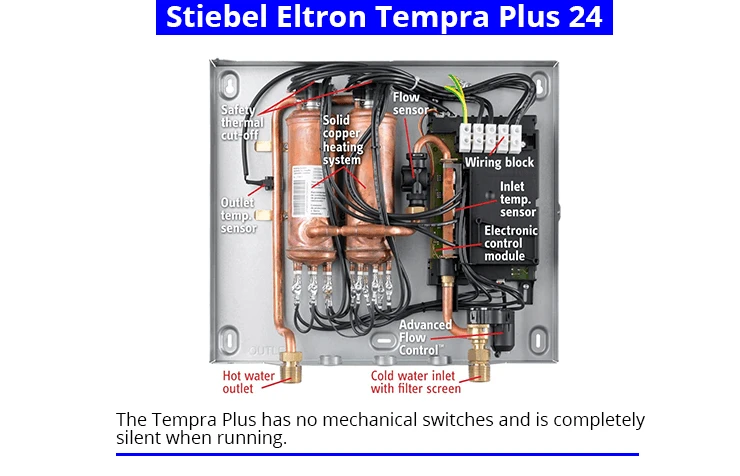 Hot water is vital in homes. Even though people can acquire it in many ways, a tankless water heater is one of the best, as it can provide hot water all day without costing people a lot of money. It also offers many benefits over conventional water heaters including, a lower installation cost. It also saves space and has a technologically advanced design with a lower environmental footprint. Do not hesitate to buy.
Video | What are the Benefits of Buying an Electric Tankless Water Heater?
This video reviews the EcoSmart Eco series tankless water heater.
Let me commend Amazon for producing such informative and well-curated videos for its customers. Even though most products do not need instructional videos to use, the best tankless heaters such as the EcoSmart Eco series have complex systems that need instructional videos to use effectively. By watching the video, you will have a better understanding of how the product works and its associated benefits.
We have provided multiple informative videos covering different aspects of the best tankless water heaters. Take your time and watch them. The videos will boost your understanding of these tools and help you make the best financial decision if you decide to order a new one.
What are Tankless Water Heaters?
Typical water heater systems have been in use in homes for decades now and therefore are the most known globally. These consist of a large water tank that stores water and an electric coil that heats the water. They also have thermostats that retain the temperature of water at your preferred level. These water heaters use several energy sources including electricity, propane, solar energy, and natural gas. Tankless water heaters, also known as 'on-demand' water heaters use electric coils to heat water on demand instead of storing it in a tank.
Tankless units measure around the size of a suitcase, but smaller models are also available in the market. Depending on the type, they use electricity or gas and heat cold water as it passes the element, which it delivers through a tap or a shower faucet for people to use.
Video | Tank versus Tankless Electric Water Heater
With a tankless water heater at home, you can heat cold water on demand and access it via a tank or shower faucet for as long as you want. Thus, for a few dollars, you will never worry about your shower faucet running out of hot water as is the case with tanked systems. If you are considering upgrading your bathroom with one, you should have a better idea of how these water heaters work to use them well. Overall, whole-house units split water to separate lines that serve different areas of the home, lowering water flow as a result. Most models can deliver an average of 2 to 5 gallons of water per minute.
Advantages | Electric Tankless Water Heater
The best tankless water heaters trump tanked models in terms of their capacity or water supply. They are also super-efficient. Unlike tanked systems that store water in a tank and heat it consistently to maintain a specified temperature, the best tankless systems provide hot water on demand – they only heat water when needed – lowering running costs. Therefore, to lower heating costs by 14-18%, consider replacing your old tanked water heater with an efficient tankless water heater today. It also reduces water flow per minute and therefore wastage of water.
Tankless System vs Traditional Water Heater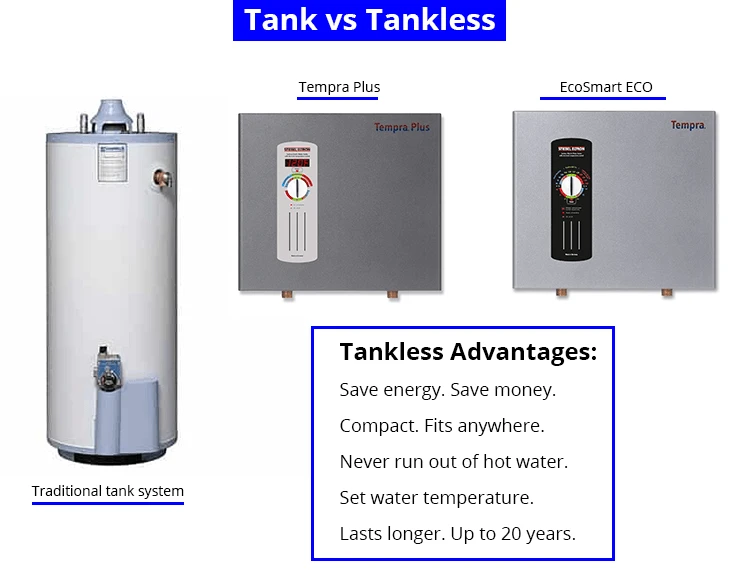 In addition to their efficacy and eco-friendly design, you will love the space-saving design of some of the best tankless systems. Most models are smaller than electric units and therefore blend into and work in small spaces in homes, including closets and the under cabinets.
Moreover, because they do not need a large storage tank to work, the risk of flooding your home because of a ruptured tank is relatively low. Moreover, you will never worry about a leaking tank, which is one of the top five causes of floor and beam damage in wooden homes. Rust and growth of mildew are also low with a tankless water heater at home.
Even though simple, expect years of excellent service from some of the best tankless water heaters in the market. If you can find a well-engineered model made from high-quality materials, the product will serve you for almost twice as long as a traditional tanked heater would. With proper maintenance, the system could serve you for 15-20 years, which is good. Normal tanked systems last for approximately 10 years.
Internal Components and Parts of ECO 18 to ECO 36 models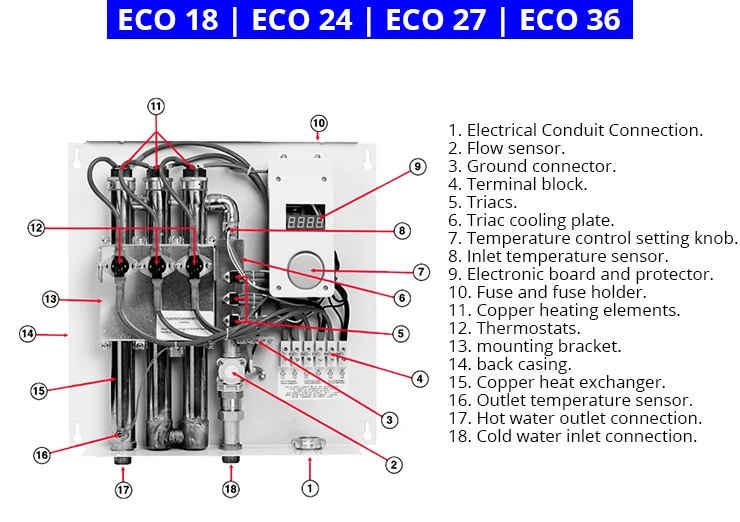 Disadvantages of Tankless Water Heaters
Even though beneficial, the best tankless water heaters have their unique drawbacks. For instance, the equipment costs slightly more money upfront compared to the best-tanked water heaters for one reason – they have a complex design that costs significantly more money to manufacture. They are also harder to set up than traditional tanks, especially if you are retrofitting one to an old tanked system. While doing this, expect additional expenses for the upgrades/add-ons.
Finally, because tankless water heater heat water on demand, expect a short lag time before hot water starts flowing from your tap or shower faucet. This is not the case with a tanked water heater that keeps water at a certain temperature all the time, albeit at a higher electrical cost. You get hot water almost instantly depending on how far your tank is from your tap or faucet. Tankless units deliver water instantly as well but you wait for around 10-15 seconds for how water to start flowing.
Video | Traditional versus Tankless Water Heater
Electric vs Gas Tankless Water Heaters
We have reviewed the cons and pros of buying a tankless water heater. If you still have reservations about buying a tankless water heater, read on. We will help you to choose the best tankless heater for your home, be it gas or electric. If cost is a major concern for you, for instance, converting your heater from a tanked (traditional) to a tankless model might be the best for you. Here are some major features to expect:
Most brands of tankless water heaters qualify for a $300 federal tax rebate.
Electric whole house electric heaters are cheaper than most of the best whole house tankless heaters.
Electric units are more energy-efficient than gas and therefore will save you a lot of money.
The best gas-fired tankless water heaters are better than electric models in many ways. First, they have a higher flow rate, which comes in handy whenever you are having a shower. They also heat water faster than electric models and have less lag time, which comes in hand in chilly weather. You do not have to wait for several seconds for the water to start flowing, as is the case with other heaters. Therefore, if you have a high demand for hot water, consider buying yours today. If power saving is your major concern, opt for an electric water heater instead. While gas-powered systems heat water continuously, which wastes energy, electric systems heat water on demand, saving money.
Rinnai RUC98iN | Natural Gas Tankless Water Heater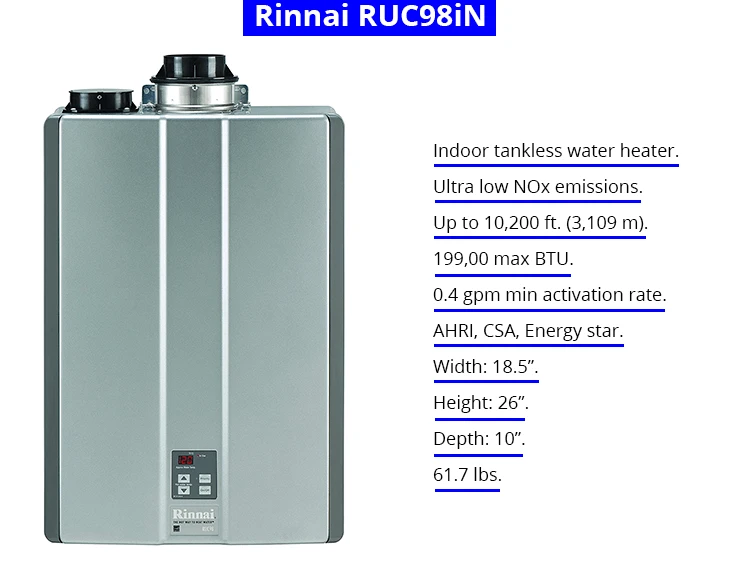 If you have a gas set up in your home, expect the best results with a Rinnai model (series) water heater. We have an in-depth article on the Rinnai Ultra Series that will help you to have a better understanding of the product. Check it out today. You will never regret the decision.
EcoSmart ECO Sizing | How to choose the best Electric Tankless Water Heater
You can purchase the EcoSmart Eco electric tankless water heater from Amazon.
The Facts About Whole House Electric Tankless Water Heaters
When it comes to access to and usage of hot water at home, different homes have different needs. Factors such as the size of your home can influence the type of tankless water heater that you will need. If you use a low of hot water in the morning, you will need a high throughput tankless water heater and vice versa. The temperature of groundwater also determines the type of system you will need. Do not overlook that.
The heating capacity of a tankless water heater is dependent on the temperature rise (the difference between the temperature of a thermostat and groundwater) and the flow rate of your system. If groundwater is cool, the system will use more energy to heat water to your desired temperature at your desired flow rate. Keep these attributes in mind.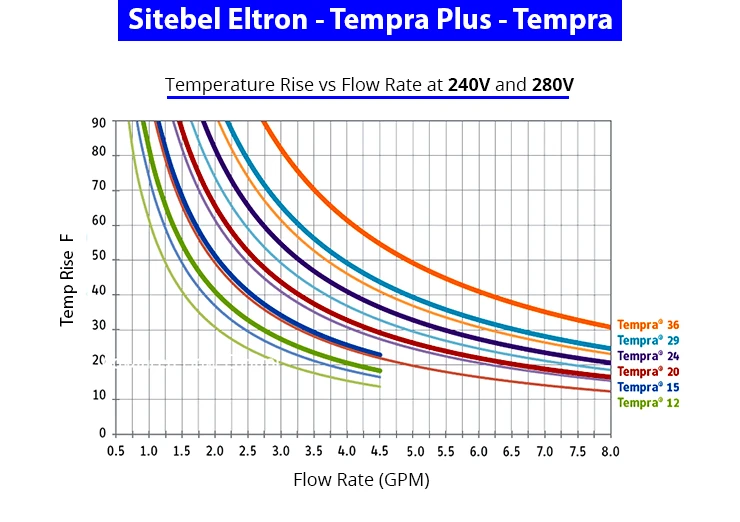 Whenever you are shopping for a whole house tankless water heater, you will have to choose its capacity, often presented in gallons per minute' or GPM, which refers to the flow rate of water from the source. Factoring the GPM (gallon per minute) rate in decision making is important whenever you are shopping for water heaters as it depicts how long the system will take to fill a jacuzzi or bathtub with hot water.
Different appliances that you use at home have different GPM on the label or tag. If you cannot locate the tag or label on a product, here is a simple method for locating the measurement. Standard bathroom sinks have an average flow rate of around 0.5 to 1.5 gallons per minute.
Some tankless systems do not provide what their manufacturers promise. With the release of tankless water heater units several years ago, people experienced multiple issues including inconsistent water temperature, difficult installation, and frustrating maintenance.
In this crowded niche, two major brands stand out – the Stiebel Eltron and EcoSmart tankless water heater. Reputable all over the world, these dependable brands have alleviated all the problems or hiccups that people encountered with the earlier versions of heaters.
Stiebel Eltron Tempra Plus Whole House Tankless Water Heaters
Stiebel Eltron has been in the market for many years now. It has decades of invaluable experience in this manufacturing technologically advanced products, including the best whole house tankless water heaters. One of the drawbacks of its tankless water heaters is that they cannot provide hot water consistently when running at full pressure.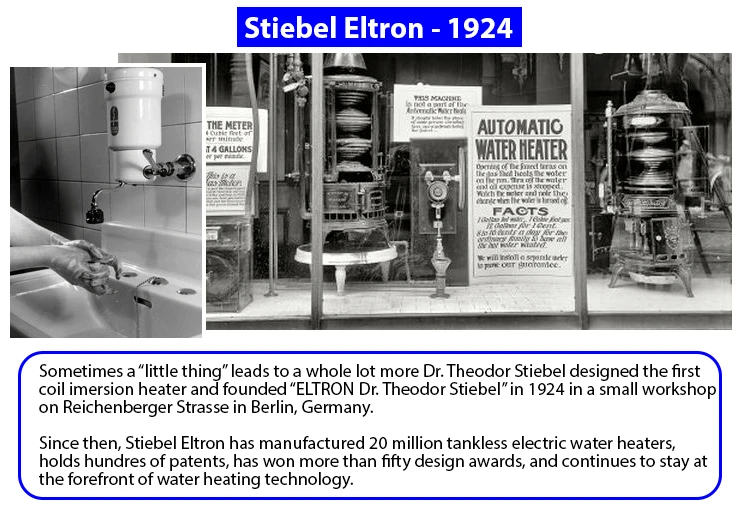 For instance, if someone was washing dishes while you are taking a bath, the boost in demand for hot water is too high for some systems to handle. Because the water heater distributes water to multiple sources, the tankless system cannot maintain the ideal temperature throughout. As such, you experience cold spots, which is not fun.
However, standard tanked models are not "immune." When the demand for hot water exceeds the tank's capacity, you will have cold water after a few minutes of showering, which is not enjoyable. The major difference with tankless water heaters is that you wait for longer for the tanked system to bring the water back to temperature.
Stiebel Eltron has overcome this major setback with the recent release Tempra PLUS whole house electric tankless water system. The system has an advanced Flow Control that lowers water flow when the demand for hot water is higher than the system can support. As such, whenever the water demand is higher than the system can support, it will supply hot water consistently at the correct temperature. You will only shower for longer as the water pressure will be slightly lower. This feature is available in only the Tempra PLUS line of water heaters only.
Tempra PLUS Tankless Water Heater Series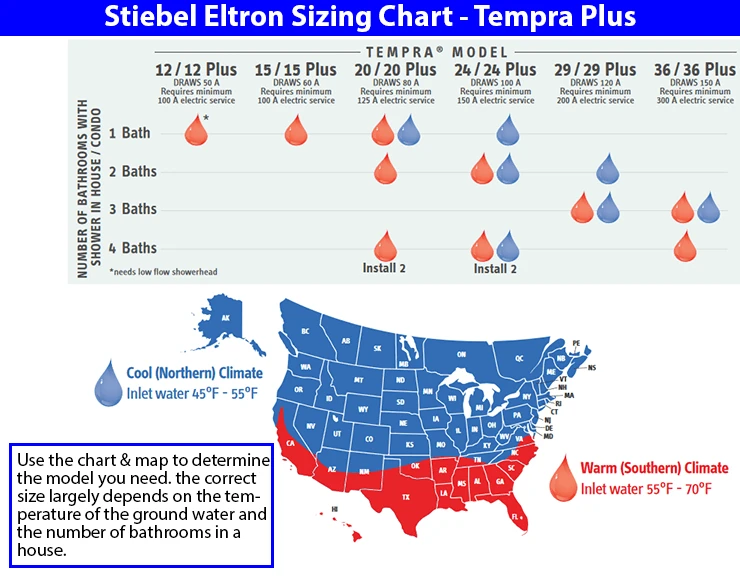 The Tempra Plus whole house water heater comes in multiple sizes that work well in most homes of all sizes and different geographical areas. Because flow rate depends on the temperature of the incoming ground water, the climate of your area influences how the product functions. As such, when setting up a new system, pay attention to the climate.
All these models have a few innovative features including a power modulation system (full) and digitized temperature controls. They also have a temperature regulator that you can use to set the temperature of water in real-time. Use the dial selector in front of the panel to set a temperature of between 86-140 degrees Fahrenheit. Finally, this wall-mountable water heater features overheat protection for safety.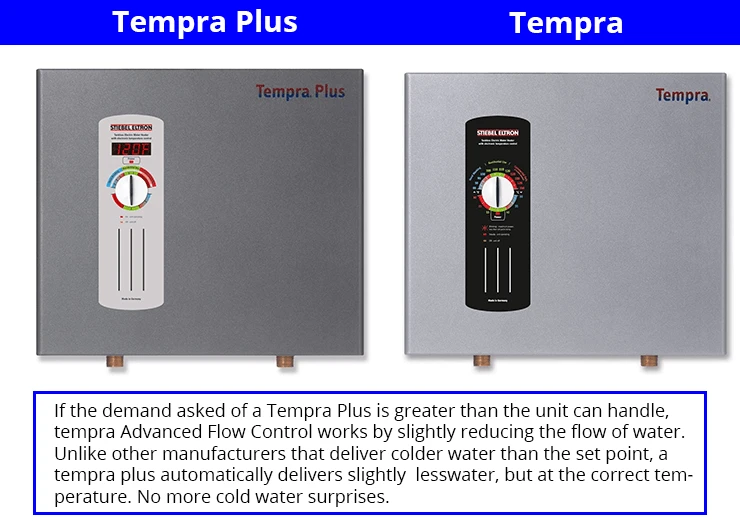 In case you did not know, Stiebel Eltron has another series of tankless water heaters called "Tempra," which, even though inferior to the "Tempera Plus" tankless water heater, delivers memorable results. Make sure that you understand the benefits and features of each to avoid confusion. Here is an excerpt of how these products differ:
What is the difference between the basic Tempra and the Tempra Plus tankless water heater?
"Tempra Plus models have an advanced Tempra Flow Control system, invented by Stiebel Eltron. No other brands of tankless water heaters have this feature, making it a standout feature in this niche. Whenever your water demand is higher than the system can support, its Tempra Advanced Flow Control system kicks in to reduce the flow of water and thus maintain optimal delivery of hot water at the set point."
Now, let us check out the Tempra Plus series tankless water heaters…
Benefits (Tempra Plus):
Continuous, on-demand, and unlimited hot water supply.
High limit switch with manual reset.
All models have an exclusive Electronic Temperature Control that keeps the temperature of water steady at different flow rates.
The exclusive design stops dry firing.
The electronic switch ensures silent operation all year long. The system has a three-year parts warranty on leakage.
Seven-year leakage warranty and three-year parts warranty.
Copper sheathed heating element in a copper cylinder.
99% efficient.
Coldwater line for lavatories with a Seismic proof design.
The tankless design prevents the growth of bacteria such as Legionella.
The tankless design has minimal heat loss.
Effortless to install (¾-inch NPT connections).
Tempra 36 Plus | 36 kW Best Tankless Water Heater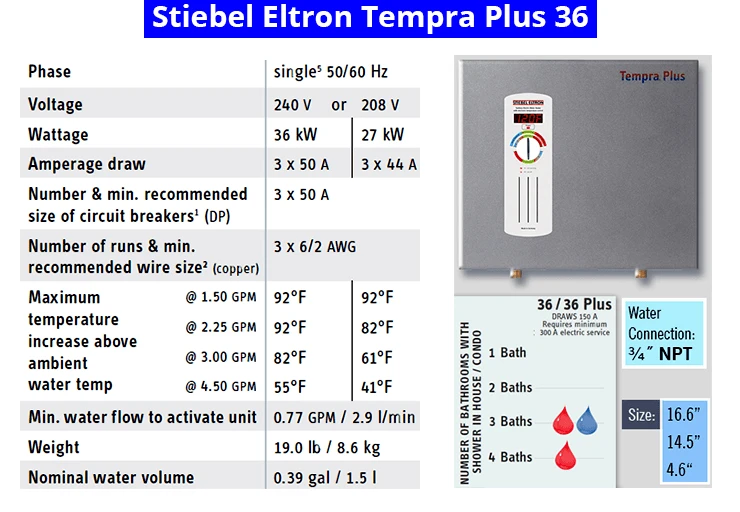 This model supports high flow water faucets in homes. It works well in cold Northern climates where the average temperature of ground water is around 40 degrees Fahrenheit or lower. If you live in a warmer climate, you can supply hot water to up to four bathrooms with a flow rate of around 5-5.5 gallons per minute at a 45-degree Fahrenheit temperature rise. The powerful unit is dependable and recommended for use in commercial, residential, and industrial settings. Its 36-kW system has 300 total amps (minimum). You will require around three 50 ampere dedicated circuits to use an original model seamlessly.
Tempra 29 Plus | 28.8 kW Best Tankless Water Heater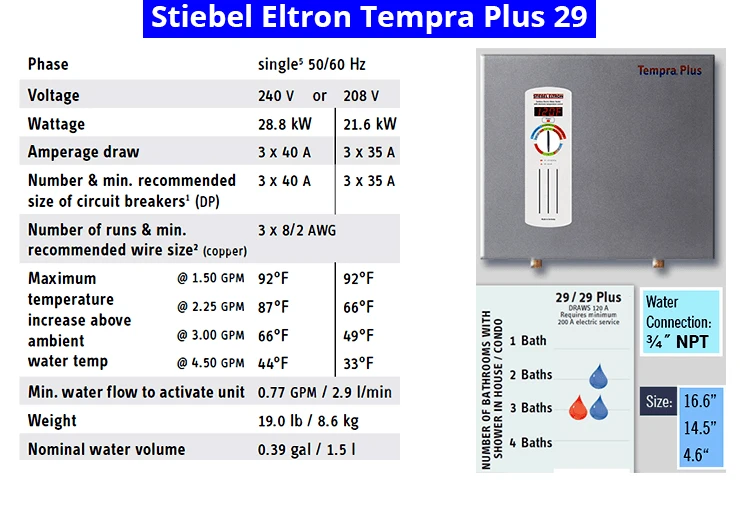 This product works seamlessly in average-sized homes with around 2-3 bathrooms, if in a warm region, and two bathrooms, if in a cold climate. These values assume an average flow rate of approximately two gallons per minute (2GPM) that require a 65-degree Fahrenheit temperature rise. It requires 120 amperes to operate. The minimum service life is around 200, while its electrical system needs three 40 ampere outlets (208 volts or 240 volts) to work seamlessly in your home and/or hotel.
Tempra 24 Plus | Best 24 kW Tankless Water Heater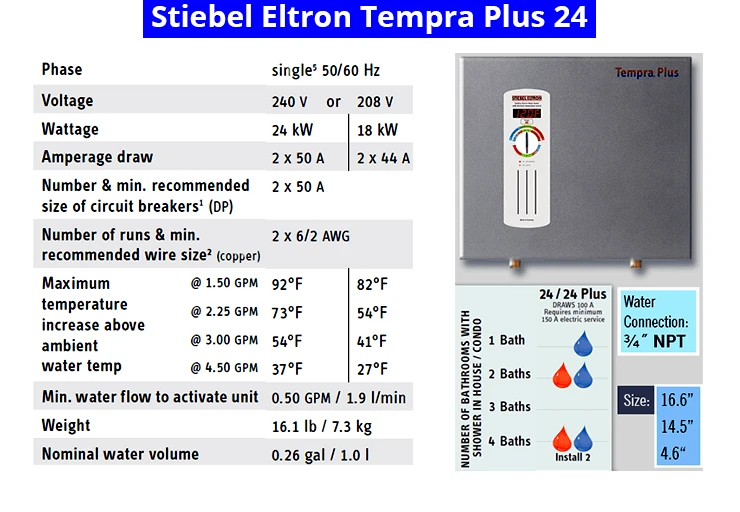 If you live in a warmer region and have up to two bathrooms at home, or live in a cool climate with 1-2 bedrooms, this water heater will serve you well. It has a good flow rate and maintains a consistent water temperature. Therefore, if you require a 45-degree Fahrenheit water temperature rise at home, expect an endless supply of water from your water faucets at a rate of around 3.5 – 4 gallons per minute. The tankless water heater works well in homes and commercial settings.
Tempra 20 Plus | Best 19.2 kW Tankless Water Heater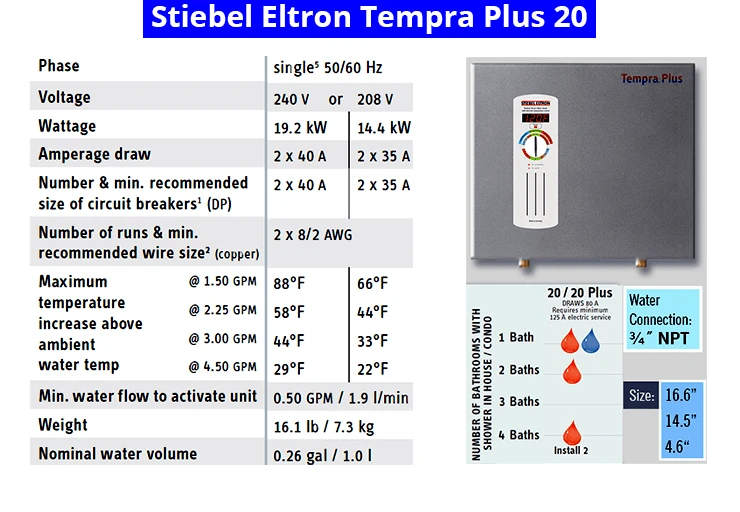 In regions that experience a cool climate all year long, the Tempra 19.2 kW tankless unit is among the best to use in homes with one bathroom. If you live in a warm area in a 1–2-bathroom home, the product will satisfy your hot water needs as well. It supports up to 45 Fahrenheit groundwater and has a thermostat that you can use to set the temperature of the water up to 110 degrees Fahrenheit. This translates to a 65 Fahrenheit temperature rise at a flow rate of two gallons per minute.
Therefore, depending on how cold winter gets, it one of the best hot water systems for condominiums and small homes. You can also use it in commercial areas such as hotels and/or offices that need 2.5-3.0 gallons of hot water per minute at a 45 Fahrenheit temperature rise.
Tempra 15 Plus | Best 14.4 kW Tankless Water Heater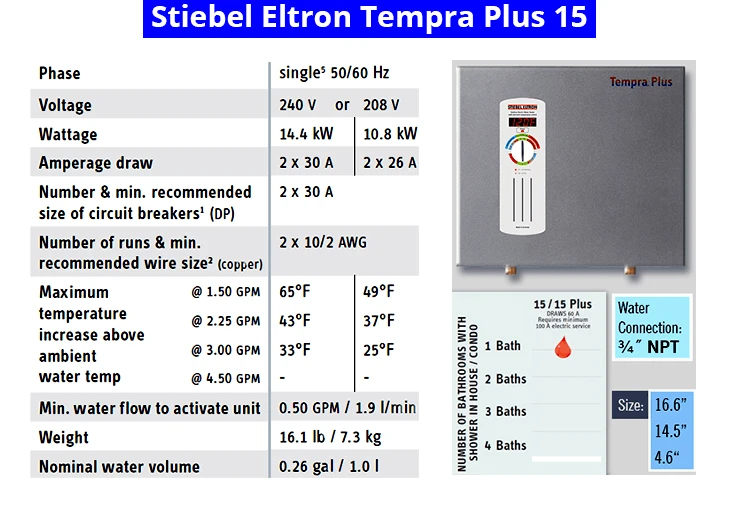 This 14.4 kW unit delivers approximately 2 to 2.5 gallons of hot water per minute at a 45-degree Fahrenheit rise. If you live in a warm region, it can supply ample amounts of hot water to 1-1.5 bathrooms at around 100 total amps (minimum) via two2 separate 30A circuits. In cooler climates, it can provide hot water consistently to one bathroom but requires more amperage. If the groundwater of your home has a temperature of around 45-degree Fahrenheit, it delivers 110 Fahrenheit water at a rate of approximately 1.5 gallons per minute. You can use it for industrial/ commercial applications in warmer areas.
Tempra 12 Plus | Best 14.4 kW Tankless Water Heater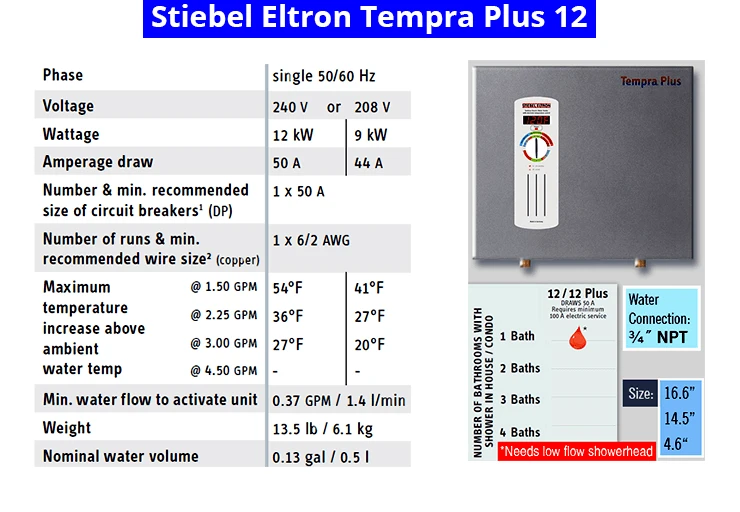 This 12-kW tankless electric unit is suitable for people who live in cold or warm areas in homes with one bedroom. It also works well in cabins and cottages and has a reliable tankless design that delivers up to two gallons of hot water per minute. This is desirable considering that you are getting a low-cost tankless water heater with a temperature risk of 35-40 degrees Fahrenheit. If your incoming groundwater has a usual temperature of around 55 Fahrenheit, this is the best product to use.
You can find more information on the Stiebel Eltron site.
Documents — Stiebel Eltron Tempra Plus (Download or View):
EcoSmart Series Electric Tankless Water Heater
EcoSmart is a popular maker of whole house electric tankless water heaters that offer users value for money. They have stainless steel and copper components that deliver an effective and safe experience.
The cost-effectiveness of this product makes it an ideal choice for the home. The heating elements, for instance, are durable and easy to replace. As such, you do not need deep pockets to maintain a functional water heating system at home, which is amazing. Most systems have a long lifespan and a limited warranty that covers structural and electrical manufacturing defects. These electric units are easy to install. However, for safety, you should hire a professional contractor or an electrician to install it on your home's electrical panel. It has a digital thermostat that you can set between 80-140 Fahrenheit in one-degree increments. Consider ordering one for your home.
Installation Video | How to Wire the EcoSmart Eco 27
The best tankless water heaters are diverse and designed to satisfy the needs of most people. However, the size that you order depicts the type of experience that you will have at home so choose wisely. Look for a product that you will have an easy time setting up and that will not run out of hot water while in use. Most models have an advanced system that provides over 50% cost savings whenever you are heating water.
To boost power savings even further, you should install water saver showerheads or low flow showerheads at home. These save water and lower the burden on your water heater, which saves power in the end. Check out our list of the best EcoSmart whole house tankless water heaters. We have many sizes for different households.
Documents (EcoSmart Eco & POU):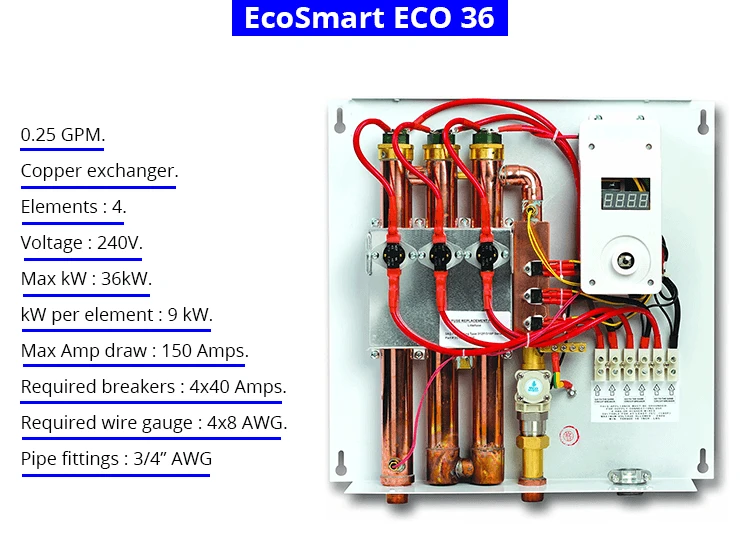 This 36-kW tankless water heater is one of the best models for people with large homes, where people use multiple water faucets at the same time. The unit is one of the largest in the Ecosmart series and has a powerful system that excels in cold weather. During chilly mornings, you will have an ample supply of hot water for showering. In Northern regions where the temperature of incoming water reaches can reach 37 degrees Fahrenheit, for instance, you will get sufficient water for up to two showers running at a rate of approximately 3.6 gallons per minute.
If you live in a warmer area or country, with an average incoming water temperature of 72 degrees Fahrenheit, this system can provide hot water to 4-5 showers running at approximately 7.5 gallons per minute.
This EcoSmart unit is also suitable for people with spacious single-family homes, with high demand for hot bathing and cleaning water. It excels in warm and cool weather and supports multiple applications at home without running out of water. If you have a hot tub or jacuzzi tub that you relax in after a long day at work, this product will serve you well. You will get approximately 3.5 gallons of hot water per minute if the temperature of your inlet water is around 50 degrees Fahrenheit.
If you live in a warmer region, expect even better results. The system has an average rating of about six gallons per minute if the temperature of your incoming water is approximately 70-degrees Fahrenheit.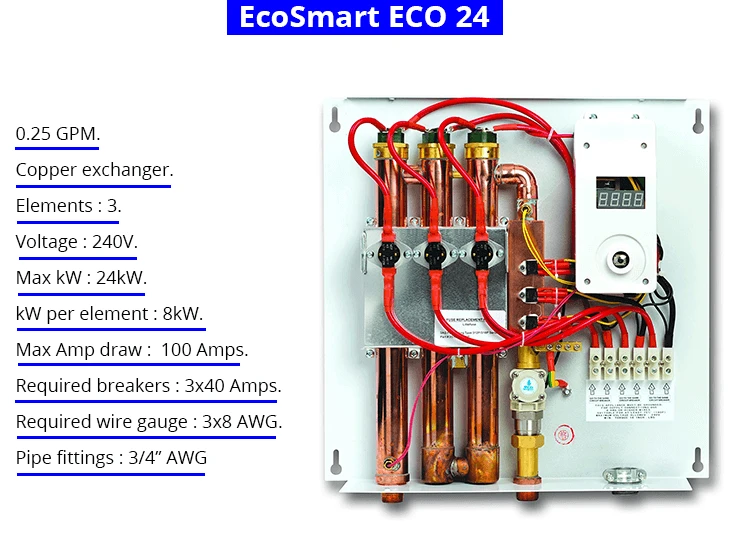 This is a dependable tankless water heater for people with medium-size homes with medium-hot water demands. It is a powerful 24 kW system that supports average incoming water temperatures of approximately 50-55 degrees Fahrenheit at an average flow rate of around 3.1 gallons per minute (GPM) to low flow showers (up to two). The flow rate is slightly higher in warmer regions, with people with 2-3 water faucets and an average incoming water temperature of about 65 to 70 degrees Fahrenheit getting approximately 4.3 gallons of hot water per minute.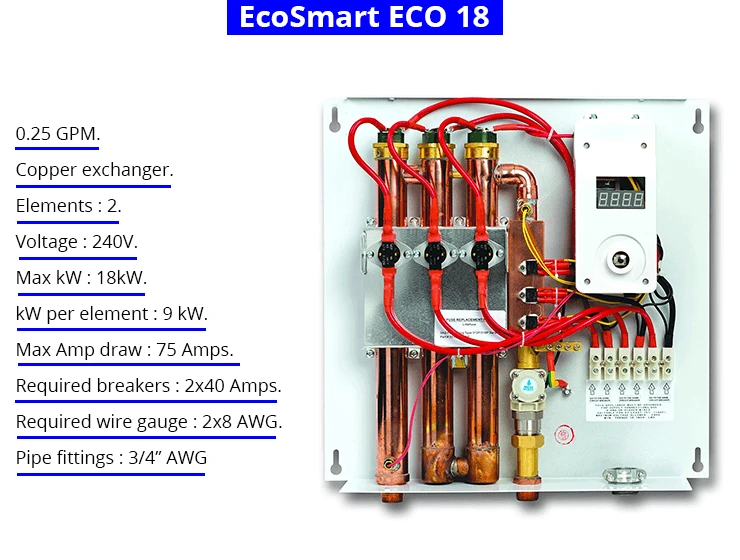 The ECO 18 electric tankless water heater works seamlessly in smaller households such as apartments or townhouses with two bathrooms. At full capacity, hot water flows at a rate of 2.5 gallons per minute when incoming groundwater has a temperature of 55 degrees Fahrenheit. As such, it can provide enough water for a low flow water faucet and a shower simultaneously without a dip in pressure. In warmer regions, it can supply water to two showers at around 3.2 gallons per minute.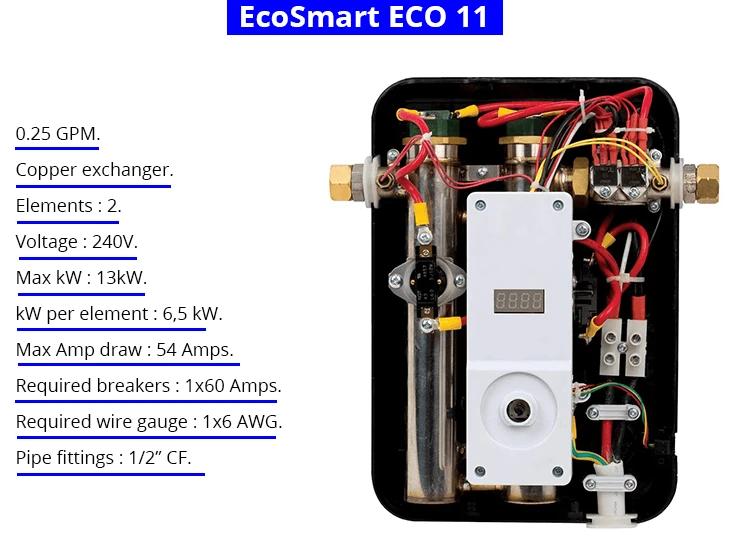 This 13-kW water heater system has a compact design that works well in most households in all weather. When the weather is warm, you can use it to supply hot water to 1 to 1.5 bathrooms at a rate of around 3.2 gallons per minute. While it is not suitable for use in the Northern region, you get approximately 1.7 gallons per minute in cooler weather when the water in the ground is approximately 55 degrees Fahrenheit. At this rate, it provides enough water for showering in one bathroom.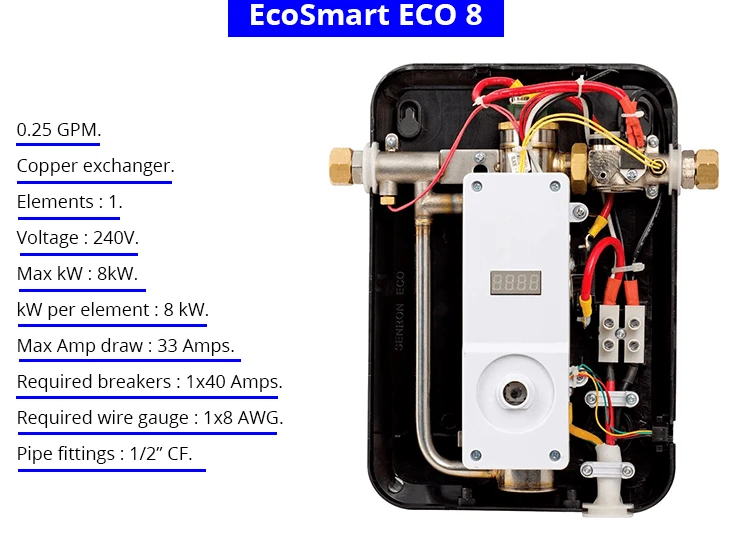 This smaller unit can supply amply amounts of hot water to one shower at a rate of approximately two gallons per minute. Therefore, although it is among the smallest brands in this niche, it can satisfy the needs of two adults in a warmer climate with a groundwater temperature of around 45 degrees Fahrenheit. Unfortunately, you will have to use one water application at a time to avoid overwhelming the system. You can also set it up as a point of use unit for a single water appliance to supplement your existing hot water system. Its quality is amazing.
EcoSmart | Point-of-Use (POU) Series
If you have many bathrooms with a high demand for hot water, you should consider installing another point-of-use unit to your home's hot water system. While these tankless water heaters have a comparable technology with other products in this niche, they not only supply an unlimited amount of water while in use but also use less power.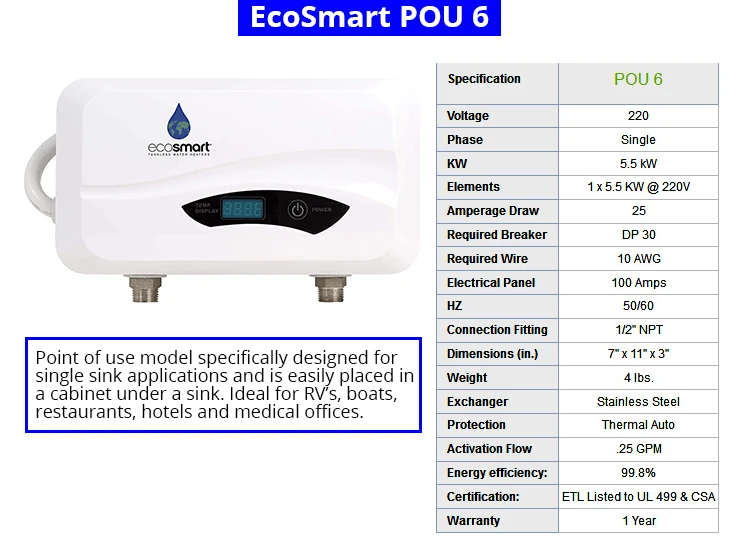 This point-of-use 5.5 kW tankless water heater will be an excellent addition to your home's existing hot water system, recreational vehicle, and commercial areas such as offices. It supports low flow hot water applications such as handwashing stations. Moreover, because it is compact, you can tuck it under the sink to get instant hot water while maintaining a clean and enticing look. The system requires only 25 amperes of electricity to work, which is a plus. However, you will need an electric panel with 100 amperes total capacity during its set up.
POU 3.5 | 3.5 kW | 29 Amperes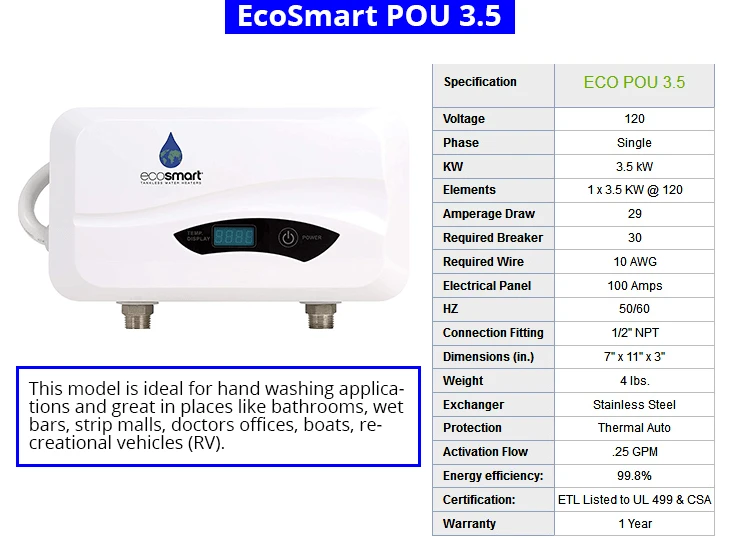 This 3.5 kW 4 lb. water heater is somewhat smaller than POU 6 units, which support a plethora of hot water applications in homes, small commercial buildings, and recreational vehicles. It also works well in surgical labs and doctors' offices where the demand for instant hot water for handwashing or cleaning is high. The product is small and therefore suitable for supplying hot water to point of use faucets at a flow rate of approximately 0.5 gallons per minute. Its users like this.
Choosing the Best Tankless Water Heater
If you have read this article diligently from the start, you now have a good idea of what tankless water heaters are and whether they can satisfy the hot water needs of your home. Now, the ball is in your court. Guided by the information we have offered you thus far, you should decide the route you want to take. Tanked water heaters are cheaper to install, but bulky and costly in the end. Tankless models, on the other hand, are practical when the need for instant/on-demand hot water is high.
Most of the advanced tankless water heaters available in the market have many thoughtful qualities and features that make them effortless to install and work seamlessly in most settings. For the best results, hire a professional to install the product for you. Installing the system by yourself could void its warranty or cause serious damage or injuries.
To ensure that your family has access to hot water on demand, installing a new tankless electric water heater is one of the best routes to take due to their convenience and productivity. They take up little space and have high flow systems that satisfy the needs of most people. Also, compared to tanked models, they offer significant space and power savings, making them ideal for use in small, medium size, and large homes. Therefore, if you are considering buying a traditional tanked system, think again. A tankless water heater works the best.
Additional Information | Electric Tankless Water Heater
You should install a thermostatic mixing valve with your tankless water heater to add a layer of safety to the system. The system gives you better control of water temperature while the system is in use.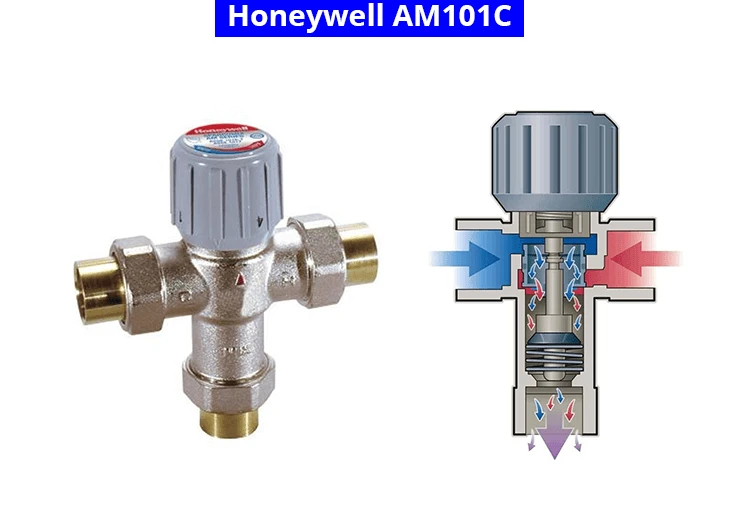 Features:
A recommended product for every water heater that you install in your home.
Smart Investment: Designed to lower the risk of scalding and the growth of Legionella bacteria.
Supports multiple connection types.
Teflon coated system boosts the lifespan of the product by resisting the build-up of minerals in its system.
HEALTH: Mixing valves can stop the growth of harmful bacteria in plumbing. If the temperature of your water heater is low, deadly bacteria such as Legionella can colonize pipes and propagate, causing an epidemic at home. With a mixing valve, you can set the temperature of your water heater high to kill such bacteria without scalding users. Generally, with this system, you have control over how hot it can get.
SAFETY: Burns is a safety hazard while using tankless water heaters, Fortunately, with a mixing valve, this is a non-issue, as the system prevents scalding. The best Honeywell mixing valves are durable and designed to meet strict safety standards. Use worry-free at home.
COMFORT: You will have access to hot water at home on demand. The value creates a continuous mixing action that boosts the performance of this tankless water heater from 40 gallons to 60 gallons. With one, it will be like you have added another heater without taking up more space.
How Mixing Valves Work: This system mixes cold water with hot water to deliver warm water to a faucet – preventing burns or scalding. Moreover, Honeywell mixing valves enable people to set the correct temperature to lower the threat of bacterial growth in plumbing systems leading to infections. Finally, the system increases the availability of hot water to bathroom and kitchen faucets by mixing hot and cold water. Therefore, with one, you will have peace of mind at home emanating from the comfort, health, and improved safety that the best Honeywell Thermostatic Mixing Valve provides.