Buying a house isn't easy. After you find the perfect home for your little family, you must worry about so many other factors. The last thing you need is a flooded basement in your new home or stagnant water bodies growing mold.
Submersible utility pumps can drain out the water very fast and keep the areas dry and mildew. The Superior pump 92150 has been around for a while and is still one of the best in the market to do just that. Homeowners cannot stop gushing about its amazing features and why it is still their favorite.
If you're still unsure, we have a very detailed review of the Superior pump 91250, which will surely change your mind.
Superior Pump 91250 Review
As a homeowner, you really should not be getting any mediocre utility pump just to save a few bucks. You need a sturdy machine, something that is built to last and will give you years of service. And zero trouble! That is where the pump 91250 ¼ Horsepower Submersible Utility Pump comes in.
91250 is energy-saving and durable. Since you don't know where the water is coming from, it helps to have a device that you can move around and handle all the roughness. The body of this pump is hard because of the thermoplastic used and is also resistant to corrosion.
This one has excellent performance capabilities and offers good power to weight ratio metric. You can use it to empty swimming pools, utility rooms, or anywhere you need because of the bottom-suction design. This pump's size is highly convenient, you can fit it into small spaces if you need it.
It's sizing also makes it easy to store. One interesting way to do that is to fit it into a 5-gallon bucket, which would ensure portability and tidy up the cord storage. Drill holes on the bottom and place both pump and bucket into the water. To act as a filter, you can cut up and add scraps of hardware cloth.
And unlike other sump pumps, you do not need to watch it like a hawk and constantly supervise it. It is unlikely to overheat because of the thermal protection circuitry inside. There is also a wire mesh along the impeller to prevent the device from clogging up.
But sometimes, unwanted debris cluster in and causes the impeller to jam a little. If that happens, you can easily remove it through the three stainless steel screws along with the screen.
When it comes to convenience, this device goes all out. You can attach a normal 5/8" garden hose with the help of the included adapter or even use a 1.25-inch discharge hose as well. Although for this, you need to acquire an extra female-to-male adapter.
It is designed to have a longer runtime and continuously work without any interruption. The noise level is also very low, and you can barely hear over the television blaring or the fridge humming.
But while this machine does a good job working on its own without any trouble, the only thing you need to worry about is never running it dry. Using it without water can seriously degrade the performance and ruin the motor.
Undoubtedly, this pump will easily be one of your most prized possessions and amazing buys that you cannot stop gushing about to your friends, family, and neighbors. With this trusty handy-dandy pump by your side, you will be ready to handle all kinds of floods-even one by an avalanche.

Lightweight & Durable
You never know where you might need to pump out water, so its small size and lightweight makes it easier to move around. It doesn't consume much power to run and is very energy-efficient, and draws a current of around 3.8 amperes only.
The machine can pump out 1800 gallons per hour, which can be broken down to 35 gallons per 60 seconds at 25 feet. It even has a CSA certification and has been listed UL/CUL, so you can rest assured that it would last many years to come.
Versatile Uses
The water discharge rate of the Superior 92510 is very high, and it can run uninterrupted for a long time. You can use it to drain all kinds of flooding or even empty pools, fountains, or other stagnant water bodies. There is an adapter included, which allows you to attach a hose for more convenience.
It is also perfect for emergencies and can even work as a reserve if needed. You can always expect robust service from it everywhere.
Operates Quietly
There is none of the annoying thumping noise ringing through the house and driving you crazy. You will only be hearing a low humming noise that easily blends into the background and becomes barely noticeable after a while.
In-Built Screen
Cleaning out a utility pump could not be easier. The mesh on the bottom of the screen allows smaller debris to pass through without any trouble.
And if an obstacle occurs, you can clean it out by unscrewing the three screws that hold on to the base of the in-built plastic screen. Moreover, you can also just flush back the unit to keep it jam-free.
Strong Cables
Since it is not battery operated, you need to plug it into an electrical outlet to work. The 10 feet long electrical cables included are more than sufficient to work around the house.
These chords are perfect to use in a household. They are waterproof and do not damage easily. In warm weather, they are highly flexible and curl up very nicely. However, colder temperatures can cause them to stiffen up.
Excellent Pricing
The features of this pump justify the pricing set by the buyers. It is nearly impossible to get a good quality utility pump with a durable body and enhanced performance capabilities in this price range.
Pros And Cons for Superior Pump 91250 Thermoplastic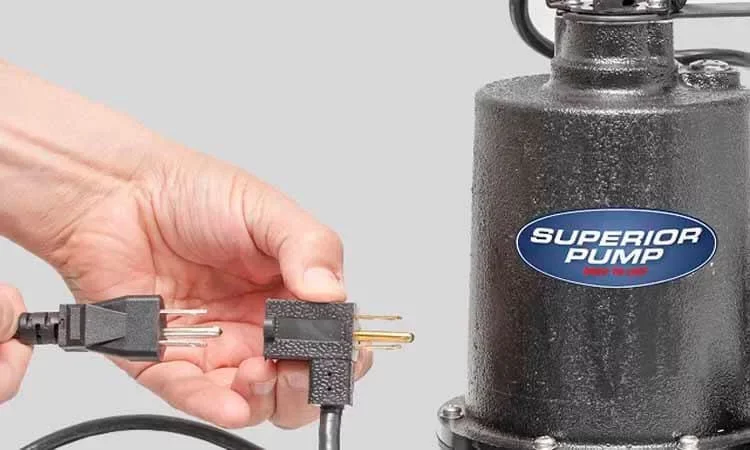 Pros
Highly efficient during emergencies and even work as a back-up pump if needed.
Super portable and can access all spaces.
Excellent suction level and can suck as low as 1/8-inches off the ground.
Thermal protection ensures that the motor does not overheat and get damaged by high temperature.
The flow rate is exponential, so the impact of the gradual increase in height is considerably lower.
Cons
The cables lose flexibility at lower temperatures and stiffen.

Frequently Asked Questions
Can I use it as a sump pump as well?
Yes, you can. To do that, you would need to purchase an optional float switch. By setting up the switch, you can run a short cycle and set the ON and OFF height.
What sized hoses can I attach?
It comes with a larger hose with a suitable adapter. But you can easily fit in a garden hose as well.
Does it shut off automatically?
Unfortunately, the pump needs to be switched off manually. However, if you use a float switch, it will turn off the pump when the water is mostly drained out.
What is the max pumping vertical height of this pump?
The pump will lift to 25-inches of vertical height and has a 30 gallons per minute water flow rate at 0' lift.
Can I use the pump to clear out hard water?
Yes, you can. This pump is durable enough to drain out hard water quite easily. You can also use it to clean melted snow or any other kind of stagnant water pond.
Final Verdict
If you are looking for a pump to have multi-purposes, there would not be a more ideal choice than the Superior pump 91250.
The pump has been built to last a lifetime and work longer hours without any troubles. It has top-notch performance and will give outstanding service. You can level up the height, and you still won't be disappointed. For this horsepower, there is truly no better choice.