Have you ever accidentally stepped in a bathroom when there was somebody already using it, and rushed out uncomfortably? Or turned the door knob to go outside and realized with utter horror that it was already unlocked the whole time? If you have ever faced similar incidents, it is time for you to get a good door knob.
The best door knobs are those that provide security and privacy to your home without having a too complicated system. If you want to know how and where to find such a product, keep reading this article as we have compiled an in-depth list and buying guide for you.
The Best Door Knob
Factors to Consider Before Buying The Right Door Knob
Buying a door knob is quite an important decision because it contributes to the feeling of proper privacy and security in your home or workplace. Therefore, to make sure that you buy the right door knob, look for these following factors:
Type
First of all, you need to understand what part of the house you need a door knob for. There are mainly two types of door knobs.
Interior
These door knobs are mostly made for different rooms inside the house. Whilst they are good at protecting your privacy, they might or might not be secure enough to attach to the main door.
Exterior
This type of door knobs are mostly made for main doors and have some high-security systems to keep you safe. These door knobs might or might not need a key to be opened.
Functions
Next, the most important thing you should be considering is what function you are going to use the door for. A door knob typically has the following functions:
Security
One of the main reasons for installing door knobs is to ensure the safety of a place and its inhabitants. Therefore, door knobs that are designed to provide security usually have a strong lock system.
The lock system of a door can be keyed or keyless. With the help of a keyed lock, the residents who have keys can enter or lock the door from outside anytime they want. This is usually the most commonly used system all over the world.
Nowadays, keyless systems are also becoming very popular. To access these kinds of locks, one needs to know a code that the owner has set up previously. Some door knobs with locks that use fingerprints of certain individuals are also being used in the process of digitalization.
Privacy
A lot of door knobs might not have the best security system in the world but are designed to provide privacy. These types of door knobs are mostly attached to doors of bedrooms and bathrooms, to prevent any uncomfortable situation arising between the residents. These types of doors might be locked from the inside.
Other
Other functions of the door knob include using it anywhere where privacy is not important, just to have something to pull onto. These kinds of door knobs are often called dummy door knobs and are used on closets and cabinets.
Style
If you are someone who cares about both function and style, then you need to assess the different furniture, color tones, and shapes of your room before buying a door knob. This will help you to know what kind would blend in and enhance the beauty of your home.
For example, if you use wooden furniture and the curtains, bed cover, sofa all are warm-colored, then you can go for a bronze colored door knob. But if you have an interior that is cool color toned, you might consider keeping a stain nickel finish on the knob for a stylish effect.
Ease of Use
One of the most important things to consider before buying a door knob is whether it is easy to use by the residents.
For example, if you buy a door knob that uses a code to let people in, and the residents of that place are forgetful elderly people who cannot remember digits well, then getting inside will be a difficult task every time. Consider the comforts of the users first.
Installation Process
Make sure that whatever knob you buy, it has an instruction manual or is generic so that you can watch YouTube tutorials and install it yourself. You will also need to know the measurements of your door beforehand to make sure that the knob is the right fit.
Most door knobs come accompanied by the exact number of screws you will need.
Budget
Last but not least, have a budget in mind before you even begin searching for your desired product. This helps you eliminate extra costs, and buy a product that suits your needs without spending any extra money. You might go a little bit above the budget if that means getting a great product at a lower marginal value.
List of 8 Best Door Knob Reviews 2022
Here is a list of our top door knobs along with their pros and cons, to help you choose the right one for you.
1. Schlage LOCK FE285 CEN 619 LAT Century Review

Schlage has always been known to provide the best and the most durable equipment to your home. This model, which has an AAA grading on security, durability, and finish is no exception either. AAA grading means that it is the best on all these 3 factors, and therefore provides only the best choice for your home.
This model has an exterior grip that allows you to pull it from outside. Internally, it can be paired with any existing or electronic deadbolts, thus offering you the ease of use. Another great thing is that it is equipped with a through-bolt, which can slide up and down the system, so you do not need to drill your door.
What I like most about this model is its easy installation process. It can be done by anyone who knows how to put things into place using screws. You can refer to our guide for installing door knobs for further instructions, or a YouTube tutorial for a better understanding of the parts.
Besides these amazing features, this product has an amazing satin nickel finish, which gives it a very classy look and feel. Its shape and style are also very unique, allowing it to be a trendy piece in any home, no matter what the style is.
Pros
Good grip
Can be paired with any existing or electronic deadbolts
Easy installation process
Equipped with through-bolts to eliminate the need for drilling
Adaptable with the style of any home
AAA grading in security, durability, and finish
Cons
The latch might fall off after a certain period of use
2. Kwikset 991 Juno Entry Knob and Single Cylinder Deadbolt Combo Review

When it comes to quality, Juno provides some of the most amazing products. Its door knob is of no exception either. A bronze door knob with a satin nickel finish, this model not only looks good but also keeps you safe through its unique technologies.
This model is mainly used for exterior and main doors, where you want to ensure that no one other than who has a key can come in. It is equipped with a smart key system, which allows you to rekey the system in case you accidentally lose a key or just want to ensure that only the right people have access.
The satin nickel knob can be rekeyed as many times as you want to. A great feature of this product is definitely its universal handing system, which means it can be attached to both right-handed and left-handed doors.
This makes it easier for you if you are looking to buy the same knob for your whole house, as now you do not have to choose two different kinds for two sides.
Another cool thing about the model is how easy it is to install. You do not need any mechanic even to help you through with this. Besides, the model has a latch that is adjustable to all standard doors, so you do not need to spend time looking for the perfect latch.
Pros
Great quality
Provides security to exterior doors
Features a rekey technology
Equipped with a universal handing system
Easy to install
Is compatible with any door
Cons
Some customers complained about the finish
3. AmazonBasics Closet Door Knob Review

A closet door knob is mainly used for areas around the house where you do not need to ensure much security, but you want to have some sort of system to open and close. This model is a closet door knob and used in similar areas such as passages, closets, dining halls, etc.
The model has a beautiful satin nickel finish, while its internal parts are made out of steel. This gives the product a very sophisticated look, which makes it perfect for your home, no matter what color tones or architectural style your house has. The internal steel parts ensure that the knob works smoothly and efficiently.
Most satin nickel door knobs do not come with any kind of installation instructions attached, making the whole process a bit hard as you have to rely on general instructions. However, this model is an exception, as its detailed instructions will help you to install the knob even without any prior experience.
As you can see, this product is amazing at what it claims to do and features a beautiful finish, which will definitely make it a valuable piece in your home. No wonder that it is one of the best door knob out in the market.
Pros
Mainly used on interior doors
Has a beautiful brass finish
Provides privacy between rooms
Have instructions for installation attached
Cons
The door might get jammed sometimes while using this
4. Copper Creek BK2030SS Ball Privacy Door Knob

Copper Creek, as always, has provided a door knob for securing the privacy of people in the form of this model. While this door knob is not particularly compatible with exterior and main doors where you need a strong security system in place, this is perfect for use in bedrooms and bathrooms for privacy.
One of the best things about this model is the materials it has been made with. The all-metal construction of this product ensures durability and helps it remain in its prime condition for long periods of time. And the internal components are made in such a way to ensure a smooth and efficient system.
Besides being made from top-notch material that makes it a joy to work with, this model also has a gorgeous satin stainless finishing that will make your doors look much more attractive. The finishing helps to keep it looking pristine and new no matter how roughly you use this, so that is definitely a plus point.
On top of all this, this device is super simple to set up. Just follow the instructions on the manual, and you shouldn't come across any problem at all. Also, the installation process won't consume much of your time.
Pros
Great for use on bathroom and bedroom doors
Highly durable
Equipped with a beautiful satin stainless finish
Simple setup
Cons
Is not compatible with keyed security systems
5. SoHoMiLL Electronic Door Knob Review

In terms of providing security, the SoHoMilldoor knob is definitely one of the best electronic door knobs in the market. Its outstanding features, such as the 3-second lock system, which ensures that the door is locked within 3 seconds of you getting out, makes sure that you never keep the door unlocked.
This model uses one ace code which you can control along with 8 user codes. You can control these through your ace code too. Every time someone tries to enter, you will be alerted, which drastically reduces the chance of any entry attempts by invaders.
The system cannot be connected to any phone, which makes it impossible to hack into. Another thing that I like about this product is that it comes with a key as a backup. In case somehow the lock is not working or your code has become invalid, you can always use the key to reenter.
And this is also a good option if any of the users is not good with remembering codes.
I can guarantee that you'll love its super easy installation process. It comes with all things attached, so you just need a screwdriver, and your knobs will be ready in no time. The model is also adaptable with both right and left hinged doors, offering great flexibility.
Pros
Can be used on both left and right hinged doors
Very easy to install
Can hold up to 8 codes and one master code
Ensures maximum security
Has a backup mechanical key included
Cons
Other models can store a lot more user codes
6. Advanced Security TurboLock Keyless Smart Lock Keypad

The TurboLock Keyless system is one of the best ways to ensure that your house is safe from invaders. Its locking system, which can be accessed by one master code, one entry code, and up to 8 user codes, ensure that only these code users will get access.
And the elimination of a keyed system makes it impossible to duplicate keys. We liked the fact that you can use it on both right and left hinged doors. Setup is a breeze; you just need to get a screwdriver and screw it into the place you want on your door.
Forgetting to lock the door behind us is something we have done at least once in our lives. This event can lead to dangerous outcomes, like invading attempts, robberies, etc.
Therefore, to prevent these from happening, this model has a 3-second auto-lock system that makes sure your door gets locked behind you, whether you remember it or not.
A feature that you must have a look at is the backup battery port it comes with. If you run out of batteries in an unfortunate event, you can always turn to these backup ones, which will make sure you do not have to keep your door unlocked.
Pros
Can be programmed using 10 codes
Works with both left and right hinged doors
Smart auto-lock system
Equipped with a backup battery port
Made from high-quality materials
Cons
Might malfunction occasionally
7. MiLocks TKK-02SN Tkk-Sn Digital Door Knob

When it comes to interior doors, you might often need some level of security, just like exterior doors, especially if you are installing it in a room that has valuable documents or possessions. This is where the MiLocks digital door comes into play. With its unique features, it helps to keep all your rooms secure if needed.
And this door knob can be used with both right-sided and left-sided doors, so its adjustability is pretty high. This saves you from the hassle of choosing a different door knob for different sided doors in the house, It can also be programmed very easily, and the number of users and their codes can be adjusted simply too.
You'll surely appreciate the glow in the dark keypad. We often face trouble putting in the right code at an electronic door knob in the dark. But because of this feature, you can now see the keypad clearly and prevent mistakes while entering your code.
Apart from all these, installation is as easy as it gets. You just need to have a screwdriver at hand. This definitely saves you from the hassle of going through multiple steps to install a knob. Because of all these reasons, this model is highly popular.
Pros
Best for interior doors
Adjustable with both right and left-sided doors
Glow-in-the-dark keypad offers visibility indark
Easy programming process
Can be installed easily
Cons
Sometimes the code can take some time to work
8. Prime-Line Products Classic Bronze Prime-Line

In case any of the locks in your gets broken or starts posing problem, this is the product you should be looking up to. Equipped with some unique features, this is just the perfect choice for mending or replacing a broken door.
First of all, this model has interior parts made of steel. This gives it a sturdy construction and guarantees that it will last for a long period of time.
The amazing bronze finishing on the exterior part of the product gives it a very classy look and complements any furniture around it, increasing the overall beauty of your home.
The USp of the product is its great adjustability. Some door knobs can only be fitted to a certain sided door. Therefore, if your home has two types of doors, you have to buy two types of knobs as well. But not with this product.
Since it can be fitted on both left- and right-handed doors, you can use it on the one you like. The interior doors of your room might not need as much security as the main exterior door, but they need privacy surely.
This model can help with that, as it will make sure to protect the privacy of your bedroom, bathroom, or any other room door to which it is attached. Therefore, it is definitely one of our top picks in the market.
Pros
Great for replacing broken knob sets
Can be used for both left-handed and right-handed doors
Beautiful bronze finishing adds elegance to your home interior
Provides privacy to your bedroom, bathroom and other interior doors
Durable and easy to install
Cons
Might slip out of adjustment
Note: Recommended article to check our door viewer list and buying guide.
How to Install a Door Knob
Installing a new door knob is not exactly rocket science, but it can be a bit difficult for people not handy with tools. However, following our step-by-step guide, we hope you will be able to get it done in no time at all.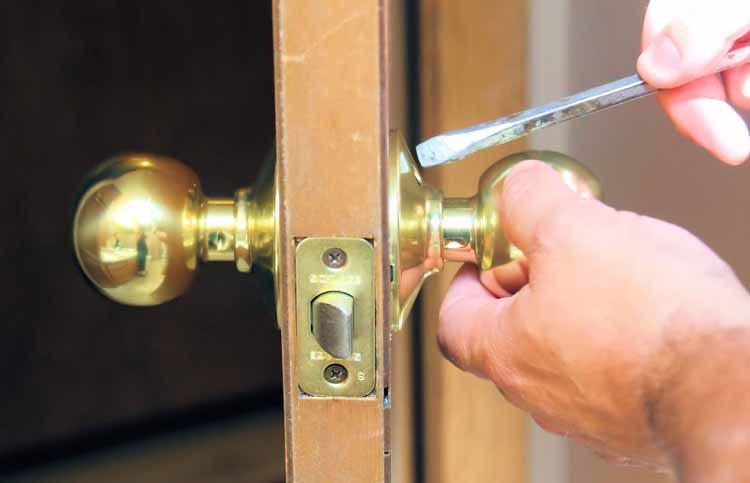 Installing A Door Knob
Step 1: Remove the Old Door Knob
If you already have a door knob that you need to replace, get rid of it along with the latch and strike plate. The strike plate is a metal piece, which has a hole in it to let the latch slide in. You will need to use screwdrivers to take the strike plate out.
Step 2: Ensure the Proper Alignment of the Latch Plate
Your new latch plate will sit in a hole (mortise). Make sure that the shape of the latch plate is in alignment with the shape of the mortise. Sometimes, the mortise might be round, but your latch plate might be rectangular.
Therefore, pay attention before purchasing. Place your newly bought latch plate on top of your latch.
Slide the latch along with the plate inside the door's edge and secure it with screwdrivers. You should not need to buy any additional screws, as you will get them as a package with the door knob. Make sure that the flat side is facing the door jamb.
Step 3: Insert the Door Knob
Now it is time to insert the door knob. One half of the knob is designed to have a square peg. Secure the peg in the latch mechanism.
Then, place the other half of the knob on the opposite side of the door in such a way that it aligns with the first half. Pull and push on both parts to ensure that they are in place properly.
Step 4: Drive in Some Screws
Put the door knobs in place by driving in some screws. You will most probably need to use two screws, one at the top and the other at the bottom.
Step 5: Do a Test
Test if your door can be opened properly. If any lock system is attached, find out if it works the right way. And if it does, you are good to go!
FAQs
Here are the most commonly asked queries regarding the best knobs:
What is the best knob brand?
This depends on the kind of security that you are looking to achieve with the door knob that you are using. In the case of keyed security systems, Schlage is the best brand. But for Electronic systems, SoHo mill definitely gets the most votes.
What is the most popular door knob finish?
The most popular door knob finish is satin stainless. It keeps the knobs looking pristine no matter how long it has been used for, and it is also good at making sure that there is no rust or wear and tear on the knob.
Are door knobs or levers better?
This depends on who will be using this product. Door knobs are definitely more used everywhere in the world due to a simple twist and turn system. However, levers are great for children and elderly people, as you just need to drag the handle down to open a door.
Which is better, Schlage or Kwikset?
If we compare these two brands, Schlage definitely makes better door knobs. Its products have a AAA grading on security, durability, and finish. And its models are also very popular throughout and live up to their claims.
Should door knobs match throughout the house?
That is not obligatory. However, matching door knobs throughout the house definitely gives a consistent look and feel, plus you get the comfort of having to choose only one brand and sticking to it.
Final Words
We hope that by reading this article about the best door knobs, you have got a better understanding of which knob would suit you most. If we could recommend one, it would definitely be the Sohomill electronic door knob, as it not only provides maximum security but also has backup systems in case something goes wrong.