Some Door Hardware
Door hardware, also referred to as door furniture, refers to the items that are usually attached to the door to enhance its appearance and functionality. It is important that the hardware matches, it is of good quality for durability, it is friendly for all to use irrespective of their abilities, and that it meets the general style of your house.
Finding the right door hardware can be a difficult task, but worry not. We have compiled a detailed door hardware list that you can refer to as you make your hardware purchases, and you will know exactly what to look for in that kit.
Various Types of Door Hardware
Door Hinges
Door hinges are the components that attach the edge of the door to the frame from where the door will fold open, allowing the other edge of the door to freely swing from it. Normally, every commercial or residential door has three hinges to function fluently, but this can vary. Finding high quality door hinges ensure the durability of the door built, without which the foundation of the door would be weak.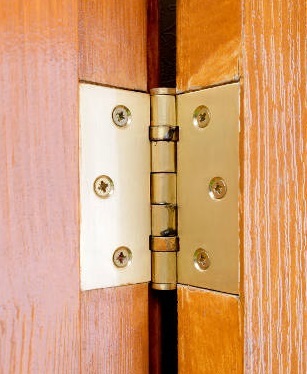 Best Door Hinge
Door hinges should match your door type and the other hardware essentials. The various types can be radius hinges, spring hinges, strap hinges, or others, that come in different color coats and sizes to fit different door sizes.
Door Knobs
A door know is a mechanism that is used to open or close the door by twisting motion. Door knobs come as privacy, passage, dummy, or keyed entrance knobs. These can be applied in bathroom doors, closet doors, and exterior doors too. They can be made from brass, wood, brown mineral, white porcelain, cut grass, or Victorian bronze. Here are the top selling door knobs today.

The Best Door Knob
Door Lock
A door lock is a device that restricts access to those that do not have a key or combination. It prevents latches from being operated. They are mainly accompanied by an escutcheon and a keyhole. The common types of door locks include deadbolts, padlocks, levers, and knob locks.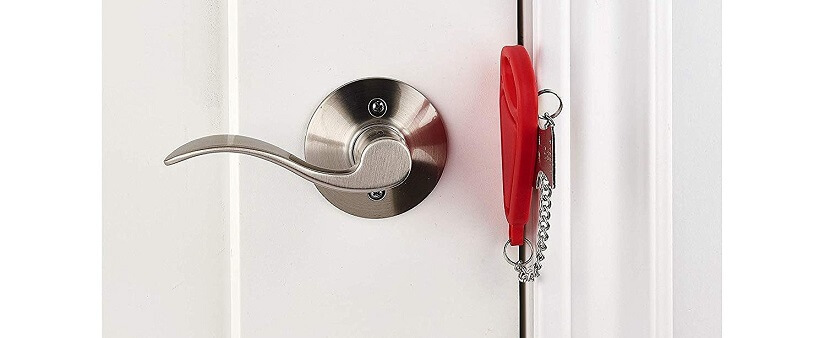 The Best Portable Door Lock
Door Lever
A door lever is a mechanism used to open or close the door, by simply pushing it down to disengage the latch. Door levers are decorative and they help add a touch of elegance to a home. A locked lever prevents one from disengaging the lever from the outside without a key. The inside part of the lever has a thumb push/turn button to allow you to engage the lock.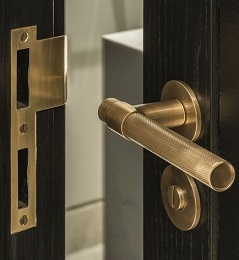 The Best Door Lever On The Market
A door lever can be right-handed, left-handed, or universal, which is determined by the direction of hinges. If the hinges are on the right, then the lever should be universal or right-handed. If the hinges are on the left, then the lever should be universal or left-handed.
Gate Latches
A gate latch is an essential landscaping element and which helps your gate swing smoothly. For a latch to function properly, it will require to be paired correctly with the hinges. Gate latches come in four types: ring, lever, bolt, and thumb latches.
This door fastener device allows you to fasten the door without necessarily requiring that the door has an external handle. They are mainly made from steel, bronze, brass, stainless and iron.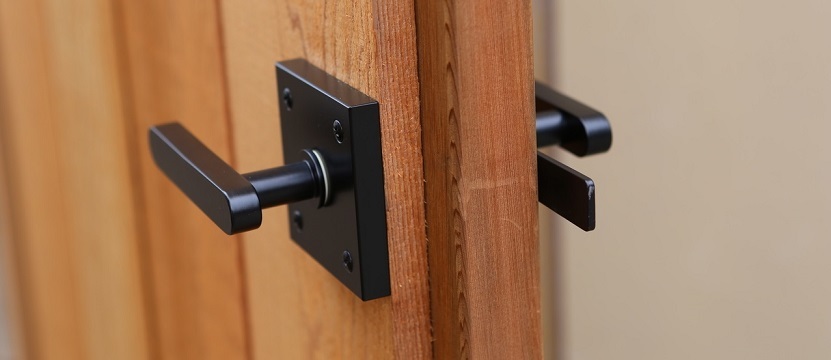 Best Gete Latch
Door Handle Set
A door handle is an essential part that adds a bold and appealing look to the door frame in entirety. Each door has at least one fixed handle set, which comprises of an exterior handle, interior package (knob or lever), escutcheon, and an independent deadbolt.
Handle sets are either Dummy (non-locking and non-latching), single-cylinder (keyed outside and has a thumb turn in the inside), double cylinder (keyed on the inside and the outside).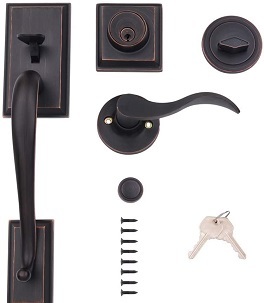 A Good Quality Door Handleset
Handle sets do not lock on the handle part but do come with a deadbolt to help secure the door. On making a door handle set choice, consider the quality, color, and unique design finishes.
You should coordinate them with the door hinges, and the distance between the top deadbolt hole and the bottom latch hole should match. Keep them decorative, durable, and stylish.
Door Devil
A door devil part of door hardware is a reinforcement kit that is installed on the doorway, to help protect your home against kick-in burglary attacks. It has a variety of steel plates that you attach to the weakest points of the door, making it stronger and more secure, and giving you peace of mind.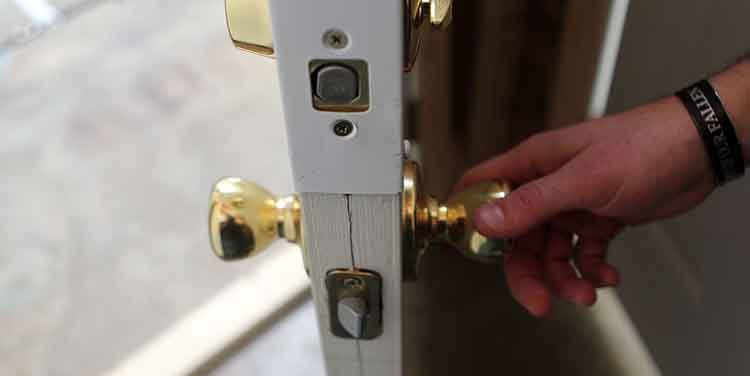 A Door Devil
Door Viewer
Door viewers are used as part of security hardware, also known as peepholes. They are a set of lenses that are normally installed in an exterior door through a small opening, giving you a wide-angle view of the area outside the house. It requires just a single drilled hole through the front/entrance door, so one does not open the door blindly without knowing who it is that is at the door.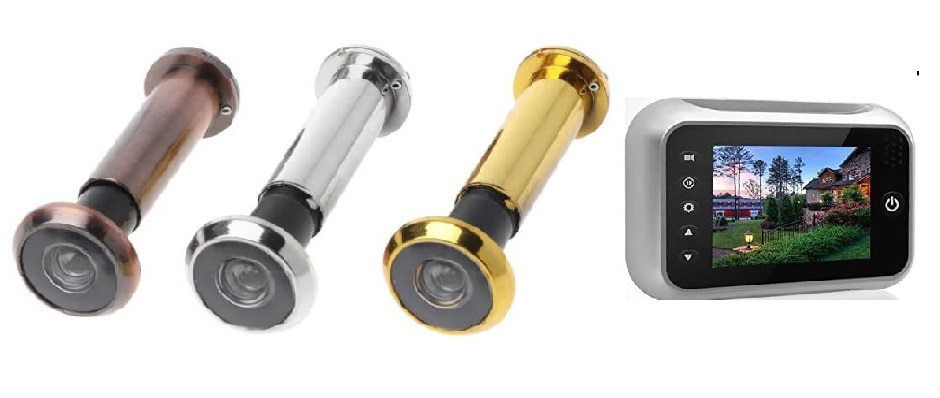 Best Door Viewers
Door Closer
A door closer is an electromagnetic or mechanical device that is used to open or close the door in a controlled manner and prevent it from slamming. The force one uses to open the door is stored in some spring, which then releases that energy to utilize it in returning the door to a closed position.
Door closers are mostly common in building with a fire alarm system, that upon triggering of the fire alarm, power to the electromagnetic hold-open device is cut, allowing the door to close.
Door Closer
Door Pulls
Door pulls are appliances that are mounted on a door, to help with its opening and shutting. Most of the door pulls are easy to mount on glass, wood, and metal doors, and come in a variety of styles, finishes, and designs.
Gate Opener
An automatic gate opener is a device, that is installed on the gate, to help it open and close automatically upon receipt of a signal. This electronic device is good for farms, homes, and businesses, opening automatically just like the way a garage door opener, by either sliding or swinging.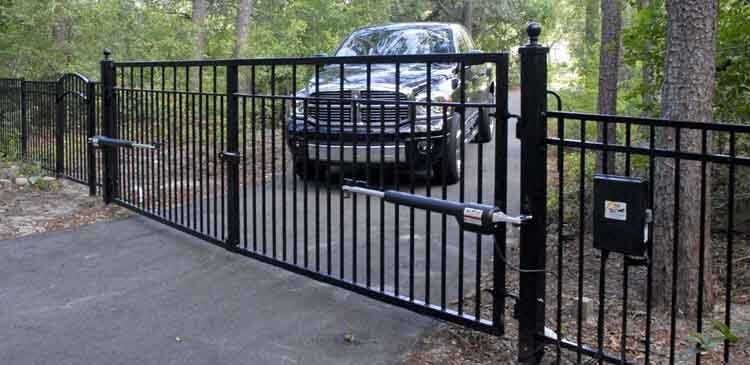 A Best Automatic Gate Opener
Door Stops
A door stop, also known as a door wedge, is a device that is used to prevent the door from striking other objects or the wall behind it, or from opening too widely or prevent the door from swinging through. This can either be screwed into the floor in the direction where the door opens towards or attached to the floor a few inches from the ground.
Barn Door Hardware Kit
A barn door hardware kit helps you install a barn door with ease, matching your overall décor scheme, and for the optimum functioning of the door itself. The components work together to create a smooth and consistent theme.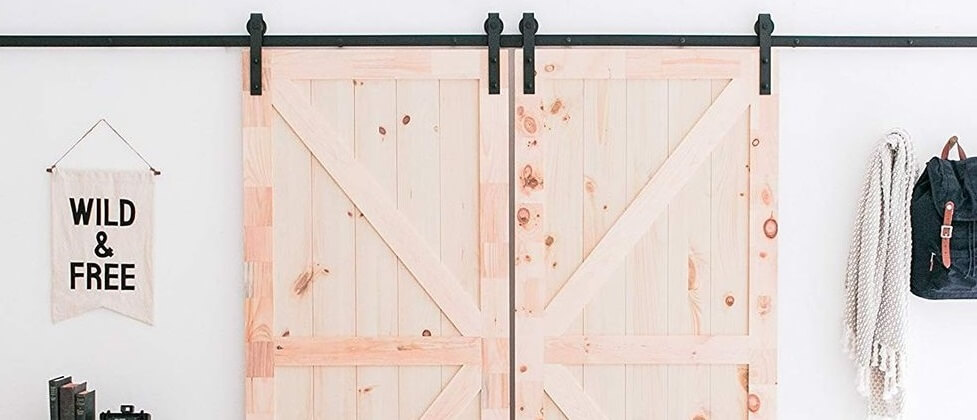 Best Barn Door Hardware
The choice of the barn door hardware kit should depend on sizing, color, design, and weight. Its components include a track, hangers, jump blocks, rollers, door guides, standoffs, stops, and jump blocks.
Pocket Door Hardware
A pocket door is an incredible space-saver, that slides into a wall when completely opened. For a pocket door to work, you will require to have a special item like a door devil, latch, latch, hinge, and other items, known as a pocket door hardware. pocket door hardware comes in different sizes, shapes, and finishes, to easily blend into your home décor.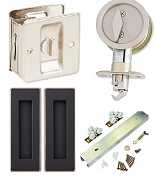 4 Best Pocket Door Hardware Images
You will need to consider the thickness of the door as well as the thickness between the trim molding and the door's face. The hardware is used where a normal hinged door would not swing open. It is clean and sleek, to work with a traditional or contemporary style. The installation process is complex and requires professional assistance.
Conclusion
The door is that point of interaction for anyone that visits your home, and should, therefore, be appealing. That is why It is important to ensure that you pick the right door hardware that meets the preferred interior décor finish, appeals to the door, and meets the intended function too. Door hardware serves various essential functions and includes: adding beauty to your house, allowing convenience, and most of all, securing your home.