Your door is the first thing that your guests see, and it's also the first line of defense against burglars. But it won't do you any good unless the door is equipped with a high-quality handleset that can ensure the ultimate protection. It will give you easy access to your home but keep the unwanted intruders at bay!
A Good Quality Door Handleset
Finding the best door handleset can be a backbreaking task, and if you're not careful enough, you might end up with one that the thieves laugh at.
We've explored the market and found six best quality door handle sets for you to choose from. All of them provide excellent protection and make your front door look elegant!
What to Look for before Buying The Right Door Handle Set
Before deciding on a door handleset, there are a few things that you must take into account. Otherwise, you would be left in a sea of confusion the moment you enter the market for one.
Type of Lock
There are primarily two types of locks that you'd find on the market. They are quite different in appearance and mechanism.
Cylindrical Lock
First up is the cylindrical lock. This one sports a rounded body that is designed to be installed into the large hole on the face of the door. It utilizes a clever mechanism of having the knob or the lever on each end retract the latch whenever the lock is pressed or turned.
The main advantage of a cylindrical lock is that it's extremely easy to install, taking only 15 to 30 minutes. It's also comparatively more affordable.
Mortise Lock
On the other hand, a Mortise lock is much sturdier and stronger than a cylindrical lock and offers more functionality. It can be distinguished by its large rectangular body and special mechanism. For this one to work, you'd have to fit it into a pocket door or a mortise, thus the name.
This lock set makes use of knob, separate latch and lever handle, and a deadbolt to form the mechanism. It's more popular because of the excellent security that it provides even though installation takes quite some time. This security system is pricier as well.
Interior/Exterior Lock
Interior locks are intended to give you privacy rather than protection from break-ins. They are often used in bedrooms and bathrooms. You can only unlock them from the inside. As a result, they are often lighter and weaker than exterior locks.
Now, exterior locks are the ones that you should be careful with because they are the ones that can keep you and your property safe in your home from outside threats. They are sturdier and more complex in nature.
In general, they are only unlockable from the outside, but some are equipped with mechanisms that allow them to be opened from both sides.
The Orientation of the Door
You should consider whether the door is left-handed or right-handed. And you can tell that by the placement of the knob and the direction at which it opens.
Door's Thickness
It's important to purchase a door handleset that easily fits into the thickness of the door. So, check out how thick your door is before buying. The average doors are 1 3/8 to 1 ¾ inches thick.
Back-Set Dimension
You can't really get the right door handle set unless you find out the backset dimension of your door. It's the distance from the very center of the borehole to the edge of the door.
Price
You'd find best door handle sets at various prices. Some are extremely cheap, and those cost less than $50. Others go as high as $800! So naturally, the quality and level of protection depend on the price of the product. If you want the best form of security, you should go for the pricier ones.
However, there are lots of budget-friendly options too. Make sure to get whichever provides the best value for money.
List of 6 Best Door Handleset Reviews 2022
Take a look at our choice of the 6 top door handlesets that are sure to provide the kind of security that your door needs to repel thieves of all caliber!
1. Berlin Modisch Single Cylinder HandleSet Review
If you're on the lookout for a versatile door handleset that will suit commercial and residential doors, then you're in the right place! This is an outstanding product that goes well with all sorts of settings and styles. And this model looks astoundingly premium thanks to the impressive design and the brilliant satin nickel finish.

It's bound to enhance the look of your door along with the overall outlook of your home! This one will protect your beloved house. Being constructed with strong and durable materials, most infiltrations will be turned away as they fail to penetrate the excellent security system. It's highly likely to withstand frequent turnings for years!
Thanks to the single unit design, you'd have it super easy to install this amazing security system into doors that are 1 3/8 to 1 3/4 inches thick. If you have expert hands, you can have it ready to go within a mere 10 minutes. It will take you slightly longer if you've never done it before.
The manufacturer gives you everything you need to set this thing up right away! Aided by the fantastic reversible lever handle, you will find amazing performance on both left-handed doors and right-handed doors. Best of all, this high-quality unit is very affordable!
Pros
Applicable to both commercial and residential use
Impressive design with a beautiful satin finish
Durable locks to keep the thieves away
Offers flawless performance after easy installation
Cons
The push-button on the outside is reported to wear quickly
2. Kwikset 96870-100 Belleview Single Review
This model is a remarkable door handle set, known for its delightful appearance and incredible protection. You'd be able to sleep in peace at night or stay out knowing that your house is completely protected from infiltrators of all kinds.

The Venetian bronze color witha fascinating design will make your door stand out from your neighbors. It will show that you have a great taste in style and appreciation for art!
For reliable security, this item comes complete with a single cylinder deadbolt that enhances the level of protection. It actually boasts ANSI/BHMA Grade-3 certification that tells about how effective this one is in keeping your sweet home secured!
And the best feature of this product is definitely the SmartKey feature.
It offers formidable protection against various common methods of break-ins like lockpicking, drilling, sawing, bumping, and the old-fashioned kicking!Besides, you can re-key the lock within seconds to make the lost or unused keys obsolete.
Moreover, this security system comes packed with super cool and unique features with a hint of modern technology. However, since it's highly affordable, you won't have to break your bank to get this effective handleset.
Pros
Unique and artistic in appearance
Comes with an innovative SmartKey Security
Protects against the common break-in techniques
Highly affordable price design
Cons
3. AmazonBasics Handleset with Tulip Knob Review
We've got a wonderful door handleset that looks exquisite and performs strongly at the same time. So, it will effectively keep the thieves and burglars away from barging into your house while making your door look awesome! This model is easily capable of being the best entry door handleset on the market.

Right off the box, you'd have all the hardware you need to install this unit onto your door. It's rather easy, so you'll be able to install this one within minutes using just your Philips head screwdriver. Thanks to the special design and the 6-way adjustable latch, it will easily fit the standard-sized doors and backsets!
Besides the appealing appearance, you can find this item in various finishes that you can use to match it to your décor. So, you won't have to settle with a color that sticks out like a sore thumb anymore!
Featuring a grade-3 level security system with the single-cylinder lock, your house will be complete with the kind of protection it requires and deserves! It's super convenient thanks to the interior and exterior handle and the smart mechanism that allows locking and unlocking from the interior of your house!
Pros
Super easy installation that only takes several minutes
Keeps your house secured all the time
Looks very appealing to the eye
The Smart mechanism allows locking and unlocking from the inside
Cons
The finish gets scratched easily
4. Kwikset 98180-001 San Clemente Single
We've got another product from Kwikset for you. Praised as the best front door handleset by many, this one can give you the protection you're looking for to keep your properties safe.

The sleek and slim low-profile design of the deadbolt and the door handle set will capture the attention of whoever takes note of this model. It boasts a modern aesthetic style that is intensified by the square design. All in all, your door will appear classy and tasteful to everyone!
Even if you're completely new to installing door handlesets, you'd still find it easy to set it up thanks to the new adjustable through-bolt design. All it takes is a screwdriver to install it onto your door! The Halifax reversible interior lever makes it rather easy to use as it fits both left-handed and right-handed doors.
Aided by the extremely durable and efficient deadbolt boasting ANSI/BHMA Grade-1 certification, this is a security system that is hard crack. The common thieves won't even bother trying! It's the best-rated front door handle set on our list.
Featuring the advanced SmartKey Security, you'll enjoy strong and reliable protection from the modern break-in methods. Techniques like lockpicking, sawing, drilling, etc. will be completely futile in the face of this lock!
Kwikset never fails to amaze us by constantly offering wonderful door handle sets like this to help us protect our homes!
Pros
Super slim low-profile design makes it look classy
Easy to install and use for anyone
Offers rigorous protection from infiltrators
SmartKey Security neutralizes advanced infiltrating methods
Cons
Quite expensive to purchase
5. Schlage Lock Company Camelot Front Entry Handle
Schlage is a name that you'll hear about a lot when you look for high-quality best front door handle sets anywhere. They've built a powerful reputation by offering top-grade products for years. Their "Camelot Front Entry Handle" is no exception!

This model is embellished with an attractive "Camelot Style" design that looks fancy and high-class. Even though it isn't all that expensive, this one still manages to pull a premium appearance! It will definitely get you praises every once in a while!
Thanks to the availability in three different finishes, you can match it up with your home's architectural style without any issue.
When you hold the handle, you'd be very satisfied with the grip. It feels high-end to the touch as well! You're sure to love how smoothly the entire door handle set operates every time you open the door to enter your house or get out of it. Both the outside button and the left-handed interior lever feel very solid.
Installing this thing is very straightforward, so you can do it all by yourself, even if it is your first time. It's designed to fit the majority of the standard-sized doors. The adjustable through-bolt can be moved around to perfectly fit pre-existing holes of various sizes.
Pros
Straightforward installation process
Offers buttery smooth operation
Adds plenty of style and class to your door
Easily fits into any standard-sized door
Cons
Interior level is left-handed only
6. Kwikset 96870-099 Belleview Single
It shouldn't be surprising to see another Kwikset product on our list. They make absolutely amazing door handlesets, so we can't be satisfied with just reviewing one model. Yup, they are that good!

Anyway, you will be quite impressed by the superior design of this signature series unit. The designer style aided by the traditional arch single cylinder along with a similar handleset design allows it to sport a premium and high-end appearance. It's truly fascinating!
The deadbolt is strong enough to repel the attempts at breaking the lock. It offers superb protection. With the Grade-3 ANSI/BHMA certification, there is no doubt about this unit's functionality.
This item features the company's brilliant SmartKey security system. It provides strong resistance against sophisticated break-in techniques. The thieves won't be able to pick the lock, drill it open, saw the lock off or kick the door to unlock the door.
Besides, this system offers the convenience of re-keying in seconds that makes the lost and unused keys completely useless. This feature comes in handy when you want to take away someone's entering privileges!
With easy installation, impressive security, brilliant design, and prominent features, going for this handleset would definitely be a great decision!
Pros
Offers remarkable protection from the perils of break-ins
Makes your door look tasteful and refined
An amazing deadbolt with Grade-3 certification
Equipped with Kwikset's innovative SmartKey Security
Cons
The doorknob and the interior lock feel a bit small for some
How to Install a Handle set on Your Front Door
So, you've got a new and shiny door handleset but don't know where to start? Don't worry because we've got you covered.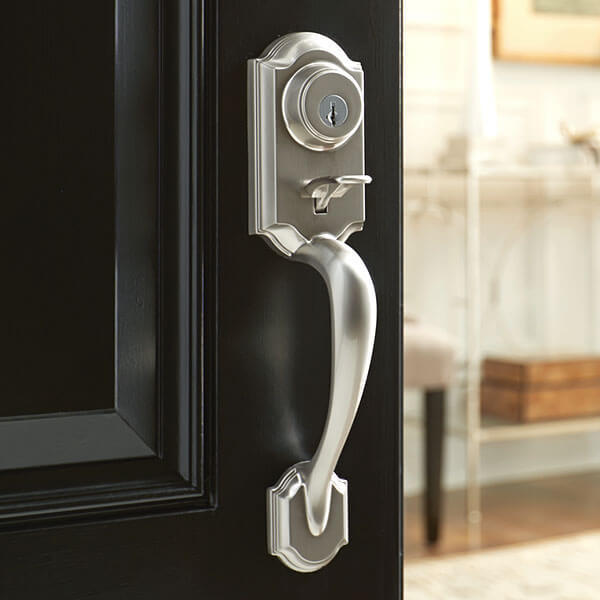 Best Front Door Handleset
Before We Start
Before starting out, we've got a couple of things to consider so that we don't run into any problem during installation. Make sure that you've got your Philips Head Screwdriver and tape measures ready! Also, make sure that you've got the following things:
Screw cover along with screw and washer
Handle assembly
Round drive-in faceplate
Pin tool
Latch
Inside lever
Strike plate
Short and long screws
Have you got all that? Great! Now we must see if your door meets the standard door prop measurement. Otherwise, it will be all for nothing as your door handleset won't work as needed. You must measure the following things:
Crossbore
Deadbolt to the door latch
Handleset cross bore
Doorjamb
Latch bore
Thickness
Backset
If you're satisfied with the measurements, you can finally move onto the next step, which is the installation part! You should be extra careful because taking a wrong step might prolong the activity or result in a faulty installation.
The Installation
The new door handleset has been left in waiting for far too long. So, without any further delay, let's get installing!
Step 1: Properly Place the Latch First
Grab the latch and start by placing it properly. The latch usually comes complete with a rectangular face plate. If that's what you're using, slide it into place using the bevel that's directed at the doorjamb. Now, go ahead and fasten it with two short screws.
However, in case you've got a round drive-in face plate, slide the latch gently into the hole. Now, tap on it carefully using a block of wood in order to keep the latch undamaged.
Next, pick up the outside handle assembly. Move on to aligning the spindle that is located on the back of the assembly with the slot in the latch and the through-bolt. Now, keep sliding the through-bolt until it's properly placed. Afterward, apply a bit of pressure on the door handle set to press it.
Step 2: Install the Inside Lever
Now's the time to install the inside lever. Do this by aligning the lever in order to point it away from the door's edge while the screw holes are oriented vertically. Here you can find new door lever to our site.
Step 3: Secure the Square Spindle
You would find a square hole on the lever's back. Go ahead and position the square spindle with it. Once you're done, secure it up with two screws.
Step 4: Secure the Door Handle set Bottom
This is the stage where you are to secure the bottom of your door handle set by correctly placing the washer along with the screw and screw cover.
You'd be left with two screws if you'd been doing this correctly. Use those remaining fasteners to set up the strike plate right on the door jamb. That's it, you're all done!
Frequently Asked Questions (FAQs)
Here we have the most commonly asked queries regarding the door handle sets:
Which is the best handle set brand?
There are many fantastic door handle set brands, and Berlin Modisch is one of them. They offer a wide variety of handle sets that are excellent in quality and performance. Their products are favored by countless users around the world.
Should front door hardware match interior doors?
It actually comes down to your personal taste and preference. No rule forces you to match the front door hardware with interior doors. Most users like to have matching systems because that looks more appealing. But feel free to go for different styles if you want.
How to measure a door handleset?
Measuring a door handle set is quite easy. At the very beginning, measure the distance from the Centre of the handleset's keyhole to the center of the handle. Afterward, calculate the distance between the center of the bottom screw to the center of the top screw. Lastly, estimate the length of the handle plate.
How do you remove the old accent front door handleset?
First, carefully look for screws that are exposed on the inside of your door. Now pickup a screwdriver and start to loosen those screws. Afterward, slowly pull the handles from the latch assembly. You should move on to removing the latch mechanism as well if you're looking to install a new handle.
Are brass door handles out of style?
Not really. In fact, there's been a huge resurgence of brass door handles in recent years. People are taking a liking to the new and softer versions of this old handle style that go well with modern decorations.
Is brushed nickel out of style?
Au contraire, brushed nickel is still extremely popular. This is a style that successfully stood the test of time. If you're a fan of it as many people are, feel free to go for it!
Is there an entry door handleset that has a lock on knob inside?
Actually, many entry door handlesets offer this convenience. Like the "AmazonBasics Single-Cylinder Handleset" is equipped with a mechanism that allows you to lock and unlock the door from both sides of the door.
Final Words
Choosing the best door handleset is extremely important because it's a question of security. You won't be able to sleep in peace without a high-quality unit. If you want the best protection from the most skilled thieves, you can go ahead with any of the products that we've presented.
Each model is unique and amazing in their own ways. Whichever unit you decide to buy, we hope your house is always firmly locked and protected!