Scanners are very useful office equipment because of the unique possibilities they offer. For instance, you can simply scan a full page of a typed document instead of going through the stress of typing it again. You can also just scan a document so you can reprint it later when you need it in case the original copy gets stolen or missing.
So are you in the market for a specific type of scanner that only scans 11 x 17 office paper? Look no further.
11 x 17 papers are very unique since they are only used for specific reasons. It could be that you want to print a poster, print a blueprint, print a map, or even print certain photographs. Most document scanners are only programmed to print office A4 paper or other sizes of paper smaller than the A4 size. Thus, there is a need for a scanner that can scan this unique type of paper.
The good thing is there are quite a number of them available in online stores and local stores alike. You just have to know what you are looking for!
Top 11 X 17 Scanners by Editors
Finding a scanner that meets all your demands can be a bit of a hassle due to the many options available on the market. To help you make the best decision as well as identify what you need to look out for in a scanner, we would explore everything you need to know about 11 x 17 scanners.
Best 11 x 17 Scanner Reviews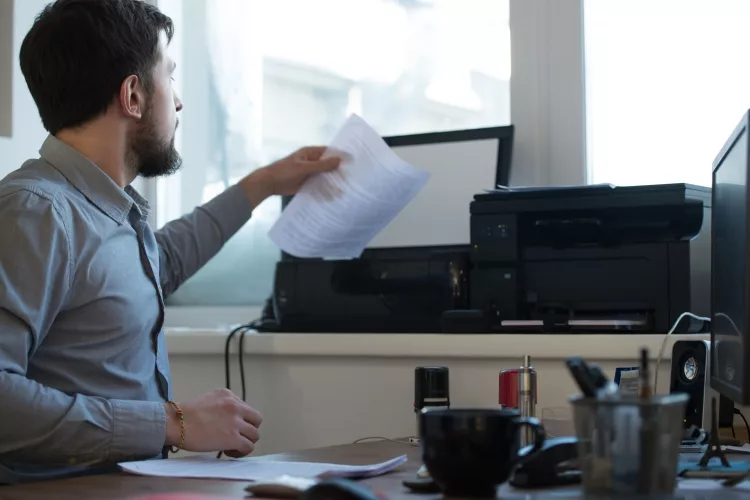 Although this is a review of our top picks, we have also included a buying guide in this post. This buying guide explains everything you need to know about 11 x 17 scanners. That way you can make decisions like this easily and get the best value for your money.
NOTE: You can skip to the buying guide here to have an idea of the features you will be reading about under each scanner review.
1. Plustek A3 Large Format Flatbed Scanner (OS 1180) - Link
The Plustek A3 Large Format Scanner is a flatbed scanner that can scan all sizes of paper you could possibly want to scan. It is energy-efficient and does not require warm-ups before it is ready to use.
It comes out of the box with a bundle of powerful software. This includes ABBYY FineReader 12 for enhanced OCR text extraction, File sharing capabilities, etc.
It comes with a 48-bit Pixel depth and which makes it a super valuable scanner for large-size scanning.
The brand also has a credible tech support team that would answer any inquiry or complaint you have.
Pros
- Fast scanning speed
- Easy to use
- Built for use in schools, libraries, and businesses that require 11.7x17 scans
- Supports Mac and PC
Cons
- The scanner feels a bit bulk

2. Epson Expression 12000XL-PH Flatbed Scanner - Link
If there is one thing you can be sure of, it's the quality of any product made by Epson. They are one of the biggest and well-respected brands when it comes to producing office gadgets and they do not disappoint with the Epson Expression 12000XL-PH Flatbed Scanner.
Marketed by the brand as one of their greatest innovations, this scanner is best for people who are particularly after high-quality graphics. It comes with Epson's patented MatrixCCD technology which makes it possible for the scanner to scan a wide variety of media while still guaranteeing maximum resolution and accurate color replication.
With this device, you can scan 11 x 17 documents, negatives, photos, films as well as slides. Being a flatbed scanner the first issue you would notice right off the bad is that it is incredibly slow when scanning documents with a large number of pages. You have to manually load and scan them one sheet at a time.
It makes up for this big inconvenience by offering users the chance to scan at 2400 x 4800 dpi. It also comes with a pixel depth (DMax) of 3.8.
Designed to be sturdy and compact, the device is very easy to use and would not take much space in your office. It comes with a hi-speed USB cable which makes connecting the scanner with your computer fast and stable.
One other feature we loved about this scanner is the software it comes with. Essentially, this software lets you restore or enhance old or damaged images. So whether there are grime, dust, or blemishes on the surface of the photo or image is scanned, the Epson Expression 12000XL will automatically edit it to achieve the best results.
Pros
- Versatile and best for users who require HD scans
- One-touch technology to restore scratches, blemishes, and dust.
- Batch scanning
- High-speed USB Type B connection
- Optical Resolution of 2400 x 4800 dpi
- Comes with one year warranty (Limited)
Cons
- No ADF tray
- Does not support Ethernet connectivity

3. Epson DS-50000 Large-Format Document Scanner - Link
Another impressive device from Epson is the Epson DS-50000 Large-Format Document scanner. It also comes with the 4-Line CCD Sensor which is not surprising since it is an Epson Scanner.
The device promises a vivid and hands-free scanning experience. it is safe to say it does this with ease.
NOTE: For this scanner to work, you need to have TWAIN and ISIS drivers installed on your computer. It supports both Mac and Windows operating systems so you don't have to worry about compatibility issues once you download the necessary drivers.
The Epson DS-50000 scanner is best for scanning office documents as well as business cards. it has a scanning screen big enough to support documents of 11 x 17 inches.
One thing you will love about this scanner is the option to store scanned documents directly to your cloud storage (Google Drive, Evernote, etc.).
It comes with software that gives you OCR options. With these, you can extract text from scanned images. There is also a 3-year warranty that covers full replacement or repair costs on the scanner.
Pros
- Enhanced OCR features
- Perfect for a heavy workload
- Comes with 24-Bit and 48-Bit color depth for External and Internal
- Quite Affordable
- Supports uploading scanned images to Cloud storage
- 3 years warranty
Cons
- No ADF tray
- Scan resolution could be better. The optical resolution is only about 600dpi.

4. Xerox DocuMate 4700 Color Document Scanner - Link
The Xerox DocuMate 4700 color scanner is another 11 by 17 scanner that can act as a standalone scanner for scanning documents. It has a scanning speed of 2.5 seconds per page. Although its scan resolution is only at 600 dpi, it is still decent enough for effective office work. It is a flatbed scanner which makes it hard for continuous work since there is no ADF tray.
To help improve the image quality after scanning, it comes with software, Visioneer Onetouch that automatically enhances the pixels of scanned images. It also comes with a one-click feature where you can scan and save with just one button. It is compatible with both Mac and Windows PCs provided the necessary driver is installed. It also comes with a 3-year warranty which can come in handy.
Pros
- Easy to use
- Supports scanning of plastic cards
- Easy to share scanned files directly using the scanner
- 1 years warranty (Limited)
- Visioneer OneTouch Software included
Cons
- The scanner feels a bit bulky

5. Epson Perfection V600 Color Photo and Document Scanner - Link
Lastly, we have the Epson Perfection V600 Color Photo Document Scanner. The scanner offers excellent scan quality for any type of media from your regular office documents to films, photos, and even the occasional slides.
It is best for people who have businesses that want quality scans of any document required It has an impressive scan resolution (Up to 6,400 dpi) that ensures sharp and vivid scans are produced.
The scanner features a one-touch color restoration technology as well as an ArcSoftPhotoStudio setting that lets you tweak the photo resolution as you see fit. The photo editing features of the Epson Perfection V600 are why it is featured on this list at all.
One feature we particularly love about this device is that scans of 3D objects were represented quite well which is quite surprising considering it is quite compact. It has an energy-efficient Scan LED light which means not only does it consume low power, it also implies that the scanner requires no warm-up time before you can start scanning!
If you are looking to convert scanned documents to editable text files that you can edit, this scanner also lets you do that thanks to its ABBYY FineReader Sprint Plus OCR.
To cap it all up, the scanner supports sending scanned documents directly to pre-assigned emails.
Pros
- Comes with a wide array of software and features for photo editing.
- Compact, Energy-efficient, and easy to use
- Incredibly high scan resolution
- Supports sending scanned files to email
Cons
- Only worth the price if you plan on purchasing the scanner for office use
11 X 17 Scanners: The Buying Guide
Now that you know the best 11 x 17 scanners, you need to understand why we selected each of them. Here, we will explore all the important features that are essential to have in a scanner. With this, you can then decide which of the scanners in our top pick list would serve you well.
Without further ado, here are important boxes you need to check before buying your scanner.
Resolution
This refers to how well the scanned image or file looks when the scanning is complete. Scanners come with varying scan resolutions. When it comes to resolution, there are three things you need to consider here:
- Hardware resolution: The hardware present in your scanner essentially determines the scan quality of the file or image. Each scanner comes with unique motors and cartridges for it to work. For instance, some scanners have precision stepper motor which can perform a host of functions depending on how powerful it is.
Not to bore you with unnecessary explanations, all you have to know is that the type of hardware present in your scanner determines how well each vertical detail would be captured and rendered.
- Optical resolution: The type of optical sensor in your computer determines how many pixels will be present in the scanned document. Essentially, the more powerful the light being projected from the scanner to the document or paper being scanner is, the more pixels the replicated digital image (scanned file) is.
- Maximum resolution: This explains how many pixels a scanner adds to a scanned file after scanning. For the most part, unless you need to crop a part of a scanned document/photo or generate larger copies of the original file, object, or photo, a slide with 300 DPI resolution should do the work well enough. However, Scanners that offer 300 DPI or any other higher DPI rating are tough to find today.
For creating enhanced results that rival the original copy, or for creating highly detailed results, you would need scanners with very resolutions.
Connectivity options
Most modern scanners come with a USB port with which you can connect it to a computer. However, some offer much more connectivity options to help improve your experience. Depending on the connectivity option, you can send scanned images and files directly to your cloud services.
NOTE: This feature is only available for certain scanners.
Recognizing the type of media (documents or photos) you want to scan can help you determine the type of scanner you want. For instance, you might want to scan 11 x 17 paper as well as bounded documents. In such a case, you want to get a flatbed scanner capable of scanning 11 x 17 documents as well as bounded paper.
You could also only want to scan only 11 x 17 documents. In such a case, you don't necessarily have to worry about the type of scanner.
Hence, you need to consider the type of media you will scan with the scanner in the nearest future. It can be anything from 3D objects to stamps, coins, etc.
Scanner Dynamic Range
This refers to how well your scanner simulates and captures shadows. It measures the maximum density of the scanned image. The higher the dynamic range of your scanner, the more detailed each scan is. High Dynamic range also means you don't have to edit the scanned image too much.
Automatic Document Feeder
This is very important since it can make or break your experience with your new scanner. An automatic document feeder is a feature that allows the scanner to automatically pick and scan documents sheet by sheet with little to no supervision. This is very useful if you are trying to scan hundreds of sheets.
For instance, if you buy a flatbed scanner, you have to lift the cover to put in each paper one at a time. This can easily become a big problem since you have to open and close the lid 40 times if you are scanning a document with 40 sheets. So, not only are you forced to manually do that, you have to endure the stress and work as fast as you can.
Scanners with ADF trays on the other hand offer you a way out. All you have to do is load the document in the paper tray and the device will automatically pick and scan each page at a time.
Apart from making your life easier, it also gives you time to do other types of work while the document is still scanning.
NOTE: What you want to scan or plan to scan on the scanner also influences whether or not having an ADF tray is worth the hassle. For instance, flatbed scanners more often than not have better image capture technology which makes them perfect for scanning photos. But they are pretty much useless if you want to scan a large number of documents.
Duplex Scanning
This is a feature that comes hand in hand with having an ADF tray. Without one, your scanner won't have this feature as well. Duplex scanning refers to the ability of a scanner to automatically scan both sides of a page with little to no supervision from you. It offers a near hands-off experience while scanning documents, especially ones that have both sides printed.
Pixel Depth and Software
When you scan an image or document with your scanner, the captured image of the photo or file is made of pixels. The Pixels define how well the color of the document or photo is captured and replicated. Hence, if you are pretty keen on how well your scanned documents look, you need to check out the pixel depth of any scanner you intend to buy.
The type of software you need for your scanner to work is also important to consider. For the most part, most modern scanners come preinstalled with a unique software installation program. The installation program will automatically run and install on your computer when you connect it to your scanner for the first time.
The majority of scanners on the market today are versatile and would work with practically every scanning software you have on your computer.
However, each software comes with unique features that make them different. Some common features you need to look out for in scanning software include OCR (Optical Character Recognition), message indexing, photo editor, option to convert scanned images to editable PDF, etc.
Flexibility and Scanning Speed
How fast do you want your scanner to capture and process images? All scanners come with unique scan speeds which also vary depending on the type of document or media you are scanning.
For instance, a scanner might have a scanning speed of 23 seconds per page for black and white documents. But if you have to scan colored documents or photos the scanning speed immediately jumps to 50 seconds per page.
How flexible a scanner also influences the value for money you get from buying it. Most modern scanners can only scan positive images (normal photos). Some on the other hand are dedicated only to scanning and converting negative film or slides into digital images.
11 x 17 Scanner FAQs
Which is best for 11 x 17 documents: Flatbed or Sheetfed Scanners?
Flatbed scanners are more suitable for scanning photos, negatives, and other regular documents. But they are very slow since you have to manually scan each photo or page of a document. However, they come equipped with technology that ensures scanned images are of the highest resolution and quality possible.
Sheetfed scanners, on the other hand, comes with ADF trays that automatically pick pages of a document and scan them. They however have significantly lower resolution unless you are willing to pay a premium price.
Can my scanner create an editable PDF file?
Some scanners let you convert scanned images into an editable PDF file. This is possible with the use of dedicated software that often comes preinstalled on a scanner.
NOTE: For the best results, you need a versatile scanner capable of scanning at a high resolution. One way to know which scanner can create an editable PDF file is to check if the scanner comes with a 4-line CCD sensor.
Can a scanner scan directly to email?
This depends on the type of scanner and what connectivity options it has. Some scanners have ethernet support which makes it possible to scan and send scanned images to any mail. Such scanners even allow you to scan directly to cloud storage.
Buy on Etsy
Epson Expression 12000XL-PH Flatbed Scanner - Walmart Link
Epson DS-50000 Large-Format Document Scanner: 11.7" x 17" flatbed, TWAIN & ISIS Drivers, - Walmart Link
Xerox DocuMate 4700 Color Document Flatbed Scanner - Walmart Link
Epson Perfection V600 Color Photo, Image, Film, Negative & Document Scanner - Walmart Link
Document Camera iOCHOW S1, High Definition Portable Scanner, Only Support Windows, - Walmart Link
Buy on eBay
Epson Expression 12000XL-PH Flatbed Scanner - eBay Link
Epson DS-50000 Large-Format Document Scanner: 11.7" x 17" flatbed, TWAIN & ISIS Drivers, - eBay Link
Xerox DocuMate 4700 Color Document Flatbed Scanner - eBay Link
Epson Perfection V600 Color Photo, Image, Film, Negative & Document Scanner - eBay Link
Document Camera iOCHOW S1, High Definition Portable Scanner, Only Support Windows, - eBay Link
Conclusion
Whatever reason you have for buying a scanner, you need to ensure you get a good one that can make your job a lot easier.
11 x 17-inch paper is very unique but regular A4 office scanners cannot scan them. They require special scanners specifically dedicated to a document like that. Sadly, as with every tech gadget or office equipment, 11 x 17 paper scanners come in different types, brands, and price ranges.
When shopping for the perfect 11 × 17 scanners, you need to filter out each feature that is important to you and the ones that aren't. To help you identify important features in a scanner, we have included a detailed buying guide to help you get started. There is also a review of the best scanners that offer the best value for money.