The Sun Joe SPX3000 2030 is an electric pressure washer that ensures homeowners maintain their yard and home cleanliness. Dirt inevitably accumulates on the surface of things over time, which in the end may discolor or cause damage to these things. The best way to maintain a clean outdoor or indoor environment is to use a pressure washer regularly. The Sun Joe SPX3000 is the perfect pressure washer, it being electric and having a long history of satisfied customers.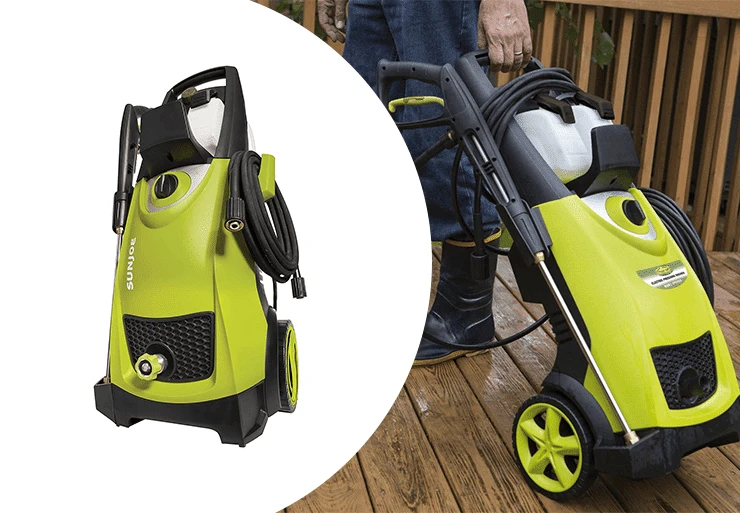 Below is a video of the Sun Joe SPX3000 in action.
Here is a video from Sun Joe (manufacturer) - more details after the video.
Sun Joe is a company that creates high-quality lawn and garden products and has gained an exceptional reputation from homeowners. On their website, they have described their business:
"…expansive line of outdoor power equipment, which includes manual, cordless, and electric tools such as lawnmowers, trimmers, tillers, and snow blowers, aims to simplify your yard routine to make it quick and easy to get your outdoor chores done. Our focus is on designing high-quality outdoor tools that are affordable because we believe that high craftsmanship does not have to come with high prices."
Sun Joe & Snow Joe are the same company, the latter being a brand they used for their winter line of products like the snow blowers. Watch this
.
Comes with a selection of nozzles.
The Sun Joe SPX3000 2030 comes with five Fast-Connect spray nozzles (0º, 15º, 25º, 40º, and soap) that allow you to switch the pressure output of the spray need for your specific cleaning. They are easily interchangeable, giving you the ability to use pressure as low as 40º or spraying detergent using the soap nozzle.
Sun Joe SPX3000 High Versatility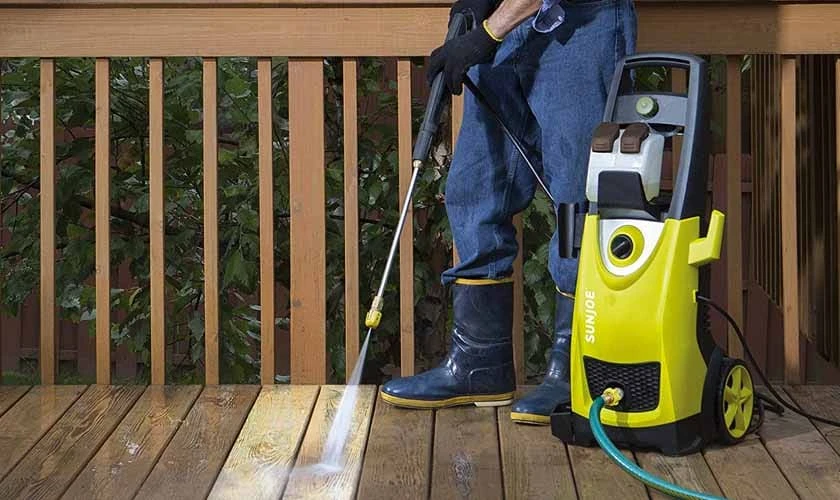 The Sun Joe SPX3000 2030 pressure washer has an "Instant Stop System" that automatically turns off the pump if you have not engaged the trigger. This saves energy and prolongs the pump's life. You get a full two-year warranty from Sun Joe.
Perfect for cleaning : Mud, oil, tar, rust, mildew, grease, etc.
Designed for cleaning : Cars, fences, furniture, driveways, trucks, porches, lawn equipment, decks, boats, etc.
The Sun Joe SPX3000 comes with a plastic garden hose adapter that tends to leak, crack, or break easily; hence, many customers recommend replacing it. You can get this brass connecto r for a few extra dollars ( Sun Joe SPX-BSC ).
Sun Joe SPX-BSC Dual Swivel Brass Connector: 3/4 by ¾-inches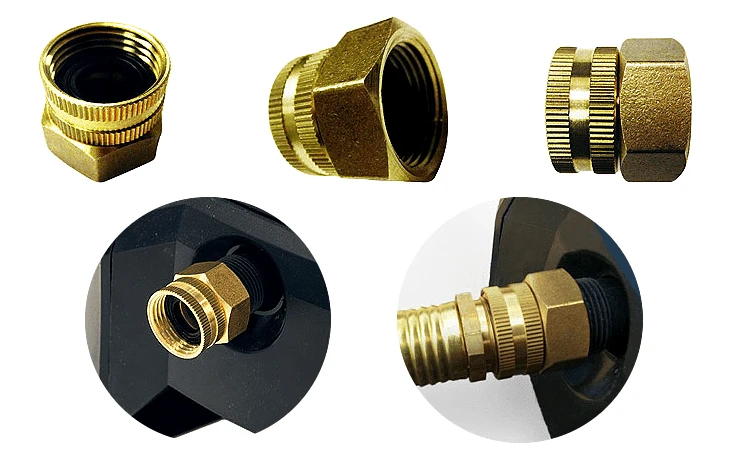 The Power Washer 80006 | Universal Garden Hose Connector is a quicker connector.
The Sun Joe SPX3000 pressure washer uses a 14.5 amp motor with 1800-Watt power. It produces 2030 PSI of water pressure with 1.76 GPM of water flow. It efficiently removes stains of grease, tar, mildew, oil, and other caked mud, gunk, and grime stuck on equipment.
These attachments come with the Sun Joe SPX3000 pressure washer.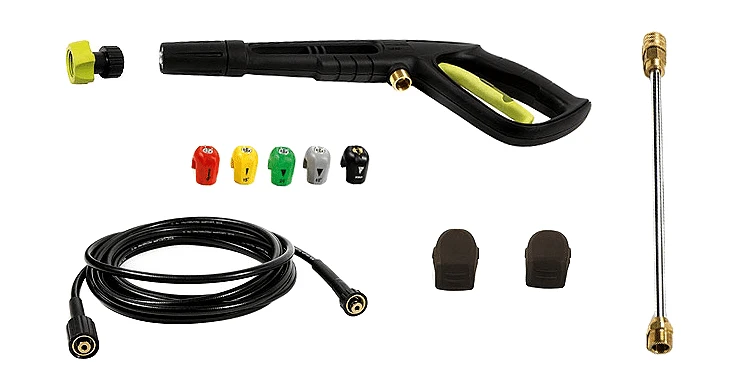 This video shows all the attachments and how to assemble the Sun Joe SPX3000 pressure washer.
The Sun Joe SPX3000 pressure washer can carry two detergent tanks to switch between two detergents. A selection dial on the washer allows you to choose the appropriate tank by simply turning.
The extended 34-inch extension spray wand that comes with the Sun Joe SPX3000 allows you to access all the tight spaces and crannies where dirt builds up. It has large rear wheels that make it easy to maneuver around.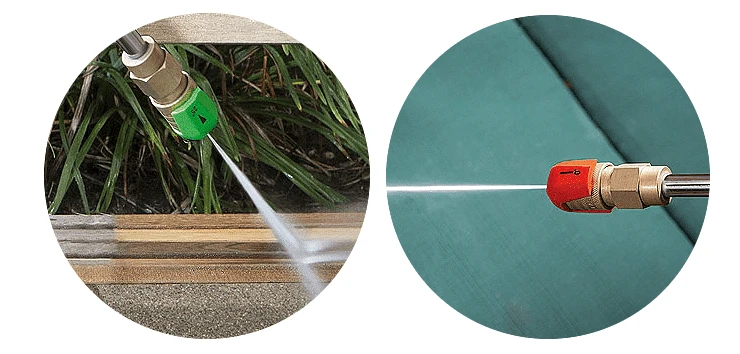 Make Your Home Clean with the Sun Joe SPX3000
You can keep your environment clean from filth using the neatly designed Sun Joe SPX3000 Electric Pressure Washer. Everybody dislikes general dirtiness, and having a pressure washer to clean dirt build-up regularly is necessary.
The Sun Joe SPX3000 qualifies to be one of the best electric pressure washers that a homeowner can buy. Designed to clean the grime from anything, it packs several desired features that render it inexpensive.
In the scenario where you are on a tight budget but need a quality pressure washer, I recommend the AR Blue Clean AR383 Electric Pressure Washer. It might not be as powerful, but it is comparable and has a perfect history of reliability.
The AR Blue Clean AR383 is an excellent alternative to the Sun Joe SPX3000 (see below).
You will appreciate the hose reel on the pressure washer as it boosts its practicality.
Pressure Washer Cleaning Detergents
Cleaning detergents are paramount if you need the best results from using any pressure washer. Check out these two recommended products made by Simple Green.
Simple Green 13421: Heavy Duty Cleaner

And…
Simple Green 11001: Clean Building
You will need a 12-gauge extension cord since the Sun Joe SPX3000 generates 14.5 Amps. The cable should be at least 50-foot long but a 100-foot long one if the outlet is far from the cleaning area. Learn about buying the right extension cord for your electric tools. I recommend the following cords for the Sun Joe SPX3000:
The Sun Joe SPX3000 includes a 35-foot power cord with GFCI (ground-fault circuit interrupt), 34″ extension cord, garden hose adapter, 20-foot high-pressure hose, and needle clean-out tool.
I suggest you view or download the user manual for the Sun Joe SPX3000 Power Washer.
Learn more on Amazon.
Features :
Dual detergent tanks (hold 9 liters each and two detergents).
Automatic pump power off when the trigger is disengaged.
Five Fast-Connect nozzle tips (0º, 15º, 25º, 40º, and soap).
Driven by 14.5 Amp/ 1800 Watt engine that generates up to 230 PSI/ 1.76 GPM (water flow).
Full 2-year CSA approved.
The Ultimate Home Pressure Washer
A gas pressure washer offers more power. Upgrading to the Simpson MSH3125-s MegaShot 3100 is an excellent option, driven by a powerful Honda GCV190 gas engine. Even though the price is twice as much as the Sun Joe SPX3000 , it is a professionally graded pressure washer.
Your decision entirely depends on your needs. A farm or a business owner may opt to go with the Simpson MSH3125-s MegaShot because of the need for more power, and since it runs on gas, there is not constraint by an extension cord.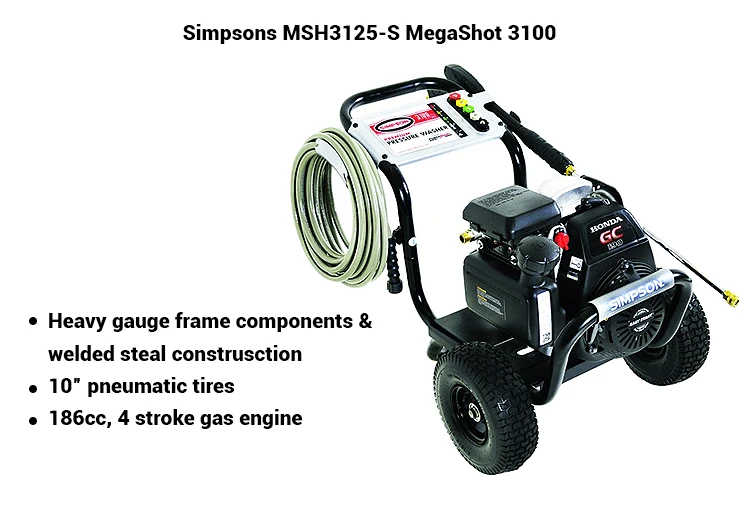 Features :
10-inch premium pneumatic tires with welded frame construction.
Maintenance-free axial cam brass head pump with OEM technologies and PowerBoost technology that provides higher pressure.
¼ inches x 25 feet. MorFlex hose - High pressure, kink, abrasion-resistant flexible and has easy twist-on connectors.
Oil lubrication system - Maintenance-free.
Stainless steel pistons.
5 Fast-Connect nozzle tips (0º, 15º, 25º, 40º and soap) with pro-style steel spray.
Downstream detergent injection system.
Ergonomic spray gun with safety lock.
On-board accessory storage for gun, hose, and nozzles.