The WORX AIR WG545.1 is a robust handheld tool that is beneficial to most homeowners. If you require a lightweight brand that you will enjoy using for long, read on. The product weighs just 3.5 pounds, which makes it the best choice for most people. It also has a simple and easy-to-use design that moves air at over 120MPH, sufficient for most people. You also get many attachments that boost its value.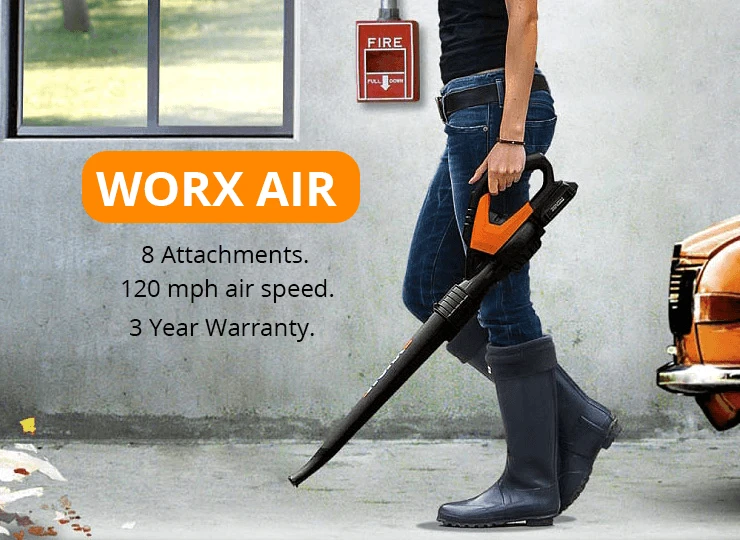 If you have a large yard with trees that shed leaves often, you will love having the WORX AIR at home. We have shared multiple images and videos of this tool herein that will help you to appreciate its quality.
WORX AIR
I must confess that I am a fan of the WORK brand and have reviewed several of its tools herein. The company is famous in the power tools niche for many reasons. First, WORK makes numerous innovative tools that sell at an affordable price offline and online. The tools have many useful features and many accessories that satisfy most of its users.
You get value for your money with every WORK product that you buy from a reputable store. In today's challenging economic time, this is crucial as it enables people to work without breaking the bank. If you have a large yard that you struggle to keep clean, this is one of the best remedies for you. See for yourself in this video:
WORX AIR Video:
The slick commercials and videos that WORK has released have positioned it among the best brands in the tools niche over the years. Brands such as Black & Decker are now feeling the "heat" as its reputation grows.
Through its commercials and videos, WORK manages to educate its customers on its power tools' pros and features, enabling them to make informed shopping decisions. We have retrieved a lot of the information shared in this review from such videos. Thus, whenever you have time, watch videos about the WORX AIR to learn more about it.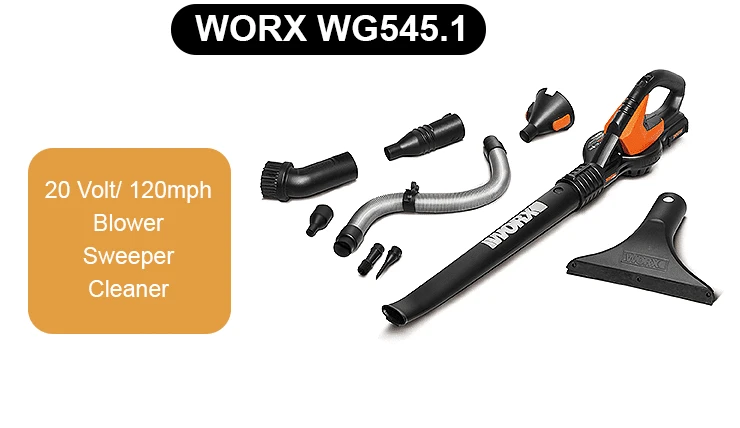 The WORX AIR is a versatile yard blower that works seamlessly around homes and offices. The tool has a cordless design that draws power from a rechargeable 20-volt MAX Lithium battery with a run time of around 20-30 minutes. While in use, you will never worry about inhaling gas or polluting the environment but will struggle with the short runtime of 30 minutes if you have a large yard. To overcome this challenge, you should get an extra battery. They are readily available in web stores.
Even though battery-powered, WORK has a powerful motor-driven system for cleaning debris and dust from outdoor spaces. You can find many marketing materials online, some of which we have included herein for your reference. The tool has a versatile design that generates a heart-stopping airflow of up to 120 mph. It also has a range of attachments that you can use to optimize its performance while cleaning various open spaces at home and other commercial areas.
Let me not complicate the facts about this product – it is a powerful blower. Moreover, you get a useful, light, and inexpensive blower that excels in most settings. If you need such a product, it is the best.
We have reviewed some of its most common attachments herein that you can set up in seconds and use to clean debris and dust from tool benches, sidewalks, recreational vehicles, and patios, to name a few. Dirt is dirt, and dust is dust no matter where it is. If you set up WORX AIR correctly, you will clean such contaminants quickly, effortlessly.
WORX AIR Attachments:
Long Tube: Used for cleaning debris from patios, garage floors, porches, and decks without bending over for long. Enables users to reach and clean around and under objects.
Dust Brush: Enables you to reach confined spaces to clean debris and dust. It has a swiveling wand 990 degrees) that enables you to access and clean the corners of your workshop, garage, porch. It also comes in handy while cleaning window frame tracks and sliding doors or dislodging dirt from the cushions of your patio chairs. Finally, if you have an RV, boat, or van with a dirty, hard-to-reach area, it works best.
Stubby air cannon: The canon generates a concentrated blast of air that clears debris and dust from patio steps, screened porches, tabletops, camp tents, boar hull compartments, campers, and garage floors.
Extension Hose has a flexible design that enables you to reach and clean hard-to-reach areas or tight spaces. Paired with a deflator cone or an inflator nozzle, you can also use to inflate tots, mattress, and water toys on-demand without exerting a lot of effort.
Dust Nozzle: Suitable for blowing dust and debris. You can attach it to a flexible extension hose and use it to clean hard-to-reach areas of workshop drawers, boats, cars, RVs, tool and tool benches.
Detail Brush: Can clean dust and debris from computer keyboards, printer housings, radio-controlled items, automobile dashboards, speakers, craft projects, and almost all other hard-to-reach areas. You can also use it to clean air filters of bagless vacuums and shop vacs.
Wand or Wide Nozzle: Works as a powerful air broom for clearing debris and dust. You can also use it as a dryer for windows, sliding glass doors, and windshields, to name a few.
Inflator Nozzle: Can inflate toys, dust laptop motherboards, and dust computer housings. Suitable for inflatables found in homes such as air mattresses, water toys, pool floats and boats, RV, or above pools.
Deflator Cover: Deflates inflatables quickly.
Video of the WORX AIR | Patio & Deck
Includes: Battery pack, extension hos, detail brush, dust nozzle, long tube, compact tub, wide nozzle, inflator nozzle, and deflator cover
WORX AIR Blower | Visual Overview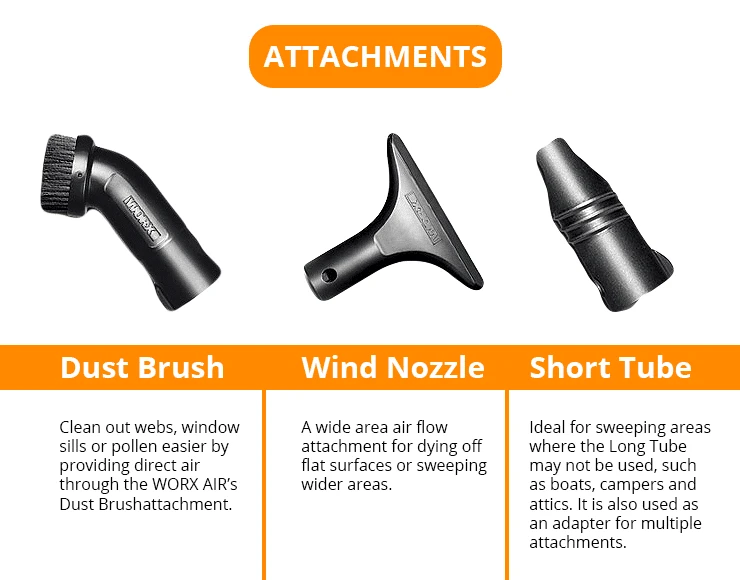 From these images, it is evident that you will get attachments for handling jobs. These include a novel inflation nozzle and deflation cover for inflatable equipment and toys. Even though small, these are essential add-ons for people who own inflatables that they use regularly.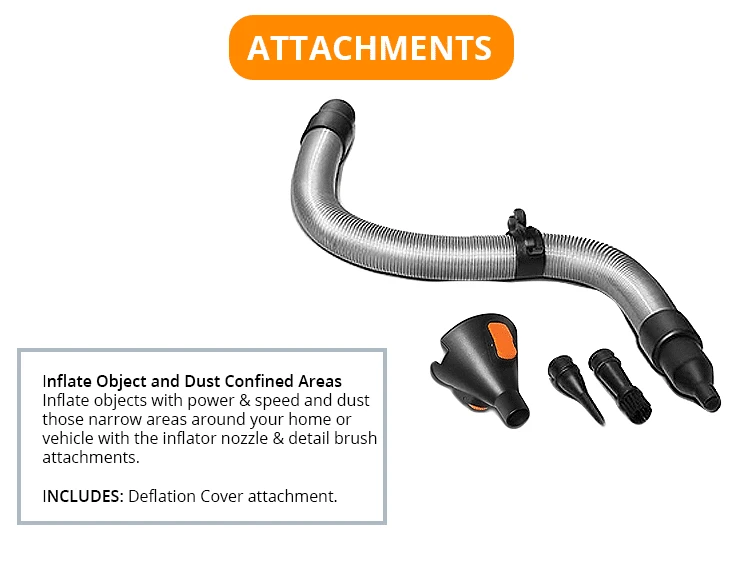 The WORX AIR uses a rechargeable MAX lithium battery (20 volts) that does not suffer the memory effect as old battery types did. It discharges slowly and is a common choice for most modern tools.
The average runtime of this blower depends on the type and number of attachments that are in use. However, expect 20-25 minutes run-time on average. While this seems short, clearing debris and dust from flat yards or gardens does not take a lot of time. Moreover, you can extend its run time by ordering an extra battery from your preferred web/offline store.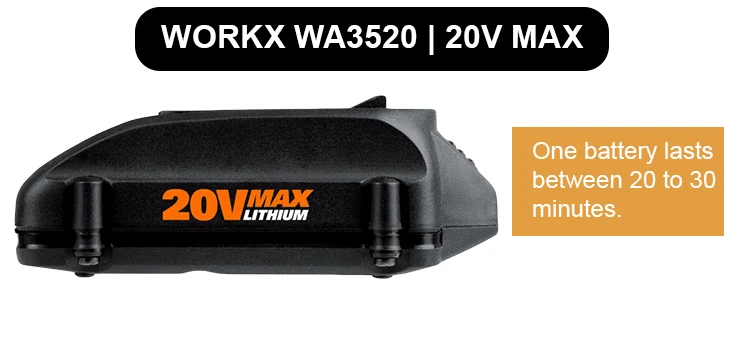 The stock battery pack of the WORX AIR recharges in about three hours. However, if you can afford the Fast Charger from WORK, you can recharge the same 20V MAX battery in less than one hour. It is puzzling why WORK does not offer the charger as stock. Well, I think it is trying to increase its bottom line by selling you an additional accessory. Consider buying one, as it will lower your downtime.
WORX WG3847 | Charge in Under 1 Hour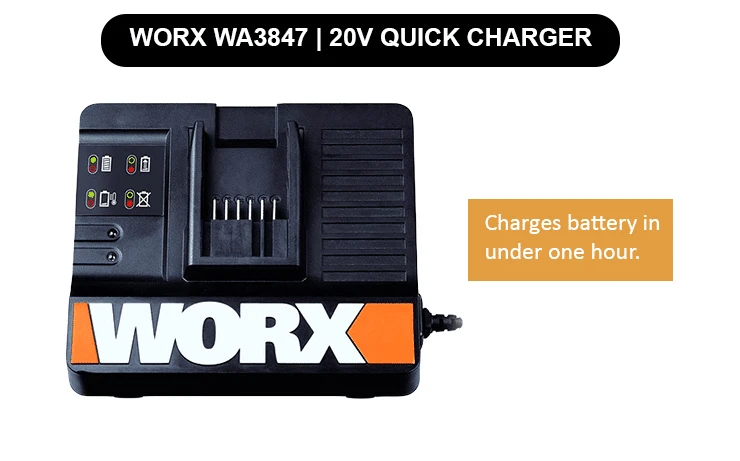 Quick Charger Details:
The WORX WG3847 Quick Charger supports WG155, WG255, WG545, and WG160 models.
WORX AIR | Details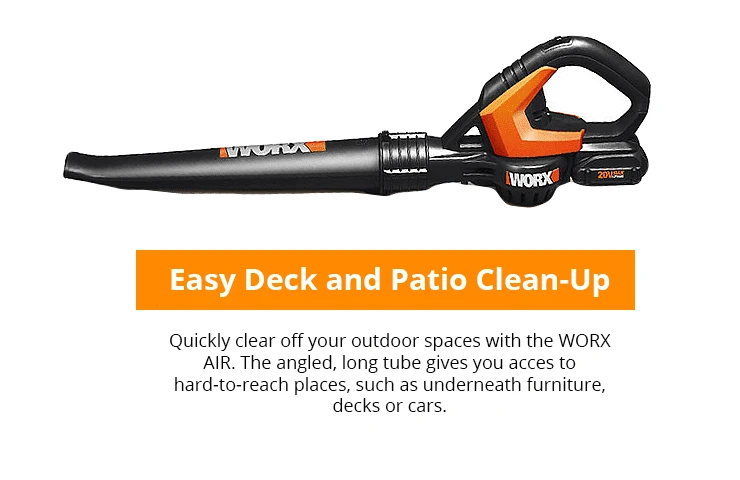 Documents for the WORX AIR WG545.1:
WORX AIR MANUAL.
WORX AIR QUICK START GUIDE.
WORX AIR ATTACHMENTS MANUAL.
Features (WORX AIR):
Have eight attachments.
Light and compact design
80 CFM (cubic feet per minute) airflow at120 MPH.
Weighs 3.5 pounds.
MAX lithium battery (20-volts).
Free 20V battery with charger.
Technical Specifications:
Voltage: 20V Max.
Airspeed: 120 MPH.
Airflow: 80 CFM.
Charging time: Approximately three hours.
Weight: 3.5 pounds.
Warranty: Three years.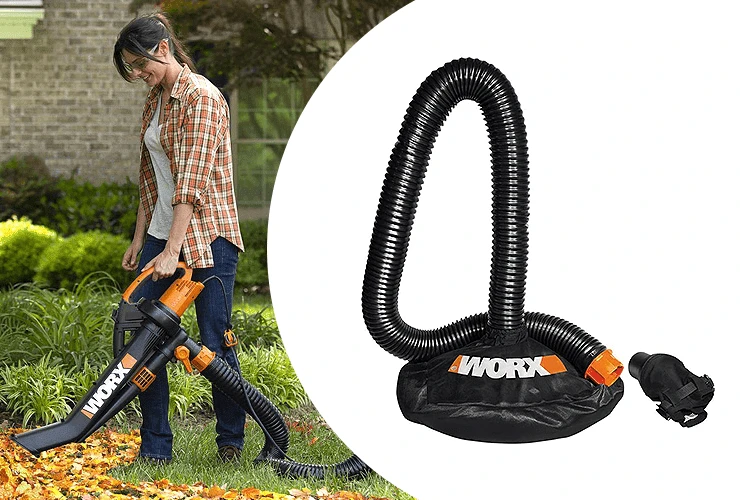 Universal Fit WORX WA4054 Leaf Collection System.
The WORX LeafPro WA4054.1 is an innovative tool for collecting and cleaning leaves in yards and gardens. Here is an overview of its system:
With LeafPro, you can quickly use a leaf vacuum or blower to move leaves or trash into a waste container. The product fits and works well with all major brands of leaf blowers – both electric and gas. Use one of its tens of universal connectors to pair it with your blower/Vac at home.
This product has a flexible hose measuring about 8-16 feet. The hose is durable and has a universal mesh hood that fits most 32-96-gallon leaf bins or waste buckets. A new one will automate how you collect trash.
Work with the following brands: Ryobi, Black and Decker, WORK, Poulan Pro, Toro, Murray, Craftsman, and Husqvarna.
Includes | Attachments for any Blower/Vacuum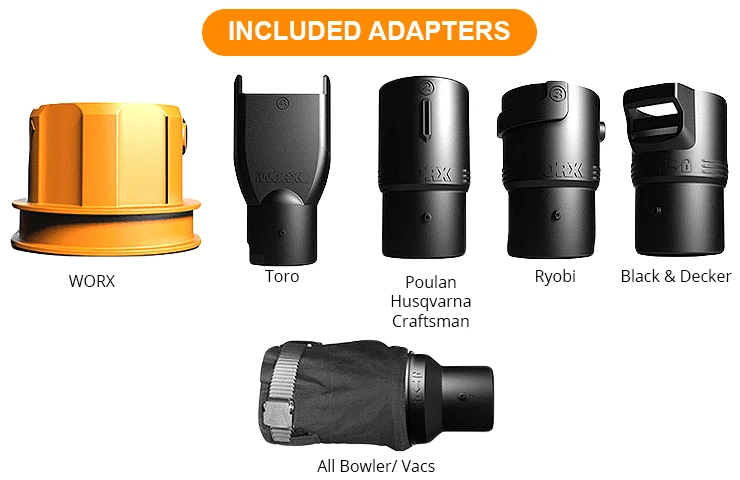 The WORX LeafPro WA4054.1 is a robust device that will save you a lot of time and energy while blowing, vacuuming, or raking leaves into bags. It automates yard work and comes at an affordable price online.
The LeafPro works seamlessly with a WORX TriVac Blower/Mulcher – a robust device covered in detail at the end of this review.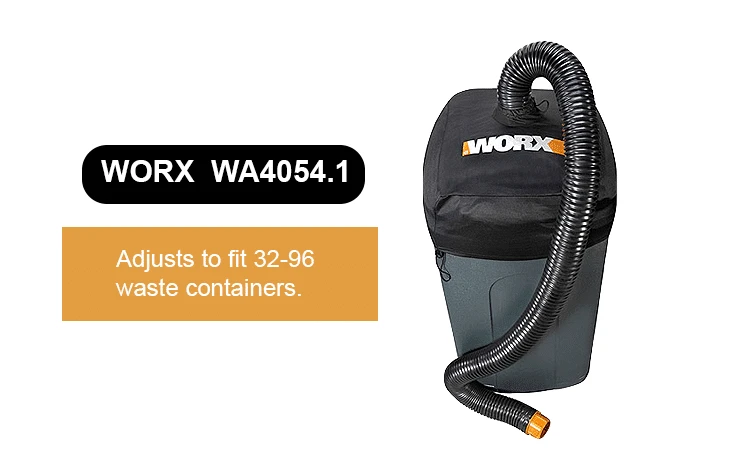 A comfortable grip protects your hands from bruises and injuries.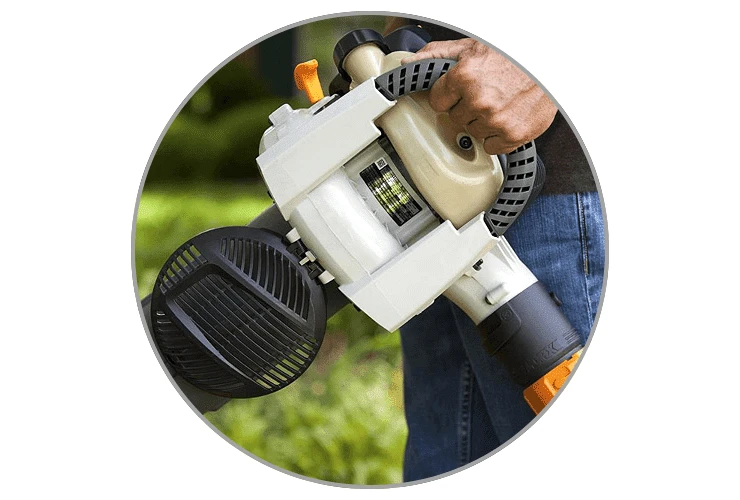 Download or view the WORX WA4054.1 MANUAL.
Features:
Universal System: can fit and work well with all major brands of blowers and vacuums – both gas and electric.
A ventilated and high flow mesh hood fits 32-55 gallon round trashcans.
Industrial strength 8-foot hose (flexible) that boost the surrounding reach by 16-feet.
Has a universal fit tube, four factory fit tubes, a hood, and a flexible hose.
*Does not include waste.
Technical Specifications:
Hose Length: 8-Feet.
Hose Reach: 16-Feet.
Capacity: Fits 32-96 gallon containers.
Universal Adapter: Yes.
Factory Fit Adapters: Four.
Limited Warranty: Three years.
WORX WA4092 | WORX AIR Gutter Cleaning Kit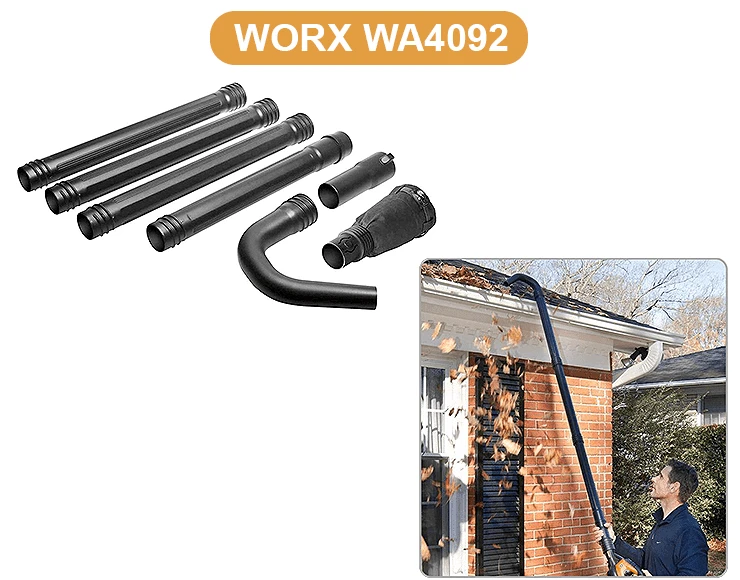 You can connect the WORX WA4092 directly to a WORK AIR device and use it to clean clogged gutters from the ground. As such, even though simple, the tool will save you time and the hassle of climbing ladders while cleaning your gutters. It offers a smarter and safer way for cleaning gutters and therefore is a must-have product at home.
The product has a reach of around 11 feet. As such, most people can use it from the ground at speeds of 120 miles per hour. If you are cleaning a damp gutter, you should wear appropriate clothing to stay clean.
Watch how the WORX Air Gutter Cleaner works:
View of download the WORX WA4092 Gutter Cleaning Kit's MANUAL.
Features:
Attaches to your WORX AIR to boost its reach by 11 feet.
Generates a powerful airflow (120 mph) for a quick clean.
You can clean gutters safely while standing on the ground.
Adjustable nozzle ensures precise positioning while it is in use.
Easy to assemble and customize to deliver premium airflow.
Technical Specifications:
Fits Models: WG545.1, WG545, WG565, WG575.1, and WG575.
Reach 11 feet.
Air Speed: 120 MPH.
Weight: 2.6 pounds.
Warranty: Three Years.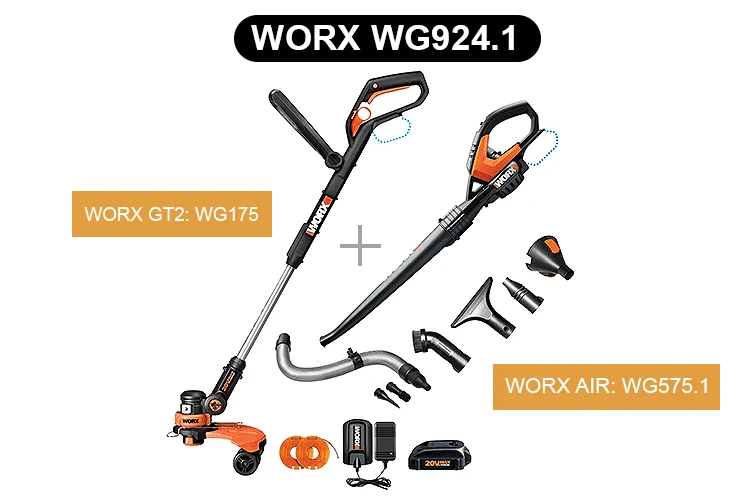 The WORX WG924.1 is a pack of two products, including the WORX GT2 (WG160) and the WORX AIR. The fact that you are getting two premium products makes buying one affordable. However, if you do not need a weed eater at home, this might not be the right product for you.
You can learn more about the WORX GT2 from these two videos:
The WORX GT2 is a famous hybrid tool consisting of a mini-mower and a grass trimmer. Here is the full review of the WORX GT2.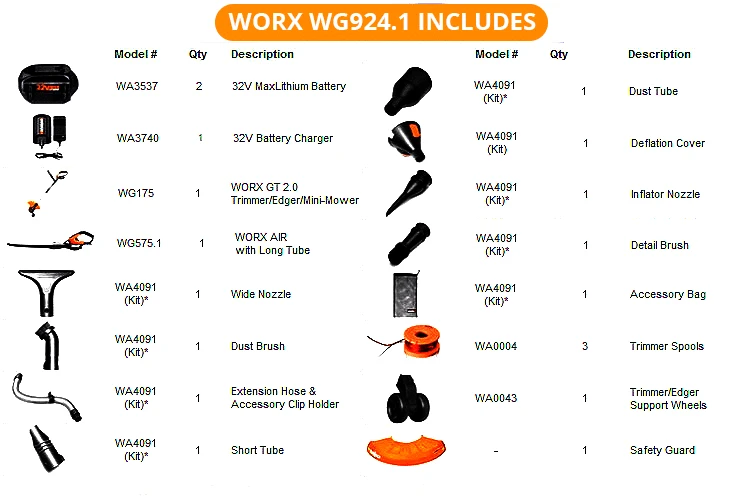 Features:
WORX GT2 has a three-in-one design that transforms from a trimmer to a mini-mower or an edger.
WORX AIR has a maximum airspeed of 120 mph.
Its 2.0 Amp MaxLithium battery has a robust design that does not self-discharge nor loses memory over time.
WORX AIR has eight attachments that support multiple functions.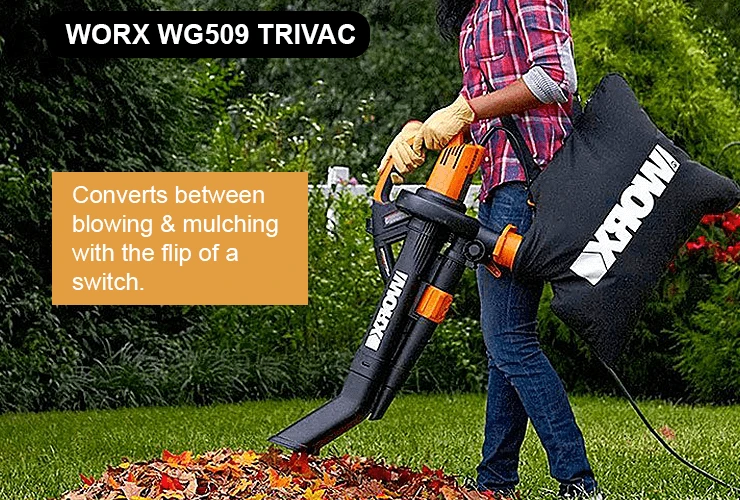 The WORX TriVac WG509 gas a corded three in one design that you can use as a vacuum, a blower, and a mulcher. It uses a powerful motor (12 amperes) that requires an electric connection to work.
The product has a well-engineered design that is easy to use. To transform it from a blower to a mulcher and vice versa, all you have to do is flip a switch. The vacuum moves air at around 350 cfm.
The blower has an adjustable wind speed of approximately 75-210 mph. As such, while in use, you can customize its system to satisfy your needs.
Another slick WORX video to watch:
QVC infomercial on the WORX TriVac:
The WORX TriVac has a metal impeller that lasts for many years. It also has a compact, professionally engineered design with stunning features.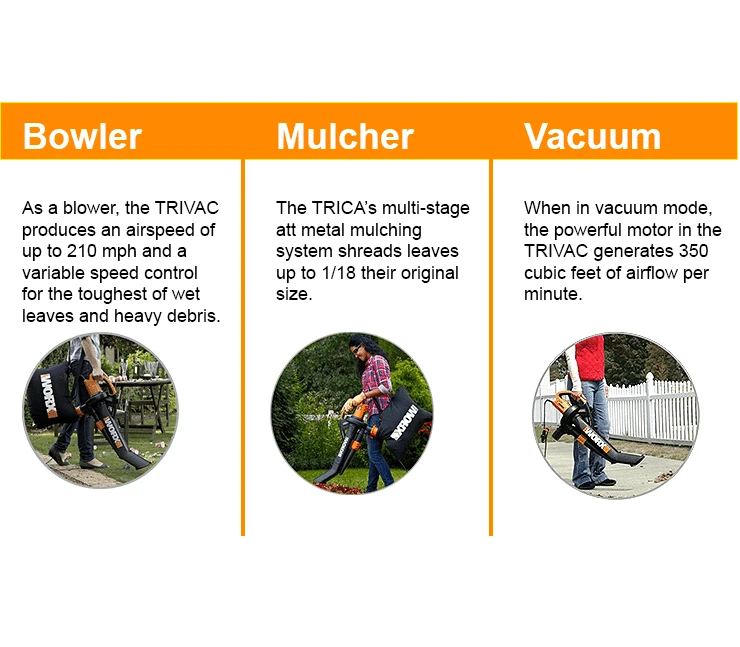 The product can mulch at a ratio of 18:1, enabling users to cover a large area in a short time. The mesh bag holds up to 1-bushel of leaves.
The WORX TriVac has everything that you will need to clean your yard. You can blow leaves into a pile, mulch them, vacuum them, and dump them into a bag for collection or compositing. It is that simple.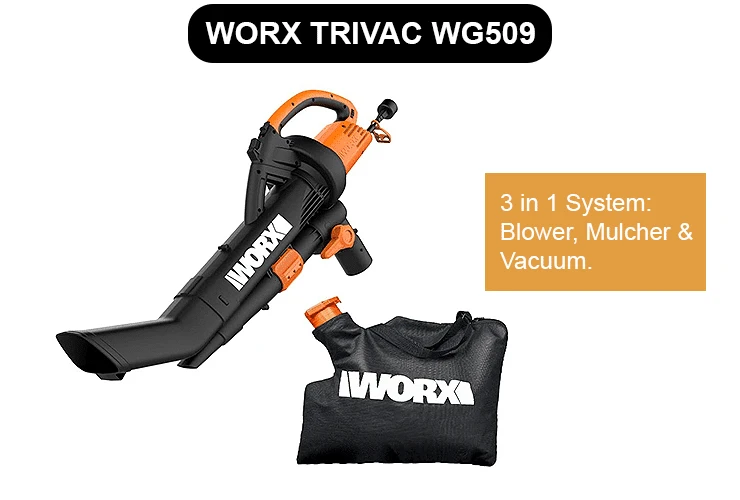 TriVac has released other similar models that you should check out.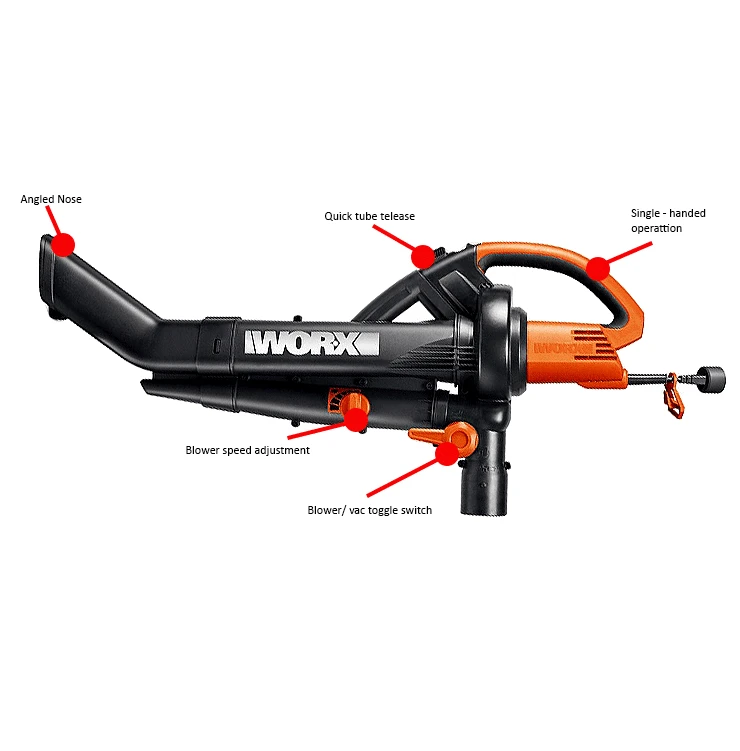 Download and view the WORX WG509's MANUAL.
Features:
3-in-1 System: Vacuum, mulcher, and blower.
Shredder blade and two-stage metal impeller have an 18:1 mulch ratio.
Electronic variable speed control for sweeping heavy debris and corners.
Converts to a vacuum from a blower with the flip of a switch.
The quick-release tube is easy to clean.
Technical Specifications:
Volts: 120V~60Hz.
Power Input: 12 Amperes.
Max Air Speed: 210 miles per hour.
Max Air Volume: 350 cfm.
Collection Bag Capacity: 1 Bushel.
Mulch Ratio: 18:1.
Machine Weight: 8.6 pounds.
Warranty: three years.
Readers who liked this product also liked these tools: