False ceilings, sometimes called drop ceilings, are usually hung or dropped underneath the main roof slab. Not only are they used for aesthetic reasons at times, but they also are provided for controlling temperatures, installing lights, and even concealing electrical or networking cables. With a lot of technological advancements in place today, the trend of having simple ceilings is no more.
Many homeowners are seeking products that can change the looks of typical flat ones to become appealing at a low cost. Luckily, the market offers several options for ceiling materials, for adorning any space. Here are the best guidelines on the different types to beautify your house to fit your goal.
Different Types Of Ceiling Boards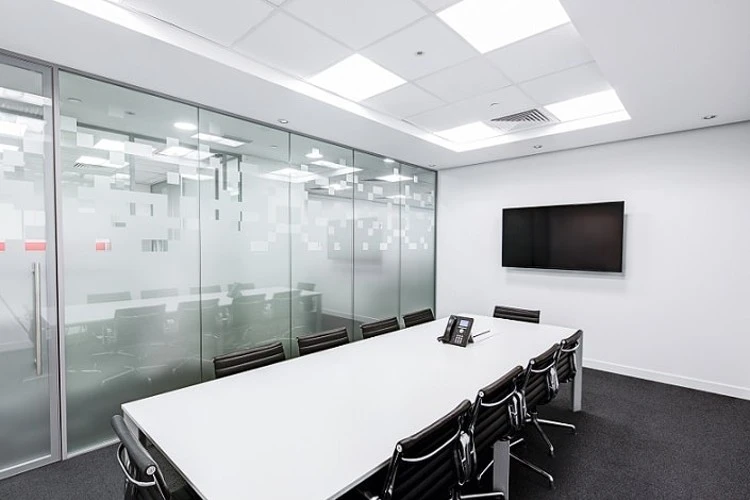 1. POP, Plaster Of Paris Ceilings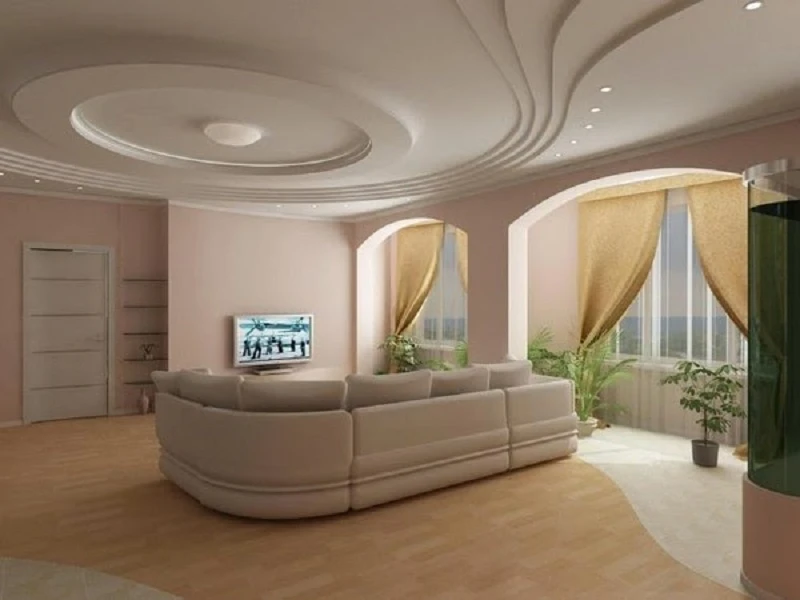 This is the most popularly used ceiling board. Made from heated gypsum, it softens to form water that instantly hardens to give POP. This material is applied to a wood base or fiberboard and then hangs as a false ceiling.
It has attractive looks and a long-lasting lifespan. Even better, it excellently insulates thermal heat. This type of ceilings will not only hide the ugly construction pieces, ventilation channels and drains but also provides smooth finishes.
Pros
It provides a smooth, even finish and can be molded to the desired shape.
Its surface is painted to match your inner style.
It is lightweight and yet durable.
Its beauty lies in an indirect system of non-natural light.
Cons
Prone to insect damages
The mixing procedure on-site is long and messy.
When applying it a lot of the mixture gets wasted.
Prone to cracking.
2. Wooden Or Plywood Ceilings
Many homeowners find pleasure in natural beauty and tranquility in the interiors. One best way of achieving the rustic appearance in the ceiling is to use wooden beams. These can be arranged to form several patterns of modern looks on the ceiling. The impact will be pleased to any viewer. Today, the plywood ceilings are common thanks to their natural design and textures. This can be provided with different finishes that add to its attractiveness. The material can either be from hollow blocks, panels, boards or even plywood. Generally, they suit well cool climatic and easily installed with screws or nails.
Pros
Strong and gorgeous.
Finished in different ways or painted for the chosen look.
Treating the material increases its lifespan.
Cons
Hard to maintain because of susceptibility to termite damages.
Thermal control is needed to minimize the humidity levels.
Prone to physical changes and warping over time.
Costly so not fit for commercial use.
3. Gypsum Ceilings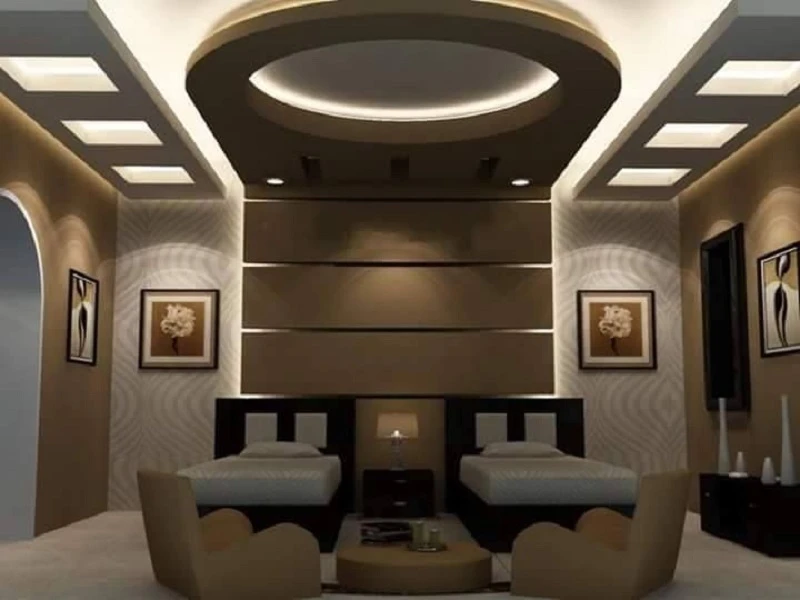 Gypsum ceilings are either constructed from gypsum sheets, boards, or even ceiling tiles. The material is available in large sizes of 600 mm × 600 mm. The material is versatile, tough, and economical. It is sterilized calcium sulfate, lightweight and quite easy to install. The contents further make them fire-resistant, soundproof; thus, the most preferred for making a drop ceiling.
Often positioned like square planks all of them are supported by a metal frame. Gypsum board ceilings are finished using paints, wallpapers, and laminates. This way you get to enhance the looks of your interior.
Pros
Highly flexible as it comes in different shapes and designs including stepped, plain, coffered, curved, drop design, pelmet, etc.
If reinforced with glass fiber, then it excellently insulates against heat.
Leaves a fireproof ceiling. Expose it to fire, it produces water, changes to steam that combats the fire.
Cons
Not suitable for damp conditions.
Hard to mold to various forms.
Difficult to recycle thus many times is thrown in land-fills.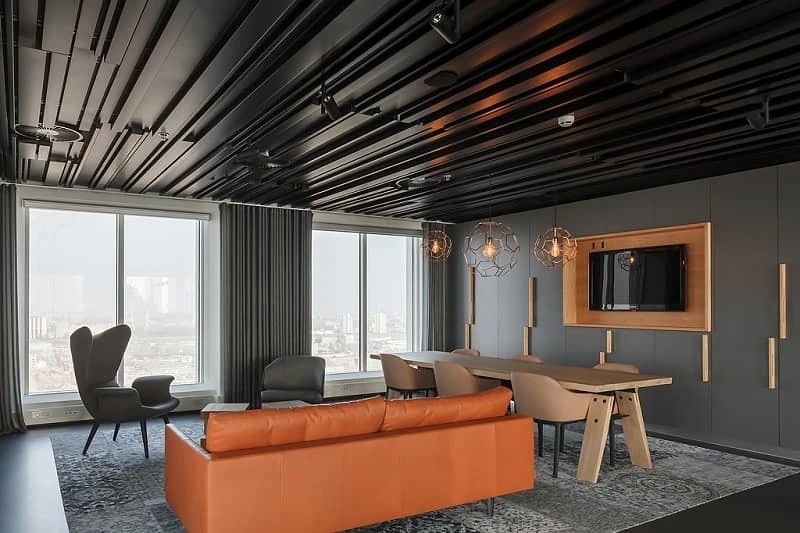 Metal is usually loved because the material is durable and shiny. This enhances the beauty of the interior of a home. The forms used as ceilings come as planks, tiles, and panels. And the most popular ones include aluminum and galvanized iron.
The tiles as well are available in different thicknesses and sizes. These metal tiles and panels are placed on a noticeable steel grating having cross-sections and T-sections. They are hung underneath the ceiling using rods. What is more, you have a chance to use them in several designs. This creates an extraordinary look and a contemporary feel.
Fixing and installing these metal slips is easy and takes fewer efforts. The concealed parts are accessed without troubles because the panels are removable and reattached. This ends with low construction, fixing, and maintenance costs.
Pros
Good for workplaces that need sparkling environments and easy maintenance including as the machinery housings, Air Handling Units, among others.
Fire-resistant so you have no worry about safety!
No incidences of cracking or warping over time. It retains the original shape. Without any issues of peeling, it means that close to zero repairs and maintenance are needed.
Cons
Investing in genuine metal is costly. Remember you will need to protect the material against corrosion.
5. PVC Ceilings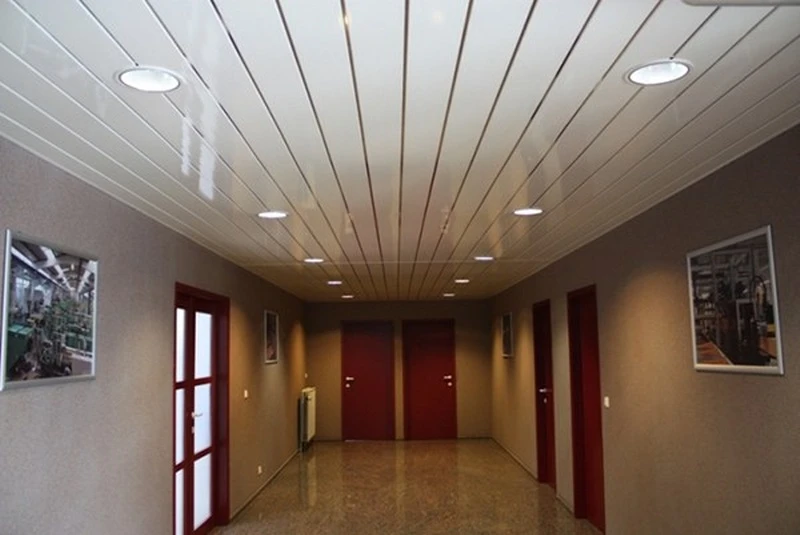 Considering PVC as a ceiling material is one of the best decisions. It is lightweight, moisture-resistant and inhibits the soaking of water on the ceiling. Thanks to the fact that they are easy to clean these are ideal solutions to the common problem of unclean ceilings. Its surface is bright and hygienic, thus effortless to maintain.
Generally, they are easily installed, durable, waterproof, maintenance-free, and termite-proof. Because it is non-porous and non-absorbent, the material allows you to fit in flush-fitting, access hatches, lighting, sprinklers, and air vents. There are various color options for you to choose what blends well with your interior decor. What is more, the surface can be polished or painted as desired.
Pros
Not costly to build and install.
Often produced in masses. This makes it possible to get them from many distributors and close to all the possible colors.
Sturdy and durable so will last for a long time and needs little maintenance.
Cons
This material is made using chlorine. Naturally, this gas is toxic and dangerous.
Less attractive unlike the other ceiling types.
6. Fabric Or Cloth Ceilings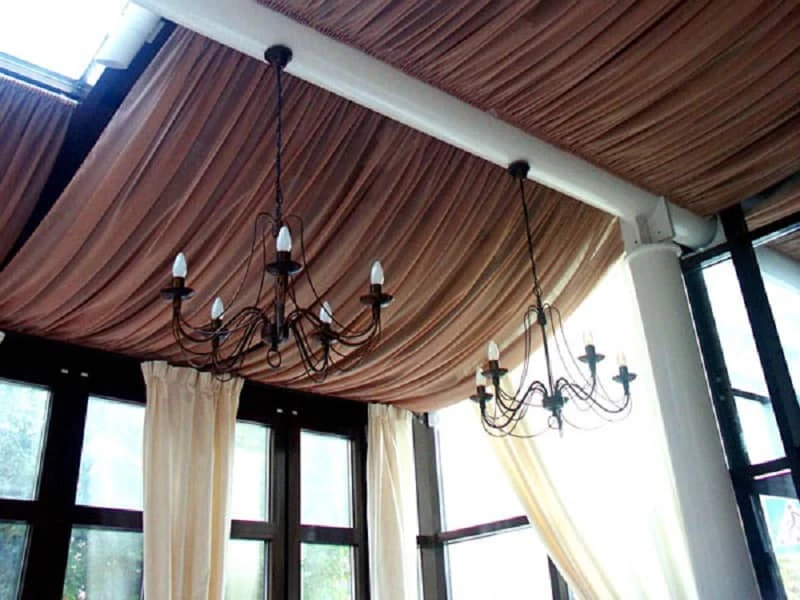 Fabric is undoubtedly very economical and wrapped underneath the ceilings. This material is mostly used for short-term purposes in places like yoga rooms, churches, function halls, restaurants, etc. This type of ceiling includes either cloth or leather. Because they are man-made it comes in different shapes, forms, and designs.
This way there is an enhanced aesthetic outlook inside the building. Fabrics diffuse light with a highly comfortable amount. Although this ceiling could not be functional like the other types it extremely adds the aesthetics of someplace.
Pros
Quick and easy to install so no professional skills are required.
No aesthetic ceiling coverings have similar high-quality fabric features
Cons
It absorbs odors and collects dust
It is not permanently used.
One worrying feature of having this ceiling type is the issue of pests. The insects get into any available space so it can start breeding there and cause too many troubles.
7. Mineral Fiber Ceilings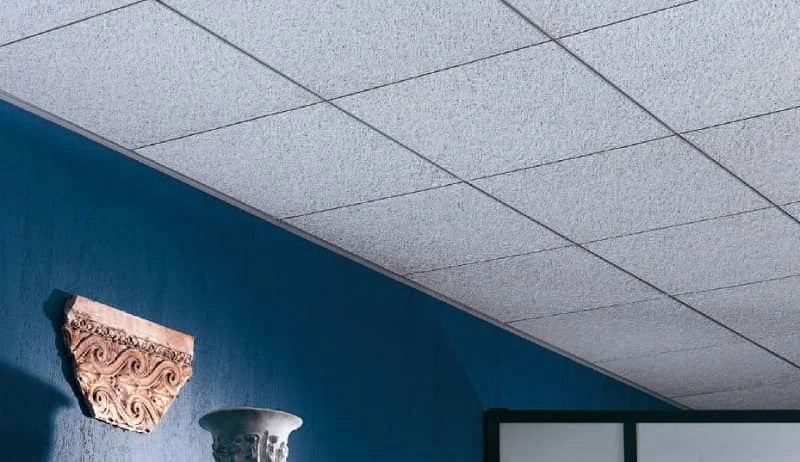 Mineral fiber ceiling tiles are made from natural and synthetic minerals. The material is usually ceramics that are reinforced using natural stone, vegetable fiber, wood, bitumen, and even tars. Such a process boosts its insulation ability. Therefore, it perfectly works as a heat and sound insulator. The ceiling tiles come in different shapes, sizes, and patterns. The units are quite economical and take a shorter time to install.
Pros
This material offers high protection against fire and sound.
The fiber added makes the material hard and tough.
Cons
Not suitable for use in residential homes. They are attractive as home interior.
8. Glass Ceilings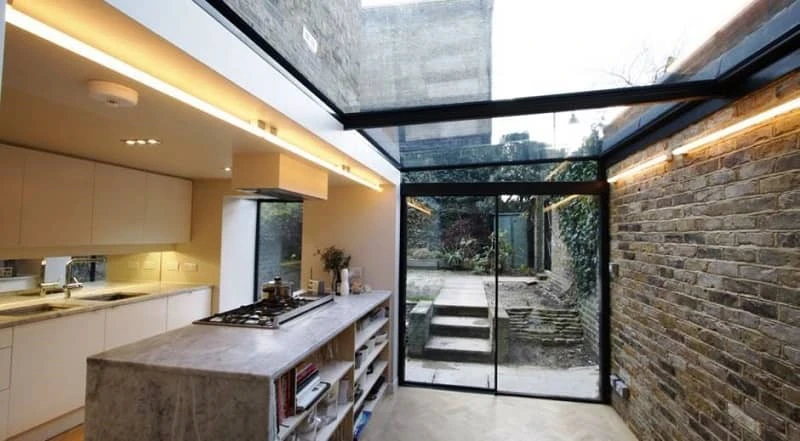 Glass is known to be a brittle, non-crystalline, and clear material. This transparency leaves any space looking larger where it is used. Therefore, it works well as the ceiling in libraries and restaurants, libraries, etc. Glass is a good heat insulator and glass false ceilings look remarkable. To overcome the problems of lack of privacy due to transparency of glass, it can be made non-brittle and opaque, using certain admixtures. This type of ceiling leaves any building with a better aesthetical appearance.
Pros
Space can be explored without obstruction.
It can be patterned, colored, or laminated to provide an exciting focal point
Cons
Lacks privacy.
Considerably reduces the normal height of the ceiling. Hence not suitable to be installed without a decent height of the ceiling.
In conclusion
the ceiling enhances the aesthetic looks of the interiors, conceals all the unpleasant parts and conveys a smooth surface. It is very common nowadays to see different types used in malls, theatres, hospitals, and residential places. The intention also is to make the room cooled and even covering the higher area. As it is the market offers various types with each presenting multiple advantages.
Keep in mind that every space has its unique preferences thus the need to use different ceiling boards. Of course, it is not a must to use only one type of material. Combining two or even more of your choice creates a variety of tricks serving as a decoration style.