Suppose you went to camping and out of nowhere rainstorm started. Some of your teammates might take it lightly while others could get angry when their camping gear and other clothing have been soaked wet.
If you are in the latter category people, we have a solution for you. Just apply the DWR (durable water repellent) spray on your clothes, and you are all waterproof. Sounds impressive, right?
This spray is basically a liquid that contains Fluoropolymer, which keeps your fabric water-resistant in this kind of critical situation. So, you should have the best DWR spray in your arsenal if you are planning for your next adventure.
From the following article, we will be covering some of the high-quality DWR sprays that are currently on high demand among people worldwide. Read on to find out more.
Top DWR Spray by Editors
Top 5 Best DWR Spray Reviews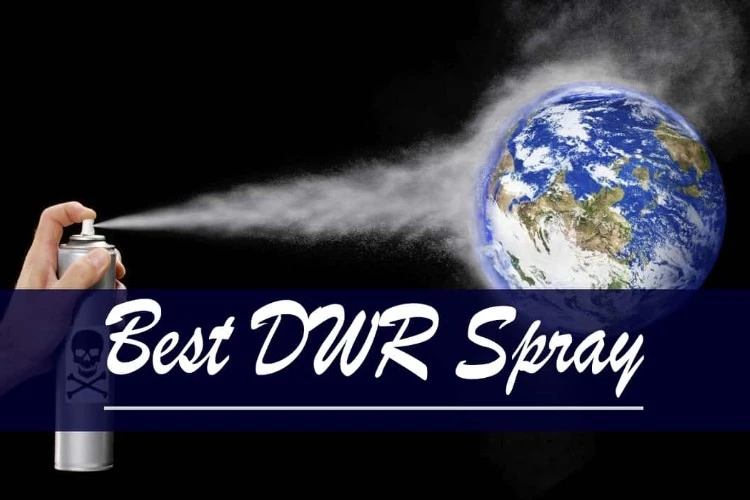 Out of all the DWR sprays, we have chosen the top 5 for you. Make sure you go through all of them to get the overall idea.
1. Star Brite Waterproofing Spray Review
If you love adventures and prefer to keep your clothes and other kinds of stuff protected from water and dirt, this product can be an excellent pick for you. This spray is specially designed to repel water and UV stains. You can waterproof your jackets, boots, backpacks, boat covers, bimini tops, car covers, sail covers, tents, awnings, and patio covers.
Fortunately, you can take your belongings in any weather condition, thanks to this product. Whether your fabric is new or old, you will get the best performance from it. Moreover, your clothes' longevity will increase as the spray creates an additional barrier to moistures and harmful UV rays.
Plus, it won't change the breathability, color, or even the texture of your beloved fabric. It is not complicated to apply, so you can have a good time using it. If you are in a situation where you have to dilute the product, you should use mineral spirits for the best results.
Pros
User-friendly
Repels UV stains
Waterproofs lots of stuff
Doesn't harm the clothing material
Restores water repellency of older fabrics
Cons
Clumping occurs if it is cut with denatured alcohol
Require 10 or more pumps to make it ready for use

2. Scotchgard Heavy Duty Water Shield Spray Review
Are you planning an adventure? Is the weather condition creating a problem? Then, this heavy-duty product can save you out from the hassle. You can use it on various things like rain gear, umbrellas, patio furniture, grill covers, backpacks, tents, luggage, canvas tars, boat covers, outdoor gears, etc.
If your fabric is made of polyester, nylon, polypropylene, leather, cotton, or suede, don't worry, these are all safe to use with this product. All of them will stay dry for an extended period, and you will get long-lasting protection. After you apply it, you will notice that it is odorless, which is considered an excellent feature.
When you apply it on your fabric, it will create durable protects from water, moisture, and even snow. Furthermore, the spray won't harm your belongings as it won't affect its breathability, texture, or color.
Nevertheless, to be on the safer side, reapply this spray seasonally. In this way, you can have an enjoyable indoor or outdoor experience.
Pros
Keeps out the rain, snow, and moisture
Clothing and other gears stay dry for a longer time
Provides the utmost protection
One-step application
Odorless
Cons
Need to apply from a closer distance
Sometimes leaves stains

3. Kiwi Camp Dry Heavy Duty Water Repellent Review
This one offers tough silicone protection for your outdoor boots and gear. If you stay outside for a long time, no problem, your belongings will stay protected from water in any situation.
It uses a unique formula that bonds to leather or fabric to create an extremely tough water barrier, which makes it a suitable pick for any adventure lover. Moreover, it allows the materials to breathe effortlessly while doing its repelling work.
You can also use it on tents, tarps, hunting apparel, outdoor gear, boat covers, patio furniture, and many more. Yes, your stuff will stay odorless so you don't have to think twice where it is safe to spray or not.
As it is water repellent, it will become dry after you apply it. You don't need to be a professional to get the job done as anyone can use it smoothly. Always follow the instruction from the label so that you get proper guidance.
Pros
Offers tough silicone protection
Uses unique formula bonds
It can be used on outdoor gears, boat covers, tents, etc.
Won't smell after applying
Easy to use
Cons
Don't work efficiently in uneven surfaces
The cover caps are weak

4. Scotchgard Fabric Shield Water Repels Liquids Review
Having this product is nothing more than a heavenly feeling because you will get lots of features from it. This one is in high demand as it provides excellent performance in any weather condition.
You can use it on shirts, dresses, silk ties, canvas shoes, suits, outerwear, etc. Furthermore, it works marvelously on household items like pillows, curtains, backpacks, luggage, upholstery, table linens, and many more.
Likewise, its remarkable feature is its strong fabric protection that repels water-based spill. This allows you to do the easy cleanup, and due to that, you can save some of your time and physical effort. Plus, it maintains the fabric's breathability when it is repelling water.
Besides, the application process is simple and easy. Just take it on your hand and start spraying. You will be happy to know that it dries clear and doesn't give out a bad odor. If you have washed the belongings, simply reapply the product, and you are all set.
Pros
Provides strong fabric protection
Can be used on household items and clothing
Dries clear
Won't release bad odor
Simple to use
Cons
Don't repel food stains
Need to use multiple coats for heavy fabric

5. Nikwax TX.Direct Spray-On Waterproofing Review
This one is designed mainly for outdoor purposes. Whether you are interested in doing trekking or skiing, this product gives tough competition to others.
You can use it to waterproof rain, ski jackets, and even synthetic sleeping bags. Thus, it is applicable for other technical clothing like GORE-TEX, Patagonia, North Face, Columbia, and Arc'teryx.
As you know, the water repellency of any fabric wears off with time after you wash it. But with this product, you can restore it, and also, the spray won't affect the color and breathability of your belongings.
Its protection feature creates a layer and prevents water from coming in contact or penetrating your fabric. Since it is a spray-on system, you don't need help from anyone.
Luckily, this water-based product is biodegradable, which means it is safe for the environment. Plus, it contains no PFCs, VOCs, optical brighteners, or added scent. For your protection, wear rubber gloves (disposable) and then proceed with the task.
Pros
Biodegradable
Prevents water from penetrating the fabric
Applicable for technical clothing
No discoloring issue
Spray-on system
Cons
Weak nozzle
Takes a bit of a time to do it in the right way

Things To Consider Before Buying DWR Spray
As there are many models in the market, you might get confused if it is your first purchase. To get the best one, you should consider some things in advance. Below, you will find all of them. Experienced buyers should also have a look at it.
Size
Before you purchase, decide the size of your spray bottle. Since different brands come in different sizes, you should definitely go through this step. Thus, you can have an idea for how long you will be able to use it. So, check whether your desired size is available in the market or not.
Elements
Always go for the one with non-toxic elements that is safe for the environment and your fabric. To find it out, you should check the label of the bottle. If there are toxic elements mentioned in the ingredients section, don't buy and look for the other without giving a second thought. Save yourself and make the environment green.
Smell
It will be an awful experience if your clothes do not smell good because of the spray. Fortunately, these are made in a way that won't generate any bad odor. Still, you should check the product about its odor-free feature.
Versatility
Your chosen one should work efficiently in different clothing like gloves, jackets, etc. If the product can only be used for a single purpose, this will be a waste of your money and time. Hence, be a step ahead and pick the multi-purpose one.
User-friendly
Most of these products come in a spray system that allows you to apply on the clothes easily. Test it to find out whether you are getting the flexibility or not.
Clothes Safety
A good quality spray will always create a layer on the surface of your fabric. Moreover, it shields your clothes from different stains like oil, soil, etc.
Final Verdict
Don't forget to share this beneficial information to your loved ones. Purchasing the best DWR spray is not a tough job if you have prior knowledge. Keep in mind that using this product will not only waterproof your clothes but also the longevity of the fabric will increase due to that.
If you still have some confusion regarding the spray, consult with the supplier. They will give you lots of advice that can help you out in multiple ways. Choose the one that goes with your requirement and stay dry all the time. Give your farewell to the wetness.
Have a good day!
Buy on Etsy
Gear AID Revivex Durable Water Repellent (DWR) Spray for Reproofing Jackets - Walmart Link
Gear AID Care Kit with Revivex Pro Cleaner and Revivex Wash-in Water Repellent - Walmart Link
Scotchgard Heavy Duty Water Shield, Repels Water, Ideal For Outerwear, Tents, Backpacks, - Walmart Link
Nikwax Softshell Proof Waterproofing - Walmart Link
Nikwax Hardshell Cleaning and Waterproofing Duo-Pack - Walmart Link
Nikwax Tent and Gear Cleaning, Waterproofing, and UV Protection - Walmart Link
Buy on eBay
Gear AID Revivex Durable Water Repellent (DWR) Spray for Reproofing Jackets - eBay Link
Gear AID Care Kit with Revivex Pro Cleaner and Revivex Wash-in Water Repellent - eBay Link
Scotchgard Heavy Duty Water Shield, Repels Water, Ideal For Outerwear, Tents, Backpacks, - eBay Link
Nikwax Softshell Proof Waterproofing - eBay Link
Nikwax Hardshell Cleaning and Waterproofing Duo-Pack - eBay Link
Nikwax Tent and Gear Cleaning, Waterproofing, and UV Protection - eBay Link