Genie SLC-24 Superlift Contractor, and friends
Machines have taken over different facets of life and have made work much easier for people of all cadres. The Genie SLC-24, for instance, is on another level. If you handle multiple heavy lifting jobs in your shop or workplace, this product will ease your burden and boost your efficacy. The material lift is durable, relatively easy to set up, and classified as a Superlift due to its ability to handle most jobs.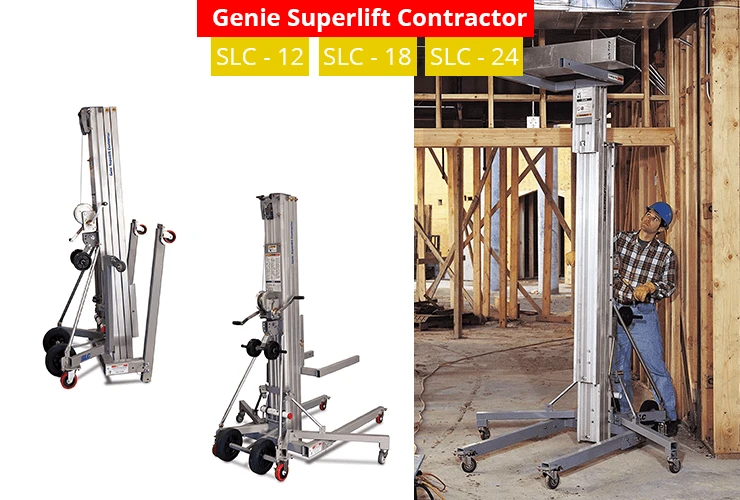 Before we delve into the functionality of the Genie SLC-24 Superlift Contractor, let us have a look at what the Genie company is about, including its operations.
Specs | Genie-SLC-24 / Genie-SLC-12 / Genie-SLC-18
The Genie Suplerlift Contractor series lift is available in three models, which are similar in design/appearance, but have different capacities and work at most heights.
Genie SLC-12: Stowed: 2 feet .75-inches | 650 pounds | Lifting Height: 12 feet 11 inches.
Genie SLC-18: Stowed: 2 feet .75 inches | 650 pounds | Lifting Height: 18 feet 6 inches.
Genie SLC-24: Stowed: 2 feet .75 inches | 650 pounds | Lifting Height: 24 feet.
The chart that we have shared below has an overview of these differences. The second half of this article covers the details of each model in detail.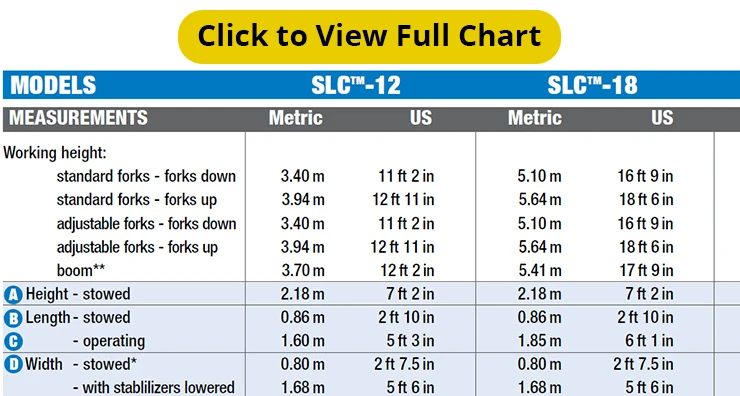 Click to view the full comparison chart of the contractor series Genie Superlift.
Genie Industries — The Company
Genie conducts vast research on work-site related problems and has release devices and technologies for alleviating such problems since 1966. Research is a major component of the Genie company, which it has never compromised on for decades now. This has enabled it to respond to market needs by consistently developing products and technologies that address growing concerns. Genie SLC 24 is one of its standout products, which we will talk about later in this review article.
During production, Genie abides by stringent standards to maintain the quality of its products. It also offers products at an affordable rate; unlike other companies whose sales departments exploit customers. Genie also offers free 24/7 customer support all year long and has set up a robust parts network to help people to access replacement parts easily whenever their machines break down. You can get your replacement part shipped in just 24 hours, allowing you to resume work quickly.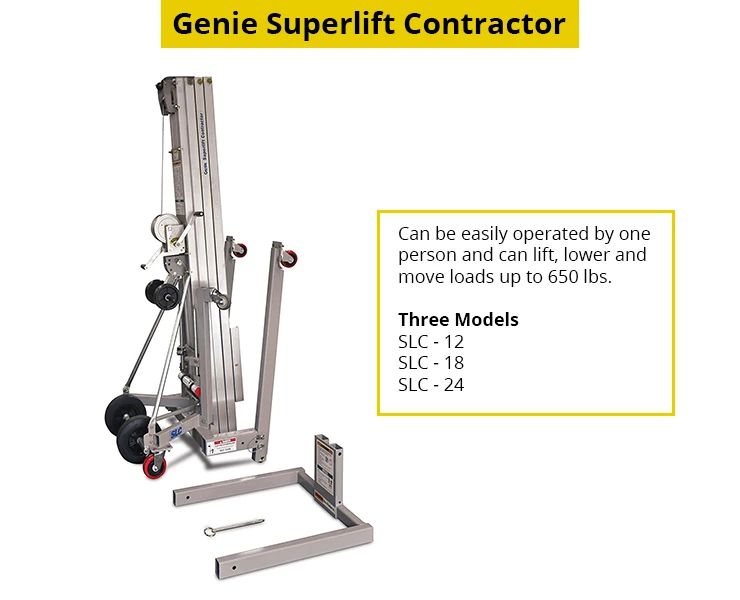 Material Lifts | What Are They and How Do They Work?
The first lift from Genie, referred to as the original Genie hoist, was a pneumatic lift, released in 1966. The hoist enjoyed great success, prompting Genie to create a line of advanced heavy-duty lifts for lifting and moving heavy items effortlessly. These robust products – also referred to as 'Material Lifts' have revolutionized the construction industry. They come in many novel designs and types with the Genie Superlift Contractor subcategory ranked among the most popular worldwide.
The Superlift Contractor can satisfy the needs of most construction firms and contractors. Apart from its versatility, it is one of the most sought-after brands in this nice as the Genie SLC-24 can handle most jobs. You can use it to lift heavy stuff during an HVAC installation without breaking your back. It also supports other industrial applications that involve lifting heavy machinery or tools in all settings.
Another factor that has made Genie SLC-24 sought after is the unique design of its legs, which fold up to ease the transportation and storage of a Superlift contractor. Moreover, you can remove each attachment independently, saving more space. As such, one person can unload, load, and set up this device on-demand in a worksite.

Advantages of Using A Genie Superlift Contractor
Genie Superlift Contractors such as the Genie SLC-24 are beneficial in many ways. Here is a review of some of the most treasured ones by contractors:
Compact and Portable Design: you probably love that this heavy-duty lift has a foldable design with removable accessories for easy storage. It also has a light and portable design made from high-quality aluminum.
Single Door Access: The Superlift Contractors has a slender design, optimized to fit through small single doors. Therefore, if you work in areas with narrow doorways or passageways, it is one of the best products to use.
Durability: The Genie has a robust aluminum frame that lasts for many years. The standard steel forks on offer are equally sturdy and long-lasting.
Straddle Base: This base, like the frame, has a low-profile design that fits and works well in narrow doorways or alleyways. However, it can handle 31.5 to 50-inch loads and has a low set height (ground level) for easy loading of items.
Standard Base: The base is a welded steel material that boosts support.
Loading Handles: With the Superlift Contractor, you get six interchangeable loading handles, each serving a different purpose.
The Choice: Superlift Contractors such as Genie SLC-24 come in multiple variants. You can choose a different frame and base to create a custom device for a project. You can also optimize load handling/ winch speed and customize the performance of the Superlift Contractor lift to satisfy your needs.
Assembly: You can set up this machine without using tools. The assembly is quick and easy, with most people being able to set it up in a few seconds.
Load Handling Attachments
The Superlift Contractors Genie SLC-24 has multiple load handling attachments. Let us look at some of the best ones and their functions.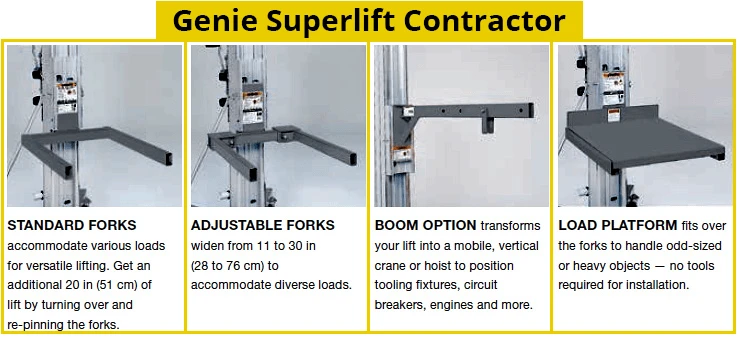 Standard Fork: This fork can handle heavy general loads in a variety of jobs. You can spin, or turn the fork and lift items 20 inches in the air.
Adjustable Fork: As the name suggests, you are getting an adjustable fork. You can set it from 11.5 inches to 30 inches to accommodate diverse loads.
Flat Fork: Like the adjustable forks, the flat has an adjustable design that can fit and support most loads. You can set the flat forks between 16 inches to 31 inches wide to accommodate diverse goods and lift from a flat surface.
Load Platform: This product has a stock load platform that can fit and carry odd-shaped items. You can also carry heavy items with this attachment. It does not require a lot of effort to set up as the set-up process is tool-free.
Fork Extensions: You will get fork extensions as add-ons for the stock fork. To work, slip the extensions on the stock fork to add an extra 25-inch length.
Boom: The boom works independently from the fork. By transforming the lift to a vertical frame, you can use it to hold fixtures or heavy tools safely. You can also use it to hoist engines and heavy machinery in your workshop.
In addition to these desirable accessories, you get two additional features that boost the strength and safety of this commercial-grade lift.
Patented telescoping mast system: A heavy-duty telescoping mast boosts the rigidity, strength, and compactness of the Superlift Contractor.
Support for heavy loads: The Superlift Contractor is perfect for carrying heavy loads. Its captive stabilizer and locking system boost lateral support.
Width – stowed: 2 feet .75 inches | Load Capacity: 650 pounds | Lifting Height: 24 feet.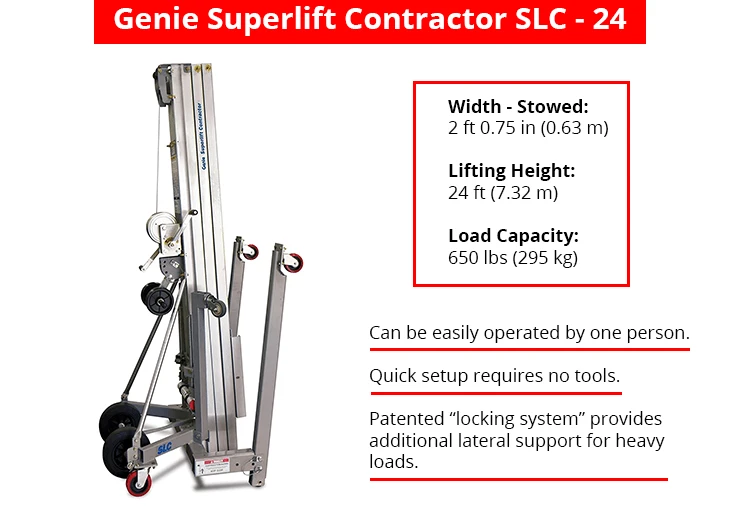 The Genie SLC-24 is a prime Superlift Contractors lift from Genie.
Features:
Optimized for the construction industry.
Supports HVAC installations and industrial applications.
Easy to load and transport into a pickup truck.
Foldable legs and attachments that you can remove for easier storage.
Quiet two-speed winch with efficient gears.
Non-marking caster wheels (front and rear) with side brakes.
Documents for the Genie SLC-24:
Measurements | Genie SLC-24
While shopping, always pay keen attention to the dimension of your product of choice. We have reviewed the measurements of Genie SLC-24 to help with this.
You can adjust the working height of the fork is down or up. While using the standard fork the Genie SLC-24, you can position it 6.78 meters from the ground, when down, and 7.32 meters when its standard fork is up. The adjustable fork of Genie SLC-24 measures the same whether you are using it upwards or downwards.
The boom boosts the functionality of this product further. The boom is sturdy and positioned on top of this lift. Therefore, you can convert it to a portable crane and use it to lift tools or materials 7.1 meters in the air. Its versatility is amazing.
You can remove the legs and other accessories, fold it into a compact package, and store it in a shed or shop. If you fold it as directed, the Genie SLC-24 measures, 2.18 meters, 0.86 meters, and 0.80 meters high, long, and wide respectively.
The Productivity
The load capacity, defined as the load center of a lift, reflects its productivity. Before we look at the productivity of Genie SLC-24, let us evaluate what the term "load center" means regarding the Superlift Contractor heavy-duty lift system.
The load center is the distance (measured as a unit of distance) between the actual center of gravity of loads on the Superlift contractor and the face of its forks.
The load capacity of the Genie SLC-24 lift system when the load center is 42 inches, 24 inches, and 14 inches are 73 kgs, 193 kgs, and 295 kg respectively.
From the data, load capacity decreases as the load center of the lift increases.
The machine has a ground clearance of 0.05 meters. While this seems insignificant to most people, its clearance comes in handy while moving this machine around.
Important Points to Note
The Genie SLC-24 is a heavy-duty product with a lightweight telescoping mast made from aluminum. Like other Superlift Contractors, the Genie SLC-24 is also easy to set up (toolless) and has interchangeable accessories for load handling.
The product has non-marking caster wheels (4-inches in front and 5-inches in the rear). For safety, the casters have side brakes that prevent it from rolling off while in use. In addition to the smooth-rolling casters, the product has guide rails that make unloading and loading it in vehicles effortless. Once set up, use the hold-down bar to secure the mast in place and prevent the item from rolling over while in transit.
Additional Models in the Genie Superlift Contractor Series
The Genie SLC-24 is a reputable Superlift Contractors lift from Genie. This does not mean that other products in this niche are of a low quality. We have compared the Genie SLC-24 with other Superlift Contractors to help you judge for yourself.
Genie SLC-12 vs Genie SLC -18 | Superlift Contractor
The Genie SLC-24, Genie SLC-12, and Genie SLC-18 differ in terms of dimensions and productivity. Their basic modes of operation are almost similar.
Width – stowed: 2 feet .75 inches | Load Capacity: 650 pounds | Lifting Height: 12 feet 11 inches.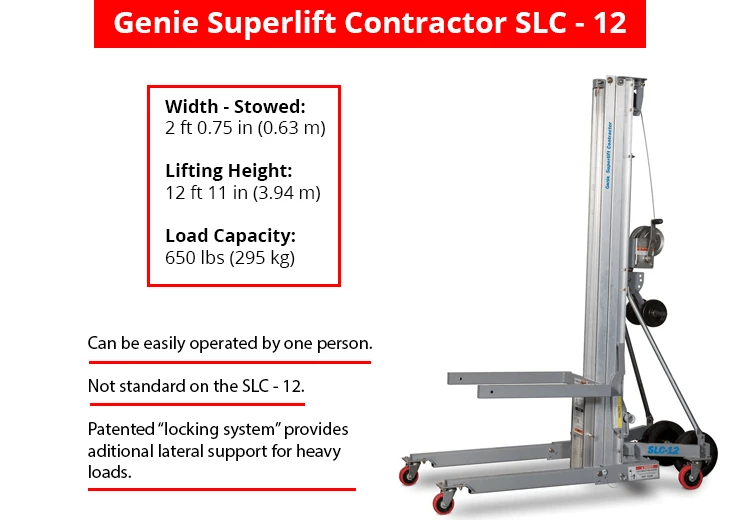 Genie SLC-12 & Genie SLC-18 Documentation:
Width – stowed: 2 feet .75 inches | Load Capacity: 650 pounds | Lifting Height: 18 feet 6 inches.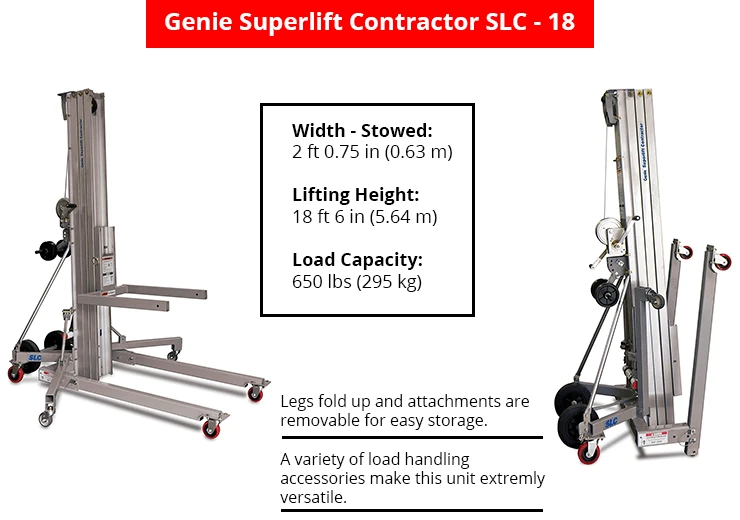 Measurements
From our discussions, the heights of lifts largely depend on the positioning of the fork (down and up). The Genie SLC-12, for instance, is the smallest in this niche. When you position its standard fork down, it measures approximately 3.4 meters high. When the fork is up, you get approximately 3.94 meters. The dimensions are the same whenever you are using an adjustable fork. However, while using its boom of the Genie SLC-12, the device measures approximately 3.7 meters tall.
The Genie SLC-18 model is slightly large (medium-sized). When its standard fork is down, it measures around 5.1 meters tall. However, when the fork is up, it reaches approximately 5.64 meters tall. Like the Genie SLC-12 that we have talked about in detail herein, the height is the same whether you are using the stock or the adjustable fork. The stowed height, width, and length of these models are the same.
The Genie SLC-12 weighs around102 kilograms while the Genie SLC-18 is139 kg – significantly heavier. At 157 kgs, the Genie SLC-24 is the heaviest of the three.
Productivity
In all three models, a load center of 14 inches is synonymous with a load capacity of 295 kg. A 24-inch load center provides a load capacity of 193 kgs in all three models, but the load capacity at the 42-inch load center differs. For the Genie SLC-12, you get a load capacity of 82 kg at 42 inches. The Genie SLC-18 and Genie SLC-24 each have a load capacity of 73 kg at a load center of 42 inches.
Choosing between the three products (i.e., Genie SLC-18, Genie SLC-24, and Genie SLC-12) can be a difficult one. Because their technologies are similar, most people opt for the lowest model (Genie SLC-12). However, for the best results, choose a product based on need. The "need" in this regard refers to the weight of equipment or items you are working with and the working height.
Moreover, the price difference between the two accessories is negligible. Thus, while shopping for the best Superlift Contractors, it would be unwise to decide based solely on pricing. For the best results, check the load handling attachments of your product of choice and its overall design. With the right attachments, you will be able to handle a plethora of jobs safely and within a short time.
✓ We have a guide of Genie hoists and lifts that covers the different materials used to make these lifts. Check it out.