The Genie GS-1930 is a versatile professional-grade scissor lift that will help you to handle jobs from 25 feet in the air. We have a wealth of information on the item, including charts, manuals, and videos. Before we delve into these details, let us lay the foundation for this article. Do you struggle to carry heavy tools up ladders whenever you are handling household or commercial projects? It must feel frustrating to you whenever you do this at home or your job site.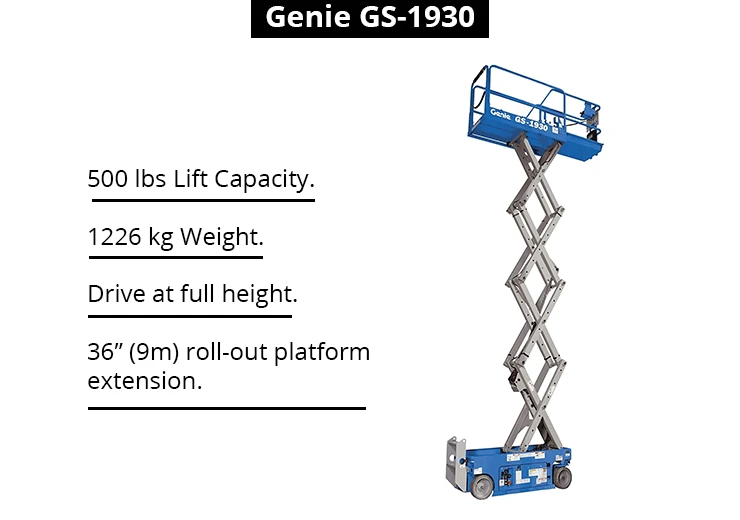 Thankfully, we have identified the best remedy for you – scissor lift jacks. They enable people to work safely on the air for long, making them a must-have for people with small businesses or Do it yourself, enthusiasts. Consider buying a new, original one for the home now.
Genie GS-1930 | 25 Feet Height | Scissor Lift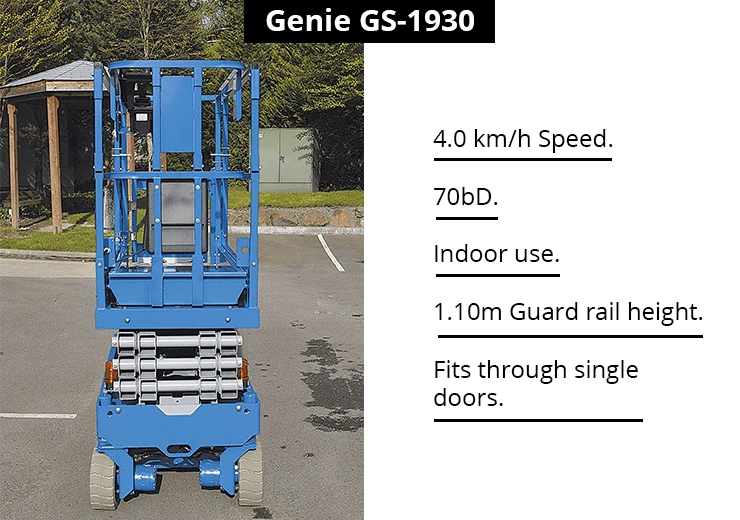 We have reviewed the features of the Genie GS-1930 in detail later on in this article. Before we check this out, let us evaluate the benefits of owning scaffolding or the best scissor lift jack at home.
The GS-1930, among many other reputable scissor lift jacks are readily available on the Internet. With the advent of technology, ordering stuff online in the 21st century is nowadays effortless. It not only eliminates the pressure of traveling to stores and browsing dozens of shelves but also saves people money while granting them access to thousands of products in different niches. While some people are afraid of ordering scissor lifts online, this should not be the case. The information shared in this article will help you to find products online and understand whether they are the best for you.
We also have a comparison of Genie GS-3232 and GS-2632.
Scaffolding vs Scissor Lifts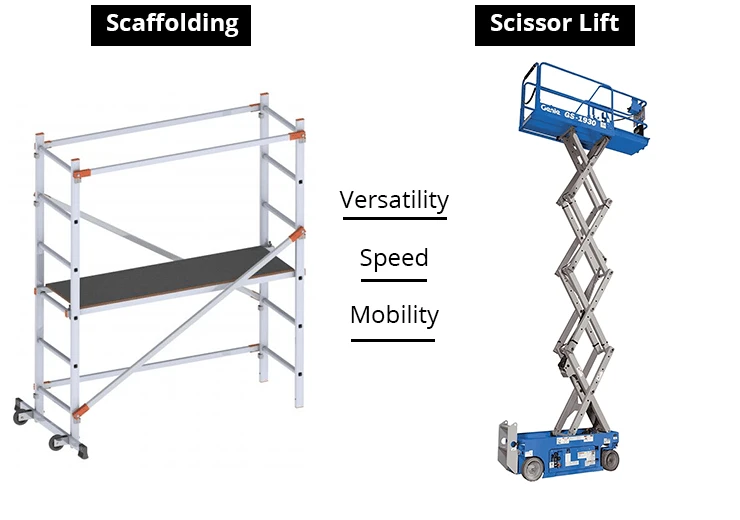 Whenever you are handling large projects, it is best to use scaffolding. For small to medium-sized jobs, it is advisable to hire a lift. Even though lifts might be expensive at the outset, you will get your money back quickly, considering the value of the service that these products offer. You will also be able to get more work down and earn more money without sacrificing personal safety. Scaffolding has its unique pros but not suitable if you only do small household projects. Here are the main differences between the two:
You cannot move a scaffolding once it is set up.
Scaffolding requires a longer time to set up.
You have to move everything around.
Scaffolds Cannot Move Once Set Up
If you check out a device such as the Genie GS-1930, you will see its main difference with scaffolding right away. All you have to do is press a button to move the scissor lift up and down or forwards and backward. However, once you have erected scaffolding, you cannot move it around. Even if you have a small one, you will need an army of weight lifters to move it a foot. Moreover, even if you are in a position to move it, you will have to get off the scaffold and remove all tools/equipment from it to handle the process safely. How much money do you think scaffolding can save you in a year?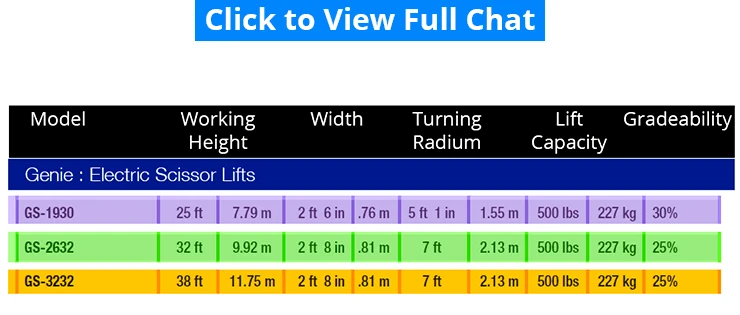 The Time It Takes To Build
When you are doing a small job or need to reach a short roof, do not waste many hours building scaffolding. Using scaffolding or hiring a professional company to do it for you is like flushing hard-earned cash down the toilet. Scaffolding not only requires a lot of time to set up but also requires a bit of effort to tear down after use. However, with a scissor lift, you will be able to handle such jobs effortlessly, saving you a lot of time. If you are a commercial contractor, you will also earn more money as you do not need a team of people to set up a scissor lift and will be able to handle many jobs over a short time.
Moving Everything Around
As far as productivity goes, scaffolding will limit your productivity as it takes a lot of time and effort to set up and use. Moreover, you will need a truck or a van to transport it, which is also frustrating. This is not the case with scissor lifts, which take 5 minutes to set up.
Video | Genie Scissor Lifts Overview
View the BROCHURE of the Genie Scissor Lift for a general overview of this self-propelled scissor lift.
Uses and Applications | Scissor Lifts
If you have a sturdy and flat working surface at home, you can use a scissor lift to do multiple jobs safely. They work well outdoors and indoors and support a range of jobs, including installation, construction, and maintenance. While different types are suitable for different jobs, here are few trusted models that make life easier: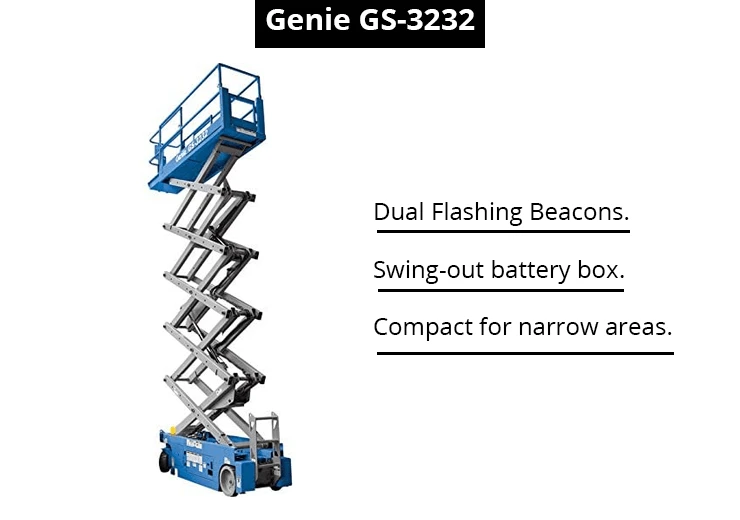 Installing, maintaining, and painting windows.
Safe and easy access to the electrical fixtures in homes.
Installing and maintaining ceiling panels.
Installing, unblocking, and repairing gutters.
Installing and tearing down drywall during renovation.
Repairing overhead sprinklers to boost the safety of homes.
Genie Industries | What Makes a Great Brand?
Genie Industries started its operations more than 50 years ago. Since then, the company has grown in strength and size to become one of the most dependable manufacturers of construction equipment. The word Genie comes from the fact the most of the company's customers thought that its first product was magical. Since then, the customer base of Genie has grown significantly, as the quality of the products in its arsenal has also improved. Millions of people cannot get enough of its products. However, when the economic downturn hit the USA, Terex bought Genie Industries.
Terex Corporation, like Genie, has a good history of manufacturing. However, by adding Genie to its portfolio, its reputation shot up even further. The company retained the Genie brand and proceeded to produce many stunning products, marketed under this name. In the scissor lift space, for instance, the Genie GS-1930 is one of the most recommended entry-level models for small businesses. Here are some of the best features and the benefits you will get from one:
Impressive Working Height
Eco-Friendly Electrical System
Extendable Roll-Out Platform
Adjustable Speed
Effortless to Maneuver
Easy to Move from one Job to Another
Information on its Diagnosis Provided
Lift Capacity: 500 lb. | Maximum height: 25 ft. | Turning radius: 5.1 feet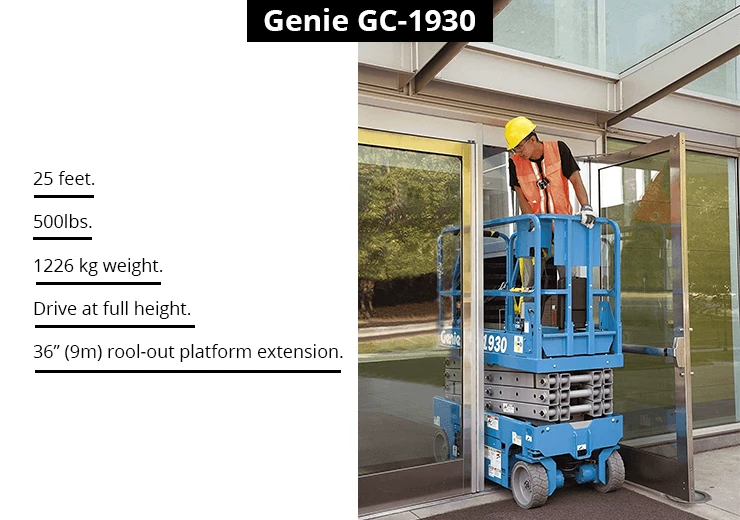 Features:
25 feet (7.79 inches) working height.
Up to 500 pounds (227 kilograms) lift capacity.
64 x 29-inch steel platform.
Folding rails have a half-height swing gate (CE).
36-inch (0.91 meters) extension deck.
Top speed of 0.5MPH fully extended.
Responsive onboard controls.
SmartLink – proportional drive and lift.
Universal smart charger (20 amperes).
Recessed charger receptacle on the rear.
Descent alarm (25% grade) and an hour meter.
On-board diagnostics for troubleshooting.
Platform control has a charge indicator.
Front-wheel drive with zero turning radius (inside).
Limited drive speed while elevated.
On-board diagnostic system (AC powered) on the platform.
Electric horn and attachment for lanyard.
Manual platform lowering valve.
Emergency stop at platform and ground controls.
Multiple disc brakes on rear wheels.
Hydraulic dynamic braking on the front wheel.
Non-marking, solid tires with pothole guards.
Tilt level sensor with a loud alarm.
Proportional controls for its drive's functions/
Download or View the MANUAL and SPECS BROCHURE for the Genie GS-1930.
Very Respectable Working Height
If you do construction projects at home or work, you might already know that Genie GS-1930 is a versatile product that works well in different heights. According to the manufacturer, the scissor lift has a respectable work height of around 25-feet. However, if you are the daring type, you can use it up to 31 feet without it toppling over. It will take you 16 seconds and 22 seconds to raise and lower this scissor lift. If you need a product that you can use at heights of over 31 feet, we have reviewed other good brands that are equally good.
Eco-Friendly Electrical Operation
Will you be working inside your home or any other building? If you need a scissor lift for reaching high areas, consider the Genie GS-1930. Even though adapted for the outdoors, you can use it indoors as well via an electrical connection. It has zero emissions, making it safe for the environment and humans. It is also super quiet, making it suitable for working in sensitive areas such as offices, hospitals, and schools. While it is advisable to operate Genie GS-1930 via an electric connection (AC), it supports DC power as well (6V 225 Ah batteries). Use the smart charger (20 amps) in the package to charge it. You can also use hydraulics (3.75 gallons) to lift its platform.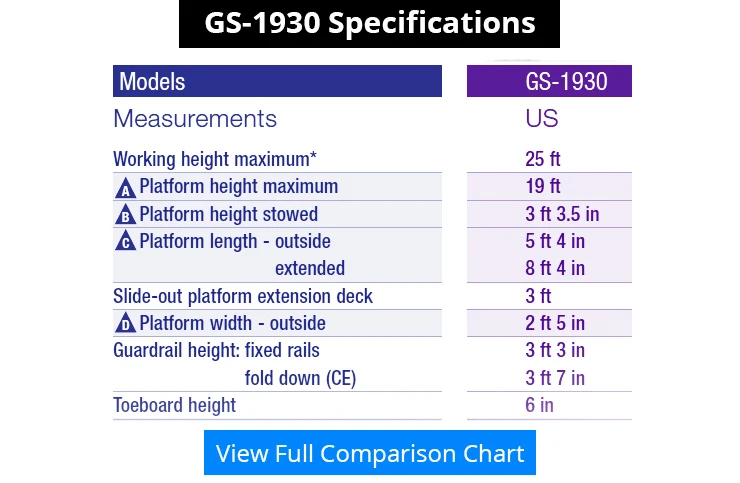 Platform Rollout Extension
The platform is around 5-foot and 4-inches long. However, if you include is foo-assisted rollout extension, you can add around 36-inches to its length. Therefore, while working, you will have enough room to walk and handle machineries such as chainsaws or nail guns safely. Moreover, you will be able to cover a long area without moving the light, saving a lot of time. Finally, the platform has rails that protect you from toppling over while in use. The device is safe.
Video | Genie GS-1930 — Technical Details
Speeding Up and Slowing Down
The machine has a couple of inbuilt safety features for controlling its speed. While the device is challenging to maneuver fully extended, it has a drive speed interlock that regulates its speed automatically to boost safety. Extended, you can ride it at a top speed of 0.8 km/h. While stowed, it can reach 4 km/h, five times the extended rate. Moreover, the lift has multiple inbuilt disc brakes on the slap, which ensure smoother and safer deceleration. Irrespective of your skill level, you will be able to use this product safely at home.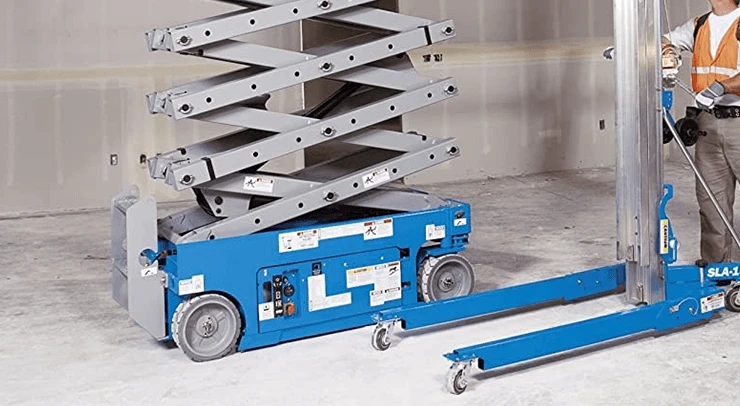 It is Easy to Drive Around
The Genie GS-1930 has innovative features that enable you to drive it around as you talk or communicate with colleagues at the same time. For instance, its zero turning radius is valuable, as it enables you to make a U-turn without moving forwards. The outside turning radius is approximately 5 feet and 1-inch, while its dual front wheels are not only stable but also boost its maneuverability further. You can drive this scissor jack from the bottom and top. The control panel is easy to use, while its emergency stop button boosts safety. You also get a responsive joystick that most people can use easily.
Important Stats to Know About
So far, we have reviewed general stuff such as the size of the platform and height of this scissor lift. Let us delve into the specifics to help you to understand the quality of the product on offer. First, the product measures around 2-feet and 6-inches wide. Therefore, you can transport it through small doors in buildings or homes on demand. The platform measures 5 feet 9 inches with the rails folded and have a maximum load capacity of around 500 pounds when folded. This drops to around 250 pounds whenever you are using this device fully extended. The proportional SmartLink lift system of this device is always stead and flat at different heights.
Video | Genie Scissor Lift Climbing Ramp
Moving It To and From Different Jobs
The Genie GS-1930 works the best of flat/level surfaces. However, you can also use it or move it at a gradient of around 25 degrees safely. Therefore, during packaging, you can drive it up and down ramps and drive it to your next job hassle-free. You can also drive it on ramps while entering and exiting buildings and extend it to cover a wide area and improve how you handle different projects. As long as your gradient is 25 degrees or less, you will have a promising experience with it as its responsive brakes prevent it from rolling backward. The solid wheels also have a good grip and non-slip rubber tires (non-marking) that do not damage sensitive floors.
How to Diagnose a Genie GS-1930
By now, you probably know that the Genie GS-1930 scissor jack is not a standard purchase. It costs a bit of money and requires a bit of maintenance to work seamlessly in most environments. Fortunately, because the product has superb onboard diagnostics, you will have an easier time troubleshooting/ maintaining it when needed. Do not attempt to service sensitive components such as the brake if you do not have the skill – leave this to a certified professional. However, for small physical and electrical issues, you can handle them safely.
Relative Height Chart: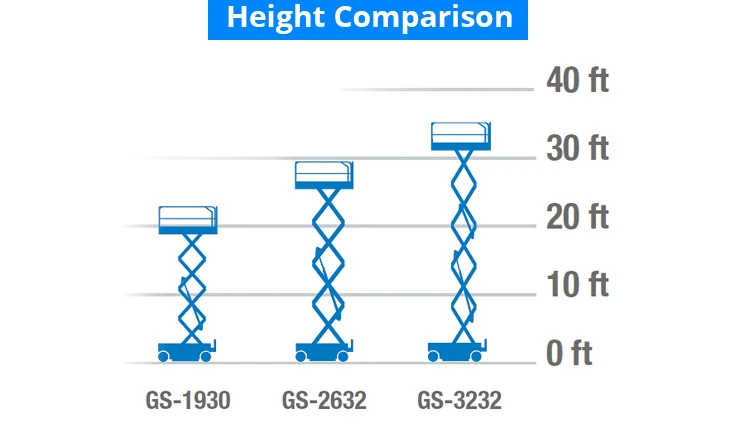 Crucial Safety Features on the Genie GS-1930
We have checked out the productivity of the Genie GS-1930 scissor lift in detail and recognized that it is cost-effective to own in small businesses. The other key attribute that makes it a top choice is its safety. Even though we have brushed through this herein, read on to learn about the feature in detail. If used correctly, Genie is very safe.
Easy to control from the platform and ground.
Emergency stop button on the control panels.
Its slip-resistant platform has folding rails.
Reaches a top speed of 0.8 km/h when elevated.
Electronic horn and descent alarm.
Manual lowering valve for the platform when stuck.
Low noise and emissions.
Tilt alarm and pothole guards.
Dual flashing beacons that boost your visibility.
A proportional lifting system boosts stability.
Secure disc brakes ensure smooth deceleration.
Solid non-marking tires with heavy-duty brakes.
Genie GS-2632 vs Genie GS-3232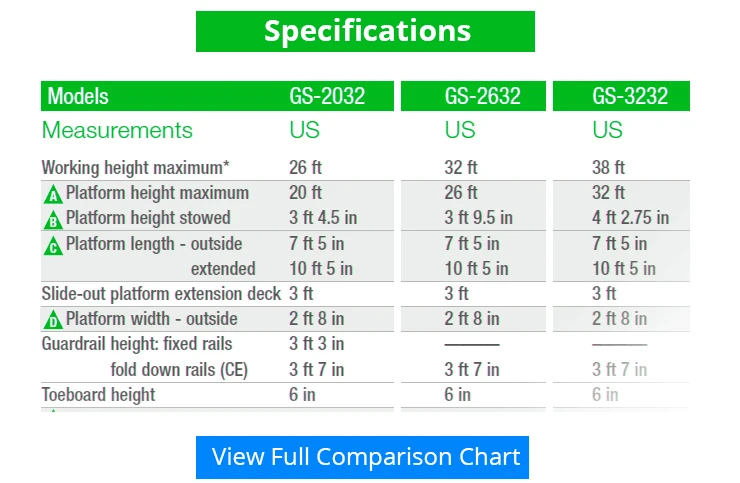 Genie GS-1930, like other similar products, has its share of cons. First, its 25-foot height might be a limitation for some people. If you work on sites positioned higher than this often, you might have a hard time using this device safely. If you work at such height occasionally, buying a scaffolding system might be a cheaper and better option for you. However, if you work at heights over 25 feet often, Genie has other admirable products that will satisfy your needs. The Genie GS-2632 and Genie GS-3232, for instance, will never let you down.
Genie GS-2632 —Working Height of 32 feet.
Genie GS-3232 —Working Height of 38 feet.
Both models differ slightly from the Genie GS-1930 scissor lift but are equally effective (if not better). Here are some of the differences:
Has a maximum height of 32 feet | Lift Capacity of 500 pounds | Turning radius of 7 feet.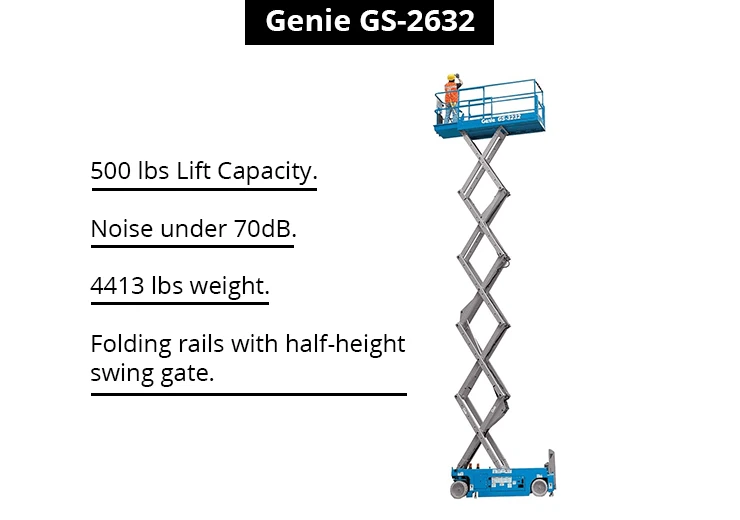 Genie GS-2632 — Major Differences:
Platform length is around 7-feet and 5-inches and has a 39-inch roll-out extension.
Reaches a top speed of 3.5 km/h (stowed and elevated).
Around 2-feet and 8-inches wide and therefore harder to squeeze through doors.
High capacity (4.5 gallons) hydraulic system.
Outside turning radius of 7 feet.
28/24 seconds to rain and lower the platform.
It has a half-height swing gate and folding rails as standard.
Video | Genie GS-2632
Features:
24-volt (DC) electric scissor lift with zero emissions.
39-inch (1 meter) roll-out platform extension.
High angle steering boosts comfort, safety, and maneuverability.
Folding rails and a half-height swing gate.
Universal smart charger (20 amperes).
Proportional controls (Learn more) with easy to use drive and lift functions.
On-board diagnostics for troubleshooting the scissor lift.
Robust disc brakes ensure smooth deceleration.
Emergency stop on ground and platform controls.
Long lasting and non-marking tires.
AC powered platform.
Documents for the Genie GS-2631:
Download or View the Genie GS-2632 slab scissor lift's MANUAL.
Download or View the SPECS BROCHURE for the GS-2632, GS-1930, and GS-3232.
Download or View the PARTS LIST.
Maximum height: 38 feet | Lift Capacity: 500 pounds | Turning radius: 7 feet.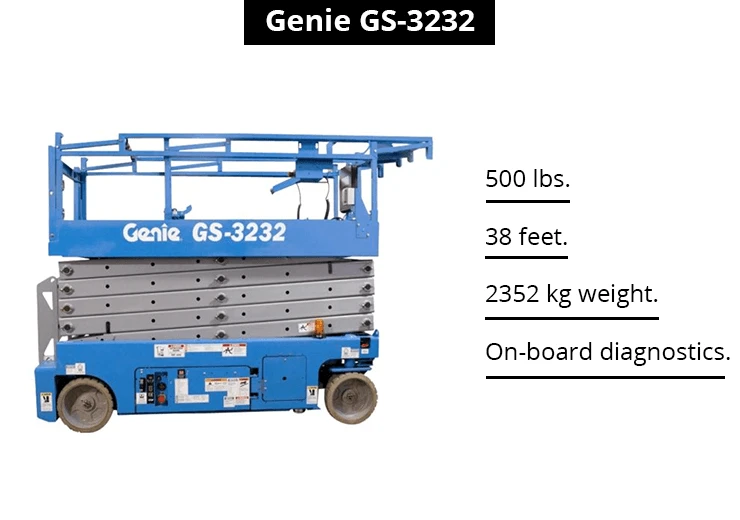 Genie GS-3232 — Major Differences:
Has a 7-feet and 5-inch platform with a 39-inch roll-out extension.
Reaches a top speed of 3.5 km/h (both stowed and raised).
Wide (2-feet and 8-inches) and therefore hard to fit through doors.
5-gallon hydraulic system.
Outside turning radius of 7-feet.
28/55 second lower/raise speed.
Has half-height swing gate and folding rails as stock.
A leveler triggers automatically when it tilts around 5 degrees.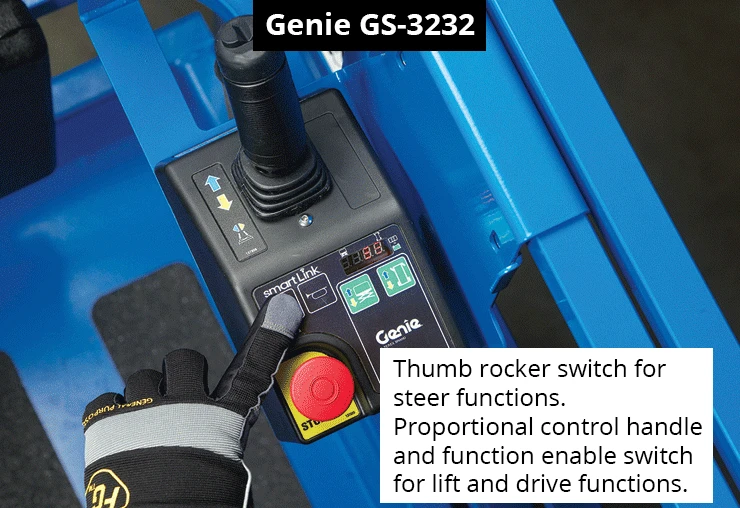 Features:
Its quiet electrical system has zero-emission making it good for working in all environments.
The front-wheel-drive system has zero inside turning radius, which boosts its maneuverability in open and tight spaces.
Automatic leveling hydraulic system turns on when the slope angle reaches five degrees.
Has a centered link stack at full elevation to boost its rigidity.
Forward-angled joystick (with Hall-effect) boosts accuracy and comfort while it is in use.
LED display window on the platform shows onboard diagnostics, battery level, and more.
Electronic control system supports most variable-speed DC motors.
The compact design has foldable guardrails. Therefore, you can pass it through most double and single doors effortlessly.
The long extension deck [3 feet (0.91 meters)] provides a sufficient working area for workers and their tools.
The swing-out stainless steel service trays ease access to your tools or equipment.
Documents for the Genie GS-3232:
Component Chart | Genie GS-3232 Slab Scissor Lift
You can find more information from this article: Genie Scissor Lifts.
Amazing Warranty + Buying Online
Nowadays, you do not have to leave your home or queue for hours to order a Genie GS-1930. The digital revolution has improved how people access and order product directly from their homes. Many stores maintain a detailed catalog of original products that you can browse from the comfort of your home and order without leaving the house. If you order from a reputable store, you get a full one-year warranty from the manufacturer. If you live in the United States (US), you can extend the warranty for up to five years. Genie has a responsive and welcoming team that will answer your questions and help you to get a replacement product if yours fails.
The Genie GS-1930 can boost the Success of your Businesses
If you cannot satisfy the demand for your services, it might be time to hire a team of employees to help you out. Buy the Genie GS-1930 as well as it will boost your productivity and help you to work at various heights safely. While the forefront cost is high, the product will pay for itself in a few months and make you a bit of profit as well. While such machines can streamline work output in all settings, they can never replace humans. It will help you to handle repair most jobs quicker but you still have to do the legwork.
Visit the Genie Industries site for the full product lineup.
VIDEO | Genie GS-3232 | Scissor Lift Detailed Overview