Adding anything new to something already well planned and existing can often be daunting. Typically, there is a fear of the two parts looking different enough not to feel like they belong anymore. Similarly, adding a garage to an existing home can be stressful too.
Obviously, you don't want your house's value to depreciate by a poorly planned garage extension. You want both parts of the house to work seamlessly to have the same harmony in terms of aesthetics and looks. With every new permanent extension, you will obviously need to plan out well.
Here's a complete guide to how to add a garage to an existing home.
Planning and Pre-steps
We cannot emphasize enough how important it is to plan your garage extension well. You don't want to wake up one day and get ahead with the job and then wake up the next day regretting it.
A garage can not only be used to store your vehicle but also provide additional spaces for other activities in which your house is too small to accommodate. Keeping all these in mind, here are few factors to consider when you want to add a garage to your existing home.
Laws and Regulations
The first step would be to look into the laws and regulations of your area or community. Look at property taxes, and see if an extension would have any effect on your annual taxes. Check the limitations of the area, and if you can really go ahead with your original plan. If all seems well, we can move onto the next step.
Finances
Of course, money would be an essential factor to consider. Plan your budget and stick with it. Look at the market rates and talk to experts for additional insights.
Typically, building a garage can cost a basic rate of $30-35 per square foot. You could choose a size according to that. For raising financing, you could either save up and have a capital investment or look into banks for loans or add the extension to your current mortgage, depending on whichever option is cheaper.
Size and Shape:
Now that you have an idea of how much it would cost, the next step would be to finalize what garage size you want.
Here, just doing whatever everyone else is doing is going to be a foolish move since, at the end of the day, the garage would be either used by you or your family. Considering your needs and necessities, choose your garage size wisely.
Attached or Detached:
Depending on the garage's size, you may also want to choose where you could build a detached or attached garage. Attached garages are usually more cost-efficient as they are being constructed with an already existing wall.
It also provided accessibility between your house and garage, making it a part of your home. However, compared to detached garages, there are not many options to enlarge the garage later on once you have settled on size now. Detached garages are also a good option if you want security and privacy as your first priority.
The lack of access provides well-needed privacy to your main house. It also keeps the house from the risk of gasoline fumes and carbon monoxide from the car (or cars) in your garage.
Professional vs. DIY:
Usually, handing the part of building the garage after planning is best left to the professionals. However, if you have the expertise, you could try to tackle the project on your own and save some money as well. The next section looks into the step by step method to help you build a garage on your own.
Steps on How to Make a Garage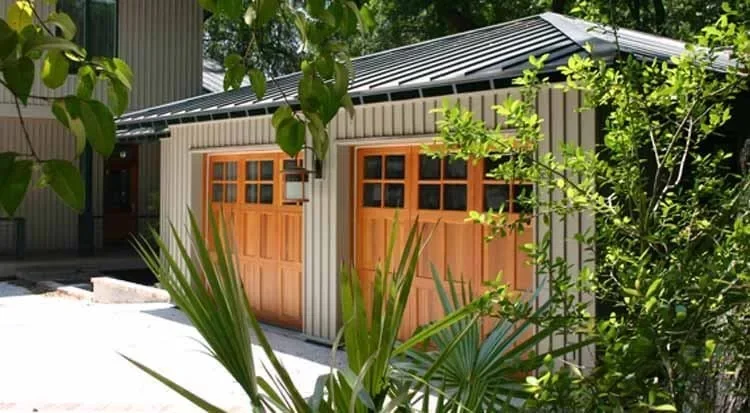 Let's go through the process of adding a garage to your home.
Step 1: Planning Your Garage
After evaluating the previous decisions, measure your available space, and create a sketch to help you build the garage. Start with planning the roof and the structure of the garage. You can take the help of an architect for professional insight if you are unsure about anything in this step.
Step 2: Foundation of Your Garage
In this step, you should get the building permit ready and the workers to help with the project. With any structure, we start with the foundation of the body, and this would be no different.
Measure out whether the ground the garage would be on is level as you would need to level it with gravels and cinder blocks if it's not. Dig foundations for the garage and pour concrete into supporting it.
Step 3: Creating the Structure
Create vertical frames for the structure with the carpenters for the walls. 2 inches by 12-inch lumber boards are great options for frames to support the walls. Engage experts to help you in this step for further assistance as the frames are the vital part to hold your garage standing.
You would go for horizontal roofing, or you could choose attic trusses for the roof frames. After the wall frames are done, with the help of equipment, help the attic trusses on top of the lumber boards. Prepare to keep plumbing and electrical lines in mind when you create the entire framework.
Step 4: Choosing the Materials
Choose either brick or masonry siding for the garage walls with high exterior grade particleboard or high exterior grade plywood for the roof. Get professional assistance with electricians and plumbers to fit electrical lights lines as well as plumbing lines within the garage.
This step is crucial as when the structure is ready and well made, you may not be able to include them later on. We would also advise against doing these yourselves. Last but not least, make sure to protect your garage against the elements of nature with proper insulation.
Step 5: Final Touches
For the final touches, consider painting the garage's exterior so that it looks similar to your existing home. Paint at least two or three coats to have effective preservation with insulation grade enamel paints.
You could fit in a functioning swinging door with a metal sliding door for the main car way. Finally, finish the garage's landing slope and install a heater in the garage if you would be using it apart from just storing your car.
Conclusion
Making a permanent change like adding a garage to an existing home is not an easy decision. Thus, we urge you to follow the pre-planning well enough before you consider the actual tasks. We hope these guidelines helped you gain insight on how to add a garage to an existing home.