Just like solid and off-white, grey is also among the popular colors that are widely chosen for painting the walls. The color goes exceptionally well with most of the furniture, and it also creates a neutral background for hanging stuff on the walls.
In that sense, most of the interiors will have grey shades that range from soft dove grays to deep charcoal ones.
However, even though you will not have to worry about the furniture that much, the question that what curtains go with grey walls might run on the back of your head. Well, you will not have to worry about that too because we are here to answer that to you.
Curtains For Warm Gray Walls
Warm gray seems to be the most popular one among all the shades of gray for walls. Here is a list of the curtains that will blend well with that:
1. Green Curtains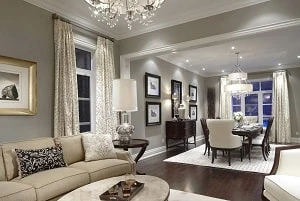 Warm gray colors have an undertone of red in them, and green can complement that undertone quite well. The olive green curtains will create a natural contrast with the walls that have this color.
Other than that, for the darker shades of warm gray, we would recommend you to opt for the mint-green sheer curtains. Those will let you achieve an unexpected freshness in the room.
Besides, green-gray colors and dark green will make your room look more inviting if you pair that up with bright-looking green pillows and other green upholsteries.
2. Orange-Red, Red Curtains
Red harmonizes well with warm gray colors as they are from the same hue family. Apart from that, orange-red ones that have a tieback will blend quite well with the wooden floors. Moreover, even if you do not have a wooden floor, they will go well with regular tiled floors.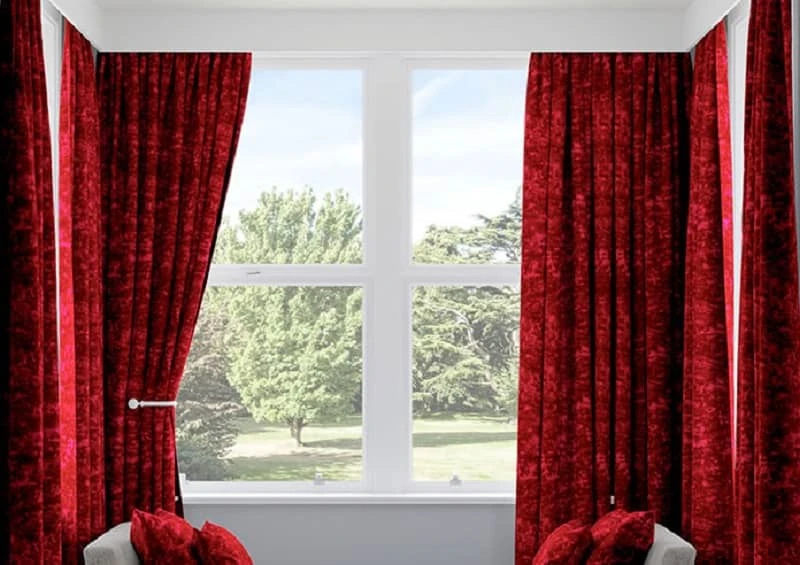 3. Coral And Plum Curtains
The coral curtains will compliment warm gray walls exceptionally well. In fact, they will go along with all the shades of the color. So if you are not sure about the undertone of the color, you can safely opt for this one. Otherwise, if your walls have a distinct purple undertone, you can opt for the plum curtains.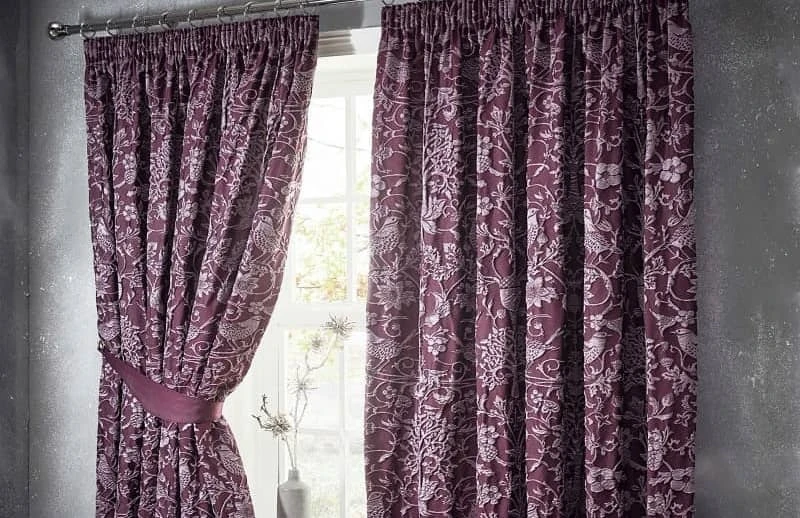 Curtains For Blue Gray Walls
Besides the warm gray color, the blue-gray ones have also picked up a lot of attention lately. It is now being used for a plethora of apartments, studios, and other types of rooms. However, we could not find many of the options for this one. We looked through a lot of curtains for this color and found only two. They are:
1. Burnt Sienna Curtains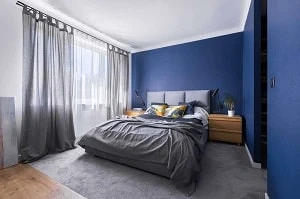 The blue-gray paints that you are going to find in the market for painting walls will have a mixture of purple-blue and burnt sienna in it. That means the burnt sienna curtains are going to blend with these walls without any issues. The tab curtain panels that have geometric designs are the ones we are going to recommend in this regard.
At the same time, if you have an orange-brown wooden floor, these will mix well with that too. Likewise, these curtains will go well with warm-toned wood, orange-gold frames, and aged bronze light furniture also.
2. Light Green Curtains
As we mentioned above, blue-gray paints have a mixture of purple-blue and burnt sienna in them. And the purple-blue will get complimented with light green colored curtains quite well. Other than that, you can also opt for the green curtains that have a purplish undertone to them. They will also go well with this wall color.
Curtains For Green Gray Walls
Green-gray color is also picked up for the interior walls quite a lot. They add an aesthetic touch to the rooms and can make them unique and more inviting. The curtains that will mix well with this type of walls are:
1. Red and Orange-Brown Curtains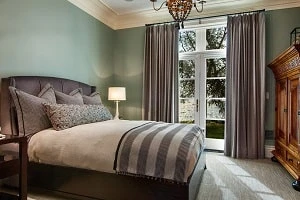 Green-gray walls have an undertone of red, which means red curtains will go well with these walls. If you add a red accent wooden chairs in the room, you will be able to enhance the aesthetics of the room substantially. The combination that we would suggest in this case is greenish-silver curtain rods, light frames, and fixtures. These will make your rooms more inviting.
Furthermore, you can also venture into the range of the olive tones and green-gray curtains, which will establish a complementary interplay.
2. Coral Curtains
If the red and orange-red is not your thing, you can opt for the coral ones. These are a good alternative to those. Dark plum curtains with these walls will create a well-balanced color scheme. If you can get antique black furniture in the room, you will be able to make your rooms look elegant.
Tone on Tone
Another style of curtains that most people opt for in the case of curtains is the tone-on-tone effect. In that case, light blue-gray color is the one that you should opt for in the first case. The curtains that have the same tone, but with contrasting patterns will make the rooms stand out the most.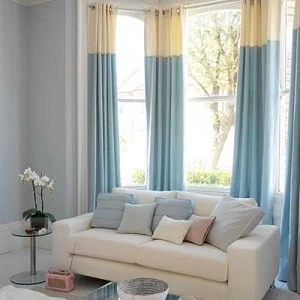 Accordingly, the floral curtains that feature a glimmering fabric will merge well with blue-gray walls. They will make a sophisticated transition between the walls and the windows, which will make your rooms more inviting.
Over and above, antique black furniture will provide a tonal contrast, and those are the ones that you should shoot for if you want a cool-tone room environment. On the other hand, layered green-gray curtains will go well with greenish-silver curtain frames, which will provide an excellent looking backdrop for the windows.
Overall, you will also be able to venture through the tone-on-tone effect with the orange-brown, coral, plum, warm-gray, red, bronze curtains.
Final Words
Thinking about what curtains go with grey walls is probably the first thing people will do when they opt for a grey color for the interior walls. And we hope that we were able to answer that to you.
With that, we would like to conclude here by wishing you good luck and hoping that your rooms look aesthetic and the curtains that you choose blends well with the walls.