A dirty floor can easily become a proper breeding ground for lice, bacteria, mold, and fungi. ( And perhaps a new foul species or two! )
If left untreated, the dirt and other pollutants in your carpets or on your hard floors will contaminate the air, make your socks dirty, and overall present a real biohazard for all the people living inside that general area.
Now, there are several ways to take care of this peril. You can get a broom, a bottle of some chemical solution and then perform tough manual labor for hours on end until you get rid of all the dirt. Or, if you'd like to save some time and also make your cleaning tasks easier to do and even somewhat enjoyable, you can get a well-built suction vacuum cleaner !
These contraptions are specifically designed to suck in all the particles (or, at least the majority of the particles) that can be found on your floors, and thus help you sanitize the general area you're cleaning quickly and efficiently.
No need to mix in different detergents and chemicals with waters or get mops and brooms onboard. All you need to do is push a button or two, get moving with it to cover the area you want to clean, and that's it!
Top Picks : 5 Best Suction Vacuum Cleaners
Best Suction Vacuum Cleaners A Brief Buyer's Guide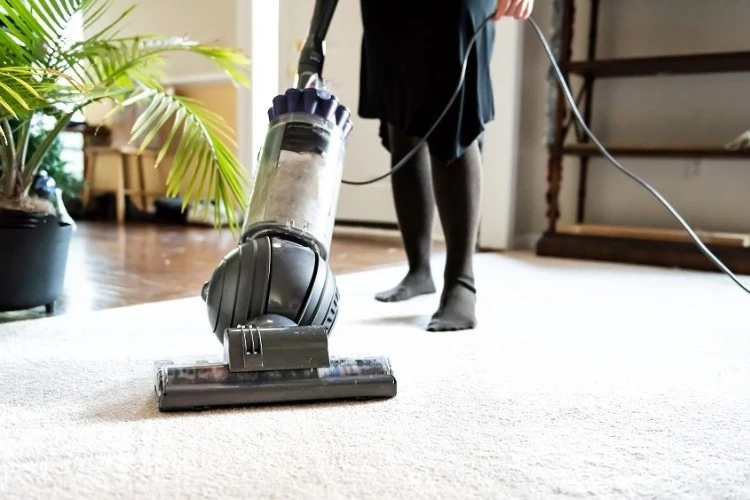 Suction
Arguably the most important parameter of a vacuum cleaner is its ability to suck up dirt, lice, and any other pollutants that may be laying around on the floor.
The equation is quite simple - the more suction power your vacuum cleaner has, the easier it will pick up these pieces of debris off the surface. A layman's way of telling that a vacuum cleaner has high suction power would be to turn it on, get the attachment head close to your carpet, and then if the carpet gets sucked right into it, it means you've got a powerful vacuum cleaner on your hands.
If you want to learn your vacuum cleaner's suction power in more of a professional's terms - take a look at its rating issued by the manufacturer. This value is often expressed in Watts, CFM (cubic feet per minute), Amps, or AW (Air Watts). The higher this value, the more power a vacuum cleaner wields - as simple as that!
'Bagged' vs. Canister
There are two main types of vacuum cleaners when it comes to the way they store the dirty stuff they pick up.
You've got your 'bagged' vacuums and then a special breed of these cleaning contraptions, which have a canister instead of a bag.
Although the cleaning results don't differ that much between these two sorts, it'd be worth mentioning that the 'bagged' models come with a bag, which you have to change every time it gets full, while the canister ones enable you to simply empty the canister, plop it back on, and then proceed to clean further.
The flipside to the canister models would be that you need to empty up the canister quite often. As for the 'bagged' ones, their Achilles' heel is the fact that you'll have to buy new bags in the future.
Corded vs. Cordless
In the department of the power supply, all vacuum cleaners belong to either of the two categories - corded or cordless.
As you can probably tell by their names, corded models are powered via a power cord, which you plug into your nearest electrical outlet. The cordless models, on the other hand, are powered by a battery. These power units are built in the vacuum cleaner itself and need to be recharged before every use.
The main difference between the two would be that corded models can run for hours on end without ever needed a recharge, while the cordless ones need to be recharged every half an hour to forty minutes on average.
Also, cordless models give you more maneuverability, while the corded ones' operational area is limited by the cord.
Filters
Filters are an essential part of every vacuum cleaner.
They ensure that the air that's let out of the end of the cleaner is clean enough for people to breathe in, or at least mostly devoid of harmful bacteria, mold, or dust particles.
It goes without saying, of course, that, the more advanced and elaborate the filter, the better protection you'll receive from it.
One of the best and certainly best well-known filter is the HEPA filter. HEPA stands for ' high-efficiency particulate air' , which is a name that highlights its effectiveness in getting rid of harmful pollution particles as the vacuum cleaner does its job.
Generally speaking, filters are important on a vacuum cleaner, because they'll allow you to clean large patches of your apartment, for example, without worrying about the dust flying everywhere and having to hold your windows open for an eternity after you've finished vacuuming.
Attachments
There's scarcely a household appliance that is better well suited for various attachments as your typical vacuum cleaner is.
Whether it's carpet endings, specially-designed squeegees, sponges, car seat attachments, hard floor mops, or scrubs with tough bristles to take care of a variety of carpets, vacuum cleaner attachments come in all shapes and sizes.
Indeed, there are models out there that come with no less than 18 different attachments! That's enough to take care of your entire house AND your car!
So, if you want to save some money and don't really require elaborate attachments, buy a model without any additional endings. If you have a large household with a variety of different surfaces that need cleaning, by all means - take a look at a model with a good set of attachments!
Top 5 Best Suction Vacuum Cleaners
1. Bissell Zing Canister Bagless Vacuum Cleaner Review
Coming from Bissell, a company well-known for its vacuum cleaner manufacturing prowess, so to speak, this Zing canister model can be a perfect solution for a person in need of a simple-to-use and effective cleaning contraption.
As you can see from its name, this model does not require any bags, meaning that all you need to do to get rid of the accumulated dirt in its canister is simply remove it, empty it out, and then pop it back in! Also, canisters are well-known for being easy to clean, so even though you'll be cleaning them quite often, at least it won't be a pain in the neck.
Thanks to its special 'Cyclonic action' feature, this Bissell model possesses high suction power, meaning that it will be able to get to even the most stubborn dust particles stuck in your carpet. With one of these contraptions on your side, you can rest assured your carpets will always receive a thorough, detailed cleaning. ( If you're willing to put in the time and effort, of course. )
Pros:
Powerful suction action enables you a thorough cleaning
9 Amps power rating
Capable of cleaning multiple surfaces ( carpets as well as hard floors )
Comes with two filters ( DIRT cup filter, and Post-Motor filter )
Lengthy 15-foot cord
Cons:
The telescoping extension hose can slip out of its attachment quite easily
The vacuum head is fairly thick, so it may not fit under some pieces of furniture

2. Shark Navigator Lift-Away Deluxe Upright Vacuum Review
If you're on a lookout for an upright vacuum cleaner model that's powerful but also easy to use and clean, look no further than this Navigator Lift-Away model coming from Shark. Featuring the Shark's staple lift-away design, this vacuum cleaner is probably the best model currently on the market when it comes to getting rid of the accumulated dirt in its canister.
All you need to do pretty much amounts to pushing a button and then removing the canister by gently lifting it upwards - hence its name. Once you've done that, simply carry the befouled piece of plastic and empty it out in the rubbish bin. To make your vacuum cleaner operation again, simply pop the detached unit back in its place, and restart the device again.
At the back end of this vacuum cleaner, there's a powerful HEPA filter. According to the manufacturers of this filter, it's capable of getting rid of up to 99.9 % of all allergens and pollutants before the air leaves the vacuum cleaner. Pretty impressive, huh?
Pros:
Comes a specialized lift-away design feature typical of Shark appliances
Might HEPA filter can get rid of up to 99.9 % of all allergens and pollutants off your floor
Swivel steering for better control during cleaning
Dust cup capacity - 12 quarts
Comes with a pet power brush, a dusting brush, and a crevice tool
Cons:
A bit bulky
Some users find the canister a bit small
A bit bulky
Some users find the canister a bit small ( perhaps not a good option for larger households )

3. Dirt Devil Razor Pet Upright Vacuum Review
With an appearance of a sci-fi contraption for cleaning the floors on a space ship, this upright vacuum cleaner from Dirt Devil represents a great model for taking care of pet hair as well as any other sort of mess that can be found on your floor.
Although it comes with a lengthy hose, the folks at Dirt Devil proudly assert that this length comes to no loss of suction power.The hose itself is 10 feet long, offering you an extended hose length for cleaning up those hard-to-reach areas in your home.
Other than this, you'll get a removable cleaning wand you can use to tackle some of the smaller messes. Its main cleaning weapon, so to speak, comes in the shape of the so-called SPIN4PRO Premium brush roll, enabling you to clean both carpets and hard floors.
Pros:
Swivel steering for easier handling
2-in-1 crevice tool
Dusting and upholstery tool
Long hose gives you plenty of reaches
Removable cleaning wand
Cons:
Fairly loud
Long hairs can get entangled in the bristles of the brush

4. Bissell Power Edge Pet Hardwood Floor Bagless Cleaner Review
Featuring a simple design and a compact build, this model from Bissell is a great contraption for taking care of all kinds of messes in your house. Whether it's some spilled M&M's, pet hairs, or just plain dust, this vacuum cleaner will help you get rid of them as quickly as you can say ' Jack Robinson '.
The thing that makes this model different from similar models is the fact that this one offers you a uniquely-designed V-shaped cleaning path. The shape itself directs the dust and dirt particles towards its middle, ensuring that everything in its path will be duly picked up and store in its dust canister.
Speaking of the devil! This model comes with a dust canister instead of a bag, so the good news is that you won't have to buy any additional bags to make it work. Of course, you will have to empty it a bit more often than you would a 'bagged' model, but then again that's the trade-off you're facing - either saving money or having more convenience.
Pros:
Unique, V-shaped cleaning path
A lengthy, 20-foot power cord
Does not come with a hose
A power rating of 6 Amps
Comes with rubber squeegees
Cons:
Not suitable for rugs
The V-shaped head, while great most of the time, can get in the way of reaching certain areas

5. Miele Pure Suction Canister Vacuum Review
A modern-looking appliance for a modern-looking home. This Miele Pure Suction vacuum cleaner does wonder when it comes to hair removal, and it also performs excellently on a variety of different surfaces.
Thanks to its air clean sealed system, this model can easily remove the excess hair and other unwanted particles and pollutants off your floor. The secret to its efficiency lays in its turbo brush, which penetrates deep into the fibers of your carpet and extracts the dirt and dust quickly and efficiently.
To give you several cleaning options to choose from, the folks at Miele installed no less than 6 different speeds in this vacuum cleaner. The lower speeds can be great for taking care of hard floors, while the higher ones can be used to tackle stubborn messes on the hard floors!
Pros:
Great for hair removal
6-speed Vortex motor
The head swivels at 360°
3.5-liter dust bag volume
Comes with a telescopic suction wand
Floor combination nozzle
Cons:
Not that great for carpets
A bit expensive

All things considered, no matter how hard you try, your household floors are always going to end up dirty this way or the other. To battle this, getting a vacuum cleaner with excellent suction properties seems to be the best way forward. We hope this article helped you find a model that suits your needs thoroughly and wish you a merry and hassle-free purchase!
Buy on Etsy
Robot Vacuum Cleaner, 2600Pa Strong Suction Power Robotic Vacuums, WiFi Connected, App - Walmart Link
BISSELL PowerGlide Pet Slim Corded Vacuum, 3070 - Walmart Link
Kenmore BC7005 Pet Friendly Crossover Bagged HEPA Canister Vacuum Cleaner 2-Motor Power - Walmart Link
Miele, Graphite Grey Classic C1 Pure Suction Canister Vacuum Cleaner - Walmart Link
OKP K3 Robot Vacuum and Mop, Robot Vacuum with Self-Charging and 2000pa Strong - Walmart Link
Dreametech T10 Cordless Vacuum Cleaner, Long Runtime, 20Kpa Powerful Suction Stick Vacuum - Walmart Link
eufy by Anker, BoostIQ RoboVac 30C, Robot Vacuum Cleaner, Wi-Fi, Super-Thin, 1500Pa - Walmart Link
Buy on eBay
Robot Vacuum Cleaner, 2600Pa Strong Suction Power Robotic Vacuums, WiFi Connected, App - eBay Link
BISSELL PowerGlide Pet Slim Corded Vacuum, 3070 - eBay Link
Kenmore BC7005 Pet Friendly Crossover Bagged HEPA Canister Vacuum Cleaner 2-Motor Power - eBay Link
Miele, Graphite Grey Classic C1 Pure Suction Canister Vacuum Cleaner - eBay Link
OKP K3 Robot Vacuum and Mop, Robot Vacuum with Self-Charging and 2000pa Strong - eBay Link
Dreametech T10 Cordless Vacuum Cleaner, Long Runtime, 20Kpa Powerful Suction Stick Vacuum - eBay Link
eufy by Anker, BoostIQ RoboVac 30C, Robot Vacuum Cleaner, Wi-Fi, Super-Thin, 1500Pa - eBay Link