Whether big or small, with shower or without one, your bathroom represents a special room in your home reserved for hygiene, cleanliness, and improved quality of life, generally speaking.
Just try going a couple of days without one and you'll see exactly how important these rooms are in our lives. Whether it's taking a shower, visiting 'the throne', or simply washing your teeth, it's in the bathroom that our day starts!
Now, the decor of this room is a question that has bugged many a designer in the past. Should it be minimalistic and simply to the point of serving its purpose, or should it be elaborate so that it represents a place of enjoyment and relaxation?
Well, a big part of the whole vibe of your bathroom, so to speak, has got a lot to do with its flooring. In this article, we'll talk about the options you have when it comes to covering the floor surface of your bathroom, as well as describe different flooring solutions in more detail so that you can have a clearer picture of what you're working with in case you're planning on renovating.
Right then, without further ado, here's the deal.
Type Of Bathroom Flooring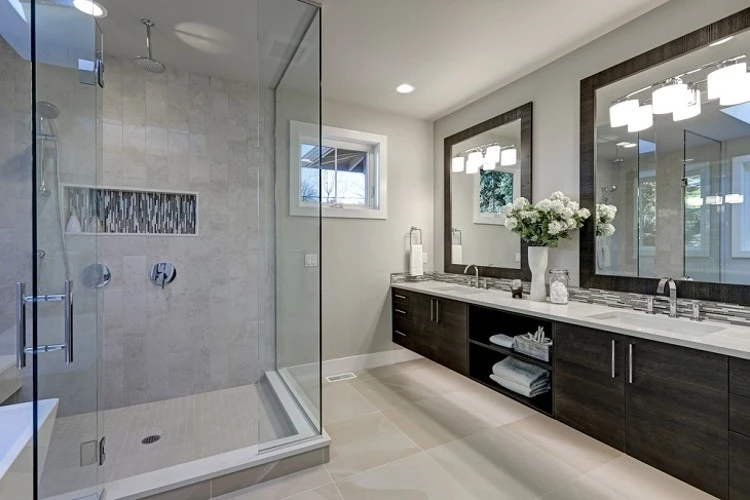 1. Vinyl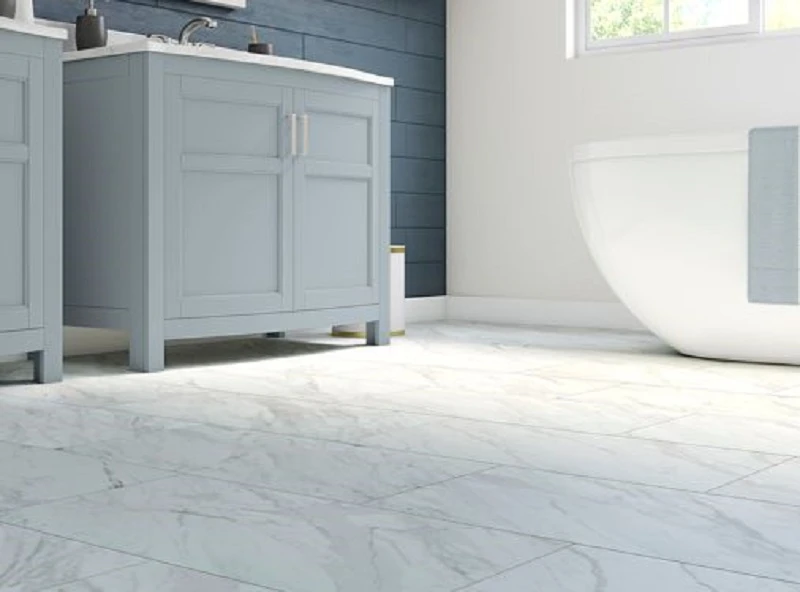 Well-known for its moisture-resisting properties, vinyl is a material that lends itself perfectly for purposes of covering your bathroom floor. Since toilets and bathrooms, in general, are the rooms with probably the highest water output, so to speak, a flooring option that can sustain a lot of moisture is always a safe bet.
Whether in the form of steam or water puddles that can form on the floor, moisture will inevitably come in contact with the bathroom floor sooner or later, so ensuring you're safe against it is a must. Vinyl flooring comes in three main shapes – sheet vinyl, plank vinyl, and tile vinyl. Whatever option you decide to go for, you can rest assured that it will be able to resist moisture very well indeed.
(Also, a great thing about vinyl is that it can come in a wide variety of shapes, sizes, and colors, so there are plenty of combinations to choose from!)
2. Ceramic Tile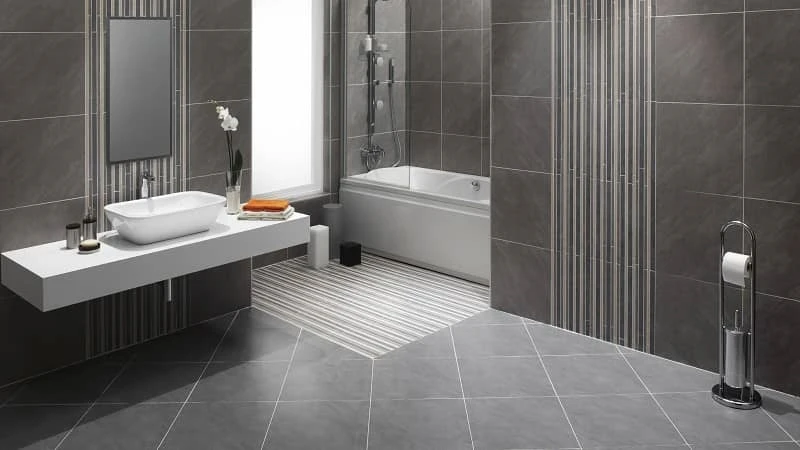 Another material that does excellently when pitched against prolonged water exposure would be ceramic. (Although, to be fair – most materials on this list do well when it comes to moisture resistance.)
Anyway, since it's arguably the most widespread form of bathroom flooring, chances are – you've probably already seen ceramic tiles in some of the bathrooms you've entered. They boast a smooth appearance on the outside but are actually quite tough and durable when it comes to their inner structure.
Also, ceramics leave plenty of room for different color and shape combinations, so if you choose to go down the ceramic road, so to speak, you'll have plenty of interesting colorful options to look at. On top of that, many manufacturers make ceramic tiles specifically for bathrooms, so there are a lot of premade ceramic tile models out here on the market already!
3. Porcelain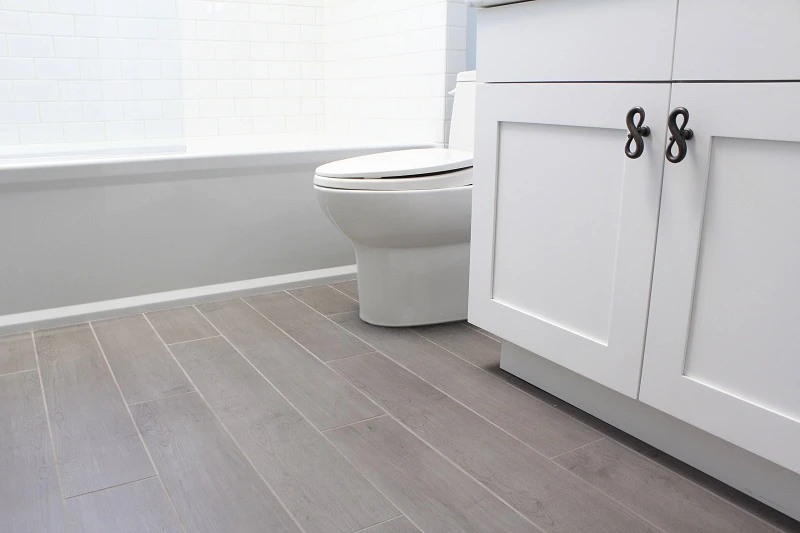 Usually, the firsts mental image you get upon hearing the word 'porcelain' is some of those Chinese pottery structures from ancient dynasties. Now, other than magnificent teakettles and flower vases you might have seen already, it turns out that this material is actually pretty good for bathroom flooring, as well.
Other than its favorable looks and excellent anti-moisture properties, porcelain boasts another attractive feature that may be interesting to people looking to renovate their bathrooms – it's quite cheap. Standing roughly in the same venue with vinyl when it comes to their price, this material can be a perfect choice for people who are looking for a smooth appearance and anti-moisture properties – for an affordable price.
4. Concrete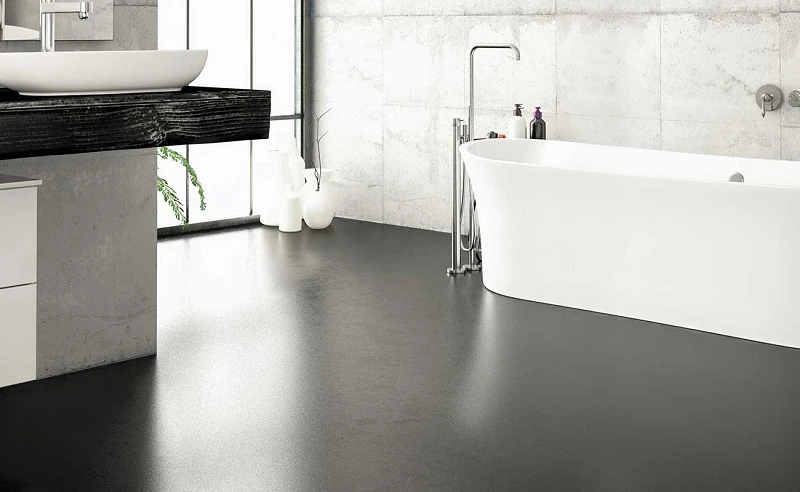 Although concrete does not really sound like the fanciest of materials, it still can be a good solution thanks to its durability. If it's made out of concrete, you can rest assured it won't break any time soon. Also, while this material does have its critics when it comes to its looks, modern-day versions of concrete can actually look quite attractive for a right set of eyes.
If it's well made and smoothened out, a concrete floor can give away the impression of an industrial-style flooring that will be able to withstand a nuclear disaster if necessary. Of course, it goes without saying that concrete, like many of its counterparts in the department of bathroom flooring, boasts excellent water resistance. Plus, it's a well-renown material that can survive scratches, bumps, dents, you name it!
Bottom line, if you are alright with its looks – you won't need to worry about its other properties.
5. Recycled Glass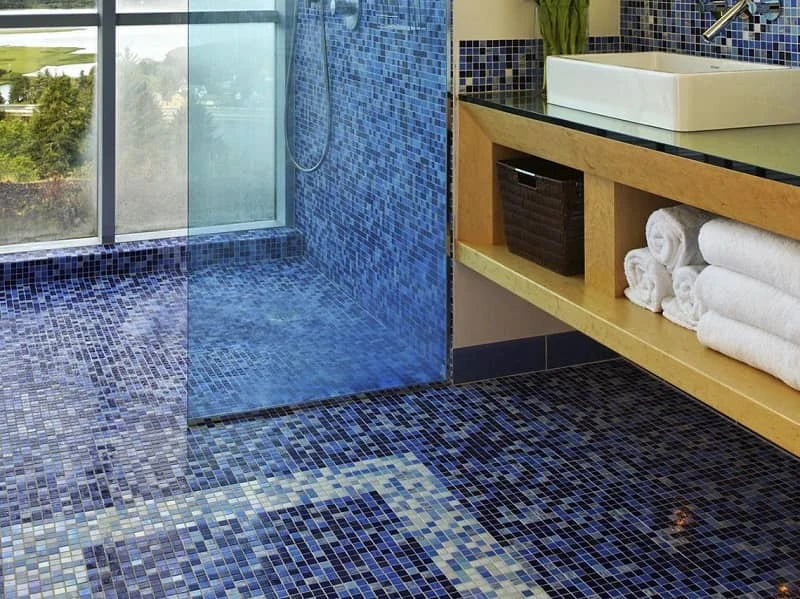 Fancy walking all over broken glass shards? It may sound rough, but it's completely safe! The thing is – this form of glass, when installed in combination with specialized resin, will be able to withstand moisture and is, of course, perfectly safe to walk on.
Another attractive property of glass-based floors is their price. Since the main material used in this combination of glass and resin is, well – glass, you won't have to worry about astronomical prices. What's more, as you are well aware, the glass comes in a wide variety of colors, so you can pick and choose different combinations to your heart's content. The result is a beautiful, sparkly floor that you'll love to walk all over! What's not to love here?
6. Pebble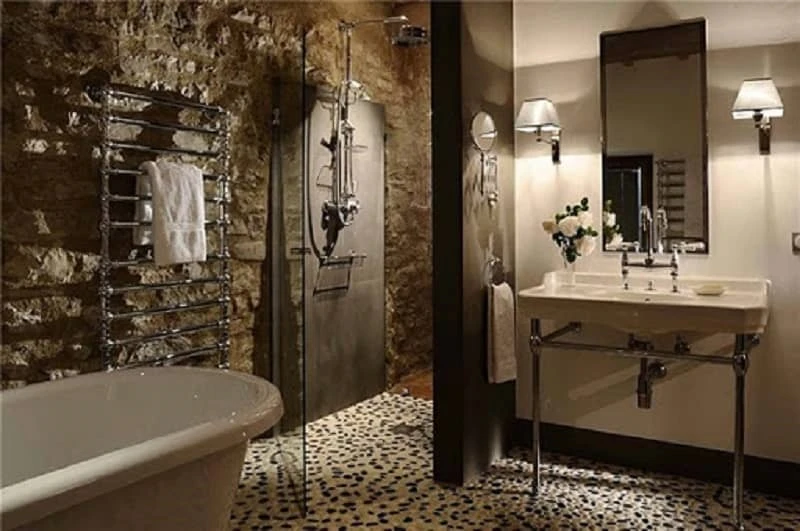 One other material aside from glass that can be found in abundance and that does wonders when it comes to flooring options would be – pebble. Typically installed in spas and saunas for its appearance, these tiny rotund stones make for a perfect combination of toughness, stability, and appearance.
The downside to pebble is that it can cost an arm and a leg. The thing is, while pebbles are easily and commonly found literally everywhere, getting the ones that are suitable for flooring can be somewhat of a tough task. Also, pebble floors require more grout to keep them all together, which would be another minus.
All in all, if you have the dough and are attracted to modern-looking, sauna-like rooms, opting for pebble as your material of choice is a way to go!
7. Rubber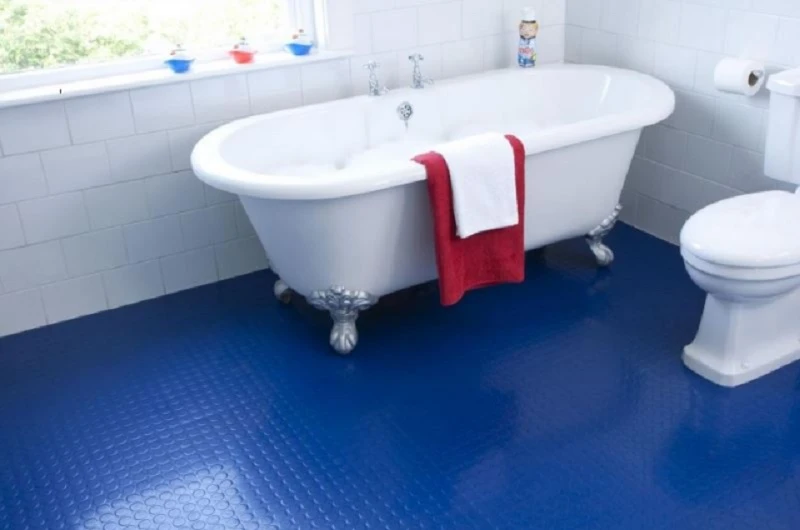 If you're a sort of person that likes the way that swimming pool rubber feels underneath your feet as you approach the jumping board, we've got good news for ya! Rubber, a similar sort they use for swimming pools can be used for covering your bathroom floor!
All you need to do to make this happen is get some rubber tiles (the most common shape rubber flooring is sold as) and arrange it to your liking all across your bathroom floor. It goes without saying that the rubber has excellent anti-moisture properties, so you won't have to worry about any water sneaking between the seams or any other funny business, so to speak.
8. Cork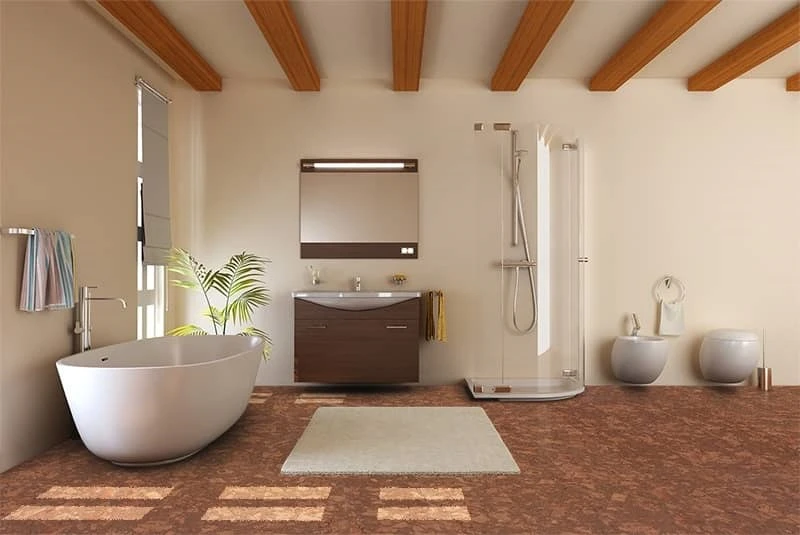 Cork is a soft sort of wood that you've probably already seen used for wine bottle plugs. This is the case for two reasons: 1) it's malleable enough to be squeezed into a bottle without breaking or damaging the bottle itself, and more importantly, 2) it prevents liquid from coming out of it.
These same properties are what makes cork as a material an excellent choice for bathroom flooring. Its water-resistant properties will ensure that it won't rot (as other wooden structures would) over time, and it's softness feel amazing beneath your feet as you walk around your bathroom. Plus, it's woody appearance will make you feel as though you're onboard a pirate ship of yore!
In conclusion, your bathroom floor represents a canvas onto which you can attach a wide variety of materials that will make this room look unique, feel more relaxing, and easier to clean! We hope you found this article helpful and wish you plenty of luck finding your perfect bathroom flooring option.