With many companies releasing pool cleaners by the day, it is hard to keep up with the new advanced model available in stores. The Hayward TriVac 500 and the TriVac 700, for instance, are new entrants that have taken over this niche by storm. They have durable and feature-rich designs that keep pool water fresh with little effort from homeowners. However, because they are relatively untested, only time will tell whether the Hayward TriVac 500 (& 700)can hang with brands such as Aquanaut 200 and Aquanaut 400.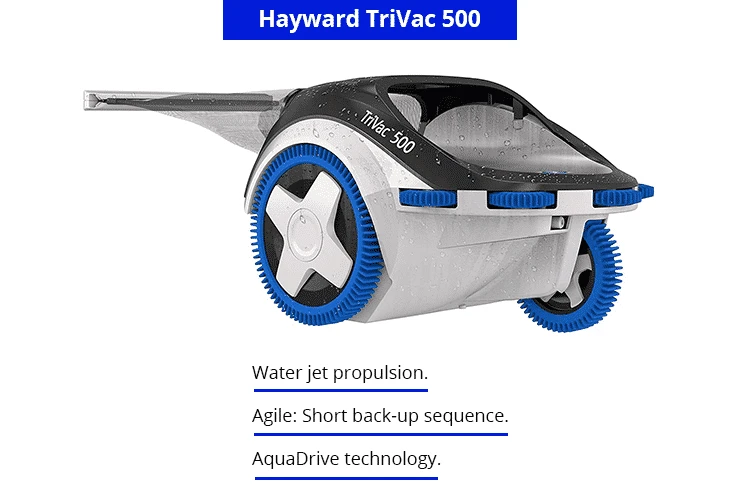 Read the full press release from Hayward's PR department to have an idea of what to expect. The article will enlighten you on this product and help you to establish whether Hayward TriVac pressure cleaners are for you or not.
Meet the Hayward TriVac 500…
Here are some Features of TriVac Pool Cleaners:
You can get two models offline and online – the TriVac 700 has a versatile design with easy-access dials for activating a Patented Top Skimming Mode that clears floating debris or a Wall/Bottom Mode that cleans your pool's floor, coves, and walls. However, with the TriVac 500 model, you only get the bottom Bottom/Wall Mode.
Patented AquaDrive technology enables it to clean big pools seamlessly
Has a back-up sequence technology that shortens cleaning time.
A wide vacuum inlet and high-pressure venturi jets pick up and clean larger debris.
Wheels have low friction bearings that protect pool surfaces from accelerated wear and tear.
Extra-large debris bag (patented) has a unique high-capacity float that traps significantly more material while requiring less maintenance.
A powerful sweep hose boosts its coverage of pools by stirring debris in corners and other hard-to-reach areas for easier cleanup.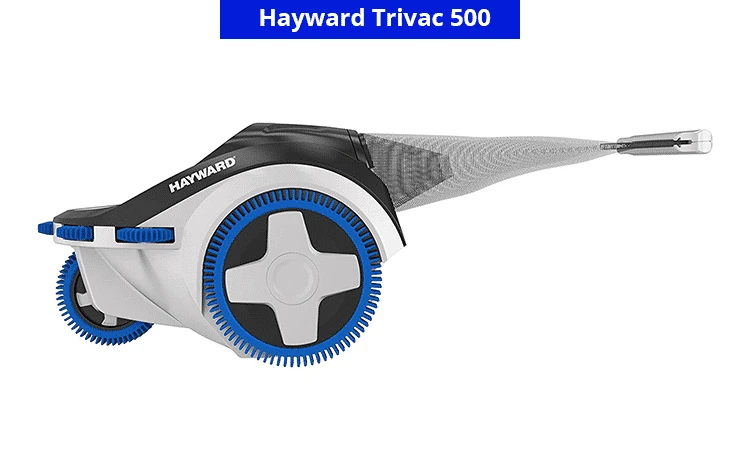 We have shared more information about the Hayward TriVac 500 later in the article. For now, let us learn more about pressure pool cleaners and their pros.
Pool Cleaning the Pressurized Way
In the past, having a pool at home was a luxury that most people could not afford. This is different today, as more and more people nowadays own pools in their backyards. Pools are trendy and can increase the value of homes as well. Moreover, with rising global temperatures, it makes sense to own one.
Nowadays, pools come in many sizes, shapes, or materials. If you are planning to install one at home, it might take you a lot of time to choose the best. However, no matter how big/small or stunning your pool looks, remember that you will have to maintain it to keep it functional. This is where many individuals fail, as they do not realize the importance of pool maintenance.
To have a functional pool at home that is fun to use, you should keep it clean at all times. If you leave it to be very dirty before cleaning, you will spend a significantly longer time cleaning it, which might be stressful. How come? The pool contains water that we use for cleaning. Why should we clean pools often?
First, you should understand that the aim of pool cleaning should be your safety and health. Unclean pools facilitate the growth of harmful organisms such as algae and bacteria, which are a serious health risk to adults and kids as they tend to health conditions such as asthma.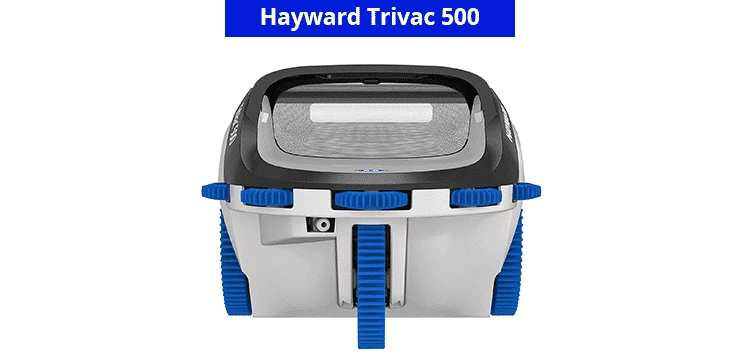 Algae not only pollutes water (makes it dirty and green) but also increases the odds of accidents in pools for several reasons. For instance, whenever they form a slippery layer on a pool's surface the odds of slipping/falling are high.
Algae and other microorganisms are invisible to the eye. However, twigs, dust, and leaves that blow from trees and land on pools are easy to see with the naked eye. Therefore, if you do not clean them occasionally, your pool will build-up materials, look dirty, and become unsafe or unusable over time.
Cleaning the pool needs a bit of dedication and effort and therefore is not a fun pass-time for homeowners with pools. However, with the introduction of pool cleaners, pool cleaning has become significantly easier, to the joy of most homeowners. They are fast and can tackle most pool problems professionally.
Why Do We Need Pool Cleaners?
Even though designed to help people to relax after a long day, pools can be stressful if you do not take care of yours well. It is also stressful to own, as it needs regular cleaning and maintenance, which can be costly at times. With the best pool cleaner at home, you will never worry about such problems again. They handle pool cleaning automatically, saving people time and effort.
Due to misinformation, some people hesitate to order pool cleaners for their swimming pools. Moreover, the large initial investment is a concern for most people with a tight budget. If you are one of them, do not shy away from buying a pool cleaner because of the extra expense. They are valuable items.
Most individuals hate cleaning their cars or pools by hand. Clothes are equally stressful to clean and therefore make this list. I cannot imagine slaving away for two-three hours scrubbing clothes in a sink to look nice! Like most people, I think it is tiring and a waste of time as a washing machine or dishwasher can do a better job quicker. Therefore, it is surprising that some people hate pool cleaners.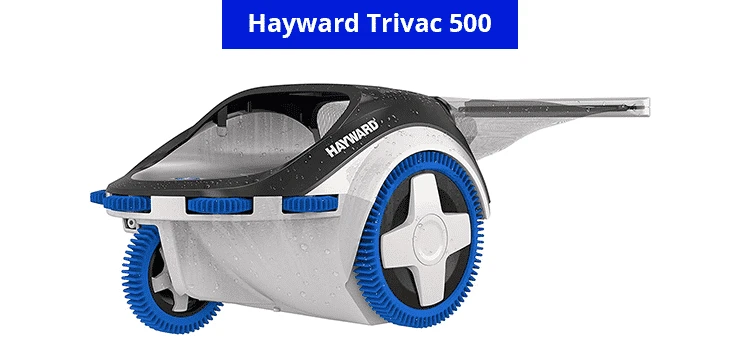 Why would you waste a lot of time cleaning your pool manually while there is a device that can handle the process for you? With a pool cleaner at home, you will free many work hours every day, which you can channel to other jobs. You can also spend extra time with your family and friends at home.
While a pool cleaner might cost you a lot of money in the beginning, the long term investment is always worthwhile in most cases. If you add the cost of pool cleaning for years, you will find that using a pool cleaner is cheaper. Mew generation model is power-efficient and thus saves you even more cash.
Here are our recommendations for the best pool cleaners in the market:
Pressure Pool Cleaners
Unlike what some people think, the best pressure pool cleaners do not generate pressure but use the pressure that its system generates whenever it churns water over its filters. In other words, you will have to connect a return flow pipe to its filtration system to keep it working in your pool. The pressure is in form of a suction vortex, which sucks debris into its bag for safe disposal.
Most pressure-side pool cleaners need a separate booster pump to work. These push water at high pressure into its system to generate a powerful suction that boosts its cleaning ability. The pressurized water also released caked debris or dirt for quick cleaning, which the suction vortex picks up. The Hayward 6060 booster pump is the best for the TriVac series.
Pressure-side pool cleaners have a large throat that quickly sucks in large debris, making them ideal for cleaning large swimming pools with leaves, twigs, sticks, and acorns, to name a few.
Hayward Pool Cleaner Series
Hayward believes that clean pools are inviting and fun to use. Thus, its products have innovative and superior designs with patented features that accelerate pool cleaning without sacrificing safety. It offers several models.
Hayward offers single pool cleaning solutions for people of all cadres. Therefore, each product supports comprehensive or wholesome management of swimming pools, saving people time and money. The company has over 80 years of experience and therefore has a good understanding of the demands or needs of pool owners. It has used its wealth of experience to design effective products that satisfy the needs of most people. If you need one, we have reviewed how Hayward pressure-side pool cleaners work to help.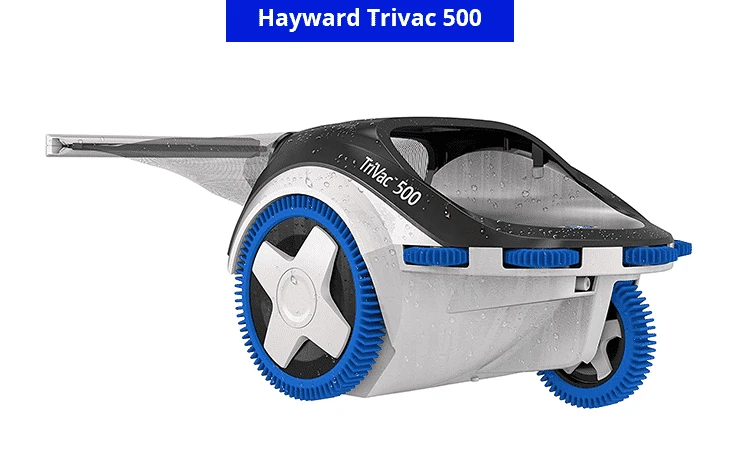 Features:
The Patented AquaDrive technology consists of powerful jets that propel cleaners around the pool.
An innovative back-up sequence shortens cleaning time.
Low-friction wheels minimize wear-and-tear on the surface of pools.
High-pressure venturi jets (three) and a wide vacuum inlet can pick large and heavy debris.
A powerful sweep hose stirs debris in hard to reach areas for easier pick-up.
Cleans debris and dirt efficiently and has an extra-wide debris bag (patented) with a low maintenance float.
Download or view the TriVac pressure pool cleaner series BROCHURE.
The Hayward TriVac 500 (Model: TVP500) will simplify how you clean your swimming pool at home. Like most of the best 'Pressure Side pool cleaners,' the Hayward TVP500 TriVac 500 requires pressure to navigate and clean.
How does the Hayward TVP500 TriVac 500 work?
The Hayward TriVac 500 has a patented aqua drive technology that boosts its performance in all pools. Briefly, the system generates high power water jets that propel it in pools as it cleans. To gain a better understanding of the process, you should understand how the system generates pressure and thus high-powered water jets that move it around. This is an effective system.
To clean, pool cleaner have to move but this is not the only thing. The capacity of a device dictates its ability to clean pools, and therefore is a critical factor to check out when buying one. The Hayward TriVac 500 (TVP500) uses a Triple venturi jet action and a wide vacuum inlet to pick debris and dirt from the walls and floor of pools. The venturi jets loosen caked debris or dirt from the floor, which the wide vacuum inlet sucks for easier removal from the pool.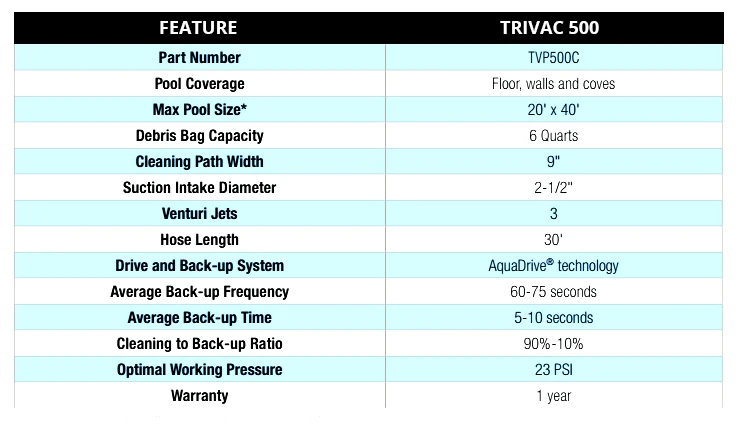 Corners are challenging to clean with some pressure-side pool cleaners. This is not the case with the Hayward TVP500 TriVac500 model. The manufacturer has included an advanced sweep hose in its system that penetrated inaccessible corners or crevices for faster and thorough cleaning.
Simple and Easy Maintenance
The Hayward TriVac 500 has a simple system that requires little effort to maintain, mainly because of its extra-long debris bag. The add-on is large (6 quarts), meaning that it can trap significantly more debris and dirt than other comparable pressure side pool cleaners can. Moreover, the larger bag enables the Hayward TriVac to clean for longer without having to maintain its system.
The Pool Coverage
When you are ordering a pool cleaner, always check its coverage before reaching for your wallet. The Hayward TVP500 TriVac 500, for instance, works the best in spaces measuring less than 20×40 feet. Therefore, if you have a pool with a lesser or comparable capacity, you should expect adequate coverage from this novel device as you clean your pool. The cleaning path is also wide at 9 inches, meaning that it saves you valuable time as it cleans.
This device works well in most in-ground pools made from gunite, pebbles, vinyl, fiberglass, and tiles.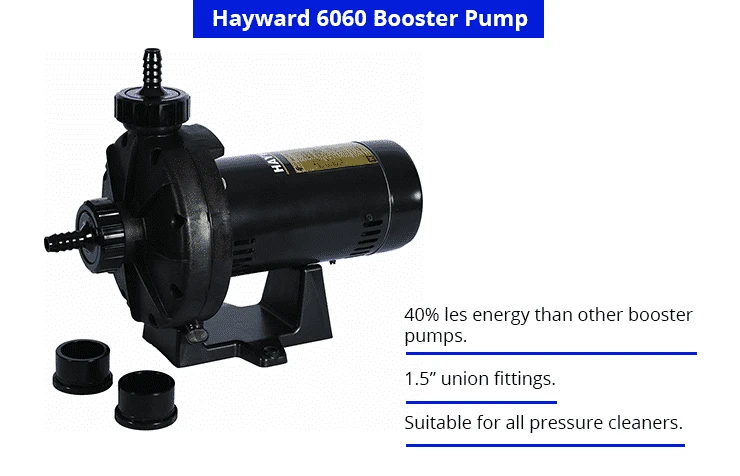 Features:
Uses around 40% less power than similar booster pumps, lowering operation costs.
Supports most pressure cleaners that need a separate booster pump.
Its 1.5-inch union fittings not only boost its performance but also ease its set up and removal.
Hose barb union adapters measure ¾-inches allow for easy retrofit to existing installations using optional flexible hose for booster pump connections.
The pump design is easy to set up and maintain.
Supports all pressure cleaners that use booster pumps
Has a tall mounting base that boosts motor ventilation and lowers the odds of flooding.
You do not need tools to install and remove the drain plug.
You can re-orient the volute in the field to discharge horizontally.
Download or view the Hayward 6060 booster pump's MANUAL.
Like all pressure side cleaners, you will need a booster pump to use the Hayward TriVac500 at home. According to Hayward, the Hayward TriVac 500 delivers the best results if you use it with the original booster pump.
The booster pump has an energy-efficient system that consumes 40 percent less power than comparable booster pumps in the market. As such, you are getting a power-efficient device that will help you lower pool-cleaning costs.
The pump is super quiet making it an attractive option for homes, spas, and hotels. Moreover, it takes little effort to install and has a well-ventilated base (tall) that stops its motor from flooding while it is in use.
Even though Hayward recommends that you use the booster pump with the TriVac 500, it supports most brands/ models of pressure-side pool cleaners.
Hayward TriVac 700 | TVP700 | Pressure Pool Cleaner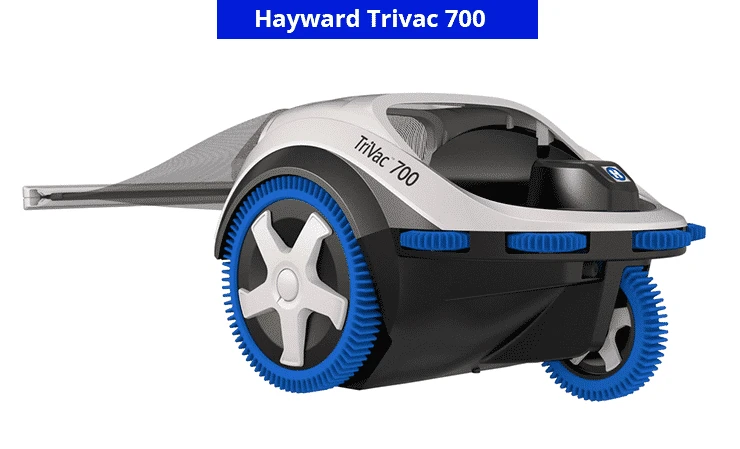 The Hayward TriVac 700 was available in April 2016. It is comparable to the Hayward TriVac 500 but has fewer add-on features, which most people can live without. Here is an in-depth look at what to expect from this product:
The Working Mechanism
The Trivac 700 has a similar working mechanism to the TriVac 500 model. If relies on powerful water jets for propulsion. The patented jet propulsion system (Aqua Drive) is reliable and found in only Hayward pressure-side pool cleaners.
What Is Different?
The TriVac 500 and Trivac 700 are somewhat similar in functionality and use comparable patented technologies. Features are also mostly similar apart from the fact that the TriVac 700 skims surfaces, which TriVac 700 does not.
Let us backtrack a bit to understand how the TriVac 700 achieves this.
Many people use giant nets to clean the surface of their pools, which is both hilarious and frustrating. The pressure-side pool cleaners in such households can only clean tiles and floors, delegating the other jobs to their owners. The TriVac 700 has a 'Top Skimming feature' that alleviates such problems.
Whenever you are cleaning your pool, all you have to do is select the skimmer mode for it to clean the surface of your pool as well. Used the dial on the top to customize its performance and let it do the hard work for you automatically.
Between Hayward TriVac 500 and TriVac 700, which one should you choose? The answer to this question is simple. The best pool cleaner that you should order depends on the type of debris you are planning to clean and the type of pool in your possession. If your swimming pool has tons of floating debris, the TriVac700 pool cleaner will serve you the best. However, the TriVac 500 might be the best option if your swimming pool lacks floating debris.