The electric ion ice auger is a revolutionary product that makes ice fishing enjoyable.
You probably know of an ice angler who cannot wait to retire his/her manually operated hand auger. While they have helped millions of people to bore into ice and capture tons of fish for decades, power augers have taken over this space. If you have not made the transition yet, it is time you retire your manual auger for a crisp, powered model to take ice fishing to the next level. Which is the best brand to buy in 2022?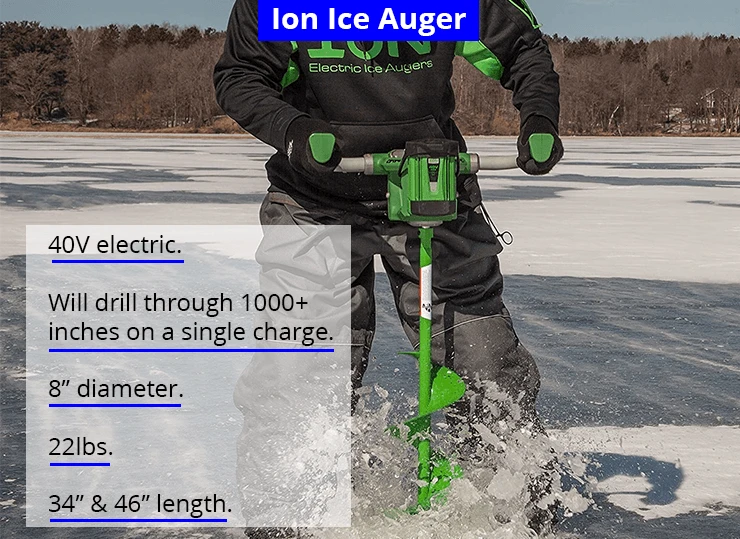 The best electric augers are far superior to manual models in many ways. We have reviews some of the pros of the most popular brands and models in the market to help you to select the best one for your escapades.
Before we evaluate the details of the best Ion ice augers in the market in detail, watch this video to have a general overview of what the best Ion ice fishing augers are and what you should expect from an original one.
We have provided a thorough overview of the best electric Ion ice augers, including their benefits and cons, to help you to make the right decisions when shopping for an original one. We have "dug up" and shared multiple videos that elucidate its performance on ice in the wild to help you appreciate their value and choose the best one for your own.
Let us be honest – you will learn more about the Ion ice auger if you see it working rather than reading pages of text about it. From our videos and discussions, you will see while many people tout it as the best ice auger to buy in the modern age. To learn more in your free time, check out ice fishing forums. The Outdoorsmen Forum is equally beneficial.
New & Improved ION X 8-Inch Electric Ice Auger
ION has released multiple technologically advanced ice augers over the years including the 8-Inch ION X Electric Ice Auger. While there are many great products in this niche, this model is superior in several ways. If you are serious about fishing on ice, consider buying the ION X today.
ION X has seen dramatic improvements compared to the original ION electric ice auger, making it a gold standard in this niche.
Features:
40V/5 amp-hour battery with 60% higher storage capacity compared to the original ION battery.
Cuts around 1600-inches of ice per full charge.
Two built-in LED lights help you to see the ice and your work area in general while working in poorly lit areas.
Weighs around 22 pounds, which is 40% lighter than gas augers
The newly cast aluminum bottom is smoother, ensuring an effortless cut while drilling or redrilling holes on ice.
Re-designed handlebars are closer to its powerhead, which makes the product easy to use while drilling close to a wall or ice shacks.
Easy-to-connect 12-inch extension cord included in the box. This enables you to adjust its drilling depth from 34-inches (steel auger itself) to around 46 inches. You can tackle ice of all thickness.
You do not deal with fumes or gas while using this ice auger. It is also easy to transport in a car or store and has tight caps and seals that do not leak over time. Finally, the energy it generates is clean.
ION X has a reverse button for flushing slush through the drilled hole. This prevents the auger from hamming in thick ice.
Here is a video of the ION X Ice Auger.
The ION X uses a 5 amp-hour lithium-ion battery as a power source, which translates to a 60% improvement in capacity compared to the original 3 amp-hour battery that came with older models. Therefore, with this product, you can drill significantly more holes while ice fishing without worrying about recharging the battery. Moreover, the battery takes a few hours to charge, which is also ideal (the charger is in the pack).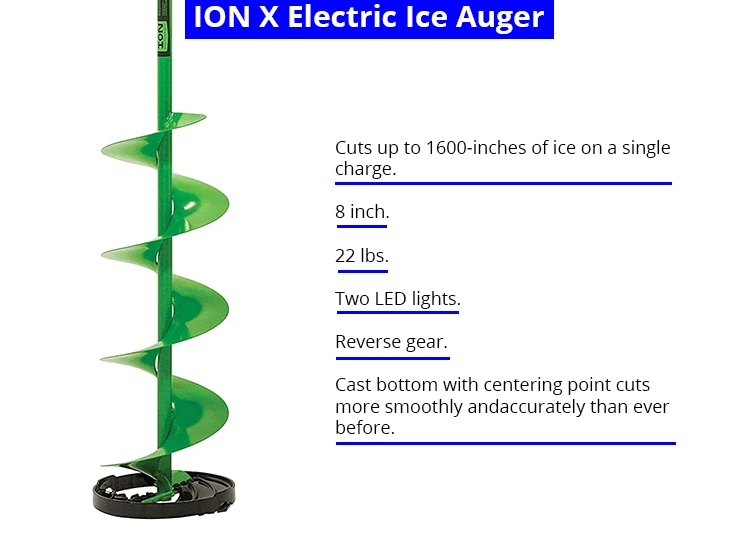 The bicycle-style handlebars orient the hands of users comfortably in a drilling position to minimize strain on the hands and back. You will be comfortable using this innovative ice auger in all positions.
Original 40V | Features and Facts Ion Ice Auger
46-inch and 34-inch lengths (the extension provide).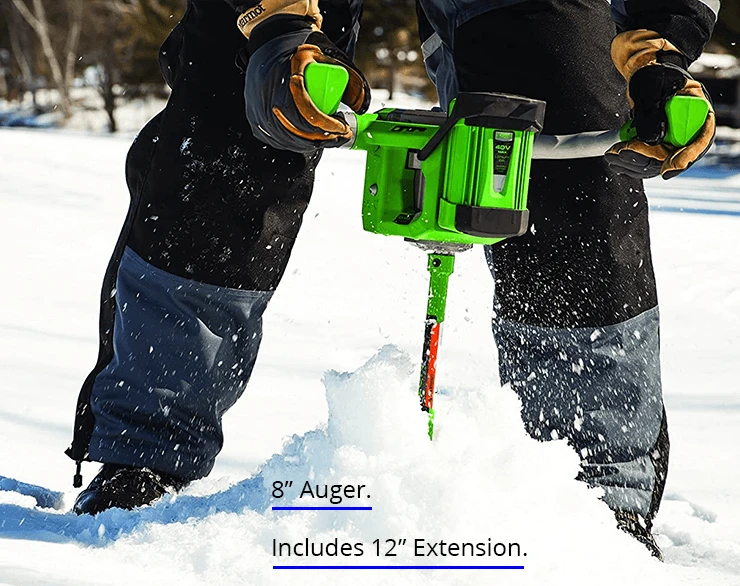 Ion Brand is a creation of Ardisam – a renowned industrial company that has been in the market for decades now (since the 1960s). The company is American, domiciled in the Midwest.
Let us not beat around the bush – electric ION augers provide everything that you will need to host successful fishing excursions with friends or family. It has a versatile and ultra-portable design (34/46-inches) that draws its power from a 40-volt rechargeable lithium battery. The system is clean (no fumes) and quiet. It is also light (21 pounds) and has a reverse gear for cleaning slush out of the hole as you drill. This hastens drilling, unlike in the past when people had to clear slush manually.
You are looking at an awesome electric auger that makes drilling on the ice an efficient and enjoyable experience. Whenever you are drilling holes on ice, expect a fun, and easy, and comfortable experience every time.
Surprisingly, the best electric ice augers generate more torque than gas augers do, which is different from other tools. The higher torque that it generates makes drilling through thick sheets of ice quicker and easier.
Features:
Powerful MAX lithium-Ion battery (40V) enables you to drill up to 1000 inches in ice per charge.
ION reverse gear eliminates the need for scooping slush manually.
Comfortable handlebars fit snug in hand while it is in use.
Large and easy to access start system.
Lightweight and compact transmission have planetary gears.
12-inch auger extension boosts auger length to 46-inches.
Heavy-duty steel auger.
Straight Through blade design.
Battery charger provided.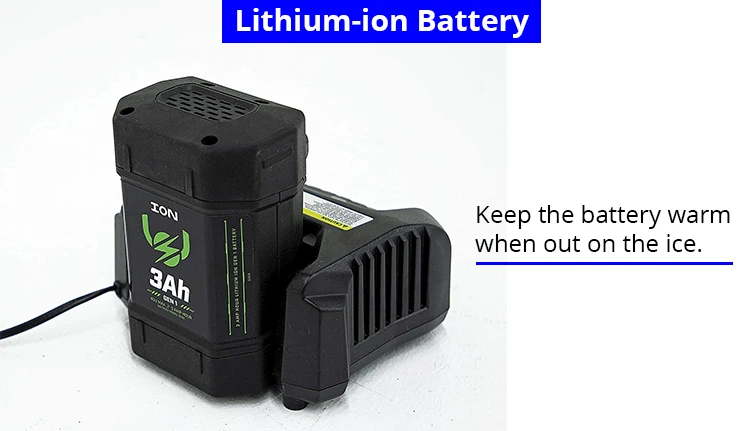 Supporting Documents:
Download or View the Ion ice auger's instruction guide.
Learn how to care for the Ion battery (Download or View the PDF). Note: If you order the product from Amazon, you will receive the Ion ice fishing auger plus a battery. This document says otherwise. Some retailers will sell you the auger alone, expecting you to buy the battery separately. Be aware of this while shopping.
Overview of the Ion Electric Auger
Quiet
When you ventured on an ice fishing trip with your father for the first time, he most probably told you to be quiet to prevent startling and scaring the fish. While he might have slightly exaggerated the quietness part, it pays to use a quieter auger while drilling on ice as fish can hear sounds and vibrations in water from miles away. Compared to gas-powered ice augers, electric models are generally quieter. Therefore, if luck is on your side, you will be able to drill holes peacefully without deafening your colleagues and/or scaring away fish from your hole.
They Work Well Indoors
If you attempt to operate a gas auger indoors, you will expose your body to toxic fumes which is a recipe for disaster. The fumes can choke you to death. If this does not happen, the rancid lingering smell can also make your ice fishing experience uncomfortable. With an electric ice auger, these are non-issues. You can drill multiple holes outdoors and indoors without worrying about smoke choking you or irritating the respiratory system. They are lighter/comfortable to use and are relatively quieter, which will make your ice fishing experience enjoyable and seamless.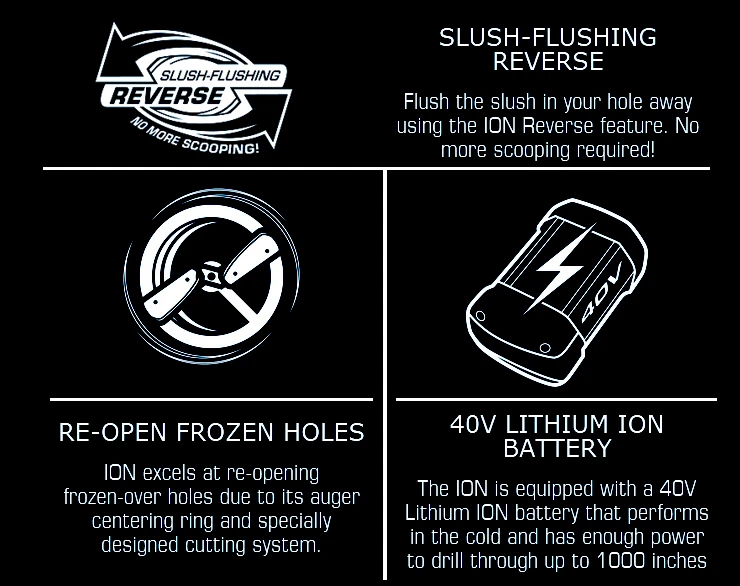 Lighter Equals More Portable
To catch more fish on the ice, you must be mobile. Walk around the ice with your auger and drill several test holes to see if you are in a region with a high population of fish. To handle this seamlessly, you will need a portable electric auger that will not drag you down. As such, you will be able to cover a larger area with minimal strain on your body. Augers do not catch fish. However, a light one boosts the chances of catching one.
They are Much Easier to Start
If you decide to replace your "clunky" gas auger with an electric model, the only thing you will ever worry about is its battery. While powerful and rechargeable many times, lithium batteries do not work well when the weather is cold. Therefore, make sure that you keep your battery as warm a possible whenever you are on the ice to prevent false starts. With a gas auger, you will always struggle to fire one up whether it is warm or cold. Most manufactures have tried to solve the issue with electronic start system, but they are still unreliable than electric augers.
Cheaper than Propane or Gas
If you enjoy ice fishing, you have probably compared the prices of the best ice augers available on the market. Generally, propane and gas augers are more expensive than electric auger because of their higher power rating. However, according to most anglers, electric augers are better as they deliver comparable power at a fraction of the cost of gas models. They are also easier to handle and have a plethora of add-on features that make them efficient and fun to use in all settings. If you are shopping for one, why spend more money on a gas ice auger when an electric model will offer you more benefits at a fraction of the cost.
Make Drilling Holes Quicker
If gas and electric ice augers were in a long endurance race, the best gas augers will win easily. However, because ice fishing entails drilling one hole at a time, the process is more of a sprint than a marathon, which gives electric ice augers the upper hand. If you are working on thin ice or do not have to dig deep to reach the water, expect a better result from an electric ice auger. They reach their top speed faster than gas augers, enabling you to handle demanding jobs quicker. Also, unlike gas augers that are heavier and harder to maneuver, they are seamless in all areas.
Gas and Oil Spills
I am sure that you have seen all the reports and commotion around oil spills all over the world. While a gas ice auger cannot cause as much horror as oil tankers and bigger offshore machinery often do, a small oil spillage in a lake has its share of cons. You should try to avoid this at all costs. Instead of gambling with the environment, the best electrical ice auger instead. Their "green" systems are safe for humans and the environment.
Staying in Control Augers
The best augers are powerful devices that you should
Powerful tools such as ice augers have sharp dangerous moving parts – handle yours with care. If you mess around with its system, you might lose control of its system, leading to serious injuries and death. While all models are risky, gas models are worse as they vibrate more than electric models do. If you are not strong enough, you can lose control of the ice auger, leading to injury and or death. Therefore, before you go on the ice and attempt ice fishing, work on your stamina. If you are naturally small or weak, consider buying an electric auger instead.
Electric Ion vs Propane Ice Auger
We have a comparison of the Jiffy Pro4 propane auger and ION auger in this video.
The Ion Ice Auger
The Ion ice auger is a product of one of the most reputable companies all over the world. It has an array of dependable electric augers with the 8-inch ION model ranked among the bestsellers in the market. It comes packed with multiple amazing features. It is also faster and easier to use than the manual augers that people depended on in the past. Therefore, if you are ready to use a powerful ice auger in your next escapade, we have reviewed the desirable features of Ion to help you make a good decision.
A 12-Inch Auger Extension
Let us have a look at this feature first, as most ardent propane and gas-powered auger users claim to have the longest and most powerful products. Compared to electric augers, has powered models are longer. To solve these issues, reputable brands such as ION introduced extension kits with this 12-inch auger extension ranked among the most popular. Set up correctly, it enables you to drill deeper into the ice and therefore have a better chance of catching fish. It also works seamlessly in raised ice shelters/shanties and comes in handy while battling thick ice sheets.
Ion Ice Auger Accessories | Multi-Tool
Bicycle-Style Handlebars
One of the greatest things about the handlebars is that they are unique to this brand of augers. You cannot find them in other similar brands, which is a shame because of the enjoyable digging experience that the handlebars offer. They fit comfortably in hand. They also offer you better control of the digging process and maintain a comfortable hand position, which lowers the risk of injuries. Generally, the product will eliminate the hustle from digging as the product does not vibrate a lot as you drill/work. As such, you can drill different sized ice-holes with one hand, which is not the case with gas-powered augers. The risk of joint and back injuries is also lower, which makes the process even more fun.
Extremely Long-Lasting Steel Auger
We have already talked about the invaluable extension of this ice auger. However, even without this too, you get a respectable 34-inch device that works seamlessly in most environments. It has trademark blades (Straight-Through) and a Spot-On centering ring for customizing its performance. This is commendable as some of the most reputable brands in this niche do not have trademarked technologies for their products. Give this company credit. These technologies make the ice auger durable. They also boost power output that enables you to drill quicker.
High-Energy Max Battery (40 Volts)
It is common to hear people complain about poor battery life whenever they are comparing gas or propane ice augers with electric ones. While this was a limitation in the past, the upgraded battery of the Ion ice auger will give you something to smile about. At a full charge, you can cut through 1000-inch sheets of ice without having a dip in performance. While the auger tends to slow down as battery juice drains, you will not notice a difference in its performance, as it takes a short time to drill holes. You will spend most of your time fishing instead of drilling holes.
Ergonomically-Positioned Trigger
Frozen lakes are cold and unforgiving, especially if you do not take the required precautions. While drilling holes, for instance, you should keep your hand nice and warm to prevent frostbite. Do not remove your gloves to operate equipment, as this often leads to major hand issues. With an Ion ice auger, this will never be an issue for you as the trigger is ergonomic and easy to use. The dual trigger also has a safety system, including a quick-stop brake (electric) that prevents injuries. For a few dollars, you get one of the safest battery powered augers in the market.
Straight-Through Blade Design
The straight-through blade design of the Ion ice auger is another of the many trademarked technologies that have attracted positive attention all over the world. Apart from its stellar looks, the technology will save you a lot of issues whenever you are cutting thick ice. Because of its streamlined design, for instance, it prevents the blade from catching the bottom of your hole as you cut. This ensures a smooth breakthrough without the blade sticking or creating jagged edges that often snap lines while hauling heavy fish. Catching/hauling big fish is effortless as a result.
Ion Ice Auger's Reverse Button
While cutting a fresh hole, slush will always rush and try to frustrate your efforts to have a clean hole on ice. If this is a concern for you or a major source of frustration while fishing with friends or colleagues, read on. The reverse button technology of the Ion ice auger takes care of this problem. While cutting holes, hit this button occasionally to lift and discharge slush in just under 20 seconds. It works seamlessly via an electricity-driven motor system that does not require skill or effort to use. With the auger in the ice hole, all you should do is sit its head below the ice and hit the reverse button for around 15-20 seconds. Like magic, you will see slush flying out of the hole to the side until the hole is clean.
Why is reverse technology important? | Video
Planetary Gear Transmission
How come the Ion ice auger outmatches comparable to gas and propane-powered ice augers? The secret is in its planetary gear systems, which boosts its efficacy in many ways. Unlike standard technologies, the system delivers more power to the blade while keeping the device light and nimble. As such, you can cut thick ice efficiently without breaking your back. Moreover, even though small, the transmission and planetary gears are 100% metal and therefore withstand daily abuse issue-free. The system is one of a kind and not available in comparable brands.
Essential Safety Precautions
By now, we can see that the best electric ice augers are much safer than propane or gas-powered ice augers. However, while they are quieter and look harmless, electric ice augers are not toys that you should play with or mess around with while fishing with friends. Debilitating injuries are common whenever their sharp spinning parts get in contact with the body of users. Therefore, unlike manual augers (old school) that you could buy today and use tomorrow, be wise while using an electric ice auger. Here are a few safety precautions that can prevent injuries/ death.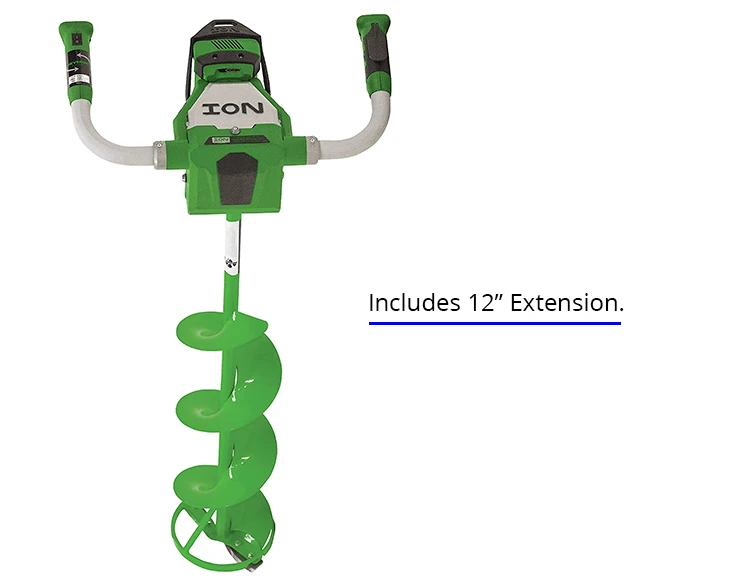 The Blades Are Very Razor Sharp
The best electric ice augers can cut and drill through thick sheets of ice because of their ever-sharp blades. Made from steel, they have razor-sharp edges that do not dull over time, but which are also dangerous to humans. Therefore, you should the sensible enough to stay away from such sharp components while using such a product to prevent injuries. Handle the product with care while cleaning or replacing the blade and always slide on the safety cover when this novel ice auger is not in use.
Be Wary of Loose Clothes
Unless you are living in the North Pole where the weather is freezing all year round, you will probably ice fish in the winter when your local lake is frozen. To stay warm, you must wear several layers of clothing, which can be a safety hazard while using an ice auger. Items such as scarfs, for instance, can unravel from your neck and fall onto a spinning part, leading to structural damage or injuries. Therefore, pay keen attention to your style of clothing before you head out on the ice and use an auger.
The Nuts, Bolts, And Screws Should Be Tight
While ice augers are in use, the impact, and constant vibrations they endure cause a plethora of issues, including loosening nuts, bolts, and screws. Left unchecked, this can lead to damage of critical components and sacrifice your safety in the end. Check for such issues occasionally. Make sure nuts, screws, and bolts are tights and parts are working well.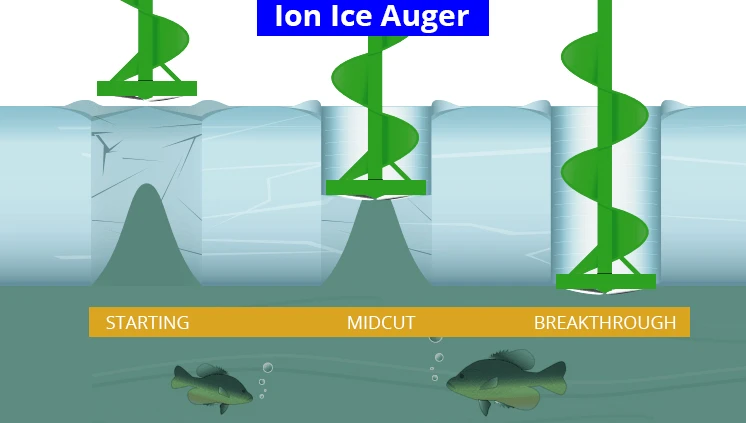 Do Not Use Ice Augers Under the Influence
Ice fishing is a fascinating activity and sport. To stay hype and warm, some people carry liquor on the ice, which they sip with friends while lounging on the ice. For safety, avoid such actions at all costs. While the Ion electric ice auger is easy to use, do not gamble with your wellness by operating this ice auger under the influence of alcohol. You will have better control of the ice auger while sober. You will also make better decisions while sober and avert accidents and therefore injures on the ice.
Always Remove its Battery
The best electric ice augers require a powerful battery to start and use seamlessly while drilling in ice. The battery not only powers the auger directly but also powers add-on features such as electric start systems. While repairing or maintaining your ice auger, remove its battery to cut power to vital parts such as its straight blade. Most models have simple, plug-in batteries that you can remove in seconds whenever you do not need power. This prevents inadvertent operation and therefore injury.
If Your Ice Auger Stops in The Hole
While drilling ice, you will encounter multiple issues, including the auger stopping unexpectedly in your hole as you are drilling. This is a common occurrence, do not let it alarm you. Instead, reorganize your grip, footing, and thoughts and tightly press your device's trigger to restart the ice auger. Your grip and footing should be perfect always.
How Many Holes? | Ion Ice Auger
Do Not Push Down the Auger
While using an ice auger, many people think that you must push down the machine to drill quicker. This is not always the case as ice augers are seamless, self-propelled devices that can perform well without additional pressure from users. You do not have to push it down to boost its cutting action. Such actions increase the risk of you slipping, leading to serious injury. Whenever the cutting action of your auger slows down, check the structure and/or sharpness of the blade. If everything else is okay, replace the blade and resume drilling the hole you were working on.
The Ion Ice Auger Is an Excellent Choice
We have reviewed many desirable attributes of electric ice augers and provided a list of reasons why you should consider ordering one. However, we intend to educate, not coerce you into buying such a product. If you are comfortable using a manual auger, well and good. However, if you consider ordering an electric ice auger, of Ion, as it is one of the standout brands in this niche. Identify three or four other brands and compare the features on offer. If Ion offers more benefits, go for it. If you identify a better brand, you are free to order it as well.
Tips for Using the Electric Ion Ice Auger
After drilling holes:
Position the ice auger at the bottom of the hole. Make sure that its end is on the bottom of the hole so that it can pick ice shavings and flush them out of the hole as it cuts.
Use your ION ice auger in reverse for around15-20 seconds for the best results. Use the drill normally while holding its reverse button.
To learn more information about this product, visit the Ion site.
The Maine Outdoorsman is another great article for ice fishing enthusiasts with great details on the Ion electric auger.
Accessories | Ion Electric Ice Auger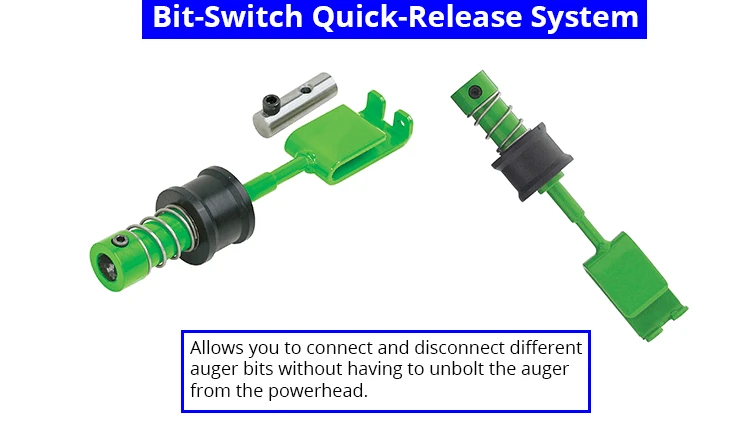 This ingenious add-on allows you to switch cutting bits without using additional tools. The add-on is super-convenient and effortless to use.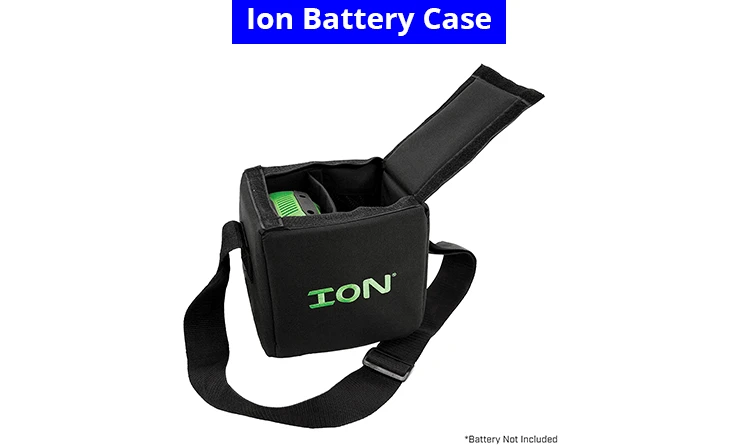 The holder is a robust Polyester Oxford fabric (600D) that lasts for many years. It is spacious, secure, and therefore suitable for storing ION's rechargeable battery on the road. It keeps the battery warm outdoors, preventing false starts and damage, and keeps the system looking neat.
The holder has mesh wall pockets that accommodate third-party hand warmers. As such, even at sub-zero temperatures, you will be able to keep your battery warm and ready to use fin your next ice fishing trip.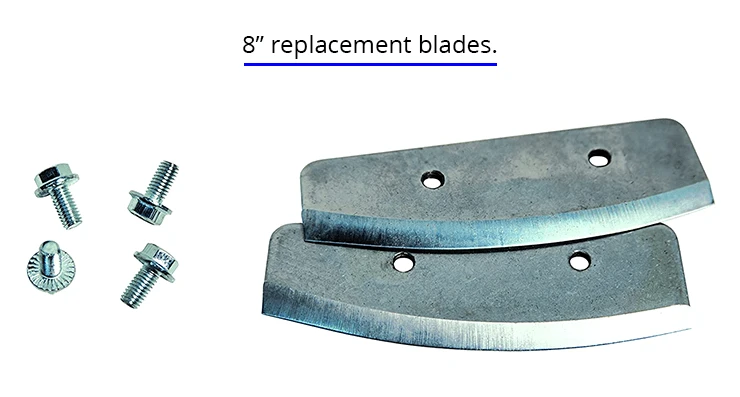 To have a seamless drilling and ice fishing experience, you will need an ice auger with sharp blades. However, all blades, irrespective of the material(s) used to manufacture them dull over time. Whenever this happens, you can sharpen the blade with a file or a grinder. You should also always carry an extra set of blades to cover such eventualities during your long ice fishing trip. The blades are easy to install/swap, making replacement a breeze. They work on most ice thickness and made from high-quality materials that can withstand abuse for years.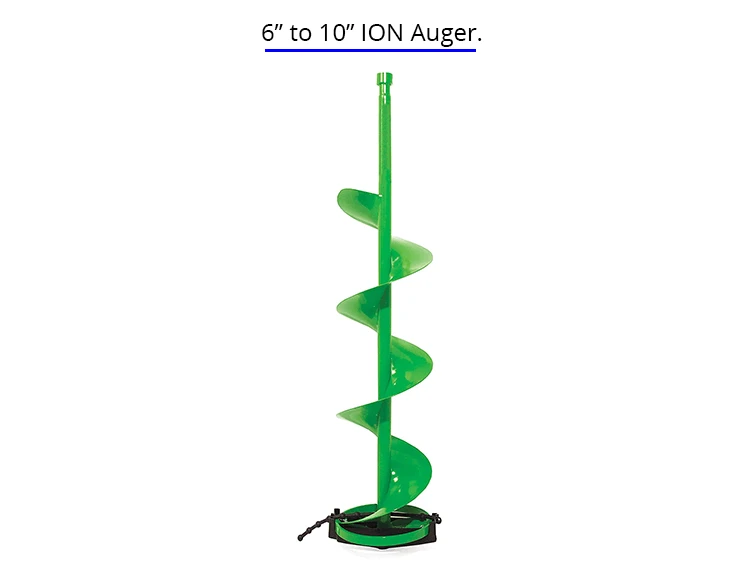 The ION auger has a No Catch Cutting System plus a built-in Spot-On centering ring that you can use to reopen frozen holes effortlessly. The system is easy to use and designed to prevent the blade from "catching" the hole while breaking through ice. The smooth motion prevents your auger's blade from yanking or stopping on jugged edges. You will have a smooth breakthrough every time irrespective of the thickness of the ice sheets that you are working on. It also prevents the formation of jagged edges, which might fray your fishing line and cost you one or more fish.

Features:
Each pod emits18 lumens of light (you get three lights on each auger).
72 lumens of total light.
Hook & loop system enables you to secure the ice auger to most ice shelter frames.
The beveled back fits and works well in small spaces.
You can adjust the direction of light of each pod.
Requires six AA batteries to work.
You do not have to remove lights while taking down the ice shelter.
Long lasting housing (impact resistant).
Visit the Ion site to see all the available accessories.
ION X Ice Auger —
Video | The ION X Electric Ice Auger technology.