For people interested in carving and professional carvers, a must-have item in their toolbox is a wood carving knife. This knife offers them the opportunity to work with wood, starting from chipping and picking creatively, general carving, shaping to a myriad of other activities.
There are different types of wood carving knives or wood-chopping machetes available in the market, and each has its own unique attributes. If you are new to this, you might get confused trying to figure out what some of the best wood carving knives are.
So, to make things easier for you, we have prepared a review of the 10 best wood carving knives.
Editor's Recommendation: Top Wood Carving Knives
A Buyer's Guide To The Best Wood Carving Knife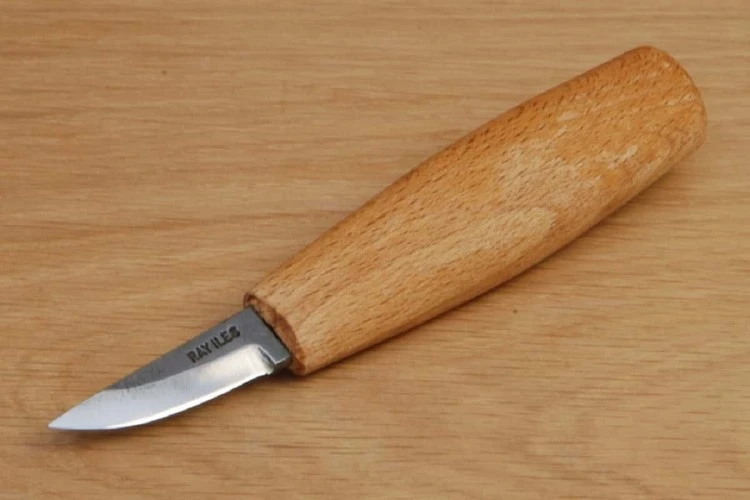 It is an undeniable fact that until and unless you are an expert at purchasing wood carving knives, you will have a hard time figuring out the correct one.. Therefore, you might buy something completely unfit for you haphazardly.
In that regard, a buying guide will provide you with a clear idea about the aspects to look for in a suitable wood carving knife.
Fixed Or Folding Blade
The most critical factor in a whittling knife is its blade. The type of blade you are using determines the result that you will get. Usually, there are two types of modules available for this tool. One is the folding one, and the other is the fixed one.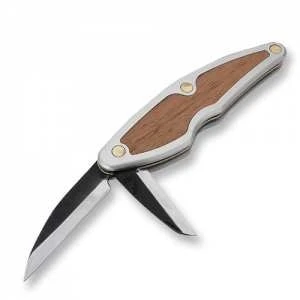 1. Folding Blade
The folding blade is very easy to carry in your pockets. You can fold the edge and reduce its size to half, which maximizes its portability. Moreover, this also saves you from unwanted accidents that might occur if the blade remained exposed all the time. Thus, this type of blade is also very versatile and can perform a range of different tasks.
However, the downside of using this blade is, due to frequent folding, it gets damaged quickly. Sometimes dust and debris get accumulated in the folding spot and block the locking mechanism.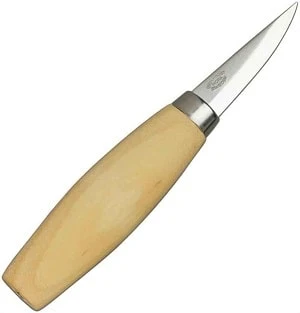 2. Fixed Blade
This type of blade is longer in size than the folding type. Due to its more extended size, it does the job of wood carving much better. The knife is also quite sharp and delivers smooth performance. It does not break easily like the folding one and is very convenient to maintain.
Similarly, the downside of this type of blade is that it remains exposed all the time and is therefore risky to carry without a proper case.
Type Of Handle
The handle is one of the most essential parts of a wood carving knife. Holding this part, one controls the blade. Hence, the handle needs to be ergonomic and comfortable to hold.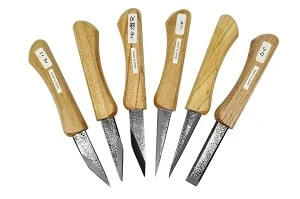 Out of the various types of handles available, wood is the right choice. It creates an excellent aesthetic appearance and also provides an ergonomic grip. However, these type of handles is difficult to clean because of its porous surface.
Another type of handle is made out of plastic. This is a good substitute for wood and quite easy to clean. It is also cheap and easy to use.
Lastly, you can also buy knives that have a stainless steel handle. This handle provides the most convenience while cleaning and helps to maintain balance while holding the knife. The only downside is, the handle can be quite slippery when wet.
Top 10 Best Wood Carving Knives Reviews
Every knife has its own set of features and attributes that makes it desirable to a particular set of customers. We have picked the top 10 ones that we feel will satisfy your needs the best from the myriad of choices available. They are listed below:
1. Old Timer Traditional Folding Whittling Knife Review
The first pick on our list is manufactured by the renowned company Old Timer who has produced great products that excel in terms of quality. The 24OT Splinter is a folding type of whittling knife that makes it safe to carry and use.
Moreover, this is a 6 in 1 knife, which means that it contains six different sets of blades and tools that can be used for wood carving. The blades are of three types, namely hook knives, a detail blade, and gouge scorp. Each module can be used for different purposes.
On the other hand, the handle is made of saw cut that gives it a good holding grip and an easy to carry weight. The dimension of the overall knife in terms of its length is 6 inches. Meanwhile, the blades have a height of 1.5 inches and a weight of 3.9 ounces.
Each of the blades is made of 65Mn high carbon steel that makes them extremely durable and robust. Due to this, the blades are pretty sharp as well. These can be used correctly to chisel out wood and for carving and whittling. Besides, the blades remain safely secured inside the handle and do not come out of position due to the efficacy of the back treated springs.
Pros
Easy to use
Safe
Six different types of tools in one knife
Availability of Hook blades and a detail blade
The handle made of the saw cut
Cons
V-tool is not sharp enough
Blades tend to get loose after prolonged use

2. Flexcut Beginner Palm & Knife Set Reviews
If we are to name one of the most aesthetic looking sets of knives on this list, it has to be the Flexcut Beginner Palm and knife set. This can be deemed an all-purpose knife set containing a combo of 4 of the most useful and well-known carving tools from the manufacturing company.
Firstly, there is a detail knife which lets you carve out the finest of details. Next, there are two palm tools, a sweep gouge, and a V tool. These tools help you control the knives better and provide great flexibility while working on small projects like caricatures, walking sticks, and tableware.
Likewise, the handles of each of the tools are made of ash wood and shaped ergonomically to provide you with ease of grip. Plus, the blades are made of high carbon steel that enhances their durability and quality.
Pros
Contains a cutting knife as well as a detail one
Perfect for carving out fine details
Also includes one sweep gouge and 1 V tool
The handle made of ash wood
Blades made of hard carbon steel
Cons
Finishing on the handles can be improved
Needs some sharpening before the first use

3. Morakniv Wood Carving Knife Review
The knives that we have mentioned till now have handles made of ash wood or saw cut. But the third pick on our list is different from the above two and has a handle made out of oiled birch wood. The reason for mentioning this separately is because this material contributes towards making the knife very lightweight.
Besides, it only weighs about 2.4 ounces that gives the user great comfort while using this tool to carve wood. The blade has an overall length of 165 mm. Keep in mind that this is a small wood carving knife that can be used by carpenters and woodcarvers to make excellent and detailed cuts.
The blade has a thickness of 2.7 mm and a length of 60 m. It is made of laminated steel that has layers of high carbon steel. A coating of alloyed steel is provided over the carbon steel as well and that gives the blade some extra sharpness and a rough surface.
Pros
Ergonomic handle
Very lightweight
Sharp blade
Suitable for making fine cuts
The handle made of oiled birch wood
Cons
Cannot be folded
Design of the sheath is poor which might lead to scrapping your fingers

If you are a beginner in the arena of wood carving and looking for something that can help you learn the basics of this art, the fourth pick on our list would be a perfect choice. This is a 14-piece wood carving tool set that contains 12 different types of hand tools.
The best thing is that even kids interested in wood carving can use this set. Thus, the tools included here are 3 gouges, three single bevel skew chisels, two individual bevel chisels, one single bevel dog-leg chisel, 1 V-parting tool, one spear scraper, and 1 round nose scraper. Each has its own merit and can serve a different purpose.
Most common types of uses that it can help are making 3D carvings, patterns, whittling, making stencils, and relieve carvings. All the tools work well on softwood as well. If you want to teach a kid how to use it, you can also apply the machine set on fruits, soaps, wax, clay, and other soft materials.
Besides this, each of the equipment's handles is well-made and provides a firm grip and exceptional comfort. The approximate length of the handles is 4.25 inches. Also, the best thing about this set is it comes with a zippered protective storage case and contains a whetstone for sharpening purposes.
Pros
12 different types of tools in 1 set
Comes in a handy storage bag
Whetstone included
Can be used for a wide array of tasks
Great for beginners
Cons
Quality of the blades are not up to the mark
Gloves are required to prevent the sharp blades from causing any sort of injury

5. Flexcut Carving Knives Carbon Steel Blades Review
Another pick from Flexcut has made it to our list. This one too is a set of 3 wood carving tools sold as one product. It thoroughly maintains the standard set by the manufacturer and provides a smooth carving experience. The types of knife included in this set are a cutting knife, detail knife and a roughing knife.
So the cutting knife contains a 1-1/4 inch blade that is beveled and roundly pointed. The detailed one has a blade that is extremely pointed and can be used to make narrow and fine cuts. On the other hand, a roughing knife offers a straighter and longer blade which you can use to remove stock.
However, the handle of all three tools is made of ash hardwood. This makes it very durable and long-lasting. It also provides an ergonomic grip and fits perfectly on your palms. Each of the blades is made of high carbon steel that is sharp and strong. Overall, the product can be used by both professionals and beginners alike.
Pros
3 tools in one set
Detailed, roughing and cutting knife serve their own purposes
Blades made of steel
Can be used by both beginners and professionals
Ergonomic handle
Cons
Needs sharpening before first use
People with small palms might face difficulty to hold the knife properly

For beginners and pros alike, just having a wood carving knife may not suffice due to the additional tools needed to achieve perfect results. Keeping this in mind, Von Haus has brought their 16 piece wood carving toolset. This is a great item to purchase for anyone interested in the craft.
In addition to having whittling knives, the set also comes with sharpening stones, mallets and other accompanying tools that can make a beginner turn into a pro with practice.
Now that you have a brief idea about this product, let's give you a detailed description of what's inside. You will get 5 short palm wood knives, 7 long shaft carving tools, 2 files, 1 sharpening stone, and 1 mallet in a package.
Moreover, you will get a blacked colored canvas carrying case where you can keep all these tools organized and safe. The elastic holders within the case secure the tools in place well.
Pros
Comes with a case
16 set of tools
Suitable for beginners
Sharpening stone included
Blades are made from vanadium steel alloy
Cons
Lack of grip
Some of the blades are dull and require sharpening

7. FLEXCUT Whittlin Jack with Detail Knife and Roughing Knife Review
The knives that we have mentioned earlier from Flexcut were fixed knives and could not be folded. Keeping in mind the preference of customers who would rather have a folding knife than a fixed one, our seventh pick features the whittling jack set from Flexcut. This set includes a detail knife and a roughing knife.
So, the dimension of the detail knife is 1-1/2 inches while that of the roughing one is 2 inches. The product overall weighs of 3 oz.
Since this knife can be easily folded, you can store it in your pockets with ease. This also eliminates the chances of injury that might occur due to mistakenly touching the blade. The blades are made of hard carbon steel and have decent sharpness that can whittle wood well. In fact, the blades are sharpened by hand before shipping. The handle is also designed ergonomically.
Pros
Two different types of knife included
Folding knife
Easy to use
Hand sharpened before shipping
Ergonomic handle
Cons
The knife does not fold or unfold flexibly
Blades are very sharp and need to be handled carefully as it might cut your fingers

This is a wood carving knife set containing a combination of useful tools that will come in handy for anyone looking to perform craft, whether he is an expert or a beginner. The set contains a range of items like a hook carving knife, whittling knife, detail knife and a leather strop polishing compound. And to store all of this, it also comes with a storage bag.
The blades of each of the tools are made of chromium-vanadium alloy steel. This makes them very strong, durable and resistant to corrosion.
Accordingly, the handle is made of black walnut wood and is designed ergonomically. As a result, you can hold it comfortably without experience hand fatigue.
Apart from that, the storage bag can be folded or rolled up and thus be carried quite easily. Using the leather strop and polishing compound, you can sharpen the blades when they become dull. The tool is so useful that you can even give it as a present to your friends who are interested in carpentry and woodworking.
Pros
Comes with a combination of tools
Convenient storage bag
Leather strop to provide easy sharpening
Ergonomic handle
Capable of performing a variety of tasks
Cons
Using the leather strop can be a bit difficult for inexperienced users
Cannot be folded

The ninth pick on our list is a sleek wood carving set from Gaxcoo. The entire set comes in an elegant wooden box and the appearance of the product is so exquisite that you can even present it as a gift to your friends.
Inside the set, you will get 4 different tools. The tools include a spoon carving knife, a rough out knife, a detail knife and last but not the least, a sharpening stone.
Besides, the blades of the knives are made of carbon steel that gives them great sharpness and durability. These blades don't break easily, nor do they become dull once sharpened.
Furthermore, the handle is made of hardwood that gives it a smooth finish and a fine texture. Due to its ergonomic design, you can hold it with ease without experiencing hand fatigue.
Pros
Reasonably priced
Includes 3 types of knives
A sharpening stone is provided
Can be used for varied purposes
Convenient handle
Cons
The sheath is not long enough
Sharpen the blade before first use

10. Ramelson Sloyd Carving Knife Review
If you are only looking for a basic wood carving knife and don't require the additional tools that come with the other picks mentioned on this list, our tenth pick is the best choice for you. This knife from Ramelson Sloyd has a sleek appearance and a great combination of attributes.
For first-timers and hobbyists, it is an amazing tool to begin your carving experience. The knife does the job of whittling and chip carving perfectly. Its blades are made of high carbon steel and offer high durability.
Moreover, the dimension of the blade is 2-7/8 inches that makes it comfortable enough for use. In addition to this, a leather sheath is included to provide safe storage for the knife. The sheath also features a complimentary appearance befitting to the knife.
Pros
A basic tool for beginners
Easy to use
Durable blade
Leather sheath included
Aesthetic appearance
Cons
The blade needs frequent sharpening
Does not come with any additional tool like a sharpening stone

Final Verdict
Wood carving is a tough and delicate job and requires the perfect tools to be carried out smoothly. The most crucial item needed to become a pro at this craft is a wood carving knife or a whittling knife. This tool teaches you the basics of carving and helps to draw the perfect patterns.
Therefore, for professionals and beginners alike, finding the best wood carving knife is important. In this regard, we have listed down our top 10 picks in this area. We hope that the list will be helpful for you. Do follow it the next time you purchase a wood carving knife and you won't be left unsatisfied.
Buy on Etsy
BeaverCraft Sloyd Knife C4s 3.14" Wood Carving Sloyd Knife with Leather Sheath for - Walmart Link
Wood Whittling Kit with Basswood Wood Blocks Gifts Set for Adults and Kids Beginners, - Walmart Link
Old Timer 24OT Splinter Carvin' 6in Traditional Folding Whittling Knife with 1.5in Detail - Walmart Link
Wood Carving Tools Pack of 11- Includes Black Walnut Handle Wood Carving Knife,Whittling - Walmart Link
BeaverCraft Sloyd Knife C4 3.14" Wood Carving Sloyd Knife for Whittling and Roughing for - Walmart Link
Schaaf Wood Carving Tools, Set of 12 with Canvas Case - Full Size Gouges and Chisels for - Walmart Link
Fuyit 17Pcs Wood Carving Tools Set - Hook, Sloyd, Chip Detail Knife Kit & 10Pcs Basswood - Walmart Link
Buy on eBay
BeaverCraft Sloyd Knife C4s 3.14" Wood Carving Sloyd Knife with Leather Sheath for - eBay Link
Wood Whittling Kit with Basswood Wood Blocks Gifts Set for Adults and Kids Beginners, - eBay Link
Old Timer 24OT Splinter Carvin' 6in Traditional Folding Whittling Knife with 1.5in Detail - eBay Link
Wood Carving Tools Pack of 11- Includes Black Walnut Handle Wood Carving Knife,Whittling - eBay Link
BeaverCraft Sloyd Knife C4 3.14" Wood Carving Sloyd Knife for Whittling and Roughing for - eBay Link
Schaaf Wood Carving Tools, Set of 12 with Canvas Case - Full Size Gouges and Chisels for - eBay Link
Fuyit 17Pcs Wood Carving Tools Set - Hook, Sloyd, Chip Detail Knife Kit & 10Pcs Basswood - eBay Link