When it comes to cleaning contraptions and their setbacks, vacuum cleaners are generally bashed for the following sins:
The loud operation that can make your neighbors call the police on you, and
They tend to raise dust, mite, and a variety of other pollutants up into the very air you're supposed to breathe!
While more often than not this will cause merely a certain degree of discomfort for the people involved, every now and again a person with asthma will struggle for air thanks to the poor build of a vacuum cleaner exhaust.
The thing is, vacuum cleaners can do a great job of sucking in dust particles and cleaning up your house, but on the other hand, if they don't have an appropriate filter to sift the nasty particles through, your house can get enveloped in a dust cloud that will linger on for hours after you've finished cleaning up!
Now, this irritating occurrence is already well-known to the manufacturers of these useful suction contraptions. To battle it, they've devised a special sort of filtration system that can do wonders when it comes to doing away with the fine and hazardous-to-your-health particles that occupy the breathing space post-vacuuming cleaning.
These mighty filtering utensils are called HEPA filters and they represent complex, multi-layer filters that can prevent asthma attacks and make the air you breathe in much less polluted.
Editors' Picks for Top Hepa Vacuums
In this article, we'll explain in more details what these filters are all about so that you can have an easier time making your choice in case you plan on buying one. Also, we'll provide a top ten list of the best vacuum cleaners with HEPA filters onboard and answer some of the most frequent user questions.
Okay then, folks, let's see what these are all about, shall we?
Best Hepa Vacuum For Mold - A Compact Buyer's Guide
Power
Regardless of the type of filter onboard, a good vacuum cleaner needs to be powerful enough to actually capture some dirt to be filtered. Therefore, whether you're buying a vacuum cleaner exclusively for its HEPA filter or some other reason, ensuring the thing's got a powerful motor onboard is crucial for its performance.
The thing is, a powerful motor ensures plenty of suction and plenty of suction ensures excellent cleaning properties. Remember, a vacuum cleaner is only going to be as efficient as it's capable to pick up dust and other particles off the surfaces below it! So, a powerful motor + a robust HEPA filter = winning combination!
Reach
Having a mighty filter built in your vacuum cleaner won't mean much if you can't reach the area you intend to clean. This is why ensuring that your vacuum cleaner model has an excellent reach is important for its overall utility score, so to speak.
What you want to look at here are two different aspects of 'reach' - cord length and hose length. Optimally, both should be as long as possible, because that would give you more of a reach. Of course, in case you're planning on buying a battery-powered model, you'll only need to worry about the hose length.
( Although many battery-powered models don't really require a long hose in order to be efficient. )
Noise Levels
One of the worst things about vacuum cleaners, on the whole, would be the irritating levels of noise they tend to produce. Indeed, in the world of home appliances, vacuum cleaners are notorious for making life a misery for every member of the household unfortunate enough to be present at the time of the cleaning process.
Of course, not everyone finds this such a disastrous thing, but if you are one of the folks who pull their hair every time a vacuum cleaner is turned on, you might want to look for a model that will give you better properties in the noise-cancelation department. Some manufacturers take great pride in their low-noise models, so if this is your main concern when buying a vacuum cleaner, you can rest assured that you'll be able to find something to your taste.
Attachments
Upon hearing the phrase ' vacuum cleaning' many people's first mental image tends to be a noisy contraption that's used to clean floors and carpets. While this is completely true, there's another thing worth pointing out here - the fact that the suction the vacuum cleaners produce can be used for other cleaning purposes, as well.
For example, with appropriate attachments onboard, you can clean more or less your entire house with a single vacuum cleaner! Now, although vacuum cleaner models that come with a bunch of attachments and accessories do cost more, generally speaking, they also allow you to do multiple cleaning tasks with just one apparatus ( meaning the vacuum cleaner ), so it pays off in the long run.
The 'Bagged' vs. 'Bagless' Debate
As you may already be aware, there are two main types of vacuum cleaners when it comes to the way they store the dust and dirt they pick up. First, we have the models with bags, which do this in a pretty self-explanatory way. You stick a bag behind the hose inside their body so that whatever gets sucked in along the way will get captured inside of it immediately! Quite simple, isn't it?
On the other hand, there are the 'bagless', or, as they're also called - 'canister' models. These come with a premade canister, usually made out of plastic, which you empty out the same way you would a bag. The only difference would be that canisters are washable and reusable, while bags need to be replaced every time you empty them out. Also, bags tend to be more spacious than canisters so you can go longer vacuuming about without emptying them.
So, canisters will save you some money in the long run, but you will need to empty the more frequently during your cleaning sessions. Now, if this doesn't bother you, definitely go for a 'bagless' model. If you prefer to take care of your house cleaning chore in one mighty swoop - get a model with bags.
Top 10 Best Hepa Vacuum Reviews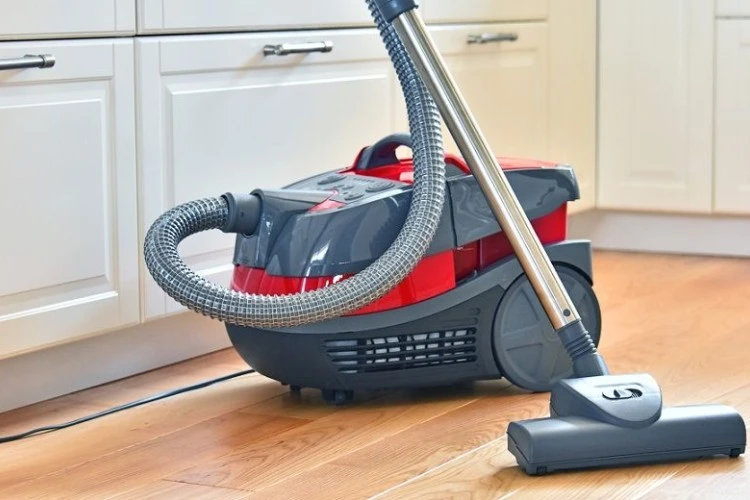 1. Pure Clean Automatic Robot Vacuum Cleaner Review
Right off the bat, we've got a cheeky little robotic contraption that can, for all intents and purposes, clean up a room completely on its own! Powering this thing is a durable battery, which will give you up to 50 minutes of autonomous cleaning time. That pretty much could cover the entirety of someone's home. ( If we're talking about a smaller surface, of course. )
To start this thing up, all you need to do amounts to pressing its ON button. After this 'command' has been issued, this Pure Clean robotic vacuum cleaner with start zooming about your room on its own and cleaning every hard surface or a short-haired carpet in front of it.
When it comes to its 'vulnerability' in the face of various domestic obstacles, you don't need to worry about this. Thanks to the advanced terrain-recognizing technology the Pure Clean folks have built in this contraption, it's perfectly capable of overcoming various obstacles and keeping safe from falling over cliffs.
Pros:
Autonomous operation
Starts with a push of a single button
Terrain-recognition technology
Strong battery giving you 50 minutes of operation
Comes with an advanced HEPA filter
Cons:
Can't vacuum on stairs and hard-to-reach places
Can get stuck on rugs and mats

2. Hoover WindTunnel Rewind Plus Bagless Corded Vacuum Review
If you're looking for a vacuum cleaner that looks as if it has a power armor on and possesses some pretty impressive technical features as well, this Hoover T-series model can be just the right sort of cleaning utensil for you!
Thanks to its mighty wind tunnel technology, this upright vacuum offers consistent suction, so you can easily work uninterrupted for prolonged periods of time without losing any power along the way. Typically, vacuum cleaners have this problem where their suction goes down the more you use them, but that won't really be a problem with this particular model.
Other than excellent suction and power properties, this model also scores highly in the department of accessories. Namely, if you choose to buy this unit, you'll get an extension wand, an upholstery brush, a powered hand tool, as well as a crevice tool for cleaning tough-to-reach areas.
Pros:
25-foot retractable power cord
An advanced HEPA filter
Furniture-protecting no-scuff bumper
Comes with several useful accessories
Wind tunnel technology for consistent suction
Cons:
Some users have reported poor performance while using the hand tool
The canister cap can open haphazardly, which can cause all the accumulated dirt to spill out ( Not a big deal but it can be annoying, so pay attention not to open it accidentally. )

3. Eureka Mighty Mite Bagged Canister Vacuum Cleaner Review
Need a powerful vacuum cleaner to take care of pet messes? Have a particular propensity for violet-colored home appliances? Well, if the answer to both of these questions is 'yes', have we got an appliance for you!
Eureka's mighty mite canister vacuum cleaner is one of the best anti-pet hair appliances on the market, as its excellent accessories allow you to gather and suck in all the pet hairs from your carpet with ease. ( By 'sucking in', we mean the hoover will suck it in, not you - so, don't worry. )
Once you've finished removing the pet hairs, you can rest assured that the exhaust won't bring up a cloud of micro-pet hair dust up in your living room, because the powerful HEPA filter the Eureka folks have installed in this model will take care of that for ya!
Pros:
Great for people with pets
The HEPA filter removes up to 99.97% of all dust and mite from your carpet
Telescoping Wand
20-foot power cord
Lightweight design
Cons:
Some users have reported poor performance on rugs ( it otherwise works well on hard floors, apparently )
Some users have complained about poor hose quality

4. Shark Rotator Professional Upright Corded Bagless Vacuum Review
Featuring an elegant design and a mighty HEPA filter that will easily sift through dust, mite, and other pollutants that can be found on your floors, this Shark appliance is a piece of technology perfect for folks who ask for style AND substance of their cleaning tools.
The one thing that is easily recognizable with pretty much any recent Shark vacuum cleaner is its unique lift-away design. With a press of a button, you can lift away the canister of this contraption, allowing you to maneuver with the hose and the nozzle on its top more easily. This also means you'll be able to reach some awkward areas in your house since you won't have to lift the entire vacuum cleaner, but just its hose.
Pros:
Staple lift-away design for easier handling
Comes with a special pet power brush allowing you to pick up pet hair and various pieces of debris
Anti-allergen complete seal technology
HEPA filter allows you to take care of 99.9% of dust and mite off your floors
Swivel steering
LED headlights to enable you to see in poorly-lit areas ( below furniture, for example )
Extra-large dust cap
Cons:
Some users reported problems with broken belts
Fairly pricey

5. Shark Navigator Upright Vacuum Review
Another model from Shark comes in the shape of this stately cleaning apparatus. Named 'Navigator', this model excels at reaching areas that the majority of other vacuums can't get to. This is possible thanks to its swivel steering design, which enables you to bend and tilt the front part, where the suction happens, so to speak, with ease!
Following through with their trend of making cleaning appliances with the special lift-away feature, the folks at Shark made sure this Navigator model was no exception. The said process of ' lifting away ' gives you the ability to take off the canister and then use the main nozzle, together with the hose of course, and reach areas that would otherwise be inaccessible! ( For example, ceiling, behind beds and other furniture, under furniture, etc. )
Pros:
Comes with a powerful HEPA filter
Lightweight design ( the entire unit weighs under 125 pounds )
Swivel steering enables you to get to hard-to-reach areas
Features a special wide pet upholstery tool
Cons:
Some users have complained about the poor quality of attachments
The power cord could be a bit longer

6. Shark Navigator Lift-Away Deluxe Upright Vacuum Review
Occupying the spot number six on this list stands another model from Shark. This time around, we've got on our hands a curious contraption with a special 'Deluxe' badge of honor slapped on its name, so to speak.
The majority of the features on this model are actually fairly similar if not exactly the same as with the previous two models on this list. For example, there's the Shark's staple lift-away function, enabling you to detach the canister from the rest of the vacuum cleaner. For the record, the canister itself weighs in at some 75 pounds and the entire unit weighs 125 pounds. So, 'shaving off' the canister weight really does make a substantial difference when it comes to handling it quickly and easily.
Pros:
Lift-away design
Comes with an advanced HEPA filter
The entire unit weighs some 125 (the canister alone stands at 75 pounds)
Easy-to-maneuver, swivel steering
Accessories include a pet power brush, a dusting brush, and a 55-inch crevice tool
Cons:
Some user have reported pressure switch issues
The canister could have been a bit bigger

7. Ovente Bagless Canister Cyclonic Vacuum Review
A powerful 1,200-Watt motor, consistent suction, and an advanced HEPA filter onboard are what makes this vacuum cleaner a great option for a user searching for a reliable and easy-to-use cleaning apparatus. Other than these, this Ovente cleaner also comes with a variety of other features that can be interesting for a user who owns pets, for example.
In the department of attachments and different accessories, this unit scores highly, so to speak, thanks to its arsenal of helping items such as a pet brush, a floor brush, and a telescopic wand to help you get to hard-to-reach spots in your house.
Also, this Ovente vacuum cleaner tends to gather some extra points, so to speak, when it comes to convenience. The hose swivels at 360° so you won't have to walk about too much trying to assume the right position for picking up a pile of dust or pet hair. The other interesting thing would be the automatic cable rewinder, which enables you to roll the cable quickly after you've done cleaning up the mess in your living room, for example.
Pros:
Step on/off button
360° hose swivel head for easy maneuvering
Comes with a canister
Telescopic wand for increasing the reach of the hose
An advanced HEPA filter
Cons:
The cord could be longer
Emptying out the canister can be a dirty job

8. Vacmaster 8-Gallon HEPA Vac Review
Representing a proper juggernaut of a vacuum cleaner that can easily tackle even the toughest and most stubborn messes on your floors, this Vacmaster 8-gallon vacuum cleaner with a 2-stage motor can be a perfect option for a person with a large household.
Its tank is made out of tough polypropylene so you won't have to worry about damage and wear-and-tear, so to speak. Also, polypropylene is quite light so you won't have to worry about training your muscles too hard involuntarily while using it.
The HEPA system onboard this contraption will sift through 99.9% of all bacteria quite easily, which is great news for folks with allergies, asthma, and other respiratory problems. The 2-stage motor at hand gives you plenty of suction power to pick up dust, mite, microorganisms, and whatever else may be laying on your floors.
Pros:
Crush-proof polypropylene water tank
A certified HEPA filtration system
Comes with a 2-stage industrial motor
An advanced HEPA filter
1-year warranty
Cons:
Many parts are made out of cheap plastic
Can fall over quite easily ( not stable enough )

9. ProTeam Super Coachvac Vacuum Cleaner Review
Offering a large-capacity tank that will enable you to clean up your entire house in just one go ( If you have a small to medium-sized home, that is. ), this tube-looking vacuum cleaner from ProTeam might be the perfect cleaner companion for you.
This thing comes with a thing called Xover floor tool, which gives you the ability to take care of the whole range of nasty messes on hard floors and on low-pile carpets, for good measure. This unit does not really work all that well for high-pile carpets, to be fair. Also, it's not recommended for delicate wooden surfaces. It's the most efficient on hard floors and as we said above -low-pile carpets.
One of the most important things about this model would be its excellent 4-stage HEPA filter, which will thoroughly sift through any and all pollutants and impurities typically found on the floors of our houses.
Pros:
Comes with a handy Xover floor tool
A large 10-quart tank
Advanced HEPA filter with 4-stages of filtration
A long 50-foot power cord
Perfect for schools, universities, and larger areas, in general
Cons:
The attachments can fall off the telescoping wand at times
Many parts made out of cheap plastic

10. Hoover Windtunnel Upright Vacuum Cleaner Review
Last but not least, we've got a rather unorthodox-looking cleaning contraption. This thing's called Hoover and it represents a cordless stick model running on batteries. The capacity of dirt cup is 1. 5L which lets you clean longer before needing to empty. With a full 'tank', it can run for few more minutes. ( Provided you don't use a motorized tool. ) Before first use, this unit needs to be charged for at least four hours, for the record.
To preserve the battery power as much as possible, the folks at Hoover have made the power button an instant-release trigger, so that, as soon as you let go of it - this unit will shut down on its own. This way, you'll be using the battery power only while holding the trigger, that is, while you're cleaning.
The filter onboard this small, but function vacuum is a powerful HEPA model. Thanks to its elaborate design with multiple stages of filtration, this thing will be able to sift through a wide variety of pollutants. Also, the filter is washable and can be used indefinitely so you won't need to spend any money buying a new one after a while.
Pros:
Cord-free design
Instant-release trigger
Comes with a washable lifetime HEPA filter
Powerful digital motor
No Loss of Suction
Cons:
Some users have reported battery losing power after a while

Frequently Asked Questions On Hepa Vacuum
Q: Are HEPA Vacuums Worth It?
Since exhaust fumes are one of the biggest downsides to using vacuum cleaners in enclosed spaces, proper filtration of these exhausts is absolutely crucial for the well-being of the folks living in that area. The thing is, microscopic pollutants such as mite, lice, dust, and dirt will get up into the air after vacuuming if there's not a filter onboard to take care of it, and this can cause people with sensitive respiratory issues to experience worsening of their symptoms.
For example, for people with asthma and breathing problems, exposure to dirt particles and clouds of dust can cause an attack, which can be dangerous to their health. So, bottom line - yes, HEPA filters are definitely worth it.
Q: How Do You Clean HEPA Vacuum Filter?
First off, it's important to make sure that the filter you're dealing with is marketed as ' washable '. Trying to wash a filter that's not been designated as washable can be dangerous for its well-being, so to speak, because you can damage its fine filtering fibers, rendering it useless for all intents and purposes.
Now, if the filter you've got is, indeed, washable, the procedure for cleaning it is the following. A HEPA filter with the label 'washable' should be carefully put under a stream of cold water and rinsed thoroughly. After this is complete, leave it out in the open to dry off. (Note: Only a dry filter can be put back into the vacuum cleaner! )
On the other hand, if the label on your HEPA filter says 'permanent', you must not use water to clean them. Instead, use another vacuum cleaner to gently suck out the dirt from the filter, and then stick it back in its slot after you've finished.
Q: How Often Do You Need to Change HEPA Filters?
This mostly depends on the type of environment you use your vacuum cleaner in. For example, if you're using your cleaner on a regular basis as a part of your job with frequent cleaning sessions, you may want to change it every six months. ( A year if the areas you've been cleaning have not been particularly dirty. )
When it comes to personal use, where you use your filter only every other day, a filter change every 2 to 3 years will be more than enough, really. Last but not least, if the filter is damaged or otherwise compromised, ( lets out a musty odor after use of the vacuum ), you should change it right away.
Q: Why is a HEPA Filter Better?
HEPA stands for 'high-efficiency particulate air' and it represents a type of filter that's specifically been designed to catch and tackle air particles that can be dangerous for people with respiratory issues. Also, HEPA filters, in general, are much more efficient, as their name suggests, than the regular filters at getting rid of allergens, mite, and microscopic dust particles from the air.
Other than performing excellently when it comes to tackling dust and mite, HEPA filters also do wonders against pet-produced microscopic allergens. All in all, they represent an absolute must-have for anyone suffering from any kind of allergy.
Q: Do HEPA Filters Get Rid of Smells?
The answer to this question would be a 'no' if we're talking about vacuum cleaners. Although there are many HEPA filters that do purify the air you're breathing in, it'd be worth noting that these are usually found as a part of air purifiers or air filters for homes. The reason why these HEPA filters can do this is that they come with an activated carbon-based material that attracts odor particles and traps them.
When it comes to vacuum cleaners, only ordinary HEPA filters without the aforementioned carbon stuff are used. So, if you want your HEPA filter to get you rid of some annoying smell, you might be better off buying an air purifier instead of a vacuum cleaner.
Q: Does a HEPA Filter Remove Smoke?
While HEPA filters will be able to take care of visible smoke, the odor that's left behind will probably linger on until the room you're in is properly aired. The thing is, the smoke that you can see is made up of tiny particles of whatever it is that's producing it, so it can be technically sucked in by the vacuum cleaner and trapped in by the filter.
On the other hand, the smell that remains afterward can't be removed as easily. Usually, only a proper airing will do the trick to resolve this.
All things considered, getting a vacuum cleaner with a HEPA filter can be an excellent choice for a cleaner house with less irritating and potentially health-threatening exhaust fumes. ( Especially if you or a member of your family suffers from asthma or a similar respiratory illness. ) We hope you found this article helpful, and wish you a merry and hassle-free purchase!
Buy on Etsy
Sanitaire - SC899H SC899 Tradition QuietClean Upright Vacuum Red - Walmart Link
BISSELL MultiClean Allergen Pet Slim Upright Vacuum with HEPA Filter Sealed System, 31269 - Walmart Link
Vacmaster Pro 8 gallon Certified Hepa Filtration Wet/Dry Vac - Walmart Link
NEQUARE Vacuum Cleaner, 20Kpa Stick Vacuum with Self-Standing, Dual-HEPA Filtration, LED - Walmart Link
Fein Turbo II X AC HEPA Wet Dry Dust Extractor Vacuum Cleaner with Vacuum Accessories- - Walmart Link
BISSELL MultiClean Allergen Lift-OFF Pet Slim Upright Vacuum with HEPA Filter Sealed - Walmart Link
Sanitaire Tradition Upright Bagged Commercial Vacuum, SC886G 8.5" x 17.3" x 21.3" - Walmart Link
Buy on eBay
Sanitaire - SC899H SC899 Tradition QuietClean Upright Vacuum Red - eBay Link
BISSELL MultiClean Allergen Pet Slim Upright Vacuum with HEPA Filter Sealed System, 31269 - eBay Link
Vacmaster Pro 8 gallon Certified Hepa Filtration Wet/Dry Vac - eBay Link
NEQUARE Vacuum Cleaner, 20Kpa Stick Vacuum with Self-Standing, Dual-HEPA Filtration, LED - eBay Link
Fein Turbo II X AC HEPA Wet Dry Dust Extractor Vacuum Cleaner with Vacuum Accessories- - eBay Link
BISSELL MultiClean Allergen Lift-OFF Pet Slim Upright Vacuum with HEPA Filter Sealed - eBay Link
Sanitaire Tradition Upright Bagged Commercial Vacuum, SC886G 8.5" x 17.3" x 21.3" - eBay Link