Carpets have never been easy to clean. Brooms are a lost cause, and even the mighty vacuum cleaners have trouble cleaning carpets. So, what other options do we have? Well, there's a nifty little device that was made for this specific task.
You can clean the dirtiest carpet once you get your hands on the best carpet sweeper you can get. Of course, the effectivity of these fantastic devices depends on the type of carpet you have. As such, you need to be careful about what you buy so that you get the right model.
We've found the 9 greatest models on the market and reviewed to help you find your ideal model. Let's get our dustpans ready and sweep down to the reviews.
Top Manual Carpet Sweepers by Editors
Criteria For Selection Of Manual Carpet Sweeper
Before you actually buy one of these guys, you need to read up on some of the features that are essential for these devices. Keep these criteria in mind as you go through the reviews and judge what you need.
Power Source Type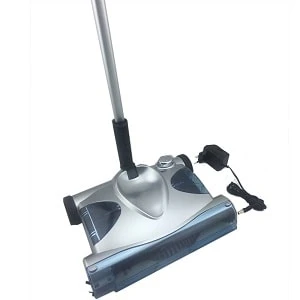 There're ultimately 2 types of Carpet sweepers based on where it gets its power; Manual units and powered ones. They are as they sound. Manual models do not need a power source and run based on your use. Powered types have mechanized so they need to be charged regularly and can run out of power through prolonged use.
Usually, you would want to get a powered model if you have a lot of carpets to clean. They're also the ideal choice if you want to deep clean the carpet. Manual models are better for light cleaning, though. They're ideal if you constantly clean before things get too dirty.
Wand Length
If you stay at an awkward angle while you clean, it's going to take a toll on your back. That's where wand length matters so much. You have to get something appropriate for your height. This way, it'll be easy and comfortable for you to use. You can clean longer as well. So, make sure you consider this.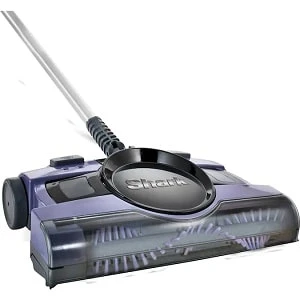 Sweeper Width
This depends on your own house set-up. Is your carpet on wide-open spaces with few obstacles? Then you'd want a wide sweeper to get the job done fast. If you have a ton of furniture in the way and tight corners, smaller width is the choice for you.
So, you must consider which configuration would suit your home better before you choose the sweeper width.
Dirt Canister Capacity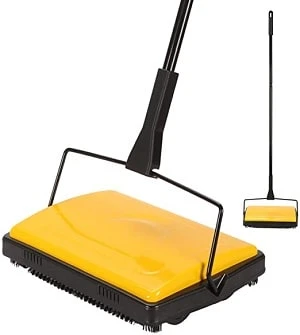 None of us want to deal with dirt canisters. We'd all like to handle them as few times as possible. That's why the capacity is so important. We'll want something that can suck up a lot of dirt so we won't need to empty it while cleaning.
Moreover, you'll want something easy to attach and remove. It has to be located somewhere convenient as well.
Weight
Lastly, there's the weight. Heavy models are naturally harder to handle. On the other hand, heavier machines dish out more cleaning power. So, make sure you take weight under consideration based on your preferences.
Top 9 Best Manual Carpet Sweeper Reviews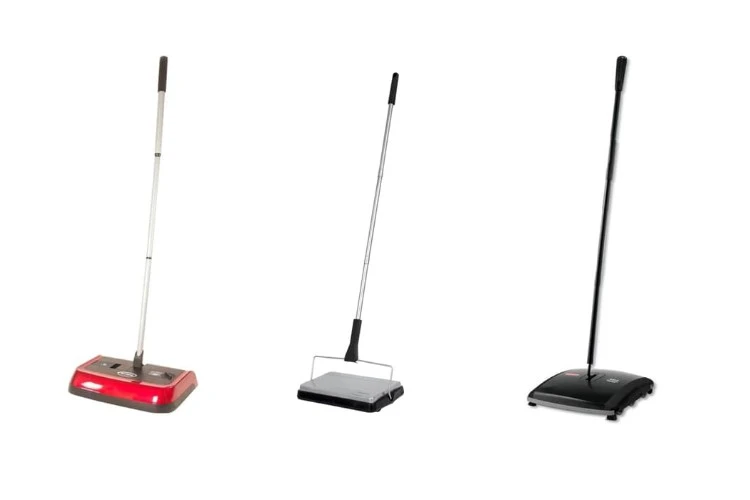 There're so many sweepers out there. So, we've tested a bunch of them to settle on the 9 best models we could find. These are the very best the market can offer, so let's check them out, shall we?
1. Bissell Natural Sweep Carpet and Floor Sweeper Review
If you love pets and animals, you get this wonderful model from Bissell. They're a superb brand with an incredible cause that anyone would love to support. The profit they receive is contributed to the welfare of homeless pets. That's not to say that the sweeper is of poor quality.
On the contrary, it's actually superb. It's lightweight and compact. You barely have to worry about storage because of it. The weight makes it easy to carry and transport as well. Nevertheless, it can clean your carpets with maximum efficiency.
The natural sweep is a manual sweeper. Meaning, it makes little to no noise while you clean, making your pets a lot happier as well. You can clean on multiple surfaces without any drawbacks. Rugs, hard floors, whatever you throw at it, it'll clean it.
Finally, we have to respect its dual-rotation system. Whether you sweep forward or backward, you'll get the job done. It'll also allow you to clean your rugs more thoroughly as you double sweep any surface. The tool is made from 100% recycled products. So, when you get this sweeper, you're not just getting a great sweeper, you're supporting a just cause!
Pros
Environment friendly
Dual rotating sweepers offer thorough cleaning
Works on carpets as well as hardwood floors
Lightweight and easy to handle
Cons
Not very effective when picking up hair

2. Alpine Industries Triple Brush Floor & Carpet Sweeper Review
Let's carry on this trend of manual sweepers for a bit longer, shall we? Alpine industries have always dished out amazing tools, but they've outdone themselves with the triple brush sweeper. It's both quiet and effective. The sweeper will show you how maneuverability is essential to an outstanding cleaning experience.
As a manually operated machine, the Alpine unit is unbelievably quiet. Your family or pets won't have to worry about the unbearable noise associated with vacuum cleaners. As such, you can get the job done silently.
Next up, we need to talk about how easy it is to handle the dust canister. Simply flip it over and empty it. The canister is easy to take down, and dirt never sticks to it. Of course, there will be bits of dirt that stick to the sweeper instead; however, they include a handy bristle cleaning brush. With this, you can keep your sweeper clean and dirt free easily!
Lastly, we need to talk about its fantastic maneuverability. This device is lauded for how well it can travel through corners and tight spaces. No dust is safe when this bad boy is on the prowl. It won't matter if you need to go through chairs, sofas, or tables, the brush will have your back.
Pros
Incredible cleaning potency
High maneuverability
Easy to clean and remove dust
Works with vastly different types of floors
Cons
Bristles have a tough time taking out hair

3. Fuller Brush Electrostatic Carpet & Floor Sweeper Review
Do you need a low-cost electric sweeper? Fuller Brush has got you covered. They offer an array of fantastic units, but the 17027 is beyond what we could've ever hoped for. This is an incredible model that deserves your attention, and here are all the reasons why!
For its price, you'd think it'd be corded. However, Fuller Brush understands how inconvenient it is to constantly deal with an outlet. Why should we? What if there isn't one in reach? That's why they offer uncorded use with their spectacular electrostatic charge. Simply charge it up and use it to your heart's content.
The unit itself is quite light and compact. You'll barely have any problems while you store and collect this tool. It folds completely flat to fit into small spaces and hanging in the closet.
This fantastic sweeper can handle any kind of floor; hardwood and carpets make no difference. At the same time, its cleaning potency is almost unmatched. There's nothing it can't handle. It can take down dust and hair just as effectively. Not to mention, there's a ton of color choices for you to go through as well.
Pros
Compact and foldable
Sturdy build with strong metals
Cordless build for superior freedom of movement
Cleans up any dust any on any surface
Cons
Might feel too small for some

4. BLACK+DECKER Floor Sweeper Review
A huge issue with some powered sweepers is their charge time. Once it's up, you have to wait for it to recharge before you can finish up your work. Who has the time for that? That's why you'll always want something with a ton of runtime. Thankfully, this entry has got you more than covered.
50 minutes, this guy offers you 50 full minutes of nothing but deep, thorough cleaning on a single charge. Not to mention how it charges up extremely fast. You can get everything clean in one session without any worries. This is because of its high-powered lithium-ion batteries that can handle any kind of task without the need for cords.
Moreover, its maneuverability can't be beaten. Take a look at how sleek the head is. It can go under anything, no matter how narrow. The head also swivels at a full 360 degrees. So, you get to clean corners and move under chairs and tables while making sharp turns. As such, its steering capabilities are unmatched.
We can't believe a tool with this much power can be so lightweight. Besides, the battery's effectiveness doesn't make it any heavier than it needs to be. So, you can clean with one hand with ease. Storage is easy too as you can hang it up anywhere. The sleek head makes it easy to stow away in tight spaces as well.
Pros
Outstanding 50 minutes runtime
Carries 12.5 ounces of dust at a time
360 degrees swivel offers complete steering control
Flat build can clean small spaces
Cons
The battery is unfortunately not replaceable

5. Shark Cordless Rechargeable Floor & Carpet Sweeper Review
Let's move on to an entry from Shark. They've pumped out quite a few affordable and outstanding sweepers, but this one was the one we just had to recommend. This durable 10-inch cleaner can sweep away anything with ease. Its cordless build also considerably boosts durability and ease of use.
However, that's not all it boosts. It introduces top-notch swivel steering. With this one on your hands, you can clean up anything. No dirt is safe from this tool's reach as it can make sharp turns and get around furniture with no issues at all.
On the other hand, the machine is powered by a high-quality lithium-polymer battery. This gives it a long runtime and considerable power to work with. It's easy to set up and charge, making it an all-in-all extremely convenient device.
Of course, the convenience doesn't end there. It's actually quite quiet. You'd normally think that it'd be loud based on how well it can suck up dirt, but it stays silent the entire time. We had to put it on our list based on how much value it offers.
Pros
The durable build lasts long
Operates quietly
The dust canister is easy to detach and empty
Swivel steering features
Cons
Recharge time is longer than it should be

6. OnTel Products Max Cordless Swivel Sweeper Review
Sweepers vary in raw power. Some are extremely fast, while others are slow. Do you want complete cleaning dominance? Then your best bet would be something powerful. When talking about power, what could possibly offer more than this fantastic swivel sweeper?
This 7-volt takes cleaning very seriously. It'll take down any amount of dirt effortlessly. You won't have to tire yourself with repeated passes as it sucks up anything that comes its way with its 4,000 RPM brushes. With that kind of force, your house will become spotless in no time. You'd think a device with this much power would run out fast.
However, this model is an exception. It can last a whopping 45-minutes on one charge. That kind of runtime works great with its cleaning capacity, making cleaning a quick and fun activity.
At the same time, could we ever talk about a swivel sweeper without mentioning the sheer convenience of the swivel feature? Absolutely not! It's such an amazing feature that lets you clean from all sorts of angles and steer with the utmost ease. The model's durable 360 degrees sneaking is nothing short of absolutely fantastic.
Pros
Long runtime at high power
Brushes spin at 4,000 RPM
Superb 360 degrees swivel potential
Low-profile build lets you clean tight spaces
Cons
Might sometimes skip when cleaning crumbs

7. Karcher KB5 Cordless Sweeper Review
Our 7th entry is nothing short of premium. It's one of the most lauded sweepers out there. Experts all around the world have recommended this quality machine and for a good reason. You'll hardly find anything better. So, let's go over a few reasons why they are so popular.
Starting off, we have to praise its intuitive design. You won't have to bend down to click the power button anymore. It has an auto-start function when you pull the sweeper, making it astronomically more convenient to use and deal with. The handle is also highly adjustable as you can lower it to 180 degrees to reach the right spots.
Accordingly, this Karcher offers a patented design that ensures maximum effectiveness. It can clean rugs and hardwood floors alike; the KB5 does not discriminate! Thus, it'll clean everything with its high-power brush rolls. Debris, pet hair, plain old dirt, it'll clean them all. Your carpets will be spotless once you're done.
Furthermore, the KB5 is easy to use and maintain. The spectacular handle gives you complete control over your ability to clean and maneuver through your house. Detaching and reattaching your dirt canister is easy too. Its slim build makes it easy to put away as well. This is, no doubt, the ultimate cleaner, through and through.
Pros
Incredible build quality
Auto-start feature for added convenience
Dust canister has a high capacity and is easy to manage
The powerful Lithium-ion battery enables prolonged use
Cons
3-hour recharge time can take a bit long

8. Rubbermaid Floor and Carpet Sweeper Review
Have you been sitting through this list waiting for a truly commercial piece? You won't be satisfied with domestic-use sweepers? Then Rubbermaid has the perfect model for you. The sheer power, quality, and utility make this nothing short of a must-buy and a deserving entry on our list.
When you're on the job, you need to get rid of dust fast. So, the Rubbermaid model makes sure you can take out the dust canister very easily. Not a single speck of dust remains as it dumps everything out. Cleaning becomes a whole lot more effortless this way.
Next up, we need to introduce its high sweep path. You can get a lot of work done in a short amount of time when you have 6-1/2 inches of sweeping per stroke. It makes your job a lot easier and cleaning a lot faster. Each side is covered with a soft bumper that ensures that your furniture stays unscratched if you accidentally bump into them.
Likewise, the build quality is simply out of this world. It doesn't settle for low-tier plastic and steel, it goes all out. We're talking about high-grade galvanized steel and awesome ABS plastic to last as long as possible.
Pros
Bumper protections let you clean quickly and safely
Long sweep path covers a lot of ground very quickly
Easily moves along and cleans any surface
Auto-start system adds tons of convenience
Cons
Has issues when dealing with walls or corners

9. Ewbank Evolution 3 Manual Sweeper Review
For our final entry, let's take a look at a manual model. In general, these are weaker than a mechanized unit. Nevertheless, they offer a special kind of utility and convenience that makes them special. Among them all, the 830UKR is the best you'll find. It's premium built and extremely capable.
You get to choose between a Hi and Low option to easily deal with both high and low pile carpets. This improves effectiveness when dealing with different types of carpets. It makes the model a lot more versatile already.
The 9-inch sweeping space lets you clean up everything on your path. Each stroke tackles a large portion of dirt and debris and eliminates them with little to no effort. Need to collect them, but you don't want to flip your sweeper over and spray it all over your face? Ewbank has you covered! You can collect the dirt from the top side; this makes it more hygienic.
Besides, it utilizes high-quality synthetic bristles to improve its cleaning potency. The steel is also coated steel to improve longevity and durability. Although it's relatively pricier than other manual models, it has earned it. The value it offers in its cleaning quality and innovative design makes its every penny worth.
Pros
Top-side dustpan makes collection much easier
Superb cleaning potency due to high sweeping length
Easy to switch setting between high and low pile rugs
High-tier, durable handle
Cons
It's more expensive than others of its kind

Do You Really Need A Carpet Sweeper?
Some might claim that a carpet sweeper is essentially an expensive broom. We must admit that there is some truth to that statement. However, that's a gross over generalization of the matter. Nevertheless, there are a lot of things that make the carpet sweeper a must-have home tools.
Cleaning Potency
First and foremost, we have to acknowledge the fact that they are much better at cleaning than a regular old broom. With enough hard work and effort, you might be able to get the same kind of results through brooms. However, when you try to clean a rug or a carpet with a broom, it's a whole different matter entirely.
They have a hard time taking dirt, debris, crumbs, or pet hair out of carpets. That's why the cleaning potency of a carpet sweeper is so important. They are able to get into the carpet and extract the dirt-all without the need for a vacuum.
There's hardly a replacement for a vacuum cleaner when you want to get deep into cleaning your home. That can be time-consuming and tiring, but it's a must for a clean and healthy house. You should clean your house at regular intervals if you don't want to have long and arduous cleaning sessions in the future.
Does this mean we have to bust out a vacuum every day? Absolutely not. A sweeper will get the job done and stay quieter and easier to use. Moreover, they're easy to store and put away, so they're the ideal tool for regular light cleaning.
Lightweight And Comfortable
Nobody can deny just how comfortable these tools are. They feel nicer to use and doesn't stress the back as a broom would. So, you get better cleaning and more comfortable use. Unlike vacuums, they aren't very heavy. That makes them easy to carry and move around anywhere and everywhere.
Besides, storage is easy too since they generally don't take up as much space. It also lets them tackle small spaces where a generic vacuum simply could not. All in all, they are significantly easier to use and handle.
Manual Or Rechargeable
Many people will argue that a manual unit's lack of power consumption, silence, and usage makes it the ultimate sweeper. Others will say that a rechargeable unit's cleaning potency makes it the best. However, this debate isn't as simple as that. Let's go over each type to figure out what you should get.
1. Manual Model
These do not require electricity to work. They run as you sweep through your house. Naturally, you won't have to worry about runtimes since they'll never need recharging. So, you can effectively keep cleaning indefinitely.
However, cleaning will take a lot longer than you'd hope. This is because they're generally weaker than a rechargeable model. As such, they're not the best unit to use when you got a lot to clean.
2. Rechargeable Model
They work just as their name implies. You have to charge them up before you can use them. They operate based on runtime. It could be a lot or very little. That depends on battery quality. The longer it can run, the more expensive it'll be. However, its cleaning potential is much greater than the manual units.
The brushes rotate rapidly to get dirt into the canister thoroughly. As such, it barely leaves any debris behind. Everything gets completely cleaned out. Thus, they're the ideal units if you want better cleaning results. Of course, they are more expensive.
Go over these differences and make sure you get what suits you best. Generally, you should get a manual unit if you plan to get some light cleaning done for dropped crumbs or debris. In those cases, it's not a good idea to shell out so much money for something unnecessarily expensive.
On the other hand, powered models are great for cleaning. If you find yourself needing a tool to handle weekly or bi-weekly sweeping, a rechargeable unit would suit you better. They'll help you do a better job and clean things up faster.
Verdict
These sweepers are amazing. They offer an incredible cleaning experience at an affordable price and low sound. Carpets might be hard to clean, but that won't matter anymore with these tools in your hands.
There're a lot of little things that make up a good sweeper. However, we're not settling for a good model anymore. You now know everything you need to get your hands on the very best carpet sweeper there is. So, get your hands on the tools you need to make your house a dustless palace of cleanliness.
With these sweepers by your side, your carpets will be clean enough to earn the envy of the sultans themselves!
Buy on Etsy
Fuller Brush 17052 Electrostatic Carpet & Floor Sweeper - 9" Cleaning Path - Lightweight - Walmart Link
Fuller Brush 17042 Electrostatic Carpet & Floor Sweeper with Additional Rubber Rotor - 9" - Walmart Link
Alpine Industries Triple Brush Floor & Carpet Sweeper - Heavy Duty & Non Electric - Walmart Link
EZ SPARES Quiet Carpet Sweeper, Floor Sweeper with Horsehair Roller Brush Strong,Suitable - Walmart Link
Bissell Natural Sweep Carpet and Floor Sweeper with Dual Rotating System and 2 Corner - Walmart Link
Bissell Easy Sweep Compact Carpet & Floor Sweeper, 2484A, Teal - Walmart Link
BISSELL Refresh Manual Sweeper - Pirouette, 2199,Blue - Walmart Link
Buy on eBay
Fuller Brush 17052 Electrostatic Carpet & Floor Sweeper - 9" Cleaning Path - Lightweight - eBay Link
Fuller Brush 17042 Electrostatic Carpet & Floor Sweeper with Additional Rubber Rotor - 9" - eBay Link
Alpine Industries Triple Brush Floor & Carpet Sweeper - Heavy Duty & Non Electric - eBay Link
EZ SPARES Quiet Carpet Sweeper, Floor Sweeper with Horsehair Roller Brush Strong,Suitable - eBay Link
Bissell Natural Sweep Carpet and Floor Sweeper with Dual Rotating System and 2 Corner - eBay Link
Bissell Easy Sweep Compact Carpet & Floor Sweeper, 2484A, Teal - eBay Link
BISSELL Refresh Manual Sweeper - Pirouette, 2199,Blue - eBay Link