The best Christmas decorations can bring the Christmas cheer to your home without costing you a lot of money. During this jubilant time of the year, people use decorations to create an inviting environment at home and spread the holiday spirits to neighbors and friends. Let us face it. Most people smile or feel good whenever we drive through or pass by a house with yard decorations and shimmering Christmas light during Christmas. The more the decorations people use, the better.
If you are shopping for the best Christmas decorations for the exterior of your home, you are in the right place. I have searched low and high for the best outdoor Christmas decorations and come up with a list that will bring a bright smile to the residents of your home.
Merry Christmas, Spread the Cheer!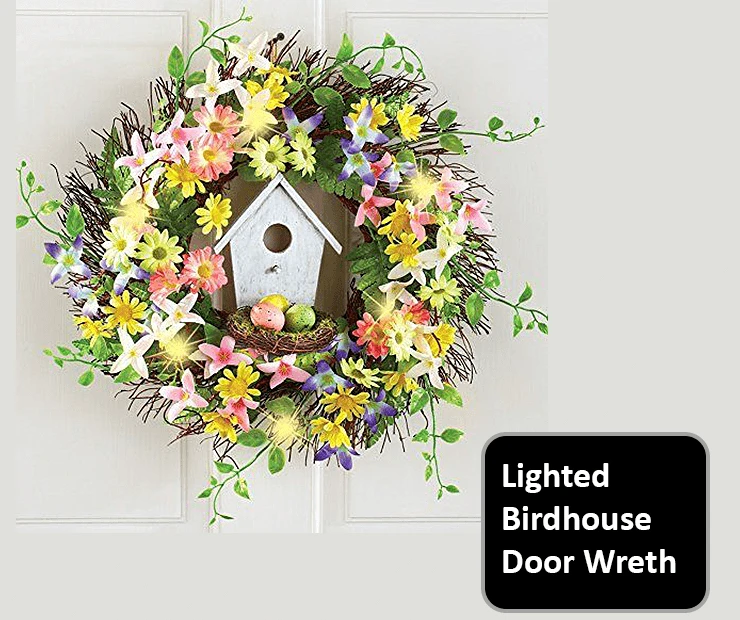 During special occasions such as Christmas, people use different decorations to bring life and joy to their homes. Others wear Others wear Christmas sweaters, host parties from their friends and family members with the hope of spreading joy and love or decorate their yards with vibrant Christmas accessories such as lights.
Almost all people who celebrate Christmas find time to decorate their homes. Those who live in urban areas in modern homes such as condominiums use patio decoration due to space limitations. They often ignore their yards, especially if two families share a space.
This is unfortunate as the yard is a perfect canvas for decorating homes for special occasions. If you plan to decorate yours, do not use one type of decoration, as they often fail to bring such spaces to life. To create a vibrant and joyous atmosphere, combine a variety of decorations in your yard. This way, you can create an atmosphere that communicates your home vision and highlights what the Christmas season means to you.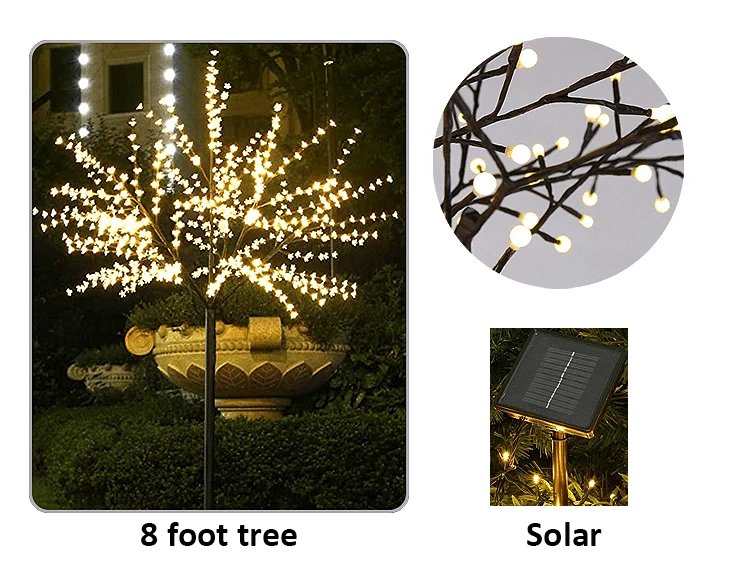 A well decorated home not only brings joy to household members only but also passersby – especially at night. Christmas presents people with an opportunity to bring family and friends together and have a wonderful time. Even though it is fun to decorate for Christmas, buy items that will not only bring the best out of your home but also fascinate your guests. Many unique models are available in reputable web, and offline stores so check them out with your family. Start with your local department or hardware stores as they carry a variety of products. Online shops are also ideal, but take a bit of time to ship.
Last week, I passed by Home Depot, and they had a great selection of cool Christmas decorations for the home. This was a great sight as I felt the urge the buy them all. Browse our collection of the best Christmas decoration ideas to have a good idea of what will work in your home.'
Christmas Decorations for the Exterior of your House
If you love to decorate your yard to spread Christmas joy and cheer, this review offers unique ideas on improving the look of homes.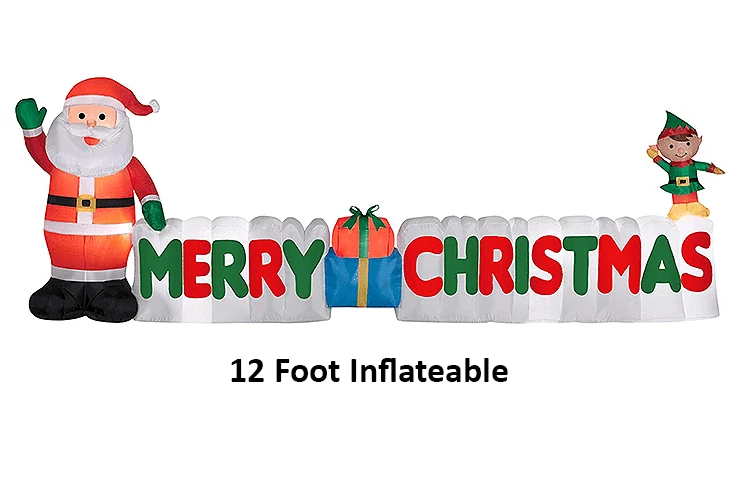 To share your love for Christmas with the world, this décor will work the best for you. It has a bright, direct, and bold look that is great. Moreover, you get everything that you will need to decorate your home, including lights and a fan for inflating the components.
Features:
Santa and elf spreading the Merry Christmas message.
Self-inflating design has an inbuilt fan.
Weather-resistant materials withstand the elements.
Glowing nighttime display from internal lights.
Has tethers and stakes for easy and quick set up.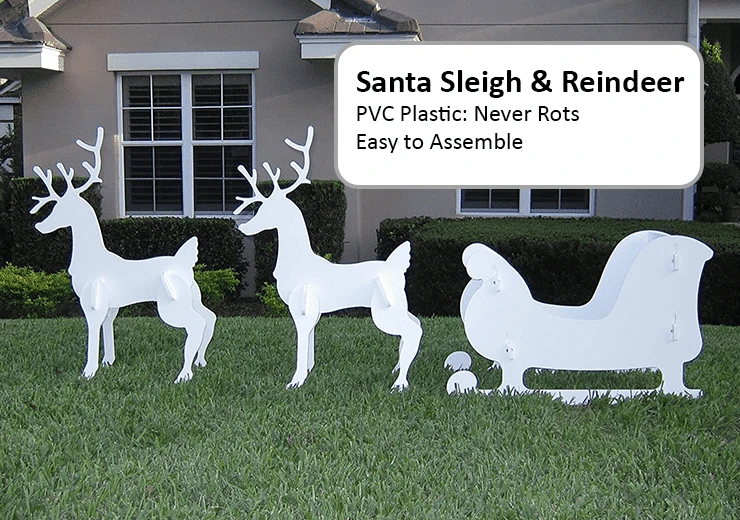 Are you shopping for a set of wooden outdoor Christmas decorations for your home? This reindeer set might fascinate you, as it is stylish (white) and made from weather-resistant wood that lasts for years.
Features:
Two reindeers and a large Santa set – Updated 2013 Version.
The sleigh is 34×46.75×20.75-inches while the Deer is 53.75x37x14-inches.
Long-lasting, marine-grade materials.
A larger set with an additional deer available.
USA-made product.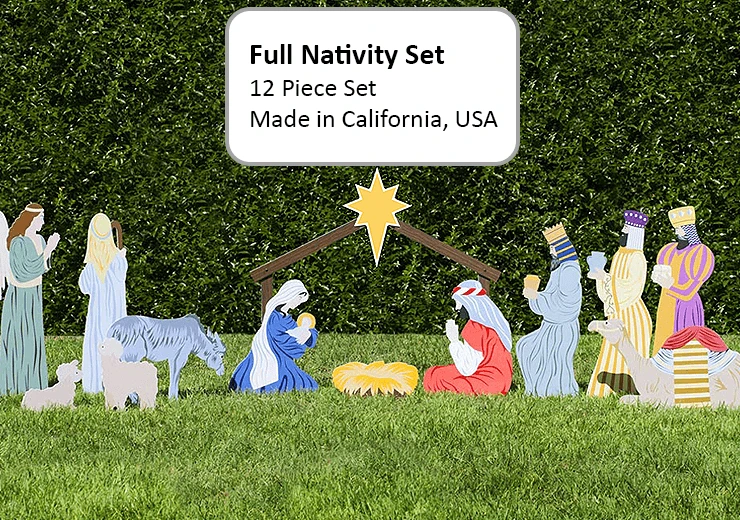 You will appreciate the look of this nativity scene on your yard. Nativity is a common term in this niche, but most people do not what it means.
According to Wikipedia:
"The Nativity of Jesus, also called simply The Nativity, refers to the accounts of the birth of Jesus in the gospels of Luke and Matthew, and secondarily on some apocryphal texts.

Luke and Matthew's canonical gospels both describe Jesus was born in Bethlehem in Judea, to a virgin mother. In Luke's Gospel, Joseph and Mary travel from Nazareth to Bethlehem for the census, and Jesus is born there and laid in a manger.[1] Angels proclaim him a savior for all people, and shepherds come to adore him. (Read more)"
Note: The product is available in two sizes — small and large.
Features:
A set of12 colored nativity set figures for the outdoors with collapsible yet stable stakes.
The assembled scene measures13 feet long and 44-inches high(the top of star). Joseph and Mary each measures 24-inches high, while the Wisemen and the Angle measure 36-38-inches and 36-inches respectively.
Easy to sets up in minutes using a hammer only. When not in use, you can store them safely in an 8x38x6-inch container.
Made of a fade-resistant, all-weather PVC plastic in California, USA.
Can withstand snow, rain, strong winds, and harsh sunlight.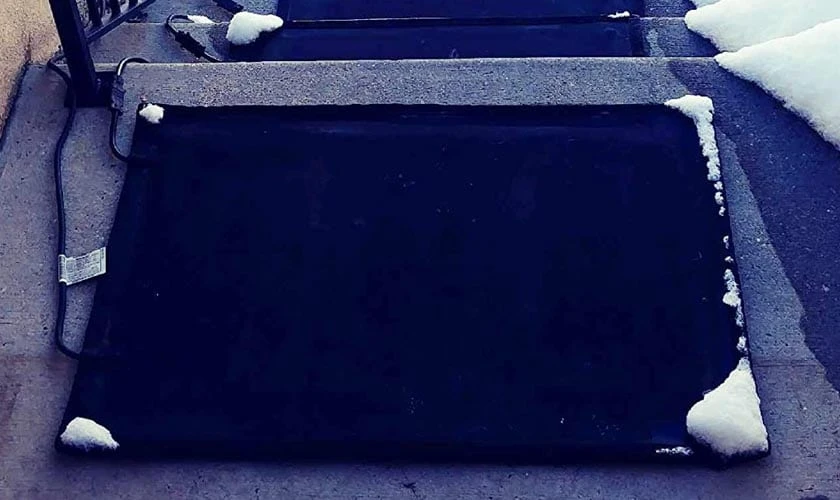 This unique nativity scene has a stylized, whimsical design (inflatable) with everything that you will need to set it up correctly on your yard. It also has a cool looking design that will light up your yard at night.
Features:
Self Inflates in seconds to 79x40x6s-inches.
Lights up at night to improve vision.
Deflates to a small size for easy storage.
Has an inflating fan, tethers, and ground stakes.
It works well outdoors and indoors and is easy to set up.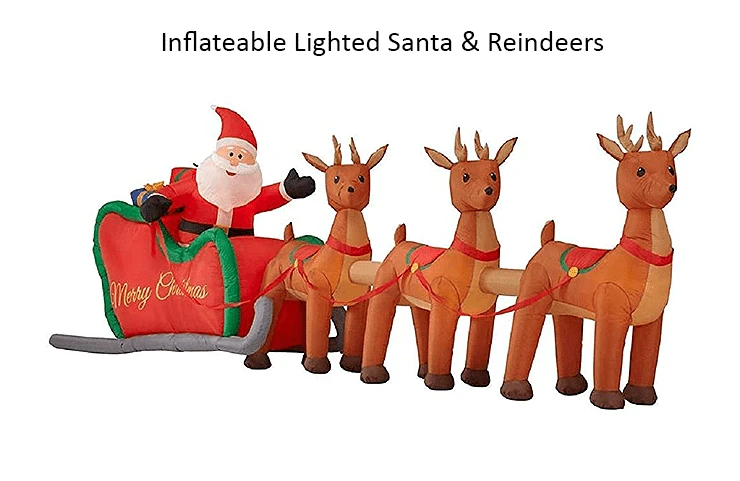 With this inflatable Christmas decoration, you get Santa and his reindeers on a magical flight. The lighted sleigh has a 16-foot long self-inflating design with ground stakes for stability. It also comes in bright colors that stand out from afar, thus spreading the holiday cheer.
Includes: Santa, three reindeers, and a sleigh full of toys
Features:
Lighted sleigh.
Self inflates in a few seconds.
Weather-resistant design/materials.
Everything parts included for easy set-up.
Assembled Height is 55.90 inches. Assembled depth is 32.28 inches, while assembled width is 192.10 inches.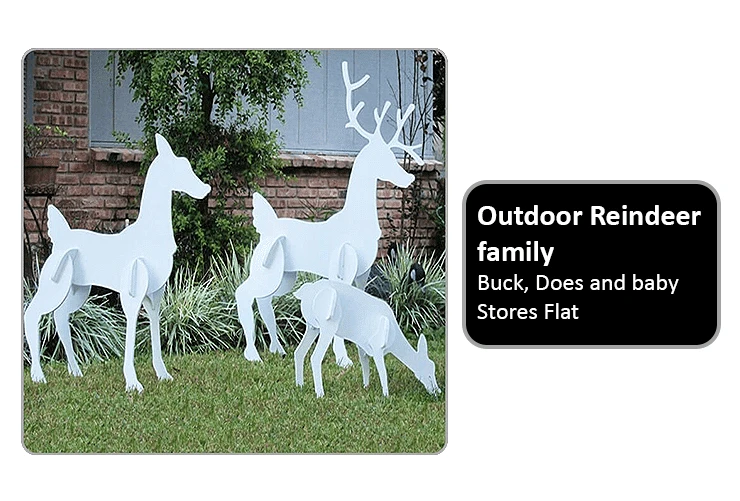 Features:
Peaceful and durable Christmas deer scene.
Long-lasting, marine-grade plastic.
Quick and easy assembly.
Three-piece kit including a calf, doe, and buck.
Folds flat for easier storage.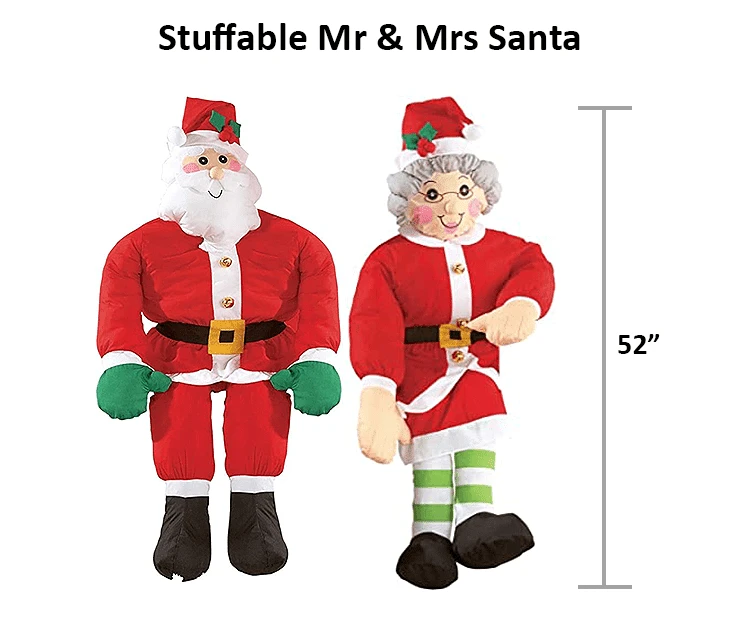 Features:
Have an expandable design. Fill with your plastic bags or old clothes to your desired size.
Bright and colorful designs that look good on pouches and other areas of the home.
Hand washable cotton and polyester fabric. Have a leak-poof zippered closure on the back.
Santa or Mrs. Claus sold separately.
Measures approximately 52-inches high.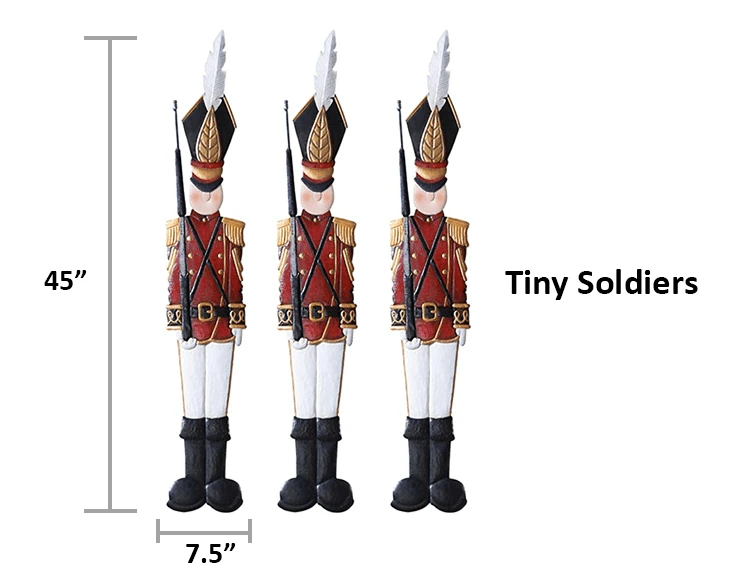 Works well outdoors and indoors.
Features:
Has a nostalgic holiday look featuring an old-fashioned yet charming tin soldier
Hand-painted metal sculpture with durable and intricate details
Has a stunning color play (deep red soldier's jacket). You can add one to your doorway or fireplace, to name a few.
Secure keyhole on the back for hanging it on walls
Measures 7.5x4s-inches

Features:
Color LED Lights.
Self-Inflates in a few seconds and has bright lights that offer better night-time viewing.
Deflates for easier storage.
Includes: ground stakes, inflating fan, and tethers.
Works well outdoors and indoors.
Effortless to set up.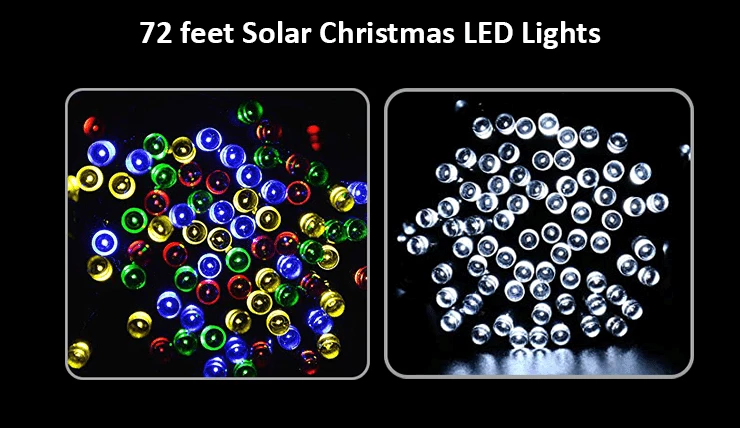 Features:
This string light has bright bulbs that light up yards at night. It can also illuminate patios, gardens, porches, lawns, and gates.
Has an extended working time. It can work more than 8 hours at night during a sunny day.
Waterproof design works well outdoors and indoors.
Has a 20cm garden spike for mounting the solar panel. It also has ON/OFF MODE switches.
Flashing mode convert switch and a Power On/Off (After switch turned on) provided for controlling its light/charge automatically.
Package Includes:
One Solar Panel.
One 20 centimeter Spike.
One 200-LED Solar String Light.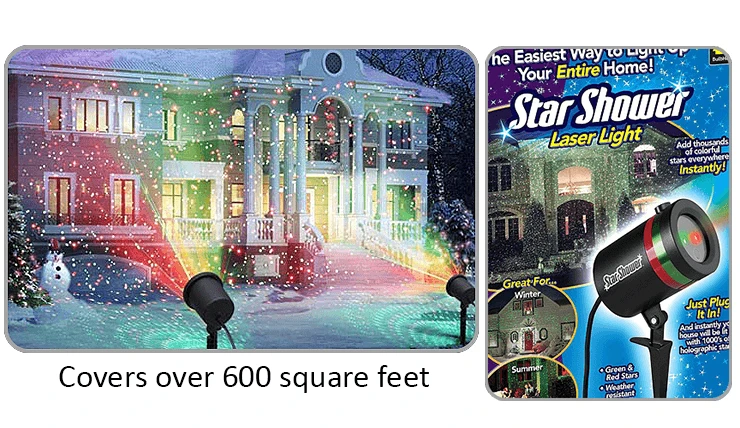 Features:
Versatile outdoor Christmas lights.
Top-rated design.
Star Shower star projector covers 600 square feet.
Weather-resistant design.
Star Shower laser light displays thousands of combinations of red and green lights.
While this matching Santa toilet seat cover is not an outdoor Christmas decoration, it has a cool and functional design that will serve you well even after Christmas. Moreover, it is attainable cheaply online.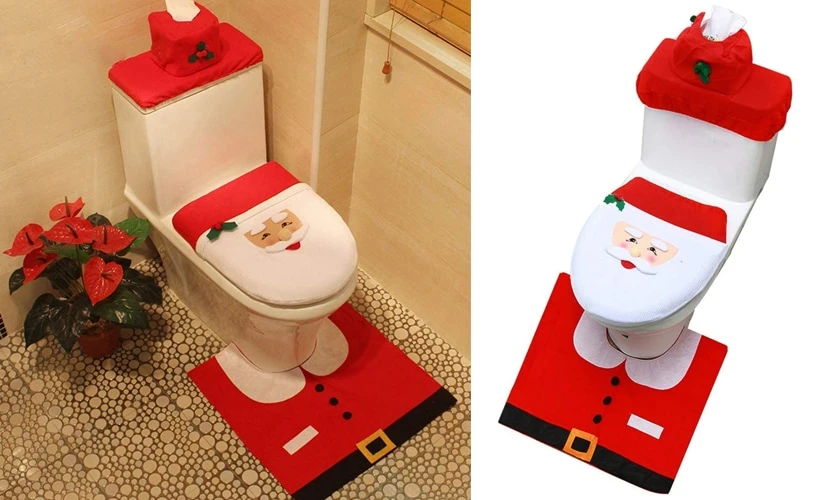 Do you have a dull bathroom that lowers the value of your home? Your kids and your gets will love the look of this Christmas gift in your home. This Santa set is cost-effective and designed to boost the Christmas cheer in the house.
Features:
Four-piece rug and Santa toilet seat cover set
Toilet Seat Cover measures 16×14-inches, while the tank cover measures 20×11-inches
Seat and tank cover has a snug-fitting elastic insert
Colorful rug (contoured) with an anti-slip rubber backing (22×23-inches).
Tank cover includes a tissue box cover