The WEN 56180 is a dependable 1800-watt generator that is popular in most households for several reasons. First, you are getting a well-built accessory that works seamlessly for years. It is also cheap (affordable). Here are a couple of its quick facts that might fascinate you: It has a lightweight design (50 pounds), making it portable. It also has a long un time or around 7.5 hours under 50% load, which is equally interesting.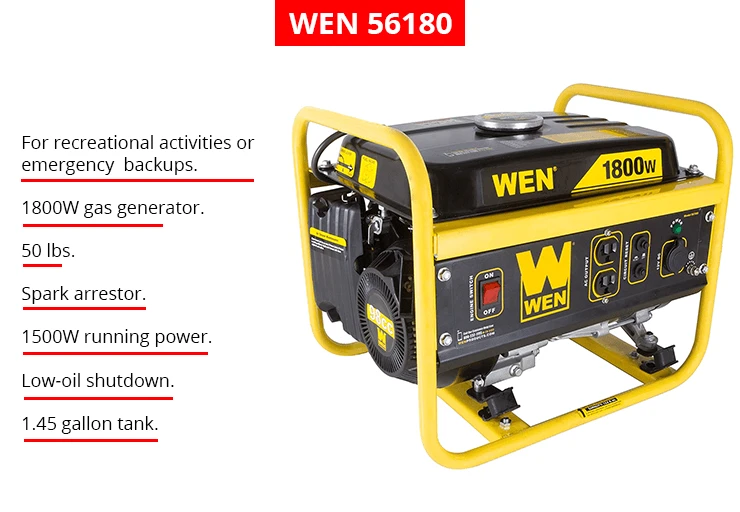 Powerful 13,000W generators such as the WEN 5613K are not suitable for small homes. If you use power-efficient devices such as mitre saws, juicers, microwaves, sump pumps, televisions, and refrigerators, the WEN 56180 might be a good option. While it cannot support all these devices at the same time, you can use them individually issue-free. The best 13,000W generators are different as you can power all at the same time.
Luckily, WEN produces many innovative generator types that satisfy the needs of different people. We have reviewed the most suitable options.
WEN 56180 | Which Generator is Best for You?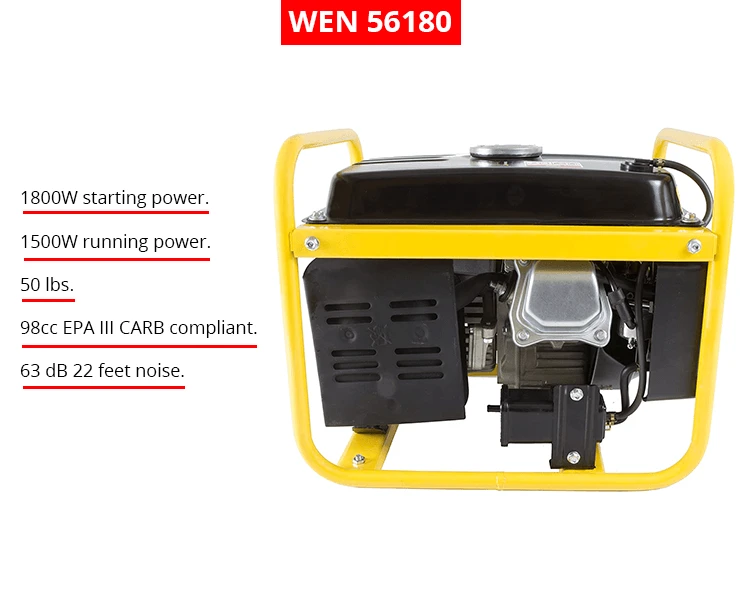 Portable generators are resourceful accessories that can in handy during emergencies. They are also suitable for recreational use as they support a range of activities in households and commercial settings. Even though many novel models are available in stores, the WEN 56180 is one of the best options in 2022, as it can satisfy the demands of most individuals.
The best portable generator boils down to how you intend to use it. What applications do you intend to handle with your preferred generator? How much power do you need in your home or office? To have an accurate estimate of the electricity you will need, check the appliances at home.
For the average Jane (or Joe), WEN 56180 generators are a great option because they perform well and are very easy on the pocket. Therefore, if you have shallow pockets but want a reliable power source for your home, this is a top choice. It is affordable and relatively cheaper to use.
Components of the WEN 56180 Generator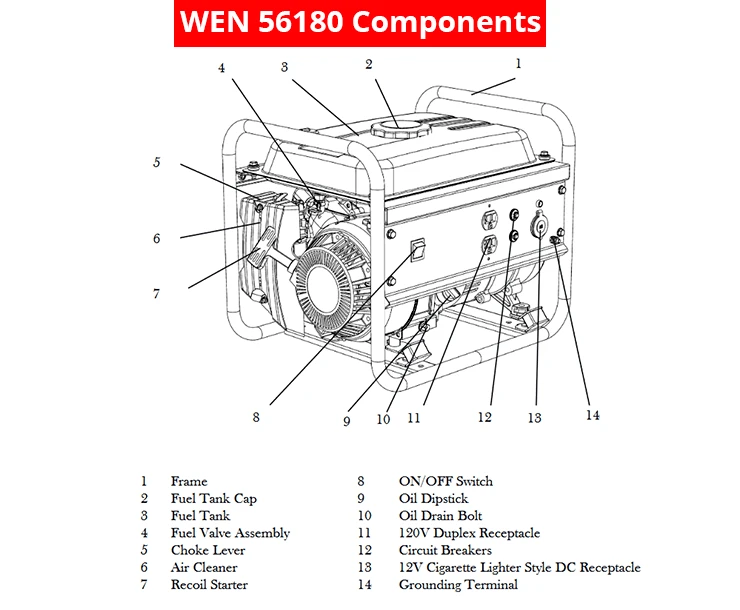 About WEN | The Company
Let us have a look at what the WEN company is all about. While the brand is not as popular as big names such as Husqvarna, you should expect value for your money. The product is super reliable. Moreover, because of its commitment to producing quality products, the company does its best to offer homeowners equipment and power tools that can withstand the test of time. Finally, brands such as WEN 56180 (1800-watt) have gained recognition all over the world due to their portability. It is a contender for the most reliable portable generators of all time.
The gas-powered generators in its arsenal are durable and have quality features such as low oil shutdown, which protects the engine from damage. Whenever its oil drops below the optimal level, it shuts down to protect the engine from overheating. The generators also have spark arrestors, making them safe to use in open spaces such as National Parks. Finally, WEN has released CARB-compliant models with low emission systems (eco-friendly) that protect the environment from damage.
WEN 56200i | Ultra-quiet Inverter Generator | Clean Energy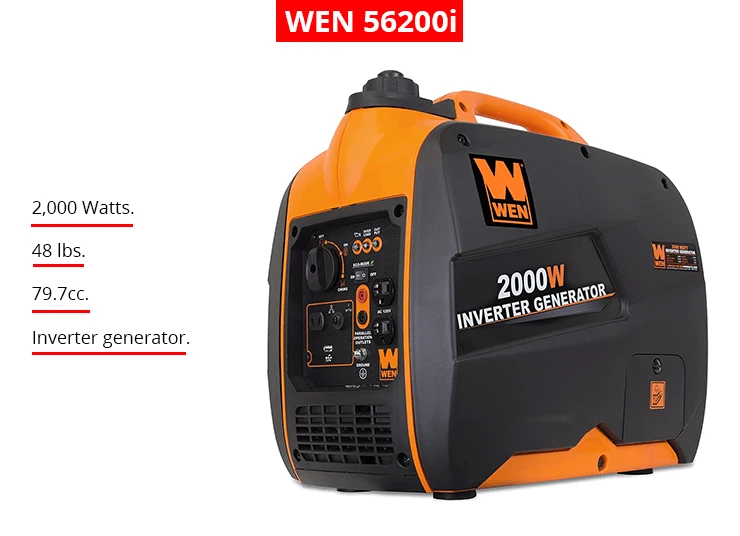 WEN has a commendable customer service system for its products. Thus, in addition to a quality generator, you will receive detailed self-help instructions on how to assemble, use, and maintain the generator. Whenever you are having issues at home or in your office, WEN will do its best to answer your concerns or question to make the experience as seamless as possible. It offers reasonable warranties on factory defects.
WEN has service centres across the United States of America (USA). Before ordering its products, visit the centre in your locality to learn more about its products and compare available options. Let us be honest, all products, irrespective of the brand, will break down at some point. Thankfully, because of the reliability of WEN products, this does not happen often. Its mechanical products – including generators – can take a thorough beating without issues. Servicing and repairing them is easy.
Overview | Full WEN Generator Series:
The Lightweight WEN 56180 — 1800W Generator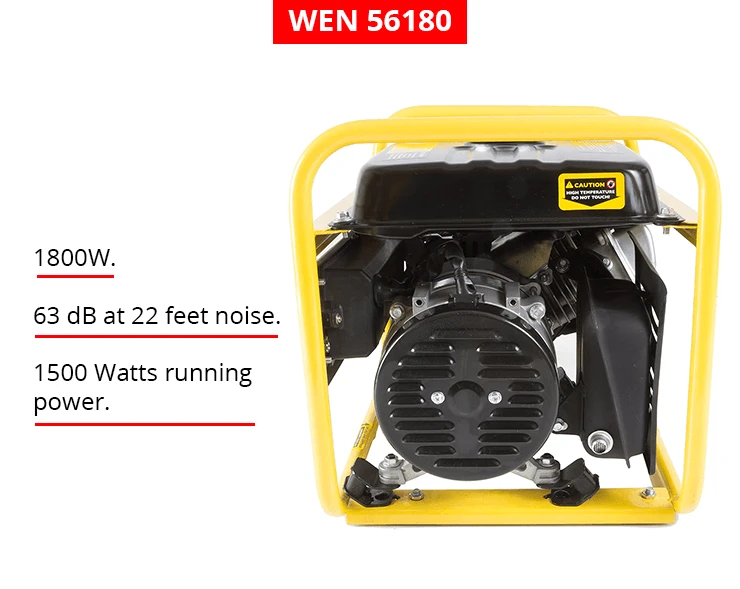 Features:
CARB and EPA III compliant are accepted in all 50 states.
Has1500 running watts 1800 surge watts, making it a powerful device.
Runs for 7.5 hours at half load using around 1.45 gallons of gasoline.
Has two 12.5A AC120V three-prong wall outlets and a 12V DC cigarette lighter.
The 4-stroke OHV engine has a low oil shutdown for protection.
Spark arrestor prevents accidental fires in backyards, parks, or forests. Therefore, it is 100% safe to use in such areas.
Download or View the WEN 56180 gas generator's MANUAL.
The WEN 56180 has a portable, 1800-watt design that comes at an affordable price in reputable stores. It is also one of the most powerful in this niche. Weighing just 50 pounds, transporting this product is easy. You can take it camping or tailgating on demand and get sufficient power for running all essential supplies whenever there is a blackout. You get 1500 watts and 1800 watts running and surge watts, three-prong AC outlets (12.5 amperes) and a DC outlet (12 volts), each universal.
WEN Cover | UV Resistant and Waterproof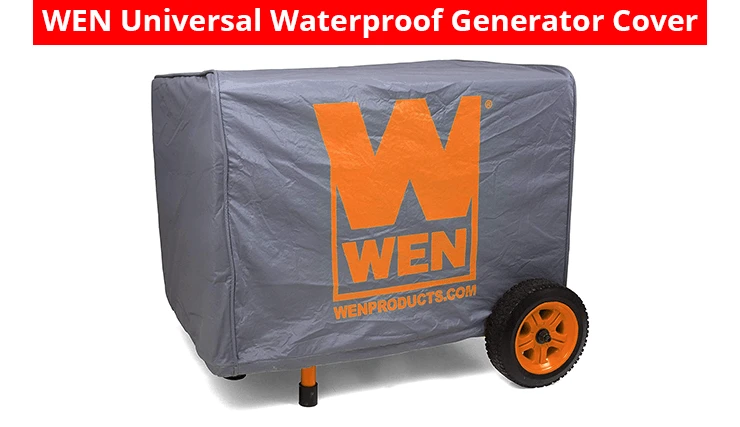 Like many WEN generators, this portable 1800-watt model has a 4-stroke engine with an overhead-valve, which is one of the most efficient in this niche. If you fill its 1.45-gallon tank with gas, you can use it for over 7.5 hours at half load. Compared to other brands, you not only pay a lower upfront cost for a new one but also lower running/maintenance costs.
A Step Up: WEN 56352 – 3500-Watt Generator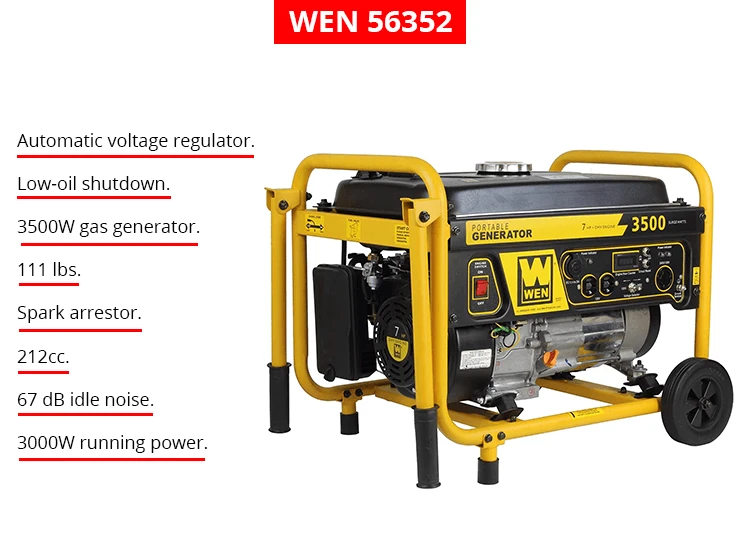 Features:
Digital readout tells you when to maintain it or change the oil.
Overload protection and low-oil shut down for safety.
Has foldable handles that boost portability and a wheel kit.
The 212cc engine has 3000 rated and 3500 surge watts.
Do you require an all-purpose generator that generated more power than the WEN 56180 portable model? This model might satisfy your needs for many reasons. Its 212cc engine generates 3300 rated watts and 3500 surge watts. It has an average run-time of 11 hours at half load. You also get a wheel kit for moving it from one place to the next and a digital control panel that provides maintenance schedule reminders in real-time.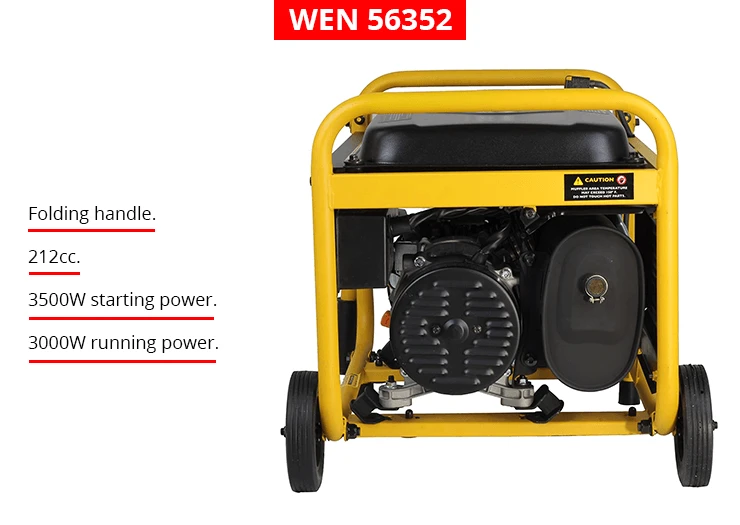 Download or View documents for the WEN 56352 generator: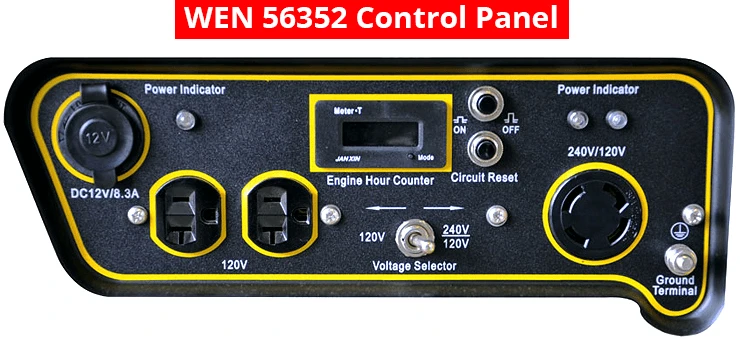 An extract from the Manual (page 20):
The generator can run at its surge wattage capacity for only a short time. Connect electrical devices requiring a rated (running) wattage equal to or less than the rated wattage of the generator. Never connect devices requiring a rated wattage equal to the surge wattage of the generator. This can trip the circuit protectors (circuit breakers).
The Savvy Generator: 5500-Watt WEN 56551 Generator
This Non-CARB compliant product is illegal in California.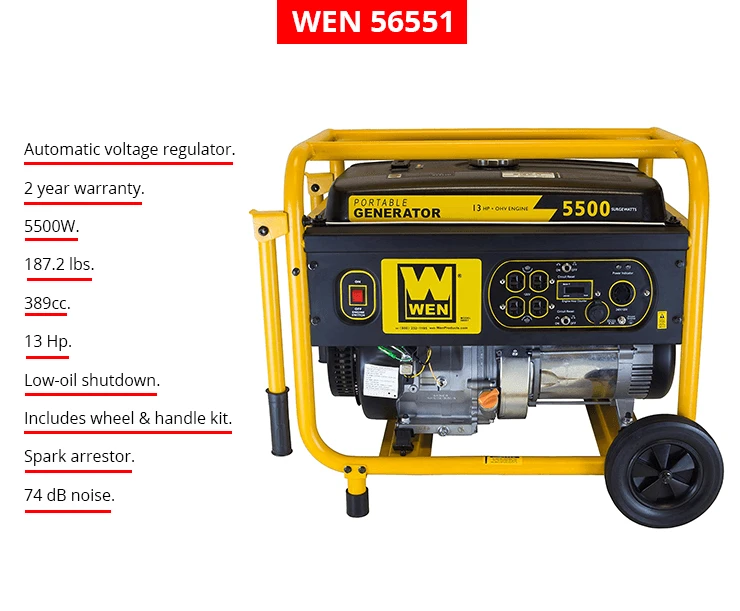 Features:
13 HP (389cc) OHV engine with 5000 running watts and 5500 surge watts.
A large fuel tank (6.5-gallons) has an 11-hour run time at half load.
An automatic voltage regulator generates clean power to protect electronics.
Has four three-prong outlets (120V/ 20A), one L14-30 twist-lock outlet (120/240V 30A), and a 12-volt cigarette-lighter outlet (DC).
Includes a handle and wheel kit and a NEMA L14-30 plug.
240-volt and 120-volt AC Outputs.
Automatic low oil shutoff.
Circuit Breaker boosts Overload Protection.
Two-year limited warranty.
WEN 56551 Documents: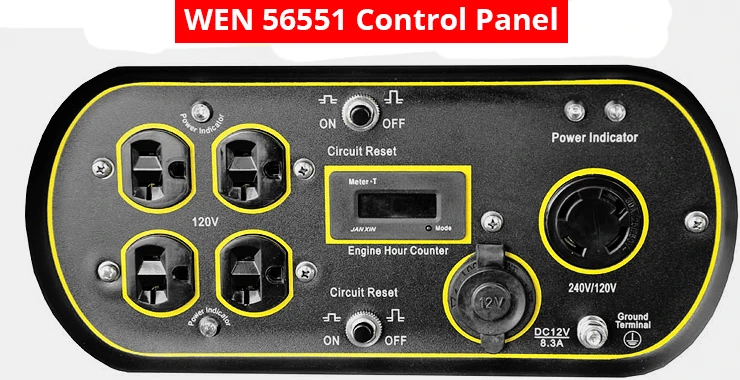 One thing you should know about conventional gas-powered generators is that they are not suitable for powering sensitive electronics. However, because models such as 56551 have an automated voltage regulator that prevents fluctuations, you can use it safely in most settings. In case of a blackout, you can use it to power your laptop without structural or electrical damage. Its four AC outlets (120V 20A), twist-lock receptacle (120/240V 30A), and 12-volt car charger (DC) are versatile and 100% safe. You can use more than one device at the same time without issues.
— Advice from the WEN 56551 Manual (Page 4):
ALWAYS ground the generator before using it (see the "Ground the Generator" portion of the "GENERATOR PREPARATION" section).
Plug your electrical devices into this portable generator directly or using an extension cord. NEVER connect it to a building's electrical system without the help of a qualified electrician. For safety, make sure that the connections comply with all codes and laws. Failure to comply with such specifications can create a back-feed, leading to serious injury, damage to property, or death of a person.
The idea for conductive areas | TRC 26020008-6 (12/3 Gauge) — Shockshield GFCI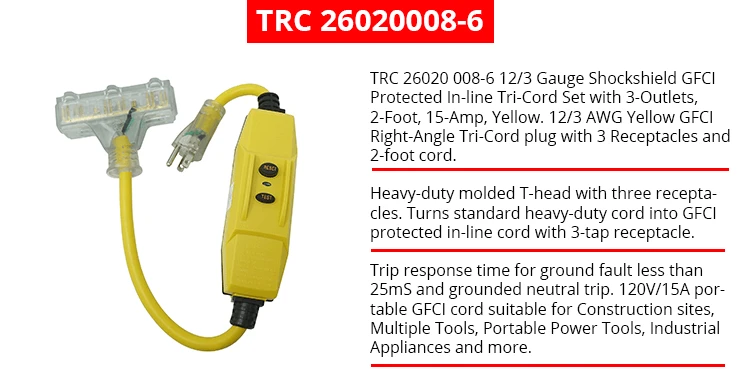 Manual excerpt continued…
Use a ground fault circuit interrupter (GFCI) is highly conductive areas such as metal decking or steel work. GFCIs are available in-line with some extension cords.
Do not use in rainy conditions.
Do not touch bare wires or receptacles (outlets).
Do not allow children or non-qualified persons to operate.
The MacDaddy of Generators: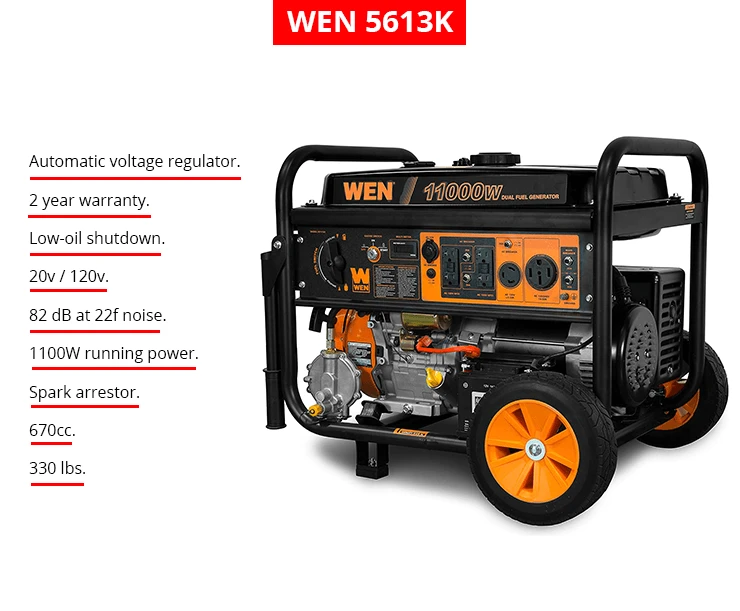 *Not CARB-compliant and therefore not accepted in California but is EPA III compliant.
Features:
Complies with EPA III standards.
Twin-cylinder OHV engine (4-stroke).
11000 rated watts/13000 surge watts.
Outlets:

Four — 20A 120V outlets,
One — 30A 120V RV outlet,
One — 30A 120/240V twist lock,
One — one 12V DC car-charger-style and a 240V outlet.

Works seamlessly in construction sites and during power outages or natural disasters.
Large fuel tank (8-gallons) with a 7.5 hour run time at half load.
Handle kit and wheel kit ease its storage and transportation.
Download or View the WEN 5613K generator's MANUAL.
Do you live in an area that is prone to power blackouts? To boost your home's lighting options, do not buy one of the expensive whole-home generators that were in demand in the past. The WEN 5613K generator has you covered. It is portable, powerful, and has a rugged wheel kit that makes moving and handling it a breeze. Its horsepower is also amazing.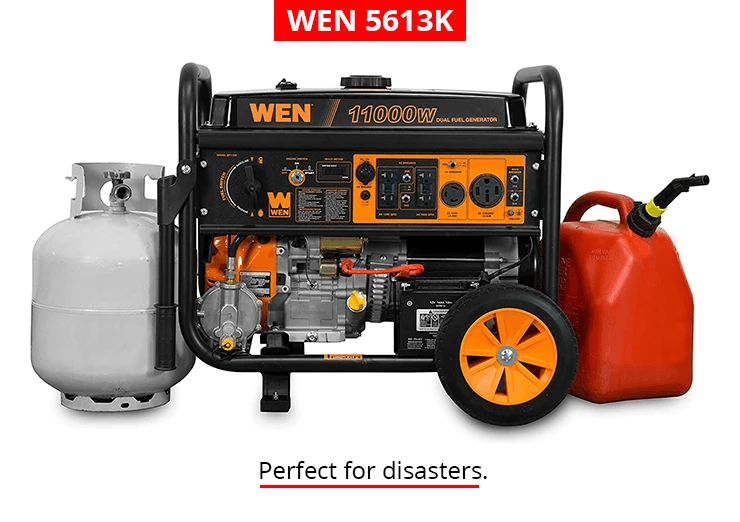 This generator has a powerful system with 11,000 rated watts and 13,000 surge watts. Therefore, apart from homes, it works seamlessly in industrial settings or during natural disasters. While its fuel efficiency is questionable (7.5 hours for eight gallons), WEN 56180 is a portable generator, with everything that you will ever need in a generator.
Generator Safety
Before you buy and use a generator, make sure that you understand the features of the product on offer and how to use it. Check the manual that is in the package. It has reviewed the attributes of the product in detail.
Generators ship without oil in engines or oil tanks. Thus, before firing up yours, remember that you will have to order the correct engine oil for it to work. If you are buying the portable WEN 56180 generator, for instance, you will need 30W 4-stroke engine oil. Check the frame for oil capacity and add the required amount following the guidelines in the manual.
WEN recommends that you should always ground your generator before using it. Grounding electrical devices such as generators lower the risk of electrocution whenever power "leaks" from its system. Different states and countries have different grounding codes so check them out. An electrician can help you to evaluate and understand this issue, so consult one. You will find a grounding nut mounted on the front panel of most WEN generators. Attach a grounding wire to it. Then, connect the grounding wire (often copper) to a rod made from steel, brass, or copper and drive it into the ground to secure the system. That is all you should do.
You should protect your generator from the elements whenever it is not in use. Drain gas and oil from the system and use a stabilizer to protect the engine from gumming up in storage. WEN also offers a weatherproof cover (universal) that you can use to protect the machine from elements such as the rain and ultraviolet (UV) rays. Unfortunately, it significantly larger than the WEN 56180 model, making it inefficient in high winds. Use a 22-gallon plastic tote instead.
EPA and CARB-Compliant generators are acceptable in most states due to their efficacy, low emissions, and cleaner running power. However, for safety, do not use this generator in an enclosed space in your home or garage. Because it uses gas, it safer to use it in entryways and open/well-ventilated areas. The risk of choking on smoke is relatively low this way.
Learn more about WEN from their site.