When a disaster strikes a locality, the first thing to go out is power. To restore normalcy, you will need a heavy-duty generator that can support your home's power needs. The WEN 5613K, for instance, is a reliable 13000-Watt (13 Kw) product that can satisfy the power needs of most people. It can alleviate the disruptions that lack of power often cause.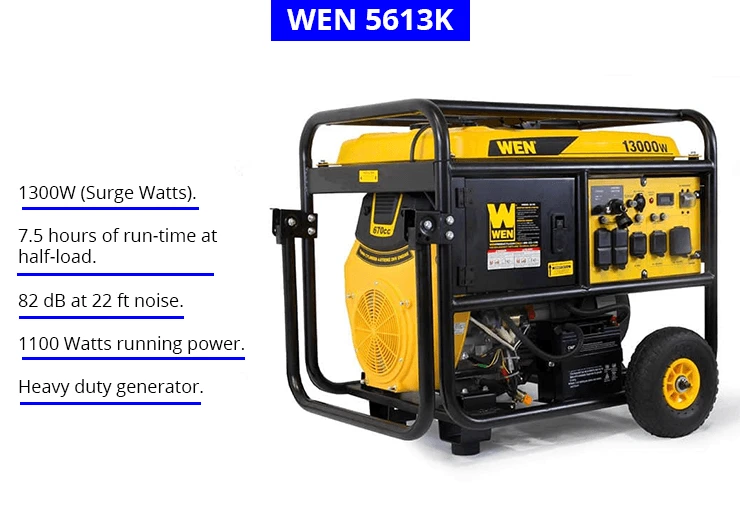 Why Should you Buy a WEN 5613K Generator?
One of the commonest attributes that people look at while ordering the best standby generators is their size. What will the product power? How many watts will you need for the generator to satisfy your needs? The best portable generators have a maximum output in the range of 5-10 kilowatts, making them suitable for powering small appliances at home or during tailgating events. However, if you experience blackouts that last for days at a time, you will need a larger product with more power.
High-Quality Emergency Generator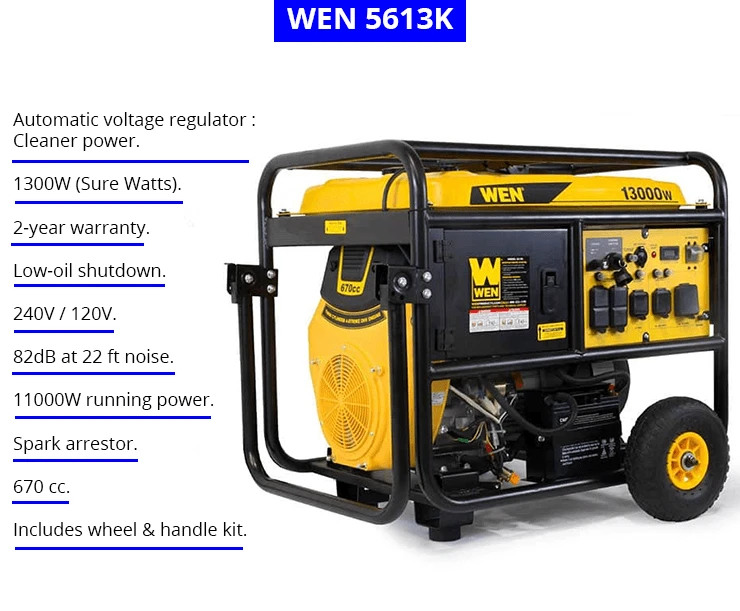 Homeowners do not give much thought to what portable generators are and the benefits of buying generators until they are in a tight spot. The problem with this is that they end up buying on impulse or settle for low quality rejects that are available in stock. If you are one of them, you should know that a sudden storm or any other natural disaster can leave you without power for several days. To tackle such issues, you should plan for a generator ahead of time. They are diverse and easy to use.
A power outage that lasts for a few days or hours, can impact your daily activities negatively, considering how humans are dependent on power. With a 13000-watt generator at home, you can power your hot water system while taking a shower and power a central air conditioner to keep your home cool. Even though smaller and portable models cannot satisfy such demands, they are equally beneficial in small homes or on the road.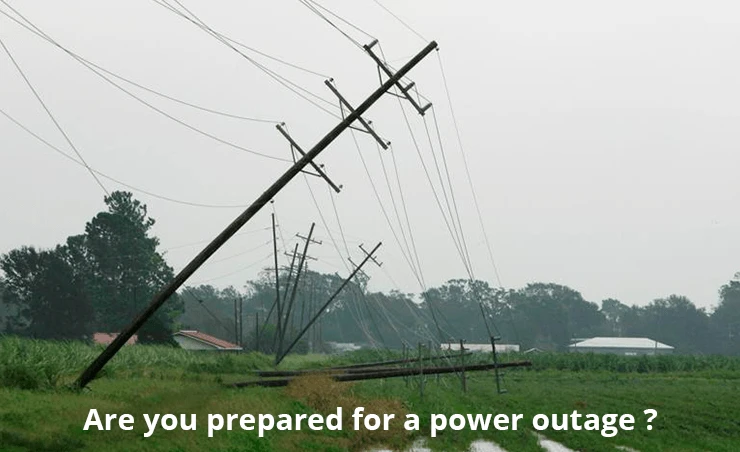 With a powerful generator in hand, you will be able to power many small kitchen appliances such as coffee pots and electric burners and larger appliances such as freezers or refrigerators. However, before ordering one, you should always take the cost and how often you will be using the generator into consideration before parting with your hard-earned cash. You should also evaluate its quality and longevity, as they can predict the experience you will have with your product of choice.
Most heavy-duty generators cost a lot of money upfront but will offer you value for your money in the end. Some of the best brands that we have reviewed herein have multiple novel attributes that make them worth buying. Because of their powerful systems, for instance, they make a good backup power source for the home. They work seamlessly, making them optimal backup systems for offices and homes as well.
Important Note, Please read…
NEVER use your generator inside the garage, home, or any other enclosed area such as crawl spaces. Doing so can lead to a build-up of Carbon monoxide in such areas, which can potentially kill you or induce serious long term health issues. Opening windows or using a fan must boost the circulation of air, but will not be enough to protect you from the damage associated with using generators indoors. For safety, ALWAYS use your generator in an aerated outdoor area located far from vents, doors, and windows to your home. Such openings can pull air the toxic fumes into your home and cause serious health issues.
WEN 5613K | 13Kw Portable Generator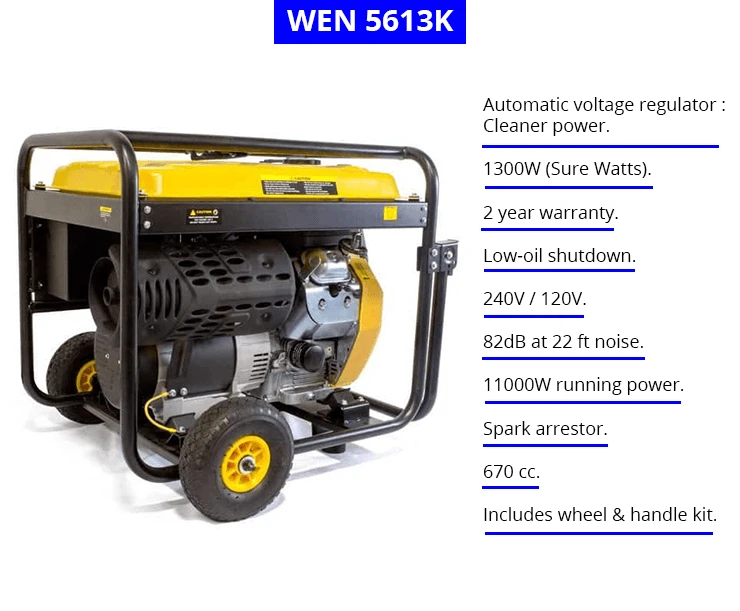 Features:
EPA III-rated4-stroke twin-cylinder OHV engine that generates 11000W rated watts and 13000W starting watts.
Has four 20 ampere (120 volt) outlets, one 30 ampere (120 volt) RV outlet, one 240V outlet, one 120/240V (30A) twist lock, and one 12V car-charger-style (DC) outlet.
Good for natural disasters, construction sites, and power outages.
A large fuel tank (8-gallons) powers it for 7.5 hours at half load.
Has a handle and wheel kit for transportation.
Weight: 330 pounds.
Noise Level: 82 dB at around 22 feet.
Fuel Capacity: 8 gallons (87 octane minimum).
Download or View the WEN 5613K's MANUAL.
Overview | WEN 5613K
Most people think that portable machines are not very powerful. While it is true that large and stationary generators are powerful and therefore suitable for powering many power-thirsty devices, you might have to burn a hole in your pocket to own one. Even though compact, the WEN 5613K generator is a practical choice for homes as it is affordable and generates sufficient backup power for small to medium size devices at home. It is cheaper than whole-house generators and connects directly to the home's power source, saving installation costs. The product is the best.
With this product, expect a portable generator that you can carry to a camping site or your vacation home issue free. The WEN 5613K generator has a handle and a secure wheel kit with all mandatory accessories that you will need to assemble this generator. The system boosts its portability. Even though it is heavy (330 pounds), you can fold down the handle and transport it to and from any location without issues.
The portability of this product boosts its versatility. Unlike stationary generators that take up a lot of storage space, portable models not only save valuable space but are equally powerful. If you experience power outages often, a new one will make a new backup power source for your home. You can also take it on road trips to power a vacation or beach home or use it in your RV whenever you are tailgating with friends. To enjoy these benefits and more, consider buying a new model today.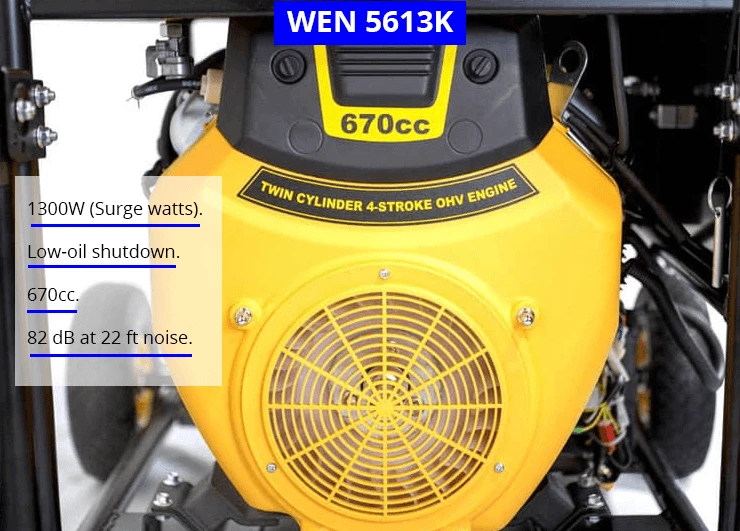 The WEN 5613K is compatible with the air conditioning units of RVs and campers. You can also use it to power refrigerators, heaters radiant, televisions, microwaves, and electric grills. Like other products on this list, this generator is compact (32.5 x 23.6 x 27-inches). Therefore, if storage is a major factor for you, this product will never let you down.
WARNING: If you use this generator as a backup power source for your RV, home, or any other building, hire an electrician to install this product via a transfer switch following the NFPA 70 National Electrical Code. The switch should control all its conductor switches. Finally, connect the generator to an approved grounding electrode to prevent electric shock while it is in use. (read the manual to learn more).
Do not let the two numbers of the generator's wattage confuse you. It pups out around 11,000 continuous watts and around 13,000 watts of surge power for one major reason. Most appliances require more power (higher wattage) to start than they require to run. As such, to know if this product can power and keep your product working for as long as needed makes sure that these readings match. For instance, a typical generator requires 2100 watts for the first few seconds to start. Then, it needs 700 watts of power to work continuously. Thus, while 13,000 starting watts seems more than you will need it enables products to start seamlessly.
Transfer Switch | Reliance Controls | 51410C Pro/Tran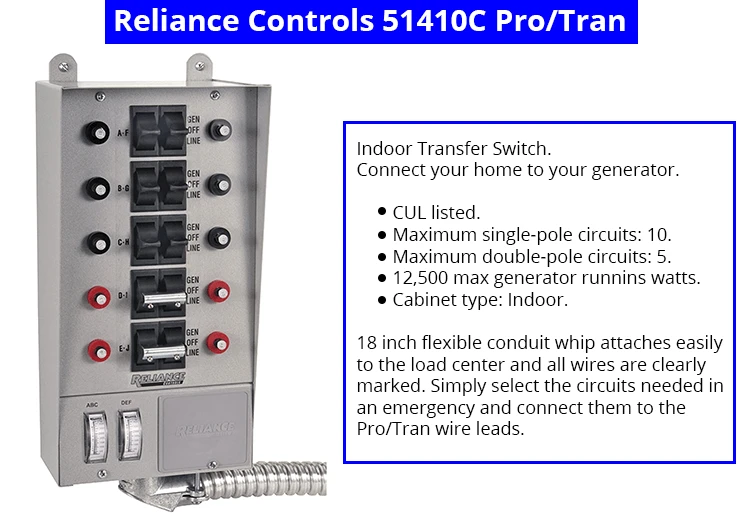 This generator has a reliable 4-stroke OHV motor (twin cylinder) that generates around 22 horsepower of power while in use. Therefore, instead of worrying about what it cannot do, it would be better to ask yourself what it CANNOT do. At full load, the motor consumes around 2.14 gallons of fuel per hour. Therefore, at half load expect a run time of around 7.5 hours from the eight-gallon tank that comes built-in. The system is very powerful. You can use it to power a refrigerator, a few window units, and a freezer throughout the night without refilling the tank.
Buying the best generator is synonymous with buying insurance for your home. With a generator at home, you will have peace of mind all day and night, as it will keep your appliances running seamlessly. The best models support a range of activities that will keep your home or office functioning well. Whenever the power goes out for long, for instance, your food will not spoil as the refrigerator will stay powered. Therefore, the product will save you hundreds of dollars in food, which is amazing.
The WEN 5613K has an electric start technology that ensures easier and faster start-up. This battery-powered system is reliable and easy to use.
The system has seven outlets, including four 120V 20A outlets, a 30A 120/240 twist lock, a 30A (120V) outlet for RVs, a 12V DC car charger-style outlet, and one 240V outlet, on a well-organized console. Thus, apart from powering electrical devices, you can also use it to charge external batteries without safety concerns. It is versatile and easy to use.
✓ TIP: Do not cover this generator while hot.
Safety Features | WEN 5613K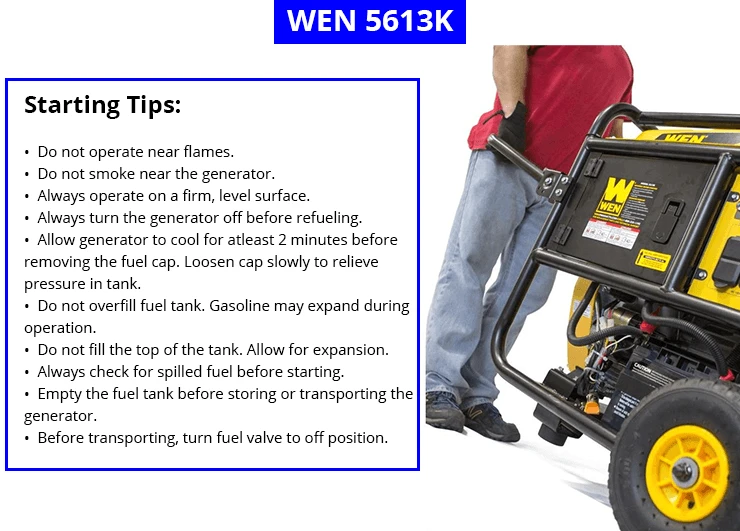 To protect your generator from damage, ensure that you maintain and care for it properly, following the recommendations of the manufacturer. While the process is tedious, keeping track of duties and checking oil levels regularly will keep the product in top working condition and save you tons of money in costly repairs. This generator also has effective safety features that shield the motor from damage and you from injuries.
Air-cooling system – This keeps the generator's engine cool.
Hour/Voltage Meter – The control panel has a meter that displays the generator's voltage and runtime. These features help you to monitor its performance and maintenance schedule. For instance, it is a good practice to change the oil every eight hours, 25 hours, and three months if you are using it as the main backup generator.
Low-oil shut off – this technology shuts down the generator automatically to protect the motor from damage when oil is low.
**As we mentioned previously, you can connect this generator to your home's standby power system. However, to boost safety during its set up, you should hire an electrician to do its installation. Moreover, you should always be aware of the products running and starting watts and make sure it is sufficient for your electrical devices. Finally, connect the device to a transfer switch for overload protection. Overloading a generator can damage the motor and appliances such as refrigerators and/or televisions. Do not use it to power sensitive electric devices such as laptops as the probability of damage is often very high.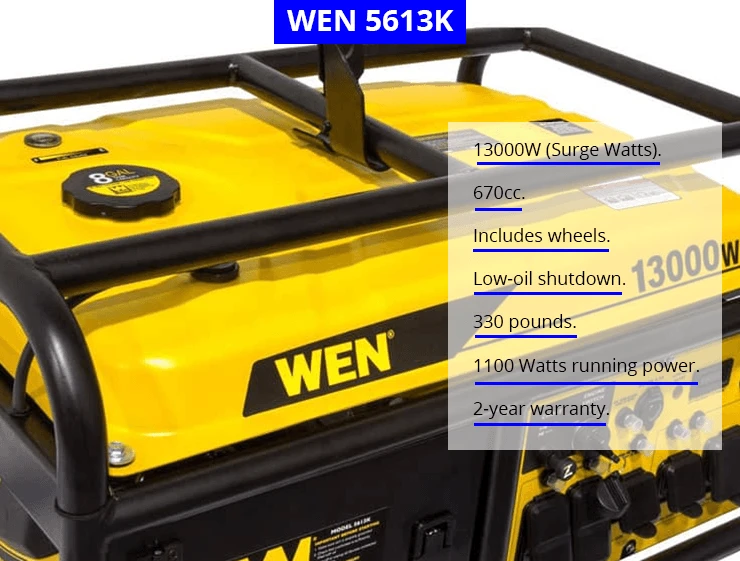 WEN 5613K is an EPA-certified generator that meets the recommended emissions standard globally. Although its engine is not CARB-compliant, the motor has a muffler that mutes noise output when the product is in use. It has a noise rating of 82 decibels from 22 feet, which is the equivalent to the sound of traffic in your vehicle. It is super quiet.
Many innovative aspects of the WEN 5613K generator make it a user-friendly option for homeowners. It also has a durable design that, with proper care, will serve you well for many years. Compared to the Subaru RGV12100 and the Yamaha EF12000DE, each an excellent option for the home, they are great choices for people who want robust/portable generators.
You can find more information on the WEN site.
✓ NOTE: The surge wattage of a generator only works for a short time. Thus, while choosing a product for day-to-day use, factor the running wattage of your device in decision making. Make sure that the generator has an equal or more running wattage than your electrical device(s). Do not buy a generator whose surge wattage is equal to or less than the running wattage of the electrical device(s). This will trip the circuit breaker.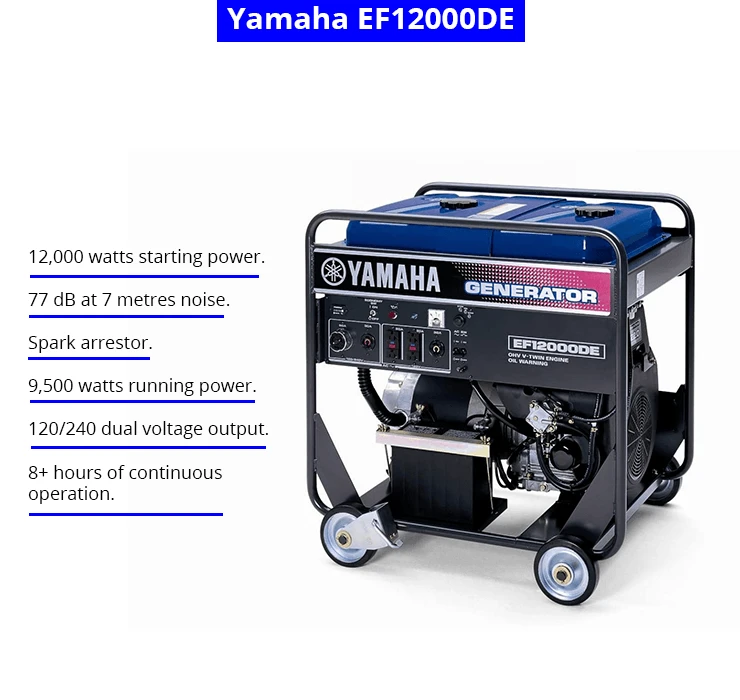 Features:
Dual voltage — Supports 240- and 120-volt operation.
OHV engine (overhead valve) has a robust design that offers improved reliability and efficiency while being super quiet.
Cast iron cylinder lining dissipates heat optimally to maximize engine life.
Oil Watch Warning System shits off the generator automatically when the level of oil is low to prevent engine damage.
Auto Voltage Regulation ensures optimal delivery of power while using extension cords.
Transistor Controlled Ignition (T.C.I.) ensure clean and efficient sparking for easy and fast starting.
Noise suppressor minimizes electrical interference from radios and TVs.
Auto decompression opens the exhaust valve automatically to lower the initial backpressure while starting the generator. This ensures fast and consistent starting as well.
USFS-approved spark arrestor ensures quiet operation. It also prevents the spark from exiting the exhaust system, which lowers the risk of fires while in use outdoors.
GFCI — Ground Fault Circuit Interruption shuts power whenever it detects leakage of power to the ground. This lowers the risk of electric shocks while using this generator.
Fuel gauge — Enables you to track the amount of fuel in the generator in real-time. This eliminates guessing.
Electric starter — (Efficient battery-powered system).
Economy idle – Returns to idle automatically when the generator does not have a load. This lowers noise and boosts its efficacy.
AC non-fuse thermal breaker — Activates when the system overloads to protect the AC circuit from damage.
Wheel kit — Boosts its portability.
2/100.0 amperes @ 120V – 39.6/50.0 amps @ 240V dual voltage output. The EF12000DE can power almost all electrical devices whenever there is a power outage.
High-throughput Yamaha generator (120/240- volt).
Twin-cylinder 4-stroke 653cc OHV engine with a maximum AC output of 12,000 watts.
Electric start (battery-powered). Its portable design is compact.
Supports eight hours of continuous operation without the need to refuel. As such, you can power heavy-duty electrical devices such as well pumps, table saws, air compressors, and many more.
The oil warning system stops the engines automatically when the oil pressure level falls below the recommended level.
Noise Level: 77 decibels (dB) at 7 meters.
Non-CARB Compliant. You cannot use the product in
Download or View the Yamaha EF12000DE's MANUAL.
Overview | Yamaha EF12000DE
While most people use generators to power their homes during blackouts, they offer more benefits than simply powering homes. During trips, for instance, you can use one to light up your camping site and keep off wild animals. In our line-up of heavy-duty generators with a wattage range of 11,000 and14,000-watt, the Yamaha EF12000DE stands out in many ways. It has a maximum AC output of 12,000-watts (120/240V), which is enough for powering most devices. It uses gas Yamaha and has a reputable system that can handle almost all jobs anywhere at any time. This makes it an essential machine for people in construction and people who need a portable generator for powering their power tools.
Control Panel | Yamaha EF12000DE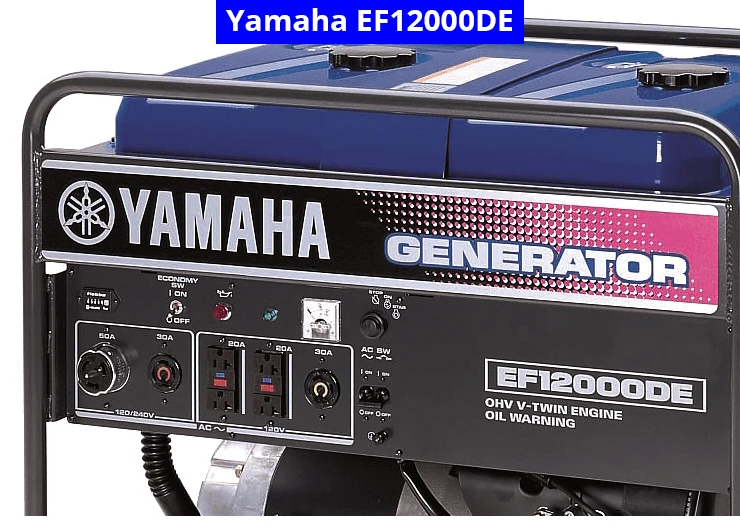 The power tools that construction and industrial workers use require some of rm of electricity to work. However, if you work in off-grid sites often, access to electricity might be hard. To overcome such issues and complete your projects on time, you will need a portable generator of this size. It has a reliable 4-stroke OHV engine, best liked for its efficacy and quieter motor. It also has a high-quality design that lasts for years.
This product generates approximately 9,500 continuous watts while in use. It has a dual voltage system that regulates voltage automatically, which is beneficial whenever you are using an extension cord. Thus, if you are a construction worker who moves tools constantly, this system will be a lifesaver. It not only boosts the efficacy of this product but also delivers sufficient power to use most tools from an extension cord.
While in use at its rated wattage, you get up to 8 hours run time from the 11.4-gallon tank built into this generator. Therefore, at full capacity, you can run electrical devices such as hand drills, and air compressors, among other power tools, simultaneously without a dip in power output. It has five receptacles, including a 30A (125V) twist-lock outlet, two 20A 125V outlets, a 30A (250/125V) twist-lock outlet, and a 50A (250/125V) twist-lock.
This genset has a plethora of smart features that boost its fuel efficiency and make it convenient and easy to use. It economy idle, it idles automatically under no load, saving fuel, cash, and time while working.
The fuel gauge on this generator enables its users to monitor fuel levels on demand to avoid disappointments while working. You will know when the tank is empty and needs refilling. The product is easy to use and had a secure wheel kit with heavy-duty tires that make it effortless to move from one site to the other without exerting a lot of effort. Finally, it has a transistor-controlled ignition that provides a clean spark while starting.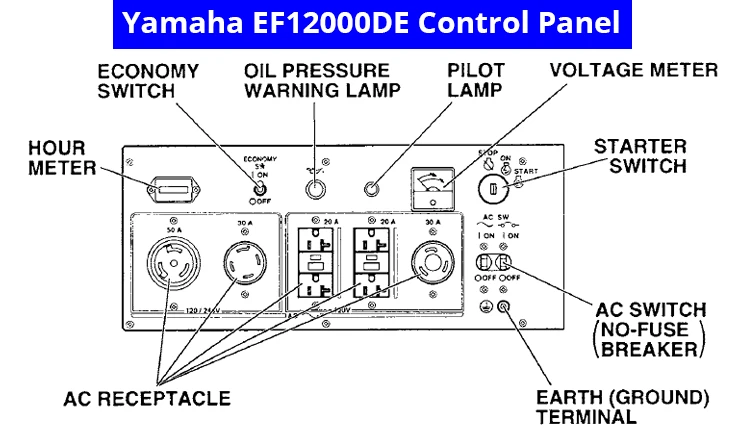 Safety Features | Yamaha EF12000DE
The engine of this generator has a cast-iron lining in its cylinder that offers better heat dissipation while in use. Therefore, it rarely overheats while in use. The system also minimizes sound output, making the product a joy to use, and reduces interference with electrical devices such as televisions and radios, to name a few. The quality is notable.
Construction sites pose many risks to users, which include the gas-powered generators that they use to power their tools. However, these devices have numerous safety features that not only protect the motor from damage but also protect users from serious injuries.
Oil warning system – this system shuts down the system automatically when the oil level of the generator is below optimal to protect motors from damage. The feature also prevents the generator from restarting until you top up oil to the right level.
Ground Fault Circuit Interruption – this shuts down the generator whenever it detects a leak to prevent electric shock.
Non-fuse AC circuit breaker – The feature stops the generator from overloading its AC circuit, thereby protecting the devices that it is powering from damage. This feature comes in handy when three or more people are using power tools at the same time.
This heavy-duty generator has several innovative features that protect the engine from damage while handling big jobs. Therefore, the one-of-a-kind generator is suitable for personal and professional use.
If you need a smaller Yamaha industrial generator, check out the Yamaha EF6600DE (with 6000W Running/6600W Starting watts).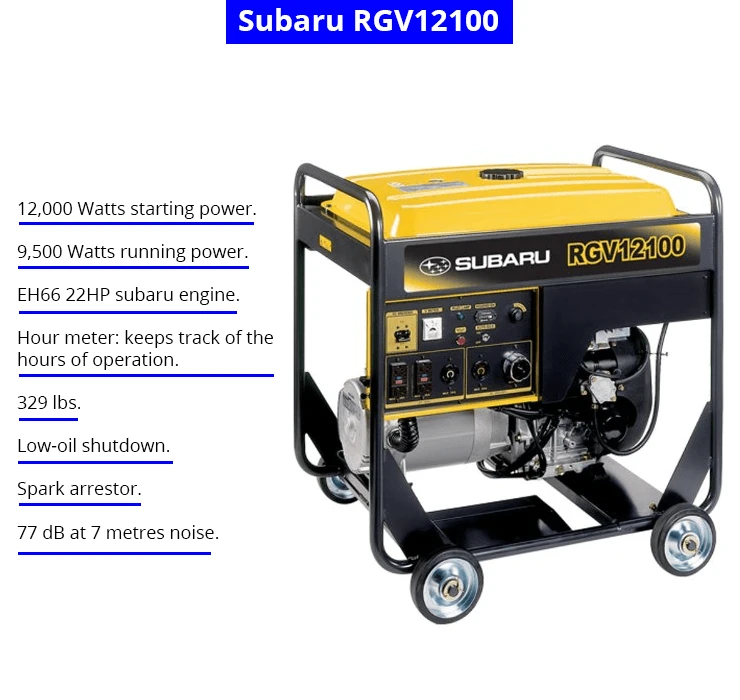 * You should understand that the Yamaha EF12000DE and the Subaru RGV12100 are somewhat identical generators. If you are torn between the two products, order the cheapest, as they have similar features.
Features:
Running Watts: 9500/ Starting Power: 12000 Watts.
High-performance alternators with long lasting copper windings.
Tubular wrap frames (full) protect the generator during transport.
Well-engineered control panel with twist-lock, Ground Fault Circuit Interrupter (GFCI) receptacles, circuit breaker protection, and gauges for tracking its functionality.
Can charge 12-volt DC batteries and other external devices.
An hour meter (built-in) tracks its run time to make preventive maintenance effortless.
Steel fuel tank (large) boosts its run time. It has a monitor for checking oil levels and a strainer that keeps the fuel clean.
Its low-tone muffler has a spark arrester that neutralizes noise.
An automatic idler control lowers engine speed automatically to decrease noise and boost efficacy.
Has an industrial-grade air cleaner that you can remove and clean to prevent accelerated damage.
Has a low-emission engine that meets the recommended Tier 3 standards for sound and environment protection.
A capacitor balances its output voltage to prevent power surges and drops.
A low-oil shutdown feature automatically shuts off the generator to protect the engine.
Engine: 22 Horsepower Subaru EH65.
Documents for the Subaru RGV12100:
Overview | Subaru RGV12100
The Subaru has portable and industrial-grade generators, popular with most homeowners and professionals alike. The RGV12100 has a robust tubular frame (steel) that lasts for many years. It is also affordable and offers a range of innovative features that make it efficient and eco-friendly. The air cleaner, for instance, has an industrial-grade design that you can clean and reuse many times to save money. Most users like this.
Control Panel | Subaru RGV12100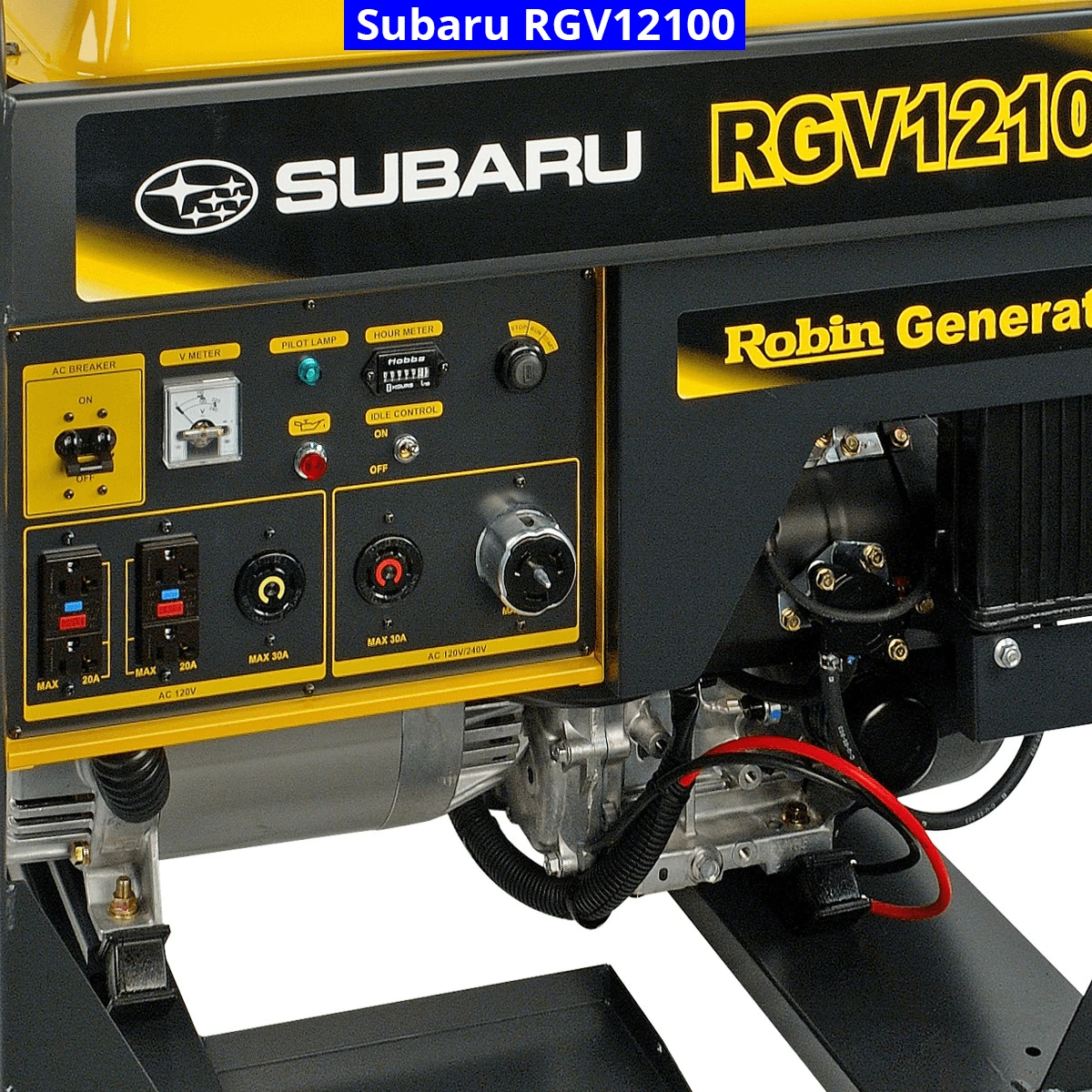 Let us now evaluate what matters about this product. If you need a powerful product that works seamlessly, read on. Like other generators that we have reviewed herein, this model has a powerful (22HP) EH65 OHV engine with a maximum output of around 12,000 watts (or 100 amperes). Therefore, you can use it to power a central air conditioning (AC) unit, a freezer, a refrigerator, and many lights. It also has an 11.4-gallon fuel tank with an eight-hour continuous run time. As such, during a power outage, it will keep your vegetables and fruits fresh all day long. You can also cook and serve meals or start the day with a cup of coffee.
The Subaru RGV12100 has a super quiet system at full load, which has a low tone muffler and a spark arrester. If you decide to use it at home, you will not annoy your neighbors as it is super quiet. You can also use it outdoors on a camping site without worrying about starting electrical fires. Overall, gas-operated generators are somewhat noisy, which can be an issue in communal settings. It has a decibel (dB) rating or 77 dB from 77 feet, which is slightly louder than other products in this niche. However, it is quicker than comparable products such as WEN 5613K.
The product has an intuitive control panel that makes it effortless to use. An electric start system (battery-powered) ensures easy start-ups, while its multiple outlets, including a 20A (120V) duplex, 30A (120V) twistlock, 120/240V 50A twistlock, and a 120/240V 30A twistlock are admirable.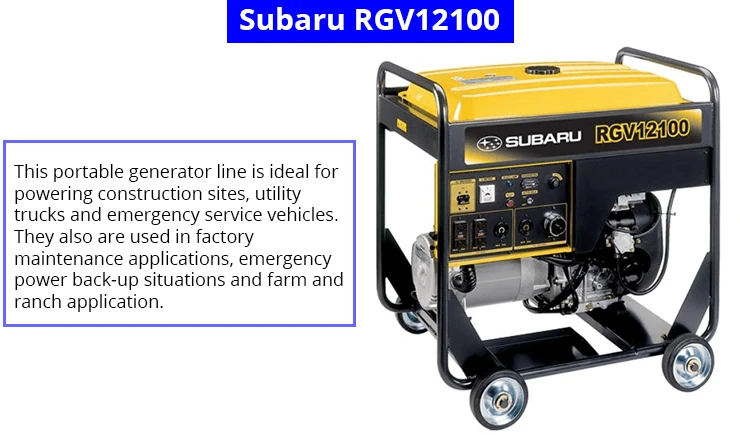 Safety Features | Subaru RGV12100
With this product, you will never worry about costly repairs as it has many safety features that prevent damage. For instance, the RGV12100 has a low oil shutoff technology that prevents its motor from ceasing and secure GFCI outlets that protect sensitive equipment from damage. Additional attributes that you will love about this product include:
Hour meter – This enables you to keep track of the unit's work hours and the required maintenance to keep it working seamlessly for long. The risk of it breaking down without warning is low.
Low-emission engine – The muffler has a US Forestry-approved spark arrestor, making it safe for camping in forest areas.
Fuel Tank Strainer – the metal fuel tank in this generator has a strainer cup that keeps water and dirt from the engine to prevent damage and boost run time. It boosts the longevity of the product.
You are getting a well-built generator that withstands abuse for long. It weighs 329 pounds (while empty) and has a wheel kit that makes moving it and storing it effortless when it is not in use.
The Subaru site reviews the RGV12100 in detail.
Choosing the Right Portable Generator
Heavy-duty generators such as the one we have reviewed herein deliver exceptional results in homes and commercial settings. During storms or blackouts, for instance, a premium model will keep your home powered. Furthermore, if you enjoy camping or spend a lot of time in your RV or use power tools on the go, you will enjoy a memorable experience with a generator. The WEN 5613K (13 kW) generator, for instance, is a top-grade machine that ranks among the best, portable generators in the market. It is perfect for professionals and homeowners; is cost-effective; and comes at an affordable price in reputable offline and online stores.