For the Wayne store, perfection is everything! They want their products to be absolute marvel. Keeping such a motto in mind, the company came up with this item, which is easily one of the best in the market. Want to know more about the item? For that, you will have to finish this review.
The Wayne 57729-WYNP WAPC250 has everything you would need. It has all the state-of-the-art technologies, tons of beneficial features, and the list will keep on going. Enough of the suspense! Read along to find out more about this thing.
Wayne 57729-WYNP WAPC250 Review
Well, let us provide you with a very easy to understand explanation of what this gem is capable of doing.
Thanks to this fantastic product, cleaning your pool's cover is no longer a strenuous task. All you have to do is turn on the device and leave it in the middle. And we can assure you that the unit is going to take care of everything. Plus, you no longer need those costly professional pool companies to remove the water.
Furthermore, the pump is loaded with numerous modern attributes. It has an I-switch, anti-clogging systems, anti-freeze, and so many other stuff. Briefly said, Wayne ensured that you would get an item, which is highly efficient and easy to manage hence effortless to operate.
Next, the build of the item is compact. It is very portable, and you will face no issue when you want to move it from one place to another. Besides, using it is another stress less job. A simple click and the machine will start doing its magic.

Auto On/Off
First of all, it is an auto-on or auto-off feature but they wanted to give it a classy name. So, they called this revolutionary feature the I-switch. What this attribute does is that it allows the product to detect water over a surface.
Now, if the water is within a range of 0.75 inches to 2.125 inches (approximately 19.05mm or 54mm) on the surface that the machine is going to, it will suck it up and pump it out. If it does not sense anything, then the pump will stop any kind of action.
Such a feature guarantees efficient usage of energy and allows you to get the job done without any issue.
Portability
Now, such a contraption has to be mighty light for you to be able to use it with ease. Lucky for you, Wayne has taken that factor into account and made this device extremely convenient to move.
You see, the unit has a very compact dimension of 11.2x7.9x11.9 inches. Because of this, holding it and positioning is very easy.
Another thing that enhances the mobility of the product even further is the weight. The overall weight of the unit is 10.54-pounds (4.78 kilograms). When both of these attributes are coupled together, you end up with one of the easiest to fit or place pumps in the business.
Storage
The featherlight weight and compact dimensions provide another perk. And, that is uncomplicated storage. Hence, we can assure you that you will be able to stash the item anywhere in your home without having to think about it.
Anti-freeze Technology
Is it winter where you are? Also, do you own a pool? So, if you are not taking help from a pool company, then there is a big chance that you are using a pool cover pump to do the task. In very chilling conditions, such a machine is more likely to sustain heavy damage.
Well, not this one! Its freeze protection attribute gives it that function and prevents any unwanted damage to the machine.
Durable & Long-lasting
It is a given that this item is going to keep providing you with excellent service for a long time. If you take a look, it has a heavy-duty build, which authorizes this thing to operate in harsh conditions. Also, the anti-freezing attribute makes it a unit that should allow you to use it in almost any climate.
Pros and Cons for Wayne 57729-WYNP WAPC250 Pool Cover Pump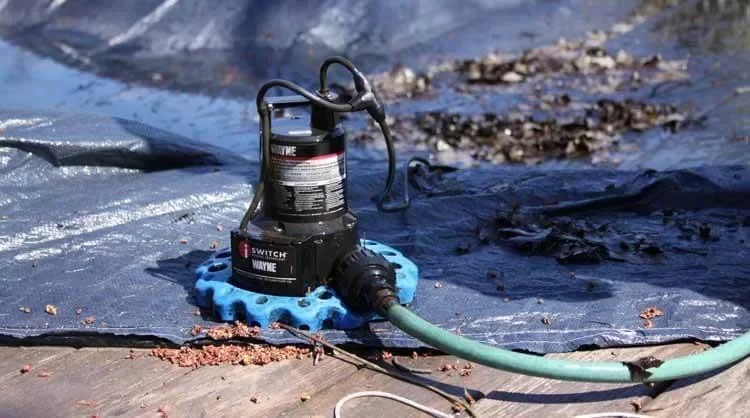 Pros
Features a robust and reliable construction that assures a long life
No need to put in extra effort in switching it on or off because of the I-switch feature
Lightweight and compact dimensions allow convenient placement and storage
Can be used in all types of climates
Cons
The price of the unit is quite high

Frequently Asked Questions
How can one remove leaves from a pool cover?
Well, the wisest way of doing this is using a pool leaf rake. They are very affordable and easy to use. All you need to do is sweep from one end to the other, and the rake should catch a good number of leaves for you. Do this a number of times, and your pool should be fully clean.
When should one not take the cover off?
It is not a wise idea to take off the cover during winter and fall. It is obvious why we should avoid winter. However, during fall, the dying leaves might fall on your pool, and cleaning them could be a little tricky. Apart from these two seasons, you can take the covers whenever you want.
Is it wise to cover a pool every night?
Yes, it is! It is always wise to expose your swimming pools to the sun. Nevertheless, at night there is no sun, which means there is no need to keep the pool open. Hence, closing it would be wise.
For how long should one run a pool cover pump on a daily basis?
Well, there is no exact period. But we suggest twenty minutes to an hour.
Final Words
Now you know what makes the Wayne 57729-WYNP WAPC250 one of a kind in the world of pool covers pumps. So, what are you waiting for? Go and get this product, and you will see how your life changes.