The Hitachi C12RSH is a well-engineered miter with more features and a more dependable system than its predecessor – the Hitachi C12RSH2. We have reviewed both models in this article to help you to identify the model that will work the best for you at work in a commercial space.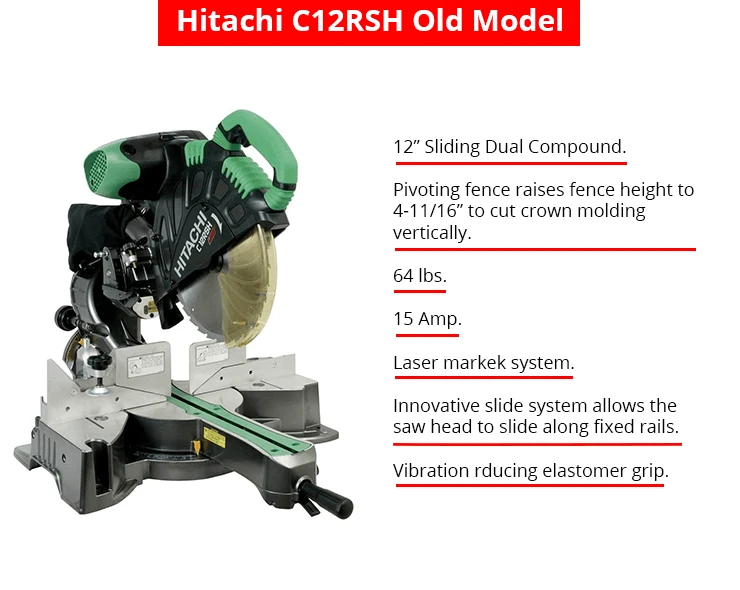 Off the bat, we can say with confidence that a new Hitachi C12RSH2 might be the best for you. It has a smart design, streamlined to satisfy the needs of many people worldwide. However, know that you will have to dig deeper in your pocket to own one. Read on to learn about its features, benefits, and other interesting facts.
Introduction to Miter Saws | Hitachi C12RSH
We have an in-depth video of the Hitachi C12RSH with lots of information that will help you to establish if it is the correct product for you. We have also included information on some amazing alternative miter saws that will never let you down.
Are you an artisan or a wood worker? You have probably used miter saws a few times to handle personal or commercial projects or to practice woodworking at school. This saw is among the most versatile in this niche as it enables you to cut wood from different angles. Moreover, unlike table saws that require a secure platform to work, the best miter saws have a swing arm that swivels from right to left, boosting your productivity and the diversity of the cuts that you can make.
Robust models such as Hitachi C12RSH, for instance, have versatile designs that can support a range of projects, both personal and commercial. Professionals and amateurs can use them effortlessly to make quick cuts for window casings, picture frames, door frames, moldings, and baseboards, to name a few. Overall, while handling jobs that need multiple angle positioning, a miter saw will work the best.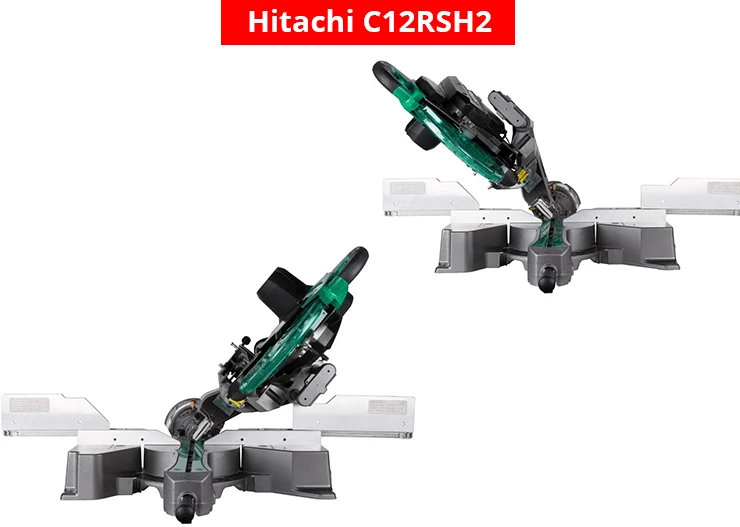 Features of the Hitachi C12RSH2:
The compact slide system boosts its performance on fixed rails by eliminating the need for a large rear clearance.
The laser marker system ensures accurate cutting with the Hitachi.
A powerful motor (15 Amperes) breezes through heavy-duty cutting jobs.
You can raise its fence height vertically up to 5-1/8 inches to cut up to 7-1/2-inch crown molding.
Adjustable miter angle (0-57 degrees). You can adjust it left or right between 0-45 degrees while cutting tricky angles in a tight space.
Its bevel's angle swivels between 0-45 degrees to the left and right. You can flip the blade and adjust its angle in real-time without shifting the material.
The saw has indications and positive stops on its bevel and miter scales that are easy to read and adjust while handling a personal/commercial project.
The brush is easy to remove and replace via carbon brush access. Doing so maintains the efficacy of the miter saw and prolongs its life at the same time.
Its soft vertical handle has a vibration-reducing elastomer grip that boosts control and comfort whenever the miter saw is in use.
Download or View the BROCHURE or the MANUAL or for Hitachi C12RSH2.
Includes a 12-inch 60T TCT Saw Blade (726100), 17mm Box Wrench (333732), Vice Assembly (339624), and Dust Bag (322955).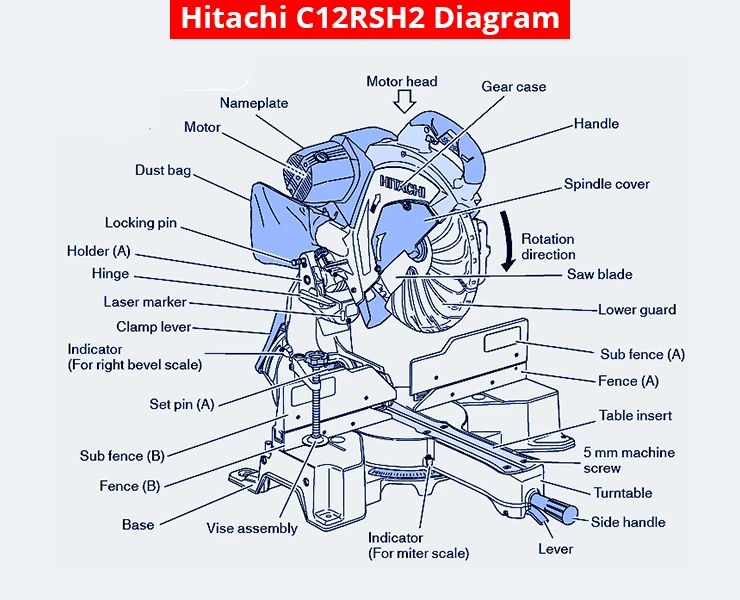 These saws are precise and therefore suitable for making miter cuts and crosscuts on materials such as wood. Therefore, whenever you are handling large projects, it will save you a great deal of effort and time by boosting your efficacy. Miter saws are also user friendly and often come pre-set and ready to use in the box. You can set cut angles effortlessly and cut wood of different thicknesses safely on demand.
Miter Saws Have Accurately Fine-Tuned Systems
Sure, you can use different types of saws to make crosscuts on wood. However, you might sacrifice accuracy or exert a lot of effort to use such tools effectively. The best miter saws offer better results as they are faster and easier to use. They are also easy to set up. Use the tool's miter box as a guide to make accurate cuts.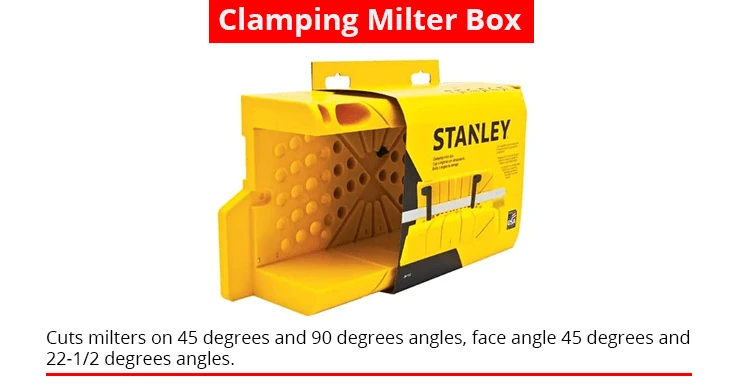 Miter boxes are simple yet convenient tools for making complex, angular cuts on materials such as wood. Unlike miter saws that need a power source to work, the best miter boxes have manual systems that are easy to operate by hand. You do not need a power source such as a battery or electricity for yours to work as desired.
Miter saws are mobile, diverse, and simple to use accessories that come in handy while handling complex woodworking jobs. They use multiple attachments and blades and have an adaptable design that you can use to cut trim work and plumbing, masonry, and tile materials in a short time while exerting little effort.
Commonly referred to as drop saws or 'chop saws,' miter saws use fast-spinning, which you can lower and adjust, to cut wood. They are quick and accommodate most types of wood (of all sizes), which is a plus for individuals of all cadres.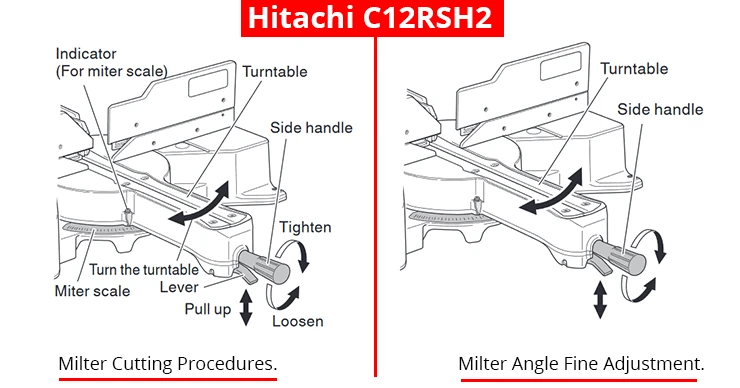 The best miter saws are indispensable woodworking tools, best-liked for their precision. While doing complex cuts on materials such as wood, they eliminate the guesswork, which translates to cleaner and aesthetic results. Setting up a miter saw to handle such cuts is easy. Most people, even newbies, can handle this at home. Here are some of the commonest cut types that you can handle with a miter saw:
The Basic Cross-Cut — this 90-degree straight cut is one of the simplest and most used cuts while handling woodworking projects.
The Miter Cut — People used this cut to create a straight edge by cutting along the width of a workpiece. It supports various cut angles, making it perfect for making picture frames or products with angular corners.
The Bevel Cut — You will make this cut following your work piece's thickness. It supports multiple angles and produces an angled edge instead of a straight one. As such, it is one of the best techniques to use while creating the edges of tables that do not form a sharp point. You will need a compound miter saw to make the cuts.
The Compound Cut — This is a combination between a bevel cut and a miter cut. As such, you can use it to create angles in multiple directions – a common technique for preparing the crown moldings of a home or office.
Types of Miter Saws
Miter saw are diverse, each designed to serve a different purpose. Moreover, each has its unique cons and pros, which should guide decision-making the next time you are shopping for one. Here is a detailed analysis of the most common types:
Basic Miter Saw
These saws are suitable for making accurate miter cuts (or angled horizontal cuts) for simple moldings and carpentry finishes. They are also the best for making square crosscuts for basic or complex carpentry applications in most settings. Therefore, basic miter saws are good replacements for hand saws and miter boxes.
Pros
This lightweight saw is easy to use while handling simple jobs.
Delivers a fast and accurate cut quickly.
Cost-effective compared to other types of miter saws.
Cons
Their non-adjustable designs are not suitable for making wide bevel cuts.
Compound Miter Saw
These saws are suitable for making beveled, mired, and straight cuts. You can tilt the blade to make a smooth bevel cut. Moreover, in single compound mode, you can tilt it in one direction up to 45-degrees and cut the material you are working on in the other direction. Always position your workpiece correctly before cutting.
Example: Hitachi C10FCE2 | Cost-Effective Miter Saw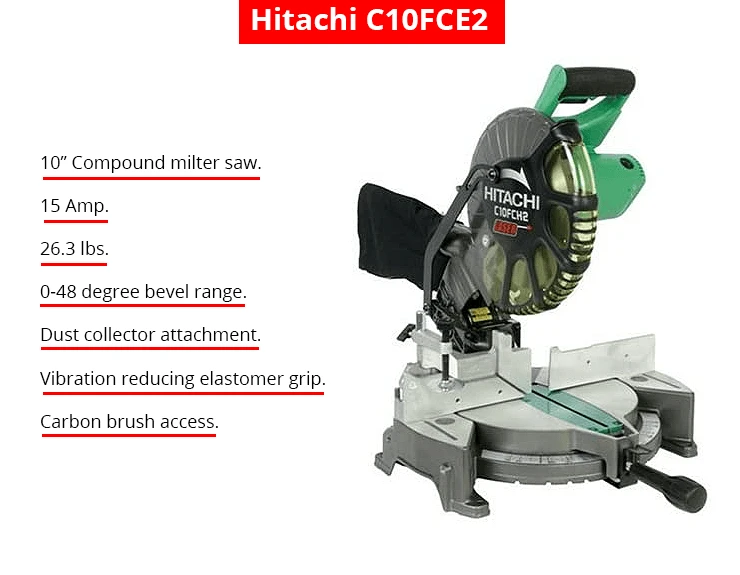 Pros
They can cut thicker wood than other miter saws.
Creates smooth cuts on most types of wood.
Has a lock feature that secures the blade while in use to prevent slipping. Therefore, you will not readjust your saw while working for long.
Cons
You must tilt or move your workpiece to cut in the opposite direction since most models only tilt in one direction up to 45 degrees. Moreover, you can only cut as wide or as deep as the width/height of the blade you are using.
Dual Compound Miter Saw
The dual-compound miter saw tilts in either direction to help you to make complex cuts. You can tilt and reposition it on demand and use it to handle bevel work such as crown molding frequently. The system is efficient and thus fun to use for long.
Example: DEWALT DWS780 | Double-Beveled Sliding Compound Saw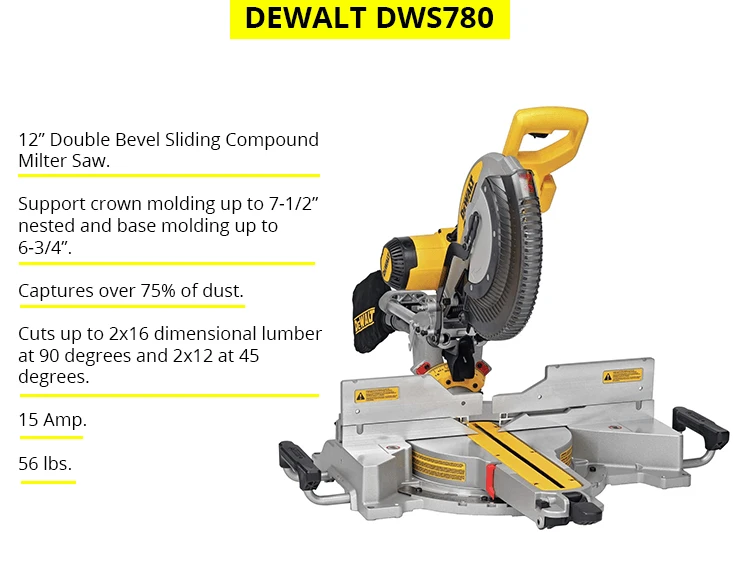 Pros
They can deliver beveled, mitered, or straight cuts.
They are more efficient than single compound miter saws.
Suitable for handling large pieces of heavy projects.
Cons
Cost more money than single compound miter saws.
Heavy and therefore cumbersome to work with or transport.
Sliding Compound Miter Saw
Sliding compound miter saws such as Hitachi C12RSH mimic compound saws but have another sliding arm on the side that boosts their versatility. The arm has a blade and a motor, which moves over a larger area than similar models. You can also push or pull the blade and make clean one-pass cuts without exerting a lot of effort. You can get dual or single models on the Web, each with a versatile system.
Example: WEN 70712 | 12-inch Sliding Compound Miter Saw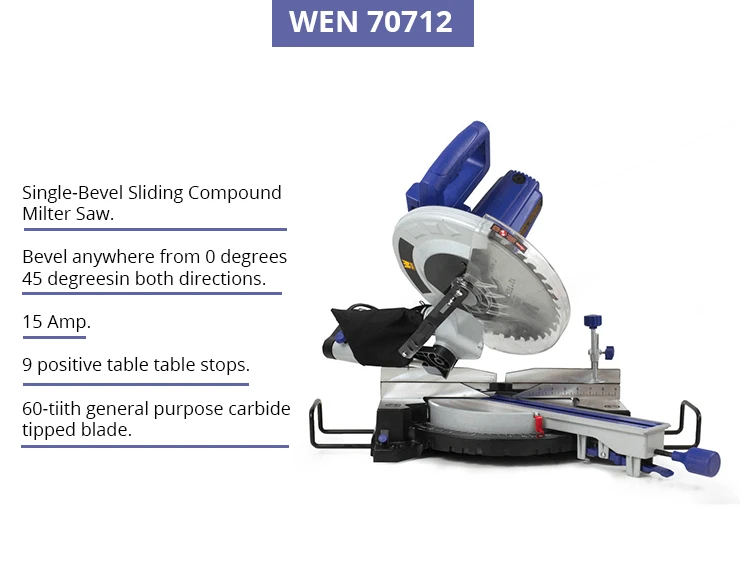 Pros
Has a versatile design that makes seamless compound, bevel, and basic cuts.
The dual-beveled miter saw cuts wood in both directions.
The sliding head accommodates and cuts wide wood better than other types.
Cons
Cordless Miter Saws
Do you need a portable miter saw that you can carry to work sites seamlessly? The best cordless models can offer the best experience in such circumstances. Their versatile all-in-one designs do not need portable generators or cables to work. Instead, they come with powerful (24 volts or 12 volts) rechargeable battery packs.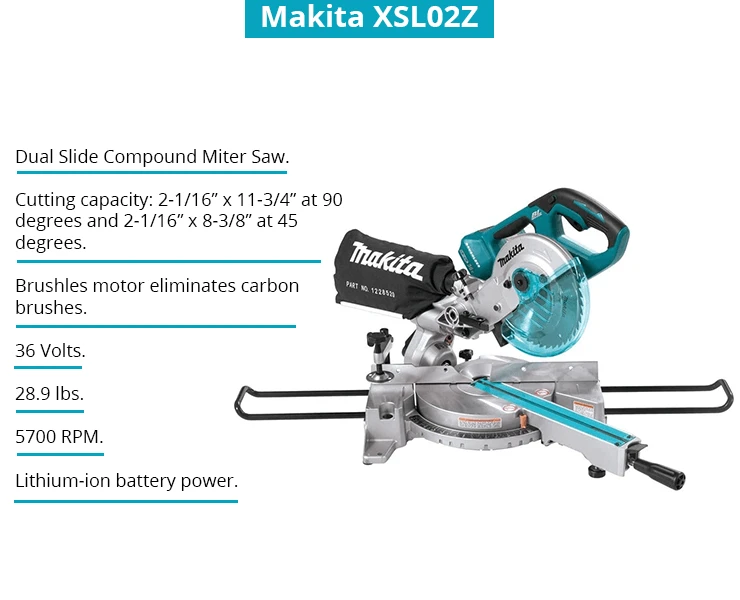 Cordless miter saws have multiple bevel options, including dual, straight, or none. They are ideal for making miter cuts or crosscuts but have a limited power output.
Valuable Features to Look For
Mightier saws are versatile and therefore can save you a lot of time. However, for a seamless experience, you will have to find an accurate and efficient model that can handle your project well. Check the types and the quality of the features on offer before you reach for your wallet. Will they add value to your job? Will they boost convenience or your performance compared to other available saw types? Look out for the following features to get a product that will never let you down:
Positive Stops — these will help you to quickly set up the miter or adjust the bevel's angle in real-time. Some products like the Hitachi C12RSH have stopped using this feature, instead opting for manual override. This system will help you to make incremental adjustments to angles, boosting accuracy.
Easy Blade Change — if you intend to use the miter saw with a different set of blades or for different jobs, opt for a model that supports seamless blade changes. This will streamline your job and save you time.
Laser Guide — this enables you to alight your saw's blade with the intended cut angle to boost speed and accuracy. This ensures a clean cut every time.
Electric Brakes — with an electric brake, you can stop your saw's blade in seconds whenever you release a trigger. This speeds work and boost safety.
Dust Collection — some models have a port (or outlet) that you can connect to a shop vacuum cleaner and use to discharge residues safely. Other models have a dustbin that you can remove and empty when full. Both systems ensure that workplaces are clean and stop injuries from projectiles.
Comfortable Handles — adjustable handles are ergonomic and comfortable. To have an easy time using miter saws, nut a product with such a handle.
Easy to Read Indexes — always check if your miter saw of choice has indexes. If yes, make sure that the indexes are fast, visible, and accurate.
Work Stand — make sure that the work stand is sturdy and adapted for the types of jobs you will be doing or your workspace. Wheels, for instance, not boost the portability of saws, but also easy storage. Others have extension wands that you can use to support long and heavy materials while cutting.
Recommended Miter Saw Work Stands
Never use a miter saw without a compatible work stand as this often compromises safety. Use a secure stand to limit movements that might lead to injuries or damage your project. Portable work stands are equally beneficial as they make saws easy to move from one worksite to the next. The two best for compound miter saws are:
Hitachi UU240R | Fold and Roll Heavy-Duty Miter Saw Stand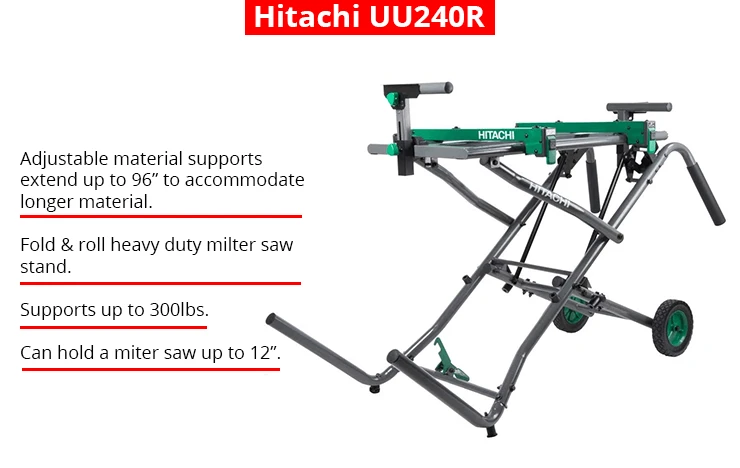 Do you need an efficient saw stand that is easy to use, store, and transport? You will have an enjoyable time with the Hitachi UU240R Fold and Roll Miter Saw Stand. It is an excellent choice for most people because of its strength and superior performance. The tubular frame (steel) has a heavy-duty design that lasts for many years. It fits most 12-inch miter saws and has a pair of mounting brackets (quick release and auxiliary) that makes its set up easy. You can set up and remove miter saws in seconds without using tools. It is also wide and works well on all surfaces.
This stand has non-marring rubber feet, which make it safe to use on most surfaces. You can use it on wood, granite, or polished concrete without damaging the surface.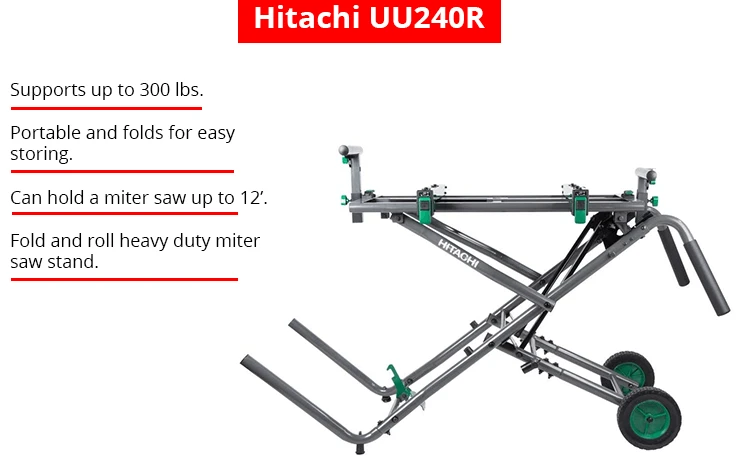 This stand has adjustable supports that you can stretch to 96-inches while working on a project. The system not only supports multiple cutting applications but also has adjustable stops for safety. It also has robust wheels with rubber treads that enable you to push it from one workplace to the next without damaging floors or its system. The system works well in most terrains, including rugged walkways.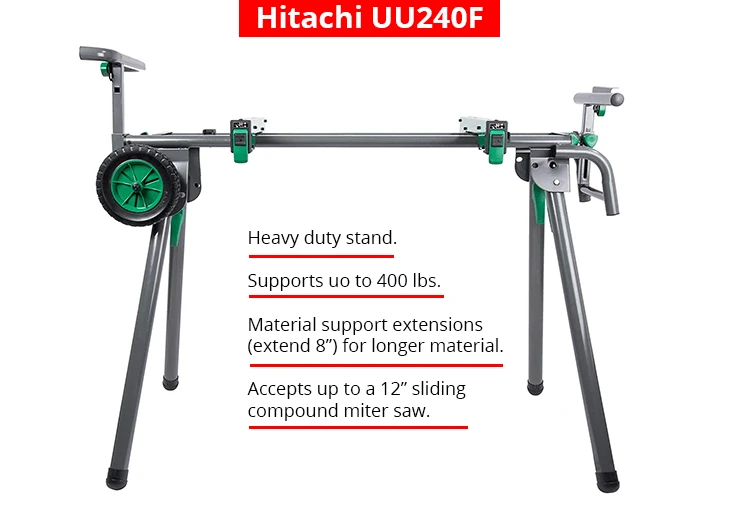 The heavy-duty tubular steel frame supports 300 pounds.
The design of the Hitachi UU240F heavy-duty miter saw stand is like that of the UU240R model. It has comparable attributes/features to the UU240R model, is easy to use, and has a sturdy yet portable design that is perfect for traveling. Moreover, because of its adjustable height, access to and work on materials is effortless whether you are tall or short. However, they differ in terms of build.
The Hitachi UU240F model has a more rugged design with a load limit of around 400 pounds. The other model (UU240R) supports up to 300 pounds, which is 100 pounds lower. Hitachi UU240F is also lighter at 13 pounds, making it portable. If you are tired of the heavy/bulky stand in your possession, this is a good alternative.
Recommended Miter Saws
If you need a new miter saw for personal or commercial use, we have identified and reviewed some of the best brands for you. These versatile all-in-one accessories support most types of jobs. They are also durable and have comfortable handheld designs that require little effort to use.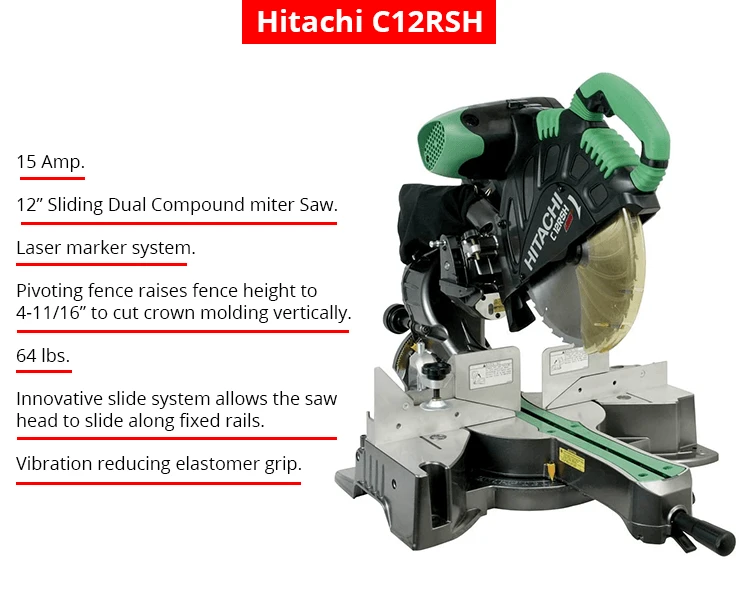 Features:
Novel slide system (compact) slides its head on a fixed rail eliminating rear clearance.
Blade Diameter is approximately 12-inches.
A laser marker system (patented) boosts its cutting accuracy.
Powerful motor (15 amperes) has 1,850-watt output.
The micro bevel and micro miter adjustment knobs (independent) enable you to set precise angles on the blade for intricate jobs.
The large fence pivots and adjusts to a height of 4-11/16 inches, which enables you to cut molding of different thickness effortlessly.
Left Miter Angle of 0-46 degrees and Right Meter Angle of 0-57 degrees.
Bevel Angle Range of 0-45 degrees to the left and right. Therefore, you can easily and quickly flip the blade of this saw without shifting your material.
The product has a positive stop and a bevel scale for making quick measurements of materials and accurate cutting.
You can replace the brush easily via a carbon brush access. Doing this will not only boost the performance of the miter saw but also its longevity.
Has a soft handle (vertical) with a vibration-reducing elastomer grip.
Compatible with the Universal UU610 Work Station from Hitachi.
Lightweight design (64 pounds).
Download or View the Hitachi C12RSH's MANUAL.
This compound miter has a compact sliding design that enables you to shift the position of the blade to accommodate long cuts. It also has a belt-driven 15-amp motor that is powerful and can accommodate and spin most 10-12-inch blades.
Therefore, if you own a C12RSH miter saw, you can use a 12-inch blade to handle difficult or demanding jobs. At full power, you can cut 6-12-inch boards or pieces of wood without the system straining. It is also an excellent tool to have at home as its versatility enables you to handle all demanding cutting jobs like a professional.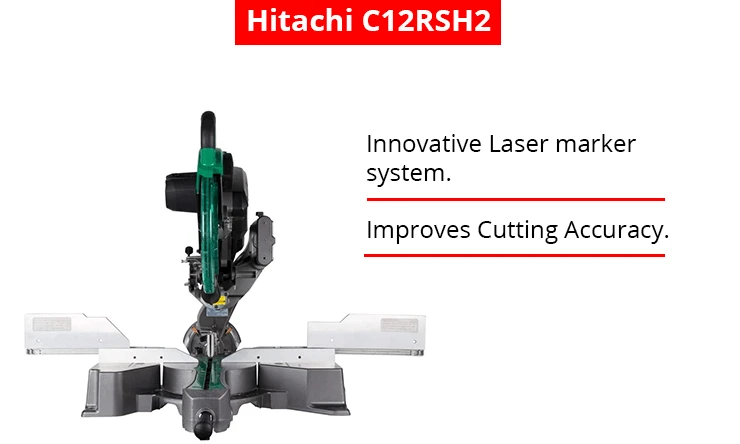 Whenever you are handling a woodworking job that requires accuracy and precision, you will appreciate owning the Hitachi C12RSH miter saw. The product has a built-in laser marker that enables you to judge distance and cut accurately without using a ruler. Even though most modern miter saws have lasers that boost accuracy, Hitachi's system is more accurate and relatively easier to use. You can adjust the angles accurately using a digital micro miter knob, unlike some models that have manual knobs. You can make micro-adjustments accurately in an instant.
Another worthy feature of this dual bevel Hitachi saw is its vast range (0-45 degrees from the right and left). You can also flip the head of the saw to make opposite cuts without flipping the board or material that you are working on.
The Hitachi C12RSH is a top-of-the-range compound miter saw that stands out in many ways. First, the features are diverse and convenient. Most people can set up the saw and use it to handle a plethora of projects without breaking a sweat. Using its positive miter stops, you can adjust the measurements and settings of its cutting blades to the required angle for cutting trim pieces, framing posts, and boards. The slide system also has a fixed rail system (patented) for gliding the saw with a small rear clearance. With a new one in your workplace, you will handle jobs efficiently.
Hitachi C12RSH2 | Practical Features & Innovative Design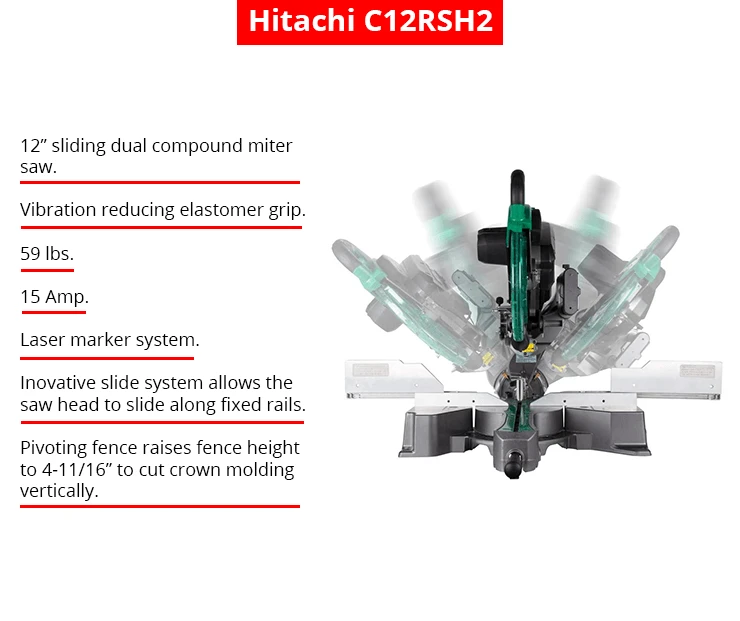 A new version of the Hitachi C12RSH, the C12RSH2, is available in the market but most people still prefer the original one. The upgraded C12RSH2 has similar features to the original one with a few improvements. First, compared to the original Hitachi C12RSH, the Hitachi C12RSH2 is lighter and therefore easier to handle. It will not strain your joints or your back while traveling with one.
The upgraded Hitachi C12RSH2 miter saw also has sliding fences that support tall materials while cutting. Extended fully, you can fit and cut large pieces of wood or other materials on it without them toppling over. The wide and secure base also stands out as it can accommodate or support large pieces of materials while in use. Finally, the ergonomic handle has a comfortable elastomer grip that its users love.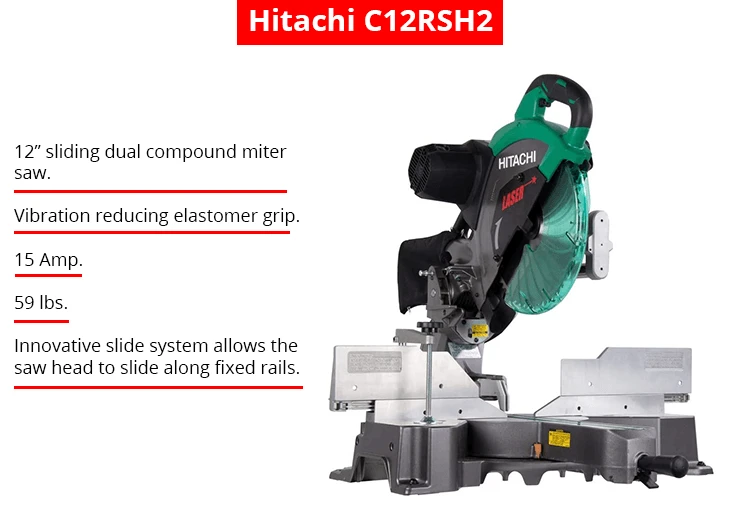 Tech Specs (Hitachi C12RSH2):
Compound Cutting Range

Miter: 0-45 Degree L/ 0-31 Degree R
Bevel: 0-45 Degree L
Miter: 0-31 Degree L/ 0-45 Degree R
Bevel: 0-45 Degree R

Amperage: 15 amperes
No-Load Speed: 4,000 Revolutions per Minute (RPM)
Blade Diameter: 12-inches
Miter Cutting Range: 0-45 Degree L or 0-57 Degree R
Bevel Cutting Range: Left and Right 0-45 Degree
Positive Miter Stops: L/R 0, 15, 22.5, 31.6, 45 Degrees
Laser Marker: Yes
Saw Blade Drive System: Gear with Poly V Belt system
Splinter Guard: Fixed
Tool Dimension (WxDxH): 25-1/2×36-5/8×27-15/16-inches
Tool Weight: 59 pounds (lbs.)
Max Cutting Capacities at Different Angles (HxW):

90 Degree Cross Cut: 4-3/16×12-1/4-inches or 4-11/16×10-3/16-inches
45 Degree Miter (L/R): 4-3/16×8-5/8-inches or 4-11/16×7-1/16-inches
45 Degree Bevel (L): 2-3/4×12-1/4-inches or 2-15/16×10-3/16-inches
Compound Cut 45×45 (L/L): 2-3/4×8-5/8-inches or 2-15/16×7-1/16-inches

Warranty: Five-Years (limited)
For more information, visit the Hitachi site.
Single-Beveled Compound Miter.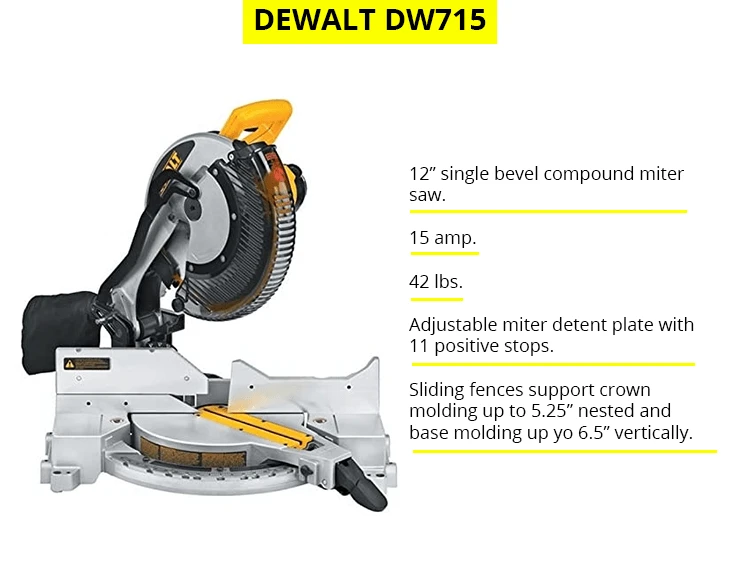 Features:
A 4,000-RPM motor (15 amperes) delivers extended power for a long time.
The miter detent plate is adjustable stainless steel with 11 positive stops that ensure accurate and even cutting.
The miter system features a precision-machined base with a supportive fence that boosts accuracy.
Has a tall sliding fence that can support up to 5-1/4-inch crown molding or up to 6-1/2-inch base molding. You can adjust it to make bevel cuts.
Cuts 0-48-degree bevels to the left and 0-3 degrees to the right.
Has a miter capacity of 0-50 degrees to the right and left, making it a highly versatile product.
Weighs 42 pounds. It also has a secure carry handle that boosts portability.
Lockable miter handle with an override that produces accurate miter angles.
Three hardened bevel stops (steel) at 0, 33.9, and 45 degrees
DEWALT, like Hitachi, manufactured some of the most sought-after miter saws. Like the C12RSH2, its single-bevel compound miter saw has a tall sliding fence that supports thick pieces of wood for easier and safer cutting. Therefore, it is one of the best brands for making frequent bevel cuts accurately. The product has a powerful motor (15 amperes) that spins its cutting blade at around 40000 RPM.
Moreover, you can make two accurate cuts in one stroke to maximize speed or efficacy and save power. This makes it an ideal miter saw for chopping thick lumbar for framing. Weighing around 42 pounds, it is lighter than other brands.
Tech Specs (DEWALT DW715):
45-degree Bevel Cut Capacity of 2×8-inch dimensional lumber.
45-degree Miter Cut Capacity (Max Height) of 4×4-inch dimensional lumber.
45-degree Miter Cut Capacity (Max Width) of 2×6-inch dimensional lumber.
90-degree Cross-Cut Capacity of 4×6-inch dimensional lumber.
90° Cross-Cut Capacity (Max Width) of 2×8-inch dimensional lumber.
Amperage: 15 Amperes.
Arbor Size: 5/8-inches or 1 inch.
Blade Diameter: 12-inches.
Horizontal Capacity: 8-inch Baseboard (Laid Flat).
Horizontal Capacity: 6-1/2-inch Flat-Laying Crown Molding.
No Load Speed: 4,000 Revolutions Per Minute (RPM).
Tool Weight: 42 Pounds (Ibs).
Vertical Capacity: 6-1/2-inch Baseboard Laid Against Fence.
Vertical Capacity: 5-1/4-inch Nested Crown Molding.
Miter Saw Safety Tips
Whenever you are using any machinery, always take the recommended safety precautions to prevent injuries. You should be more careful with power tools as they have sharp and spinning blades that can do a lot of damage to flesh and bone. Fortunately, miter saws are safe to use than other similar tools manufacturers conder them low-risk tools. Most models have sturdy and all-in-one designs with a solid base that remains stationary as you cut wood. Furthermore, the position of the blade is away from the hands, which makes them safer to handle. You can cut wood or any other material without your hand getting in contact with the blade. However, follow these additional tips to prevent fires, electric shock, and harm:
Never "force" a tool to do any job. Instead, guide it through the material or workpiece at the recommended rate to maximize its safety and performance.
Always wear protective gear such as ear muffs and goggles whenever you are using a power tool. For instance, while miter saws have dust bags for catching wood chips, you need a pair of gloves to protect your hands from debris, a mask to protect your lungs, and goggles to protect your eyes.
Do not touch spinning or moving parts when the miter saw is in use. Switch it off and disconnect from power before handling it.
Follow the recommended maintenance practices to keep your miter saw working optimally. Check the guide or manufacturer's directions.
Make sure that you a good understanding of the machine before use. Know the location and functionality of all moving parts and their settings, for instance, before you attempt to use the product.
Open all the air vents before starting the saw to prevent the motor from overheating. Detailed guidelines are in the manual of most miter saws.
Before you attempt to cut any material, let the motor attain its top speed. This prevents it from lifting the material and ruining your cut. The blade also lasts longer this way, thus saving you money on costly replacement parts.
Make sure that all components are working correctly before firing up a saw.
NEVER use the power tool or miter saw to do jobs that it was not intended to do. Check the recommended materials and settings before using the saw.
Some miter saws have special features that boost their safety ratings further. The Hitachi C12RSH and C12RSH2, for instance, both have blade guards that secure the circular blade whenever you raise the arm. This lowers the chances of your hand getting in contact with the sharp blade and cutting and injuring yourself. However, as we stated, always check the manual to have a better understanding of the recommended safety practices before operating a unit. Clean your miter saw and maintain it regularly as well to keep it in excellent working condition.